Last month, I visited Wisconsin's booming silica sand mining region and saw sandstone bluffs strip-mined for sturdy quartz sand that's essential for the horizontal hydraulic fracturing process used to extract oil and gas from underground shale formations. I saw how residents there had little protection against silica dust exposure since Wisconsin has no regulatory standards for this relatively new mining industry.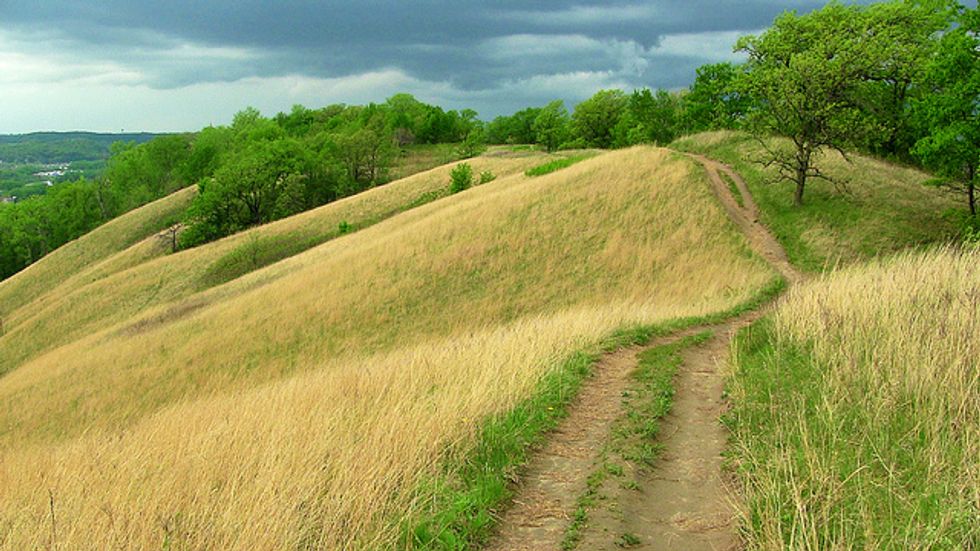 thepriceofsand.com
After Wisconsin, I headed across the Mississippi River to the southeastern corner of Minnesota. The industry is pretty active here too, with several existing mines and loading facilities and many more proposed, but so is the citizenry, which has been pushing the state to regulate frac-sand mines and processing facilities.
While I was there, I met with the Land Stewardship Project's (LSP) staff and members from four counties across Minnesota's Driftless Area. LSP has been fighting for sustainable agriculture and communities in Minnesota for over 30 years, and has been warily watching the boom in frac-sand mining across the river in Wisconsin. After traveling through the same counties I visited last month, lifelong resident of Winona County, Minnesota and LSP organizer Johanna Rupprecht said, "What I saw in Wisconsin made me even more certain that this industry is absolutely wrong for our rural communities."
Johanna was not alone. Everywhere we went, Minnesotans were determined to protect their communities' health and environment from frac-sand mining.
In Wabasha, MN, city council member Lynn Schoen described the city's efforts to prevent a new frac-sand transportation loading facility that aims to take advantage of the town's location by the rail line adjacent to the Mississippi River, which would carry frac-sand north and west to the booming Bakken Shale in North Dakota and into Canada. Last week, the small town was sued by a trucking company that wants to haul sand to the loading facility. The facility developer, Superior Sand Systems of Canada, is also threatening to sue. Both companies claim that the proposal to ship frac sand should be exempt from environmental review because railroads are regulated federally. The town of Wabasha maintains that it has the right to require a permit for the influx of as many as 600 daily truck trips through town.
Wabasha is home to lovely bluffs terracing down to a bend in the river that attracts bald eagles, golden eagles, and a hundred thousand tourists annually to the National Eagle Center to see rescued bald eagles up close and to watch wild eagles hunting fish in the wide river. Schoen is very concerned about the impacts of the frac-sand facility, with hundreds of daily truck trips, noise from trucks and trains and the ubiquitous silica dust blowing, on the town's existing tourist economy.
A similar frac-sand facility lies 30 miles south in the town of Winona, MN, which is now home to a new landmark known as "Mt. Frac." The Winona facility includes both rail loading as well as barges on the river which carry frac-sand south to the Barnett and Eagle Ford Shales in Texas. Dozens of protestors have been arrested at Mt. Frac in several actions since early 2012. The state does not have a health impact study for silica in the air from such a sand loading operation for either humans or eagles.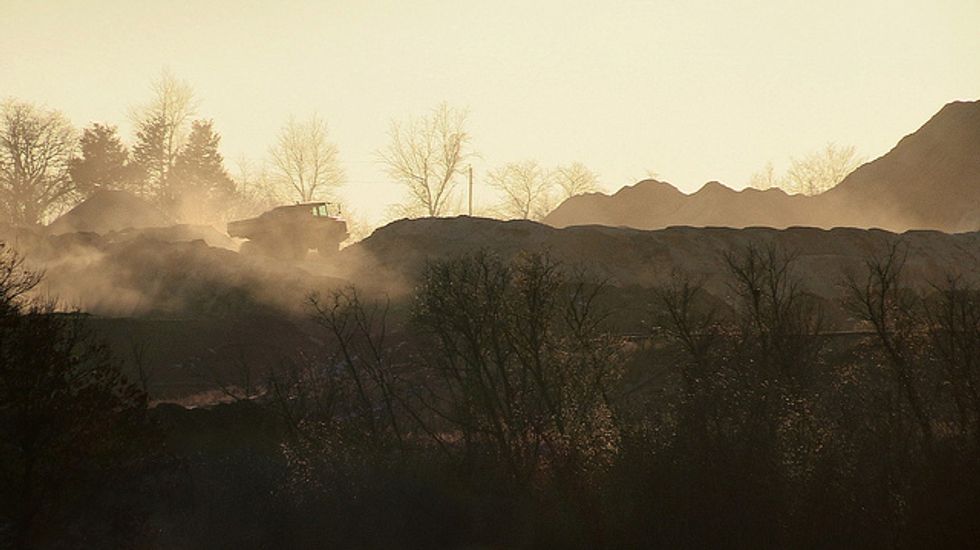 From Wabasha, we traveled to Winona, Houston and Fillmore counties, meeting with residents campaigning to slow or stop the demand for silica sand from destroying the region's picturesque sandstone bluffs.
In Winona County's Saratoga Township seven separate silica sand mines are proposed, with five of them grouped on County Road 6. The concentration of mining in one area limits impacts in the rest of the township. But for neighbors along County Road 6, including nearby Amish farmers, the mines would mean rapid industrialization, increased truck traffic and the health impacts of quartz silica sand blowing through the neighborhood.
Many Minnesota residents who have visited frac-sand mines in Wisconsin or have heard about the negative impacts are concerned that that local government zoning ordinances aren't strong enough to keep up with the pace and scale of the frac-sand mining boom. So they've been pressuring the state government to take action.
During the last legislative session, a diverse collection of local government officials called on Gov. Mark Dayton to implement a moratorium in Minnesota on new industrial silica sand mining and processing facilities until an in-depth study was done on the cumulative impacts of the industry. They asked for regulations that would ensure that trout streams, wildlife and communities were protected from impacts.
Minnesota didn't pass a moratorium, but in May the state legislature passed a law with strong rules that advanced the interests of Minnesotans over the frac-sand mining industry.
Minnesota now prohibits frac-sand mines within a mile of a trout stream unless granted a permit by the state Department of Natural Resources. The state will soon be setting overall environmental quality rules for the frac-sand industry, including rules for silica dust management and an ambient air quality standard. frac-sand mines will also be required to post a reclamation bond and will have to follow a statewide reclamation standard.
Most importantly, under the new rules, local governments can enact moratoria on frac-sand mining and facilities until 2015. In Minnesota, local governments are arguing strenuously to maintain local control over large-scale silica mining for fracking within their communities. Since the state confers power to counties, townships and cities to pass zoning ordinances that are in the best interests of each community, many communities already had moratoria on frac-sand mining in place. This new law will help build momentum in counties that want to ban frac-sand mining altogether.
Although the state didn't put a moratorium on frac-sand mining, it did empower local governments to slow or stop the impacts of this harmful industry. And that, in itself, is heartening.
Superior Sand Systems has not yet sued the town of Wabasha, though it has threatened to do so. However, a local trucking company has sued the town. This article has been corrected to reflect this information.
Visit EcoWatch's FRACKING page for more related news on this topic.
——–
SHARE YOUR THOUGHTS BELOW: Does the destruction of U.S. freshwater and environmental resources justify unconventional natural gas extraction?
——–

EcoWatch Daily Newsletter
waterlust.com / @tulasendlesssummer_sierra .
Each product featured here has been independently selected by the writer. If you make a purchase using the links included, we may earn commission.
The bright patterns and recognizable designs of Waterlust's activewear aren't just for show. In fact, they're meant to promote the conversation around sustainability and give back to the ocean science and conservation community.
Each design is paired with a research lab, nonprofit, or education organization that has high intellectual merit and the potential to move the needle in its respective field. For each product sold, Waterlust donates 10% of profits to these conservation partners.
Eye-Catching Designs Made from Recycled Plastic Bottles
waterlust.com / @abamabam
The company sells a range of eco-friendly items like leggings, rash guards, and board shorts that are made using recycled post-consumer plastic bottles. There are currently 16 causes represented by distinct marine-life patterns, from whale shark research and invasive lionfish removal to sockeye salmon monitoring and abalone restoration.

One such organization is Get Inspired, a nonprofit that specializes in ocean restoration and environmental education. Get Inspired founder, marine biologist Nancy Caruso, says supporting on-the-ground efforts is one thing that sets Waterlust apart, like their apparel line that supports Get Inspired abalone restoration programs.
"All of us [conservation partners] are doing something," Caruso said. "We're not putting up exhibits and talking about it — although that is important — we're in the field."
Waterlust not only helps its conservation partners financially so they can continue their important work. It also helps them get the word out about what they're doing, whether that's through social media spotlights, photo and video projects, or the informative note card that comes with each piece of apparel.
"They're doing their part for sure, pushing the information out across all of their channels, and I think that's what makes them so interesting," Caruso said.
And then there are the clothes, which speak for themselves.
Advocate Apparel to Start Conversations About Conservation
waterlust.com / @oceanraysphotography
Waterlust's concept of "advocate apparel" encourages people to see getting dressed every day as an opportunity to not only express their individuality and style, but also to advance the conversation around marine science. By infusing science into clothing, people can visually represent species and ecosystems in need of advocacy — something that, more often than not, leads to a teaching moment.

"When people wear Waterlust gear, it's just a matter of time before somebody asks them about the bright, funky designs," said Waterlust's CEO, Patrick Rynne. "That moment is incredibly special, because it creates an intimate opportunity for the wearer to share what they've learned with another."
The idea for the company came to Rynne when he was a Ph.D. student in marine science.
"I was surrounded by incredible people that were discovering fascinating things but noticed that often their work wasn't reaching the general public in creative and engaging ways," he said. "That seemed like a missed opportunity with big implications."
Waterlust initially focused on conventional media, like film and photography, to promote ocean science, but the team quickly realized engagement on social media didn't translate to action or even knowledge sharing offscreen.
Rynne also saw the "in one ear, out the other" issue in the classroom — if students didn't repeatedly engage with the topics they learned, they'd quickly forget them.
"We decided that if we truly wanted to achieve our goal of bringing science into people's lives and have it stick, it would need to be through a process that is frequently repeated, fun, and functional," Rynne said. "That's when we thought about clothing."
Support Marine Research and Sustainability in Style
To date, Waterlust has sold tens of thousands of pieces of apparel in over 100 countries, and the interactions its products have sparked have had clear implications for furthering science communication.
For Caruso alone, it's led to opportunities to share her abalone restoration methods with communities far and wide.
"It moves my small little world of what I'm doing here in Orange County, California, across the entire globe," she said. "That's one of the beautiful things about our partnership."
Check out all of the different eco-conscious apparel options available from Waterlust to help promote ocean conservation.
Melissa Smith is an avid writer, scuba diver, backpacker, and all-around outdoor enthusiast. She graduated from the University of Florida with degrees in journalism and sustainable studies. Before joining EcoWatch, Melissa worked as the managing editor of Scuba Diving magazine and the communications manager of The Ocean Agency, a non-profit that's featured in the Emmy award-winning documentary Chasing Coral.