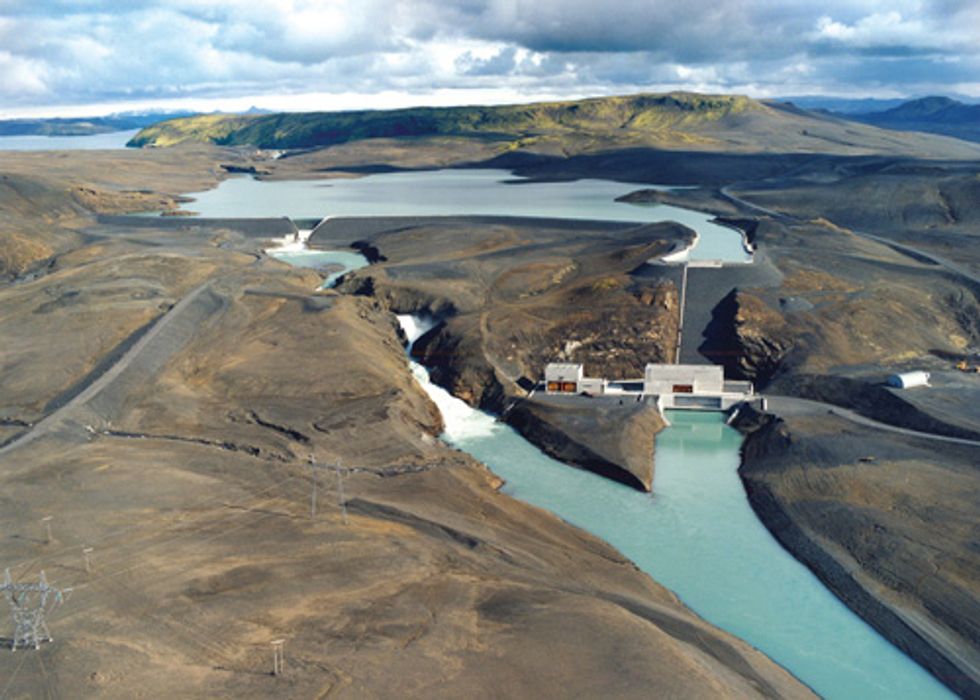 By Katy Yan
Durban is over, the delegates have all either gone home or are enjoying the sunny South African weather, and serious actions to curb rising emissions have again been shunted down the road. However, progress is being made on the Clean Development Mechanism (CDM)—albeit slowly—to address some of its most serious flaws, including how to deal with non-additional, "hot air" projects in the world's largest emissions trading scheme, the European Emissions Trading Scheme (EU ETS).
A recent European Union (E.U.)-commissioned report states that the European Commission should consider barring international offset credits from some large hydropower projects within the EU ETS. This report follows another study from U.C. Berkeley, which found that more than 20 percent of all carbon credits under the CDM could come from business-as-usual large hydropower projects rather than truly renewable projects made possible only by carbon credits. The ban on large hydro, along with other dirty projects like fossil fuel power stations, is gaining traction in the media and among some insiders, including a former CDM board member, who said in November, "I find it somewhat difficult to believe that for projects that cost more than $50-100 million, the CDM plays a crucial role to invest or not to invest," citing transport and waste-heat recovery projects. The board member said he had similar concerns about hydro and fossil fuel power station projects above 50mw.
In a statement published alongside the E.U. report, the E.U. executive's climate department says it will wait for the results of a review of the CDM being carried out by the scheme's executive board before deciding whether to introduce further restrictions. Let's hope the E.U. takes the results of all these studies seriously.
Below is the regular CDM update on all hydropower projects in the CDM pipeline. This is an update for the second half of the year (3rd and 4th quarters).
Update:
The overall number of CDM projects rose significantly in 2011, but the percent that was hydro decreased in the last quarter.
The percent of registered projects that were involved in the review process—10 percent in 2005, 9 percent in 2006, 19 percent in 2007, 57 percent in 2008, 70 percent in 2009, 40 percent in 2010, and 8 percent in 2011 (as of Dec. 1, 2011).
Fifty-six percent of all hydro projects in the CDM pipeline have been registered since 2004.
The largest number of hydropower projects were registered in 2010.
Hydro projects continue to be the most prevalent type of project in the CDM pipeline (26 percent of all projects), with wind at a close second. Seventy-one percent of credits expected from hydro projects come from China.
Credits expected to be generated by large hydro (≥15 mw) by 2012 represent 16 percent of all credits expected to be generated by 2012. Reduction of refrigerant gases like hydrofluorocarbons still represent the largest project type (more than a quarter).
For more information, click here.
EcoWatch Daily Newsletter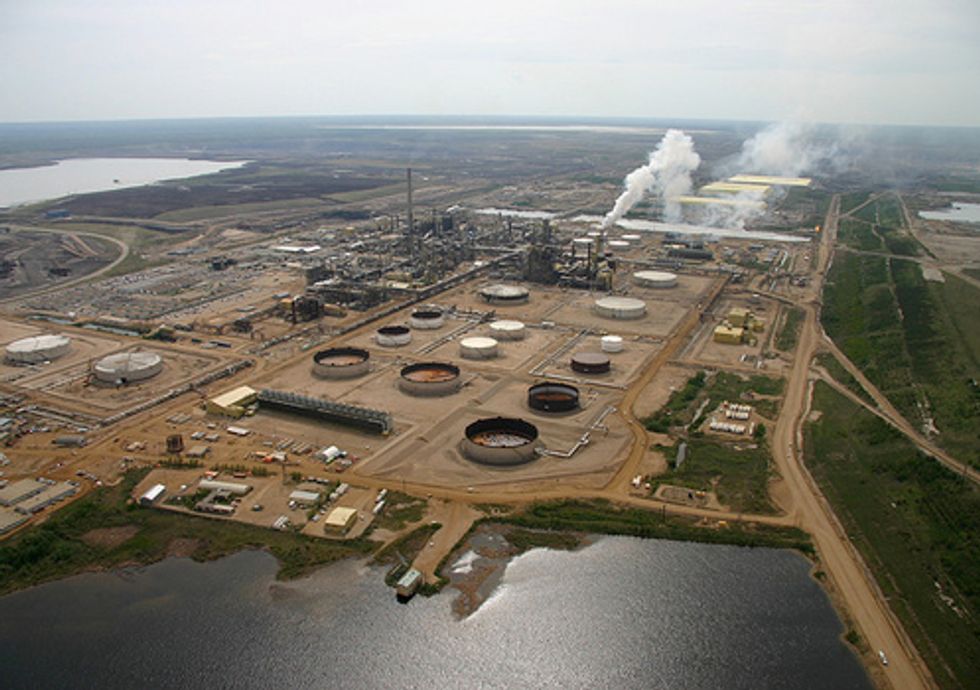 By Tony Iallonardo
There was a time when Canada, symbolized by the maple leaf, was a "green," environmentally conscientious neighbor. Remember, in the 1980s, Canada came knocking on America's door, rightfully demanding that the U.S. curb the sulfur dioxide emissions causing the acid rain that was killing Canada's lakes and streams.
But today, alarms are going off up north. Increasing capture by polluter interests, Canada's sliding into shades of gray. Experts say Ontario could lose its beloved polar bears because of a warming climate. World polar bear expert Ian Stirling, from the University of Alberta, citing Arctic ice loss at 10 percent per decade since 1979, says it's unlikely this iconic animal will survive on the Ontario and Manitoba shores of Hudson Bay in 20 to 30 years.
Another study predicts trouble for caribou. Some of Canada's caribou face the possibility of local extinction because of industrial development in northeastern Alberta and the lack of effective habitat protection. Woodland caribou is listed as a threatened species, provincially and federally. "The recently released draft recovery strategy allows for 95 percent of woodland caribou habitat in northeastern Alberta to be lost in order to promote oil sands development," the Pembina Institute has warned.
Then there's cod. Canada had to impose a moratorium on cod fishing off the coast of Newfoundland because the cod fishery collapsed, some say because of lax government oversight, poorly-managed over-fishing and exploitation.
Is Canada asleep? No, Canada is in fact very much awake and very busy working on behalf of polluters.
Climate Blind
First let's look at climate change.
Canada is one of the world's biggest emitters of greenhouse gas pollutants. "After committing to targets in Copenhagen, Environment Canada's projections show that Canada's current federal and provincial policies will achieve only a quarter of the reductions needed by 2020—leaving 75 percent of the work as a question mark," said P.J. Partington, a climate and policy analyst with Pembina Institute.
Canada ranks 54th out of 61 countries internationally—two points lower than the U.S.—earning a "very poor performance" label in the Dec. 6 global climate performance assessment of world governments' efforts to curb climate change.
In the negotiations in Durban, South Africa, Canada pulled out of the Kyoto Protocol on climate change Dec. 12 to worldwide denunciation, citing the country's previous commitment as a mistake. Environment Minister Peter Kent said, "It's now clear that Kyoto is not the path forward to a global solution to climate change. If anything it's an impediment." China, once recalcitrant, agreed to limits on greenhouse gas emissions and called Canada's decision "an excuse to shirk responsibility."
Oozing with Oil
Then there's Canada's warm embrace of Big Oil. The country is on a no-holds-barred trajectory to becoming a petro-state. It is the sixth largest oil producing country in the world at 3.5 million barrels per day in 2010, according to the CIA World Factbook. Imperial Oil head Bruce Marsh has said that Canada represents half of the global oil reserves that are open for private investment. "That is an enormous driver," he told a reporter. (Let's not forget that the energy-gobbling U.S. is Canada's main oil export market.)
The latest chapter in Canada's Big Oil binge is big bad bitumen, Canada's exploitation of tar sands oil, one of the most polluting, highest-carbon, greenhouse-gas-causing fuels on the planet.
TransCanada and partners propose to build the Keystone XL pipeline, a 1,700-mile pipeline through five midwestern U.S. states from Alberta to Texas and ship 700,000 barrels of tar sands oil a day for refinement into products likely to be exported.
According to Oregon Sen. Ron Wyden, who asked the Federal Trade Commission to investigate because it could lead to higher energy prices for Americans, the Keystone corporate interests are Canadian Natural Resources Limited, Conoco Phillips Canada Marketing & Trading ULC, EnCana Corporations, Shell Trading Canada, Total E&P Canada Ltd and Trafigura Canada General Partnership.
The environmental havoc already underway from extraction in Alberta is no secret. To produce one barrel, extractors level the forest, dig up four tons of earth, consume two to four barrels of fresh water, burn large amounts of natural gas and create toxic sludge holding ponds. Alberta's booming tar sands production is polluting the Athabasca River and converting forests and farmlands to wastelands.
The Keystone XL pipeline will increase production of this dirty fuel by 50 percent. Some will argue that Canada only produces less than two percent of the world's greenhouse gas emissions, but by producing, shipping and exporting tar sands oil at an ever-escalating pace, Canada is promoting a dirty fuel to the rest of the world to burn, thus increasing emissions multi-fold worldwide.
Keystone's tentacles are embedded far and wide. Former U.S. ambassador to Canada, David Wilkins, lobbied for Keystone XL when working for the Canadian Association of Petroleum Producers.  At least 42 lobbying firms and companies are roaming the back halls and underground passageways of the U.S. Congress and U.S. federal agencies, trying to sweet-talk approval of this scheme. Koch Industries is funding Americans for Prosperity, which is busy lobbying in Washington and Nebraska for the pipeline permit. Valero, a Keystone XL supporter and one of the world's largest refiners, appears to be getting ready to receive, refine and export the Keystone tar sands oil, according to the Wall Street Journal, Nov.10, 2011.
Pro-pipeline pals in Congress have crafted legislative riders to usurp and overrule President Obama, established review processes and science. Canada's Prime Minister, Stephen Harper, even got President Obama's ear at the White House in early December and made his case for what he dubbed a "no-brainer."
Talk about pulling out all the stops. Let's get that oil flowing as the oil lobbyists oil the Washington skids.
And to rub yet more salt into the wounds, on Dec. 8, the Canadian government approved yet more tar sands production by giving the go-ahead for the construction of the $8.9 billion Joslyn North Mine in northern Alberta.
And there's more to come. Imperial Oil CEO Bruce Marsh said that his company, an Exxon subsidiary, is planning to start the Kearl oil sands mining project in Canada in 2012, and they expect to produce 110,000 barrels a day and maybe up to the 345,000 barrels a day the Canadian government has approved.
As they say on TV commercials—Wait, there's more.
Environment Canada has not implemented its long-term scientific research plan, a plan that undergirds the country's work to mitigate air and water pollution and other environmental risks, charged Commissioner Scott Vaughan, of Canada's Office of the Auditor General in early December—and the department has stopped issuing many environmental reports. So they don't know what the problems are or the effectiveness of their policies?
Vaughan also issued a recent audit showing that Environment Canada's enforcement program is not ensuring adequate compliance with environmental regulations and is failing to target the biggest polluters.
Vaughan also found that several Canadian government agencies do not enforce safety regulations for shipping chemicals on highways and railroads and for pumping oil and gas in the country. He reported an average of two accidents a week involving the transport of dangerous materials across Canada. He concluded, for example, "Management has not acted on long-standing concerns regarding inspection and emergency plan review practices," for transporting dangerous goods.
Accompanying a map of numerous approved and proposed oil and gas pipelines across Canada, Vaughn wrote, "These pipelines, which are located in both rural and urban areas and across different terrains, require ongoing surveillance and maintenance to ensure that they continue to operate according to the National Energy Board Act, its regulations, and standards such as the Canadian Standards Association's Oil and Gas Pipeline Systems standard. Pipeline incidents, such as gas leaks and oil spills, have occurred across Canada." Exhibit 1.4 shows more than 50 pipeline incidents. This comes against a backdrop of confident assurances from TransCanada that the Keystone pipeline would traverse the U.S. safely.
A Graying Canada
Canada, the second largest country in the world after Russia, has vast landscapes—three oceans, the tundra, plains, mountains, boreal forests, wetlands, rivers, lakes and coastline. Given its bounty, Canada should be proud and protective of its natural resources. National motto—From Sea to Sea.
But somewhere along the way, Canada has lost its conservation conscience, as it propels itself into an oil-producing, carbon-crazy frenzy.
Polar bears and caribou on the road to extinction. Cod struggling to thrive in the north Atlantic.  Does Canada care? Does Canada prefer gray to green?
For more information, click here.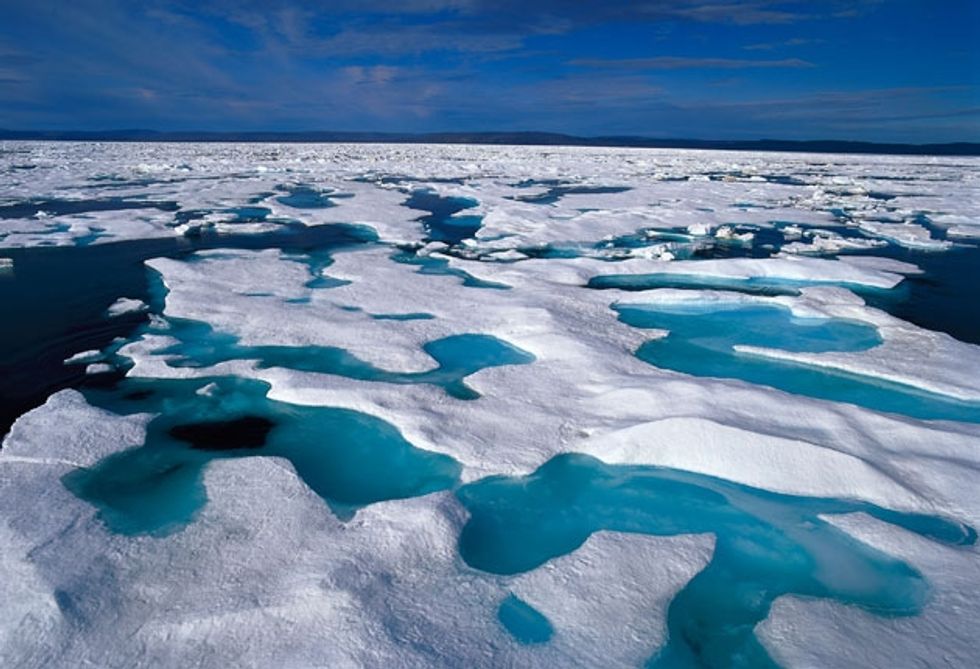 By Andy Rowell
In the fallout from the Durban, South Africa climate talks, one of the things I have heard people debating about is what keeping global warming to 2 degrees means, rather than letting warming increase to 3 degrees or even 4 degrees.
One of the answers was that if warming goes above 2 degrees, the chances of a runaway greenhouse effect happening increases. And one way this happens is through the kicking in of positive feedback mechanisms.
And one of these regards the potent greenhouse gas methane (which is 20 times more potent than carbon dioxide), and what lies beneath the Arctic permafrost, or frozen soil.
For years scientists have warned of a ticking "methane timebomb" in the Arctic. At the end of last month, in an article published in the journal Nature, a survey of 41 international experts led by University of Florida ecologist Edward Schuur revealed that models created to estimate global warming may have underestimated the magnitude of carbon emissions from permafrost over the next century.
The scientists argued that the effect on climate change is projected to be 2.5 times greater than models currently predicted, partly because of the amount of methane released in permafrost.
"We're talking about carbon that's in soil, just like in your garden where there's compost containing carbon slowly breaking down, but in permafrost it's almost stopped because the soil is frozen," Schuur said at the time. "As that soil warms up, that carbon can be broken down by bacteria and fungi, and as they metabolize, they are releasing carbon and methane, greenhouse gases that cause warmer temperatures."
The scientists estimated that the permafrost is distributed across 11.7 million square miles of land—an amount that is more than three times larger than previously estimated.
But what about methane trapped under the oceans? A Dec. 13 article in the Independent makes alarming reading.  The paper reports that "Dramatic and unprecedented plumes" of methane have been seen bubbling to the surface of the Arctic Ocean by scientists undertaking an extensive survey of the region.
The scale and volume of the methane release has "astonished" the head of the Russian research team who has been surveying the seabed of the East Siberian Arctic Shelf off northern Russia for nearly 20 years.
Igor Semiletov, of the Far Eastern branch of the Russian Academy of Sciences, told the Independent that he has never before witnessed the scale and force of the methane being released from beneath the Arctic seabed.
"Earlier we found torch-like structures like this but they were only tens of metres in diameter. This is the first time that we've found continuous, powerful and impressive seeping structures, more than 1,000 metres in diameter. It's amazing," Dr. Semiletov said. "I was most impressed by the sheer scale and high density of the plumes. Over a relatively small area we found more than 100, but over a wider area there should be thousands of them."
Dr. Semiletov released his findings for the first time last week at the American Geophysical Union meeting in San Francisco.
What his findings show is that the need for a comprehensive radical deal on climate change is ever more urgent.
Someone should tell the Canadians that.
For more information, click here.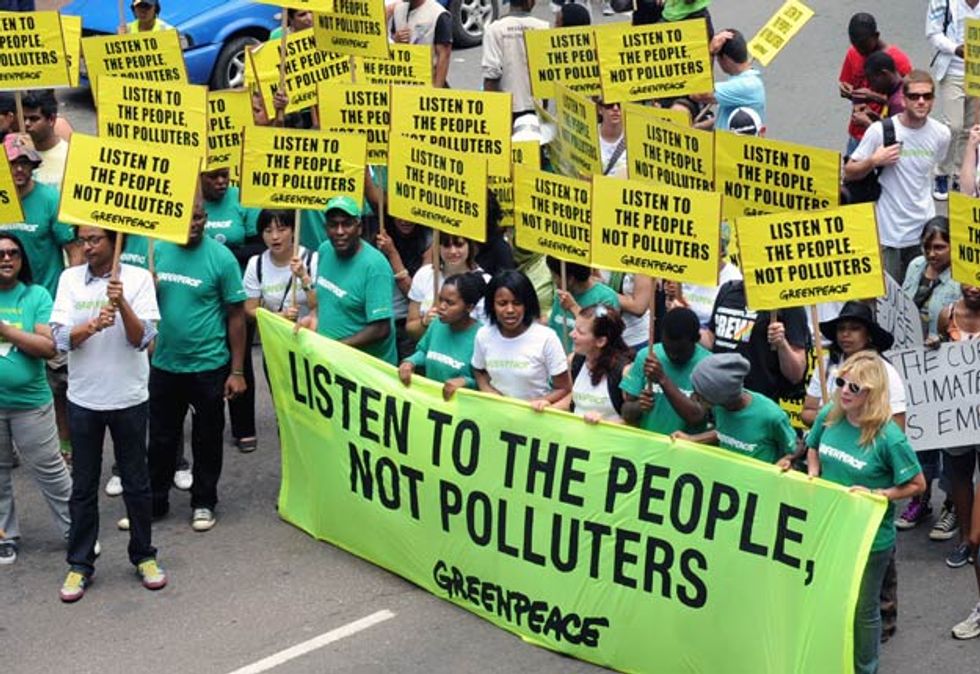 On the closing of the latest round of United Nations (U.N.) climate talks in Durban, South Africa, Greenpeace declared that it was clear that our governments this past two weeks listened to the carbon-intensive polluting corporations instead of listening to the people who want an end to our dependence on fossil fuels and real and immediate action on climate change.
"The grim news is that the blockers lead by the U.S. have succeeded in inserting a vital get-out clause that could easily prevent the next big climate deal being legally binding. If that loophole is exploited it could be a disaster. And the deal is due to be implemented from 2020 leaving almost no room for increasing the depth of carbon cuts in this decade when scientists say we need emissions to peak," said Kumi Naidoo, Greenpeace International executive director.
"Right now the global climate regime amounts to nothing more than a voluntary deal that's put off for a decade. This could take us over the two degree threshold where we pass from danger to potential catastrophe.
"Our atmosphere has been loaded with a carbon debt and the bill, carrying a Durban postmark, has been posted to the world's poorest countries. The chance of averting catastrophic climate change is slipping through our hands with every passing year that nations fail to agree on a rescue plan for the planet."
Background Brief
For these talks to have been deemed a success, governments in Durban needed to:
Ensure a peak in global greenhouse gas emissions by 2015.
Coming out of Cancun, Mexico last year, governments were to agree to 2015 targets for global emissions reduction and global peak year for emissions, and they have done neither.
Governments did promise to develop a workplan to close the gap between the science and the government pledges to reduce emissions. However, the lack of ambition is not caused by lack of plans, but rather a lack of political will.
Ensure that the Kyoto Protocol continues and provide a mandate for a comprehensive, legally binding instrument.
Governments did decide that there will be another time frame where governments sign up to deal with emissions under the Kyoto protocol, but postponed putting it into action until next year. On the issue of a new, legally binding agreement, the proposal was watered down substantially to the point where governments have only committed to talking and producing more documents—not actually committing to a new legally binding protocol.
India's role in the negotiations around the new, legally binding agreement was unconstructive and lacked foresight while both the island states and the least developed countries pushed hard for the urgent adoption of a new and ambitious protocol.
In Durban, parties agreed to adopt a second commitment period as well as launch negotiations on a new protocol under the convention to include all parties. With the survival of nations on the line, only the strongest terms—legal terms—are acceptable. Where governments failed was on the timeline. The amendment to the protocol will only be adopted at COP18 (2012) in Qatar, while the new protocol is to be adopted no later than 2015, but only be implemented from 2020.
Deliver the necessary finance to tackle climate change.
Governments in Durban spent an inordinate amount of time talking about technical details of the Green Climate Fund. What was needed was not only an agreement on the fund but more importantly how this empty fund could be filled. The goal for developed countries is 100 billion USD per year by 2020. So not only do we face a gap between what the science says is needed and what these governments are prepared to do to avoid catastrophic climate change, we also face a massive gap in finance required and what is available, to mitigate and adapt to climate change.
Set up a framework for protecting forests in developing countries.
Rather than providing necessary guidance and security to civil society, donors and investors, on how best to meet the Cancun Agreement on Reducing Emissions from Deforestation and Forest Degradation (REDD) to "slow, halt and reverse" deforestation in a socially responsible way, the decisions adopted in Durban have increased the environmental and social risks associated with the Cancun objective. Rather than protecting the rights of the people responsible for protecting the forest, the decision opens the doors for the irresponsible companies who profit from forest destruction. An entire year's worth of negotiations has been wasted.
Ensure international transparency in assessing and monitoring country commitments and actions.
This should be about governments being open about how they are implementing the agreed rules for action, but in Durban there has been no agreement on how this action will be reported on, by whom or by when.
Also for this to work, there has to be global agreement on how to measure action, but the U.S. refuses to accept that oranges should be compared with oranges.
One bright moment came from China's participation in Durban. Given where China came in—which was not buying into this process at all—they have shifted their position to allow movement on reporting of how they're implementation of this convention is proceeding. This while the U.S. has gone nowhere.
On the decision to include carbon capture and storage (CCS) in the Clean Development Mechanism (CDM):
CCS on coal has never been shown to work on a large scale, but U.N. approval increases the risk that new coal power plants will be built, with a dangerous CO2 legacy left for future generations. It is illogical that this technology could now get financing under the Clean Development Mechanism of an agreement that should be saving the climate.
For more information, click here.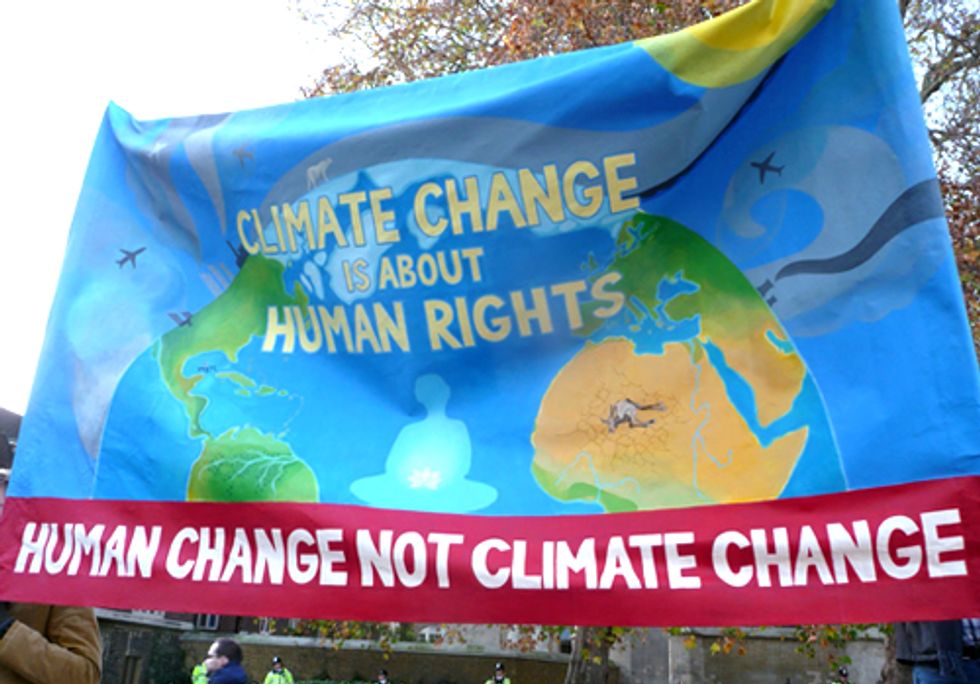 Decisions resulting from the United Nations 17th Conference of the Parties (COP17) climate summit in Durban, South Africa, constitute a crime against humanity, according to Climate Justice Now!, a broad coalition of social movements and civil society. Here in South Africa, where the world was inspired by the liberation struggle of the country's black majority, the richest nations have cynically created a new regime of climate apartheid
"Delaying real action until 2020 is a crime of global proportions," said Nnimmo Bassey, Chair of Friends of the Earth International. "An increase in global temperatures of 4 degrees Celsius, permitted under this plan, is a death sentence for Africa, Small Island States, and the poor and vulnerable worldwide. This summit has amplified climate apartheid, whereby the richest 1 percent of the world have decided that it is acceptable to sacrifice the 99 percent."
According to Pablo Solón, former lead negotiator for the Plurinational State of Bolivia, "It is false to say that a second commitment period of the Kyoto Protocol has been adopted in Durban. The actual decision has merely been postponed to the next COP, with no commitments for emission reductions from rich countries. This means that the Kyoto Protocol will be on life support until it is replaced by a new agreement that will be even weaker."
The world's polluters have blocked real action and have once again chosen to bail out investors and banks by expanding the now-crashing carbon markets—which like all financial market activities these days, appear to mainly enrich a select few.
"What some see as inaction is in fact a demonstration of the palpable failure of our current economic system to address economic, social or environmental crises," said Janet Redman, of the Washington-based Institute for Policy Studies. "Banks that caused the financial crisis are now making bonanza profits speculating on our planet's future. The financial sector, driven into a corner, is seeking a way out by developing ever newer commodities to prop up a failing system."
Despite talk of a "roadmap" offered up by the European Union, the failure in Durban shows that this is a cul-de-sac, a road to nowhere. Spokespeople for Climate Justice Now! call on the world community to remember that a real climate program, based on planetary needs identified by scientists as well as by a mandate of popular movements, emerged at the World People's Summit on Climate Change and Mother Earth in Bolivia in 2010. The Cochabamba People's Agreement, brought before the United Nations but erased from the negotiating text, offers a just and effective way forward that is desperately needed.
ADDITIONAL BACKGROUND
On Technology
"The technology discussions have been hijacked by industrialized countries speaking on behalf of their transnational corporations," said Silvia Ribeiro from the international organization ETC Group. Critique of monopoly patents on technologies, and the environmental, social and cultural evaluation of technologies have been taken out of the Durban outcome. Without addressing these fundamental concerns, the new technology mechanism will merely be a global marketing arm to increase the profit of transnational corporations by selling dangerous technologies to countries of the South, such as nanotechnology, synthetic biology or geoengineering technologies."
On Agriculture
"The only way forward for agriculture is to support agro-ecological solutions, and to keep agriculture out of the carbon market," said Alberto Gomez, North American Coordinator for La Via Campesina, the world's largest movement of peasant farmers. "Corporate Agribusiness, through its social, economic, and cultural model of production, is one of the principal causes of climate change and increased hunger. We therefore reject Free Trade Agreements, Association Agreements, and all forms of the application of Intellectual Property Rights to life, current technological packages (agrochemicals, genetic modification) and those that offer false solutions (biofuels, nanotechnology, and climate smart agriculture) that only exacerbate the current crisis."
On REDD+ and Forest Carbon Projects
"REDD+ threatens the survival of Indigenous Peoples and forest-dependent communities. Mounting evidence shows that Indigenous Peoples are being subjected to violations of their rights as a result of the implementation of REDD+-type programs and policies," declared The Global Alliance of Indigenous Peoples and Local Communities against REDD and for Life. Their statement, released during the first week of COP17, declares that "REDD+ and the Clean Development Mechanism promote the privatization and commodification of forests, trees and air through carbon markets and offsets from forests, soils, agriculture and could even include the oceans. We denounce carbon markets as a hypocrisy that will not stop global warming."
On the World Bank and the Global Climate Fund
"The World Bank is a villain of the failed neoliberal economy," says Teresa Almaguer of Grassroots Global Justice Alliance in the U.S. "We need a climate fund managed by participatory governance, not by an anti-democratic institution that is responsible for much of the climate disruption and poverty in the world." "The Green Climate Fund has been turned into the Greedy Corporate Fund," said Lidy Nacpil, of Jubilee South. "The fund has been hijacked by the rich countries, on their terms, and set up to provide more profits to the private sector"
On the Green Economy
"We need a climate fund that provides finance for peoples of developing countries that is fully independent from undemocratic institutions like the World Bank. The Bank has a long track record of financing projects that exacerbate climate disruption and poverty" said Lidy Nacpil, of Jubilee South. "The fund is being hijacked by the rich countries, setting up the World Bank as interim trustee and providing direct access to money meant for developing countries to the private sector. It should be called the Greedy Corporate Fund!"
Climate policy is making a radical shift towards the so-called "green economy," dangerously reducing ethical commitments and historical responsibility to an economic calculation on cost-effectiveness, trade and investment opportunities. Mitigation and adaption should not be treated as a business nor have its financing conditioned by private sector and profit-oriented logic. Life is not for sale.
On Climate Debt
"Industrialized northern countries are morally and legally obligated to repay their climate debt," said Janet Redman, Co-director of the Sustainable Energy & Economy Network at the Institute for Policy Studies. "Developed countries grew rich at the expense of the planet and the future all people by exploiting cheap coal and oil. They must pay for the resulting loss and damages, dramatically reduce emissions now, and financially support developing countries to shift to clean energy pathways."
Developed countries, in assuming their historical responsibility, must honor their climate debt in all its dimensions as the basis for a just, effective and scientific solution. The focus must not be only on financial compensation, but also on restorative justice, understood as the restitution of integrity to our Mother Earth and all its beings. We call on developed countries to commit themselves to action. Only this could perhaps rebuild the trust that has been broken and enable the process to move forward.
On Real Solutions
"The only real solution to climate change is to leave the oil in the soil, coal in the hole and tar sands in the land," said Ivonne Yanez, Acción Ecologica, Ecuador
For more information, email Mike Dorsey at mkdorsey@professordorsey.com or call +27 (0)79 863 8756 or +1-734-945-6424, or email Nick Buxton at nick@tni.org or call +27(0)81 589 8564 or +1 530 902 3772.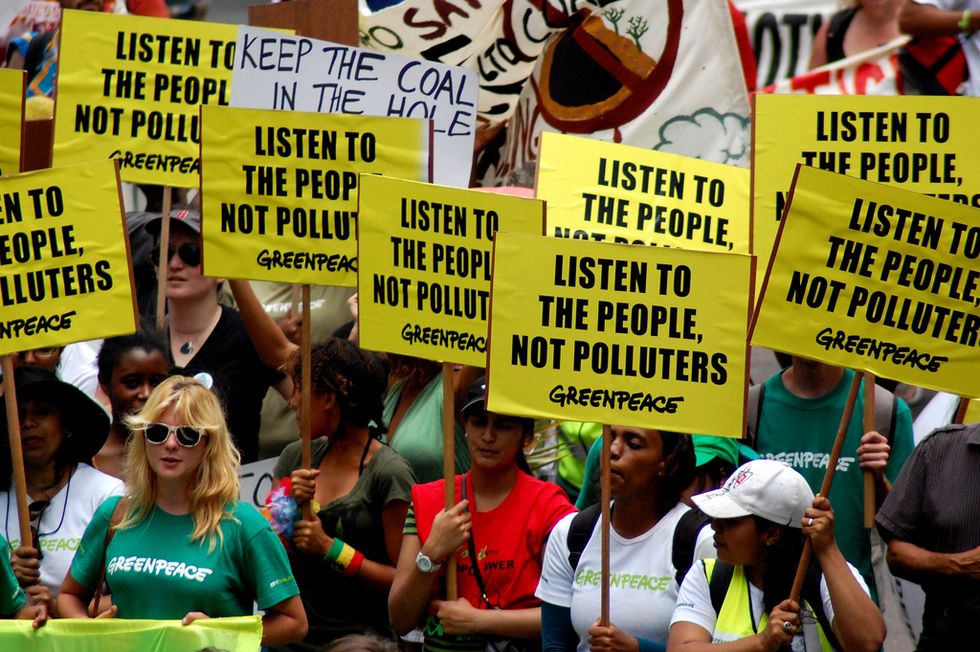 In solidarity with the millions of people already feeling the impacts of climate change, hundreds of people protested in the halls of the United Nations Climate Talks Dec. 9 to demand that nations not sign a "death sentence" in Durban, South Africa.
The march filled the hall outside of the main negotiating room in Durban just as the afternoon round of talks were scheduled to begin. Standing side-by-side with delegates from some of the world's most vulnerable countries, civil society representatives sang traditional South African freedom songs and chanted slogans like, "Listen to the People, Not the Polluters."
"We are all the people of Africa. We are all people of the islands," said Kumi Naidoo, the Durban-born executive director of Greenpeace International. Naidoo appealed directly to the U.S. to step out of the way of progress. "President Obama, do not listen to the CEOs of fossil fuel companies. Listen to the people."
In the last 48 hours, more than 700,000 people have signed petitions calling on major emitters to stand with the nations of Africa and resist any attempts to delay climate action until 2020. The bulk of the signatures came from the global campaigning organization, Avaaz.org who called on the leaders of Brazil, China and Europe to, "Stand with Africa and face down the USA and other countries looking to wreck the climate talks and our planet."
"The world is standing in solidarity with those here in Durban who are taking action," said Avaaz senior campaigner Iain Keith. "The climate talks have just a few hours to go, and the future of Africa and the planet hangs in the balance. History will judge these negotiators based on the decisions they make tonight."
As of 3:30 p.m. Durban time on Dec. 9, protesters still filled a hallway of the conference center, singing, chanting and listening to speeches from activists and representatives from around the world. It is unclear whether security will allow the gathering to proceed throughout the day or clear the area.
"Any agreement to delay real climate action until 2020 would be a death sentence for millions of people in Africa and around the world," said Landry Ninteretse of the international climate campaign 350.org. "We are tired of waiting for progress."
For more information, click here.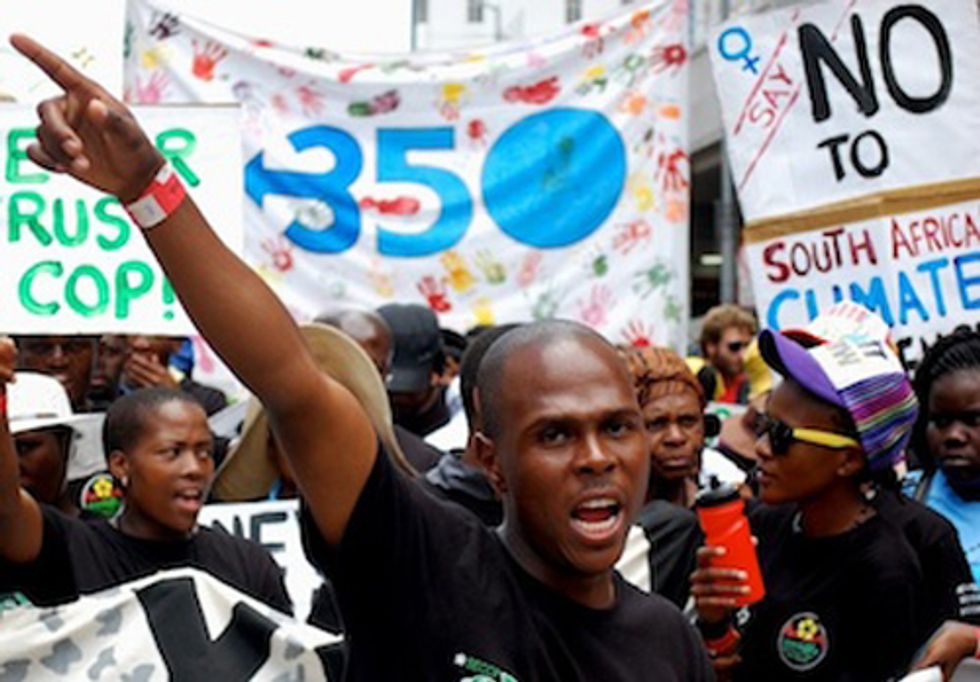 What if someone told you we should abandon all hope for global climate action until 2020? Well, that's exactly the proposal that the U.S. is pushing at the United Nation Climate Talks taking place this week in Durban, South Africa. The 2020 delay might well be the worst idea ever.
Waiting nine years for climate action isn't just a delay, it's a death sentence for communities on the front lines of the climate crisis—and it could slam the door on ever getting carbon pollution levels below the safe upper limit of 350 parts per million.
It's not too late to stop this delay from going through. Over the next three days, our team of 350.org activists in Durban will be working with our partners at Avaaz and allies from around the world to isolate the U.S.—and build support for the African nations that are fighting for real climate action. But it will take a massive grassroots outcry to demonstrate that people everywhere are taking a stand to prevent the U.S. negotiators from signing away our future.
If we raise an international alarm before the talks end on Friday, we can convince the U.S. to get out of way of progress and help unlock the global process that can lead to bold climate action all around the world.
Click here to add your voice to a global call to action we're delivering in Durban: www.350.org/durban
The climate talks in South Africa end in just 48 hours, and it's vital that we ramp up the pressure now. To make sure the U.S. gets the message, our team on the ground here in Durban will deliver your messages directly to the U.S. negotiating team at a high-impact event we're helping to pull together on Friday. We can't say much more about it now, but suffice to say our message will be unavoidable.
This year, the 350 network has shown that people power can truly move the planet in the right direction. We mobilized hundreds of thousands of people to push for climate action in nearly every country on earth. We beat back the Keystone XL pipeline when no one said it was possible. We took over the radio waves to spread a message of hope and action on the climate crisis. And through our actions, we helped keep the hope of saving our planet—and reaching 350 ppm—alive.
The United Nations Climate Talks here in Durban aren't going to get us back to 350 by themselves, but they can keep the option open by making progress on a legally binding, international framework to help nations make serious cuts in carbon emissions. In 2012, we're going to need to do all we can to challenge the fossil fuel companies that are the real obstacles to progress. Breaking their stranglehold on our governments is the only way to really unlock these negotiations.
But right now, the most important thing we can do is keep the possibility of a strong international climate deal alive by pushing back on the U.S. negotiating team. In recent months, President Barack Obama has shown that he'll stand up for the climate, but only if he's got a movement to back him up. On the Keystone pipeline, he's been doing the right thing by blocking Republican efforts to push it through—now we need him to do the right thing on the international stage.
There's no guarantee that we'll be successful, but we owe it to our allies across the planet—many of whom are already feeling the impacts of climate change—to resist the chorus of cynics and keep hope alive. As Nelson Mandela said, "It always seems impossible until it's done." The 350 network has pulled off the impossible before—now's the time to step up the pressure again.
Add your voice today: www.350.org/durban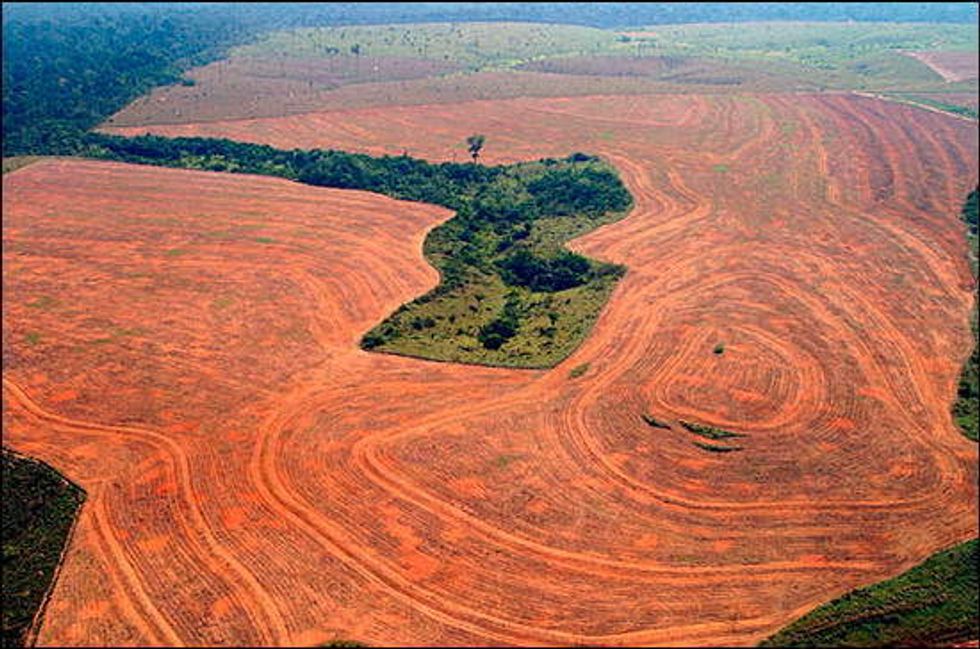 Brazil's Senate has decided to pursue short-term gain over long-term security in a vote to do away with long standing protections for the Amazon and other key forested areas, World Wildlife Fund (WWF) warned Dec. 7.
The new law, promoted by some rural and agribusiness interests, opens vast new areas of forest to agriculture and cattle ranching and extends amnesties to illegal deforestation conducted prior to 2008. Areas formerly held to be too steep or vital to the protection of watersheds and watercourses are among those now open to destruction.
Polls showed a majority of the population opposed to the revision of the Forest Code, with a vocal majority of experts warning that the new version of the law will hinder Brazil's long-term development and not help it.
"We have a powerful minority condemning the future of millions of Brazilians, all in the name of quick financial gain," stated WWF-Brazil's CEO, Maria Cecilia Wey de Brito. "No thought has been given to the social and economic costs of destroying our forests. The Senate has adopted, once again, the outdated and false notion that conservation and development are somehow at odds, something we know is not true."
Jim Leape on the Brazil Forest Law from WWF on Vimeo.
If signed into law by Brazil President Dilma Rousseff, the changes will jeopardize Brazil's significant environmental achievements of recent years and severely undermine global efforts to fight climate change and halt biodiversity loss. The changes are also expected to expose poor Brazilians to larger risks from floods and droughts.
Brazil has committed to 2020 targets of a nearly 40 percent cut in its growth curve of greenhouse gas emissions and a reduction of Amazon deforestation levels by 80 percent compared to average rates registered for the period of 1996-2005. These are commitments of global interest, now almost certainly out of reach because of the revisions to the Forest Code.
The Senate decision also comes in the midst of international climate talks in Durban, South Africa, and precedes Brazil's hosting of the United Nations Conference on Sustainable Development, or Rio+20, in June 2012. Brazil's credibility as it hosts this and other key global events (2014 World Cup, 2016 Summer Olympics) will be severely compromised if it passes environmental legislation favoring deforestation of the Amazon and other globally-important regions, WWF warned.
"WWF-Brazil has gone along with the legislative processes, has worked with others to help bring science to the political debate and has defined common points with good agribusiness and others," said Wey de Brito. "Now we must urge President Rousseff to consider the severe implications of signing the revisions into law, including irreparable harm to Brazil's natural resources, its economic development, and to the future health and well-being of millions of Brazilians and billions of people around the world."
WWF-Brazil is supported by WWF's entire international network in urging President Rousseff to act in Brazil's interests rather than a sectional interest—noting that the president has already said she would not support an amnesty for illegal deforestation.
"We're at a time in history when the world seeks leadership in smart, forward-thinking development," said WWF International Director-General Jim Leape. "Brazil was staking a claim to being such a leader.
"It will be a tragedy for Brazil and for the world if it now turns its back on more than a decade of achievement to return to the dark days of catastrophic deforestation."
For more information, click here.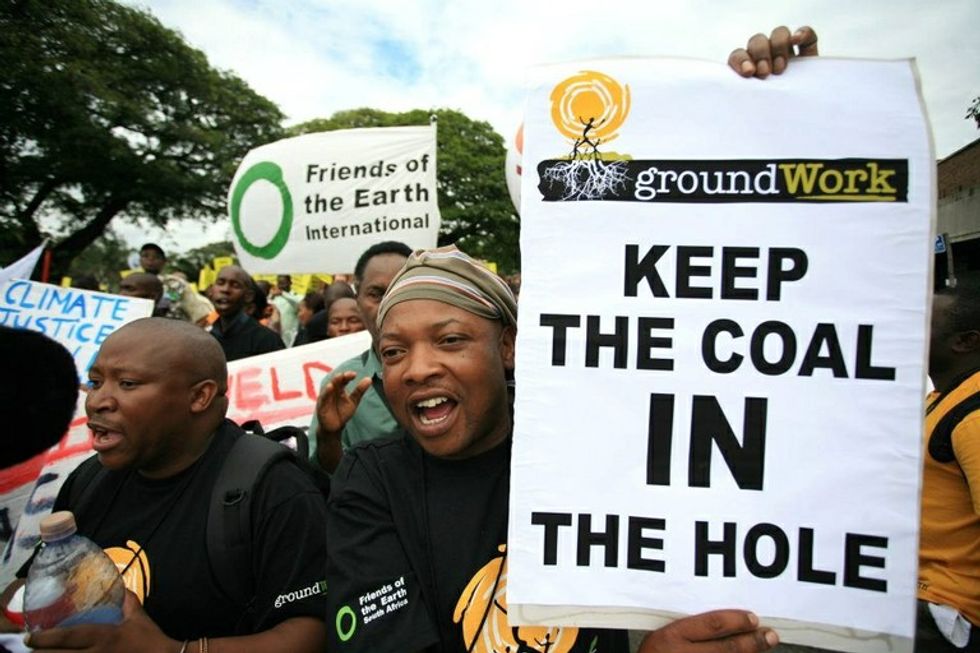 Friends of the Earth International has issued strong warnings against climate inaction at the United Nations (U.N.) climate talks in Durban, South Africa, and blamed industrialized countries like the U.S., Canada, Japan and European countries for seeking to unravel existing agreements under the guise of a new mandate for the climate negotiations.
As global leaders arrived Dec. 7 for the final three days of talks, the international grassroots environmental organization has pointed to the highly destructive agenda of developed countries, including the E.U., which have so far failed in Durban to propose any ambitious emission reductions and any suitable finance and technology support to developing countries.
Friends of the Earth International has called on developing countries to resist the push from the rich industrialized world to tear up existing commitments. A new mandate—which means not implementing existing obligations—would lock in ten years of inaction and set the world squarely on a course for climate catastrophe.
"Rich countries must hear loud and clear that Africa won't pay for their crisis. Developed countries are trying to kill the Kyoto Protocol. They want to turn back the clock to 1997 and shift responsibility for the climate crisis they created onto the developing countries already bearing the brunt of climate change. Anything less than strong legally-binding emissions reductions for developed countries under a second commitment period of the Kyoto Protocol must be understood for what it is—a mandate to burn Africa and our people," said Nnimmo Bassey, chair of Friends of the Earth International.
"This talk of a new treaty is a ruse to distract the world from the failure of developed countries to deliver on their existing commitments to cut emissions. We don't need a new mandate, a mandate already exists. A new mandate will open the door to climate deregulation where polluters continue to pollute, speculators profit from pollution, and the rest of the world carries the burden of the climate crisis," said Meena Raman of Friends of the Earth Malaysia.
The E.U. has driven the call for a new mandate but it is advancing a wider agenda of rich industrialized countries like the U.S., Japan and Canada to escape from the current system of legally-binding emissions reduction targets for those countries which have caused the climate crisis—and shift responsibility onto developing countries. Meanwhile, countries are using the international climate negotiations to drive forward false and dangerous solutions to climate change like the expansion of carbon trading.
"It is clear what is driving this agenda. More and more countries are coming to the international climate talks with one objective in mind—to defend and advance the economic interests of their polluting industries and multinational corporations and resist the global effort for a strong and fair agreement to tackle climate change. Many civil society groups are calling Durban a conference of polluters. We cannot let the polluters win and lock in a decade of inaction on the climate crisis. Africa must stand strong on behalf of the people of Africa and the people of the world," said Bobby Peek of Friends of the Earth South Africa.
For more information, click here.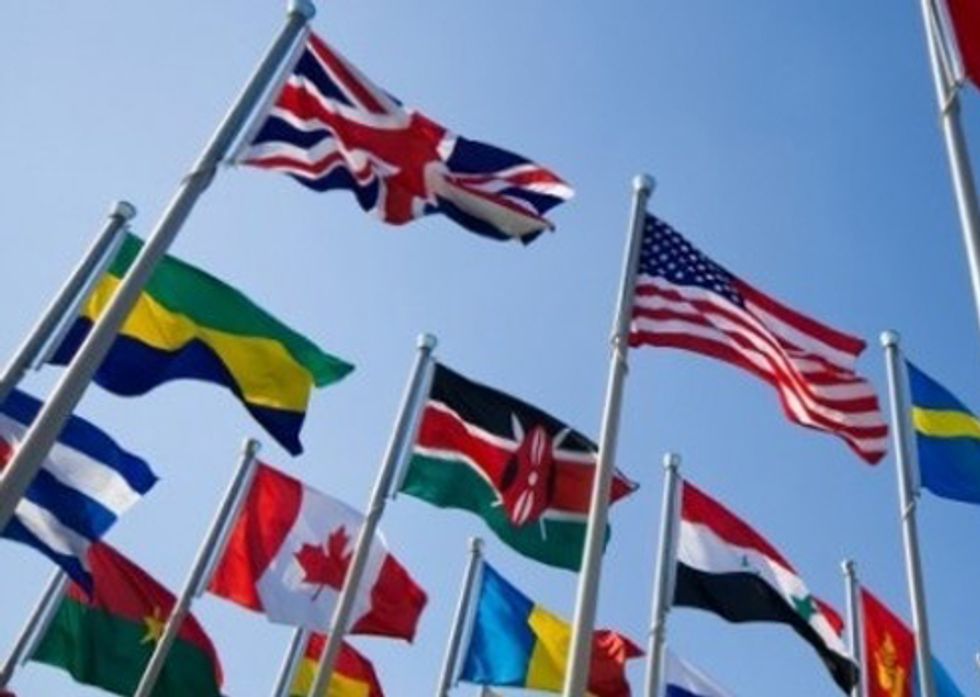 International Energy Agency (IEA) Executive Director Maria van der Hoeven called on countries to step up efforts to avert climate change Dec. 6, noting that to do so requires addressing their energy security concerns in a sustainable manner. Describing the limited progress that is expected at United Nations (U.N.) climate talks as a "cause for concern," Ms. Van der Hoeven urged countries not to wait for a comprehensive deal on climate, but rather to act now to meet growing demand for energy with secure, low-carbon solutions.
The IEA's annual World Energy Outlook, released in November, sent a stark message to the participants at the COP 17 climate negotiations in Durban, South Africa by concluding that the world is locking itself into an insecure, inefficient and high-carbon energy system. If bold policy actions are not put in place over the next several years, it will become increasingly difficult and costly to meet the goal set at last year's talks of limiting a global temperature increase to 2 degrees Celsius.
"The door to achieving our objectives is rapidly closing, and while I strongly urge an agreement on emissions, I have a simple message for the participants in these talks—Don't wait for a global deal. Act now. You can and should implement robust policies that will give your citizens affordable, reliable access to energy in a sustainable way," Ms. Van der Hoeven told a press conference at the climate talks in Durban.
The IEA executive director noted that the IEA has identified many policy tools that countries can use to both enhance their energy security and reduce carbon emissions. Such tools include:
Standards on energy-using equipment such as cars or electric appliances
Cost-effective measures to deploy renewables, with care given to their impact on security of supply and
A price on carbon, including through tradeable CO2 emissions quotas, used in the E.U. and Australia, and actively being promoted in China and elsewhere
Ms. Van der Hoeven also said that while industrialized nations have already pledged USD 100 billion for low-carbon investments in emerging economies, financing remains a key challenge. But the big emerging economies—the so-called BRICs that include Brazil, Russia, India and China—can and should implement sound policies that tap domestic funding sources and direct them to low-carbon investments that promote energy security. The IEA can help governments in this area. On a related issue, she noted that achieving universal access to modern energy services would have huge economic, social and health benefits without significantly affecting CO2 emissions globally. IEA member countries are actively supporting efforts towards broader energy access.
Finally, she noted that while the focus has been for years on how energy will affect climate, it is time to begin studying how changes in climate will affect energy systems and, by extension, energy security.
For more information, click here.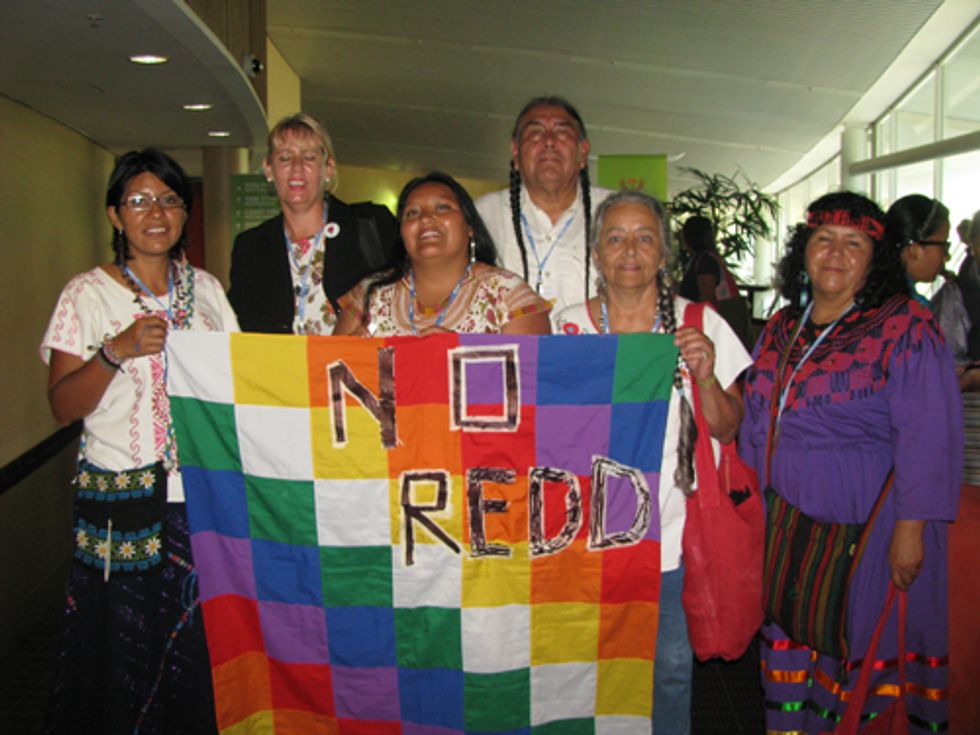 Indigenous Peoples participating in the United Nations Framework Convention on Climate Change (UNFCCC) negotiations in Durban, South Africa have called for a moratorium on Reducing Emissions from Deforestation and Forest Degradation (REDD+) Dec. 6. In a statement released to the press, the Global Alliance of Indigenous Peoples and Local Communities against REDD and for Life declares: "REDD+ threatens the survival of Indigenous Peoples and forest-dependent communities and could result in the biggest land grab of all time. Based on in-depth investigations, a growing number of recent reports provide evidence that Indigenous Peoples are being subjected to violations of their rights as a result of the implementation of REDD+-type programs and policies."
Berenice Sanchez, of MesoAmerican Indigenous Womens BioDiversity Network, Mexico, said, "The supposed safeguards are voluntary, weak and hidden in the annex. REDD+-type projects are already violating Indigenous Peoples' rights throughout the world. We are here to demand an immediate moratorium to stop REDD+-related land grabs and abuses because of REDD+."
The President of the Ogiek Council of Elders of the Mau Forest of Kenya, Joseph K. Towett, said, "We support the moratorium because anything that hurts our cousins, hurts us all."
Marlon Santi, former president of the National Confederation of Indigenous Nationalities of Ecuador, said, "We are here to express our concern about the false solutions that have made a business out of climate change. For Indigenous Peoples, the way of life we maintain in our territories is sacred. Therefore, we see carbon markets as a hypocrisy that will not detain global warming. With this moratorium, we alert our peoples about the risks that come with REDD+—threats against our rights and those of our Mother Earth, with the attempts to turn our lands and our forests into a waste-basket for carbon, while those responsible for the crisis continue reaping the benefits."
"REDD+, in its readiness phase, has proved that it is not an effective tool for providing binding safeguards. We have seen the problems it causes and we take them extremely seriously," said Tom Goldtooth of the Indigenous Environmental Network.
Basing their alert on the precautionary principle and on serious concerns regarding human rights, Indigenous Peoples' rights, and an increasing spate of reports citing the failure of REDD to protect forests or to mitigate the climate crisis, the Global Alliance of Indigenous Peoples and Local Communities against REDD and for Life calls for an immediate moratorium.
In addition, in the document released to the press Dec. 6, they call for the United Nations Human Rights Council, the Office of the High Commissioner on Human Rights, the United Nations Permanent Forum on Indigenous Issues, and other human rights organizations, to investigate and document violations from REDD+-type policies and projects, as well as to prepare reports, to issue recommendations and to establish precautionary measures and reparations to guarantee the implementation of the U.N. Declaration on the Rights of Indigenous Peoples, and other instruments and norms.
The call for moratorium was announced at a press conference at UNCOP17 Dec. 6. See the entire press conference on video by clicking here.
The call for a moratorium follows, below:
Global Alliance of Indigenous Peoples and Local Communities against REDD and for Life Calls for a Moratorium on Reducing Emissions from Deforestation and Forest Degradation (REDD+)
United Nations Framework Convention on Climate Change, 17th Conference of the Parties
Durban, South Africa, December 5, 2011
The Global Alliance of Indigenous Peoples and Local Communities against REDD and for Life calls for a moratorium on Reducing Emissions from Deforestation and forest Degradation (REDD+) at the 17th Conference of the Parties of the United Nations Framework Convention on Climate Change (UNFCCC), until the following concerns are fully addressed and resolved. However, we reserve the right to expand these demands.
Our call for a moratorium is based upon the precautionary principle which says that, "when an activity raises threats of harm to human health or the environment, precautionary measures should be taken even if some cause and effect relationships are not established scientifically." The moratorium that we are demanding is the precaution that must be taken to ensure our rights and our environment because the majority of the forests of the world are found in the land and territories of indigenous peoples.
REDD+ threatens the survival of Indigenous Peoples and forest-dependent communities and could result in the biggest land grab of all time. Based on in depth investigations, a growing number of recent reports provides evidence that Indigenous Peoples are being subjected to violations of their rights as a result of the implementation of REDD+-type policies and programs, including—the right to life of objectors to REDD+, forced displacements and involuntary resettlement, the loss of lands, territories and resources, means of subsistence, food sovereignty and security, and the imposition of so-called "alternative livelihoods" that lead to separation of our people from their communities, cultures and traditional knowledge. Similarly, our rights to free, prior and informed consent, self-determination and autonomy consecrated in the United Nations Declaration on the Rights of Indigenous Peoples (UNDRIPs) are also violated. It is worth noting that the United Nations itself recognizes that REDD+ could result in the "lock-up of forests." Furthermore, REDD+ is portrayed as a vehicle for strengthening land tenure rights, but, in fact, is used to weaken them.
We denounce that the safeguards contained in the Cancun Accords do not provide a framework that prevents or halts the violation of our individual and collective rights established by UNDRIPs; given that they do not establish legally binding obligations or mechanisms to guarantee our rights, present complaints, or demand reparations. The efforts we have made to strengthen human rights safeguards at COP 17 have been rebuffed by relevant Contact Groups of Subsidiary Body for Scientific and Technological Advice and Long-Term Cooperative Action within the UNFCCC process.
REDD+ and the Clean Development Mechanism (CDM) promote the privatization and commodification of forests, trees and air through carbon markets and offsets from forests, soils, agriculture and could even include the oceans. This could commodify almost the entire surface of Mother Earth, hurts our relationship with the sacred and violates the rights of Mother Earth. We denounce that carbon markets are a hypocrisy that will not stop global warming.
We also share our profound concern that the sources of financing for REDD+ carbon offsets come from the private sector and carbon markets, which extractive industries are involved in. Carbon markets and REDD+ convert our territories and forests into carbon dumps, while those most responsible for the climate crisis do not commit to legally binding reductions of greenhouse gas emissions and continue to make profits. The World Bank itself has reported that the "financial flows required for climate stabilization and adaptation, will in the long run be mainly private in composition."
REDD+ not only harms Indigenous Peoples and local communities, but also damages the environment. REDD+ promotes industrial plantations and could include planting genetically modified trees. Perverse incentives are already increasing deforestation and the substitution of native forests with monocultures.
REDD+ jeopardize the human future and the balance of Mother Earth because it entrenches fossil fuel use, which is the major cause of the climate crisis. According to the Director of NASA, James Hansen, the world's most distinguished climatologist, "industrialized countries could offset 24-69 percent of their emissions via the CDM and REDD… thus avoiding the necessary domestic cuts that are required to peak emissions around 2015."
REDD+-type projects lead to conflicts within and between indigenous communities and other vulnerable populations. The loss of traditional use of forest, financial incentives, converting forests into commodities, financial speculation and land grabs undermine our traditional systems of governance, generate conflicts.
Furthermore, every time that a community signs a REDD+ contract in a developing country, which provides pollution credits for the fossil fuel industry and other entities responsible for climate change, it allows environmental destruction and hurts vulnerable communities elsewhere, including in the North. By favoring continued exploitation and burning of fossil fuels, REDD+ allows for the continuation of pollution in industrialized countries, further threatening communities in the North that are already overburdened by these impacts. It is not possible to reform or regulate REDD+ to prevent this situation.
Due to the problems of calculating baselines, leakage, permanence, monitoring, reporting and verification that policy makers and methodology designers are not willing and cannot solve, REDD+ is undermining the climate regime and violating the principle of common but differentiated responsibility established under the UNFCCC. Pollution credits generated by REDD+ obstruct the only workable solution to climate change—keeping oil, coal and gas in the ground. Like the carbon credits produced under the Kyoto Protocol's CDM, REDD+ is not intended to achieve real emissions reductions, but merely to compensate for excessive fossil fuel use elsewhere.
Furthermore, biotic carbon—the carbon stored in forests—can never be the climatic equivalent to fossilized carbon kept underground. Carbon dioxide from burning fossil fuels adds to the overall burden of carbon perpetually circulating between the atmosphere, vegetation, soils and oceans. This inequivalence, among many other complexities, makes REDD carbon accounting impossible, allowing carbon traders to inflate the value of REDD carbon credits with impunity.
Based on the above, we urgently call for the United Nations Human Rights Council, the Office of the High Commissioner on Human Rights, the United Nations Permanent Forum on Indigenous Issues and human rights organizations to investigate and document the violations from REDD+-type policies and projects, as well as to prepare reports, issue recommendations and establish precautionary measures and reparations to guarantee the implementation of UNDRIPs and other instruments and norms.
In summary, REDD+-type policies and projects are moving too quickly, allowing crucial human rights and environmental concerns to be sidelined or dismissed. We reaffirm the need for the moratorium on REDD+. In conclusion, we emphasize that forests are most successfully conserved and managed with indigenous governance of the collective lands and territories of Indigenous Peoples.
For more information, click here.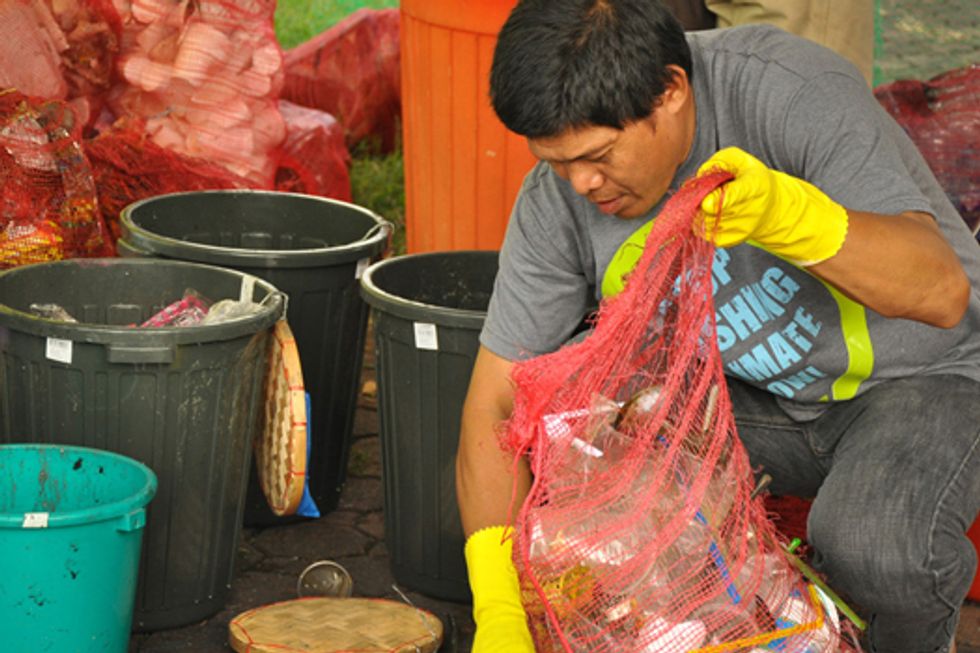 Waste pickers attending COP17 Dec. 5 called for a Green Climate Fund with direct community access and an end to clean development mechanism (CDM) waste-to-energy projects. Representatives from three continents highlighted the fact that waste pickers are the most effective way to reduce greenhouse gas emissions in the waste sector.
Millions of people worldwide make a living from waste picking. They collect, sort and process recyclables, reducing the amount of waste that is sent to landfills and saving valuable natural resources. Today, an increasing number of waste pickers are processing organic waste, diverting it from landfills and therefore reducing methane gas pollution. Waste pickers could further reduce greenhouse gas emissions given proper support.
To secure this support, a waste picker delegation has come to COP17 to raise their concerns surrounding current climate financing mechanisms and to advocate for more just alternatives that are directly accessible by waste pickers. Waste pickers from three different continents spoke against disposal technologies that undermine their livelihoods, such as incinerators and waste-to-energy projects.
Harouna Niass, a waste picker from Dakar, Senegal, spoke about the formation of Book Diomm Waste Pickers Association with 800 members, and the threat they face from CDM-backed landfill gas companies competing to extract methane and force the waste pickers off the landfill.
"Waste pickers should be included and given more respect because we take care of our environment," Niass said.
Simon Mbata, with the South African Waste Pickers' Association, discussed the importance of supporting waste pickers.
"We demand a Green Climate Fund that is directly accessible to waste pickers and an end of support for CDM projects which compete directly with us," Mbata said.
Neil Tangri, with the Global Alliance for Incinerator Alternatives (GAIA), provided background on CDM-backed projects and the Green Climate Fund. Suman More, a waste picker with SWaCH cooperative in Pune, India, discussed incinerator alternatives.
The GAIA promotes these solutions worldwide:
We only achieve true solutions when our work supports systems of social and economic justice and ecological sustainability. Addressing issues of access, ownership, autonomy and democratic participation, among others, lays the foundation for lasting success.
Zero waste means reducing what we trash in landfills and incinerators to zero. Most things can and should be safely and economically recycled or reused. We also need to simply use less and redesign our products so that they are toxic-free and built to last.
Clean Production is a way of designing products and manufacturing processes in harmony with natural ecological cycles. It takes a life cycle view of all materials' flows, from extraction of the raw material to product manufacture and the ultimate fate of the product at the end of its life.
Extended Producer Responsibility
To get to the root cause of waste, communities need to stop picking up after the producers of products that become waste and begin demanding that they do so themselves. The embodiment of this idea is extended producer responsibility, which requires companies that manufacture or sell products to be responsible for such products after their useful life.
In many parts of the developing world, collecting and sorting waste informally provides a livelihood for large numbers of the urban poor, who often work in deplorable conditions. GAIA believes that advocating for waste picker rights is an important part of working for environmental justice.
In order to fulfill the medical ethic to "first do no harm," healthcare providers have a responsibility to manage waste in ways that protect the public and the environment. The first step is waste minimization and separation, and the next is treating infectious waste to prevent the spread of disease.
Read GAIA's case studies on CDM projects on municipal waste management:
To read about the CDM incinerator in Chengdu Luo Dai, China, click here.
To read about the Bisasar landfill in Durban, South Africa, click here.
To read about the Usina Incinerator in Rio de Janeiro, Brasil, click here.
For more information, click here.
—————
The Global Alliance of Waste Pickers brings together waste pickers organizations from Africa, Asia and Latin America. To learn more about waste pickers' experiences and to support fair and just solutions to climate change, visit our blog www.globalrec.org.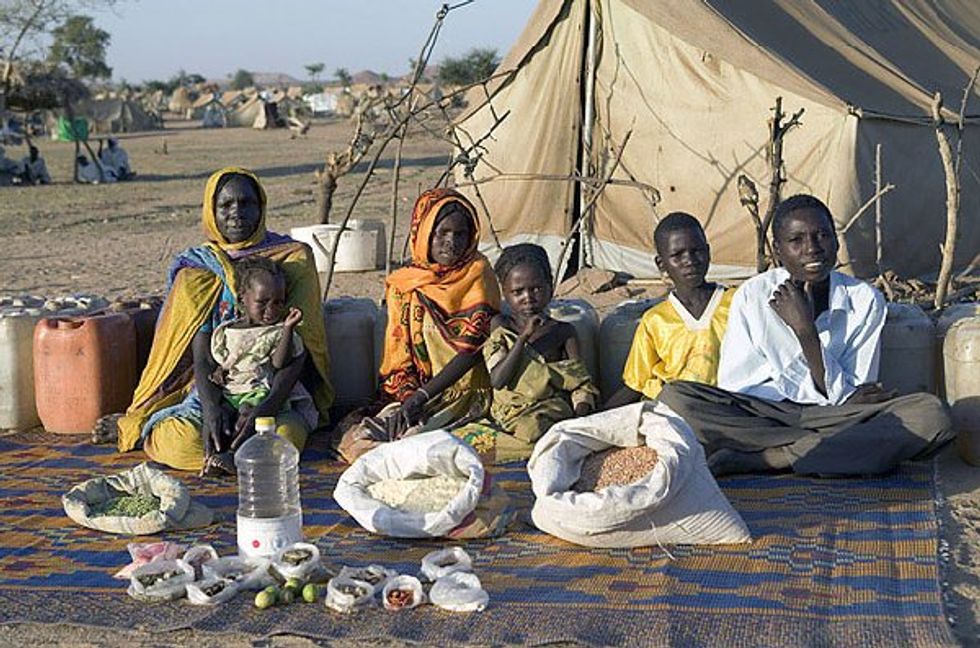 African farmer and civil society groups in Africa are celebrating the launch of a "network of African networks" at the 17th Conference of the Parties (COP17) called the Alliance for Food Sovereignty in Africa (AFSA). They have released a report emphasizing that food sovereignty can cool the planet while feeding the world and regenerating ecosystems.
"There are so many challenges facing our continent," says Anne Maina of the African Biodiversity Network (ABN), one of AFSA's member networks. "As 14 Pan-African networks representing a huge constituency in Anglophone, Francophone and Lusophone Africa, we are in agreement that food sovereignty must be a way forward to ensure resilient food systems and ecosystems in the face of climate change and destructive development."
"Food sovereignty is an approach to agriculture that is radical, but it is self-evident too. It holds the interests of small-scale food producers, their communities and ecosystems, as critical to strengthening resilient food systems. For too long, food policy has focused on yield at any cost—and undermined the very systems and people on which food production depends. Food sovereignty is a powerful concept and framework that is clear about embracing solutions, and challenging the threats," said Million Belay of Melca Mahiber, an Ethiopian member of ABN.
Officially launched Dec .4, AFSA began amid joyful singing from African women farmers, but also among sobering facts about the multiple threats from climate change and false solutions such as the Bill Gates-funded Alliance for a Green Revolution in Africa, genetically modified organisms, biofuel, land grabbing and carbon trading, and inspiring discussions about agroecological solutions for food, farmers and biodiversity.
"The Alliance for Food Sovereignty is working to promote agroecology as a solution to climate change, feeding people, biodiversity, livelihoods and healing the soils. It is about using and conserving the resources that are freely available to communities. These are appropriate for our economies, and our small scale farmers, who don't need the expensive chemical inputs that are being pushed on us," said Agnes Yawe of Participatory Ecological Land Use Management, a network with members in 10 countries.
Mphatheleni Makaulule, indigenous community leader from Mupo Foundation in Venda in the North of South Africa, and a member of ABN, emphasizes the importance of indigenous wisdom, and how her community sees the challenge of climate change and harmful development. "We cannot have health in a sick climate. In our territories, the soil, water and indigenous forest is already in disorder, and that affects the ecosystem. The indigenous seeds from the indigenous knowledge are our hope to adapt with this climate change, and this is why we want food sovereignty.
"Our lands and community in Venda are now faced with being destroyed by a huge open cast coal mine. This will finish our last remaining water, and kill our last indigenous trees and sacred sites. But these are the richest ecosystems, and they bring the rain. This mining is going to make climate change worse. We cannot guarantee the future if this mining continues. The coming generation will realize that money cannot be breathed or chewed."
Simon Mwamba of the East African Farmers' Federation adds, "The COP17 negotiations should not be used to advance the push for the green revolution in Africa, which traps farmers into cycles of debt and poverty. The green revolution will just enhance the corporate grip over agriculture and farmers, thereby threatening food sovereignty. Such practices force smallholder farmers to be dependent on agrochemicals, while eroding the seed diversity that Africa needs for resilience to climate change and a food secure future. Genetically Modified (GM) crops will be even worse "
Mamadou Goita of Network of Farmers' and Agricultural Producers' Organizations of West Africa (ROPPA), the farmers' federation for West Africa, emphasized that the threats facing Africa are numerous. "Land grabbing for biofuels and industrial food export is one of the biggest weapons to kill food sovereignty and excluding family farmers from food production."
Nnimmo Bassey of Friends of the Earth Africa, and chair of Friends of the Earth International, said "Climate Change is killing our continent and peoples, but so are the so-called solutions proposed by profit-hungry corporations. This is why we are coming together as AFSA, to speak out for African solutions to the problems caused by the industrialized North."
For a short video about the Dec. 4 launch of AFSA in Durban, South Africa at the COP17 meeting, click here.
For more information, click here.