This website uses cookies to ensure you get the best experience while browsing it. By clicking 'Got It' you're accepting these terms.
Forest elephant in Gabon. Photo credit: Rhett Butler
By Mike Gaworecki
New research shows that more than 25,000 forest elephants were killed for their ivory in Gabon's Minkébé National Park, one of the largest and most important wildlife preserves in Central Africa, between 2004 and 2014.
Hydraulic fracturing, or fracking, has long been tied to environmental risks such as spills. The frequency of spills, however, has long been murky since states do not release standardized data.
Estimates from the U.S. Environment Protection Agency (EPA) vary wildly.
"The number of spills nationally could range from approximately 100 to 3,700 spills annually, assuming 25,000 to 30,000 new wells are fractured per year," the agency said in a June 2015 report. Also, the EPA reported only 457 spills related to fracking in 11 states between 2006 and 2012.
But now, a new study suggests that fracking-related spills occur at a much higher rate.
The analysis, published Feb. 21 in the journal Environmental Science & Technology, revealed 6,648 spills in four states alone—Colorado, New Mexico, North Dakota and Pennsylvania—in 10 years.
The researchers determined that up to 16 percent of fracked oil and gas wells spill hydrocarbons, chemically laden water, fracking fluids and other substances.

For the study, the researchers examined state-level spill data to characterize spills associated with unconventional oil and gas development at 31,481 fracked wells in the four states between 2005 and 2014.
"On average, that's equivalent to 55 spills per 1,000 wells in any given year," lead author Lauren Patterson, a policy associate at Duke University's Nicholas Institute for Environmental Policy Solutions, told ResearchGate.

North Dakota reported the highest spill rate, with 4,453 incidents. Pennsylvania reported 1,293, Colorado reported 476 and New Mexico reported 426. The researchers created an interactive map of spill sites in the four states.
Although North Dakota is rich in oil, the state's higher spill rate can be explained by varying state reporting requirements. North Dakota is required to report any spill larger than 42 gallons whereas requirement in Colorado and New Mexico is 210 gallons.
Patterson points out that the different reporting requirements are a problem.
"Our study concludes that making state spill data more uniform and accessible could provide stakeholders with important information on where to target efforts for locating and preventing future spills," she told ResearchGate. "States would benefit from setting reporting requirements that generate actionable information—that is, information regulators and industry can use to identify and respond to risk 'hot spots.' It would also be beneficial to standardize how spills are reported. This would improve accuracy and make the data usable to understand spill risks."
The reason why the researchers' numbers vastly exceeded the 457 spills estimated by the EPA is because the agency only accounted for spills during the hydraulic fracturing stage itself, rather than the entire process of unconventional oil and gas production.

"Understanding spills at all stages of well development is important because preparing for hydraulic fracturing requires the transport of more materials to and from well sites and storage of these materials on site," Patterson explained. "Investigating all stages helps to shed further light on the spills that can occur at all types of wells—not just unconventional ones."
For instance, the researchers found that 50 percent of spills were related to storage and moving fluids via pipelines.
"The causes are quite varied," Patterson told BBC. "Equipment failure was the greatest factor, the loading and unloading of trucks with material had a lot more human error than other places."
For the four states studied, most spills occurred in the the first three years of a well's life, when drilling and hydraulic fracturing occurred and production volumes were highest.
Additionally, a significant portion of spills (26 percent in Colorado, 53 percent in North Dakota) occurred at wells with more than one spill, suggesting that wells where spills have already occurred merit closer attention.

"Analyses like this one are so important, to define and mitigate risk to water supplies and human health," said Kate Konschnik, director of the Harvard Law School's Environmental Policy Initiative in a statement. "Writing state reporting rules with these factors in mind is critical, to ensure that the right data are available—and in an accessible format—for industry, states and the research community."
EcoWatch Daily Newsletter
Hundreds of residents rallied against fracking and for renewable energy outside of Gov. Cuomo's speech in Ithaca, NY, today with just hours notice of the Governor's appearance. The concerned citizens urged the Governor not to put New York's clean water, air, environment and economy at risk by allowing fracking. Further, they urged the Governor to aggressively invest in renewable energy, which would bring sustainable, good jobs and economic development to New York State without jeopardizing people's health and existing jobs like fracking would.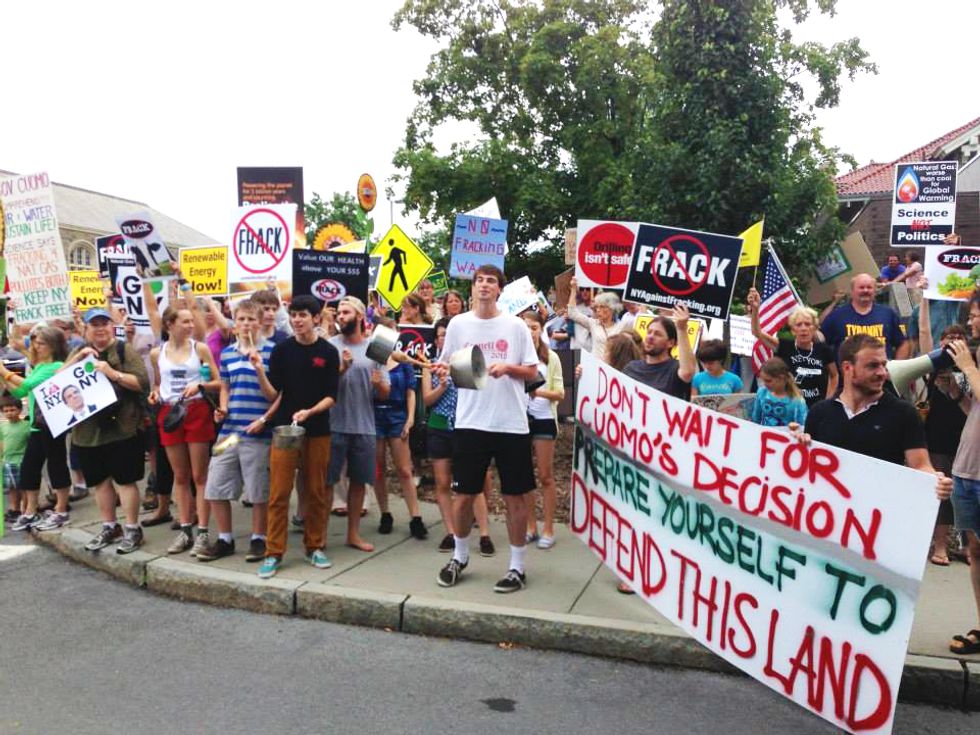 "Governor Cuomo must reject fracking because it would contaminate our clean water, poison our air and undermine our economy including agriculture, tourism and small businesses" said John Armstrong of Frack Action, an Ithaca resident."Science overwhelmingly shows that fracking cannot be done safely and that it would only lead to polluted water and ruined communities, just as it has in Pennsylvania and many other states. We urge Governor Cuomo to make New York State a national leader by moving us forward to a 21st century renewable energy economy that provides long-term, good jobs, not the dirty fossil fuels of the past that will only bring destruction and toxic jobs mostly for out-of-state workers."
"The facts, science, and an overwhelming citizen's movement of New Yorkers insist that Governor Cuomo bans fracking. Unprecedented numbers of business owners, farmers, health professionals, vintners and New Yorkers from all walks of life are speaking out against fracking because it threatens our water, air and way of life," said Sarah Kelsen of New Yorkers Against Fracking, also an Ithaca resident.
"We are gathered here today to give Cuomo a foreshadowing of the resistance that fracking, if approved, will face. If he is wise, he will listen to the people and not allow fracking in New York," said Sam Law, an Ithaca Resident and organizer with Shaleshock and Finger Lakes Action Network.
Gov. Cuomo was in Ithaca for a 2:15 p.m. speech at Friends Hall, Cornell University. The rally began outside of the event at 1:30 p.m.
Independent observers have noted that the gas industry cannot be trusted when it describes fracking as safe. A recent investigation by the Times Tribune in Pennsylvania revealed many cases of water contamination from fracking.  And a recent study showed that fracking emits significant amounts of methane—a major contributor to climate change. A recent peer-reviewed study by Duke University in the renowned Proceedings of the National Academy of Sciences linked fracking with water contamination in Pennsylvania.
The latest Siena Poll showed that upstate New Yorkers oppose fracking 52-38 percent. On Monday, June 17, 3,000 New Yorkers rallied in Albany to demand that Gov. Cuomo reject fracking and instead aggressively pioneer a renewable energy economy.
A recent peer-reviewed study detailed a plan for New York State to get to 100 percent renewable energy by 2030.
Visit EcoWatch's FRACKING page for more related news on this topic.
———
SHARE YOUR THOUGHTS BELOW: If New York State can become 100 percent renewable by 2030, could the whole country?
———

Some homeowners living near shale gas wells appear to be at higher risk of drinking water contamination from stray gases, according to a new Duke University-led study, Increased Stray Gas Abundance in a Subset of Drinking Water Wells Near Marcellus Shale Gas Extraction.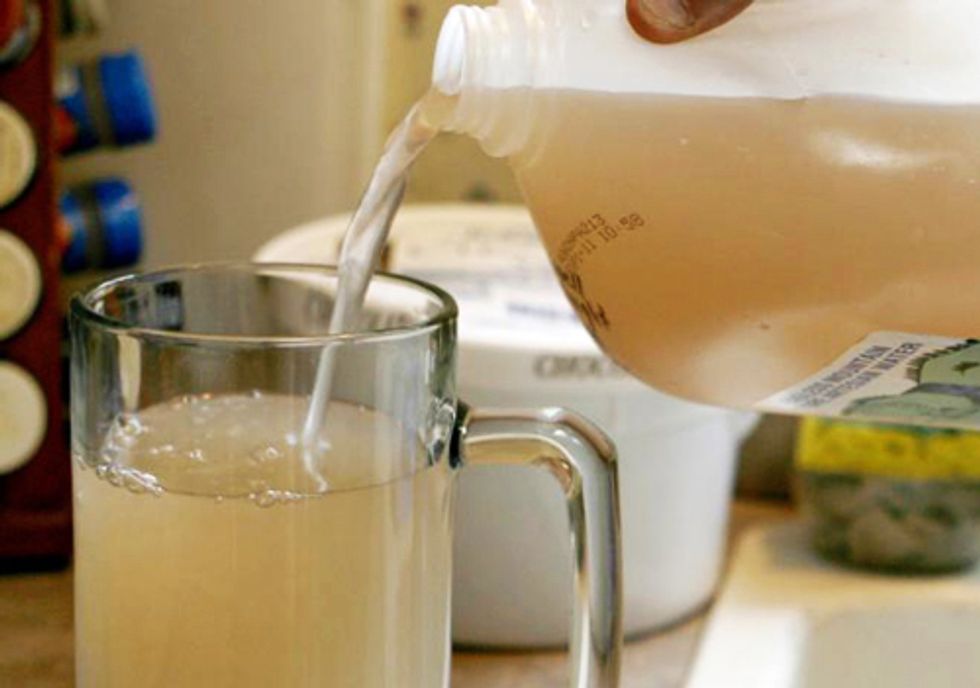 The scientists analyzed 141 drinking water samples from private water wells across northeastern Pennsylvania's gas-rich Marcellus Shale basin.
They found that, on average, methane concentrations were six times higher and ethane concentrations were 23 times higher at homes within a kilometer of a shale gas well. Propane was detected in 10 samples, all of them from homes within a kilometer of drilling.
"The methane, ethane and propane data, and new evidence from hydrocarbon and helium content, all suggest that drilling has affected some homeowners' water," said Robert B. Jackson, a professor of environmental sciences at Duke's Nicholas School of the Environment. "In a minority of cases the gas even looks Marcellus-like, probably caused by poor well construction."
The ethane and propane data are "particularly interesting," he noted, "since there is no biological source of ethane and propane in the region and Marcellus gas is high in both, and higher in concentration than Upper Devonian gases" found in formations overlying the Marcellus shale.
The scientists examined which factors might explain their results, including topography, distance to gas wells and distance to geologic features. "Distance to gas wells was, by far, the most significant factor influencing gases in the drinking water we sampled," said Jackson.
The team published its peer-reviewed findings this week in the online Early Edition of the Proceedings of the National Academy of Sciences.
Shale gas extraction—a process that includes horizontal drilling and hydraulic fracturing—has fueled concerns in recent years about contamination of nearby drinking water supplies.
Two previous Duke-led studies found direct evidence of methane contamination in water wells near shale-gas drilling in northeastern Pennsylvania, as well as possible hydraulic connectivity between deep brines and shallow aquifers. A third study, conducted with U.S. Geological Survey scientists, found no evidence of drinking water contamination from shale gas production in Arkansas. None of the studies found evidence of current contamination by hydraulic fracturing fluids.
The new study is the first to offer direct evidence of ethane and propane contamination.
"Our studies demonstrate that the integrity of gas wells, as well as variations in local and regional geology, play major roles in determining the possible risk of groundwater impacts from shale gas development. As such, they must be taken into consideration before drilling begins," said Avner Vengosh, professor of geochemistry and water quality at Duke's Nicholas School.
"The new data reinforces our earlier observations that stray gases contaminate drinking water wells in some areas of the Marcellus shale. The question is what is happening in other shale gas basins," Vengosh said.
"The helium data in this study are the first in a new tool kit we've developed for identifying contamination using noble gas geochemistry," said Thomas H. Darrah, a research scientist in geology, also at Duke's Nicholas School. "These new tools allow us to identify and trace contaminants with a high degree of certainty through multiple lines of evidence."
Co-authors of the new study are Nathaniel Warner, Adrian Down, Kaiguang Zhao and Jonathan Karr, all of Duke; Robert Poreda of the University of Rochester; and Stephen Osborn of California State Polytechnic University. Duke's Nicholas School of the Environment and the Duke Center on Global Change funded the research.
Visit EcoWatch's FRACKING page for more related news on this topic.
——–
Sign the petition today, telling President Obama to enact an immediate fracking moratorium: