Two towns seeking to keep their local fracking ban on the books are fighting to cement their court victories over the oil and gas industry. The Town of Dryden submitted court papers yesterday arguing that the Court of Appeals—New York's highest court—should reject the industry's request for permission to appeal the closely watched case.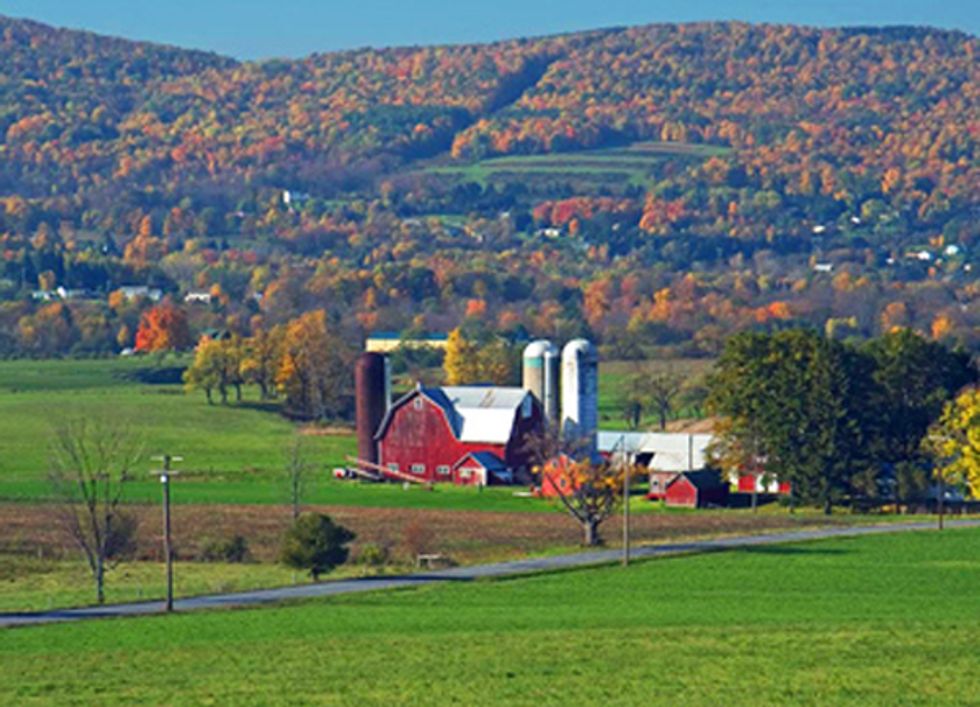 On May 2, a state intermediate appeals court ruled in favor of the towns of Dryden and Middlefield, affirming lower court decisions upholding the towns' right to ban oil and gas development activities—including the controversial technique of fracking—within town limits. On May 31, oil and gas industry lawyers filed papers asking the Court of Appeals to review the decision.
"At this point, we don't think there's anything left to resolve. Our town clearly has the right, enshrined in our state constitution and upheld by the courts, to decide how land is used within our town borders," said Dryden Town Supervisor Mary Ann Sumner. "Still, the oil and gas industry is dissatisfied and stubbornly insists on dragging out this court case. Clearly, they're not used to not getting their own way."
If the high court does decide to take the case, the Town of Dryden has suggested that the court should not prolong its decision and should promptly affirm the unanimous decision of the mid-level appellate court.
"Every justice of New York's trial and appellate courts to consider the issue—eight in all—has upheld the local power to limit the use of land for oil and gas development. But the oil and gas industry is hoping that the Court of Appeals will reverse those decisions," said Earthjustice Managing Attorney Deborah Goldberg. "Our client, the Town of Dryden, is fighting to preserve its way of life from the consequences of oil and gas development. And we'll fight alongside them until this matter is resolved once and for all."
The Dryden case has taken on special significance. More than 20,000 people from across the country and globe sent messages to Sumner and her colleagues on the town board, expressing support for Dryden in its legal fight.
Dryden's story began in 2009, after residents pressured by oil and gas company representatives to lease their land for gas development learned more about fracking, the technique companies planned to use to extract the gas. During fracking—short for hydraulic fracturing—companies inject millions of gallons of chemically treated water into the ground to break up rock deposits and force out the gas. Residents organized and educated their neighbors for more than two years under the banner of the Dryden Resource Awareness Coalition, ultimately convincing the town board to amend its zoning ordinance in August 2011 to clarify that oil and gas development activities, including fracking, were prohibited.
More than 170 municipalities in New York have passed bans or moratoriums on fracking, prompting a nationwide groundswell. Some 350 communities across the country have voted to take official action—from non-binding resolutions to improved protections to outright bans.
Just six weeks after Dryden prohibited fracking in 2011, Anschutz Exploration Corp. (a privately held company owned by a Forbes-ranked billionaire) sued Dryden over the zoning provision, claiming that localities did not have the right to ban industrial activity. Dryden successfully argued that their right to make local land use decisions, enshrined in the home rule provision of the New York State Constitution, applies to oil and gas development. In February 2012, a state trial court judge agreed.
Following that ruling, Anschutz pulled out, and Norse Energy Corp. USA, a U.S. subsidiary of a foreign-owned oil and gas company, filed an appeal. Shortly after filing its appeal, the company entered bankruptcy proceedings. If the Court of Appeals decides to review the case, it's not clear whether Norse will continue with the lawsuit or if yet another oil and gas company will step in.
Visit EcoWatch's FRACKING page for more related news on this topic.
——–

Sign the petition today, telling President Obama to enact an immediate fracking moratorium:

EcoWatch Daily Newsletter
By Jon Campbell
Proponents of hydraulic fracturing have asked New York's top court to decide whether local governments can ban gas drilling, but whether the court agrees to take the case is far from certain. Attorneys for Norse Energy and an Otsego County farmer made the filing late Friday, asking the seven-member Court of Appeals to take on the cases of a pair of upstate towns that changed their zoning laws in 2011 to ban hydrofracking and gas drilling.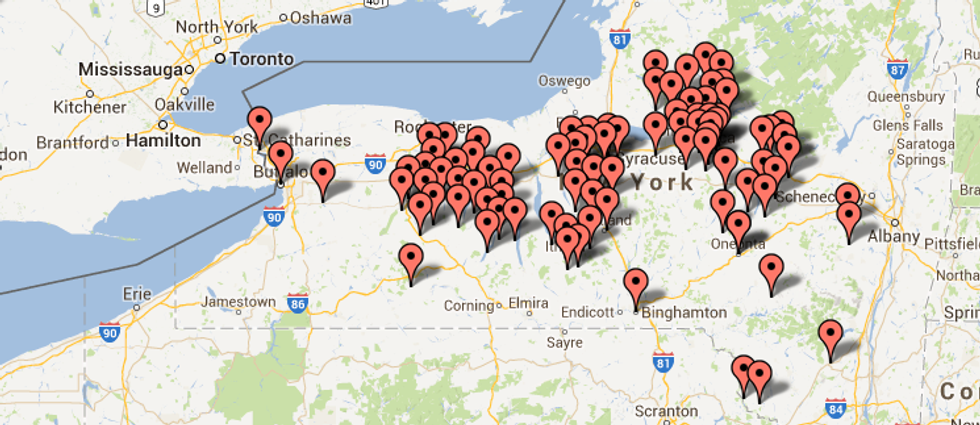 New Yorkers Against Fracking
Since a mid-level appeals court ruled unanimously last month in favor of upholding the bans, however, there's no requirement that the top court must hear the case.
The cases—involving the towns of Dryden in Tompkins County and Middlefield in Otsego County—are expected to set a precedent statewide and have been closely watched by fracking supporters and opponents. More than 150 municipalities have passed a ban or moratorium on gas drilling or fracking, according to FracTracker, a website tracking the issue.
"We hope that the New York Court of Appeals recognizes the importance of this issue and grants leave to appeal to provide definitive guidance concerning this important issue of statewide significance," said Tom West, an Albany-based attorney representing Norse, which inherited the lawsuit from Anschutz Exploration Corp. after the company declined to pursue an appeal.
Attorneys for Norse and Jennifer Huntington, owner of a dairy farm in Middlefield, contend that a provision in state oil-and-gas law—which prohibits localities from regulating the industry, except for when it comes to local roads—also prevents local governments from enacting drilling bans. The lower courts, however, have sided with the municipalities, citing a previous court decision regarding sand and gravel mining that allowed a ban to stand.
"Our client, the Town of Dryden, is prepared to continue fighting to preserve its way of life from the consequences of oil and gas development," said Deborah Goldberg, managing attorney of Earthjustice, a nonprofit law group representing Dryden. "And we'll fight alongside them until this matter is resolved once and for all."
Statistically, the chances of the Court of Appeals accepting the appeal is small. Of the 999 requests for permission to appeal to the court in 2012, just 64 requests, or 6.4 percent, were granted, according to the Court of Appeals' annual report. In 2011, 7.4 percent of such requests were granted.
The court usually takes several weeks to decide on whether to accept a motion to appeal.
High-volume hydrofracking is on hold in New York as Gov. Andrew Cuomo's administration completes various levels of review. State Health Commissioner Nirav Shah has given no recent timeline for his work to be completed.
Visit EcoWatch's FRACKING page for more related news on this topic.
——–
Sign the petition today, telling President Obama to enact an immediate fracking moratorium:

New York Supreme Court Justice Phillip R. Rumsey ruled today in favor of the right of the Town of Dryden to adopt zoning that prohibits natural gas drilling within its borders in Tomkins County.
In the case of Anschutz Exploration Corporation v. the Town of Dryden and the Town of Dryden Town Board, the judge concluded that the town zoning ordinances is not preempted by the state Oil, Gas and Solution Mining Law.
"This is an important vindication of local democracy—with national ramifications—at a time when it is being trampled in our country by powerful interests like the gas and oil industry," said Adrian Kuzminski a moderator for Sustainable Otsego.
This is the first ruling in New York on the issue as to whether towns can outlaw gas drilling, including hydraulic fracturing. There are more than a dozen communities that have adopted similar drilling bans throughout the state.
"New York State Supreme Court Judge Phillip R. Rumsey affirms via granting Summary Judgement, right power and authority by the Town of Dryden, New York to pass a zoning amendment to protect the health and welfare of its citizens from the deleterious FRACers. Hopefully Judge Rumsey will be affirmed on the probable Appeal," stated Denise Katzman, a media industry business manager at EcoEdifier.
"This decision is vitally important because it ruled against the Denver-based company Anschutz, a conglomerate focused on natural gas exploration or production projects in New York, Pennsylvania, Ohio, North Dakota, Montana and Wyoming," said Katzman.
"This is huge victory for the Town of Dryden. In an impressive and well reasoned opinion, Judge Rumsey resolved all claims in favor of the Town of Dryden except one. The provision in the Dryden law that invalidated any permit issued in violation of the Town law was stricken and severed. Significantly, the Court found that even a 'total ban' on extraction is permissible, because there is no express legislative intent to preempt local laws or ordinances in the Oil and Gas Law. This will go a long way to reassure towns and local governments that properly enacted land use and zoning laws remain enforceable against industry claims that they were immune from their application," said Nicole Dillingham from Otsego 2000.
To read a copy of the decision, click here.