The FDA has the ability to place tight restriction on opioid distribution, but it has dragged its feet in doing that. Scharvik / iStock / Getty Images Plus
The U.S. Food and Drug Administration (FDA) failed to use its regulatory power meant to protect consumers to make sure that a program meant to stop improper prescribing of opioids was effective, according to a new study published in JAMA Internal Medicine.
The researchers found that the weak oversight occurred just as the opioid crisis was taking root and tens of thousands of people were dying from overdoses every year, according to The New York Times.
The researchers at the Johns Hopkins Bloomberg School of Public Health looked at nearly 10,000 pages of FDA documents about the agency's "risk evaluation and mitigation strategy," which it launched in 2012 to address the risks that accompanied extended-release and long-acting opioids, as CNN reported.
Although these drugs "can be clinically useful among appropriately selected patients, they have also been widely oversupplied, are commonly used nonmedically, and account for a disproportionate number of fatal overdoses," the authors wrote, as CNN reported.
The FDA did ask the makers of OxyContin and other highly addictive long-acting painkillers for safety training for the more than half the physicians prescribing the opioids in 2011. The FDA also asked the drug makers to track the efficacy of their training and steps they are taking to reduce addiction and overdoses, as The New York Times reported. However, the FDA was never able to determine if their request was effective because the drug makers failed to collect the proper data.
The researchers found that when the FDA realized through its own review that it was apparent the drug makers were not tracking their training regimen correctly, the agency still did not demand improvement to the risk evaluation and mitigation strategy program, as The New York Times reported.
The study found that after more than five years after implementation, the FDA had no ability "to assess whether these outcomes were achieved," as CNN reported.
"What's surprising here is the design of the program was deficient from the start," said Caleb Alexander, the senior author of the study, who serves as a paid expert witness in litigation against opioid manufacturers and distributors, according to The New York Times. "It's unclear why the FDA didn't insist upon a more scientifically rigorous evaluation of this safety program."
The FDA was aware that allowing the drug companies to fund the analysis of their training was providing insufficient and missing data. A 2013 inspector general report said the agency "lacks comprehensive data to determine whether risk evaluation and mitigation strategies improve drug safety." Furthermore, a 2016 FDA advisory committee "noted methodological concerns regarding these studies," according to the authors, as CNN reported.
The study found that the agency is a ripe target for criticism after refusing to take swift and effective action as a crisis was growing.
"FDA has tools that could mitigate opioid risks more effectively if the agency would be more assertive in using its power to control opioid prescribing, manufacturing, and distribution," said retired FDA senior executive William K. Hubbard in an editorial that accompanied the study, as CNN reported. "Instead of bold, effective action, the FDA has implemented the Risk Evaluation and Mitigation Strategy programs that ... do not even meet the limited criteria set out by the FDA."
Hubbard continued that the FDA has the ability to place tight restriction on opioid distribution, but it has dragged its feet in doing that, as CNN reported.
Other critics of the government's response to opioid crisis echoed Hubbard's sentiments. Andrew Kolodny, the co-director of opioid policy research at the Heller School for Social Policy and Management at Brandeis, told
The New York Times
that the risk evaluation and mitigation strategy program was "a really good example of the way FDA has failed to regulate opioid manufacturers. If FDA had really been doing its job properly, I don't believe we'd have an opioid crisis today."
EcoWatch Daily Newsletter
Panama's anti-narcotics personnel prepare to incinerate 26.2 tons of seized cocaine and marijuana at the Bayano's River mouth area, outskirts of Panama City, on Sept. 20. LUIS ACOSTA / AFP / Getty Images
The cocaine trade and efforts to combat it, including the U.S.-led war on drugs, are helping to drive deforestation in Central America, new research shows.
The findings, released Tuesday at UN events sponsored by the government of Costa Rica, show that traffickers are being pushed into more remote forested areas to avoid law enforcement, causing $214.6 million in "natural and cultural resource loss" each year.
Cocaine is driving deforestation, climate change, and migration https://t.co/UCpgx1GOWu https://t.co/l0o74HrxxQ

— The Verge (@The Verge)1570570782.0
Traffickers also launder money through industries like ranching and farming, which are additional drivers of deforestation. Researchers say that government funds that currently promote a "military-based" approach to fighting drug trafficking should be put towards strengthening Indigenous and community land rights to protect local forests and conservation efforts.

For a deeper dive:
From Your Site Articles
Related Articles Around the Web
waterlust.com / @tulasendlesssummer_sierra .
Each product featured here has been independently selected by the writer. If you make a purchase using the links included, we may earn commission.
The bright patterns and recognizable designs of Waterlust's activewear aren't just for show. In fact, they're meant to promote the conversation around sustainability and give back to the ocean science and conservation community.
Each design is paired with a research lab, nonprofit, or education organization that has high intellectual merit and the potential to move the needle in its respective field. For each product sold, Waterlust donates 10% of profits to these conservation partners.
Eye-Catching Designs Made from Recycled Plastic Bottles
waterlust.com / @abamabam
The company sells a range of eco-friendly items like leggings, rash guards, and board shorts that are made using recycled post-consumer plastic bottles. There are currently 16 causes represented by distinct marine-life patterns, from whale shark research and invasive lionfish removal to sockeye salmon monitoring and abalone restoration.

One such organization is Get Inspired, a nonprofit that specializes in ocean restoration and environmental education. Get Inspired founder, marine biologist Nancy Caruso, says supporting on-the-ground efforts is one thing that sets Waterlust apart, like their apparel line that supports Get Inspired abalone restoration programs.
"All of us [conservation partners] are doing something," Caruso said. "We're not putting up exhibits and talking about it — although that is important — we're in the field."
Waterlust not only helps its conservation partners financially so they can continue their important work. It also helps them get the word out about what they're doing, whether that's through social media spotlights, photo and video projects, or the informative note card that comes with each piece of apparel.
"They're doing their part for sure, pushing the information out across all of their channels, and I think that's what makes them so interesting," Caruso said.
And then there are the clothes, which speak for themselves.
Advocate Apparel to Start Conversations About Conservation
waterlust.com / @oceanraysphotography
Waterlust's concept of "advocate apparel" encourages people to see getting dressed every day as an opportunity to not only express their individuality and style, but also to advance the conversation around marine science. By infusing science into clothing, people can visually represent species and ecosystems in need of advocacy — something that, more often than not, leads to a teaching moment.

"When people wear Waterlust gear, it's just a matter of time before somebody asks them about the bright, funky designs," said Waterlust's CEO, Patrick Rynne. "That moment is incredibly special, because it creates an intimate opportunity for the wearer to share what they've learned with another."
The idea for the company came to Rynne when he was a Ph.D. student in marine science.
"I was surrounded by incredible people that were discovering fascinating things but noticed that often their work wasn't reaching the general public in creative and engaging ways," he said. "That seemed like a missed opportunity with big implications."
Waterlust initially focused on conventional media, like film and photography, to promote ocean science, but the team quickly realized engagement on social media didn't translate to action or even knowledge sharing offscreen.
Rynne also saw the "in one ear, out the other" issue in the classroom — if students didn't repeatedly engage with the topics they learned, they'd quickly forget them.
"We decided that if we truly wanted to achieve our goal of bringing science into people's lives and have it stick, it would need to be through a process that is frequently repeated, fun, and functional," Rynne said. "That's when we thought about clothing."
Support Marine Research and Sustainability in Style
To date, Waterlust has sold tens of thousands of pieces of apparel in over 100 countries, and the interactions its products have sparked have had clear implications for furthering science communication.
For Caruso alone, it's led to opportunities to share her abalone restoration methods with communities far and wide.
"It moves my small little world of what I'm doing here in Orange County, California, across the entire globe," she said. "That's one of the beautiful things about our partnership."
Check out all of the different eco-conscious apparel options available from Waterlust to help promote ocean conservation.
Melissa Smith is an avid writer, scuba diver, backpacker, and all-around outdoor enthusiast. She graduated from the University of Florida with degrees in journalism and sustainable studies. Before joining EcoWatch, Melissa worked as the managing editor of Scuba Diving magazine and the communications manager of The Ocean Agency, a non-profit that's featured in the Emmy award-winning documentary Chasing Coral.
By Brian Bienkowski
When fish swim in waters tainted with antidepressant drugs, they become anxious, anti-social and sometimes even homicidal.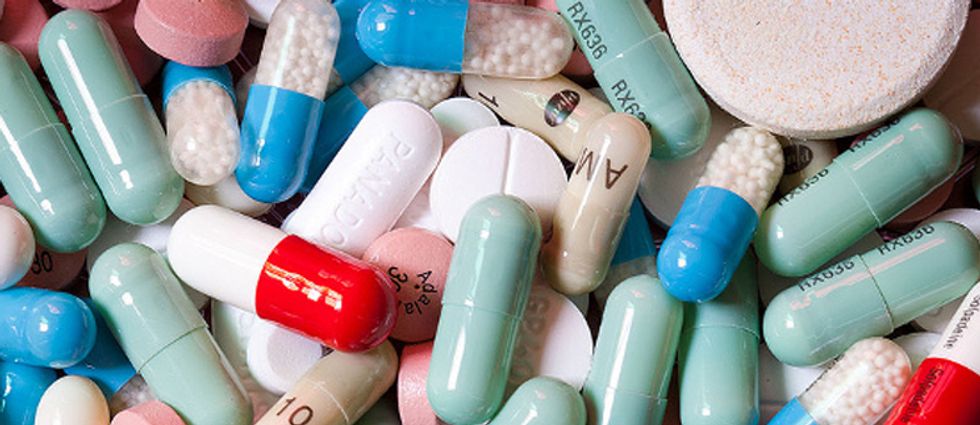 New research has found that the pharmaceuticals, which are frequently showing up in U.S. streams, can alter genes responsible for building fish brains and controlling their behavior.
Antidepressants are the most commonly prescribed medications in the U.S.; about 250 million prescriptions are filled every year. And they also are the highest-documented drugs contaminating waterways, which has experts worried about fish. Traces of the drugs typically get into streams when people excrete them, then sewage treatment plants discharge the effluent.
Exposure to fluoxetine, known by the trade name Prozac, had a bizarre effect on male fathead minnows, according to new, unpublished research by scientists at the University of Wisconsin-Milwaukee.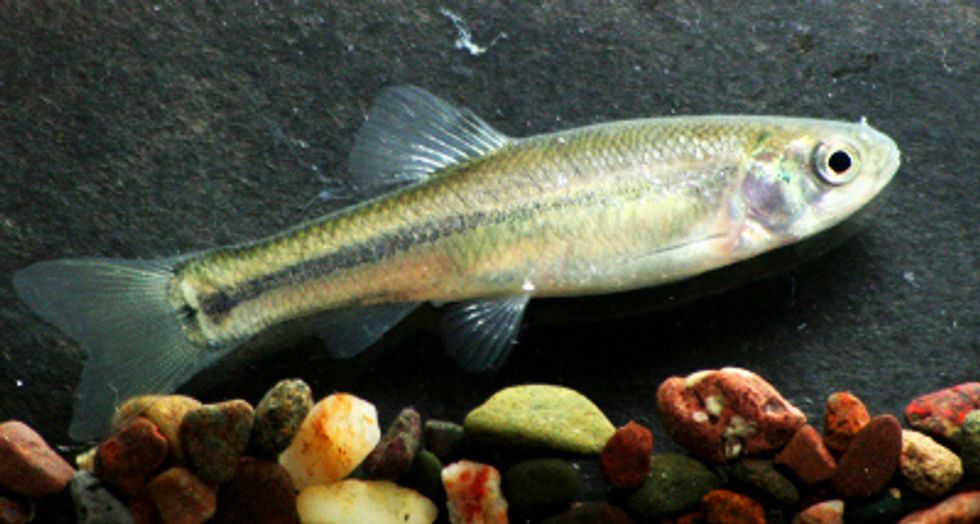 Male minnows exposed to a small dose of the drug in laboratories ignored females. They spent more time under a tile, so their reproduction decreased and they took more time capturing prey, according to Rebecca Klaper, a professor of freshwater sciences who spoke about her findings at a Society of Environmental Toxicology and Chemistry conference last fall. Klaper said the doses of Prozac added to the fishes' water were "very low concentrations," one part per billion, which is found in some wastewater discharged into streams.
When the dose was increased, but still at levels found in some wastewater, females produced fewer eggs and males became aggressive, killing females in some cases, Klaper said at the conference.
The drugs seem to cause these behavioral problems by scrambling how genes in the fish brains are expressed, or turned on and off. The minnows were exposed when they were a couple of months old and still developing.
There appeared to be architectural changes to the young minnows' brains, Klaper said at the toxicology conference. Growth of the axons, which are long nerve fibers that transmit information to the body, was disrupted.
The new findings build on Klaper's previous research, which tested minnows with the gene changes to see how well they avoided predators. They swam longer distances and made more directional changes, which suggests that the drugs induced anxiety.
The drugs used in the study were among the most common in sewage: Prozac, Effexor and Tegretol. The researchers tested each drug alone and in combination.
"At high doses we expect brain changes," Klaper said. "But we saw the gene expression changes and then behavioral changes at doses that we consider environmentally relevant."
However, there is too little evidence to know whether pharmaceuticals are having any impacts on fish populations in the wild, said Bryan Brooks, an environmental science professor at Baylor University who has extensively studied pharmaceuticals in streams and fish.
Any changes in reproduction, eating and avoiding prey can have devastating impacts for fish populations, Klaper said.
The most vulnerable fish populations are those downstream of sewage treatment plants, where prescription drugs consistently show up in higher levels than in other waterways. It's only within the past decade that technology has allowed plants to test for the chemicals in their wastewater and in waters downstream, though most still don't, said Steve Carr, supervisor of the chemistry research group at the Los Angeles County Sanitation Districts.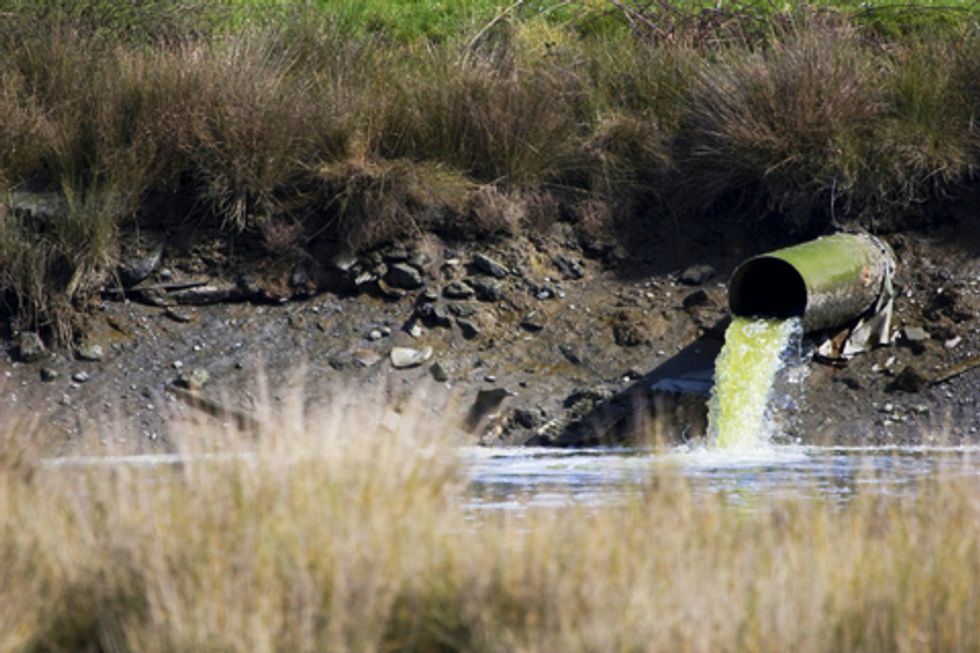 One of the antidepressants tested in the fish—Tegretol—comes into the treatment plants and goes out at near constant levels, said Eric Nelson, a senior chemist with the Los Angeles County Sanitation Districts.
That means the county's treatment technology does not seem to have any effect on the drug. It comes in and leaves in a very tight range, about 150 to 400 parts per trillion, Nelson said.
Nelson said the two other drugs tested on the fish—Prozac and Effexor—are discharged in effluent at even lower levels: between about 20 and 30 parts per trillion. In comparison, the levels that altered behavior of the lab fish were 50 times higher.
When monitoring an Iowa and a Colorado stream, the U.S. Geological Survey found most drugs at levels similar to Los Angeles County's. However, these low levels could still find their way into fish brains, according to their 2010 study.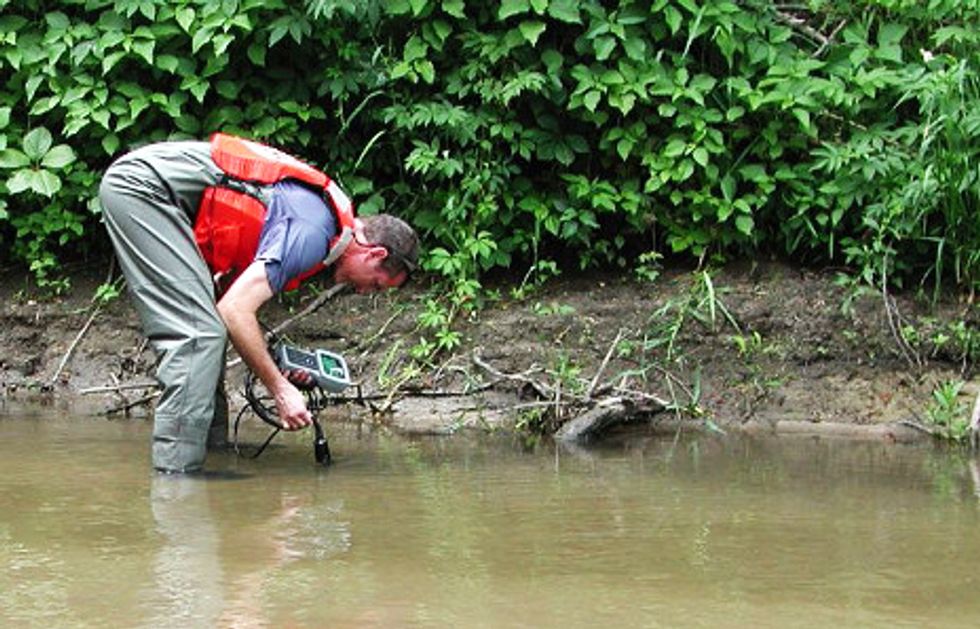 Researchers found elevated levels of pharmaceuticals in the stream water two to six miles from the sewage treatment plants. But the chemicals at the highest levels in the water were not the ones most prevalent in the fish brains.
"The fish downstream of the wastewater treatment had elevated concentrations of two antidepressants … Zoloft and Prozac," said Edward Furlong, a research chemist at the U.S. Geological Survey based in Boulder, CO. "And these were relatively low in water compared to others."
Even if the levels released into streams seem low, they are constant, which is problematic, Brooks said.
"The drugs may not be classically persistent like PCBs [Polychlorinated biphenyl]," Brooks said. "But they're pseudo-persistent. The [continuous] exposure of organisms in a stream is equivalent to a chemical that is persistent."
Some drugs bioaccumulate, or build up, in rainbow trout, according to Brooks' research. Also, rainbow trout exposed to sewage effluent have pharmaceuticals in their blood at levels as high as those that affect the brains of people, according to research in Sweden.
Brooks said the likelihood of bioaccumulation for pharmaceuticals is high. "People have to take these drugs for weeks before they start having effects. They slowly bioaccumulate in your system," which suggests bioaccumulation potential in fish, too, said Brooks.
Changes to the brain can affect all kinds of things in fish, Klaper said. And since humans have a similar brain gene structure, the findings raise questions about whether traces of these drugs in drinking water might harm human health.
The U.S. Environmental Protection Agency (EPA) considers pharmaceuticals an "emerging concern," and has concluded that the chemicals may pose risks to wildlife and humans. There are currently no federal regulations of the compounds in waste or drinking water. However, 12 pharmaceuticals are currently on the EPA's Contaminant Candidate List, which are chemicals that may require regulation under the Safe Drinking Water Act.
Studies have consistently found prescription drugs in drinking water at parts-per-trillion levels. U.S. Geological Survey scientists sampled 74 waterways used for drinking water in 25 states in 2008 and found 53 had one or more of the three dozen pharmaceuticals they were testing for in their water. Forty percent of the pharmaceuticals were found at one or more of the sites.
Fifty-four active pharmaceutical ingredients and 10 metabolites have been detected in treated U.S. drinking water, according to a 2010 EPA review.
Studies of children exposed in the womb to antidepressants taken by their mothers show effects on their motor development and a higher risk of some birth defects.
But health officials say the levels found in some drinking water are too low to cause harm.
According to a 2012 World Health Organization report, the "trace quantities of pharmaceuticals in drinking water are very unlikely to pose risks to human health." The report said that the amount found in drinking water is usually 1,000 times lower than doses expected to have an effect on a person.
But Klaper said that in light of the gene changes in fish brains, officials may need to rethink what is considered safe.
"Fish do not metabolize drugs like we do," Klaper said. "Even if environmental doses aren't thought to be much for a human, fish could still have significant accumulation, and, it appears, changes in their brain's gene expression."
Visit EcoWatch's BIODIVERSITY page for more related news on this topic.
——–