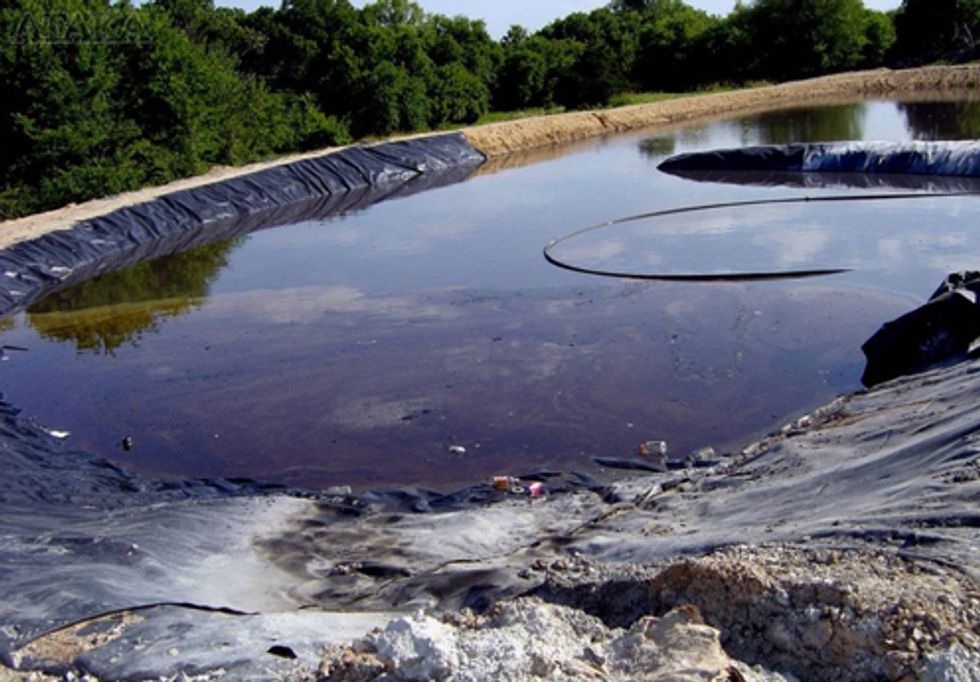 By Amy Mall
Used with permission of NRDC - Switchboard
With the void of federal protection from toxic oil and gas waste, states can and should create better rules. As I mentioned in a recent blog post, a new West Virginia law takes one tiny step in that direction. From now on in West Virginia—for horizontal wells only—drill cuttings and other drilling waste can only be buried on someone's property if the surface owner consents.
An article in the Dominion Post illustrates why rules like this are so important. According to the article, the Teel family in Wetzel County, West Virginia, is suing a division of Chesapeake Energy for permanently damaging and polluting their property and groundwater with toxic natural gas waste. Their complaint says that Chesapeake cleared about five acres on their property and "assured them the land would be suitable for home sites when work was complete." Instead, Chesapeake used that spot for drilling and fracking waste. The Teels say that Chesapeake dumped "foamy, foul-smelling material" into unlined trenches 12-15 feet deep and buried it, and that it is now migrating through the soil and groundwater.
The Teels, like many other Americans, are victims of toxic oil and gas waste that is inadequately regulated. We've blogged about how this waste is getting into the environment and being poorly managed with often minimal oversight in spots around the country. We know how toxic this waste can be, and we also know the industry has better methods that can be used for storing and disposing of it. Why should the Teel family have to pay out of their own pocket for a lawyer to represent them in court to protect their land and water from toxic waste? They don't own mineral rights and are getting zero economic benefit from the oil and gas industry.
One of the disposal methods is underground injection of the waste. While this method is almost always going to be a better option than burial in a residential or agricultural zone, it is the lesser of two evils with its own risks to groundwater, and needs to be improved. The U.S. Environmental Protection Agency (EPA) just issued a notice that it has entered into a Consent Agreement and Final Order with EXCO Resources (PA), LLC for violations of the rules governing underground injection of oil and gas waste. It appears that EXCO kept injecting waste into a well that it knew had failed mechanical integrity, didn't inform EPA of the problem in a timely manner in accordance with the permit, and operated the well at a pressure exceeding its permitted maximum injection pressure.
Before this order was issued, the Pennsylvania Alliance for Clean Water and Air was alerted to the dozens of trucks that were unloading waste in this location everyday. Concerned about the activity, they paid to test water from nearby springs and report that they found very alarming contamination data. There is not enough information at this point to know if any contamination is linked to the problematic disposal well, but we certainly hope that EPA will be fully investigating the potential groundwater impacts from this toxic waste site.
While it's good to know that EPA is enforcing the law at the Pennsylvania injection well mentioned above, these problems need to be prevented in the first place. EPA's current standards for underground injection wells are not strong enough for toxic oil and gas waste. Disposal wells used for underground injection of toxic waste from other industries are built to much higher standards than those used for oil and gas waste. It is long past time for national oil and gas waste rules to be strengthened—for pits, underground disposal wells, and other methods currently used by the industry.
Natural Resources Defense Council has asked the EPA to write new rules for toxic oil and gas waste. The current rules have not been updated since the late 1980s. Needless to say, a lot has changed since then, as documented in our petition to EPA. We hope the EPA will take up this issue in 2012.
For more information, click here.
EcoWatch Daily Newsletter
Xsandra / Getty Images
Looking for ways to cut down on single-use plastic while grocery shopping? You may already have eco-friendly shopping bags, but bringing your own reusable produce bags is another easy swap.

According to the UN Environment Program, up to 5 trillion single-use plastic bags are used globally each year, and because of the material they're made from, most municipal recycling centers don't accept them (more on this below).
The most sustainable option is to skip the bag altogether. You can also make your own reusable produce bags out of old T-shirts. But if you'd rather purchase them new, here are our recommendations for the best reusable produce bags on the market today.
<p><em>Each product featured here has been independently selected by the writer. If you make a purchase using the links included, we may earn commission.</em></p>