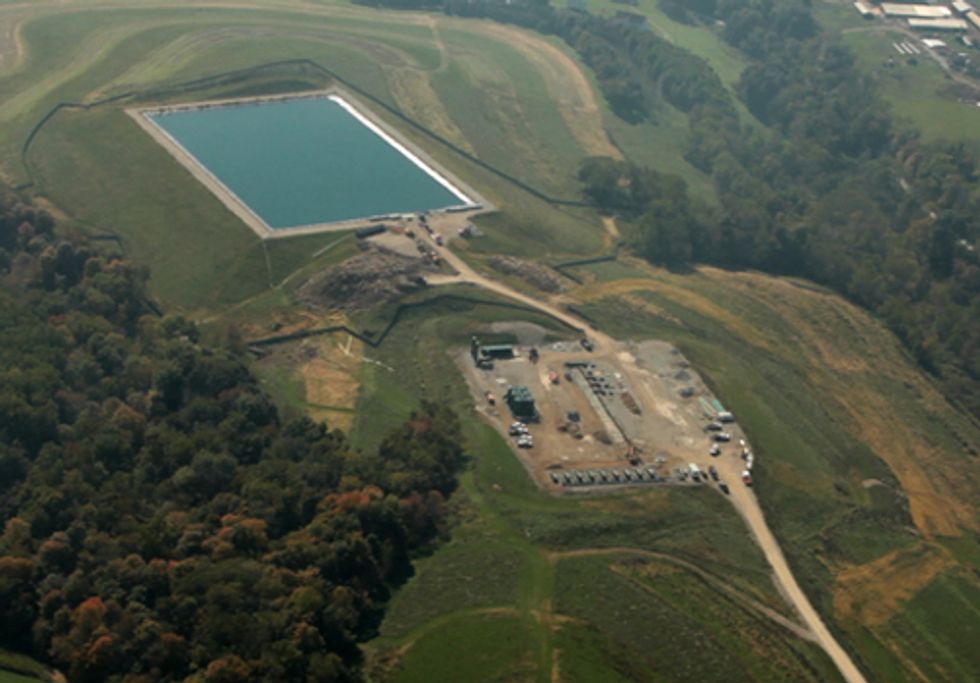 We all know that the affordability, efficiency, and sustainability of cleaner, greener energy will be a major challenge for this century. Some have called natural gas a better and cleaner energy source. Yet, even if we set aside this hot air, the process of extracting the gas (called hydraulic fracturing or fracking) proves problematic for both environmentalists as well as those in proximity to the wells. This article covers five major problems with fracking, based on two SnagFilms from the After the Gas Rush series, you can view by clicking here.
1. Water Pollution
The fracking process involves pumping large quantities of water, chemicals, and sand deep underground. This process produces a huge amount of pressure, which both extracts the natural gas and forces much of the water back to the surface.
The major concern with polluted water is that the salts, radium, other heavy metals, and benzene (a carcinogenic and flammable chemical) are forced back up to the surface with the rest of the wastewater. For efficiency, fracking companies want to reuse this wastewater and they subsequently treat the water so that the excess waste does not plug up parts of the well. Consequently, the products that have been removed (radium, and some other heavy metals) are disposed of. However, the water that gets reused still contains salts and benzene. The water is then pumped back underground, endangering aquifers.
 2. Proximity to Residential Areas—Fumes and Earthquakes
In addition to the risk of water contamination for those near fracking sites, wells also produce excess gases, which are either simply released into the air or burned upon their release. These fumes both leave an odor as well as present the possibility of negative health effects for those in proximity to the wells. Such effects include dizziness, confusion, and nasal bleeding. There is also growing evidence to support the theory that fracking can produce minor earthquakes within the vicinity of fracking wells. This may not be as surprising as it sounds considering the amount of pressure (around 8,000 pounds per square inch) that the gas extraction process exerts on shale rock deep beneath the surface.
 3. Property Rights
It is often the case that when someone buys a property, his or her rights do not extend to the subterranean levels where fracking companies aim to extract natural gas. These multinational companies purchase/lease the mineral rights to the land, and thus they legally are allowed to accesses those minerals through drilling as long as they pay damages to the surface owner (these damages are often do not satisfactorily cover the actually property loss, as average Americans find themselves up against massive corporate interests). Additionally many leases do not require companies to compensate landowners for water contamination. Many American landowners, farmers, and families are thus placed at the mercy of drilling companies who can legally exercise their mineral rights largely regardless of what lays on the surface.
4. Lack of Governmental Regulation
Aside from the government's lack of regulations on carbon emissions, the disposal of fracking waste products needs better oversight. As noted, the wastewater that rises to the surface during fracking is treated and then reused. After treatment, the waste that is extracted from the wastewater is placed in a landfill, as it is exempt from federal regulations pertaining to toxic waste. This lack of regulation does not recognize the fact that such waste can be extremely dangerous for the environment. As described, the cancerous and flammable benzene, other heavy metals, radium, and corrosive salts remain in the waste. However, regardless of how dangerous these chemicals may be, it is not treated as hazardous waste. If the waste is treated as normal garbage, then these toxic materials may endanger people's health and the environment's wellbeing for years to come.
5. Industry Growth
Compounding all of these factors is the fact that the natural gas industry is ballooning. In After the Gas Rush, Roshini Thinakaran states that in Pennsylvania alone 50,000 new wells will be permitted to be drilled over the next two decades. The result of this will be both an explosion in the burning of natural gas as well as in water contamination. One million gallons of toxic wastewater will be produced by each well within the first thirty days of its operation. One can only imagine the degree of environmental damage these wells may have after only a year's time. Similar expansion is also occurring in states such as New York, West Virginia and Ohio.
Below is SnagFilms's After the Gas Rush series. In the films, Roshini Thinakaran leads us into Pennsylvania to see how fracking affects the environment and the lives of those living within the vicinity of fracking wells. We invite you to watch the films here or at snagfilms.com and share them with others interested in the subject.
To see After the Gas Rush, click here.
For more information, click here.
EcoWatch Daily Newsletter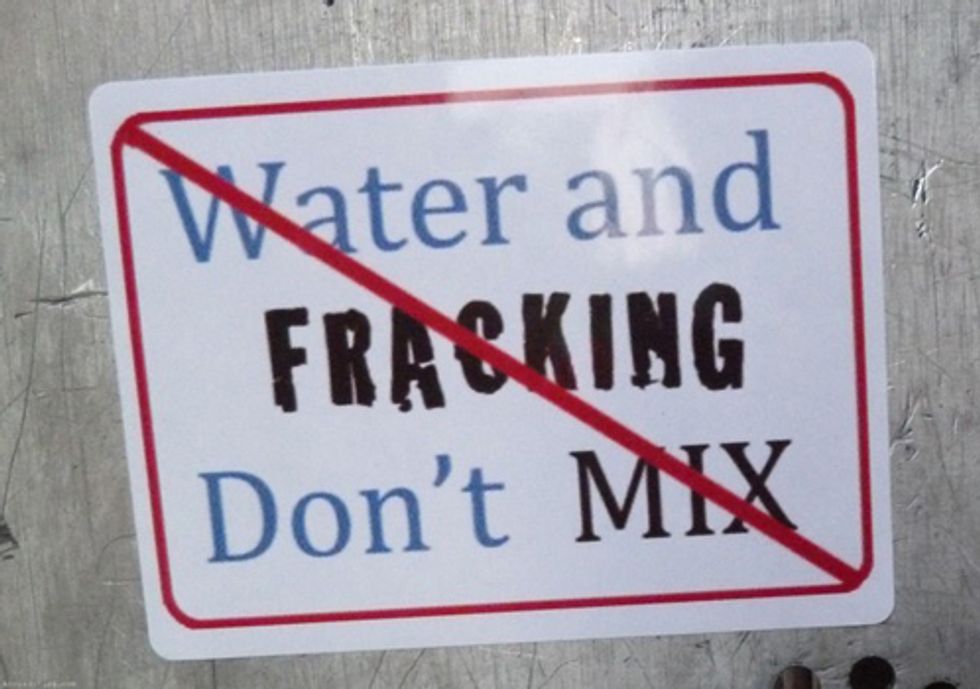 The U.S. Environmental Protection Agency's (EPA) detection of arsenic, a known human carcinogen, barium and other contaminants in the well water of homes near natural gas drilling operations in Dimock Township, Pa., should prompt a nationwide investigation of drilling-linked water pollution.
"EPA and other officials must move quickly to ensure these families have an adequate source of clean water," said Dusty Horwitt, senior counsel with Environmental Working Group (EWG). "This finding confirms what Dimock residents have said for months—that the Pennsylvania Department of Environmental Protection should have never allowed Cabot to end deliveries of clean water."
Last month, EWG published a report called Gas Drilling Doublespeak that found that Dimock residents, among other people in gas-rich areas, were not warned of risks to their water supplies when they were approached to lease their land for drilling.
EPA officials in Philadelphia announced they would deliver clean water to the four affected households and conduct broader testing at about 60 more homes in south-central area Susquehanna County. Cabot Oil & Gas Corp., the Houston-based company that began drilling for gas in the area in 2008, delivered water to the households under a 2010 consent agreement but stopped Nov. 30 after state regulators determined that Cabot had met its obligations.
According to an EPA action memo, agency scientists found the four households' well water contaminated with arsenic and other hazardous substances "at levels that present a public health concern." Some of these "are not naturally found in the environment," EPA officials said, and may have been released by drilling activities. Among the toxic substances found in the well water, according to the EPA:
Arsenic, classified by the US government and World Health Organization as a known human carcinogen, an element sometimes found in "elevated concentrations" in groundwater because of drilling;
Barium, a common constituent of drilling fluids; long-term ingestion at high levels can cause kidney damage
Phthalates, a synthetic plastic chemical and probable human carcinogen, according to EPA
Glycol compounds common in drilling fluids and associated with damage to kidneys, the nervous system, lungs, heart, testicular damage and anemia
Manganese, an naturally occurring element that can damage the nervous system at high levels
Phenol, found in some drilling fluids; at high levels can cause irregular heartbeat, liver damage and skin burns
Sodium, compounds found in some drilling fluids, at high levels can cause high blood pressure
Federal officials said that although the investigation has not been completed, they have concluded, based on samplings to date, that a "chronic health risk exists" for the wells in question.
"These results also show that the families ultimately need a permanent source of healthy water, which the state has so far failed to deliver," Horwitt said. "Cabot should bear the cost of providing this, not the taxpayers."
For more information, click here.
—————
Environmental Working Group is a nonprofit research organization based in Washington, D.C. that uses the power of information to protect human health and the environment.
boonchai wedmakawand / Moment / Getty Images
Delta-8 THC is a cannabis product that has become a bestseller over the past few months, as many consumers find they can legally purchase it from CBD retailers. Its proponents say that Delta-8 THC will give you a nice little buzz, minus some of the more intense feelings (including paranoia) that are sometimes associated with marijuana.

Delta-8 THC is being marketed as a legal option for consumers who either don't live in a state with legal cannabis, or are a little apprehensive about how traditional psychoactive THC products will affect them. But is it all it's cracked up to be? Let's take a closer look, exploring what Delta-8 THC is, how it differs from other THC products, and whether it's actually legal for use.
<h2>What is Delta-8 THC?</h2><p>To better understand <a href="https://www.nytimes.com/2021/02/27/health/marijuana-hemp-delta-8-thc.html" target="_blank">Delta-8 THC</a>, it helps to cover some basics about THC and cannabis.</p><p>Cannabis plants come chock full of different <a href="https://www.nccih.nih.gov/health/cannabis-marijuana-and-cannabinoids-what-you-need-to-know" rel="noopener noreferrer" target="_blank"><em>cannabinoids</em></a>. These are naturally-occuring chemical compounds that bind with receptors throughout your body. They can offer a wide range of mental, emotional, and physical effects; indeed, the healing and therapeutic properties marijuana or <a data-linked-post="2648563694" href="https://www.ecowatch.com/strongest-cbd-oil-2648563694.html" target="_blank">CBD products</a> offer can be attributed to cannabinoids.</p><p>One of the most common cannabinoids is what's known as Delta-9 THC. Simply put, this is the part of marijuana that gets you "high." It's worth noting that Delta-9 THC remains illegal in many states, except for in the most minute doses, and is still illegal at the federal level. CBD products are made with trace amounts of THC, ensuring that consumers can enjoy positive health effects in a perfectly legal way, without the risk of getting high.</p><p>On a chemical level, <a href="https://www.nytimes.com/2021/02/27/health/marijuana-hemp-delta-8-thc.html" rel="noopener noreferrer" target="_blank">Delta-8 THC</a> is not too different from Delta-9 THC; the distinction comes down to just a few molecules. But those molecules make a big practical impact: Delta-8 THC will give you a buzz, but the psychoactive effects are considerably milder than with Delta-9 THC.</p><p>More specifically, many cannabis enthusiasts report that Delta-8 THC helps them feel good but also leaves them relatively clear-headed; and, it doesn't produce the anxiety or jitteriness that often characterize a Delta-9 THC high.</p><p>Additionally, because of the way the law is written regarding Delta-9 THC, some CBD companies now sell Delta-8 THC products in places where traditional cannabis is still illegal.</p><h2>What's the Difference Between Delta-9 THC and Delta-8 THC?</h2><p>Here are the primary differences to note between Delta-9 and Delta-8 THC:</p><ul class="ee-ul"><li>Delta-9 THC is the primary psychoactive ingredient found in marijuana. In other words, it's the part that gets you high.</li><li>Though some states have found workarounds, Delta-9 THC is still illegal under federal law.</li><li>Delta-8 THC is also found in the cannabis plant, though it's not quite as powerful or as well-known. </li><li>Delta-8 THC is milder in its psychoactive effects. And, it's not <em>technically </em>illegal under current law.</li></ul><p>These are just a few of the key distinctions to keep in mind. Delta-8 THC is popular among consumers who want a smoother high, and don't want to violate federal law.</p><h2>Is Delta-8 THC Legal?</h2><p>We noted that Delta-8 THC is not <em>technically </em>illegal. Here, we need to get into some of the nuanced legal considerations that surround this substance.</p><p>First of all, there are plenty of cannabis companies that actively promote Delta-8 THC as a legal way to get high. Again, that's technically true, but is still a point of debate for some.</p><p>For one thing, it's not explicitly listed as an illegal substance. While federal laws, and some state laws, specifically ban Delta-9 THC, Delta-8 THC is never mentioned. More to the point, though, many proponents will cite the<a href="https://www.usda.gov/farmbill" rel="noopener noreferrer" target="_blank"> 2018 Farm Bill</a>. This law legalized several industrial hemp products on a national level, including CBD.</p><p>The Farm Bill also includes some fairly nuanced positions regarding THC. In summary, the law says that hemp and cannabis-derived products are legal so long as they contain less than 0.3 percent Delta-9 THC.</p><p>With that said, some lawyers contend that Delta-8's heyday may soon come to an end. That's because the Farm Bill clears it only so long as it's derived directly from hemp; most of the Delta-8 THC products sold today aren't made from hemp, but rather from synthetically-altered CBD.</p><p>Some of these issues are a little fuzzy, and <a href="https://www.rollingstone.com/culture/culture-features/delta-8-thc-legal-weed-explained-1113859/" rel="noopener noreferrer" target="_blank">the legal future of Delta-8 THC</a> remains a little uncertain. For now, though, many experts would argue that it is legal to purchase.</p><h2>What Kinds of Delta-8 THC Products Are Available?</h2><p><em>Each product featured here has been independently selected by the writer. If you make a purchase using the links included, we may earn commission.</em></p><p>If you're looking to try Delta-8 THC products, you'll certainly find plenty of different products. Dispensaries and legal cannabis stores currently have a trove of products that use this cannabinoid. Some examples include:</p><ul class="ee-ul"><li>Vape cartridges, tinctures, and capsules.</li><li>Beverages made with Delta-8 THC, including some seltzers.</li><li>Edibles, including Delta-8 THC gummy bears, chocolate bars, and more.</li></ul><p>The cannabis industry has really been running with Delta-8 THC, finding creative ways to bring it to market. And chances are, even more products will be springing up in the weeks and months to come. </p><p>It's very important to note that you should only purchase Delta-8 THC products from reputable brands and established cannabis retailers. We do not recommend purchasing any products that contain Delta-8 THC from gas stations or vape shops. If you are looking for a reputable place to explore these products, here are a few brands that we trust and recommend:</p>
<img class="rm-lazyloadable-image rm-shortcode" type="lazy-image" data-runner-src="https://assets.rebelmouse.io/eyJhbGciOiJIUzI1NiIsInR5cCI6IkpXVCJ9.eyJpbWFnZSI6Imh0dHBzOi8vYXNzZXRzLnJibC5tcy8yNjAzNjAyMy9vcmlnaW4uanBnIiwiZXhwaXJlc19hdCI6MTYzMTMxMjAyNX0.wRpb_E9ZFZFNgkYsYh6cleNbTezo16rUeTmifcP_yCk/img.jpg?width=980" id="60683" width="400" height="400" data-rm-shortcode-id="32630bf41fd6909a232194b540c570eb" data-rm-shortcode-name="rebelmouse-image" />
nuleafnaturals.com
<p><a href="https://nuleafnaturals.com/product/full-spectrum-delta-8-thc-oil-30mg-ml/" target="_blank" rel="noopener noreferrer">NuLeaf Naturals Full Spectrum Delta 8 THC Oil</a> is made from organic hemp and organic virgin hemp seed extract. It's available in a 150 mg bottle and a 450 mg bottle, which both provide 15 mg of Delta 8 THC per serving. This formula is also available in a soft gel.</p>
<img class="rm-lazyloadable-image rm-shortcode" type="lazy-image" data-runner-src="https://assets.rebelmouse.io/eyJhbGciOiJIUzI1NiIsInR5cCI6IkpXVCJ9.eyJpbWFnZSI6Imh0dHBzOi8vYXNzZXRzLnJibC5tcy8yNjAzNjE2Ni9vcmlnaW4uanBnIiwiZXhwaXJlc19hdCI6MTY2OTcwNTgzM30.opm4l5-rSqV1HfvrbVE16EEVZvqxI42xgqnsQfL9p2M/img.jpg?width=980" id="2c749" width="400" height="400" data-rm-shortcode-id="a678e76d8cd5e13bae95d9c3ae664b85" data-rm-shortcode-name="rebelmouse-image" />
botanyfarms.com
<p>The <a href="https://www.botanyfarms.com/product/delta-10-thc-vape-cartridge/?aff=14" target="_blank">Botany Farms Delta-10 THC Vape Cartridge</a> actually contains both Delta-10 and Delta-8 THC.This is designed to provide the desired effects of Delta-8 THC but without the drowsiness. They also offer a vape cartridge with a 1:1 concentration of <a href="https://www.botanyfarms.com/product/delta-10-delta-8-thc-vape-cartridge/?aff=14" target="_blank">Delta-8 THC</a> and Delta-10 THC. Note that while vape products can be used to aid in smoking cessation, we do not recommend vaping or smoking because of the negative health effects they can cause.</p>
<h2>What are the Pros and Cons of Delta-8 THC?</h2><p>As you consider whether Delta-8 THC is worth your time, it may be helpful to weigh the pros against the cons.</p><p><strong>Pros</strong></p><p>Let's start with some of the positives:</p><ul class="ee-ul"><li>Delta-8 THC does have psychoactive effects, but it's a milder effect than with traditional Delta-9 THC.</li><li>Delta-8 THC is currently legal and widely accessible in multiple states.</li><li>There are a wide number of products that use Delta-8 THC.</li></ul><p><strong>Cons</strong></p><p>Now, a few of the downsides.</p><ul class="ee-ul"><li>Delta-8 THC isn't quite as commonplace as other cannabis products, including CBD, and some of the options on the market are expensive.</li><li>While this substance is technically legal, there are plenty of uncertainties over its legal future. It's something you want to keep in mind.</li><li>As a relatively new product, Delta-8 THC products are not regulated by the FDA and there is not independent testing in place to verify that it is safe or pure.</li></ul><p>As with any cannabis product, Delta-8 THC has its pros and cons. As you seek the cannabis product that's best for you, it's largely a matter of personal preference.</p><p>Also note that smoking, vaping, or otherwise imbibing any kind of cannabis-related product can carry some medical risks and negative health consequences. If you have any specific concerns, we recommend consulting with your doctor before you try any Delta-8 THC product.</p><p><em><strong>Josh Hurst </strong></em><em>is a journalist, critic, and essayist. He lives in Knoxville, TN, with his wife and three sons. He covers natural health, nutrition, supplements, and clean energy. His writing has appeared in Health, Shape, and Remedy Review.</em></p>