This website uses cookies to ensure you get the best experience while browsing it. By clicking 'Got It' you're accepting these terms.
Some homeowners living near shale gas wells appear to be at higher risk of drinking water contamination from stray gases, according to a new Duke University-led study, Increased Stray Gas Abundance in a Subset of Drinking Water Wells Near Marcellus Shale Gas Extraction.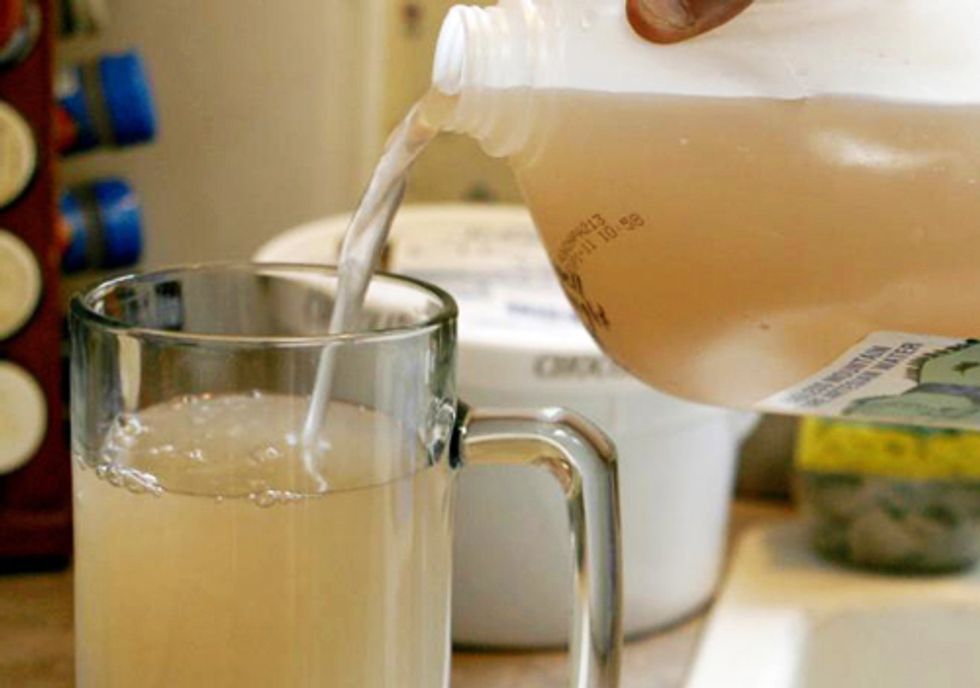 The scientists analyzed 141 drinking water samples from private water wells across northeastern Pennsylvania's gas-rich Marcellus Shale basin.
They found that, on average, methane concentrations were six times higher and ethane concentrations were 23 times higher at homes within a kilometer of a shale gas well. Propane was detected in 10 samples, all of them from homes within a kilometer of drilling.
"The methane, ethane and propane data, and new evidence from hydrocarbon and helium content, all suggest that drilling has affected some homeowners' water," said Robert B. Jackson, a professor of environmental sciences at Duke's Nicholas School of the Environment. "In a minority of cases the gas even looks Marcellus-like, probably caused by poor well construction."
The ethane and propane data are "particularly interesting," he noted, "since there is no biological source of ethane and propane in the region and Marcellus gas is high in both, and higher in concentration than Upper Devonian gases" found in formations overlying the Marcellus shale.
The scientists examined which factors might explain their results, including topography, distance to gas wells and distance to geologic features. "Distance to gas wells was, by far, the most significant factor influencing gases in the drinking water we sampled," said Jackson.
The team published its peer-reviewed findings this week in the online Early Edition of the Proceedings of the National Academy of Sciences.
Shale gas extraction—a process that includes horizontal drilling and hydraulic fracturing—has fueled concerns in recent years about contamination of nearby drinking water supplies.
Two previous Duke-led studies found direct evidence of methane contamination in water wells near shale-gas drilling in northeastern Pennsylvania, as well as possible hydraulic connectivity between deep brines and shallow aquifers. A third study, conducted with U.S. Geological Survey scientists, found no evidence of drinking water contamination from shale gas production in Arkansas. None of the studies found evidence of current contamination by hydraulic fracturing fluids.
The new study is the first to offer direct evidence of ethane and propane contamination.
"Our studies demonstrate that the integrity of gas wells, as well as variations in local and regional geology, play major roles in determining the possible risk of groundwater impacts from shale gas development. As such, they must be taken into consideration before drilling begins," said Avner Vengosh, professor of geochemistry and water quality at Duke's Nicholas School.
"The new data reinforces our earlier observations that stray gases contaminate drinking water wells in some areas of the Marcellus shale. The question is what is happening in other shale gas basins," Vengosh said.
"The helium data in this study are the first in a new tool kit we've developed for identifying contamination using noble gas geochemistry," said Thomas H. Darrah, a research scientist in geology, also at Duke's Nicholas School. "These new tools allow us to identify and trace contaminants with a high degree of certainty through multiple lines of evidence."
Co-authors of the new study are Nathaniel Warner, Adrian Down, Kaiguang Zhao and Jonathan Karr, all of Duke; Robert Poreda of the University of Rochester; and Stephen Osborn of California State Polytechnic University. Duke's Nicholas School of the Environment and the Duke Center on Global Change funded the research.
Visit EcoWatch's FRACKING page for more related news on this topic.
——–
Sign the petition today, telling President Obama to enact an immediate fracking moratorium:

EcoWatch Daily Newsletter
As Encana's fracking operation continues in Rapid River Township, local residents are losing water pressure and water coming out of the tap looks like milk.
Last week, fracking operations at the Westerman 1-29 HD1 continued, despite ongoing issues with the water supply on the pad. The additional water wells installed on and off the well pad failed to yield sufficient volumes to complete the well and Encana continued to obtain water from the Kalkaska Village municipal system until June 8, when the gas well was finally completed.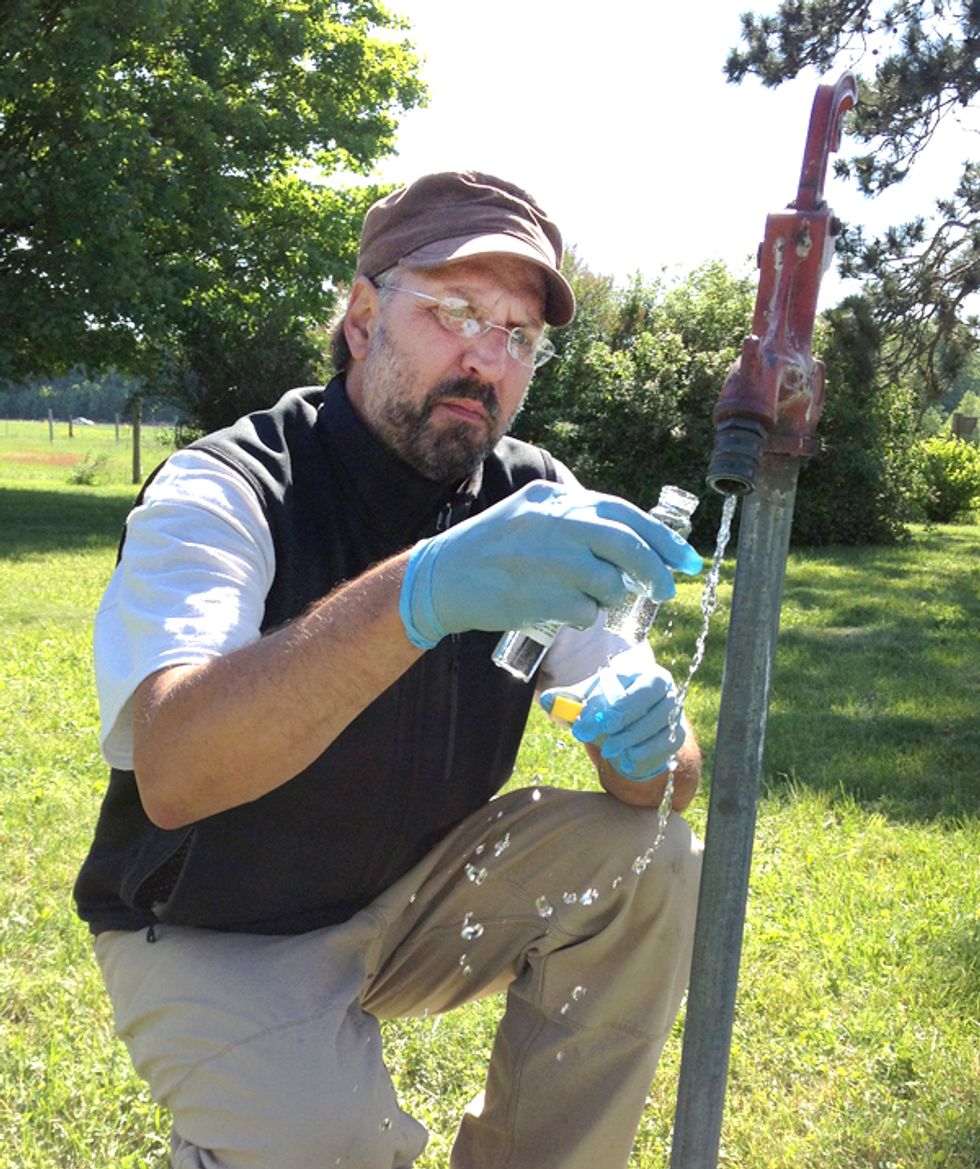 At some point mid-week, Bernard and Phyllis Senske, who live adjacent to the well site, started experiencing a drop in water pressure and discolored water.
"It looks like milk coming out of the faucet," said Mrs. Senske.
In response to her distress, the Anglers of the AuSable, a group dedicated to protection of Au Sable and other Michigan trout streams, engaged Dr. Chris Grobbel, of Grobbel Environmental & Planning Associates, to inspect the well and sample the water.
His initial report, which can be viewed below, found that "the static water level within the Senske well has been lowered by 11 feet. Homeowners Senskes reported that this problem is coincident with the nearby fracking operation which is also reportedly experiencing difficulties pumping groundwater to supply on-site fracking operation."
This is not the first fracking operation to experience issues with insufficient water. Attempts to complete the Yonkman 1-29HD1 well in Missaukee County between December 2012 and February of this year were unsuccessful, despite construction of eight water wells in an effort to do so. Devon Energy approached nearby municipalities for water, and the City of McBain agreed—for $34,000.00. However, the Michigan Department of Environmental Quality (MDEQ) records illustrate that the Yonkman well was never completed.
Similar issues were also experienced at the State Richfield 1-27 well in Roscommon County, where four water wells failed to provide the quantity of water required to frack the well (4.8 million gallons), and two additional wells were required.
Dr. Grobbel recommends a pump aquifer yield test be performed to determine whether an aquifer can safely supply the volume of water required for any large quantity water withdrawal, so that adverse impact to groundwater can be properly assessed and avoided.
Dr. Grobbel summarized his observations in the following report:
Please find this summary of my 6/7/13 site visit to the home of Bernard and Phyllis Senske, 632 Wood Rd, Rapid River Township, Kalkaska County. The Senske property is along the north side of Wood Rd, in close proximity to and northeast of Chevron's Westerman 1-32 HD-1 deep horizontal, hydraulically fractured natural gas well—currently being fracked by Halliburton.
The Senskes' reported and I observed the diminishment of flow, once turned on, from a hydrant at their residential well north of their home. Using an electronic static water level meter, I determined the depth of the well at 175 feet below ground surface (BGS), static water level at 129 feet BGS, giving them a total of 46 feet of water within their well. According to records from submersible well pump replacement in August 10, 2010 indicated the well had a static water level at 118 feet BGS (i.e. 57 feet of water within the well), and that the pump was set at 133 feet BGS (i.e. 15 feet into the aquifer). Under the conditions I observed on 6/7/13, the submersible pump would be a mere 4 feet into the aquifer and is running periodically dry through drawdown when run. Turning the well off, the water table seems to recover relatively quickly to 129 feet BGS. Consequently, the water well system is drawing air and water and slugs of air were observed by myself at the hydrant and at a tap within the Senske home. The cloudy water observed from the tap is likely air saturation within drinking water, and the clearing of drawn water was observed after a few seconds as very fine air bubbles volatilized. It was also noted that a small amount of white scale was present in drinking water within the Senske home, likely calcium deposits/scale being loosened and flushed through the home's plumbing from the air "shocking" of the system from drawing air. Neither condition are judged to represent health concern for the home owners.
However, to ensure the Senske's water was not tainted, I developed the well by running it for 15 minutes and analyzed the head space of water sample collected within a sterile lab jar with a photo-ionization unit (PID). PID readings were non-detect, and I did not detect odors of any sort. Samples were collected within 40 ml of volatile organic analysis per MDEQ protocols for drinking water, and were submitted to a MDEQ licensed lab in Traverse City for analysis for BTEX (benzene, toluene, ethylbenzene and xylene isomers U.S. EPA Method 8020)—a common indicator of petroleum constituents. I expect results during the week of June 17.
In short, it appears that the static water level within the Senske well has been lowered by 11 feet. Homeowners Senskes reported that this problem is coincident with the nearby fracking operation which is also reportedly experiencing difficulties pumping groundwater to supply on-site fracking operations. The Senskes are long-term occupants of this home, Mrs. Senske having been born there about 80 years ago and moved back decades ago. Both Mr. and Mrs. Senske reported that no problems have existed within water quality or quantity in this water well, which installed approximately in the early 1990s and used of potable water and irrigation on their farmstead. The only obvious change in the vicinity is the nearby horizontal fracking operation.
Visit EcoWatch's FRACKING page for more related news on this topic.
——–
Sign the petition today, telling President Obama to enact an immediate fracking moratorium:

By Jeff Biggers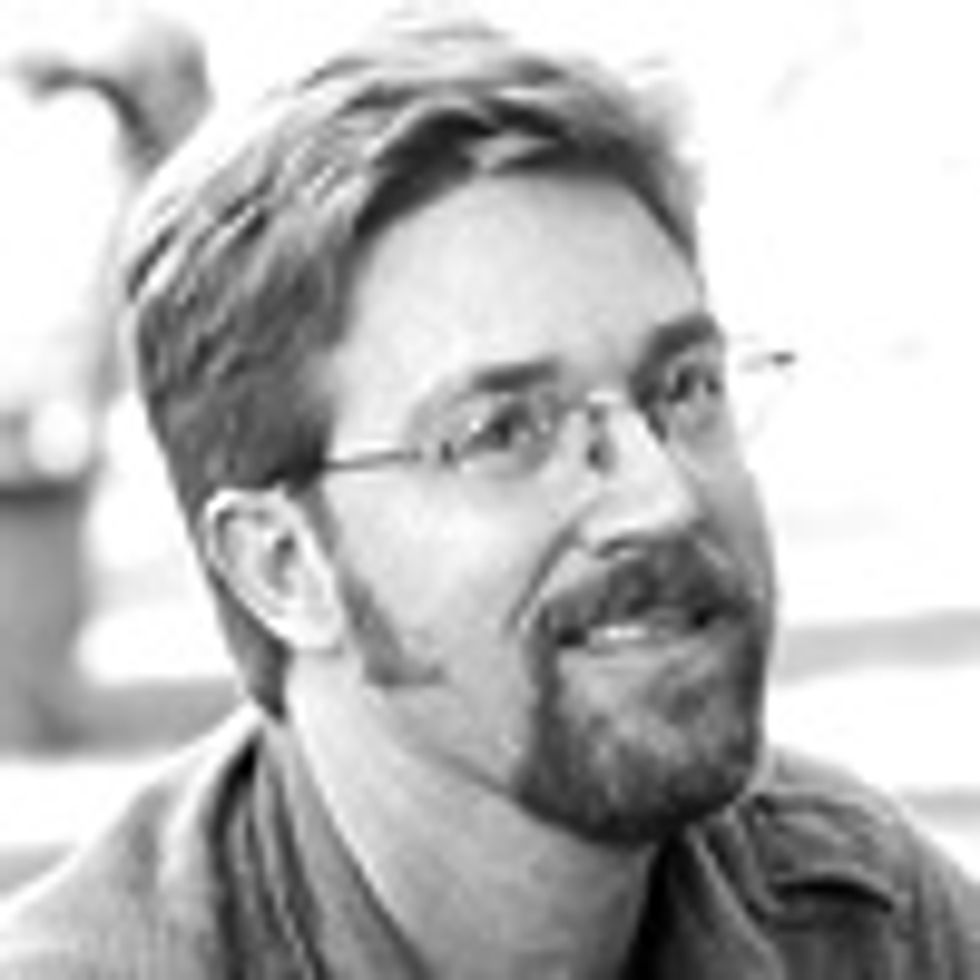 A new salvo has been fired in the national battle against fracking.
Within hours of the Illinois General Assembly's vote on its controversial bill on hydraulic fracking last Friday night, the Associated Press's headline rippled across nationwide newspapers: "Illinois lawmakers approve nation's toughest fracking regulations."
Not so fast, says Dr. Sandra Steingraber, the renowned scientist whom Rolling Stone has called the "toxic avenger." She returned to her native Illinois last week to join a growing citizens uprising against gas drilling and sand mining operations she defines as "an accident-prone, inherently dangerous industrial process with risks that include catastrophic and irremediable damage to our health and environment."
With New York readying to rescind or keep in place that state's temporary moratorium, and high stakes battles taking place across the nation about whether to regulate fracking or place moratoriums on it, Steingraber and a network of citizen groups have viewed Illinois as the staging ground for a fracking rush that will have an extraordinary ripple effect.
Once hailed by the Sierra Club as the "new Rachel Carson," Steingraber denounced Illinois's bill as "the result of closed-door negotiations between industry representatives and compromise-oriented environmental organizations." She testified in front of a last minute committee hearing of the Illinois House of Representatives, protested with sit-in activists, met with bill negotiators and was even tossed out of the Illinois General Assembly for speaking out.
With Gov. Pat Quinn's signature imminent, Business Insider gushed that Illinois "could become the epicenter of America's next oil boom."
Not under their watch, says Steingraber and the Illinois anti-fracking shock troops.
Issuing a Fracking Manifesto, she has thrown down the gauntlet on Illinois' regulatory fallout as a cautionary tale for citizens groups, environmental organizations and frackers across the nation.
"We call for a mobilization that brings fracking realities to the rest of the nation," the manifesto declares. "If our elected officials refuse to visit the fracking fields, then we will bring the fracking fields to them—in the form of science, stories, photographs, film, lectures, hearings and journalism. If elected officials refuse to defend our land, water, air and health against those who would despoil them for their own profit, then we will do it ourselves, using peaceful, non-violent methods."
A Fracking Manifesto: From Sandra Steingraber and the People of Illinois to the Nation
We know that high-volume horizontal hydraulic fracking, or HVHF, is an accident-prone, inherently dangerous industrial process with risks that include catastrophic and irremediable damage to our health and environment.
We know that HVHF and its attendant technologies:
contribute to groundwater contamination, including 219 cases in Pennsylvania alone;
turn massive amounts of fresh, drinkable water into massive amounts of briny, poisonous flowback fluid for which there is no fail-safe disposal solution;
vent hazardous air pollutants that are associated with cancer, asthma, heart attack, stroke and preterm birth;
release radioactive substances—including radon, which is the number two cause of lung cancer—and benzene, which is a proven cause of leukemia—from deep geological strata;
fragment forests in ways that decimate birds and wildlife, sabotage natural flood control systems, and pour sediment into rivers and streams;
industrialize communities in ways that vastly increase truck traffic, noise pollution, light pollution, stress, crime and the need for emergency services;
offer jobs that are dangerous, toxic and temporary, with a fatality rate seven times that of other industries; and
leak prodigious amounts of methane, a potent heat-trapping gas.
We know these problems cannot be prevented by any set of rules or government office, let alone state agencies like those in Illinois, which have been cut to the bone by budget cuts and cannot be counted on for regulatory enforcement.
We have heard the warnings of our brothers and sisters living in the gas fields of Pennsylvania and Ohio, whose children, pets and livestock are sick, whose property values are ruined, whose water is undrinkable.
We have heard the pleas of our neighbors in Wisconsin, Iowa and Minnesota, where strip-mining for "frac-sand" has devastated communities, destroyed landscapes and filled the air with carcinogenic silica dust. We are aware that our own beloved Starved Rock State Park is already threatened by industrial mining of silica sand used for fracking operations and that the pressure to strip-mine Illinois for sand will only increase with every well that is drilled and fracked.
We assert that fracking is a moral crisis. In a time of climate emergency, it is wrong to further deepen our dependency on fossil fuels. In a state such as Illinois, where chronic drought and water shortages are already forecast for our children's future, it is wrong to destroy fresh water resources in order to bring new sources of climate-killing gas and oil out of the ground.
We reject the legitimacy of Illinois' fracking regulatory bill, which was the result of closed-door negotiations between industry representatives and compromise-oriented environmental organizations. Responsible only to their funders and their members, these environmental groups do not represent us nor are they empowered to negotiate on our behalf. We consider the fracking regulatory bill to be a subversion of both science and democracy. Throughout its creation, no comprehensive health study or environmental impact study was ever commissioned. No public hearings or public comment periods ever took place. And yet it is the public that is being compelled to live with the risks sanctioned by this bill. It is an unjust law.
Knowing that our own government has abdicated its responsibility to protect the safety and well-being of the citizenry, knowing that no one is coming to save us, we declare our intent to save ourselves from the ravages of shale gas and oil extraction via HVHF. We declare our intent to join together in a fracking abolitionist movement.
As such, no longer shall national environmental organizations based far from impacted realities make decisions that will have life-changing impacts on the people living in impacted zones. We will call out organizations that betray core values and integrity. We will openly inform their membership and their funders and reveal the truth of where they stand and at whose expense.
We call for a mobilization that brings fracking realities to the rest of the nation. If our elected officials refuse to visit the fracking fields, then we will bring the fracking fields to them—in the form of science, stories, photographs, film, lectures, hearings and journalism. If elected officials refuse to defend our land, water, air and health against those who would despoil them for their own profit, then we will do it ourselves, using peaceful, nonviolent methods.
We hereby commit ourselves to building a powerful movement that will protect Illinois's children—and safeguard the living ecosystem on which their lives depend—for generations to come. In short, we declare our intent to take the future into our hands. And that future is unfractured.
Sign on and join our movement.
Dr. Sandra Steingraber
Springfield, Illinois

Sign the petition today, telling President Obama to enact an immediate fracking moratorium: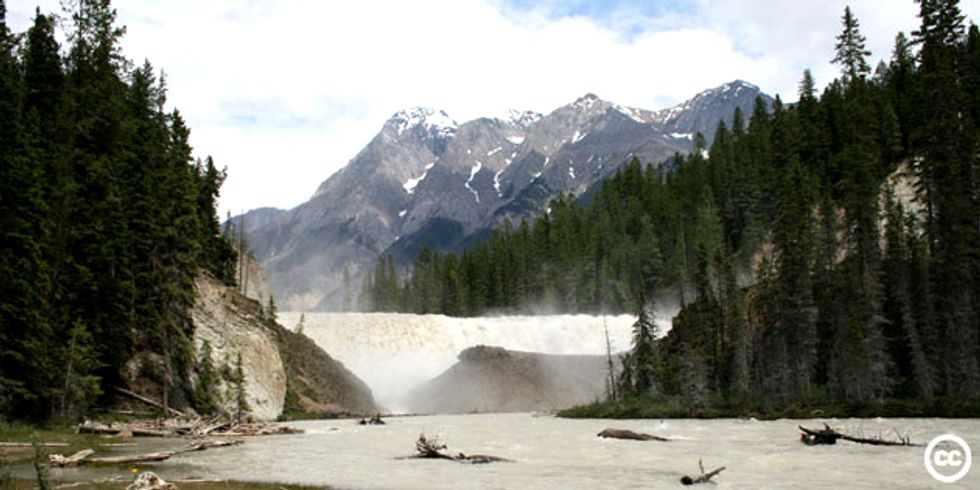 The integrity of natural lands in the U.S. are in jeopardy. Severe droughts, raging wildfires and other extreme weather events enhanced by climate change are wreaking havoc on America's most beautiful places. On top of this, many of these lands are being targeted for oil and gas drilling—the very activity that drives climate change.
Under President Obama, the pace of drilling on public lands is double that of protecting public lands. The current U.S. Congress is the first since World War II to fail to designate a single new acre of protected land.
The Sierra Club's Wild America campaign is calling on President Obama to elevate more land in the west to the status of "national monument," which would prevent land leases for fossil fuel extraction.
Sportsmen and outdoorsmen identify climate change and the fossil fuels that cause it as the biggest threat to America's wild places. Climate change is fueling unprecedented drought, wildfires and changes in ecosystems that are endangering wildlife and biodiversity. Protecting these ecologically important places means halting our dependence on fossil fuels.
The Obama administration recently unveiled its plans for the Energy Security Trust, a federal plan to speed up the permitting process for oil and gas drilling on public lands and send the royalties from these activities to a trust fund for clean technology advancements, including electric vehicles. It was met with applause from the petroleum industry, who was eager to get the go-ahead from President Obama on increased domestic drilling.
Expanding drilling on public lands runs counter to conservation efforts. At a time when extreme weather, fueled by climate change, is wreaking havoc on beautiful places, the government shouldn't give the fossil fuel industry permission to pollute natural landscapes and public lands for their dangerous activities.
Visit EcoWatch's PUBLIC LANDS page for more related news on this topic.
——–
Click here to sign a petition to tell the Bureau of Land Management to issue strong rules for federal fracking leases on public lands.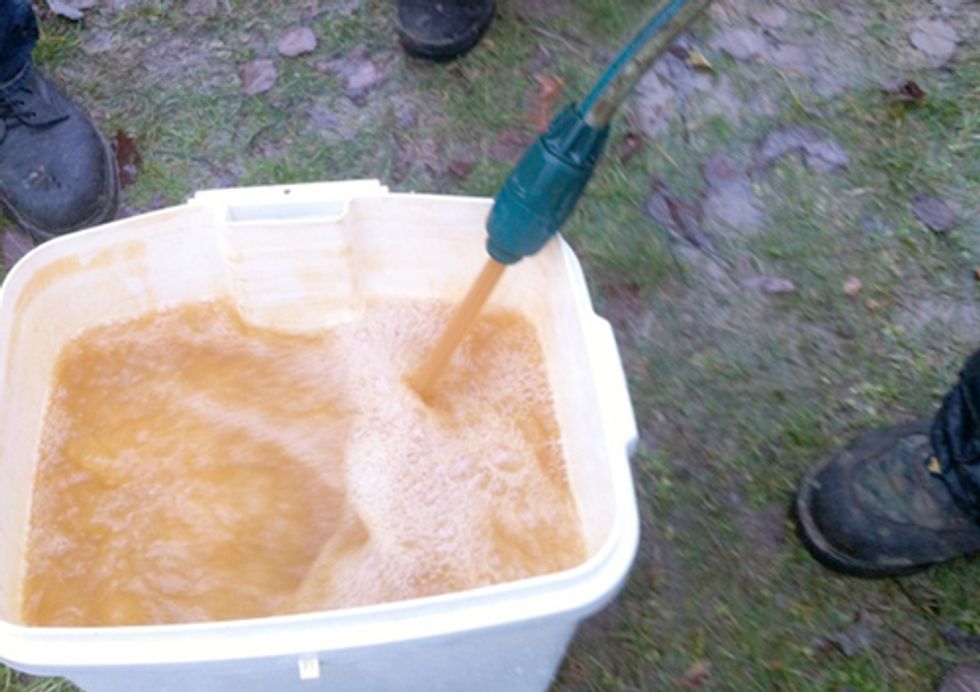 By Iris Marie Bloom
"I don't know what I'm going to do," John "Denny" Fair said yesterday as he watched a water company worker pour out hundreds of gallons of clean fresh water onto the cold ground and remove the water tank under orders from Rex Energy. "Everybody had good water a year ago," Fair said, referring to his own water and that of neighboring families who reported that their water changed color after Rex began drilling and fracking in Conoquenessing Township, Butler County, Pa.
Rex has admitted that two of their Conoquenessing gas wells had casing failures in late 2010, shortly before Conoquenessing families, in an area called the Woodlands, reported that their water changed abruptly in January 2011.
Marcellus Outreach Butler is collecting water for at least 11 families and will confront Rex Energy on March 1 at its office in the town of Butler at 4 p.m., demanding that Rex reinstate clean water supplies for all the families. That address is 407A West Jefferson Street, Butler, Pa. 16001. Participants will first gather at 3:30 p.m. at the Butler Farmer's Market in Butler, Pa. between Race St. and Shore St.
Denny Fair, unemployed, receives aid from neighbors for electricity and meals from a food bank, according to the Pittsburgh Times-Tribune's Timothy Puko. The water from Fair's well, pictured here, ran orange-brown. "Personally, I wouldn't drink it," commented Diane Sipe of Marcellus Outreach Butler, who was on the scene yesterday. Fair does odd jobs and is unable to afford either replacement water or a water filtration system, he said.
Most vulnerable families hit hardest
Several families fought hard to keep their water tanks, called "water buffaloes," but families without means have no alternative to using water which appears to be contaminated, making gas drilling impacts most severe for the most vulnerable families. Two people with disabilities live at the property where Rex Energy ordered the water company to remove its water buffalo one day early, according to Marcellus Outreach Butler organizer Diane Sipe. Sipe said that one Connoquenessing family which depended on a water buffalo provided by Rex Energy until this week is now staying with relatives, unable to care for their newborn with a limited water supply.
In addition to residents' complaints about contaminated well water, Rex Energy drilling, fracking, gas processing and waste handling operations have fouled the air and surface waters, according to multiple sources. Pennsylvania Fish and Boat Commission Officer Nestor said last week that the Commission is now investigating a dozen drilling mud spills, which impacted a dozen different creeks in the Connoquenessing watershed just since December, 2011. Workers have reported rashes and boils on their skin when working with drilling mud, according to Susquehanna County resident Rebecca Roter; the boils diminish or disappear only during weeks off.
Protecting Our Waters began raising funds last week to help provide clean replacement water for the families, but has only raised $910 so far towards the cost of supplying twelve families with water for drinking, showering, washing dishes and laundry.
For more information, click here.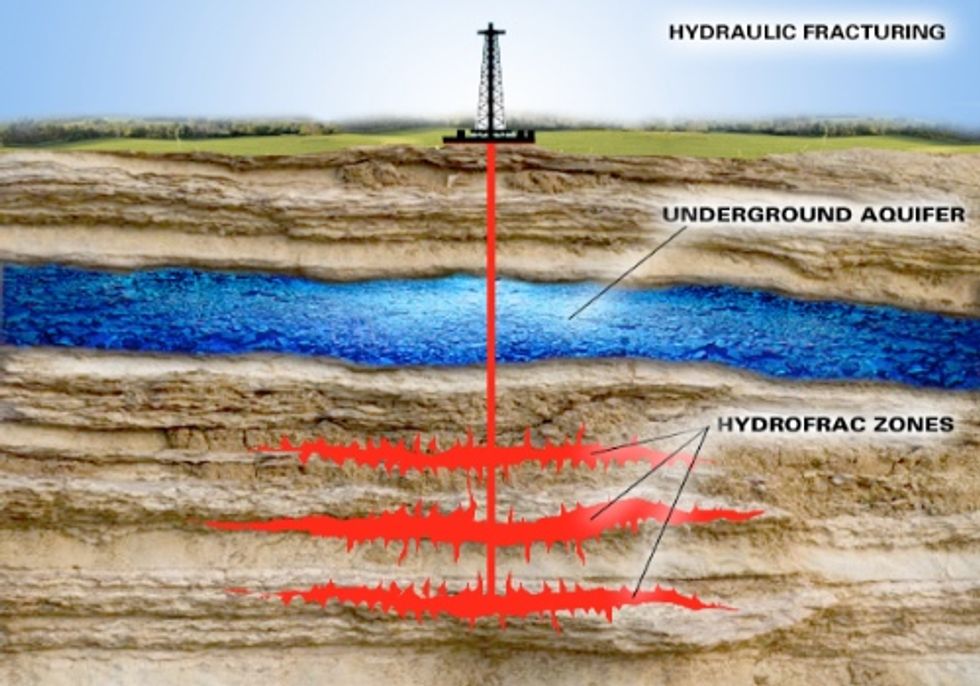 WHAT: Natural gas informational forum.
WHEN: March 3, 4 p.m.
WHERE: Guilford United Methodist Church, 1270 County Rd. 35, Guilford, New York 13780
Chenango Community Action for Renewable Energy (C-CARE) and Sustainable Chenango will sponsor a forum on the impacts of fracking.
Presentations will include:
• "Informed Consent: Have You Given Yours? How Gas Drilling & Fracking May Impact Your Health, Property & Community"
• "Legal Update: Gas Drilling Issues Facing Local Governments & What Towns Can Do"
For more information on this event, click here. To ask questions, email C-CARE or call 895-6975.
This week, Rep. Marcia Fudge (D-OH) will vote on a bill that includes a measure to open the Arctic National Wildlife Refuge to oil drilling. The Arctic Refuge is our greatest wilderness icon and is home to caribou, polar bears and hundreds of bird species that migrate to all 50 states and six continents. It's a pristine, intact ecosystem that is unparalleled in North America, and for the first time in six years, pro-drilling Representatives are pushing to open this amazing place to Big Oil's dirty, dangerous drills.
Two years ago this month, the Deepwater Horizon drilling rig began drilling on the Macondo Prospect, an operation that would result in one of the worst environmental disasters in U.S. history. Now, as we contemplate exploratory drilling in the Arctic, the Center for American Progress released Putting a Freeze on Arctic Ocean Drilling: America's Inability to Respond to an Oil Spill in the Arctic, detailing the lack of resources and existing infrastructure to respond to an environmental disaster off Alaska's North Slope.
Even the well-developed infrastructure and abundance of trained personnel in the Gulf of Mexico didn't prevent the Deepwater Horizon tragedy. Our Arctic response capabilities pale by comparison. Some in the U.S. are eager to keep pace with other Arctic nations by tapping into the "great opportunity" for economic gain they believe lies beneath the pristine Arctic waters, despite the dangerous dearth of response resources illustrated in the map below.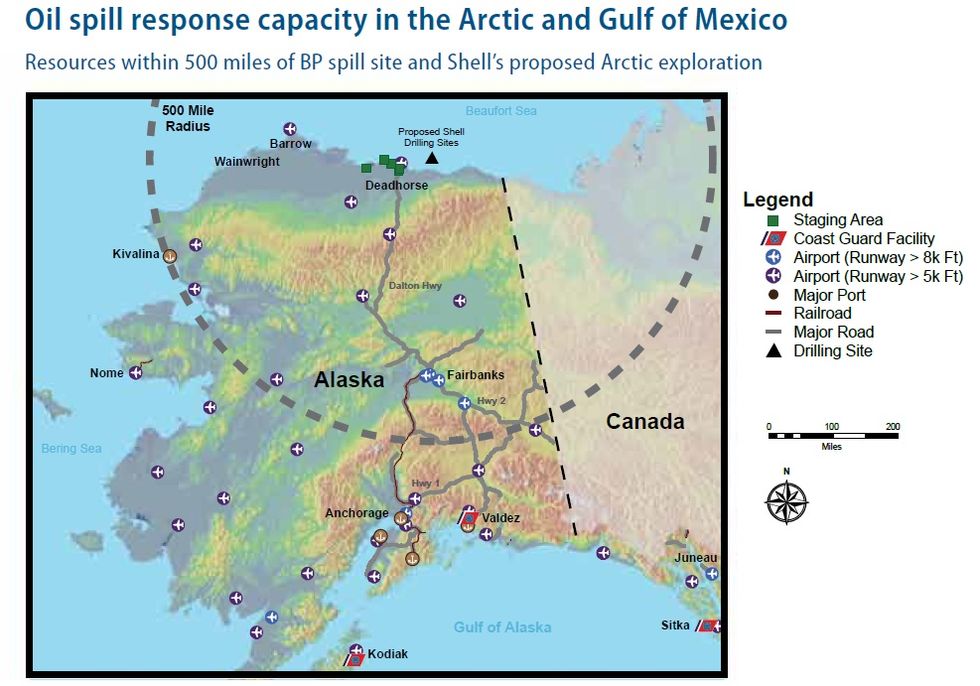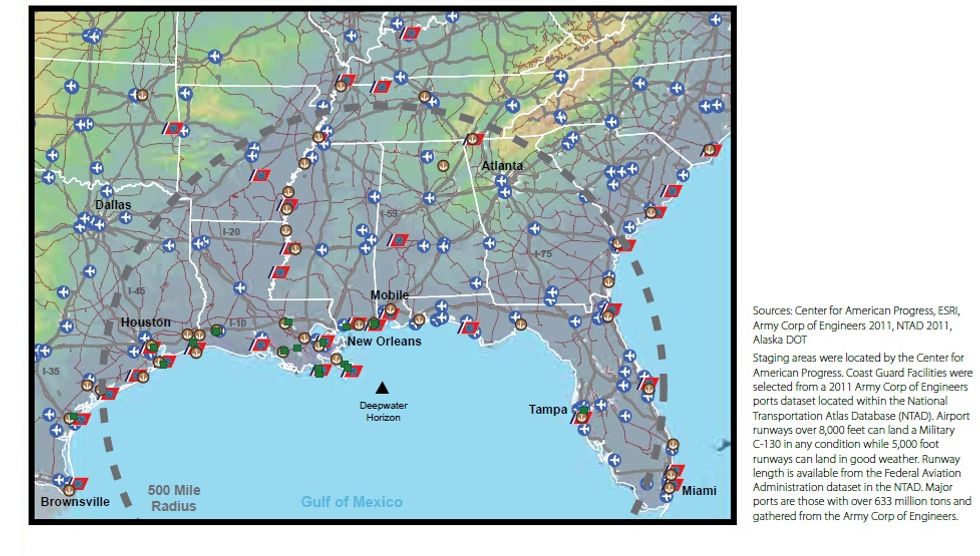 Drilling for oil in this fragile region, however, should not be pursued without adequate safeguards in place. If we've learned anything from the Deepwater Horizon tragedy, it's that the importance of preparedness cannot be overstated. That is why we strongly recommend specific actions be taken by the federal government, by Congress, and by Shell and other companies before beginning exploratory drilling in the Arctic. Recommendations include:
Ensure adequate response capabilities are in place before drilling operations commence
Require and oversee oil spill response drills in the Arctic that prove the assertions made in company drilling plans prior to plan approval
Engage other Arctic nations in developing an international oil spill response agreement that includes an Arctic Ocean drilling management plan
Appropriate adequate funds for the Coast Guard to carry out its mission in the Arctic, including increasing our icebreaking capability
Significantly increase the liability cap (currently $75 million) for oil companies in violation of drilling safety rules
Certainly, meeting our nation's energy needs in the near term means maintaining access to domestic offshore oil and gas resources, but it is imperative that we do so in the most prudent, responsible, and environmentally safe manner. And while we applaud the critical reforms implemented by the Obama administration in the aftermath of the Deepwater Horizon tragedy, more must be done. Until the oil and gas industry and its federal partners meet the recommendations we lay out in this report and demonstrate the ability to identify and immediately respond to a blowout or oil spill, the Arctic region of the U.S. should remain off-limits to exploration and drilling.
For more information, click here.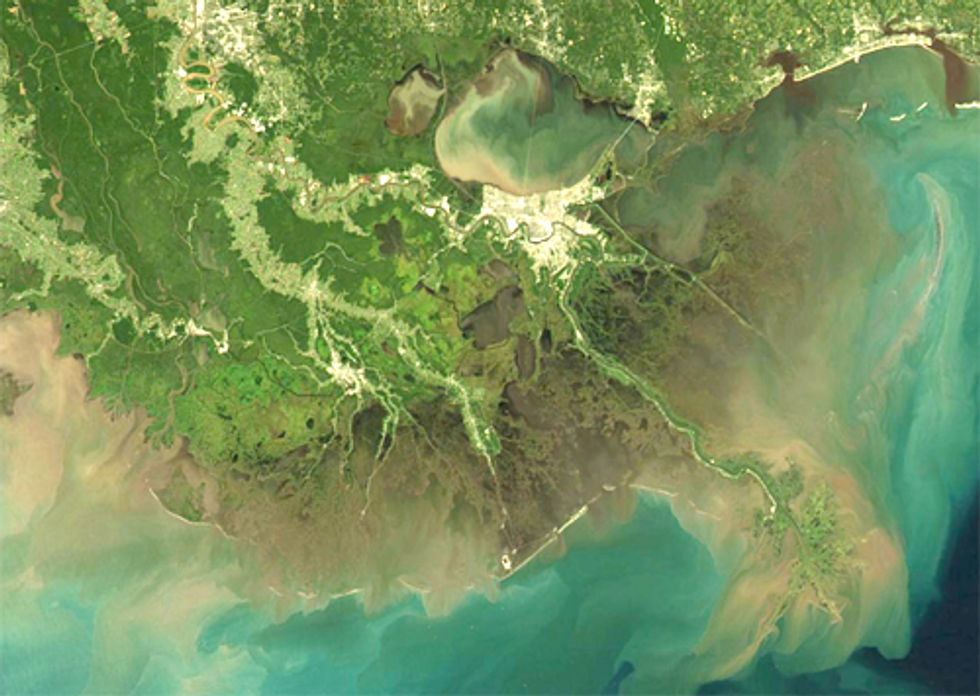 Waterkeeper Alliance and several Gulf Coast Waterkeeper organizations filed suit in Federal Court Feb. 2 against Taylor Energy Company LLC under the citizen suit provisions of the Clean Water Act and Resource Conservation Recovery Act, for ongoing violations stemming from an oil spill in the Gulf of Mexico that has continued to flow for more than seven years.
Aided by satellite imagery and research conducted by SkyTruth and aerial observation by SouthWings, the Waterkeeper Alliance and its local Waterkeeper organizations learned that the spill, located approximately 11 miles off the coast of Louisiana, started after an undersea landslide in the aftermath of Hurricane Ivan in 2004. An offshore platform and 28 wells were damaged, and since then, Taylor has yet to stop the daily flow of oil from the site. Waterkeeper estimates that hundreds of gallons of oil have leaked from the site each day for the last 7 years.
"The plaintiffs filed suit to stop the spill and lift the veil of secrecy surrounding Taylor Oil's seven-year long response and recovery operation," explained Marc Yaggi, executive director of Waterkeeper Alliance. "Neither the government nor Taylor will answer basic questions related to the spill response, citing privacy concerns." The public deserves to know how this spill happened and why it continues. Coastal communities should understand the risks involved in developing off-shore oil resources and what protections are in place to prevent damage from future spills.
"The Taylor Oil spill is emblematic of a broken system, where oil production is prioritized over concerns for human health and the environment," said Justin Bloom, eastern regional director of Waterkeeper Alliance. "Nearly two years after the BP Deepwater Horizon Spill, none of the comprehensive reforms recommended by the National Oil Spill Commission have been enacted and Congress has yet to pass a single law to better protect workers, the environment or coastal communities."
Meanwhile, President Obama, in his State of the Union, has called for a massive push to open up 38 million acres in the Gulf of Mexico to oil exploration and extraction. He also seeks to open up pristine Arctic waters to drilling. The Taylor spill is in relatively shallow and accessible waters compared to the deepwater, challenging environment where Big Oil has set its sights. Oil exploration and extraction technology has dramatically outpaced the development of safety and recovery technology and it appears that the current regulatory regime is incapable of protecting us from a runaway industry.
A report released this week by the Gulf Monitoring Consortium, a partnership between Waterkeeper Alliance, SkyTruth and SouthWings, investigates several spills in the Gulf (including the Taylor Spill) and highlights numerous deficiencies in the reporting and response process.
A copy of the report can be found by clicking here.
"Imagine an incident like the Taylor Spill in a deepwater, high-pressure environment, that could not be contained in 7 years," said Paul Orr, the Lower Mississippi Riverkeeper. "Do we really want to race to the bottom without a lifeline when it looks like Big Oil is still at the helm?"
A copy of the complaint can be found by clicking here.
Joining Waterkeeper Alliance in the lawsuit are—Atchfalaya Basinkeeper, Baton Rouge, La.; Galveston Baykeeper, Galveston, Texas; Lower Mississippi Riverkeeper, Baton Rouge, La.; Louisiana Bayoukeeper, Barataria, La.; and Louisiana Environmental Action Network, Baton Rouge, La. Plaintiffs are represented by the Tulane Environmental Law Clinic.
For more information, click here.
—————
Waterkeeper Alliance is a global environmental movement uniting more than 190 Waterkeeper organizations around the world and focusing citizen advocacy on the issues that affect our waterways, from pollution to climate change. Waterkeepers patrol more than 1.5 million square miles of rivers, streams and coastlines in the Americas, Europe, Australia, Asia and Africa.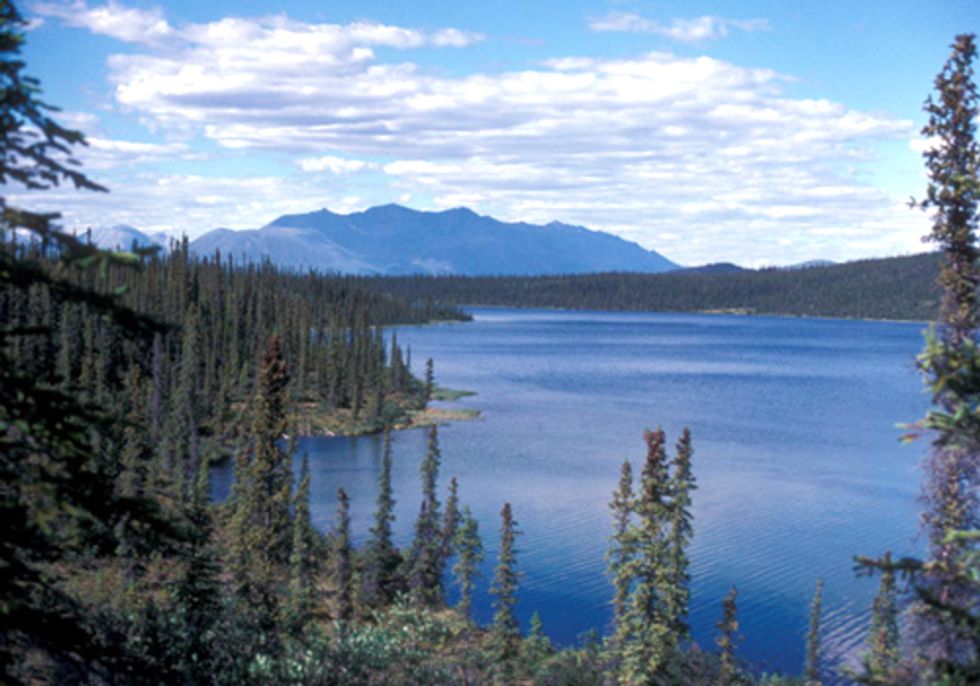 Republican leaders of the House Natural Resources Committee did the bidding of Big Oil once again on Feb. 1 and voted to open up the pristine Arctic National Wildlife Refuge, the Atlantic and Pacific oceans, the protected eastern Gulf of Mexico and Alaska's Bristol Bay to oil drilling all under the pretext of funding this year's transportation bill.
Conservative politicians have always wanted to open the Arctic refuge to drilling for the Big Oil companies. The transportation bill and the professed need for revenue is just the latest excuse to push something they have wanted for a long time.
The funding issue is a scam. Even the most generous revenue estimates from this reckless expansion of drilling will not be enough to fund proposed transportation projects in the bill. In addition, what small amounts of revenue might be generated would not be seen for ten years as oil companies will still need to explore, apply for drilling permits and start development. That's too late to pay for transportation projects starting next year.
This giveaway to Big Oil will expose millions of acres of America's pristine land and water to dirty and dangerous oil and gas development from which they may never recover.
Jamie Rappaport Clark, president and CEO of Defenders of Wildlife, said:
"Just in time for Valentine's Day, House leaders in Congress have come out with a sweetheart deal for their Big Oil allies. Opening the Arctic refuge to drilling has been a long-standing priority of the backwards-looking, drill first crowd and the transportation bill is just the latest excuse to do so. The proposed revenue from this deal won't even materialize for years, making this one of the most disingenuous refuge-drilling schemes we've ever seen, to say nothing of the environmental destruction it would cause.
"Instead of sacrificing some of America's most pristine wilderness and waters for the profit of Big Oil, Congress should focus on coming up with real solutions to fund the transportation projects that will decrease our addiction to oil and keep our country moving."
Take Action.  Ask your representative to oppose this bill and protect the Arctic National Wildlife Refuge and the wildlife that call it home.
Read more about how Defenders is working to protect America's Arctic from the dangers of dirty oil and gas drilling.
For more information, click here.