This website uses cookies to ensure you get the best experience while browsing it. By clicking 'Got It' you're accepting these terms.
Matt Remle, far left, and the organization Mazaska Talks led months of protests at Seattle's pipeline- and tar-sands-funding banks: Chase, Wells Fargo, Bank of America, TD Bank and US Bank. Alex Garland
By Deonna Anderson
In February 2017, Seattle became the first city to pass legislation to divest from a financial institution because of its role in funding the Dakota Access pipeline.
A message to the Irish government to divest from fossil fuels is spelled out in lights in front of the lower house of parliament. Sasko Lazarov / 350.org
Ireland took a major step Thursday towards becoming the first country in the world to divest from fossil fuels, NPR reported.
EcoWatch Daily Newsletter
Boston University faculty members met yesterday afternoon with university president Robert Brown, personally delivering a letter signed by 245 faculty members urging the university to dump fossil fuels from its investment portfolio.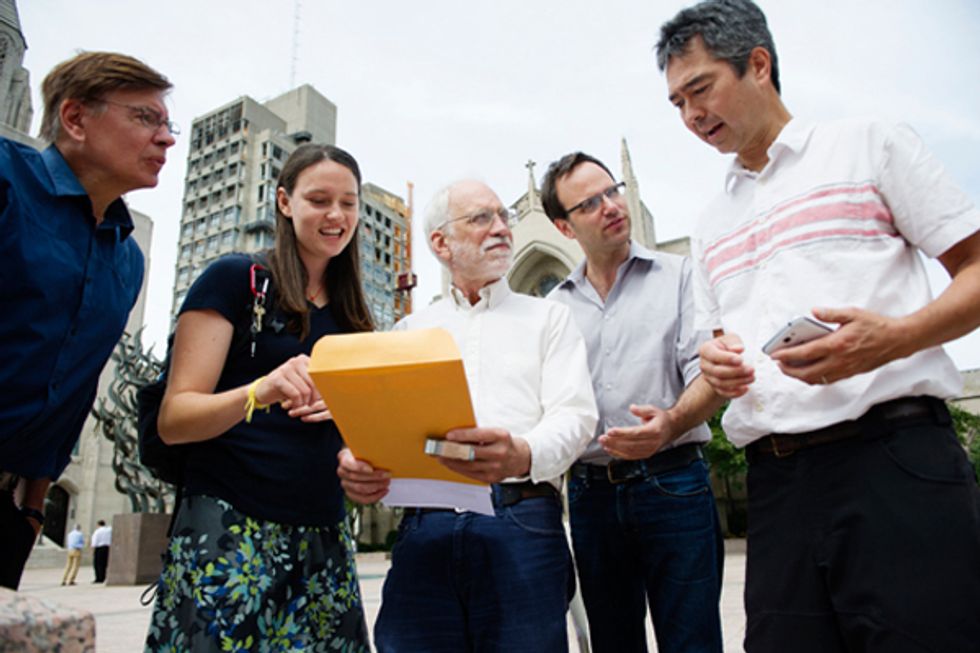 It is the largest group of university faculty so far to back such a measure], with signers from almost all schools and departments. The delegation also included members of student group DivestBU, which has been pushing for divestment for two years.
The letter, addressed to the president and the university's trustees, said:
The climate change crisis is threatening life on Earth, and demands immediate and transformative actions by individuals, governments, businesses and institutions. ... Because it is unlikely that fossil fuel interests (the major source of this crisis) will stop of their own accord their unrelenting drive to burn these fuels at current rates, we must find strategies to induce them to stop. ... We recognize that the transition to a post fossil fuel society will be complex, but we must begin to take meaningful action to promote a rapid phasing out of fossil fuel use.
The letter pointed out that BU has a precedent for divestment, having taking such an action twice before: when it disinvested from companies enabling genocide in Darfur and partially from apartheid South Africa. It also pointed out that BU has embraced sustainability and energy efficiency programs.
It also mentioned a practically reason to divest, saying "Since the true costs of carbon dioxide emissions are currently not taken into account in determining fossil fuel companies' stock prices, investing in them is becoming increasingly risky ('stranded assets' and the 'carbon bubble')." Being good professors, the letter was copiously footnoted.
The faculty/student group met with president Brown for about half an hour after he personally accepted their letter. The group was encouraged by the discussion.
"We are very pleased to hear that President Brown shares with the faculty a deep concern over the threat of climate change," said biology professor/DivestBU steering  committee member Ed Loechler. "He also concurs that climate change will be the most important investment issue for the university in the next few years and will thus encourage the institution to engage in open dialogue on this matter."
The faculty group hopes to grow its numbers, encouraging  other BU faculty to join.
The campus movement to push colleges and universities to divest from fossil fuels is growing, as this large number of supporters at BU indicates. In April, 93 faculty members at Harvard University sent an open letter to president Drew Faust, but received a much less encouraging response when he said they would not consider it. That triggered a student "day of action" which included blockading his office. But in May, the Stanford University board of trustees voted to dump coal investments from its endowment portfolio, following a large-scale campaign by student organization Fossil Free Stanford.
YOU MIGHT ALSO LIKE
University of Dayton Becomes First U.S. Catholic College to Divest From Fossil Fuels
Stanford Student Movement Inspires University's .7 Billion Divestment From Coal
93 Members of Harvard Faculty Call on University to Divest From Fossil Fuels
Cooper McKim is a rising junior at Tufts University fascinated by the dynamics of environmental work with policy, entrepreneurship and activism. McKim studies environmental policy and helps write a monthly newsletter for the environmental studies program. He has interned with Massachusetts Rivers Alliance, a New Jersey Congressman and the NPR affiliate station WSHU.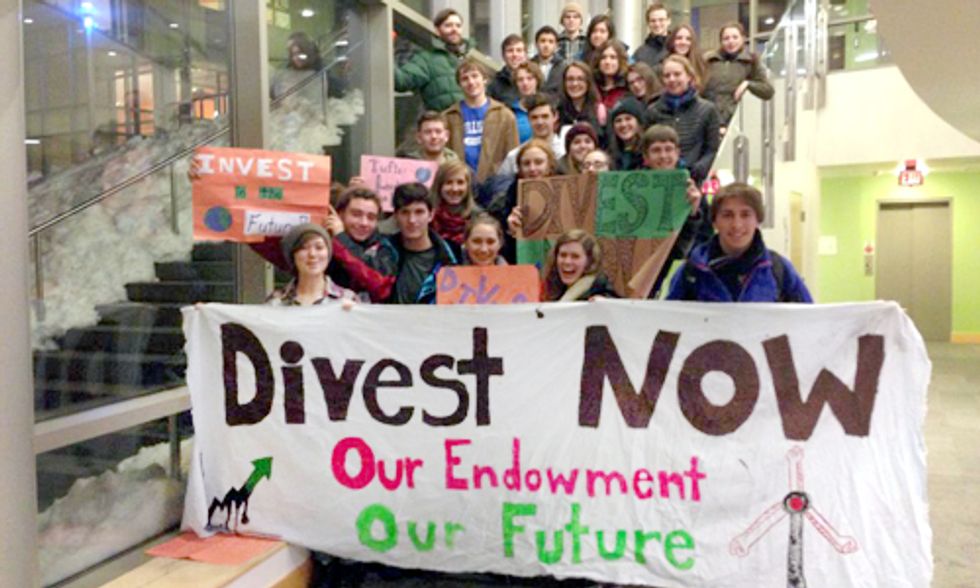 In a liveleak video, an iPhone screen rises above the back of a chair showing a grainy image of a room full of prospective Tufts student, and an admissions person. She explains the differences between engineering psychology and management, when a female Tufts student next to the camera, raises her hand, "I was wondering if you could talk a little bit about Tufts investment in the fossil fuel industry."
The flustered admissions person tried to shrug it off, but the student, Eliza Slocum, persisted, "Could you just make a general statement..." The two students next to Slocum then intervene, hoping to get a statement. One of them, Pearl, tries one last time saying, "We don't want to take up any more of your time..."
Then a father marches down to the aisle and leans over Pearl: "Enough, enough, no. That's too much time. She's done with you, okay? She's done with you. Stop wasting our time. I'm gonna get security if you don't shut the hell up, okay?" The packed room of prospective families clap. 
This small catastrophe was Tufts Divest first direct action aimed at admissions. At a school where admissions is sacred, the public reaction was not good. Membership for Tufts Divest dropped by 30 percent, including leaders like Kit Collins, who couldn't align with those tactics.
Collins, a percussionist and rising Senior said, "This environmental justice community is being co-opted by a desire to be seen as activists and to do righteous activist-y things for people's egos as opposed to doing activist-y things because they're good for our goal."
Evan Bell, a soft-spoken remaining leader of Tufts Divest, admits that there was a certain sense of urgency regarding this action: "I think it was dealt with in somewhat of a state of panic, a measured panic. It wasn't highly strategic and as it went poorly, it just went more poorly." The tactics were not well-defined and most of the organizing happened amongst a small group on Facebook, the day or two before. The leaked video fueled the controversy, reinforcing the stigma already glowing around the Tufts' Divest movement.
Despite all of these negative reactions, Bell insists the action was still important: "We needed a Board of Trustees meeting, that's part of the story we were trying to tell. We worked within the bureaucracy and it didn't work, we had to push it." In the end, this action did get the attention of the administration, and opened the door to a Board of Trustees meeting.
Like this action, divestment is more complicated than its pithy title suggests. Bell says, "I don't do divestment because I care about Tufts endowment that much. It's about setting cultural precedents, stigmatizing the fossil fuel industry... and offering an on ramp, where college students can plug-in and join an international movement." With more than 150 other campus divestment movements, it really does offer an international network at a local scale. Events like Powershift and Climate Summer, organized by 350.org and Better Future Project, allows divesters around the world to coordinate, build an informed local movement and present a united front. Bell, having participated in many of events like this says, "I've been able to see so many people go from knowing and caring, to acting and making real change."
The larger divest movement provides direction to the local movements, and individual secondary targets provide momentum. For example, Tufts Divest banded with other northeastern schools to perform a direct action in the TransCanada offices in Massachusetts in 2013, making young people's opposition to the Keystone XL pipeline very clear. In 2014, Tufts was one of schools across the country to create a blockade in front of the White House also opposing Keystone XL. The efficiency, power and unity represented by young people at the blockade was all thanks to divestment. Each secondary target at a local level contributes to movement building and overall momentum.
Tufts Divest does still has a problem, though. The Board of Trustees responded with a stern no regarding divestment. After that meeting and the admissions faux pas, the group must rebrand and commit to a firm direction for next year. Bell says, "It's not just about bringing on more people and asking the same questions. Tufts Divest has yet to find an intermediate ask, and intermediate way of building that power." Bell has confidence that Tufts will eventually make the right choice, "Tufts will divest, whether that's 50 years from now when the environment is so chaotic that fossil fuels are simply not a good investment, or in one, two or five years. It truly is a moral imperative. Every day that we invest in fossil fuels, we continue to say that they are a good investment."
Following in the footsteps of the University of Dayton, the first Catholic school to divest from fossil fuels, the Unitarian Universalist Association (UUA) announced Saturday its resolution to do the same.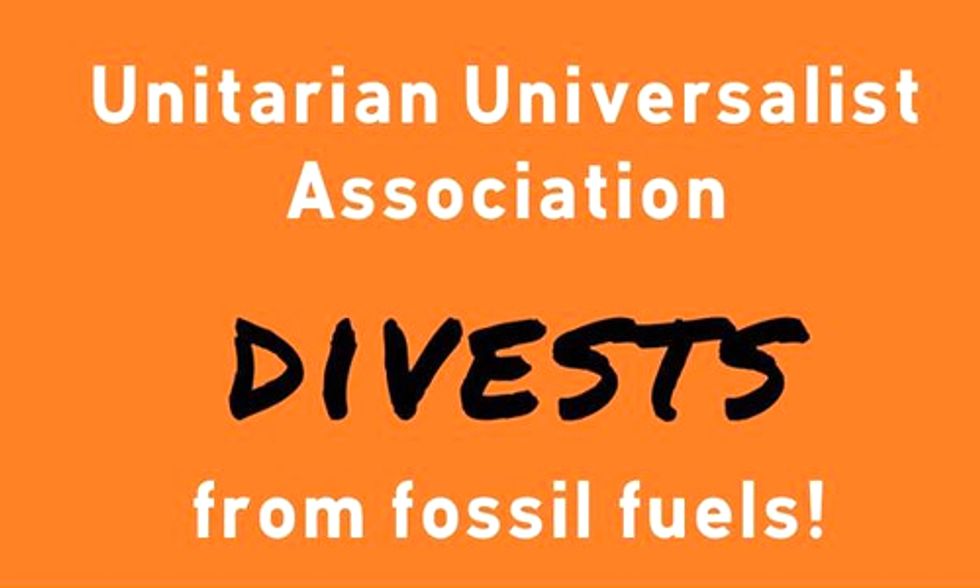 The faith-based organization of more than 1,000 congregations has about 2.9 percent of their $175 million investment dollars in fossil fuel companies under their UUA Common Endowment Fund (UUCEF), according to the Providence Journal. Saturday's vote was overwhelmingly in favor of divestment. 
"We are encouraged that the UUA can continue its longstanding successes in shareholder advocacy while helping to lead the divestment movement with the approval of today's fossil fuel divestment resolution," said David Stewart, co-chair of the UUA's socially responsible investing committee. "We believe strongly that any effort that can change the current trajectory of climate change is a welcome improvement."
Bill McKibben, founder of 350.org, tweeted his enthusiasm and appreciation over the weekend:
Oh yes!!! the Unitarian church, the whole thing, voted today to divest from fossil fuels. This is what momentum looks like

— Bill McKibben (@billmckibben) June 29, 2014
As Unitarians head off to services this morning, so many thanks from all of us for the bold decision to divest!

— Bill McKibben (@billmckibben) June 29, 2014
The resolution requires the UUA to:
Cease purchasing securities of Carbon Tracker 200 (CT200) companies as UUCEF investments immediately.

Continue to divest its UUCEF holdings of directly held securities of CT200 companies, reaching full divestment of these companies within five years.

Work with its current and prospective pooled-asset managers for the purpose of creating more fossil fuel-free investment opportunities, with the objective of full divestment of UUCEF indirect holdings in CT200 companies within five years.

Invest an appropriate share of UUCEF holdings in securities that will support a swift transition to a clean energy economy, such as renewable energy and energy efficiency-related securities.
"We, private citizens and the private and nonprofit sectors, need to take matters into our own hands and use every strategy we can to convince the government and public at large of our planetary emergency, and that we must act now," said Terry Wiggins, a leader in pushing through the divestment decision. 
According to the UUA, the organization has a long-standing history of activism in environmental justice. Most recently, the UUA has supported the new U.S. Environmental Protection Agency limits on carbon emissions for new and existing power plants, as well as worked to increase transparency in the executive office of Chevron Corp.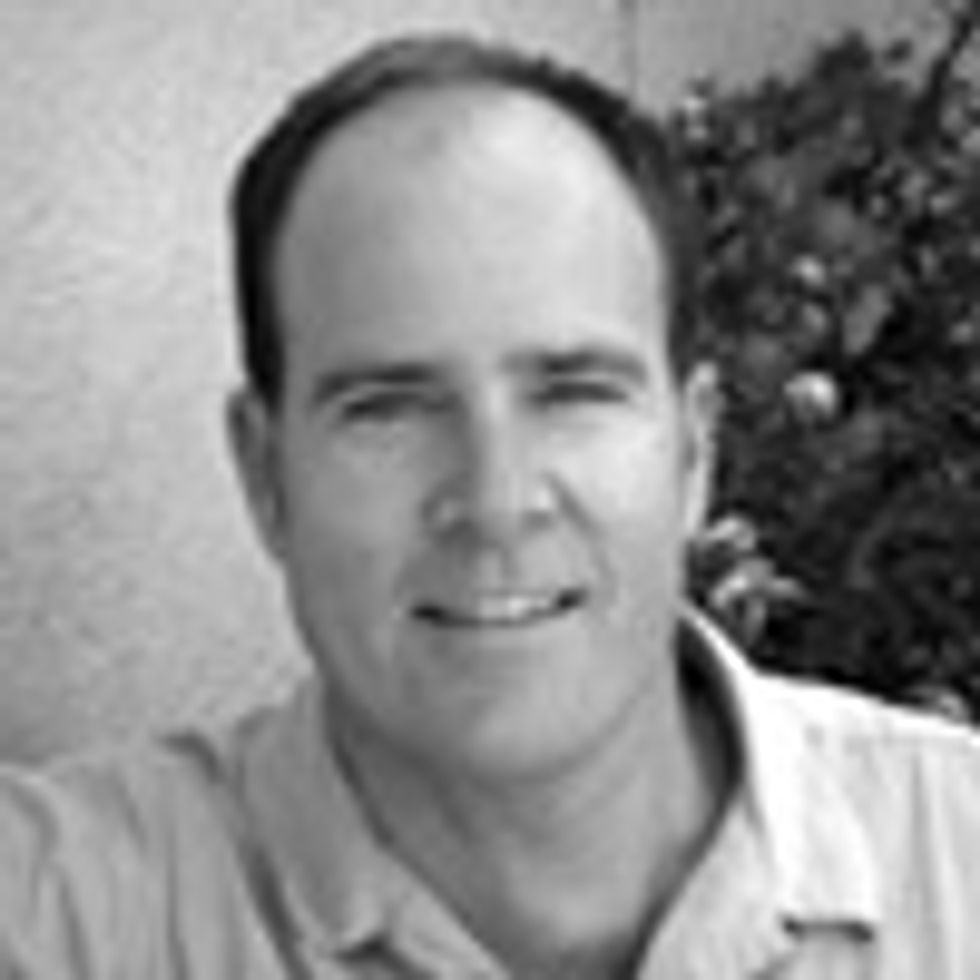 If you're reading this article, there is a good chance you've already taken steps to stop climate disruption. You probably ditched incandescent lightbulbs years ago. You may drive a hybrid or (even better) an EV. Some of you have installed solar panels on your homes. And a whole lot of you frequently fire off messages to elected representatives to let them know where you stand on fossil fuels.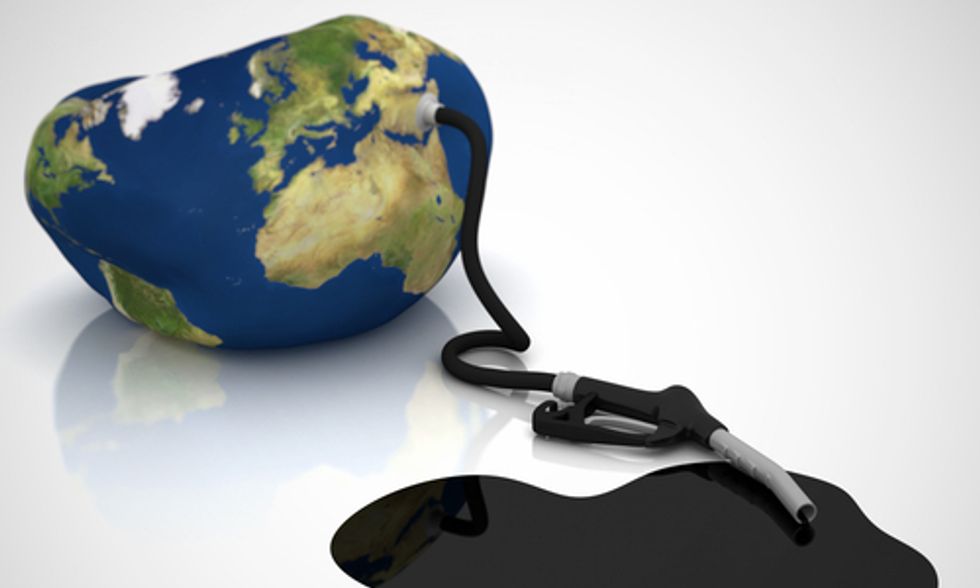 Photo courtesy of Shutterstock
But there's more you can do to help the cause—two simple, related actions that President Barack Obama summed up succinctly during his climate speech last summer: "Invest. Divest."
It's potent advice, because the central challenge to achieving a fossil fuel-free economy is more financial than technological. We know how to make electricity from renewable sources, and there's enough untapped clean energy out there to power the global economy several times over. Unfortunately, our energy infrastructure and the institutions that finance it are stuck in a fossil fuel mind-set.
It's time to tap the power of the purse. The first step is to shift long-term investments away from the corporations that are doing the most damage to air, water and the climate. Private investors and anyone with ties to institutional investors can learn how to get fossil fuels out of their portfolios at gofossilfree.org.
If environmental concerns aren't reason enough to divest from the dirty energy sector, do it out of selfishness, because companies that depend on their fossil fuel reserves for future earnings are simply a bad investment these days.
Here's why: To avoid a full-blown climate catastrophe, humans must leave at least two-thirds of those untapped reserves in the ground. This "carbon bubble"—the overvaluation of fossil fuel companies based on reserves that must never be exploited and that organizations like the Sierra Club are tirelessly fighting to keep in the ground—explains why the divestment movement is spreading to foundations, pension funds and municipalities. And even analysts who don't mind profiting from pollution know that, sooner or later, all bubbles must burst. In addition to calling your stockbroker, you should look closely at your savings account, because there's a good chance it's being used to level Appalachia.
A report by the Sierra Club, Rainforest Action Network and BankTrack found that U.S. banks (including such behemoths as Chase and Bank of America) provided $20.8 billion in financing to "the worst of the worst" players in the coal industry in 2012. The good news: Thanks to online banking, it's simple to move your money to a credit union or a responsible institution like New Resource Bank. And credit card companies like One PacificCoast Bank (a Sierra Club partner) make it even easier to align your financial choices with your clean energy values.
Getting our money out of fossil fuels is only the beginning, however, because we also need to invest in clean energy. Traditionally, this has been done by buying green-tech mutual funds (which were up by 37 percent last year). Internet options like crowdfunding make it possible to target your investments even more precisely and to participate in projects once available only to large financial institutions. Last year, I used a company called Mosaic to invest a modest amount in a new community solar project in Oakland, CA. The return from my stake has been slightly better than the average interest from a corporate bond. But the important thing here is the cumulative impact of small investors like me. Since launching in 2010, Mosaic has channeled more than $6 million to clean energy projects with a current generating capacity of 17 megawatts.
Innovation is a powerful force, whether it's technological or financial, and our inevitable transition to clean energy is accelerating because of it.
——–
YOU MIGHT ALSO LIKE
Australians Divest From the 'Big Four' Banks That Fund Fossil Fuel Projects
Two New Reports, One Conclusion: Fossil Fuel Divestment Crucial to Combating Climate Change
Students Stage Day of Action As Harvard University Refuses to Divest From Fossil Fuels
——–
Dunedin is closer to Antarctica than it is to the U.S., but this city in New Zealand today joined 23 U.S. cities and one Dutch town by announcing that it will divest from fossil fuels.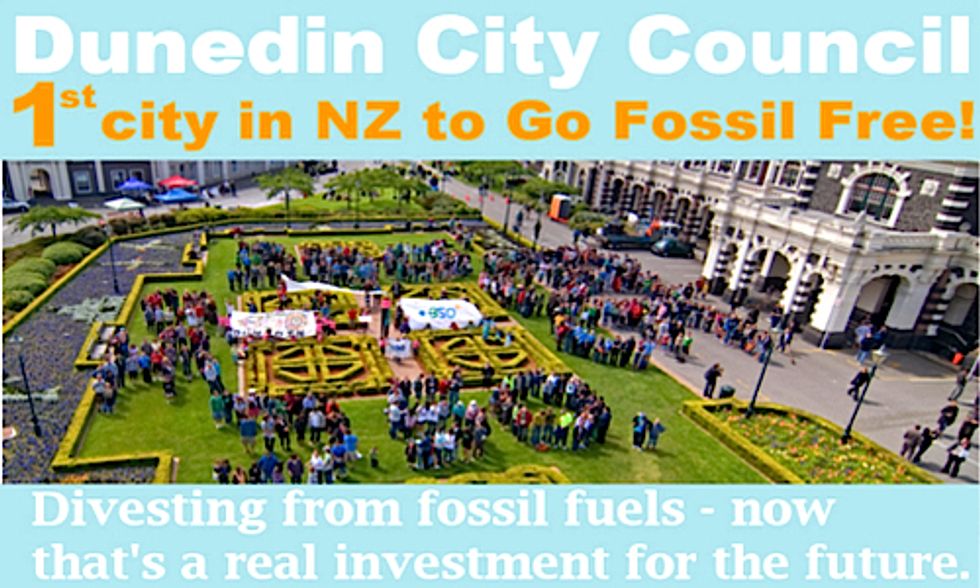 The Dunedin city council voted on Tuesday to remove existing fossil fuel extraction investments—close to $2 million—and prevent future investments in fossil fuels by its $75 million Waripori fund. The move sees Dunedin City become the first New Zealand city to divest from fossil fuels for ethical and climate change reasons.
This move by the council comes at a time when the conservative New Zealand Government, led by Prime Minister John Key, has been pushing desperate plans to expand fossil fuel extraction across New Zealand. Yet this vote, along with the divestment announcements last September by five Anglican Dioceses in New Zealand, and the months of campaigning to halt the Denniston Coal Mine and offshore oil drilling reflect a growing disquiet with the government's fossil fuel plans.
In recent months the Australian owned bank, Westpac, has also come under pressure to take steps to divest. Climate campaigning groups 350 Aotearoa—the New Zealand arm of 350.org—and Coal Action Network Aotearoa, are specifically calling on Westpac to halt its funding of Bathhurst Resources, whose planned coal mining project on the Denniston Plateau and surrounds would be one of the largest new contributors to carbon dioxide (CO2) emissions from New Zealand.
"It's time for Westpac to front up and take responsibility for the impacts of their financing, like Dunedin has today," said 350 Aotearoa National Coordinator Ashlee Gross. "Financing oil, coal and gas companies is playing a major role in determining whether these companies go ahead with plans that would push us well past safe CO2 levels, or whether we start to get serious about the transition to clean energy." 
This growing discontent locally has in recent weeks been backed by the rapidly growing global divestment movement. Last week, Stanford University announced plans to divest its $18 billion USD endowment fund from coal investments. Two weeks earlier, the world's largest fund manager, BlackRock, announced plans to create a fund that will exclude fossil fuels.
The Dunedin city council's ethical investment policy will formally exclude the munitions, tobacco, fossil fuel extraction, gambling and pornography industries from its investment portfolio. With an investment policy like that, it sure makes living in Dunedin more tempting.
--------
YOU MIGHT ALSO LIKE
New Zealanders Say No to Offshore Drilling, Yes to Clean Energy
Australians Divest From the Big Four Banks That Fund Fossil Fuel Projects
Students Stage Day of Action as Harvard University Refuses to Divest From Fossil Fuels
--------
Today and tomorrow hundreds of customers with Australia's Big Four Banks will close their accounts in a statement against the banks' investments in new coal and gas projects. These customers will be taking part in Australia's first "National Days of Divestment Action" organized by Market Forces and 350.org Australia.
Below, a slideshow of the first day of Divestment highlights conscious residents who are taking a stand:
[blackoutgallery id="332982"]
Since May of last year, hundreds of customers have "put their bank on notice" and pledged to move more than $100 million AUD out of the Big Four banks unless they commit to ruling out future loans to coal and gas projects.
This is the first time that customers of Australia's largest banks have been mobilized for a divestment action of this scale. Since 2008, Westpac, ANZ, NAB and the Commonwealth Bank have loaned a collective $19 billion AUD to new coal and gas projects, including the controversial Abbot Point coal terminal and the Maules Creek coal mine.
"The rapid expansion of coal and gas in our country at the expense of communities, other industries and the environment is cause for concern for a great many Australians," said Julien Vincent, lead campaigner for Market Forces. "By moving their money to banks which do not fund fossil fuel projects, individuals are making a statement that it is not socially acceptable to profit from the destruction of our planet."
The key objective of the "National Days of Divestment Action" is to cause a social stigma around fossil fuel investments in a similar manner to the boycotts against the South African apartheid regime and the tobacco industry.
This is the latest phase in the rapidly growing fossil fuel divestment movement, which has won support from high profile individuals such as  Archbishop Desmond Tutu, World Bank President Dr Jim Yong Kim and Head of the UNFCCC Christiana Figueres. 
"Banks worldwide are fueling the climate crisis with investments in fossil fuels that also expose them to a huge financial risk," said Tim Ratcliffe, 350.org European divestment coordinator. "The global divestment movement is challenging this gamble with our money and our future."
"To prevent climate catastrophe, 80 percent of the known fossil fuel reserves need to remain underground. The days where it was acceptable to invest in fossil fuels are over. There is a groundswell movement building up and the banks need to start listening," Ratcliffe added.
Fossil fuel companies are currently grossly overvalued. The vast majority of their carbon reserves is unlikely to be exploited, which will turn them into stranded assets. For example, a report commissioned by the Greens/European Free Alliance Group of the European Parliament assessed the risk the exposure to high-carbon assets poses to Europe's top 43 banks and pension funds. It concluded that more than €1 trillion in European financial institutions is at risk from the growing carbon bubble.
According to a study conducted by Oxford University, the fossil fuel divestment movement is the fastest growing divestment movement in history. It has already seen numerous institutions committing to divest and is making an impact in the financial community, as well. The Norwegian Sovereign Wealth Fund, the world's largest investment fund, recently announced an investigation into whether it should divest entirely from fossil fuels. Similarly, just this week, the world's largest fund manager BlackRock teamed up with London's FTSE Group to create a new set of indices excluding fossil fuel companies.
Last month's report by the Intergovernmental Panel on Climate Change also recommended that $30 billion be moved out of fossil fuels each year to keep warming below the two degree threshold that international governments have committed to.
"Companies are becoming increasingly sensitive to the financial and reputational risks associated with investing in fossil fuels," said Blair Palese, CEO of 350.org Australia. "At the end of the day, no company wants their logo displayed on a weapon of mass destruction."
--------
YOU MIGHT ALSO LIKE
New IPCC Report: Fossil Fuel Divestment Must Start Now
The Netherlands Joins Fossil Fuel Divestment Movement, Ends Public Financing for Coal
Southern States Need to Divest From Coal and Invest in Renewable Energy
--------
Students for Environmental Action, an Ohio State University (OSU) student organization, rallied last week to encourage the university to divest from harmful fossil fuels. The campaign is part of a nationwide divestment movement that has spread to more than 300 colleges and universities across the country.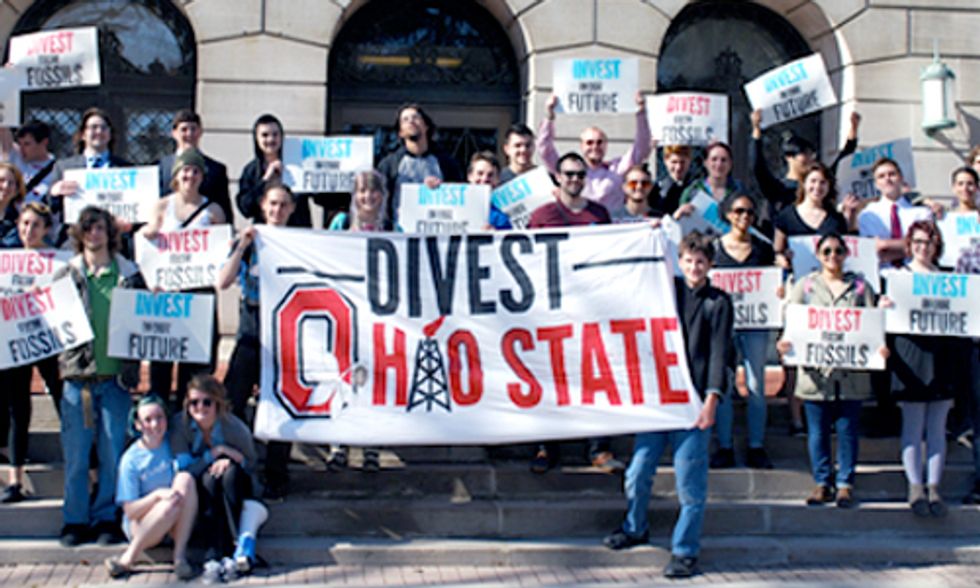 The event started at the Gateway Plaza with students delivering their message to the university's investment office. Then the rally proceeded across campus to the board of trustees' office in Bricker Hall. Both locations featured speakers calling for fossil fuel divestment.
"The purpose of this action is to show the university that as students, we are committed to a future no longer linked to destruction of our planet and communities," said Rachael Collyer, a third year English and Spanish honors major at OSU.
"As one of the top universities in the country, OSU is in a unique position to be a beacon of change within the higher education community, and a national leader in the movement towards a sustainable future." 
The OSU's endowment fund currently holds more than $3 billion, contributed primarily by students and alumni. Despite continued efforts to obtain the information regarding the university's specific investments in the fossil fuel industry, Students for Environmental Action has been denied access to the relevant documents, having been told by the administration that the information is a "trade secret." If five percent of the portfolio was invested in fossil fuel companies, that would amount to around $150 million.
Students delivered a formal request to the university to divulge their holding and withdraw any investments from the fossil fuel industry.
"I love Ohio State and I want it to be the best university it can be," said Milana Novgorodsky, a third year business student at OSU.
"To me, it seems contradictory that a university that has a reputation for being green has not yet divested from fossil fuels. I'm fighting for divestment at OSU not only because I care for our planet and its future, but because I care for this university and I believe we can do better." 
This request is part of a larger movement of students across the country that seek to hold their institutions accountable for their financial investments in an industry that profits from continued dependence on dirty fuels that are directly responsible for climate change. OSU has a responsibility to its students to invest in their futures, which means divesting from the fossil fuel industry.
--------
YOU MIGHT ALSO LIKE
93 Members of Harvard Faculty Call on University to Divest From Fossil Fuels
Two Reports, One Conclusion: Fossil Fuel Divestment Crucial to Combating Climate Change
The Netherlands Joins Fossil Fuel Divestment Movement, Ends Public Financing for Coal
--------
Today, 93 faculty members from Harvard University sent an open letter to the president and fellows of the school, calling on the university to divest from fossil fuels.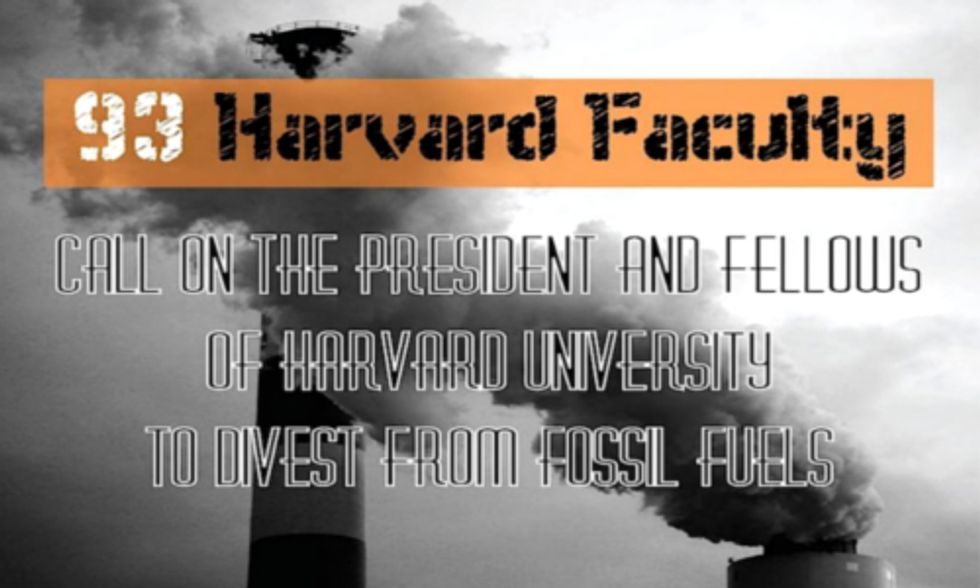 In signing the letter, faculty members expressed disappointment with the April 7 statement from President Drew Faust that divestment is not an option the university is willing to consider.
According to Harvard Faculty Divest, President Faust's statements claim that while Harvard owns a very small fraction of these stocks representing a small fraction of its endowment, the school will exert greater influence if it continues to hold these shares than if it openly divests. This indicates a misunderstanding of the purpose and goals of divestment, and ignores the lessons of the past.
The faculty members point to the misinformation perpetuated by the fossil fuel industry, saying the industry seeks to promote the denial of accepted science and exert an undue degree of influence on government, while marketing a product that we cannot afford to continue consuming. 
The letter goes on to reference the extreme weather, rising levels of acidified oceans and reductions of biodiversity from the unstable global climate that represent major threats to human health as documented consequences of fossil fuel extraction and consumption that the university cannot afford to ignore. 
The conclusion of the letter reads:
We know that fossil fuel use must decrease. To achieve this goal, not only must research and education be pursued with vigor, pressure must also be exerted. If there is no pressure, then grievous harm due to climate change will accelerate and entrench itself for a span of time that will make the history of Harvard look short.
--------
YOU MIGHT ALSO LIKE
Prescott College Passes Landmark Fossil Fuel Divestment Resolution
Hundreds of Students Participate in Walkout, Call for Gov. Patrick to Act on Climate Change
--------
This week the Netherlands announced that would join the U.S., United Kingdom and others in ending support for public financing for new coal-fired power plants is a good sign for the growing fossil fuel divestment movement.
"This is another sign that the coal industry is on its last legs," said Tim Ratcliffe, of 350.org, which is helping coordinate the global movement to divest from the fossil fuel industry. "There's a growing consensus that coal has no place in a carbon constrained world. Coal isn't just bad news for the climate, it's increasingly bad news for any financial portfolio. Institutional investors should read the writing on the wall and divest."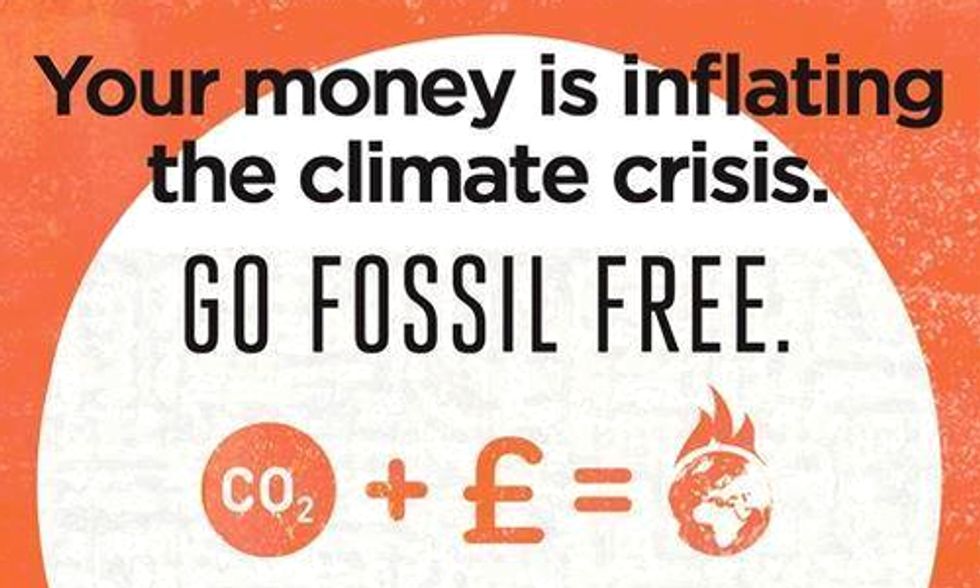 In their joint announcement, the U.S. and Netherlands stated, "We emphasize that our work to scale up climate-friendly investments in developing countries is most effective when combined with reducing public incentives for high-carbon infrastructure."
"We need to redirect the flow of capital away from carbon-intensive investments and into climate solutions," said Ratcliffe. "As value-driven institutions, universities, churches and pension funds should be leaders in helping speed up this transition."
Dutch campaigners call on the Dutch pension fund ABP, one of the largest pension funds in the world, to divest from fossil fuels. ABP's large exposure to high-carbon assets, puts the Netherlands at risk, according to a recent study by the Greens/ European Free Alliance. The largest part of ABP's investments in commodities worth €10 billion is related to oil and gas that risk turning into stranded assets.
"ABP is entrusted with our money to secure our future, not to finance an industry whose business model is based on wrecking our future," said Liset Meddens, coordinator of Fossil Free NL with 350.org. "ABP needs to recognize the financial and environmental risks of fossil fuel assets and start phasing out their investments in this dirty industry."
The Dutch pension fund would thereby follow Norway's lead. Norway has set up an expert group to see if its $840 billion oil fund (the world's largest sovereign wealth fund) should stop investing in fossil fuel companies.
Tuesday's announcement will also place a new level of scrutiny on the U.S., Netherlands, World Bank and other large investors to make sure that they are living up to their commitment to stop supporting high-carbon infrastructure. Analysis by the group Oil Change International, for example, has shown that despite its climate commitments, the World Bank actually increased its funding for fossil fuel projects between 2012 and 2013. Meanwhile, the Obama Administration is currently deliberating on whether or not approve a permit for the carbon-intensive Keystone XL pipeline.
"It would be completely hypocritical for the Obama Administration to say that it wants to reduce public support for high-carbon infrastructure and then approve the Keystone XL pipeline, which is a fuse to the largest carbon bomb on the planet, the Canadian tar sands," said Jamie Henn, 350.org strategy and communications director. "If the U.S. wants its climate commitments to be taken seriously by the international community, it needs to reject Keystone XL."
Related Content:
U.S. Coal Exports Nearly Triple Over Last Decade
Why Investing in Dirty Fuels is a Bad Idea