A 13-year-old student from Ohio won the top prize at the 2016 Discovery Education 3M Young Scientist Challenge Tuesday for developing a cost-effective device that uses solar and wind power to create energy.
Grand prize winner Maanasa Mendu with 3M scientist mentor Margaux Mitera at the 2016 Discovery Education 3M Young Scientist Challenge in St. Paul, MN.Discovery Education
Maanasa Mendu, a ninth grader at William Mason High School in Ohio, said she was inspired by a visit to India where she discovered many people lacked basic life necessities such as clean water and lighting.

Mendu's initial idea harnessed only wind energy when she entered the competition. According to Business Insider, the leaves cost roughly $5 to make.
During the past three months, Mendu worked with Margaux Mitera, a 3M senior product development engineer, to develop a more advanced system that was inspired by how plants function. Mendu decided to create "solar leaves" that harnessed vibrational energy. Her "leaves" get energy from rain, wind and the sun, using a solar cell and piezoelectric material—the part of the leaf that picks up on the vibrations—and transforms it into usable energy, Business Insider said.
Besides being named "America's Top Young Scientist," Mendu won $25,000 for her invention.
"Each year, the Discovery Education 3M Young Scientist Challenge reminds us of the inspiring ingenuity that results when we empower our youngest generation to apply science, critical-thinking and creativity to solve real-world problems," said Bill Goodwyn, president and CEO, Discovery Education.

The second, third and fourth place winners each received a $1,000 prize and a trip to a taping of a show on Discovery's family of networks for their inventions:

Rohan Wagh from Portland, Oregon, a ninth grader at Sunset High School in Beaverton School District, received second place for his innovation that utilizes the natural metabolism of bacteria to create energy.
Kaien Yang from Chantilly, Virginia, an eighth grader at Nysmith School for the Gifted, received third place for his innovation that uses pumpkin seed oil to create both a biodiesel and bioplastic that reduces emissions and pollution from plastic.
Amelia Day from Sumner, Washington, a ninth grader at Sumner High School in Sumner School District, received fourth place for her invention that uses sensory feedback to help rebuild neural connections inside of the brain during rehabilitation.
EcoWatch Daily Newsletter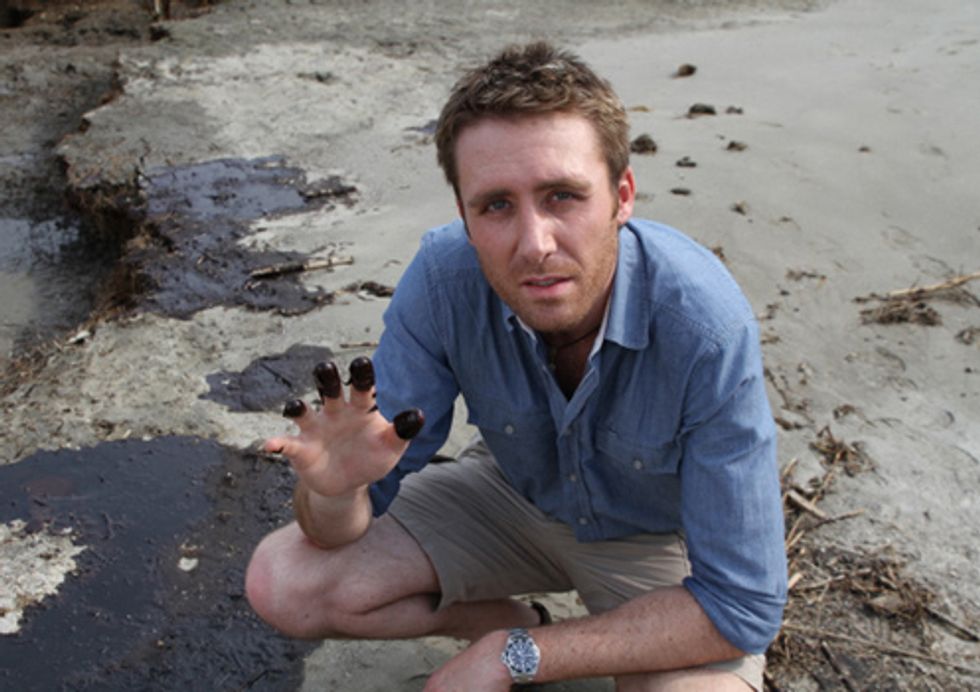 EarthEcho International, a leading environmental education nonprofit organization, is working with the NEA Foundation and Discovery Education to bring educators and students new resources to EarthEcho's Water Planet Challenge site. Continuing to engage youth through Web-based interactive tools, the new features include Student Achievement Grants with the NEA Foundation and a webinar with Discovery Education that will empower youth to design, create and implement service-learning projects in their communities.
On Jan. 25 at 2:00 p.m. EST, EarthEcho will partner with Discovery Education, the leading provider of high quality, curriculum-based digital content and professional development resources, to host a food-focused webinar featuring Philippe Cousteau, Jr. The webinar will explore the environmental and community impact of daily food choices and include commentary from guest experts Brent Kim—content developer on Teaching the Food System—and Ralph Loglisci of Johns Hopkins Center for a Livable Future. Based on the What's On Your Fork? Action Guide, the webinar will give participants a new perspective on issues associated with modern industrial food production and its environmental impacts. To sign up for the What's On Your Fork? webinar and download the Action Guide, click here. For teachers and students interested in learning more about a MEATLESS MONDAY campaign, the Action Guide provides information on offering plant-based food choices one day a week at school, at home, and throughout the community.
What's On Your Fork? is authored for EarthEcho by Cathryn Berger Kaye with contributions from the Johns Hopkins Center for a Livable Future. The Guide was inspired in part by the Participant Media-River Road Entertainment film, Food, Inc., released by Magnolia Pictures, and the discussion materials Participant Media and Center for Ecoliteracy created for the film. Active participants will have a chance to win Food, Inc. videos during the webinar.
The NEA Foundation-EarthEcho Water Planet Challenge Grants in amounts of $2,000 are available as Student Achievement Grants to middle and high school public educators. A collaborative effort between EarthEcho and the NEA Foundation, the Water Planet Challenge grants support service-learning programs that improve the health of our water resources. To apply, applicants must cite specifically how they are utilizing EarthEcho's Water Planet Challenge Action Guides in the classroom with their students. The application deadline is Feb. 1. For more information, click here.
From conserving energy and improving the quality of our drinking water to understanding the impact of the Gulf of Mexico oil disaster, the Water Planet Challenge's extensive collection of Action Guides, videos, lesson plans and service-learning materials helps educators and their students affect change one classroom, one community at a time. The Water Planet Challenge resources are available to middle and high schools through a partnership with Discovery Education. Water Planet Challenge Action Guides and resources are provided at no cost to students, educators and community leaders.
Primary funding for the Water Planet Challenge is provided by the Toyota U.S.A. Foundation, a $100 million charitable endowment created to support education programs serving kindergarten through 12th grade students and their teachers in the U.S., with an emphasis on mathematics, science and environmental science. For additional information about the Toyota U.S.A. Foundation, click here.
For more information, click here.
—————
Discovery Communications (NASDAQ: DISCA, DISCB, DISCK) revolutionized television with Discovery Channel and is now transforming classrooms through Discovery Education. Powered by the number one nonfiction media company in the world, Discovery Education combines scientifically proven, standards-based digital media and a dynamic user community in order to empower teachers to improve student achievement. Already, more than half of all U.S. schools access Discovery Education digital services. Explore the future of education by clicking here.
The NEA Foundation is a public charity supported by contributions from educators' dues, corporate sponsors and others who support public education initiatives. We partner with education unions, districts and communities to create powerful, sustainable improvements in teaching and learning. We have invested $8 million in grants for more than 2,500 educators to help students succeed. For more information, click here.
EarthEcho International is a leading environmental nonprofit committed to youth engagement, action, and leadership through education. EarthEcho helps young people everywhere understand the critical role we play in the future of the planet through the one thing that connects us all – water. EarthEcho International is a nonprofit 501(c)(3) organization founded by siblings Philippe and Alexandra Cousteau in honor of their father Philippe Cousteau Sr., son of the legendary explorer Jacques Yves Cousteau. For more information about EarthEcho International, click here.
waterlust.com / @tulasendlesssummer_sierra .
Each product featured here has been independently selected by the writer. If you make a purchase using the links included, we may earn commission.
The bright patterns and recognizable designs of Waterlust's activewear aren't just for show. In fact, they're meant to promote the conversation around sustainability and give back to the ocean science and conservation community.
Each design is paired with a research lab, nonprofit, or education organization that has high intellectual merit and the potential to move the needle in its respective field. For each product sold, Waterlust donates 10% of profits to these conservation partners.
Eye-Catching Designs Made from Recycled Plastic Bottles
waterlust.com / @abamabam
The company sells a range of eco-friendly items like leggings, rash guards, and board shorts that are made using recycled post-consumer plastic bottles. There are currently 16 causes represented by distinct marine-life patterns, from whale shark research and invasive lionfish removal to sockeye salmon monitoring and abalone restoration.

One such organization is Get Inspired, a nonprofit that specializes in ocean restoration and environmental education. Get Inspired founder, marine biologist Nancy Caruso, says supporting on-the-ground efforts is one thing that sets Waterlust apart, like their apparel line that supports Get Inspired abalone restoration programs.
"All of us [conservation partners] are doing something," Caruso said. "We're not putting up exhibits and talking about it — although that is important — we're in the field."
Waterlust not only helps its conservation partners financially so they can continue their important work. It also helps them get the word out about what they're doing, whether that's through social media spotlights, photo and video projects, or the informative note card that comes with each piece of apparel.
"They're doing their part for sure, pushing the information out across all of their channels, and I think that's what makes them so interesting," Caruso said.
And then there are the clothes, which speak for themselves.
Advocate Apparel to Start Conversations About Conservation
waterlust.com / @oceanraysphotography
Waterlust's concept of "advocate apparel" encourages people to see getting dressed every day as an opportunity to not only express their individuality and style, but also to advance the conversation around marine science. By infusing science into clothing, people can visually represent species and ecosystems in need of advocacy — something that, more often than not, leads to a teaching moment.

"When people wear Waterlust gear, it's just a matter of time before somebody asks them about the bright, funky designs," said Waterlust's CEO, Patrick Rynne. "That moment is incredibly special, because it creates an intimate opportunity for the wearer to share what they've learned with another."
The idea for the company came to Rynne when he was a Ph.D. student in marine science.
"I was surrounded by incredible people that were discovering fascinating things but noticed that often their work wasn't reaching the general public in creative and engaging ways," he said. "That seemed like a missed opportunity with big implications."
Waterlust initially focused on conventional media, like film and photography, to promote ocean science, but the team quickly realized engagement on social media didn't translate to action or even knowledge sharing offscreen.
Rynne also saw the "in one ear, out the other" issue in the classroom — if students didn't repeatedly engage with the topics they learned, they'd quickly forget them.
"We decided that if we truly wanted to achieve our goal of bringing science into people's lives and have it stick, it would need to be through a process that is frequently repeated, fun, and functional," Rynne said. "That's when we thought about clothing."
Support Marine Research and Sustainability in Style
To date, Waterlust has sold tens of thousands of pieces of apparel in over 100 countries, and the interactions its products have sparked have had clear implications for furthering science communication.
For Caruso alone, it's led to opportunities to share her abalone restoration methods with communities far and wide.
"It moves my small little world of what I'm doing here in Orange County, California, across the entire globe," she said. "That's one of the beautiful things about our partnership."
Check out all of the different eco-conscious apparel options available from Waterlust to help promote ocean conservation.
Melissa Smith is an avid writer, scuba diver, backpacker, and all-around outdoor enthusiast. She graduated from the University of Florida with degrees in journalism and sustainable studies. Before joining EcoWatch, Melissa worked as the managing editor of Scuba Diving magazine and the communications manager of The Ocean Agency, a non-profit that's featured in the Emmy award-winning documentary Chasing Coral.