A 13-year-old student from Ohio won the top prize at the 2016 Discovery Education 3M Young Scientist Challenge Tuesday for developing a cost-effective device that uses solar and wind power to create energy.
Grand prize winner Maanasa Mendu with 3M scientist mentor Margaux Mitera at the 2016 Discovery Education 3M Young Scientist Challenge in St. Paul, MN.Discovery Education
Maanasa Mendu, a ninth grader at William Mason High School in Ohio, said she was inspired by a visit to India where she discovered many people lacked basic life necessities such as clean water and lighting.

Mendu's initial idea harnessed only wind energy when she entered the competition. According to Business Insider, the leaves cost roughly $5 to make.
During the past three months, Mendu worked with Margaux Mitera, a 3M senior product development engineer, to develop a more advanced system that was inspired by how plants function. Mendu decided to create "solar leaves" that harnessed vibrational energy. Her "leaves" get energy from rain, wind and the sun, using a solar cell and piezoelectric material—the part of the leaf that picks up on the vibrations—and transforms it into usable energy, Business Insider said.
Besides being named "America's Top Young Scientist," Mendu won $25,000 for her invention.
"Each year, the Discovery Education 3M Young Scientist Challenge reminds us of the inspiring ingenuity that results when we empower our youngest generation to apply science, critical-thinking and creativity to solve real-world problems," said Bill Goodwyn, president and CEO, Discovery Education.

The second, third and fourth place winners each received a $1,000 prize and a trip to a taping of a show on Discovery's family of networks for their inventions:

Rohan Wagh from Portland, Oregon, a ninth grader at Sunset High School in Beaverton School District, received second place for his innovation that utilizes the natural metabolism of bacteria to create energy.
Kaien Yang from Chantilly, Virginia, an eighth grader at Nysmith School for the Gifted, received third place for his innovation that uses pumpkin seed oil to create both a biodiesel and bioplastic that reduces emissions and pollution from plastic.
Amelia Day from Sumner, Washington, a ninth grader at Sumner High School in Sumner School District, received fourth place for her invention that uses sensory feedback to help rebuild neural connections inside of the brain during rehabilitation.
EcoWatch Daily Newsletter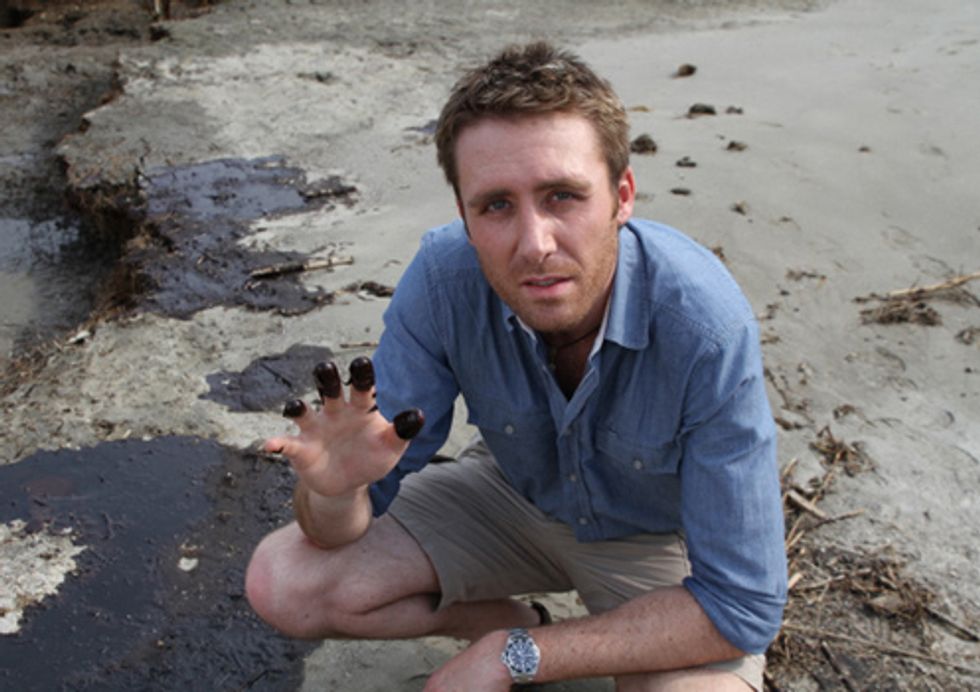 EarthEcho International, a leading environmental education nonprofit organization, is working with the NEA Foundation and Discovery Education to bring educators and students new resources to EarthEcho's Water Planet Challenge site. Continuing to engage youth through Web-based interactive tools, the new features include Student Achievement Grants with the NEA Foundation and a webinar with Discovery Education that will empower youth to design, create and implement service-learning projects in their communities.
On Jan. 25 at 2:00 p.m. EST, EarthEcho will partner with Discovery Education, the leading provider of high quality, curriculum-based digital content and professional development resources, to host a food-focused webinar featuring Philippe Cousteau, Jr. The webinar will explore the environmental and community impact of daily food choices and include commentary from guest experts Brent Kim—content developer on Teaching the Food System—and Ralph Loglisci of Johns Hopkins Center for a Livable Future. Based on the What's On Your Fork? Action Guide, the webinar will give participants a new perspective on issues associated with modern industrial food production and its environmental impacts. To sign up for the What's On Your Fork? webinar and download the Action Guide, click here. For teachers and students interested in learning more about a MEATLESS MONDAY campaign, the Action Guide provides information on offering plant-based food choices one day a week at school, at home, and throughout the community.
What's On Your Fork? is authored for EarthEcho by Cathryn Berger Kaye with contributions from the Johns Hopkins Center for a Livable Future. The Guide was inspired in part by the Participant Media-River Road Entertainment film, Food, Inc., released by Magnolia Pictures, and the discussion materials Participant Media and Center for Ecoliteracy created for the film. Active participants will have a chance to win Food, Inc. videos during the webinar.
The NEA Foundation-EarthEcho Water Planet Challenge Grants in amounts of $2,000 are available as Student Achievement Grants to middle and high school public educators. A collaborative effort between EarthEcho and the NEA Foundation, the Water Planet Challenge grants support service-learning programs that improve the health of our water resources. To apply, applicants must cite specifically how they are utilizing EarthEcho's Water Planet Challenge Action Guides in the classroom with their students. The application deadline is Feb. 1. For more information, click here.
From conserving energy and improving the quality of our drinking water to understanding the impact of the Gulf of Mexico oil disaster, the Water Planet Challenge's extensive collection of Action Guides, videos, lesson plans and service-learning materials helps educators and their students affect change one classroom, one community at a time. The Water Planet Challenge resources are available to middle and high schools through a partnership with Discovery Education. Water Planet Challenge Action Guides and resources are provided at no cost to students, educators and community leaders.
Primary funding for the Water Planet Challenge is provided by the Toyota U.S.A. Foundation, a $100 million charitable endowment created to support education programs serving kindergarten through 12th grade students and their teachers in the U.S., with an emphasis on mathematics, science and environmental science. For additional information about the Toyota U.S.A. Foundation, click here.
For more information, click here.
—————
Discovery Communications (NASDAQ: DISCA, DISCB, DISCK) revolutionized television with Discovery Channel and is now transforming classrooms through Discovery Education. Powered by the number one nonfiction media company in the world, Discovery Education combines scientifically proven, standards-based digital media and a dynamic user community in order to empower teachers to improve student achievement. Already, more than half of all U.S. schools access Discovery Education digital services. Explore the future of education by clicking here.
The NEA Foundation is a public charity supported by contributions from educators' dues, corporate sponsors and others who support public education initiatives. We partner with education unions, districts and communities to create powerful, sustainable improvements in teaching and learning. We have invested $8 million in grants for more than 2,500 educators to help students succeed. For more information, click here.
EarthEcho International is a leading environmental nonprofit committed to youth engagement, action, and leadership through education. EarthEcho helps young people everywhere understand the critical role we play in the future of the planet through the one thing that connects us all – water. EarthEcho International is a nonprofit 501(c)(3) organization founded by siblings Philippe and Alexandra Cousteau in honor of their father Philippe Cousteau Sr., son of the legendary explorer Jacques Yves Cousteau. For more information about EarthEcho International, click here.
Like many other plant-based foods and products, CBD oil is one dietary supplement where "organic" labels are very important to consumers. However, there are little to no regulations within the hemp industry when it comes to deeming a product as organic, which makes it increasingly difficult for shoppers to find the best CBD oil products available on the market.
<p>Here you can learn about the importance of organic hemp oil, why it's better for the environment, and which CBD companies actually make trustworthy products with sustainable farming processes. origins which weigh heavily on many consumers who want to buy a product that's produced in the best way possible for not only themselves to ingest, but for the environment as well through sustainable farming methods. </p><h2>What Is CBD Oil?</h2><p>First things first, CBD stands for cannabidiol, and it's a cannabinoid found within cannabis sativa plants. This plant compound is believed to have many potential benefits, and it is primarily derived from hemp plants via a CO2 extraction process. </p><p>Since CBD is extracted from industrial hemp, which contains only trace amounts of THC (the psychoactive component in cannabis plants), this means that CBD won't make you feel high like marijuana, which has much higher levels of THC that causes psychoactive effects. Instead, the effects of CBD are much more subtle and promote a general sense of calm and relaxation in most users.</p><h2>What Makes a CBD Oil Organic?</h2><p>In terms of organic labels, perhaps the most important (and prominent) certification comes from the United States Department of Agriculture (USDA). This government organization has been labeling foods as "organic" for many years, but what exactly does this certification entail? Essentially, a label indicating that a product is "USDA Organic" or "Certified Organic" means that at least 95% of the ingredients are obtained from organic sources.</p><p>For a crop to be considered organic by the USDA, it must be grown without the use of industrial solvents, irradiation, genetic engineering (GMOs), synthetic pesticides, or chemical fertilizer. Instead, farmers rely on natural substances and <a href="https://www.usda.gov/media/blog/2012/03/22/organic-101-what-usda-organic-label-means" rel="noopener noreferrer" target="_blank">mechanical, physical, or biologically based farming</a> techniques to cultivate healthy and organic crops.</p><p>Before the passage of the 2018 Farm Bill, no hemp-derived products could be dubbed as "certified organic" since the hemp plant and its extracts were still categorized as a Schedule I Controlled Substance. However, it's still difficult for CBD companies to obtain a USDA certified organic label for their products due to the legal grey area that still surrounds CBD extracts. </p><p>Because of these challenges, and due to the fact that industrial hemp has only recently become an agricultural crop, very few CBD oils are USDA certified organic. Rather, many CBD products contain hemp extracts from plants that were grown in organic conditions but may not be federally certified.</p><h2>What are the Best Organic CBD Oil Brands?</h2><p><em>Each product featured here has been independently selected. If you make a purchase using the links included, we may earn commission.</em></p>