Harrison residents voted 156-59 yesterday to pass a municipal resolution stating opposition to sending tar sands oil through ExxonMobil's Portland-Montreal Pipeline, making it the sixth Maine town to publicly and officially oppose the proposal.
The 62-year-old pipeline, which stretches 236 miles from Montreal to South Portland, is being considered for the transport of tar sands, a form of toxic, thick oil that is associated with higher incidence of pipeline spills and can be nearly impossible to clean up. The pipeline stretches five miles through Harrison and crosses the Crooked River near Plains Road. The pipeline also passes through critical wetland habitat along the Crooked River watershed.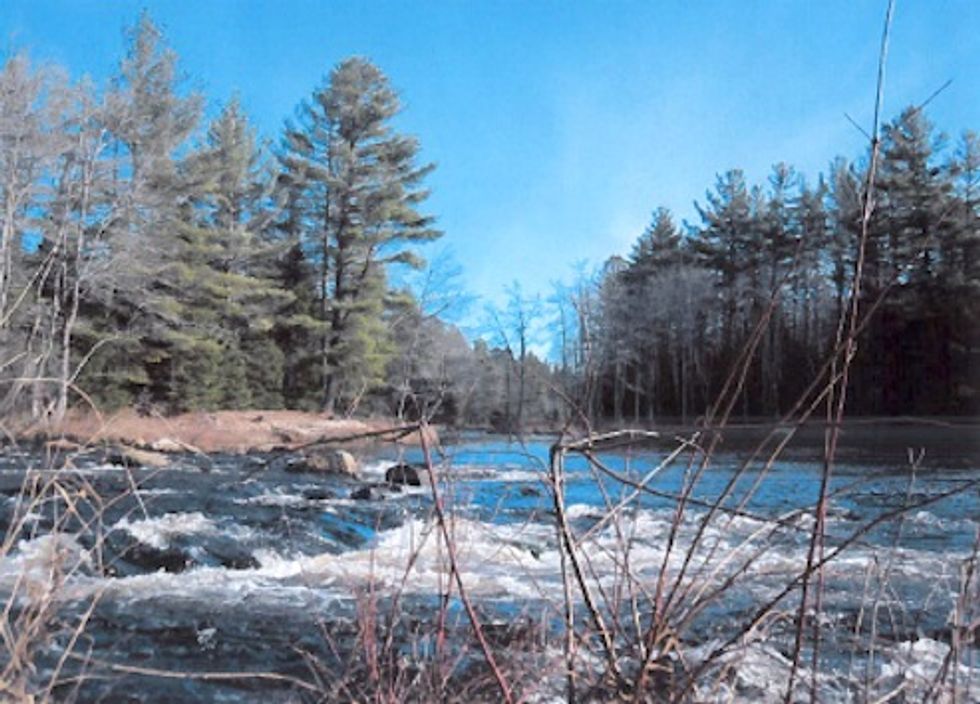 "Here in the Lakes Region, our lakes, rivers and streams are our livelihood and an important part of our economy," said longtime Harrison resident Ray Sirois.
"Tourism represents the largest sector of Maine's economy. People come to Maine and the Lakes Region to fish in our clean rivers, to boat on our healthy lakes and to enjoy peace and quiet," continued Sirois. "Tar sands is a direct threat to both our environment and economy and that's what this vote is about; regular citizens not wanting to place it all at risk."
The resolution stated serious concerns about the environmental and public health hazards of tar sands in the context of a town and region heavily dependent on a clean environment for recreation, tourism and the economy at large. Concerns about threats to water quality also motivated the resolution.
"A tar sands oil spill in to the Crooked River would be a disaster for Maine people and wildlife," said Lee Dassler, executive director of the Western Foothills Land Trust. "The Crooked River is a AA water quality river, which is supposed to be the cleanest and most protected in Maine. It also provides critical spawning habitat for Maine Landlocked Salmon. The Crooked River also provides 40 percent of the surface water to Sebago Lake, the drinking water supply for one in seven Maine people."
"My brewing company depends on clean, healthy water from the Crooked River watershed," says Lee Margolin, owner of Pennesseewassee Brewing in Harrison. "A tar sands oil spill in to the Crooked River would devastate the river ecosystem, homeowners like me along the river and the many businesses that depend on it like my brewing company."
The resolution was submitted by Harrison residents who have become increasingly opposed to tar sands oil threatening the local environment and economy. Harrison residents collected over 250 signatures from registered Harrison voters at the polls last November and worked with the town selectmen to put the resolution on Tuesday's ballot.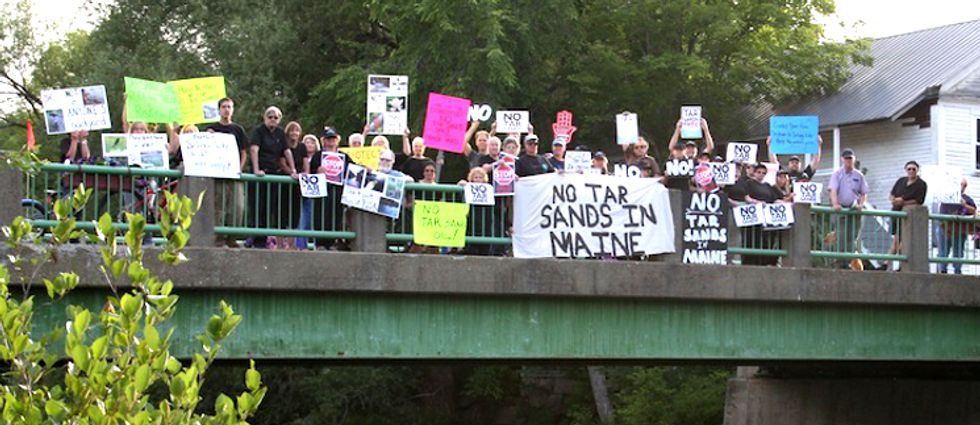 The resolution calls upon elected leaders to help ensure any tar sands pipeline proposal gets a complete environmental impact review, something that can be required by the U.S. State Department for cross-border pipelines. More than 30 towns along the pipeline have already passed similar resolutions including Casco, Waterford, Raymond, Bethel and Portland.
"I'm pleased to see this resolution pass because a tar sands oil spill in Harrison would be a disaster," said longtime Harrison resident Jane Dann. "Ultimately, our children and grandchildren will need to live with this pipeline in their backyards for years to come. We should not put their future at risk by sending toxic tar sands oil through the pipeline."
"We congratulate the town and citizens of Harrison on passing this important resolution," said Todd Martin, outreach coordinator for the Natural Resources Council of Maine. "Once you learn about tar sands and pipelines, it's not hard to see that it would be a bad deal for Maine.
The resolution  reads:
A RESOLUTION TO PROTECT THE HEALTH AND SAFETY OF LOCAL CITIZENS, WATERBODIES AND OTHER NATURAL RESOURCES IN RELATION TO THE POSSIBLE TRANSPORT OF TAR SANDS OIL THROUGH MAINE
 
WHEREAS the town of Harrison has previously supported local, state and/or federal actions to safeguard human health, ensure the safety of citizens, and protect the environment; and
 
WHEREAS the town of Harrison benefits immensely from the pristine lakes, rivers, streams, and ponds that define our region and that have for generations provided recreation for residents and tourists alike, and which enhance  property values and generate substantial economic activity that sustains jobs; and
 
WHEREAS the oil industry appears to plan to use an aging oil pipeline, built in 1950, to bring Canadian tar sands diluted bitumen through the Lakes Region to Casco Bay for export, even though the pipeline passes next to Sebago Lake and numerous other lakes, rivers, ponds, and streams in the Lakes Region; and
 
WHEREAS pipelines carrying tar sands have a greater likelihood of leaks and spills because of the corrosive properties of tar sands and the higher temperatures and pressures involved in pumping the viscous substance through pipelines; and
 
WHEREAS between 2007 and 2010 pipelines carrying tar sands oil in North Dakota, Minnesota, Wisconsin, and Michigan spilled almost three times more oil per mile of pipeline compared with the U.S. national average; and
 
WHEREAS tar sands spills are more dangerous and more difficult to clean up than conventional oil spills; and
 
WHEREAS in 2010 a pipeline spilled more than a million gallons of diluted tar sands down a 30-mile stretch of the Kalamazoo River in Michigan, creating a public safety, health, and environmental disaster with long-lasting impacts; and
WHEREAS the mining and processing of tar sands requires a vast and destructive industrial operation that emits three to five times more carbon pollution per barrel than the production of a barrel of conventional U.S. crude oil, among many other problems; and
WHEREAS the transport of tar sands oil to and through Oxford and Cumberland counties in the state of Maine would pose unreasonable risks to the health, safety, natural resources, property and/or economic welfare of persons living in the town of Harrison.
 
NOW, THEREFORE, BE IT RESOLVED, that through the adoption of this resolution, the town of Harrison expresses its opposition to the transport of tar sands oil through Maine, and is deeply concerned about the risks that such transport may create in relation to public health and safety, property values, and the clean air, water, and land upon which the local community depends; and
 
BE IT FURTHER RESOLVED that the town of Harrison call upon the Maine State Legislature and the United States Congress to ensure thorough environmental impact reviews of tar sands diluted bitumen pipeline proposals, including a complete evaluation of the health and safety impacts of potential tar sands oil spills to Maine's clean water, air, and land; and
 
BE IT FURTHER RESOLVED that the town of Harrison support the creation of clear Federal and State guidelines for tracking the origins and chemical composition of various types of fuel so that local governments, citizens, and first responders can better know of, and plan for, the risks associated with the specific type of fuel flowing through or to their communities; and
 
BE IT FURTHER RESOLVED that the town of Harrison encourage the State of Maine and other states in the northeast to support policies, including a regional Clean Fuels Standard, that help shift oil use away from high impact fuels such as those from tar sands and toward cleaner energy options  available in Maine and the region; and
 
BE IT FURTHER RESOLVED that the town of Harrison transmit a copy of this resolution to the Maine State Congressional delegation, Maine State Representative of Harrison, and the Maine State Senator of Harrison.
Visit EcoWatch's TARSANDS page for more related news on this topic.
——–
Click here to tell Congress to Expedite Renewable Energy.

EcoWatch Daily Newsletter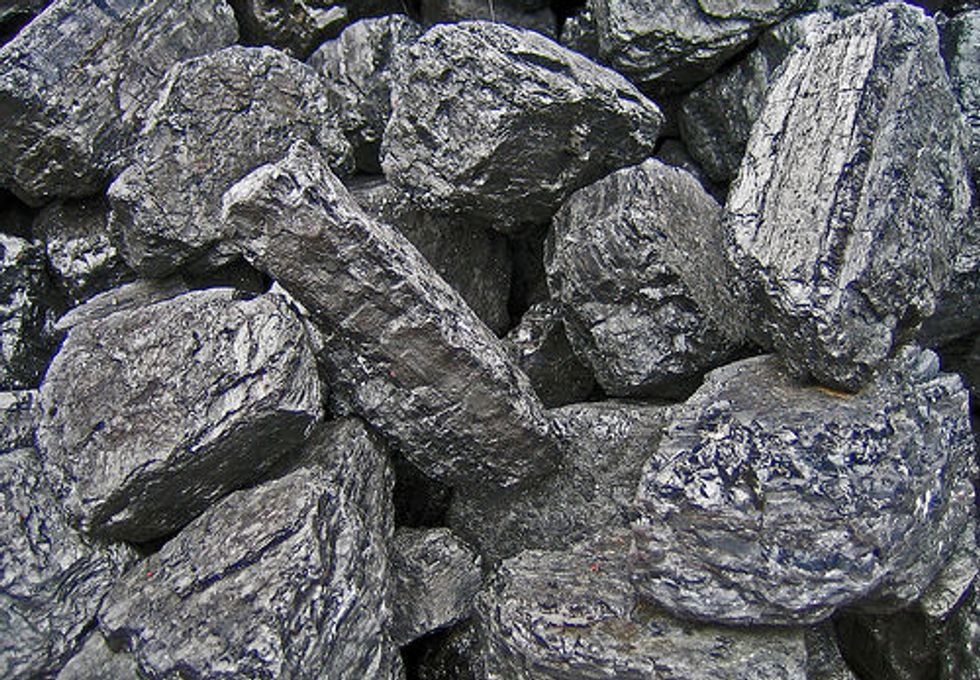 The U.S. Forest Service is on the verge of approving a land swap that would give Peabody Energy, the largest private coal company in the world, 384 acres of the Shawnee National Forest along the Saline River in Illinois.1
In exchange, the Forest Service would receive three other parcels of land, parts of which are former agricultural land and abandoned mine sites.
Trading part of a national forest to a dirty coal company that will destroy forests and pollute the environment is a terrible idea, especially along a river.
The Forest Service is currently accepting public comments on the proposed land swap, and we need to make sure it knows that Illinois residents are opposed to sacrificing forests to a dirty coal mining operation.
In addition to the air and water pollution Peabody's mining operations would cause in the Shawnee National Forest, giving Peabody Energy access to additional coal reserves will ultimately fuel climate change, which increases threats to forests from wildfires and insect outbreaks.2
Peabody has a well-deserved reputation as one of the least environmentally-friendly companies in the U.S. In fact, in Newsweek Magazine's 2009 green rankings of America's 500 largest corporations, Peabody was rated dead last.3
The company also has a long and extensive track record of safety violations. In 2010 alone Peabody was cited for 3,233 mine safety violations in the U.S.—an average of more than nine per day. And one of the company's coal mines in Illinois, the Willow Lake Mine, received more than 900 violations in 2010.4
Giving Peabody Energy access to federally-owned land in Illinois would be a huge mistake, and the Forest Service should immediately reject the proposal.
Tell the Forest Service—Don't let Peabody Energy destroy Illinois' forests.
For more information, click here.
—————
1. Comments Sought on Land Swap Between Forest Service and Peabody, The Daily Register, Dec. 28, 2011
2. Climate Change—Health and Environmental Effects, U.S. Environmental Protection Agency
3. Peabody Energy—Green Rating, Newsweek
4. Peabody Energy—Safety Violations in U.S. Mines, Sourcewatch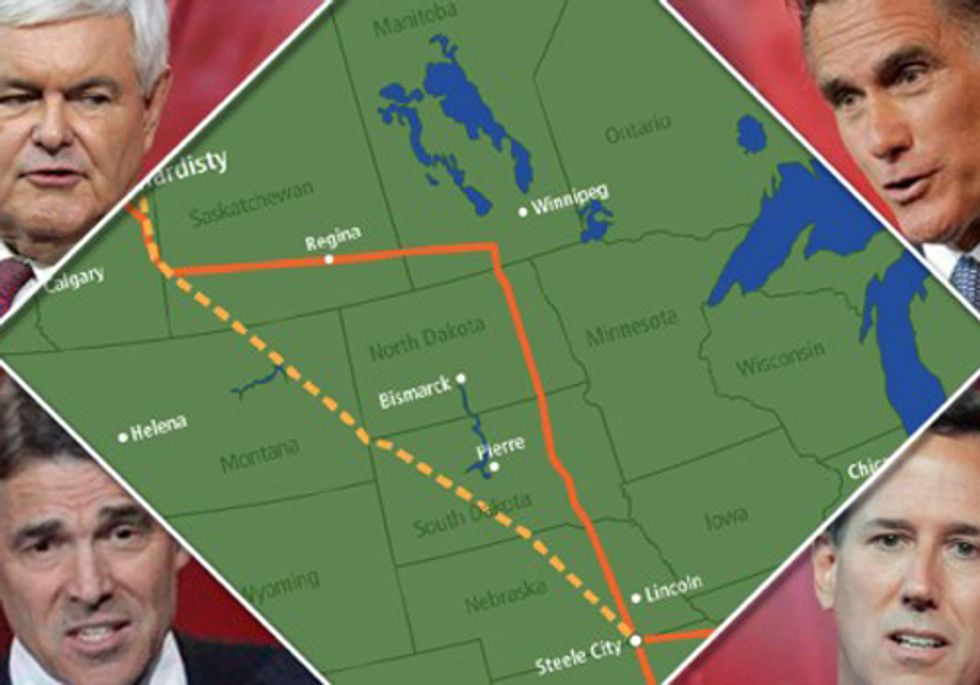 Food and Water Watch joined 15 organizations in signing a thank you letter to President Barack Obama for delaying any decision on the Keystone XL Pipeline, a project proposed to transport dirty tar sands oil from Alberta, Canada to refineries on the Gulf Coast. Now, in a political charade, the GOP is trying to force approval of the Keystone XL Pipeline in exchange for the payroll tax cut extension.
The pattern is obvious. Conservatives, on behalf of the oil and gas industry, push aggressively for blind approval of dirty energy projects, and for gutting environmental protections against these projects. This is always at the expense of folks who end up having to deal with the toxic mess industry leaves behind. The Republican ruse is to make wild proclamations about job creation to distract from the environmental and public health costs. A recent Cornell study shows that claims of tens of thousands of jobs are absurd. A realistic projection is about 2,500-4,650 temporary construction jobs.
In the case of the Keystone XL Pipeline, Republicans are trying to override the U.S. Department of State approval process (state has jurisdiction since the pipeline would cross the border with Canada). Under the political radar, many other pipelines are currently being considered or constructed in regions throughout the country. Along with the rush to drill and frack for shale gas comes the need to transport the shale gas from well sites to locations where industry can process it and distribute it to be sold. But many miles of these pipelines are completely unregulated, and even the people who should know the goings on with various pipelines are out of the loop. The Pipeline and Hazardous Materials Safety Administration (PHMSA), the federal agency that oversees the pipelines under the Department of Transportation, is riddled with problems.
In Pennsylvania, regulators don't even know where some of the pipes being constructed to carry shale gas are located. And, sometimes, there is no one accessible to report to if and when independent inspectors discover problems. As one might guess, some of these pipes are rather large and there are plans to build approximately 10,000-25,000 miles worth of them to carry shale gas. And if it isn't enough that they cause environmental damage while being built, they can also explode, which has already happened in Allentown, Pa., San Bruno, Ca., and Philadelphia, Pa. Can we really expect the thinly stretched PHMSA to handle the rapid expansion of pipeline projects?
Take action and urge your senators to reject the Keystone XL Pipeline today.
For more information, click here.