For decades all across America, coal-fired power plants have dumped tons of toxic pollutants into public rivers, lakes, streams and coastal waters. On a toxicity-weighted scale, discharges from coal-fired power plants account for over one half of all toxic water pollution in the U.S. The pollutants dumped by coal-fired power plants are among the most toxic heavy metals listed by the U.S. Department of Health's Agency for Toxic Substances and Disease Registry, including arsenic, cadmium, chromium, lead, mercury and selenium.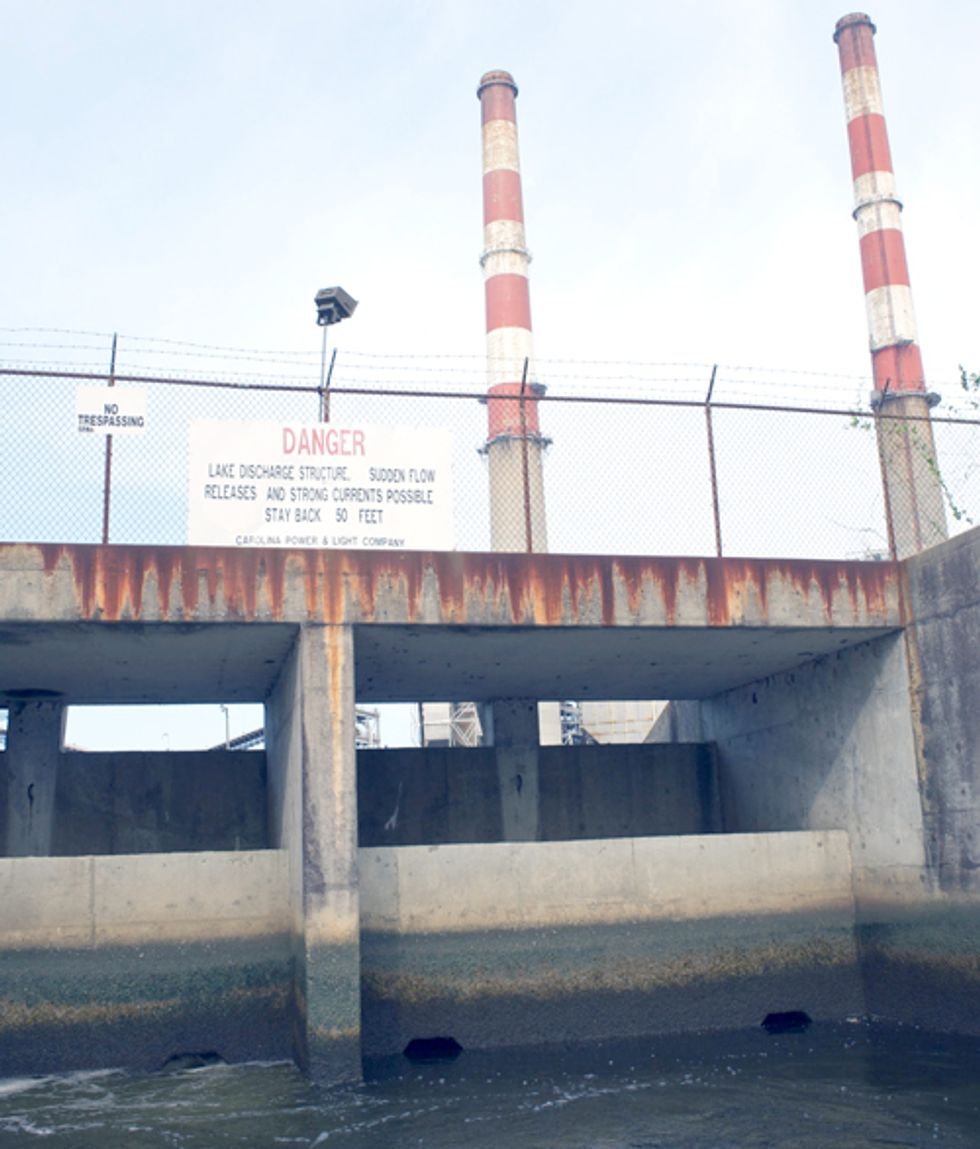 The Sutton coal-fired power plant in Wilmington, NC, is a prime example of a coal-fired power plant with a long history of groundwater pollution, surface water contamination and government failure to prevent harm to public waterways.
Underneath the sand and pine trees that surround Sutton, an unseen plume of toxic heavy metals has migrated out of the unlined ash ponds into groundwater. Monitoring well data from the site show the ash ponds have caused numerous pollutants to exceed their respective standards, including:
Arsenic at 34 times the standard
Manganese at 47 times the standard
Iron at 27 times the standard
Boron at four times the standard
Sulfate more than three times the standard
Thallium at three times the standard
Selenium at more than twice the standard
Total Dissolved Solids at twice the standard
Chloride
Antimony
Lead
Unbeknownst to most of the people living in Wilmington, NC, this hidden toxic witches brew of contamination is flowing towards public water supplies that provide drinking water to the community of Flemington. These wells are operated by the Cape Fear Public Utility Authority and are located less than a mile from the leaking Sutton coal ash ponds.
Public water supply wells located less than a mile from the leaking Sutton coal ash ponds. Public records show that polluted groundwater is flowing towards these wells. For decades, neither the U.S. EPA nor the N.C. Department of Environment and Natural Resources have required the utility to clean up of the groundwater contamination. Photo credit: Dot Griffith
Groundwater assessments prepared by Progress Energy and submitted to the North Carolina Department of Environment and Natural Resources (DENR) have found that the contaminated groundwater flows in the direction of the Flemington community wells at a rate of between 109 to 339 feet per year. In 1994, DENR's Division of Environmental Management Groundwater Section explained that the groundwater flow at the Sutton site is "substantially influenced by the pumping activities of the New Hanover Co. well field [i.e., the Flemington wells]" and that "[t]hese pumping activities may result in a groundwater flow pattern that moves from the lake and ash ponds toward the well field."
Indeed, a recent report prepared by the North Carolina Division of Environmental Health, Public Water Supply Section for the water system served by the Flemington wells assigned their "Inherent Vulnerability Rating," "Contaminant Rating" and "Susceptibility Rating" the highest risk rating and listed the Sutton facility numerous times as a "Potential Contaminant Source" for the wells. The report also confirms that many of the highly contaminated groundwater wells at Sutton are within the area that contributes groundwater to the Flemington wells.
This situation also raises an environmental justice issue. Achieving environmental justice involves identifying and addressing disproportionately high and adverse human health or environmental effects of federal programs, policies and activities on minority and low-income populations. Here, failure to enforce provisions of the Clean Water Act, to the detriment of the low-income Flemington community, is an environmental justice concern.
The other huge problem caused by decades of untreated coal ash waste being dumped into Sutton Lake is the accumulation of selenium in fish. Decades of sampling reveals that selenium concentrations have increased dramatically over time, such that in recent years the selenium concentrations in the surface water reached levels that cause reproductive failure of fish and waterfowl and have far exceeded those levels in the lake sediments and in fish tissue itself. The North Carolina Wildlife Resources Commission (WRC) determined that the sediment and fish tissue concentrations represent a "High" hazard. Unsurprisingly, the most recent published assessment of the lake by WRC noted that largemouth bass in Sutton Lake were in poor condition, and that from 2008 to 2010, the abundance and size of the largemouth bass population declined by 50 percent.
Sutton Lake is an extremely popular fishing location. It is frequented both by sport fishermen and by subsistence fishermen, who catch fish that are eaten by themselves and their families. Despite the fact that untreated coal ash sluice water, coal pile runoff, chemical metal cleaning wastes and other wastewater is discharged directly into the public waters of Sutton Lake, the public is encouraged to fish there. As selenium levels rose in fish in recent years, the state of North Carolina could have informed the public that the fish in Sutton Lake are in poor health. But in actuality boat ramps and fishing piers were recently improved to provide even greater public access and allow more people to catch and eat the fish out of Sutton Lake.
Public fishing is encouraged at Sutton Lake even though fish have high levels of selenium. Photo Credit: Dot Griffith
For decades, the regulatory agencies in charge of making sure toxic water pollution doesn't harm public waters have done very little to stop the contamination of ground and surface water caused by the Sutton coal-fired power plant. At the federal level, coal combustion waste regulations have been stalled since 2010. The U.S. Environmental Protection Agency (EPA) continues its abject failure to enact the regulations and protect the public from hazardous coal ash waste contamination at more than 1,000 other coal ash dumps across the U.S. including Sutton. At the state level, conservation groups convened repeated meetings over the last two years with North Carolina DENR to ask them to take decisive action to stop the contamination of public waters from all of North Carolina's leaking coal ash ponds across the state. They too, have failed to stop the contamination.
So today the Cape River Watch, Waterkeeper Alliance and Sierra Club, represented by the Southern Environmental Law Center (SELC), sent a notice to Duke Energy Progress, Inc., that it will bring suit under the Clean Water Act to stop Progress Energy's coal ash pollution of Sutton Lake.
"We're taking action to stop the harmful pollution of one of the area's most popular fishing lakes," said Frank Holleman, senior attorney at the Southern Environmental Law Center. "For years, Progress has dumped untreated pollution from its coal ash lagoons into Sutton Lake. Progress can't treat this public fishing lake as its private wastewater treatment pond—too many people depend on this valuable public resource."
Contaminated groundwater is flowing into a canal that discharges into Sutton Lake, creating an additional unpermitted source of contamination. The Progress facility includes two unlined coal ash lagoons alongside Sutton Lake. In 2010, a portion of the berms collapsed, spilling coal ash out of the lagoon.
"I enjoy fishing at Sutton Lake, and I know a lot of other people do too," said Kemp Burdette, Cape Fear Riverkeeper. "We need to ensure that the contamination from Progress's coal ash is stopped and cleaned up."
The groups' notice letter comes in the wake of two other notices this year in which SELC spotlighted coal ash contamination at Progress's Skyland plant in Asheville and Duke Energy's Riverbend plant north of Charlotte. The state subsequently sued the utilities in both those cases, stating that they were violating state law and that the coal ash pollution "poses a serious danger to the health, safety, and welfare of the people of North Carolina and serious harm to the water resources of the state." SELC also filed a federal court lawsuit over the Riverbend coal ash pollution June 11.
"This pollution of state waters is yet another example of the toxic legacy of coal-fired power plants in North Carolina," said Kelly Martin of the Sierra Club's Beyond Coal Campaign. "Community drinking water and a public fishing lake are both at risk, and now it's time to clean up the mess."
Selenium contamination has harmed fish populations in at least two other lakes at Progress power plants. Selenium contamination from the coal ash lagoon at Progress's Roxboro plant devastated fish populations in Lake Hyco, and fish deformities associated with selenium contamination have been documented recently in Mayo Lake. Meanwhile, at Belews Lake, selenium from a leaking Duke Power coal ash basin eradicated 19 of the 20 species of fish formerly present in the lake. In 2007, EPA classified both Lake Hyco and Belews Lake as "proven ecological damage cases" due to the coal ash pollution. Selenium accumulation can cause developmental abnormalities in fish and amphibians and has led to the death of entire local fish populations.
"To let a utility treat this important fishery as a dumping ground for its coal ash pollutants is bad for the fish, bad for the public, and bad for the state," said Donna Lisenby, global coal campaign coordinator at the Waterkeeper Alliance. "We had to act because it is clear that neither state nor federal agencies are willing to do what is necessary to protect public waterways."
Visit EcoWatch's CLEAN WATER ACT and COAL ASH pages for more related news on this topic.
 ——–
EcoWatch Daily Newsletter
Coal exports from the U.S. in March 2013 totaled 13.6 million short tons, nearly 0.9 million short tons above the previous monthly export peak in June 2012. The U.S. Energy Information Agency (EIA) is projecting a third straight year of more than 100 million short tons of coal exports in 2013, following annual exports in 2011 of 107.3 million short tons and record annual exports in 2012 of 125.7 million short tons.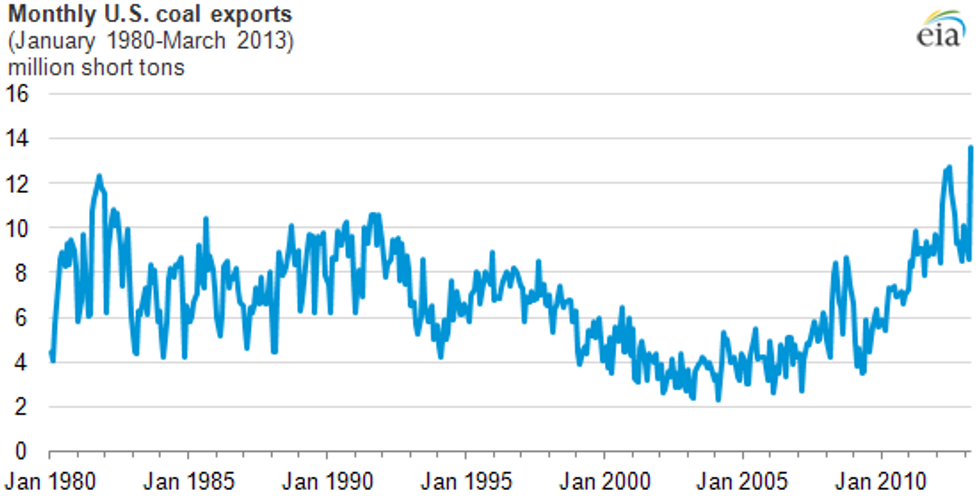 Increased Asian demand for coal contributed to the record level of coal exports from the U.S. in March. Of the record export tonnage, 6.3 million short tons were steam coal and 7.4 million short tons were metallurgical coal, according to EIA.
Five customs districts accounted for 90 percent of the coal exported from the U.S. during March: Norfolk, VA; New Orleans, LA; Baltimore, MD; Mobile, AL; and Houston-Galveston, TX. Each of these customs districts is located on the Atlantic Ocean or Gulf of Mexico, and each has access to world-class coal loading infrastructure. The top five destinations of exported coal during March were China, Netherlands (a large transshipment point), United Kingdom, South Korea and Brazil.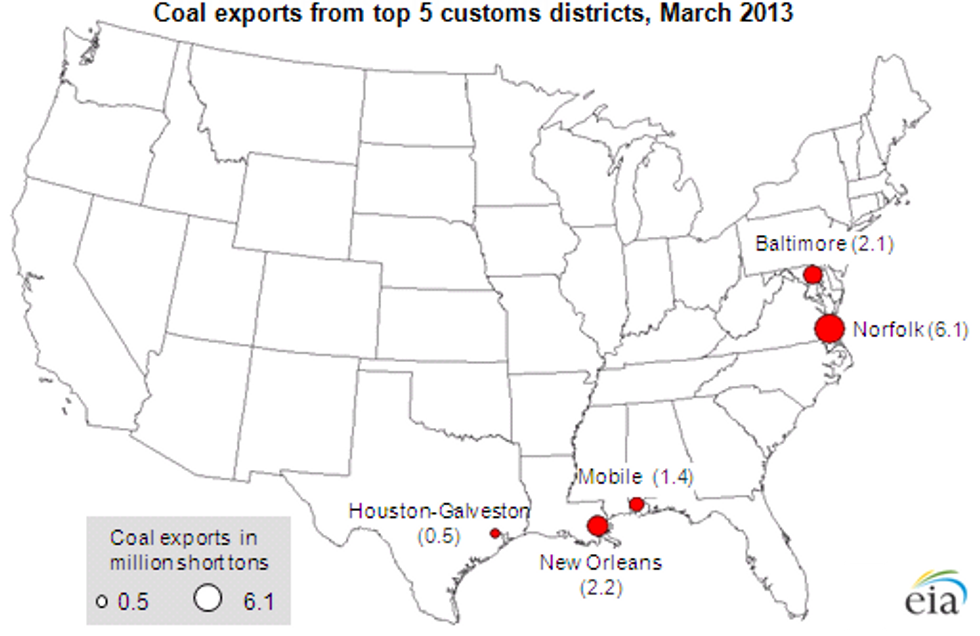 Coal exports come with a host of problems; from extracting and shipping to export and delivery. The effects of coal pollution are wide-reaching and long-lasting. A new report, Silent Killers from Greenpeace estimates that toxic emissions from coal plants—including mercury, lead, arsenic, cadmium, and sulphate and nitrate particles—caused 22,000 premature deaths in the European Union (EU) in 2010. The toxic pollutants that fill the air find their way deep into people's lung tissue and bloodstream and cause strokes, heart attacks, lung cancer and other diseases.
One of the biggest sources of those deadly coal imports was the U.S., whose exports to the EU almost doubled. The U.S. accounted for 65 percent of Europe's increased coal consumption. Which means, according to Greenpeace modeling results, 65 percent of the 2,000 premature deaths in the EU were caused by U.S. coal exporters.
Visit EcoWatch's COAL and COAL EXPORTS pages for more related news on this topic.
——–
Click here to tell Congress to Expedite Renewable Energy.

Today, the Sierra Club and its partners filed suit against Burlington Northern Santa Fe Railway Company (BNSF) and several coal companies for violations of the federal Clean Water Act. The Sierra Club, Puget Soundkeeper, Columbia Riverkeeper, RE Sources for Sustainable Communities and Friends of the Columbia Gorge sent a 60 day notice in April after collecting evidence demonstrating the companies' responsibility for emitting coal into waterways in several locations across Washington. Spokane Riverkeeper and the Natural Resources Defense Council (NRDC) recently sent a notice letter for these violations as well.
"BNSF and the other coal shippers had two months to figure out a way to stop polluting our waterways and communities with coal dust but they chose to do nothing to find a solution," said Cesia Kearns, senior campaign representative of the Sierra Club's Beyond Coal Exports campaign. "After years of railroad and coal companies playing the coal dust blame game, the last two months proved we can only expect more of the same from these companies. "
The suit was filed in U.S. District Court for the Western District of Washington in Seattle, where coal dust has been identified in and along multiple waterways. Seattle Mayor Mike McGinn, a co-founder of the Leadership Alliance Against Coal comprised of over 40 Northwest tribal and elected leaders, has actively opposed the plan to develop coal export terminals in Washington and Oregon which would send 18 coal trains per day through Seattle, and is now speaking out against the Clean Water Act violations.
"We are concerned about the effects of coal dust on our environment and on our waterways," said Seattle Mayor Mike McGinn. "It is important that the coal companies comply with our environmental laws."
According to BNSF testimony at hearings before the Surface Transportation Board, each rail car loses an average of 500-3,500 pounds of coal dust. Coal trains are composed of approximately 120 rail cars, resulting in an average of 60,000-420,000 lbs of coal lost per train, each trip. A massive increase in rail traffic and longer trains are expected in the future should new hotly contested coal export terminals be built in Washington and Oregon.
BNSF Railway, owned by Warren Buffett's Berkshire Hathaway, is one of the largest coal transporters in the U.S. It is responsible for hauling an average of four trains, or 480 open-top rail cars, carrying coal through Washington daily. BNSF ships nearly 300 million tons of coal through 28 states each year, coming in contact with countless waterways every trip.
"If we're seeing this much coal from just a few trains in Washington every day, it begs the question of what problems other waterways in states across the country might also be facing," said Bart Mihailovich, Spokane Riverkeeper.
According to BNSF, approximately 90 percent of its annual coal shipments are from coal mines in the Powder River Basin (PRB) located in Wyoming and Montana. PRB coal breaks apart easily and contains mercury, arsenic, uranium and hundreds of other toxins harmful to fish and human health.
Clyde Anderson, a retired Union Pacific employee from Omaha, NE, spent decades working on the rail line and says even after a coal train has traveled nearly 800 miles from the West, coal dust is still a major problem. "Sometimes the coal dust was so bad, the visibility of the caboose was completely blocked," said Anderson.
Using the most conservative BNSF figures, the four daily coal trains travelling through Washington heading to Canada or to the state's last remaining coal plant combine to lose a staggering 240,000 pounds of coal dust per day. Local residents and conservation groups are concerned that the problem will only worsen if coal companies receive approval to move forward with their controversial plans to develop at least three coal export terminals in Washington and Oregon, which could send an additional 42 trains through Washington daily.
"With proposals to dramatically increase coal train traffic in the Gorge currently looming, it is even more important that we end these dangerous violations of the Clean Water Act and stop dumping coal in the Columbia River Gorge, our National Scenic Treasure," said Michael Lang, conservation director for Friends of the Columbia Gorge.
Under the Clean Water Act, anyone discharging pollutants into U.S. waters must first obtain what is known as a National Pollutant Discharge Elimination System permit. BNSF does not have such a permit.
Plaintiffs intend to file a similar action in the Eastern District of Washington at a later date.
The plaintiffs are represented by the Law Offices of Charles M. Tebbutt, P.C. of Eugene, OR, Andrea Rodgers Harris of Seattle, WA, Jessica Yarnall Loarie of the Sierra Club Law Program, and David Pettit and Morgan Wyenn of the Natural Resources Defense Council.
Visit EcoWatch's COAL page for more related news on this topic.
——–
Click here to tell Congress to Expedite Renewable Energy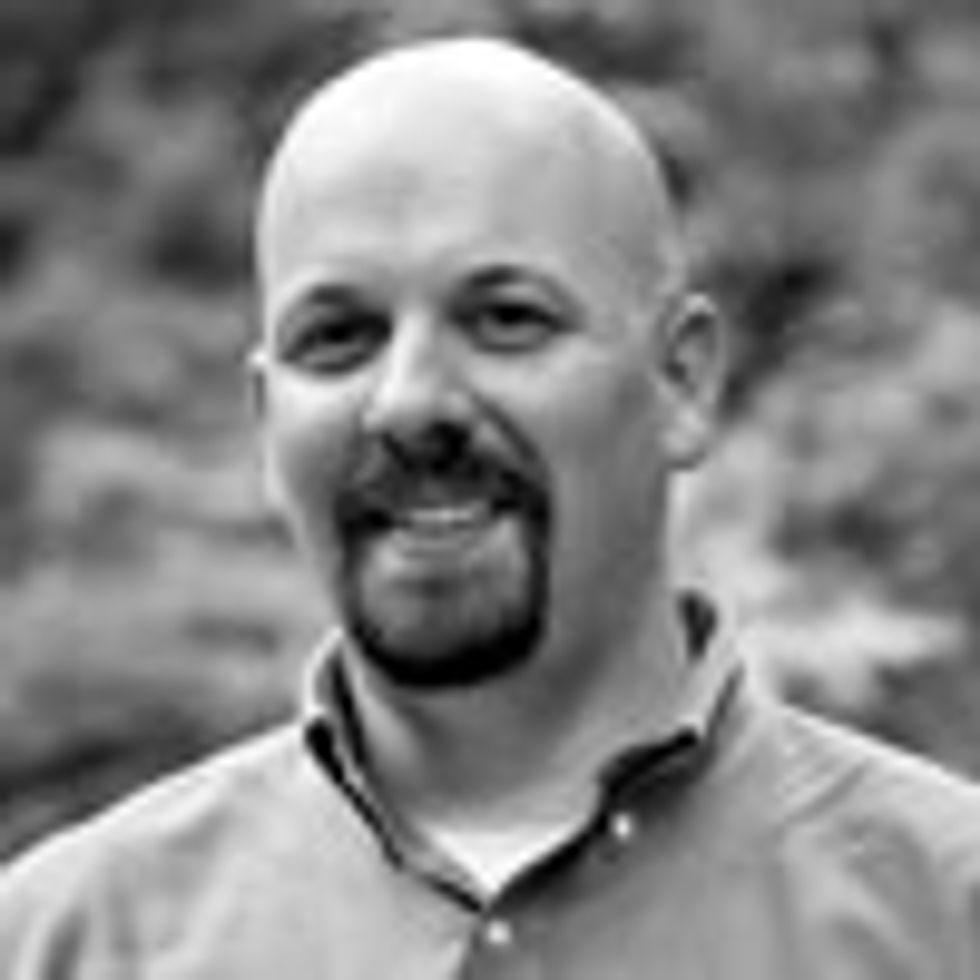 Starting today, we can begin to breathe, eat and drink a bit easier. The U.S. Environmental Protection Agency (EPA) begins enforcement of the Mercury and Air Toxics standard, a 20-year-old mandate that set limits on mercury emissions from coal and oil-fired power plants.
These safeguards are not for show. They reflect a raft of highly credible research proving that mercury, along with other toxic metals including arsenic, chromium and nickel, is spewed in to the air as an insidious byproduct of fossil fuel burning. These metals contaminate waterways, where they infuse the bodies of commercial fish and seafood. It's no surprise that women of childbearing age are urged not to eat salmon and shrimp. High accumulated mercury levels in these and other frequently consumed species can be devastating to the unborn and infants.
That reality gave this effort tremendous momentum—a record-breaking 500,000 Americans reached out to the U.S. EPA in support of the standard, reinforcing the notion that we'd rather have healthy moms and babies than antiquated power plants raining contaminants down on our communities. We salute President Obama and U.S. EPA Administrator Lisa P. Jackson for standing fast against the antiquated interests of Big Coal and Big Oil in order to make this ruling a reality.
Unsurprising, however, has been the utility industry's prolonged, expensive campaign of misinformation— millions of dollars and countless lobbying hours spent trying to convince legislators, and thus the American public, that a little mercury mutating a developing human nervous system was no big deal.
Some utility companies, along with members of Congress swimming in their campaign contributions, made heel-dragging on this issue an art. Their lobbyists are understandably upset, but we're happy to treat them to a seafood dinner if that assuages their grief.
The barrage of tiresome talking points from Republican and industry opposition about how this epitomizes big government's job-killing intrusion on free enterprise is already underway, but let's be as clear as the forthcoming air:
• This rule will save lives. According to the U.S. EPA, the rule will prevent up to 11,000 premature deaths, 4,700 heart attacks, and 130,000 asthma attacks each year, as well as almost 3,000 cases of chronic bronchitis yearly. Emergency room visits will drop by almost 6,000.
• This rule will protect the environment. In 2008, nearly half of all U.S. river-miles and lake-acres were under water contamination advisories. The vast majority of this contamination was due to mercury, including 100 percent of the Great Lakes. Over time, just one gram of mercury per year will contaminate a 20-acre lake.
• This rule will create jobs and boost productivity. EPA estimates that this rule will lead to 46,000 short-term construction jobs and 8,000 long-term utility jobs. Currently only 17 states have established mercury emissions limits on coal plants. That's far from adequate, especially since the states with the largest volume of mercury emissions do not have emissions limits. In addition, we'll avoid 540,000 sick days each year, enhancing productivity while lowering health care costs.
The downside for fossil fuel facilities is negligible at best. A mere eight percent of our nation's coal-generation capability will be taken offline in the years ahead—decrepit, 30-to-50-year-old power plants that even utility companies agree need to be modernized or shut down outright as they have become too costly to upgrade or maintain, let alone operate.
So, let's take a well-deserved deep breath and celebrate the fact that regard for a nation's health and well-being has won out over the interests of a few backward-thinking bribe recipients who don't lose sleep over causing cancer and birth defects.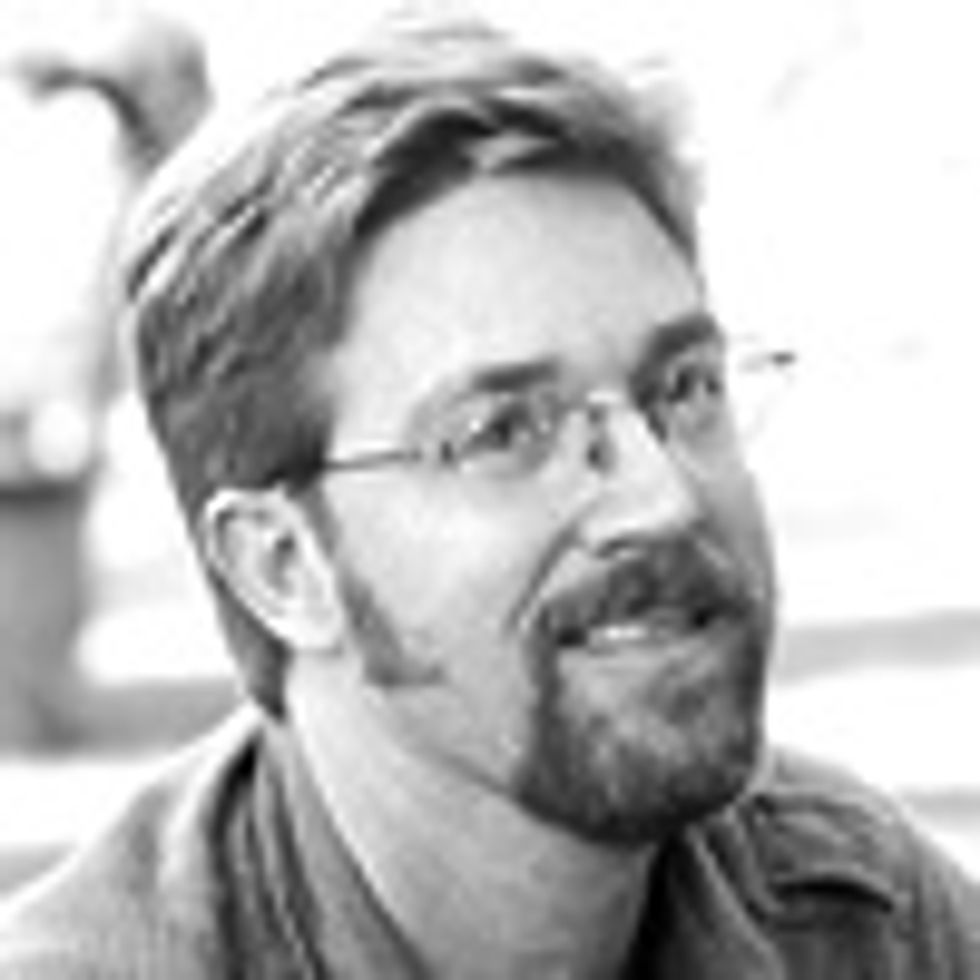 On the heels of a harrowing U.S. Environmental Protection Agency lead warning and a mounting health care crisis, hundreds of affected Chicago residents unveiled an urgent reminder on Dec. 2 to Chicago's Mayor Rahm Emanuel to commit to a timeline for the retirement of the city's two notoriously decrepit and toxic Model-T-era coal-fired plants.
Calling for an end to the deadly and costly pollution from California-based Edison International's Fisk and Crawford plants on the west side of Chicago, neighborhood families and a broad alliance of supporters with the Chicago Clean Power Coalition posted photos of their affected children, elderly and businesses on a 8-foot-tall exhibit at City Hall.
"Right now, residents of Bridgeport, Little Village and Pilsen are unsafe. They are lacking sanctuary, even inside our churches we are breathing toxic air. Residents of our neighborhoods are suffering so that Edison International can make a profit. That isn't right," said Rev. Thomas R. Gaulke, Pastor at First Lutheran Church of the Trinity in Bridgeport. "We will fight to shut down both Fisk and Crawford coal-fired power plants until our neighbors are truly free of the emissions from the plants. We hope our Mayor will make the closing of these plants his priority. It is definitely ours."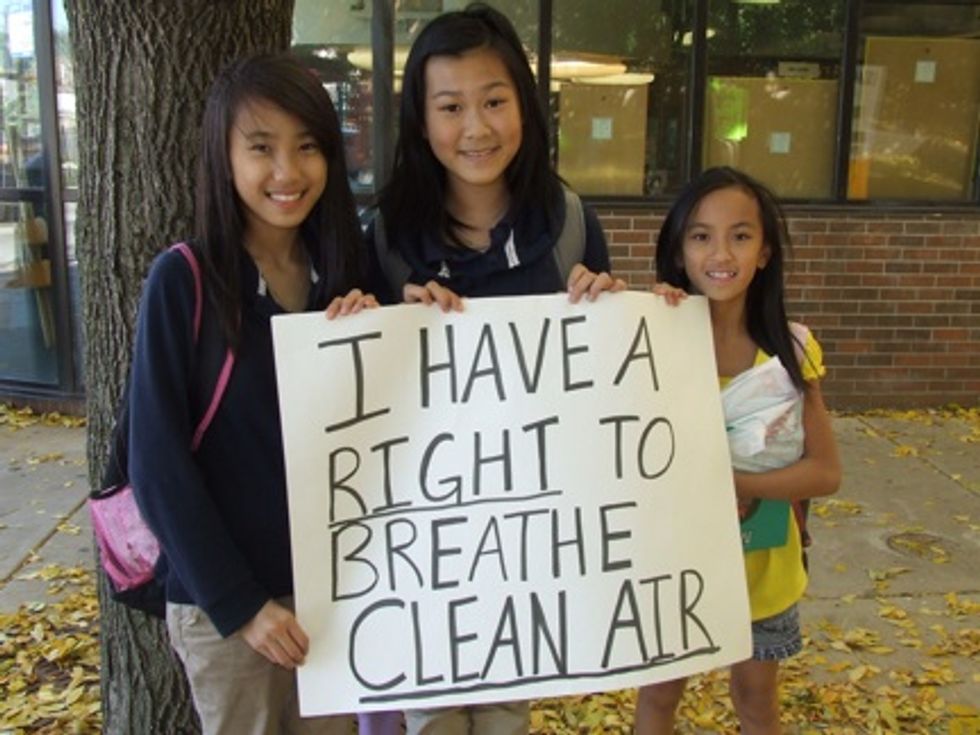 A recent poll showed that Chicago residents overwhelmingly support a move to clamp down on coal-fired plant pollution. Noting that "state and federal laws addressing air pollution from these plants are inadequate to address this local pollution with local impacts," 49th Ward Alderman Joe Moore and 25th Alderman Danny Solis have sponsored the Chicago Clean Power Ordinance.
"Pilsen has a lead emergency and can't wait," Pilsen resident Ruben Franco said. "We hope the mayor flexes his muscles and helps us solve the crisis."
Since Mayor Rahm Emanuel's criticism of the two coal-fired plants this summer, hundreds of children and untold numbers of adults have continued to be struck by asthma and heart-related problems connected to the Fisk and Crawford coal-fired plants in the Pilsen and Little Village neighborhoods. Built before the invention of the Model T and operating on equipment from the Eisenhower era, the coal-fired plants have also cost the city an estimated $1 billion in health and environmental damages over the last decade, according to a study last year by the Environmental Law and Policy Center.
"Pilsen is a vibrant, working class, immigrant community, but we are plagued by the damaging health effects of the Fisk coal plant. It is time for the plant to go," said Pilsen resident Jerry Mead-Lucero.
For more information, click here.