This website uses cookies to ensure you get the best experience while browsing it. By clicking 'Got It' you're accepting these terms.
Anishinaabe economist and writer Winona LaDuke identifies two types of economies, grounded in different ways of seeing. Speaking in Vancouver recently, she characterized one as an "extreme extractive economy" fed by exploitation of people and nature. The second is a "regenerative economy" based on an understanding of the land and our relationship to it.
Last week, a Skagit County, Washington jury failed to reach a verdict in my trial on charges of burglary and sabotage for closing the TransMountain pipeline as part of the ShutItDown climate direct action, which disrupted all five pipelines carrying Canadian tar sands oil into the U.S. last October.
The trial itself was very short, barely two days long, because there was no disagreement on the facts of the case, because my proposed necessity defense was not allowed by order of the presiding judge (so our expert witnesses on climate science and energy policy did not take the stand) and because my own testimony was sharply limited in scope.
On the stand, I told the jury my own story, about working for decades on the staff of public interest and environmental organizations where we treated climate change as merely one among many policy issues and about the rude awakening I received after reading two seminal papers, Bill Hare's, 1997 Greenpeace International report The Carbon Logic and Dr. James Hansen's 2005 A Slippery Slope.
In my testimony and with a handful of charts and graphs, I aimed to show:
1. How quickly climate change is occurring and how far out of whack Earth systems are from historical norms ...
2. The potentially catastrophic impact of sea level rise on Skagit County ...
3. The culpable role of tar sands oil in contributing to disaster ...
4. The scale of change necessary to stave off the worse case, and ...
5. The powerful, effective and unique role that nonviolent climate direct action can play in forcing change in a deadlocked society.
I was not allowed to get all of that into the record, but in the end, the jury had these four pieces of tangible evidence to review in their deliberations.
Video of the Action. The prosecution chose to show the jury a short video of highlights of the action that we had prepared, drawing from my own live-streaming and video shot by independent documentarians, Lindsey Grayzell and Carl Davis.
Screen shot of video shown to Skagit County jury by the prosecution, prepared by the defense.
Historical CO2 level chart. There are, of course, a staggering number of data sets and charts to choose from in illustrating the climate problem. After much consideration, we choose to go with NASA's CO2 level chart combining 400,000+ years of ice core data and modern air samples, because it is unimpeachable and intuitive evidence of serious change in global conditions.

Historical Atmospheric CO2 Level chart, taken from NASA website shown to Skagit County jury.
Sea level rise in Skagit County map. I testified about the Eric Rignot, et. al. report concluding that the West Antarctic Ice Shelve is in "unstoppable" collapse and Khazendar, Rignot, et. al. on disintegration of buttressing ice shelves, but we wanted a way to make the threat understandable, so I prepared a chart using Climate Central's Surging Sea mapping tool, showing the impact of 5' possible sea level rise on Skagit County.

The 5' estimate came from former State Department Climate Envoy Jonathan Pershing's report to the Marrakesh Climate Change Conference, as reported by Daphne Wysham. Though much more conservative that former senior adviser to
the National Oceanic and Atmospheric Administration (NOAA), Margaret Davidson's report to the RIMS conference last year, of 9' sea level rise, we thought that the international setting and Pershing's higher rank would carry more weight with the jury.
Projected 5' sea level rise impact on Skagit County map show to the Skagit County jury.
Tar sands oil emissions graph. In arguing why this particular action was appropriate, we presented a Carnegie Institute Oil-Climate Index chart showing that Canadian tar sands oils have 40 percent higher lifecycle carbon emissions than the lowest North American oils. Unfortunately, I was not able to present conclusions of the Oil Change International report, The Sky's the Limit, showing that to have even a 50/50 chance of reaching the 1.5C limit on temperature increase, the world needs to halt all new fossil fuel exploration and reduce some current extractions.

Carnegie Institute Oil-Climate Index chart shown to the Skagit County Jury.
For some time, I have argued that emphasizing the complexity of climate science does us no service in a public debate where our opponents ridicule and warp scientific approaches and where even climate activists are befuddled by the complexity of the problem. In my defense, truncated as it was, I was able to present the barest minimum of information outlining and supporting the simplest and direst aspect of the climate emergency: catastrophic sea level rise and why my action can be considered appropriate in the circumstances.

For some number of the Skagit County jury, this limited data set on climate change impacts proved more persuasive that the graphic depiction of my actions. At the next trial, if the prosecution chooses to retry, we may expect that at least these exhibits will be introduced again.
EcoWatch Daily Newsletter
By Emily Johnston
I've been thinking a lot about risk lately—what we're willing to risk and why. I was one of five activists who turned off the major tar sands pipelines coming into the U.S. on Oct. 11, 2016. As a result, I'm risking prison time, ostensibly for property damage (we cut a few chains to access the valves), but really for being disobedient to business as usual. It's also possible they'll file a restitution suit, for temporarily disrupting a pipeline that's highly profitable for some, at the expense of all others.
I took part in the action in full awareness of these risks—in dread of them, to some degree—because of the risk that Enbridge and the other companies engaged in the extraction, transport and sale of tar sands are taking, which is the unimaginably huge risk that if the world's scientists are correct, what really flows through those pipelines is the end of human history.
Does this seem like crazy talk to you? Does it seem obvious that we can't possibly move past fossil fuels, no matter what the risks? What are you risking in order not to try, in order to preserve your belief that the world—or at least your world—is basically okay and you don't need to pay attention to the dire warnings scientists have been giving us?

Last December in Paris, nearly early every nation in the world, including petro-states like Russia and Saudi Arabia, agreed to an aspirational goal of no more than 1.5 C of warming. But it's very aspirational—right now, even if every nation adheres scrupulously to the Paris agreement (and Donald Trump promises that the U.S. won't), scientists say that will only "limit" us to 3.5 C.
That's one of the better scenarios available to us right now—and it risks human extinction. It would make food systems and most other current ecosystems collapse. The reliable seasons that allow human civilization would disappear.
The Paris agreement has 1.5 C of warming as its goal because above that, we can expect worldwide catastrophe: droughts, famines, terrifying sea level rise. A recent report tallied how much fossil fuel we can burn and preserve even a 50/50 chance of staying below that threshold: 353 gigatons of carbon. So even if you're willing to accept odds worse than you'd have in Russian roulette, you can still only burn well under half of the 942 gigatons in existing mines and wells. To limit ourselves to that and still be able to use fossil fuels for a few essential purposes in coming decades, we have to shut down the dirtiest fuels immediately—including tar sands, which means confronting companies like Enbridge and Exxon.
They're certainly managing their risks. After Exxon's senior scientists started raising internal alarms about climate change in the 1970s, Exxon also raised its ocean-based drilling platforms, because it knew sea levels would rise. Meanwhile, its executives lied to the public and funded disinformation campaigns.
In 1978, a senior scientist told the company, "present thinking holds that man has a time window of 5-10 years before the need for hard decisions regarding changes in energy." Forty years later, thanks to their lies, we're still refusing to make those hard decisions. We're not even close to accepting a 353-gigaton limit. No one in power is even talking about it.

Yet if we don't radically reduce our fossil fuel use in the next few years, one day soon—no one knows precisely when—we may pass the point where we lose all hope of a stable world. Antarctica is almost certainly in a state of collapse, as is Greenland, bizarre weather caused by climate change is already affecting millions, the Great Barrier Reef has been devastated and on and on. The tipping point of Antarctic melt has likely already been reached, but the tipping point of Arctic methane may not have been. Scientists have been warning of these dangers for many years and with real urgency for the last few. This does not come easily to them; their training predisposes them to understatement. But between understated scientists, arrogant executives, beholden politicians and an anxious population going about its daily business, we're running devastating risks.
"The need for hard decisions regarding energy." What are we willing to risk to avoid that, to convince ourselves the world is basically okay, so we can continue business as usual? Are we really willing to risk our kids? Everyone else's kids? The millions of blameless people already struggling with droughts and floods? Half the species of the world? It seems that we are.
It seems utterly crazy to me, and to all of the smart, reasonable scientists and policy wonks I've spoken with, to take such risks. As Bill McKibben has said for years, the real radicals are running the fossil fuel companies—apparently they think it's okay to play dice with every life on the planet.
If we don't agree, we have to move to clean renewables and we have to do it more ambitiously than we've ever done anything. We have to pressure the political system now, in every peaceful and inspiring way that we can, because we are coming to this fight very, very late. We have to start acting like people who have everything to lose. Because we do.
Reposted with permission from our media associate AlterNet.
The five climate activists that shut down tar sands pipelines today include: (L-R) Emily Johnson, Annette Klapstein, Leonard Higgins, Michael Foster and Ken Ward. / Shut It Down
Activists successfully shut down five pipelines today across the U.S. that deliver tar sands oil from Alberta, Canada. The pipelines targeted were Enbridge line 4 and 67 in Leonard, Minnesota; TransCanada's Keystone pipeline in Walhalla, North Dakota; Spectra Energy's Express pipeline at Coal Banks Landing, Montana; and Kinder-Morgan's Trans-Mountain pipeline in Anacortes, Washington. "We did this in response to Standing Rock's call to action for escalated actions," a spokesperson for #ShutItDown told EcoWatch.
By Aaron Packard
Bill McKibben is a kind of big deal here in Australia. Big enough that yesterday, we woke up to find him cartooned in the Canberra Times.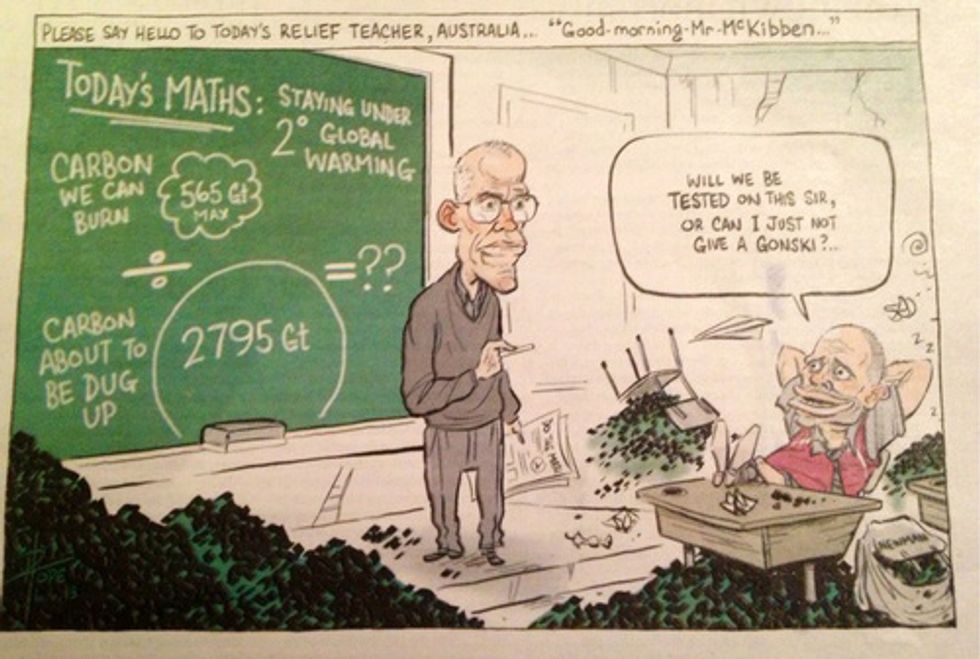 Here are two pieces of context you might like with the cartoon: 
1. The student sitting at the desk is the Premier of Queensland State, Campbell Newman, who is pushing coal extraction like crazy.
2. The Gonski reference is to the Gonski report, which the Australian government commissioned to review the education system in Australia.
The Do the Math tour of Australia is now well underway and with Sydney under our belts, we're part way through our stop in the nation's capital, Canberra. It really is hard to keep up with things, but here's a bit of what has gone on.
Within hours of touching down in Sydney, McKibben underwent an Australian baptism by fire, being a panelist on the live TV show Q & A. Despite being dropped straight in the middle of a foreign culture and a few unsavory characters, McKibben easily stood his ground and impressed the audience, both in studio and watching from home, with his depth of knowledge and clear message about climate challenge. In essence, he mopped the floor with them.
The next day, McKibben found himself on another panel, but this time talking to more than 100 financiers from Sydney and Melbourne. After presenting the "math," a lively debate ensued about the possibilities for and limits to divestment and what the carbon bubble means for investors. Changing tack completely, the next stop was to meet with the head of the Uniting Church of New South Wales and Australian Capital Territory, to say a big thank you for being "the first church in the world" to divest their portfolio of fossil fuel holdings. After a quick prayer it was time to move on to the main event of the day, the presentation at the Seymour Center, University of Sydney—which, as you can see in the photograph below, was packed.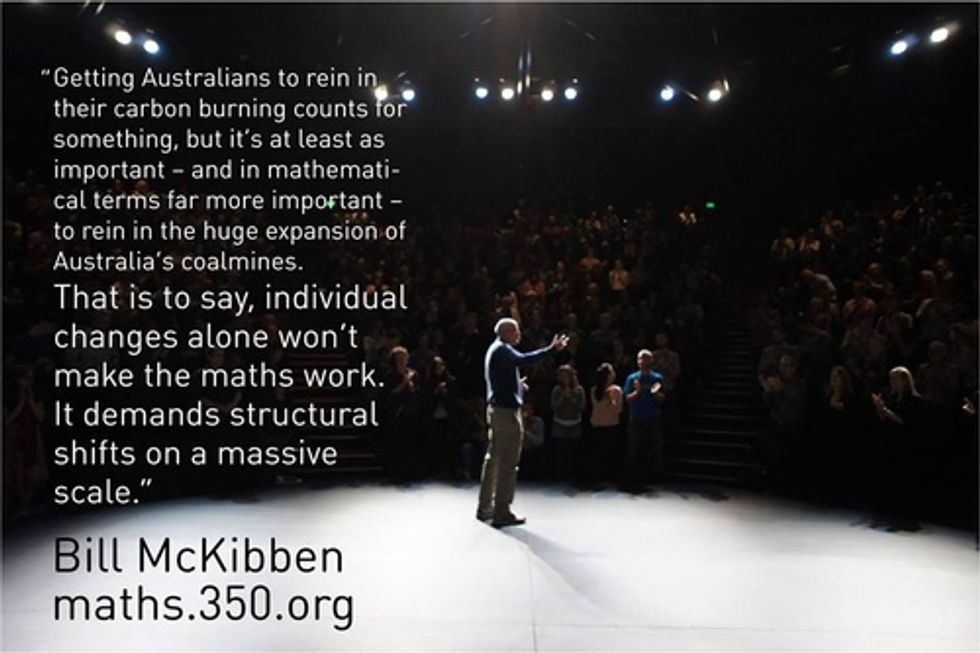 Here is a take on the evening from audience member Georgia Bamber:
If ticket sales, packed seats and a rapt audience are anything to go by, Bill McKibben's first show in Australia was a roaring success. The Seymour Center was abuzz with anticipation at 6 p.m., amazing in light of the fact that we were all there to essentially hear a math lesson.
Despite claims of jetlag, Bill was fantastic. Relaxed and personal, he immediately won the audience over with his charm, intelligence and above all, his passion.
His message to the audience was clear and simple: If the Australian mining industry is allowed to proceed with the massive expansion of coal mining and export that they have planned, the planet will be pushed to warming beyond the point of no return. End of story, no wiggle room. The laws of physics say it is so.
However, gloom and doom about the plight we are in was quickly dispelled as Bill invited young members from Lock the Campus and the Australian Youth Climate Coalition onto the stage to demonstrate his math—using beer. After giggles from the audience and a few sips of beer by Bill and the Lord Mayor of Sydney, everyone was ready to hear the plan of action. Divestment, direct action and perhaps even a little jail time for a few. 
The way Bill connected with the audience was incredible. He not only educated the audience but he fired them up and made them feel empowered. I know I walked away from the evening ready to fight the good fight, and I am pretty sure most everybody else did too.
Thank you Bill, for saying what needs to be said.
Visit EcoWatch's CLIMATE CHANGE and RENEWABLES page for more related news on this topic.
——–
Click here to tell Congress to Expedite Renewable Energy