Police officers pepper spray a woman next to the Colorado State Capitol as protests against the death of George Floyd continue for a third night on May 30 in Denver, Colorado. Michael Ciaglo / Getty Images
By Jake Johnson
A federal judge late Friday issued a temporary order barring the Denver Police Department from using projectiles and chemical weapons such as tear gas against peaceful demonstrators, condemning the conduct of some officers against protesters across the nation in recent days as "disgusting."
"The time is past to rely solely on the good faith and discretion of the Denver Police Department and its colleagues from other jurisdictions," wrote Judge R. Brooke Jackson of the U.S. District Court for the District of Colorado in his 11-page order. "The Denver Police Depart has failed in its duty to police its own."
The restraining order, which took effect immediately, comes in response to a lawsuit filed on behalf of four Denver protesters who said the use of "pepper spray, pepper balls, rubber bullets, flashbang grenades, and tear gas" by city police during a May 28 demonstration against the killing of George Floyd violated their constitutional rights. Jackson's ruling came just hours after Seattle Mayor Jenny Durkan, a Democrat, imposed a 30-day ban on police use of tear gas, which is banned in warfare.
"If immediate relief is not granted, plaintiffs' speech would be chilled and outright denied over the next several days or weeks of demonstrations," Jackson wrote. "Indeed, irreparable harm has already occurred in the form of physical injury and the suppression of speech."
"People have an absolute right to demonstrate and protest the actions of governmental officials, including police officers," Jackson continued. "It is one of the many freedoms on which this country was built ... Citizens should never have to fear peaceful protest on the basis of police retaliation, especially not when protesting that very same police violence."
While Jackson's order was described as "extraordinary" and applauded as a positive step that should be replicated nationwide, it is not without loopholes. As the Colorado Sun reported, Jackson's order allows Denver police to use chemical agents and some projectiles against demonstrators "if an on-scene supervisor at the rank of captain or above specifically authorizes such use of force in response to specific acts of violence or destruction of personal property that the supervisor witnessed."
Reposted with permission from Common Dreams.
From Your Site Articles
Related Articles Around the Web
EcoWatch Daily Newsletter
Buses head out at the Denver Public Schools Hilltop Terminal Nov. 10, 2017. Andy Cross / The Denver Post via Getty Images
By Corey Binns
Before her two kids returned to school at the end of last summer, Lorena Osorio stood before the Westminster, Colorado, school board and gave heartfelt testimony about raising her asthmatic son, now a student at the local high school. "My son was only three years old when he first suffered from asthma," she said. Like most kids, he rode a diesel school bus. Some afternoons he arrived home struggling to breathe.
Osorio and her family live just north of Denver, where children are at particularly high risk for respiratory illnesses. Air quality there ranks among the worst in the nation, according to an American Lung Association report.
That evening at the school board meeting, Osorio stood alongside a Spanish translator working with Protégete, the Latino outreach arm of the environmental nonprofit Conservation Colorado. The group runs a Clean Buses for Healthy Niños campaign, an initiative of the League of Conservation Voters, which advocates across the country for states to trade in their diesel school buses for electric ones, particularly in communities of color and low-income areas, which suffer disproportionately from air pollution.
In Colorado, more than 4,000 yellow school buses run on diesel. They carry 42 percent of the state's school kids and spew out nearly 50,000 tons of greenhouse gas emissions a year. Each electric school bus can save districts nearly $2,000 a year in fuel and $4,400 a year in maintenance costs, according to a report by the Colorado Public Interest Research Group (CoPIRG) Foundation, Frontier Group and Environment Colorado.
Colorado school districts may now apply for state funding for a new fleet of electric buses via the Volkswagen diesel emissions cheating scandal settlement, as Osorio explained. That settlement resulted in more than $4 billion being split among 44 states plus Washington, DC and Puerto Rico for use in environmental mitigation and to promote adoption of zero-emissions technology. "It is our responsibility to clean up our contaminated air," Osorio told the board members.
Thanks in part to the efforts of Conservation Colorado, CoPIRG, the Southwest Energy Efficiency Project and NRDC, Colorado has earmarked $18 million of its settlement funds to replace about 450 trucks, school buses, shuttle buses and other vehicles with alternative-fuel or electric vehicles. Another portion of the funds will pay for charging stations, a necessary part of the electric vehicle infrastructure.
Advocates say that improvements in our transportation sector—one of the largest contributors to greenhouse gases across the nation—are key to addressing both our changing climate and public health challenges. CoPIRG director Danny Katz noted that Denver puts out ozone alerts to urge residents to stay indoors on bad days, something he calls incongruous with the state's reputation as a destination for nature lovers. "Air pollution is literally impacting our ability to live an active outdoor lifestyle that is central to our quality of life here," he said. "This is especially bad for the 343,000 Coloradans with asthma, but ultimately this impacts everyone."
Still, the momentum for change has been slow to build. For example, in Westminster, the school board has so far deemed the program impractical for its district's use. "Given [our] size—9,500 students—and the fact that we replace, at most, one vehicle a year, the electric bus program does not make sense for the district," said its chief communications officer, Steve Saunders. And while nearby Denver Public Schools has been in conversation about alternative fuels and electric school buses and their benefits, the district has made no purchase plans. But on the northern side of the Denver metro area, Adams County School District 12—which serves about 39,000 students across five municipalities—has applied for grants for eight buses.

Meanwhile, environmental advocates are eagerly awaiting leadership on the issue by the state's incoming governor, Jared Polis, who was endorsed by Conservation Colorado for his record on fighting for clean air and climate action. They are also waiting for the technology itself. Blue Bird—North America's top school bus manufacturer—delivered its first electric buses to districts in Ontario and California only this past September. (In December 2016, the corporation received $4.4 million from the U.S. Department of Energy for research and the development of a zero-emissions electric school bus using vehicle-to-grid technology by 2019.)
Despite the modest pace of the transition, however, analysts see promise: Bloomberg New Energy Finance (BNEF) estimates that in the second half of the 2020s, electric buses will take off even faster than electric vehicles, filling 84 percent of the market by 2030. As Colin McKerracher, lead analyst on advanced transportation for BNEF, noted in May, "Developments over the last 12 months, such as manufacturers' plans for model roll-outs and new regulations on urban pollution, have bolstered our bullish view of the prospects for EVs."
Those prospects could be further improved if fleet managers and school districts partner up with electric utilities. As NRDC senior attorney Max Baumhefner explained, utilities are increasingly looking to use the big batteries in electric school buses to lower the cost of managing a grid with large amounts of variable electricity generation like wind and solar. "Putting kids in zero-emission buses is motivation enough," he noted, "but when those buses are stationary (which is most of the day and all night), they can be charged when wind or solar generation is abundant, and [school districts] can get paid to put that electricity back onto the grid when it is most needed."
Grassroots groups are poised to play a big role in electric bus adoption in Colorado. During the past two years, Protégete has worked hard to bring attention to the issue in the Latino community in Denver. Juan Pérez Sáez, one of the group's community organizers, led a team in collecting comments from Latino residents and bringing people to the state's public hearings. Some described how high housing prices forced them to live, work and play in the city's industrial outskirts, next to highways and near factories and refineries, where dirty air is a daily fact of life and asthma rates are high.
In fact, as Pérez Sáez noted, asthma is a leading cause across the U.S. for absenteeism in schools. "It means children are not having the opportunity to be educated in an environment that is safe for them," he said, "and that should be a priority for everyone."
In July, Pérez Sáez traveled with fellow community members and environmental justice leaders from Nevada, Arizona and Colorado to the Rally for Clean Air in Santa Fe, New Mexico, a state that has seen increasing air pollution yet little progress on electric school buses or other climate action under the outgoing Republican governor, Susana Martinez. Under Martinez, the New Mexico Environment Department has argued that electric buses wouldn't be a cost-effective use of its VW settlement funds, despite the fact that 1 out of every 11 of the state's children has asthma.
The rally took place as Martinez and other state lawmakers were gathering for an annual meeting of the National Governors Association. Protégete joined forces with the League of Conservation Voters, Chispa activists, Moms Clean Air Force, Juntos and other organizations to demand justice for communities disproportionately affected by asthma and other respiratory illnesses. Pérez Sáez marched alongside a crowd of parents and students, with some kids wearing surgical masks and dressed in yellow school bus costumes.
We should change the narrative of the environmental movement, Pérez Sáez said. "If you want to be an environmentalist, you can be an environmentalist. You don't need to have the money to buy your own electric car, but we can all advocate to get public transit, to get electric zero-emission school buses. And that will impact everyone at the same level."
A #Koch-Fueled Attack on #Electric Buses Picks Up Speed #electricvehicles https://t.co/v98YI1cN2U

— EcoWatch (@EcoWatch)1535130131.0
waterlust.com / @tulasendlesssummer_sierra .
Each product featured here has been independently selected by the writer. If you make a purchase using the links included, we may earn commission.
The bright patterns and recognizable designs of Waterlust's activewear aren't just for show. In fact, they're meant to promote the conversation around sustainability and give back to the ocean science and conservation community.
Each design is paired with a research lab, nonprofit, or education organization that has high intellectual merit and the potential to move the needle in its respective field. For each product sold, Waterlust donates 10% of profits to these conservation partners.
Eye-Catching Designs Made from Recycled Plastic Bottles
waterlust.com / @abamabam
The company sells a range of eco-friendly items like leggings, rash guards, and board shorts that are made using recycled post-consumer plastic bottles. There are currently 16 causes represented by distinct marine-life patterns, from whale shark research and invasive lionfish removal to sockeye salmon monitoring and abalone restoration.

One such organization is Get Inspired, a nonprofit that specializes in ocean restoration and environmental education. Get Inspired founder, marine biologist Nancy Caruso, says supporting on-the-ground efforts is one thing that sets Waterlust apart, like their apparel line that supports Get Inspired abalone restoration programs.
"All of us [conservation partners] are doing something," Caruso said. "We're not putting up exhibits and talking about it — although that is important — we're in the field."
Waterlust not only helps its conservation partners financially so they can continue their important work. It also helps them get the word out about what they're doing, whether that's through social media spotlights, photo and video projects, or the informative note card that comes with each piece of apparel.
"They're doing their part for sure, pushing the information out across all of their channels, and I think that's what makes them so interesting," Caruso said.
And then there are the clothes, which speak for themselves.
Advocate Apparel to Start Conversations About Conservation
waterlust.com / @oceanraysphotography
Waterlust's concept of "advocate apparel" encourages people to see getting dressed every day as an opportunity to not only express their individuality and style, but also to advance the conversation around marine science. By infusing science into clothing, people can visually represent species and ecosystems in need of advocacy — something that, more often than not, leads to a teaching moment.

"When people wear Waterlust gear, it's just a matter of time before somebody asks them about the bright, funky designs," said Waterlust's CEO, Patrick Rynne. "That moment is incredibly special, because it creates an intimate opportunity for the wearer to share what they've learned with another."
The idea for the company came to Rynne when he was a Ph.D. student in marine science.
"I was surrounded by incredible people that were discovering fascinating things but noticed that often their work wasn't reaching the general public in creative and engaging ways," he said. "That seemed like a missed opportunity with big implications."
Waterlust initially focused on conventional media, like film and photography, to promote ocean science, but the team quickly realized engagement on social media didn't translate to action or even knowledge sharing offscreen.
Rynne also saw the "in one ear, out the other" issue in the classroom — if students didn't repeatedly engage with the topics they learned, they'd quickly forget them.
"We decided that if we truly wanted to achieve our goal of bringing science into people's lives and have it stick, it would need to be through a process that is frequently repeated, fun, and functional," Rynne said. "That's when we thought about clothing."
Support Marine Research and Sustainability in Style
To date, Waterlust has sold tens of thousands of pieces of apparel in over 100 countries, and the interactions its products have sparked have had clear implications for furthering science communication.
For Caruso alone, it's led to opportunities to share her abalone restoration methods with communities far and wide.
"It moves my small little world of what I'm doing here in Orange County, California, across the entire globe," she said. "That's one of the beautiful things about our partnership."
Check out all of the different eco-conscious apparel options available from Waterlust to help promote ocean conservation.
Melissa Smith is an avid writer, scuba diver, backpacker, and all-around outdoor enthusiast. She graduated from the University of Florida with degrees in journalism and sustainable studies. Before joining EcoWatch, Melissa worked as the managing editor of Scuba Diving magazine and the communications manager of The Ocean Agency, a non-profit that's featured in the Emmy award-winning documentary Chasing Coral.
Denver will get 100 percent of its energy from renewable sources by 2030.
Robert Kash / Flickr
/ CC BY
2.0
Denver became the 73rd city in the U.S. to commit to 100 percent renewable energy when Mayor Michael Hancock announced the goal in his State of the City speech Monday, The Denver Post reported.
The commitment is part of the city's larger 80×50 Climate Action Plan unveiled by Hancock Tuesday, which seeks to reduce Denver's greenhouse gas emissions 80 percent from 2005 levels by the year 2050.
"Climate change threatens our people directly, putting our health, environment and economy—our very way of life—at risk," Hancock said, as reported by The Denver Post.
The plan calls for all municipal facilities to source their electricity from renewable sources like wind and solar by 2025 and for the city's entire electric grid to go renewable by 2030.
Denver first made its commitment to reducing emissions 80 percent of 2005 levels by 2050 in its 2015 Climate Action Plan. The current plan is the result of almost two years of discussion with experts and community stakeholders, Hancock wrote in a letter introducing the full text of the plan.
Hancock said that cities had a particular responsibility to act on climate change.
"Though cities account for only two percent of land globally, they are responsible for more than 70 percent of carbon emissions," he wrote.
Denver is not alone in its state in taking climate action seriously. In recent years, Colorado has emerged as a non-coastal leader in the fight against climate change. In April, Boulder and two counties in Colorado became the first inland municipalities to sue big oil over the cost of adapting to climate change, and in June, the entire state of Colorado became one of the few non-coastal states to choose to follow California's stricter vehicle emissions standards.
Denver is the 10th municipality in the state to adopt a 100 percent renewable energy goal, according to The Denver Post, but its Climate Action Plan goes beyond electricity and also sets goals for reducing emissions in buildings and transportation.
By 2050, the city hopes to make sure its fleets of taxis and light duty vehicles are 100 percent electric, its public transportation is 100 percent carbon-free and that 75 percent of freight trucks will use carbon-neutral fuel.
Building goals include making sure all new buildings emit net zero energy by 2035 and reducing the energy use of commercial buildings by 50 percent by 2050.
The plan also hopes to use the greening process as a way to make life better for all Denver residents.
"Low income families and other vulnerable communities who historically may have been excluded will be a central part of Denver's climate programs," Hancock wrote in the opening letter.
For example, the plan hopes to implement "100 percent low income community solar programs."
[email protected]

: 118 U.S. mayors endorse 100% renewable energy goals | @EcoWatch https://t.co/P5zS7awg0Y #climate… https://t.co/Gn38OozUWX

— climatehawk1 (@climatehawk1)1498361043.0
Green roof of the Denver Environmental Protection Agency. Denver Green Roof Initiative
Although the official tally is not in, the ballot initiative had 54 percent approval as of Thursday, signaling that the measure is headed towards victory. The vote will be certified on Nov. 24.
Initiative 300 creates a new building code that requires green roofs or solar panels for most buildings 25,000 square feet or larger that are constructed after Jan. 1, 2018.
The Associated Press noted that the measure is more stringent than other green roof mandates, as it requires many existing buildings to be retrofitted with green roofs when the old roof wears out. Older buildings that cannot support the load of a green roof can get an exemption.

"These required building improvements would significantly reduce long term operating costs by lowering energy consumption and increasing the longevity of a roof," the Denver Green Roof Initiative stated on its campaign website. "A green roof lasts 2-3 times as long as a traditional roof because the waterproofing membrane is protected from damage by the elements and workers by covering it with a growing medium and plants."
The measure did not have an easy road to passage. Denver Mayor Michael Hancock opposed the initiative over worries that it could drive up the costs of construction projects. Also, several Denver businesses spent $250,000 in an advertising push against the plan.
Department of Community Planning and Development spokeswoman Andrea Burns told the Denver Post in March that the department would prefer to give architects and engineers "the flexibility to design a roofing system that works best for their needs and their budgets."
Following the vote, however, Burns conceded to CBS4 that "it will be a little bit of work in the next few weeks, but green roofs are already possible in Denver. It's just a matter of making those agreements that are part of Initiative 300 work with our system now. We're going to make this work for the people of Denver."
The Denver Green Roof Initiative admits that green roofs cost about $15 more per square feet than a traditional black roof but pointed out that the green roof will pay for itself in about six years.

"Even though the extra cost would be offset in as soon as 6.2 years, most developers choose not to incorporate them because they build the building then sell it," the group said. "They don't see those energy and storm-water savings. They don't save the money from roof longevity. Yet they are still able to sell the building for more money with these improvements!! We believe that the developers of Denver could be doing more to negate their footprint in our beautiful city. We believe green roofs are the answer."
The initiative was endorsed by several green builders and environmental groups.
"Initiative I-300 will contribute to improving Denver's air quality, increasing the energy efficiency of its buildings, mitigating the urban heat island effect, managing storm water runoff, and creating habitat for pollinators and other insects," said Lauren Petrie, Food & Water Watch's Rocky Mountain Region Director. "We are dedicated to a more sustainable future in Denver and believe that passing this green roof initiative will be a vehicle for asserting our human desire for cleaner air and water, and cooler urban temperatures.
The Denver Green Roof Initiative stressed in a Facebook post Friday that even though Initiative 300 passed, there are still "tremendous hurdles to overcome due to push back from those in power."

"This is a battle won against climate but the war doesn't stop here," the post stated. "We must all get active and fight for our values, because we are stronger together. Thanks again for the overwhelming support. The citizens of Denver have a healthier, more sustainable future because of YOU!"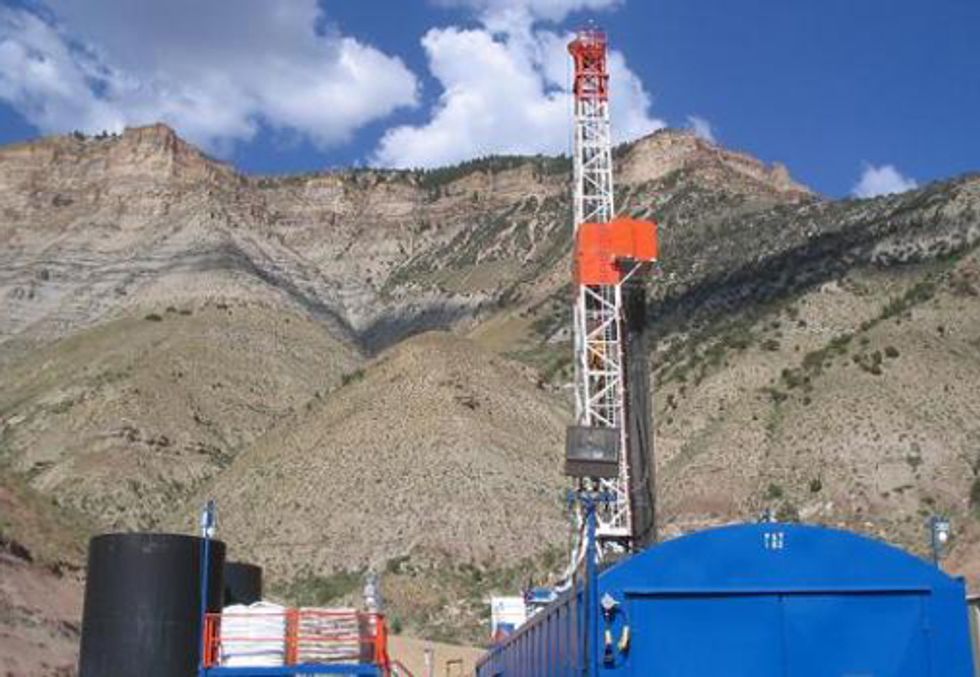 By Gary Wockner
First, the good—A few weeks ago, the state of Colorado passed the strongest rules in the U.S. for publicly disclosing what cancer-causing and other types of chemicals are used in oil and gas fracking. In a ground-breaking and intense set of negotiations between oil and gas companies and environmentalists, frackers are now forced to publicly disclose when they are fracking and what chemicals they use in fracking.
This disclosure gets at two very serious concerns posed by fracking. First, when fracking pollution occurs in groundwater, in streams, or on land, the public should be able to connect that pollution back to the fracking chemicals that caused it. Second, it will allow landowners to test their wells and groundwater prior to fracking, and then re-test after fracking to check for fracking pollution.
Importantly, the new rules substantively removed the "trade secret loophole" that was proposed in the original version of the rules that would have allowed frackers to not disclose the names of the chemicals in fracking fluids by saying those chemicals were "trade secrets." Led by attorneys from Earthjustice in Denver, the environmental community held its ground against this ridiculous exemption.
Thank you industry leaders, Gov. John Hickenlooper and environmentalists for passing these new rules.
Now for the bad—These new rules do nothing to stop or slow down fracking, do nothing to address the fracking pollution that's already occurred, and do nothing to directly protect water, land, wildlife or people from oil and gas pollution and fracking. These rules simply allow the cancer-causing chemicals to be named and tested for after the poisoning and pollution may have occurred.
Obviously, there's still a long way to go to protect Coloradans from fracking. What, at an absolute minimum, needs to happen next?
First, like the laws passed a few years ago to protect Coloradans from in situ leach uranium mining, oil and gas companies and frackers should be required to prove that they have not polluted or poisoned your property and should be required to pay for long-term groundwater monitoring. If a company is injecting cancer-causing chemicals into the ground on your property, why should you have to pay for the expensive groundwater and lab tests? Frackers should pay to prove that your land and water is clean and protected, not the other way around.
Second, the industry should be required to better manage fracking chemicals, drilling water and fracking wastes so that pollution and poisoning does not occur.
For example, in Weld County alone, which has more active oil and gas wells than any county in America (almost 18,000), public documents on the Colorado Oil and Gas Conservation Commission's (COGCC) website reveal that there have been more than 1,000 spill incident reports, more than 800 notice of alleged violations, and hundreds of public complaints associated with oil and gas drilling and fracking. Pollution and poisoning water and land are occurring—much of that due to mistakes that involve spilling frack fluids, improperly handling drilling wastes, and improperly lining waste ponds.
Third, far more mechanical integrity tests by state regulators should occur on drilling and fracking jobs in Colorado. Again, public COGCC documents reveal that of the nearly 18,000 wells in Weld County, there have only been 232 tests reported by state regulators to make sure the well casing is intact so that fracking chemicals cannot migrate back up the bore hole.
Fourth, the oil and gas industry needs to collect and publicly disclose the amount of water they use for drilling and fracking and the source of that water. All of Colorado has very serious water supply and river protection problems already—though likely in the billions of gallons per year, the amount of water used in fracking is still relatively unknown as is the source of that water as drilling and fracking continue to march across the landscape slurping up farm, city and river water.
Finally, the ugly—The director of COGCC has recently been quoted as saying that the "first line of defense" against the threat of drilling and fracking pollution is to maintain the "integrity of the wellbore" to make sure fracking chemicals do not migrate into groundwater.
I completely disagree.
The first line of defense against the threat of drilling and fracking pollution is to aggressively switch to a clean energy economy. Remember those words—"clean energy?" They were the two words most spoken by our previous pro-environment governor, Bill Ritter, but now are completely lost in the public debate. Windmills, solar panels, biofuels—remember all that?
Instead, the public debate has become insane. Billions of gallons of clean water are drained out of Colorado's endangered rivers every year in order to mix that water with cancer-causing fracking chemicals and then inject that toxic cocktail in the ground around our homes, schools and farms in order to extract non-renewable, global-warming-causing fossil fuels that are being burned at a faster and faster rate. But, insanely, the public debate at the state level is almost solely about making sure everyone knows the name of the cancer-causing fracking chemicals.
Colorado made a good start with its new fracking rules, but has a long way to go to stop our health, our economy and our state from really getting ugly.
For more information, click here.
—————

Gary Wockner, Ph.D., is director of Save the Poudre and Colorado program director for Clean Water Action in Fort Collins, Colorado.