The Trans-Pacific Partnership is a bad deal for our country and our climate—here's how we can stop it.
Climate
By Sarah Rasmussen
Right now, Congress is considering approving an international trade agreement that would lead to more fracking here in the U.S., more burning of rainforests for palm oil and fewer protections for American workers.
Activists rally to stop the TPP.SumOfUs / Flickr
That international trade agreement is the Trans-Pacific Partnership (TPP), which was negotiated in extreme secrecy.

But now there is a groundswell of opposition to the TPP, with hundreds of thousands of people speaking out. Both Hillary Clinton and Bernie Sanders already oppose it.
And if the Democratic Party opposes the TPP in its official platform, that may truly be the end of the road.

We can stop this destructive trade deal.
We told Congress to reject it and all the presidential candidates oppose it. Now we must tell the leadership of the Democratic Party to oppose the TPP in its official platform.
The TPP is not about trade. It's about giving global corporations even more loopholes to overcome democracy.

Companies like Exxon want the power to sue our government in order to eradicate environmental and labor protections that discourage their profits—and the TPP would expand this power.
This international trade pact was negotiated in extreme secrecy among Pacific Rim nations like the U.S., Canada, Mexico, Australia, Malaysia, Vietnam and Japan. Corporate executives were at the table, but environmental and labor groups were not—and of course, citizens of these countries had absolutely no say.
Just a few years ago, the TPP seemed like a done deal. But now it's floundering and looking less and less likely to pass thanks to grassroots organizing around the country. With your help, we can put it to bed once and for all.
Tell the Democratic Party: listen to the voice of the people and take a stand against the TPP.
EcoWatch Daily Newsletter
Since shale gas drilling began in Pennsylvania a decade ago, the PA Democratic Party has sought to tax and regulate drilling. That all changed on June 15 when the PA State Democratic Committee voted 115—81 to support a resolution calling for a moratorium on fracking.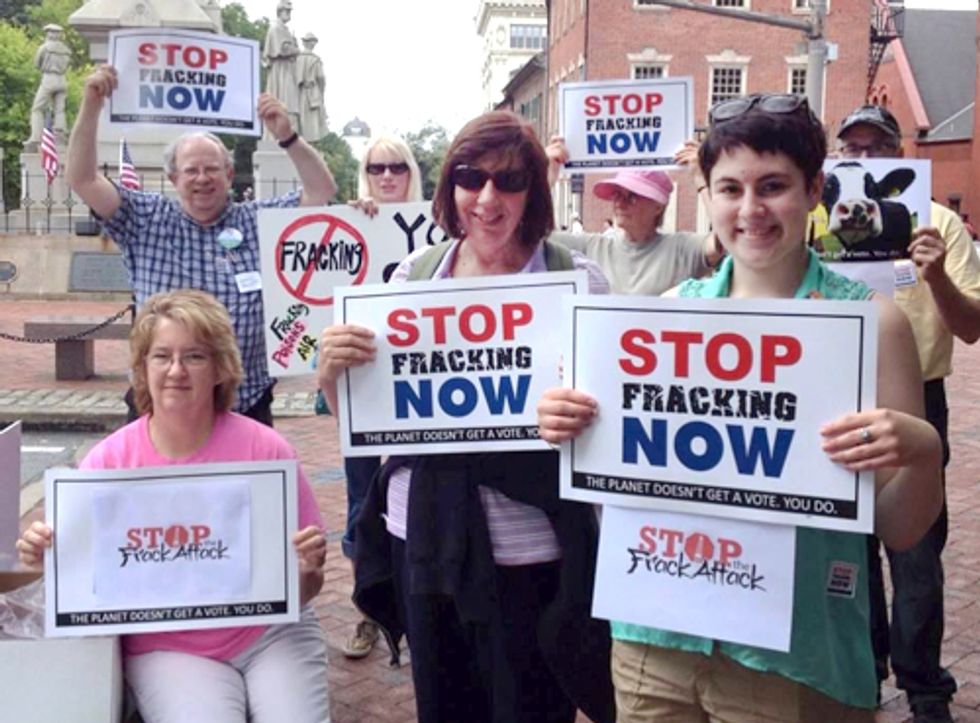 The resolution, drafted by Susan Lyons, a member of the Monroe County delegation, calls for a moratorium until fracking can be proven safe. A version of the resolution offered at the committee's last meeting was blocked from making it to the floor for a vote, so Berks Gas Truth, a grassroots community group, organized an action with co-sponsors Clean Water Action, Food & Water Watch, Gas Drilling Awareness Coalition, Lehigh Valley Gas Truth, Peach Bottom Concerned Citizens Group, Protecting Our Waters, Shale Justice and the United Sludge-Free Alliance to move the resolution forward.
"We really wanted the full committee to have an opportunity to weigh in on the resolution, but I don't think any of us expected to get it passed this time," said Karen Feridun, Berks Gas Truth's founder.
Members of Berks Gas Truth started planning to take action in May when they learned that the resolution would be up for consideration again in June. "We were discussing what we'd like to do for Stop the Frack Attack's National Month of Action when our Patti Rose realized that the Dems meeting was being held mid-month. The timing was perfect," said Feridun.
The group started by promoting the action online, inviting people to participate in conference calls where the plans were explained. The organizers encouraged registered Democrats to attend all of the sessions, meetings and social events, handing out buttons and literature. All others would protest in Lancaster's Penn Square directly across from the Lancaster Convention Center.
"We provided people with the list of committee members and told them to start calling. We told registered Dems to be sure to ask to be proxies for those who planned to miss the meeting. Proxies can not only vote, they can speak from the floor," explained Feridun who was herself a proxy, as was the Shale Justice Coalition's Wendy Lynne Lee.
"People were lining up proxies. Some even changed parties just to attend the meetings. Several people I spoke with were learning for the first time that there's such a thing as a state Democratic committee out there to lobby," says Feridun.
The committee's 59 percent to 41 percent vote mirrors the results of a recent poll by the Center for Local, State and Urban Policy at the University of Michigan, in conjunction with the Muhlenberg College Institute of Public Opinion in which nearly two-thirds of Pennsylvanians supported a moratorium on fracking. Two weeks earlier, environmental organizations led by PennEnvironment delivered 100,000 petition signatures calling for a moratorium to Gov. Corbett (R-PA). Sen. Ferlo (D-PA) announced that day that he is introducing a moratorium bill. Five Democratic legislators have signed on so far.
Most who spoke from the floor prior to the vote spoke in favor of the resolution. Rosie Skomitz, a member of the Berks Delegation and an active member of Berks Gas Truth, challenged the party to take a firm stand against fracking and pointed out that a Democratic senator was introducing a moratorium bill that had already picked up five Democratic co-sponsors.
One of the members to express her opposition was Vice-Chair Penny Gerber who said, "This bill (sic) as it currently stands says it is a moratorium on hydraulic fracturing, but it specifies that the moratorium will last until the practice can be done safely. Because no set period of time is provided it truly is a ban on fracking, and this is a thriving industry. It is for that reason I cannot support this bill (sic)." Incidentally, Gerber works as an associate for Ceisler Media & Advocacy whose clients include Chesapeake Energy, Reliant Energy and Spectra Energy.
"When I heard Gerber make the point that a moratorium until fracking can be done safely is in effect a ban, I thought, 'Right! That's our point exactly! It can never be proven safe!'" said Feridun
Visit EcoWatch's FRACKING page for more related news on this topic.
——–

Sign the petition today, telling President Obama to enact an immediate fracking moratorium:

Like many other plant-based foods and products, CBD oil is one dietary supplement where "organic" labels are very important to consumers. However, there are little to no regulations within the hemp industry when it comes to deeming a product as organic, which makes it increasingly difficult for shoppers to find the best CBD oil products available on the market.
<p>Here you can learn about the importance of organic hemp oil, why it's better for the environment, and which CBD companies actually make trustworthy products with sustainable farming processes. origins which weigh heavily on many consumers who want to buy a product that's produced in the best way possible for not only themselves to ingest, but for the environment as well through sustainable farming methods. </p><h2>What Is CBD Oil?</h2><p>First things first, CBD stands for cannabidiol, and it's a cannabinoid found within cannabis sativa plants. This plant compound is believed to have many potential benefits, and it is primarily derived from hemp plants via a CO2 extraction process. </p><p>Since CBD is extracted from industrial hemp, which contains only trace amounts of THC (the psychoactive component in cannabis plants), this means that CBD won't make you feel high like marijuana, which has much higher levels of THC that causes psychoactive effects. Instead, the effects of CBD are much more subtle and promote a general sense of calm and relaxation in most users.</p><h2>What Makes a CBD Oil Organic?</h2><p>In terms of organic labels, perhaps the most important (and prominent) certification comes from the United States Department of Agriculture (USDA). This government organization has been labeling foods as "organic" for many years, but what exactly does this certification entail? Essentially, a label indicating that a product is "USDA Organic" or "Certified Organic" means that at least 95% of the ingredients are obtained from organic sources.</p><p>For a crop to be considered organic by the USDA, it must be grown without the use of industrial solvents, irradiation, genetic engineering (GMOs), synthetic pesticides, or chemical fertilizer. Instead, farmers rely on natural substances and <a href="https://www.usda.gov/media/blog/2012/03/22/organic-101-what-usda-organic-label-means" rel="noopener noreferrer" target="_blank">mechanical, physical, or biologically based farming</a> techniques to cultivate healthy and organic crops.</p><p>Before the passage of the 2018 Farm Bill, no hemp-derived products could be dubbed as "certified organic" since the hemp plant and its extracts were still categorized as a Schedule I Controlled Substance. However, it's still difficult for CBD companies to obtain a USDA certified organic label for their products due to the legal grey area that still surrounds CBD extracts. </p><p>Because of these challenges, and due to the fact that industrial hemp has only recently become an agricultural crop, very few CBD oils are USDA certified organic. Rather, many CBD products contain hemp extracts from plants that were grown in organic conditions but may not be federally certified.</p><h2>What are the Best Organic CBD Oil Brands?</h2><p><em>Each product featured here has been independently selected by the writer. If you make a purchase using the links included, we may earn commission.</em></p><em><br></em>