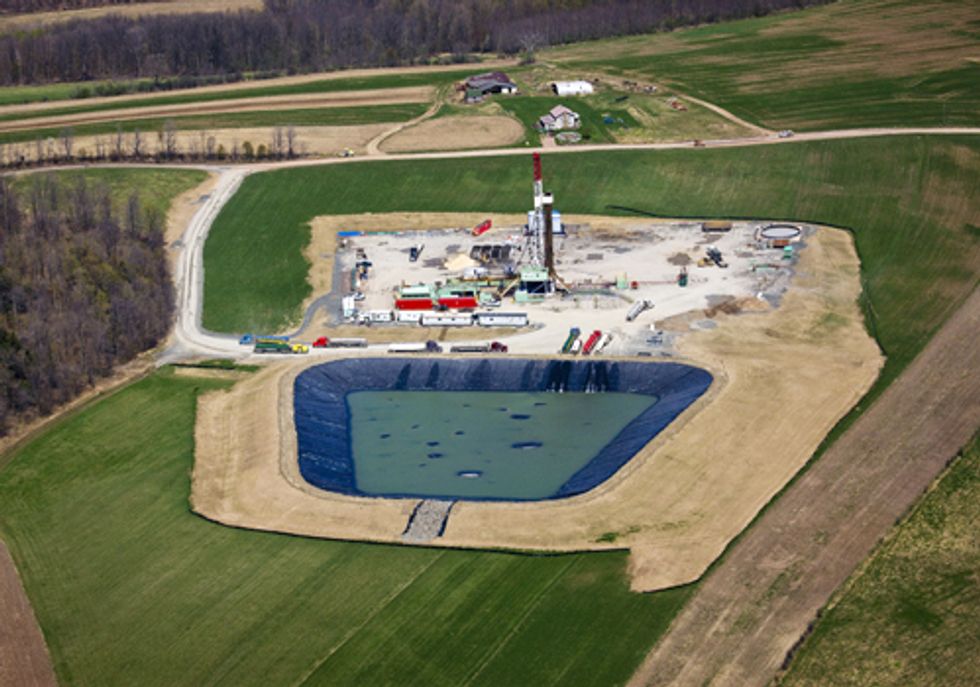 On Feb. 7 in the Senate and Feb. 8 in the House, the Pennsylvania legislature voted in favor of HB 1950, a compromise gas development bill that was hammered out behind closed doors under the heavy hand of Gov. Tom Corbett. Under the guise of providing "impact fees" to municipalities where gas operations occur, the legislature effectively supported a takeover of municipalities by the state and the gas industry by gutting established and effective local planning and zoning rights.
Through provisions contained in the bill, municipalities will no longer be able to play a central, critical role in protecting the health, safety, and welfare of residents and determining which uses of land are most beneficial.
The bill requires that all types of oil and gas operations (except for natural gas processing plants)—unlike any other commercial or industrial business—be allowed in all zoning districts, even in residential neighborhoods and near schools, parks, hospitals and sensitive natural and cultural resource protection areas. As a result, people could be forced to live only 300 feet away from a gas well, open frack waste pit, or pipeline, despite growing evidence that such development causes pollution, damages health, and lowers property values.
The bill also mandates a one-size-fits-all ordinance that supersedes all existing ordinances and prevents municipalities from adopting any zoning provisions that are stricter than the weak, mandated standards.
"The Pennsylvania legislature has let the gas industry take over, despite the terrible consequences that drilling is having in communities across the Commonwealth. This so-called impact fee bill brings no net fiscal gain to Pennsylvania residents; it robs us of the ability to protect what is most locally valuable—our health, safety and resources—and gives gas operators the right to run all over our communities. This is unjust and exposes the true allegiances of the bill's supporters—self-interested gas developers and their backers," said Maya van Rossum, the Delaware Riverkeeper.
 
"Today, many legislators and Gov. Corbett told Pennsylvania residents that protecting their health and rights matters far less to them than the gas industry's demands," said Nadia Steinzor, Marcellus regional organizer for Earthworks' Oil and Gas Accountability Project. "They and other supporters of this bill turned a blind eye on the widespread damage caused by drilling and a deaf ear to calls from citizens for change, while doing the bidding of companies that want to drill anywhere, anytime."
"If legislators were looking to pass a proposal that will allow more gas drilling near people's homes, and the parks, playgrounds and schools where our children play and spend their days, then 'Mission Accomplished,'" said Erika Staaf of PennEnvironment. "Sadly, this is just one more case of powerful interests dominating the political process, and the lack of leadership on both sides of the aisle to do anything about it."
"A poorly-regulated gas industry will be able to drill in residential neighborhoods, bringing thousands of gallons of toxic chemicals, thousands of tractor trailers, round the clock noisy, polluting drilling, all as little as a football field away from homes, day care centers, and playgrounds," said Jeff Schmidt, director of Sierra Club's Pennsylvania Chapter. "The legislators who voted in favor of HB 1950 have abandoned any pretense that they are acting in the public interest. We will make sure the public knows who sided with the drillers and who sided with citizens when they go to the polls for this year's elections."
"This bill represents a huge step backwards in protection for Pennsylvania towns and the environment," said Myron Arnowitt, Pennsylvania State director for Clean Water Action. "The state override of local zoning ordinances will greatly increase the threats to communities from all aspects of gas extraction. Never before has one industry been given full rights to do as they please, without recognizing the needs of other businesses, residents and our environment. 2012 is an election year, and we will be devoting our energy to ensuring that the voters of Pennsylvania are aware of which legislators voted to give away our control over an industry that has contaminated our air, land and water."
"The legislators who voted for HB 1950 made a short-sighted decision that puts the health and safety of Pennsylvania's communities at risk," said Josh McNeil, executive director of Conservation Voters of Pennsylvania. "They voted against the interests of their constituents and should expect those constituents to return the favor in the November election."
For more information, click here.
EcoWatch Daily Newsletter
The Army Corps announced $16.86 million for Delaware River deepening project using a "slush" fund created to circumvent the ban on earmarks passed last year.  Environmental and community advocates cried foul—pointing out that the Army Corps chose this path to fund the deepening because it cannot honestly demonstrate the project meets minimum guidelines generally used to make taxpayer funding decisions.
"This is the ugliest example of political manipulation we have ever seen regarding this project—facts, law and good policy have been thrown out the window to serve the political whims of Sens. Casey and Toomey," said Maya van Rossum, the Delaware Riverkeeper. "This project is an economic loser, is unnecessary for the ports, and inflicts major environmental and community harm. The project is still hundreds of millions of dollars shy of what is needed to complete it. In short, the project is an embarrassment and waste of money, and we will continue to work to stop it now," van Rossum said.
"If this were a project worth $16.9 million, the private sector would find the $16.9 million to make it happen. In an era when the country is in major deficit, we should not be spending any taxpayer funds on projects that are known to be a loser, not a project that will choke the Delaware Estuary," said Brady Russell, Eastern Pa. director, Clean Water Action.
"This is blood money. They are taking money from the tax payers to try to destroy our river and estuary. The Delaware deepening will cause irreparable harm to the Delaware River, the aquifer, and the people of South Jersey. Instead of using this money to protect our drinking water and the environment it is being used to destroy it," said Jeff Tittel, director of the New Jersey Sierra Club. "This is an outrageous abuse of governmental process."
"The Delaware River deepening is a major threat to the Delaware River, including the fish, shellfish and wildlife that today are needed to provide healthy food and hundreds of millions of dollars a year supporting income and jobs. The Army Corps' own documents, when investigated by experts, demonstrate that the Delaware River deepening is not needed to support the ports of the region, will not result in increased goods coming to the region, does not meet basic criteria used to guide taxpayer funding decisions, and will likely lose money for every dollar invested in the project. It is stunning that in today's economic climate an unsubstantiated claim for port jobs is allowed to justify a $300 million dollar expenditure in a project that will harm family supporting river jobs in existence today," said Delaware Riverkeeper van Rossum. "It is disturbing that false and undocumented claims of jobs are allowed to rob families who depend upon a healthy river and bay for their livelihood, like fishermen and oystermen, simply because they don't have the same political sway as the industry groups, the army corps and the ports pushing this wasteful and environmentally harmful project forward."
For more information, click here.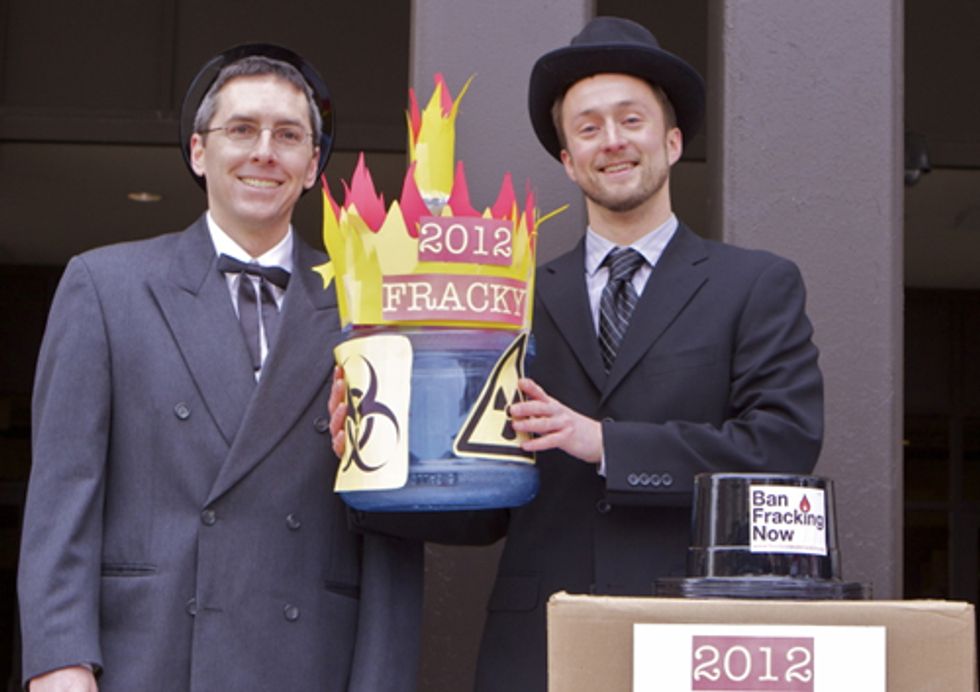 Activists protested one of several planned regional workshops by the American Petroleum Institute in Trenton, N.J., on Feb. 8 countering the oil and gas industry association's event discussing the development of hydraulic fracturing (fracking) with a recommendation of their own—ban fracking entirely. Protestors handed media and passersby "swag bags" filled with information on the risks associated with fracking and staged an award ceremony for the Frackies.
 
"It's awards season, and what better way to protest this elite gathering than with a riff off of another elite event—the Oscars," said Jim Walsh, eastern region director of Food & Water Watch. "If there were an award for destroying rural communities and endangering drinking water supplies, it would certainly go to the American Petroleum Institute, which uses its clout to spread disinformation about the dirty, polluting practice."
 
The event took place near the New Jersey Statehouse, where on Feb. 9 the Senate Environment Committee is expected to vote on a bill to permanently ban fracking in New Jersey before the temporary moratorium is lifted in January 2013.
"These petroleum industry representatives should know that New Jersey has prevented fracking because of grave concerns about the pollution to our drinking water and communities, so they may as well go home. We regret that we cannot give out awards for clean and sustainable energy today and that we must recognize the American Petroleum Institute for its disgraceful failure in making drillers publicly accountable and law-abiding. In Pennsylvania alone, the state reports that as fracking races ahead, drillers commit 12 violations per day of environmental permits, adding up to thousands of pollution incidents each year," said Tracy Carluccio, deputy director, Delaware Riverkeeper Network.
The nominees for the Fracky were New Jersey Gov. Chris Christie, El Paso Pipeline Company, Cabot Oil & Gas, Representative Andy Harris (R-MD), and the American Petroleum Institute. Each nominee was chosen because of some practice that protesters found seriously objectionable.
 
"We are here especially to announce the Fracky nomination for El Paso, the parent company of Tenneco Natural Gas and surviving part of Enron. Their proposed pipeline will be supporting and encouraging fracking that will threaten our water supply. They will be running a pipeline through the most environmentally sensitive area of New Jersey. The pipeline will go through the Delaware Water Gap, Wallkill, Newark and Pequannock water shed and drilling right through the Monksville Reservoir. Along the way it will be cutting an ugly scar through the Highlands and dozens of parks and open space areas. They are attacking our water supply through both fracking and this pipeline," said Jeff Tittel, director of the New Jersey Sierra Club.
The eventual winner of the Fracky was the American Petroleum Institute for what activists referred to as "spinning the benefits of fracking so hard that some people actually believe that gas is a bridge fuel to renewables." Gov. Christie was nominated for a Fracky for saving the fracking industry from the first statewide attempt to ban fracking when he issued a conditional veto last August.
Organizations participating in the 2012 Fracky Awards include Food & Water Watch, Delaware Riverkeeper Network, New Jersey Sierra Club, New Jersey Environmental Federation and 350.org.
For more information, click here.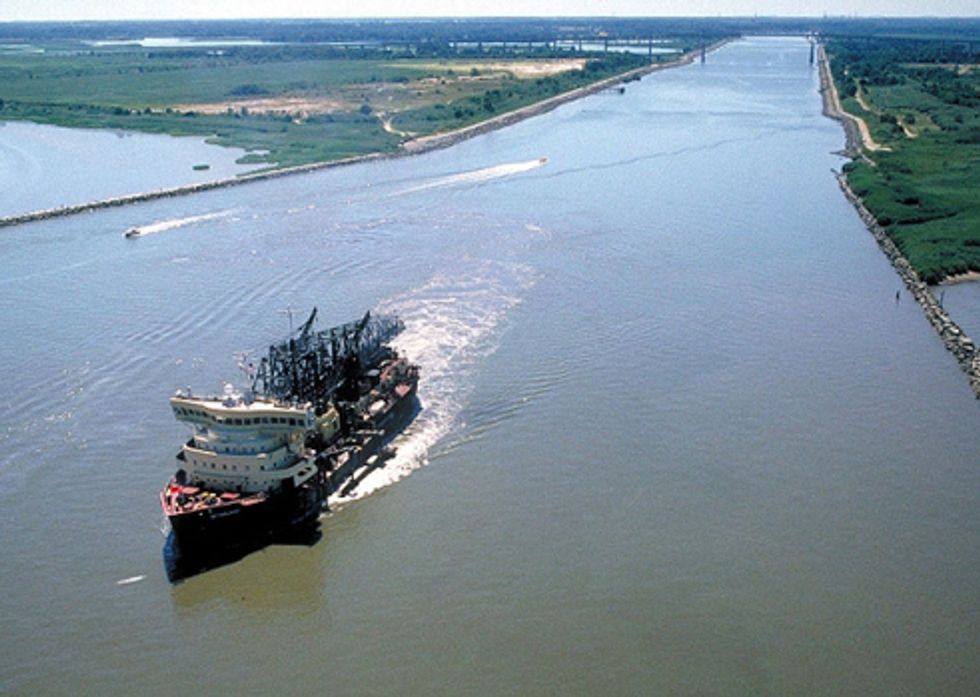 Responding to renewed economic claims for deepening the Delaware River, a coalition of taxpayer, community and environmental organizations issued a new independent analysis they say proves once again that the deepening project is an economic loser. The groups issued the analysis and an accompanying report titled Army Corps Cooks the Books Again, in response to a May 2011 analysis issued by the Army Corps of Engineers. (A copy of the reports can be obtained at www.delawareriverkeeper.org.)
"The Army Corps once again tried to mislead Congress and the public about the deepening project—a renewed analysis by Dr. Bob Stearns clearly demonstrates how the Army Corps manipulated their calculations so as to present a false picture for the project," said Maya van Rossum, the Delaware Riverkeeper. "The inappropriate calculation was not hard to find. The corps' own report provides the analysis and numbers. Without deepening, shippers will use the feeder port approach which is far cheaper than trucking, and when all matters are considered, is also cheaper than deepening. The corps' assessment pretends that without deepening, shippers would use the far more expensive trucking option to get goods to the Philadelphia area markets. But the corps' own practices and procedures make clear that the shipping alternative is the best alternative and the one that would be selected, thereby supporting and encouraging port jobs without the need for a nearly $300 million, environmentally devastating deepening project."
According to the new Cooked the Books report, correction of the shipping vs. trucking error alone reduces the benefit-cost ratio for the project to, at best 1.1 (or to below 1 to 1, depending on a shipping diversion assumption)—far below the 1.64 claimed by the Army Corps' May 2011 report. Supplemental information in the report provided by the coalition of organizations identifies a number of additional errors they say, when included in the calculation, revive the Government Accountability Office (GAO) finding that deepening would provide less than a dollar of benefit for every $1 of cost paid for by the taxpayers.
"The corps' economic analysis deserves to be on a Chinese menu under twice-cooked pork. The errors were too obvious and too basic to be a mistake," says Steve Ellis, vice president of Taxpayers for Common Sense. "But more importantly, the new report is being used to justify renewed funding for a project that doesn't meet the federal government's basic criteria for ensuring tax dollars are invested only in those projects that will generate clear economic value for the country."
"This new economic analysis makes it clear that the Delaware River Deepening project is an economic looser, which poses substantial environmental risks. The Army Corps needs to take a hard look at its project review practices if projects like this, that don't meet the corps' own basic economic standards, are getting the green light," asserts George Sorvalis, coordinator with the Water Protection Network.
In a report issued in April 2010, the GAO issued its third challenge to the reliability and accuracy of the Army Corps economic claims for deepening (the first GAO report being issued in 2002, the second challenge in the form of Congressional testimony given in 2006). The Army Corps 2011 report was issued in apparent response to the less than glowing GAO 2010 report. The May 2011 Army Corps analysis was its 8th economic analysis of the deepening. "But no one ever learned of this report or got an opportunity to review it until we secured the report through a Freedom of Information Act request," says van Rossum. "As soon as we received a copy we pursued an independent review of its claims. We think our findings clearly demonstrate why the Army Corps felt the need to keep this newest analysis an apparent secret—because it's clear that once again they cooked the books, a practice far too common with the Army Corps and one that demeans the entire federal government."
"With the nation staring into a $15 trillion chasm of debt and Congress looking for deficit reduction, there is no place in the budget for this boondoggle," says Ellis. "For years, the Delaware River Deepening survived on a steady diet of parochial earmarks. The current earmark moratorium provides Congress the perfect opportunity to stop wasting tax dollars on this economic loser."
 
For more information, click here.
—————
 
The Delaware Riverkeeper Network (DRN) champions the rights of our communities to a Delaware River and tributary streams that are free-flowing, clean and healthy. Founded in 1988, the Delaware Riverkeeper Network is a grassroots advocacy organization that works throughout the four states of the Delaware River watershed. Through independent advocacy, and the use of accurate facts, science and law, DRN works to ensure the rich and healthy future that can only exist with a clean, healthy and free flowing river system. The Delaware Riverkeeper Network is unique in that it is founded upon the expectation of personal and community responsibility for river protection, as personified by the Delaware Riverkeeper.
 
Taxpayers for Common Sense (TCS) is a non-partisan budget watchdog that has fought for fiscal responsibility in Washington for more than 15 years—working with Democrats and Republicans, and groups on the right and the left. TCS is best known for its campaign against spending "earmarks" and as the original whistle-blower on the "Bridge to Nowhere"—a proposed $380 million Alaskan bridge that became an infamous example of federal waste.
 
Water Protection Network (formerly Corps Reform Network), a coalition of hundreds of organizations from around the country, works to ensure water projects and policies are economically and environmentally sound.