This website uses cookies to ensure you get the best experience while browsing it. By clicking 'Got It' you're accepting these terms.


The best of EcoWatch, right in your inbox. Sign up for our email newsletter!
Seismic airgun blasting has been proposed within the same main range of imperiled North Atlantic right whales. NOAA
A coalition of attorneys general from nine states added their clout to a South Carolina-based lawsuit against the Trump administration to block seismic airgun blasting off the Atlantic coast.
Democratic attorneys general from Maryland, Virginia, North Carolina, South Carolina, Massachusetts, Delaware, Connecticut, New Jersey and New York filed a motion on Thursday to intervene in a lawsuit filed earlier this month by several conservation groups and South Carolina coastal communities.
While Ohio has disappointingly become the first state to roll back renewable energy mandates and ALEC continues to attack renewable energy policies to keep America addicted to fossil fuels, there remains plenty of encouraging news on renewable energy growth. Consider this: U.S. solar electric power tripled between 2011 and 2013, and solar photovoltaic capacity has increased more than 120-fold in the last 10 years.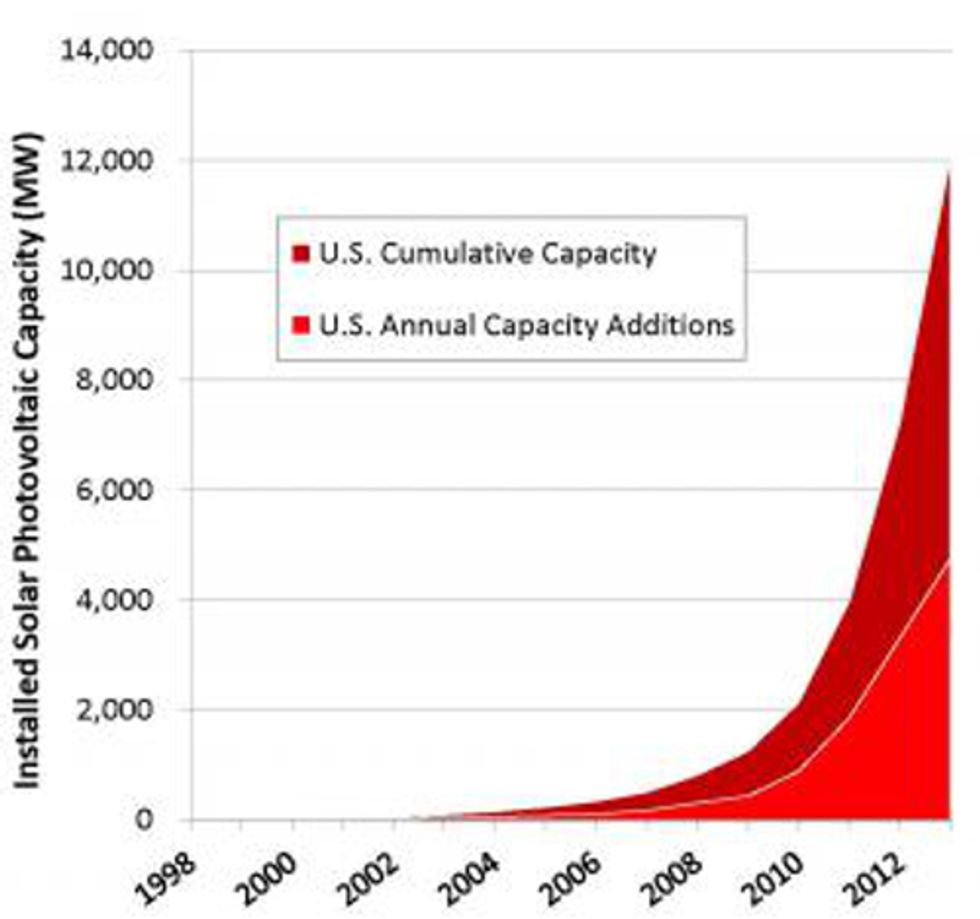 Cumulative U.S. Grid-Connected Solar Photovoltaic Capacity
In fact, the U.S. solar industry had a record-shattering year in 2013. A report released today by Environment America, Lighting the Way: The Top Ten States that Helped Drive America's Solar Energy Boom in 2013, takes a look at the 10 states responsible for 87 percent of that growth. They are:
1. Arizona
2. California
3. Colorado
4. Delaware
5. Hawaii
6. Massachusetts
7. Nevada
8. New Jersey
9. New Mexico
10. North Carolina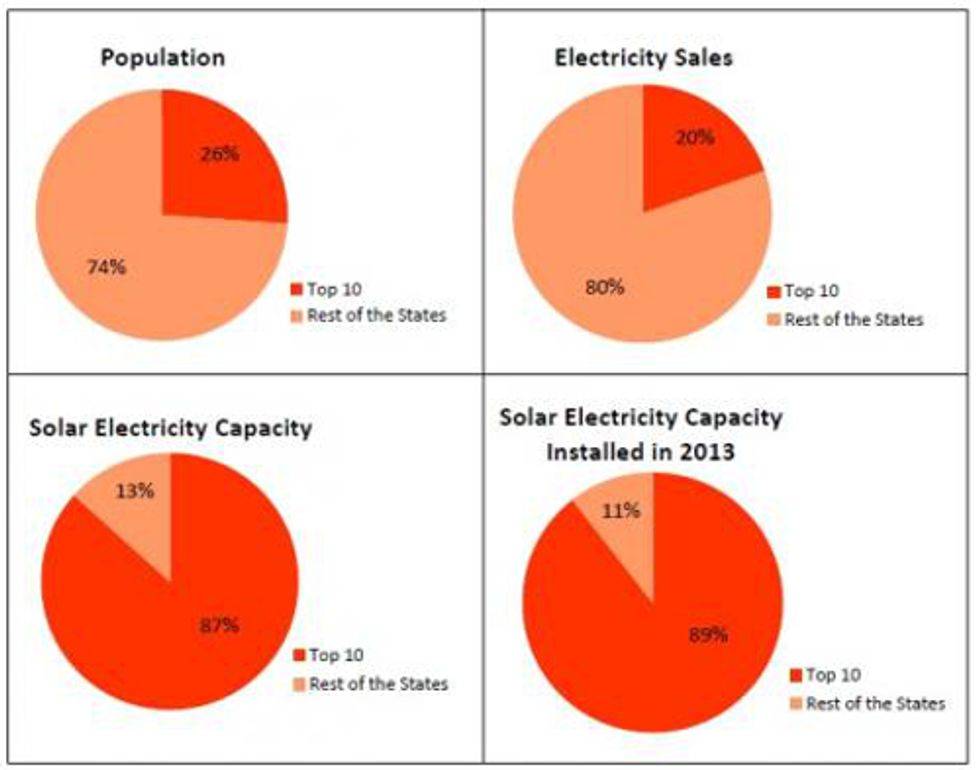 Solar Energy in the Top 10 Solar States versus the Rest of the U.S.
"Solar energy is emerging as a go-to energy option," said Rob Sargent, energy program director with Environment America. "Thanks to the commitment of state and federal leaders, this pollution-free energy option is poised to play a major role in helping us meet our energy needs while achieving our emission reduction goals; including the targets in EPA's recently proposed Clean Power Plan."
The report reaffirms that it is not sunlight availability that makes states solar leaders, rather the degree to which local and state governments utilize effective public policy for the development of the solar industry. States with more homeowners and businesses going solar had these strong policies in common:        
Nine have strong net metering policies. In nearly all of the leading states, consumers are compensated at the full retail rate for the excess electricity they supply to the grid.

Nine have strong statewide interconnection policies. Good interconnection policies reduce the time and hassle required for individuals and companies to connect solar energy systems to the grid.

All have renewable electricity standards that set minimum requirements for the share of a utility's electricity that must come from renewable sources, and eight of them have solar carve-outs that set specific targets for solar or other forms of clean, distributed electricity.

Nine allow for creative financing options such as third-party power purchase agreements, and eight allow Property Assessed Clean Energy (PACE) financing.

States in the top 10 are far more likely to have each of these key solar policies in place than other states, reinforcing the conclusion of U.S. Department of Energy research linking the presence of key solar policies to increases in solar energy deployment.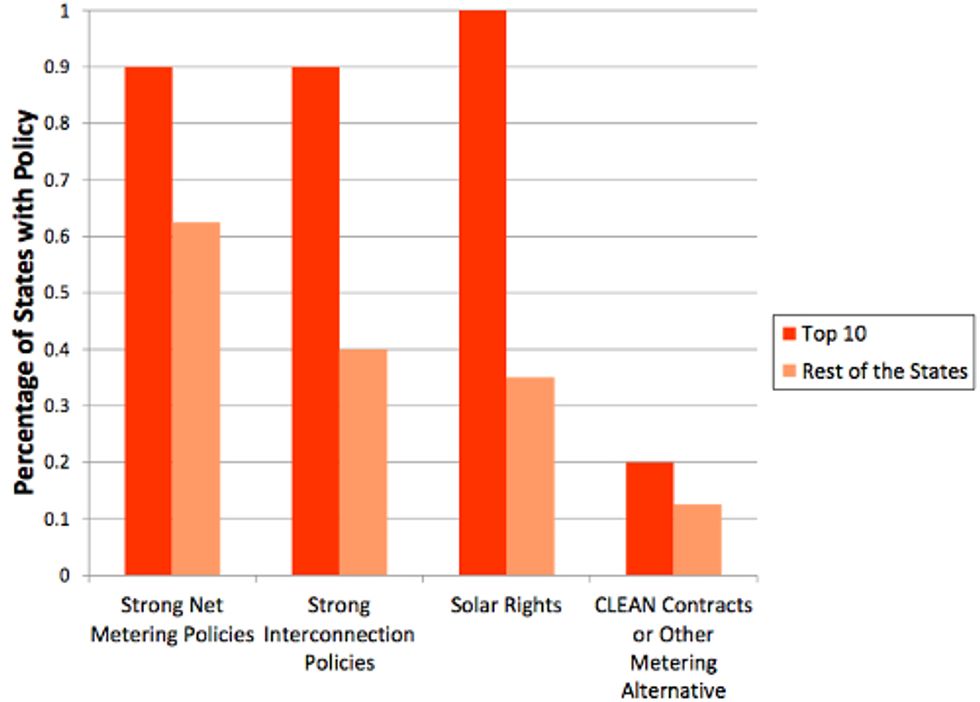 Prevalence of Market Preparation Policies, Top 10 States versus Others
"Environment America's new report rightly points out that smart public policies have been key to the development of clean, renewable solar energy–and the accompanying 143,000 America jobs and nearly $15 billion in annual investment," said Rhone Resch, president and CEO of the Solar Energy Industries Association (SEIA). "The 14,800 megawatts (MW) of solar currently installed in the United States can generate enough pollution-free electricity to displace 18 billion pounds of coal–that's a win for state economies, Americans' health and our environment. We applaud the 10 states detailed in this report and urge policymakers across the nation to look at net metering and renewable energy standards in helping their states catch the solar wave as well."
By following the example of these 10 states, the report concludes, the U.S. can work toward getting 10 percent or more of our energy from solar power by 2030.
You Might Also Like
How Solar Energy Beats Nuclear Power on Earth and in Space
Solar Industry's Sizzling Start to New Year Could Lead to More Broken Records
German Solar Experience Offers Critical 'Lessons Learned' for America
EcoWatch Daily Newsletter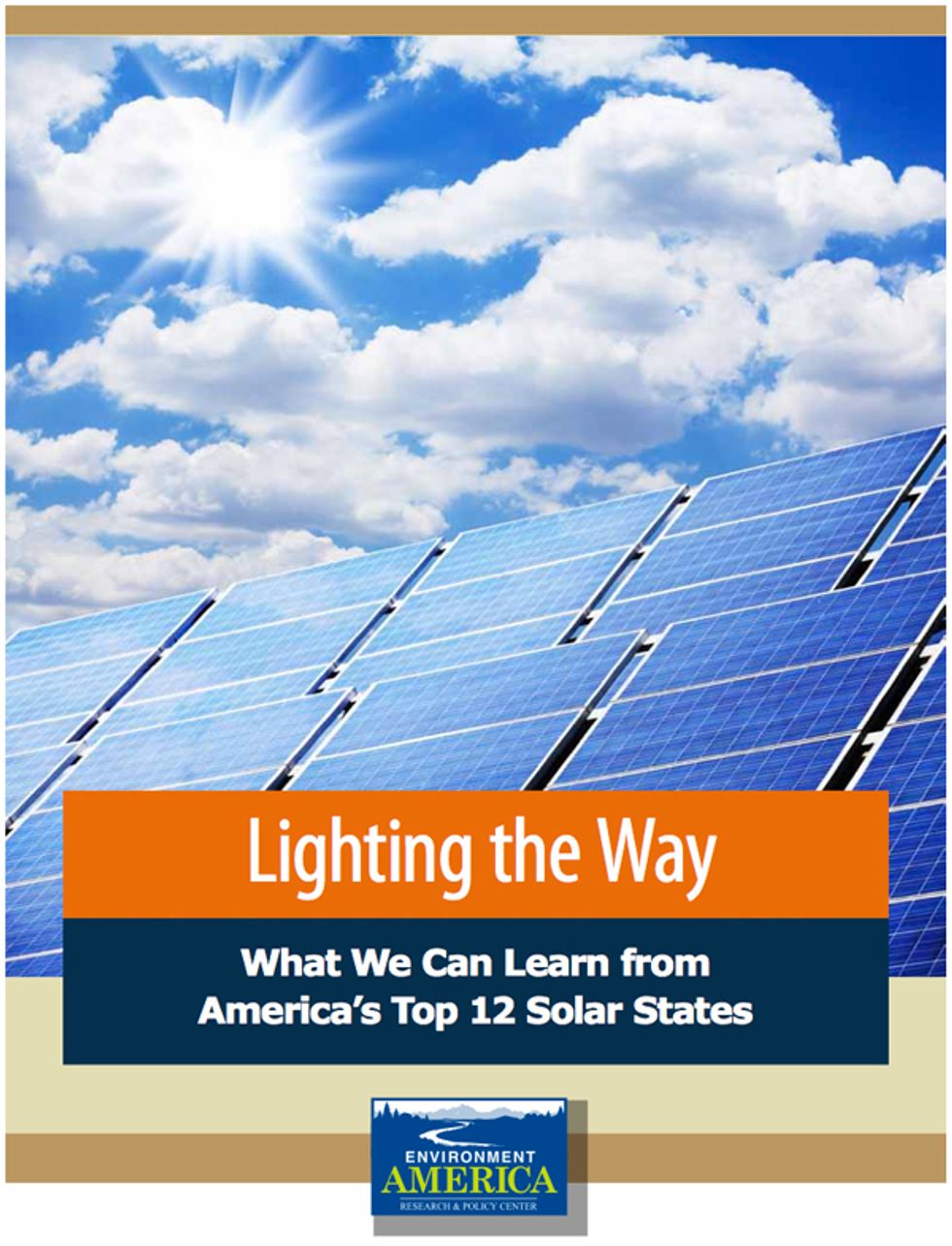 Environment America Research & Policy Center just released Lighting the Way: What We Can Learn from America's Top 12 Solar States, a new report highlighting a solar energy boom across the country. The top 12 solar states ranked by per capita solar are: Arizona, Nevada, Hawaii, New Jersey, New Mexico, California, Delaware, Colorado, Vermont, Massachusetts, North Carolina and Maryland.
"The sky's the limit on solar energy," said Rob Sargent, energy program director with Environment America. "The progress of these states should give us the confidence that we can do much more. Being a leader in pollution-free solar energy means setting big goals and backing them up with good policies."
The report emphasizes that it is not availability of sunlight that makes states solar leaders, but the degree to which state and local governments have created effective public policy for the development of the solar industry. States with more homeowners and businesses "going solar" share these strong policies:
Eleven of the 12 leading states have strong net metering policies, which allow customers to offset their electric bills with onsite solar and receive reliable and fair compensation for the excess electricity they provide to the grid.
Eleven of the 12 states have renewable electricity standards, requiring utilities to provide a minimum amount of their power from renewable sources; and nine of them have solar carve outs, which set specific targets for solar or other forms of clean onsite power.
Ten of the 12 have strong statewide interconnection policies. Interconnection policies reduce the time and hassle required for individuals and companies to connect solar energy systems to the grid.
The majority of the top solar states allow for creative financing options such as third-party power purchase agreements and property assessed clean energy, also known as PACE, financing.
Strong commitment shows among the elected officials of leading solar states.
"Encouraging solar power is the right thing to do for the environment and our economy," said Delaware Gov. Jack Markell. "We are aggressively working toward a clean energy future in Delaware, demonstrating we can have both a strong economy and a healthy environment. That means creating a robust market for solar and other clean energy systems, creating clean energy jobs, expanding our solar industry and improving air quality by reducing our dependence on fossil fuels."
"Building our state's solar market is a top priority in Maryland. Our renewable energy portfolio standard and energy consumption reduction goals are among the most aggressive in the country," said Gov. O'Malley. "Today, we have more than 1,410 times more solar on our state's grid and 2,000 more solar installation jobs than in 2007. Together, we can create a more sustainable future for generations to come."
"Environment America's ranking of Hawaii as a leader in solar energy is encouraging and demonstrates our state's commitment to achieving its clean energy goals," said Hawaii's Gov. Neil Abercrombie. "Continuing our momentum, I recently enacted legislation to establish Hawaii's innovative Green Energy Market Securitization (GEMS) program, which will provide a financing model to make clean energy improvements more affordable and within reach to underserved members of our community. This includes small businesses, nonprofits, community organizations and individuals. Utilizing all facets of our diverse renewable energy landscape is key, and we are succeeding in removing barriers to allow a greater segment of our community to invest in and benefit from clean, alternative resources such as solar."
"Vermont is putting solar power to work and is leading the way to a clean energy future that tackles the threat of climate change while growing jobs and the economy," Vermont Gov. Peter Shumlin said. "We have more than doubled our solar energy in the last two and a half years, but we know our work is not done. We plan to keep Vermont at the forefront of this energy revolution."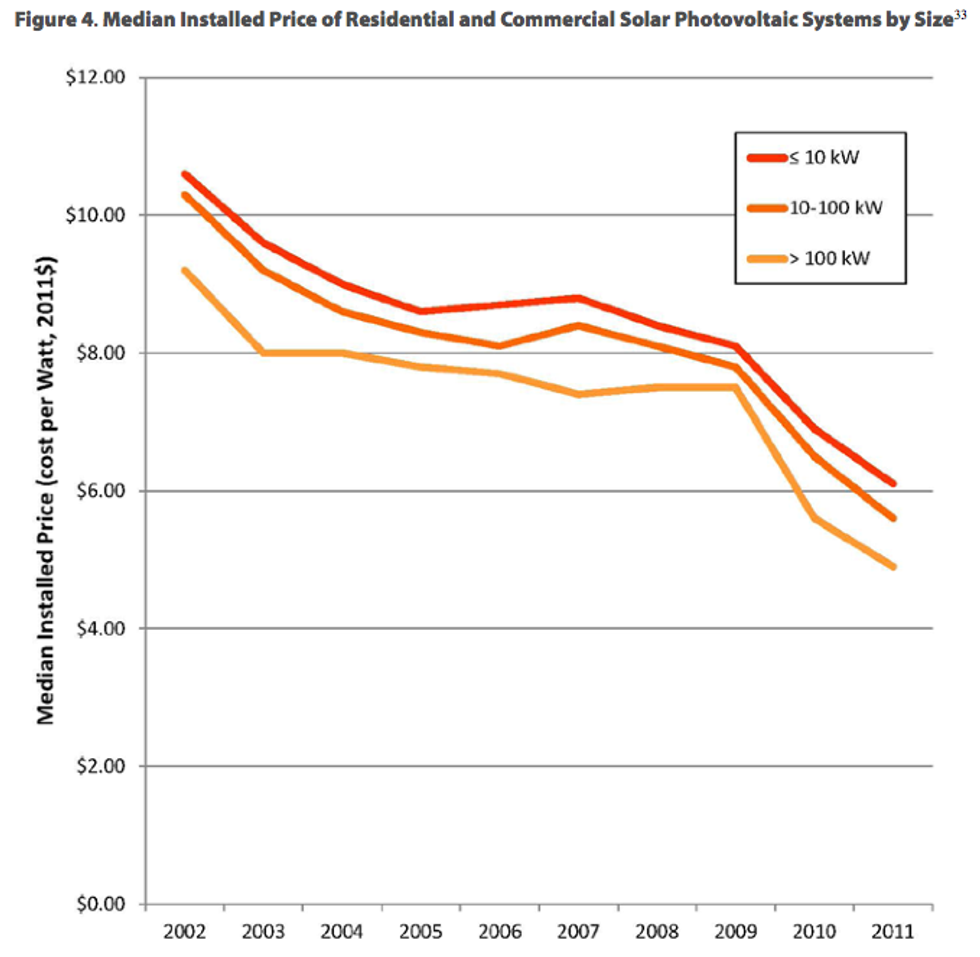 Solar is on the rise across the country. According to the U.S. Solar Market Insight: 2012 Year-in-Review report by the Solar Energy Industries Association (SEIA) and GTM Research, America had more than three times as much solar capacity as it did in 2010, and more than 10 times as much as it did in 2007. To boot, SEIA also found that the price to install a solar system fell by 26 percent in 2012.
Rhone Resch, president and CEO of SEIA, underlined the report's findings that solar energy deployment is skyrocketing. "There is now more than 8,500 megawatts (MW) of cumulative solar electric capacity installed in the U.S.—enough to power more than 1.3 million American homes," Resch explained. "Solar now employs nearly 120,000 Americans at more than 5,600 companies, most of which are small businesses spread across the U.S."
"More and more, homes and businesses are turning to solar as a pollution-free energy source with no fuel costs," said Sargent. "With the increasing threat of global warming, these leading states must continue their momentum and other states must catch up."
While these 12 states account for only 28 percent of the U.S. population, they make up 85 percent of the nation's installed solar energy.
Environment America urges the federal government to continue key tax credits for solar energy like the Investment Tax Credit, encourage responsible development of prime solar resources on public lands, and support research, development and deployment efforts designed to reduce the cost of solar energy and smooth the incorporation of large amounts of solar energy into the electric grid.
"Right now, only a small fraction of our energy comes from solar," concluded Sargent. "By setting a bold goal of getting 10 percent of our energy from the sun by 2030 and adopting strong policies to support that goal, the U.S. can follow in the footsteps of the 12 top solar states and put us on track to becoming a global leader in solar power."
Visit EcoWatch's RENEWABLES page for more related news on this topic.
——–
Today's decision by a federal appeals court upholds the contention by environmental groups that the Bush Administration's smog standards do not assure protection of forests and vegetation from ozone damage as the law requires. The court's judgment found that in 2008 the U.S. Environmental Protection Agency (EPA) violated the Clean Air Act when it refused to set protective standards and ignored the unanimous recommendation of its independent science advisors. However, the decision also upholds a health standard that these same scientific advisors had found failed to protect public health.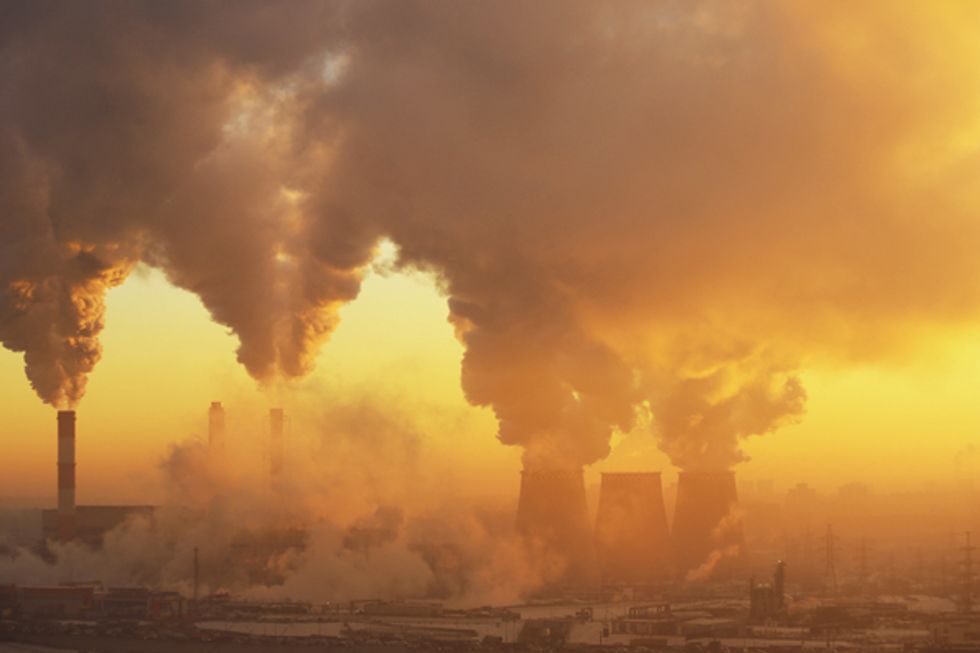 Photo courtesy of Shutterstock
The decision is the result of a suit brought by Earthjustice on behalf of the American Lung Association, Environmental Defense Fund (EDF), Natural Resources Defense Council, National Parks Conservation Association, and Appalachian Mountain Club. Also challenging the standards as too weak were the states of  New York, California, Connecticut, Delaware, Illinois, Maine, Maryland, Massachusetts, New Hampshire, New Mexico, Oregon, Rhode Island, as well as Washington D.C. and New York City.
Health and environmental groups initially filed suit against the Bush Administration following the final EPA decision in May 2008.  Shortly after taking office, the Obama Administration asked the court to put the case on hold while EPA reconsidered the evidence that the standards were too weak to protect public health and welfare. The two-year reconsideration included three public hearings showing overwhelming public comment urging stronger protections, as well as a restatement by the EPA's independent science advisors of their support for a tighter standard.
Then-EPA Administrator Lisa Jackson had concluded that the Bush-era ozone standards were not sufficiently or lawfully protective of public health. In an abrupt about-face, however, President Obama in September 2011, ordered EPA to leave the 2008 standards in place while continuing its ozone review slated for completion in 2013. EPA has now missed the statutory deadline for completing its ozone review and has not proposed any rulemaking yet.
These organizations resumed the legal battle following the Obama Administration's decision to continue to ignore the overwhelming scientific research and the opinion of experts that much stronger standards were needed.  
 
Sometimes called smog, ozone is a highly irritating gas found to shorten lives and worsen asthma and other lung diseases. It also is highly damaging to trees and plants, posing a major threat to the nation's forests. EPA's science advisers and the National Park Service told EPA a separate ozone standard was warranted to prevent these harms. Although EPA was poised to set such a standard, President Bush at the last minute ordered the agency not to include the secondary standards meant to protect our forests and national parks from smog.
 
"The Bush Administration violated the law in refusing to protect our forests from this dangerous pollutant," said Earthjustice Attorney David Baron. "EPA must now take strong action to repair the damage."
 
"Forested landscapes are important ecological resources that are highly valued for providing clean air and water as well as recreational opportunities that support local tourism economies. Protecting them from air pollution has always been a goal of the Clean Air Act, and this ruling underscores the importance of EPA acting on the science to do so effectively," said Georgia Murray, Appalachian Mountain Club staff scientist.
 
"Smog sickens and even kills some plants and trees, even in America's national parks, which are supposed to have the cleanest air in the country" said Mark Wenzler, vice president of Climate and Air Quality Programs at the National Parks Conservation Association. "The Obama administration now has an opportunity to follow the science, and not play politics with protecting our national parks and forests from air pollution damage."
 
The Court rejected challenges by health and environmental groups and states to EPA's 2008 health standard for ozone.  Although acknowledging that those standards were weaker than recommended unanimously by EPA's science advisors, the Court found that the agency had not acted arbitrarily in setting the weaker standards.
 
"There is no question that ozone makes people sick and can kill at levels well below the standard EPA set in 2008. Given that overwhelming evidence and the requirement to set the standard where it will protect public health, we are disappointed that the Court upheld this inadequate standard," explained Janice Nolen, American Lung Association Assistant vice president of national policy. "The evidence continues to grow that we need a stronger standard. The American Lung Association expects that the Obama Administration to follow the science and the law in the current review."
 
"The scientific evidence for a more protective standard has only become stronger since 2008," said Elena Craft, Health Scientist for EDF. "Notwithstanding today's decision, EPA must move forward with stronger standards to protect Americans' health with an adequate margin of safety in its legally-required review of the 2008 standard, which is now underway."
 
Not only had the EPA's science advisors found the health standard inadequate, major health and medical groups, in addition to the American Lung Association, had also supported a much stronger health standard, including the American Academy of Pediatrics, American Thoracic Society and the American Medical Association.
 
"The practical effects of today's ruling on the health standard should be minimal, because there is on ongoing standard-setting process in which EPA's science advisers and the nation's major medical societies have all said we need much stronger smog standards," said John Walke, clean air director for the Natural Resources Defense Council. "EPA needs to heed that advice, and protect our children and seniors who are especially at risk from smog."
 
The Court also rejected all challenges to the ozone standards by industry and the state of Mississippi.
Visit EcoWatch's AIR page for more related news on this topic.
——–

To offer different perspectives on shale gas extraction, the Delaware Riverkeeper Network is presenting the Shale Truth Interview series featuring experts talking about the impact of fracking on our environment and communities. The first segment features energy expert Arthur Berman discussing the actual supply of shale gas versus industry claims.

Visit EcoWatch's FRACKING page for more related news on this topic.
——–

Sign the petition today, telling President Obama to enact an immediate fracking moratorium: