Rep. Deb Haaland (D-N.M.) speaks at a press conference at the Longworth Office Building on Sept. 10, 2020 in Washington, DC. Jemal Countess / Getty Images for Green New Deal Network
By Jessica Corbett
A diverse coalition of progressive and Indigenous figures and organizations on Monday celebrated the Senate's confirmation of Deb Haaland to head the Department of the Interior — making the New Mexico Democrat and Green New Deal supporter the first Native American Cabinet secretary in U.S. history.
She was confirmed by a 51-40 vote in which only a handful of Republicans joined with all members of the Democratic caucus who were present; nine lawmakers, including three Democrats, did not vote. "I look forward to collaborating with all of you," Haaland said in a tweet directed at senators. "I am ready to serve."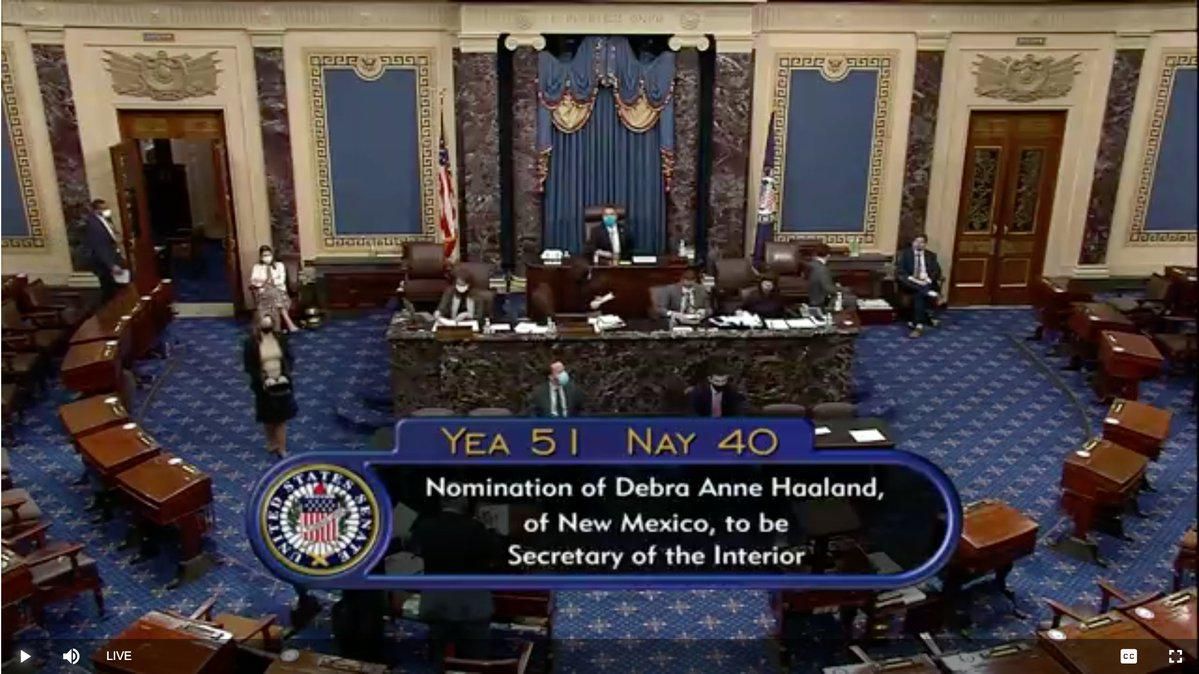 #DebForInterior on Twitter
While climate justice and Indigenous rights advocates have praised President Joe Biden's selection of the congresswoman to lead a department that oversees hundreds of million of as "a perfect choice," both conservative Democrats and Republicans have raised concerns about her positions on fossil fuels.
"It's clear that Big Oil was afraid of her confirmation — and for good reason," said David Turnbull, strategic communications director at Oil Change International. "The nine senators that voted against her confirmation on the Energy and Natural Resources Committee have on average accepted nearly $900,000 from Big Oil, Coal, and Gas over the course of their careers."
"The confirmation of Deb Haaland as secretary of the interior is a tremendous win for Indigenous communities, the waters, parks, and lands across our country, and the climate," he added. "Haaland is a proven climate champion, and will usher in a new era of climate leadership in the Department of the Interior, reversing the tide of the last four years of dirty energy policies enacted by the Trump administration."
Food & Water Watch executive director Wenonah Hauter similarly welcomed Haaland's appointment as an opportunity to depart from the planet-wrecking agenda of former President Donald Trump — whose attacks on climate and environmental policies led some campaigners and experts to back Biden's presidential bid.
"Deb Haaland's historic, pathbreaking confirmation is a victory for Indigenous communities, for the climate movement, and for everyone who wants to undo the Trump-era assault on our air and water," said Hauter. "The massive outpouring of public support for Haaland is a testament to her uncompromising record and her clear commitment to ending the exploitation of public lands by fossil fuel corporations."
"Biden's unambiguous call to end fracking on public lands must now become a priority for the White House," she said. "There is no one better to lead on this issue than Deb Haaland, who understands that our transition away from fossil fuels is an environmental justice priority and a climate necessity."
Deb Haaland is now the first Indigenous person to lead the Department of the Interior- ushering in a new era of Ind… https://t.co/8SxYI6TG97

— Sunrise Movement 🌅 (@Sunrise Movement 🌅)1615848036.0
"In Congress, Rep. Haaland has demonstrated a deep concern for environmental justice, conservation, and climate change," said Kathleen Rest, executive director of the Union of Concerned Scientists. "We look forward to working with the new secretary of the interior to protect our nation's ecosystems, cultural heritage, and the climate — for the benefit of communities across the country, including tribes."
Varshini Prakash, executive director of the youth-led Sunrise Movement, lauded Biden for listening to "the Indigenous movement groups and allies that pushed for her confirmation, despite the Senate Republicans' unfair, aggressive campaign against her."
"Haaland is not only one of the first co-sponsors of the Green New Deal," Prakash pointed out, "but she believes that achieving Indigenous sovereignty over stolen land is instrumental to transforming our economy and stopping the climate crisis."
"Now, she must wield her power to crack down on fossil fuel corporations and evict companies that drill for oil on public lands and in public waters," the activist added. "We are excited to see the progress she makes and will be standing with her as she pushes us closer to the vision of a Green New Deal."
Sarah McMillan, WildEarth Guardians' conservation director, and Adam Kolton, executive director of Alaska Wilderness League, highlighted the significance of not only Haaland's well established positions on dirty energy and land management, but also the perspective she brings as an enrolled member of the Laguna Pueblo.
"We congratulate Secretary Deb Haaland and celebrate this historic and momentous day when the Department of Interior, which manages more than 450 million acres and houses the Bureau of Indian Affairs, finally has an Indigenous woman to lead the way," said McMillan. "As our country is finally awakening to the injustices that Indigenous people have endured, and in the throes of a climate and nature crisis, we must chart a new path after four years of out-of-control exploitation and devastation."
Deb Haaland defended Native Americans and her views on renewable energy during her Cabinet confirmation hearing. S… https://t.co/Upt1tIVmGg

— AJ+ (@AJ+)1615848576.0
As Kolton put it: "We cannot right the wrongs of colonization or undo the history of violence toward and the displacement of Indigenous peoples in our country. But the confirmation of the first Native American to lead any U.S. Cabinet agency, particularly one that is responsible for the stewardship of millions of acres of once stolen and now public land, is a historic and hopeful moment."
"Haaland brings to the job an understanding of the Native American experience and a deep personal connection and commitment to preserving the lands and waters that sustain people and communities across the country," he added. "She was the first U.S. representative to champion the need to pursue an ambitious national goal of conserving 30% of U.S. lands and waters by 2030, and as interior secretary she will play a critical role in implementing President Biden's ambitious conservation agenda, confronting the climate crisis, and advancing the cause of environmental justice."
A host of conservation groups in the state she represented in Congress — including New Mexico Wildlife Federation, New Mexico Wild, and Conservation Voters New Mexico — also applauded Haaland's confirmation.
"The global climate crisis is attributed to settler colonialism and the exploitation of natural resources cultivated from stolen Indigenous landscapes and the mismanagement of those resources," said Pueblo Action Alliance director Julia Bernal. "There needs to be a paradigm shift and having a Pueblo Indigenous feminist perspective in this Cabinet position could instill a lot of hope for meaningful tribal consultation and more importantly tribal consent."
Bernal explained that "Haaland will bring that worldview into land and water management practices that will work towards a just transition to a cleaner energy economy and more equitable approaches to better frontline and Indigenous communities who have suffered from the presence of the oil and gas industry."
Noting the department's widely criticized history on interacting with tribes, she added that "places like Chaco Canyon and Bears Ears and the waterways that supply Indigenous people in the Southwest could have longer standing chances if they are managed through a Pueblo Indigenous feminist perspective that implement[s] core values like respect and reciprocity and give[s] personhood to our waterways."
Reposted with permission from Common Dreams.
EcoWatch Daily Newsletter
waterlust.com / @tulasendlesssummer_sierra .
Each product featured here has been independently selected by the writer. If you make a purchase using the links included, we may earn commission.
The bright patterns and recognizable designs of Waterlust's activewear aren't just for show. In fact, they're meant to promote the conversation around sustainability and give back to the ocean science and conservation community.
Each design is paired with a research lab, nonprofit, or education organization that has high intellectual merit and the potential to move the needle in its respective field. For each product sold, Waterlust donates 10% of profits to these conservation partners.
Eye-Catching Designs Made from Recycled Plastic Bottles
waterlust.com / @abamabam
The company sells a range of eco-friendly items like leggings, rash guards, and board shorts that are made using recycled post-consumer plastic bottles. There are currently 16 causes represented by distinct marine-life patterns, from whale shark research and invasive lionfish removal to sockeye salmon monitoring and abalone restoration.

One such organization is Get Inspired, a nonprofit that specializes in ocean restoration and environmental education. Get Inspired founder, marine biologist Nancy Caruso, says supporting on-the-ground efforts is one thing that sets Waterlust apart, like their apparel line that supports Get Inspired abalone restoration programs.
"All of us [conservation partners] are doing something," Caruso said. "We're not putting up exhibits and talking about it — although that is important — we're in the field."
Waterlust not only helps its conservation partners financially so they can continue their important work. It also helps them get the word out about what they're doing, whether that's through social media spotlights, photo and video projects, or the informative note card that comes with each piece of apparel.
"They're doing their part for sure, pushing the information out across all of their channels, and I think that's what makes them so interesting," Caruso said.
And then there are the clothes, which speak for themselves.
Advocate Apparel to Start Conversations About Conservation
waterlust.com / @oceanraysphotography
Waterlust's concept of "advocate apparel" encourages people to see getting dressed every day as an opportunity to not only express their individuality and style, but also to advance the conversation around marine science. By infusing science into clothing, people can visually represent species and ecosystems in need of advocacy — something that, more often than not, leads to a teaching moment.

"When people wear Waterlust gear, it's just a matter of time before somebody asks them about the bright, funky designs," said Waterlust's CEO, Patrick Rynne. "That moment is incredibly special, because it creates an intimate opportunity for the wearer to share what they've learned with another."
The idea for the company came to Rynne when he was a Ph.D. student in marine science.
"I was surrounded by incredible people that were discovering fascinating things but noticed that often their work wasn't reaching the general public in creative and engaging ways," he said. "That seemed like a missed opportunity with big implications."
Waterlust initially focused on conventional media, like film and photography, to promote ocean science, but the team quickly realized engagement on social media didn't translate to action or even knowledge sharing offscreen.
Rynne also saw the "in one ear, out the other" issue in the classroom — if students didn't repeatedly engage with the topics they learned, they'd quickly forget them.
"We decided that if we truly wanted to achieve our goal of bringing science into people's lives and have it stick, it would need to be through a process that is frequently repeated, fun, and functional," Rynne said. "That's when we thought about clothing."
Support Marine Research and Sustainability in Style
To date, Waterlust has sold tens of thousands of pieces of apparel in over 100 countries, and the interactions its products have sparked have had clear implications for furthering science communication.
For Caruso alone, it's led to opportunities to share her abalone restoration methods with communities far and wide.
"It moves my small little world of what I'm doing here in Orange County, California, across the entire globe," she said. "That's one of the beautiful things about our partnership."
Check out all of the different eco-conscious apparel options available from Waterlust to help promote ocean conservation.
Melissa Smith is an avid writer, scuba diver, backpacker, and all-around outdoor enthusiast. She graduated from the University of Florida with degrees in journalism and sustainable studies. Before joining EcoWatch, Melissa worked as the managing editor of Scuba Diving magazine and the communications manager of The Ocean Agency, a non-profit that's featured in the Emmy award-winning documentary Chasing Coral.