The first day of the Strike WEF march on Davos on Jan. 18, 2020 near Davos, Switzerland. The activists want climate justice and think the WEF is for the world's richest and political elite only. Kristian Buus / In Pictures via Getty Images
By Ashutosh Pandey
Teenage climate activist Greta Thunberg is returning to the Swiss ski resort of Davos for the 2020 World Economic Forum with a strong and clear message: put an end to the fossil fuel "madness."

Thunberg's missive is aimed at, among others, U.S. President Donald Trump, who in the past has mocked the Swedish environmental campaigner, saying she has an "anger management problem." Trump, who is among the most prominent climate change skeptics, is returning to Davos after giving it a miss in 2019 due to a government shutdown.
It's the first time Trump and Thunberg would be present at the same event since last year's United Nations climate change summit in New York, where the teenager could be seen staring down the U.S. president as the two briefly crossed paths.
Later, Thunberg — named TIME magazine's Person of the Year 2019 — told the BBC that she "wouldn't have wasted [her] time" talking to Trump about the climate crisis at the UN event.
"Honestly, I don't think I would have said anything because obviously he's not listening to scientists and experts, so why would he listen to me," she said.
'State of Emergency'
Thunberg, who famously told Davos participants last year that "our house is on fire," has, however, found support among the organizers of the World Economic Forum, including its 81-year-old founder Klaus Schwab, who said the world is facing "a state of emergency."
"We do not want to reach the tipping point of irreversibility on climate change," Schwab told reporters on Tuesday. "We do not want the next generations to inherit a world which becomes ever more hostile and ever less habitable — just think of the wildfires in Australia," he said.
An annual risks survey published by the WEF on Wednesday put climate and other environmental threats ahead of risks posed by geopolitical tensions and cyberattacks. It's the first time that the survey found the top five long-term risks were all environmental, from extreme weather events to businesses and governments failing to mitigate and adapt to climate change.
Stakeholder Capitalism
Sustainability is the main theme at this year's Davos meeting, taking place at a time the world is grappling with global warming which is threatening to become worse because of growing divisions among nations and businesses on how to tackle it.
The meeting, which will see over 50 heads of state and government, including German Chancellor Angela Merkel and Italian Prime Minister Giuseppe Conte, descend on the Alpine resort, seeks to give concrete meaning to "stakeholder capitalism" — a concept that businesses should serve the interests of all society rather than simply their shareholders.
"Business has now to fully embrace stakeholder capitalism, which means not only maximizing profits, but use their capabilities and resources in cooperation with governments and civil society to address the key issues of this decade," Schwab said. "They have to actively contribute to a more cohesive and sustainable world."
Davos 2020 by the Numbers
About 3,000 participants from nearly 120 countries. One in four participants is a woman
53 heads of state and government
Nearly 1,700 business leaders, including CEOs from 8 of the 10 most valuable companies in the world
Over 350 sessions and workshops
88% of the cars used by the WEF are electric or hybrid
Reposted with permission from DW.
EcoWatch Daily Newsletter
Prince William and British naturalist David Attenborough attend converse during the World Economic Forum annual meeting, on January 22 in Davos, Switzerland. Fabrice Cofferini /AFP / Getty Images
Britain's Prince William interviewed famed broadcaster David Attenborough on Tuesday at the World Economic Forum's annual meeting in Switzerland.
During the sit-down, the 92-year-old naturalist advised the world leaders and business elite gathered in Davos this week that we must respect and protect the natural world, adding that the future of its survival—as well as humanity's survival—is in our hands.
"We can wreck it with ease," Attenborough said. "We can wreck it without even knowing we are doing it. And if we wreck the natural world, in the end, we wreck ourselves."
"If we wreck the natural world, in the end, we wreck ourselves." Sir David Attenborough talks to Prince William ab… https://t.co/DXoJGKUH0X

— Channel 4 News (@Channel 4 News)1548177575.0
The Our Planet narrator stressed that a healthy planet is essential for life itself, and yet people have never been more "out of touch" with the natural world.
"We have to recognize that every breath of air we take, every mouthful of food that we take comes from the natural world. And that if we damage the natural world we damage ourselves," Attenborough said to the Duke of Cambridge when asked about how young people can make a positive impact on the environment.
"We are one coherent ecosystem. It's not just a question of beauty or interest or wonder. It's the essential ingredient, the central part of human life is a healthy planet," Attenborough said.
Prince William asked the conservation advocate why some global leaders are "faltering" on tackling environmental challenges.
"Because the connection between the natural world and the urban world, the human society, since the Industrial Revolution, has been remote and widening," Attenborough said. "We didn't realize the effects of what we were doing 'out there.' But now we are seeing that almost everything we do has its echoes, its duplications and implications across the natural world."
"Every breath of air that we take, every mouthful of food that we take comes from that the natural world. If we dam… https://t.co/pGt5iTKuzL

— Kensington Palace (@Kensington Palace)1548178241.0
He added that it was "difficult to overstate" the urgency of the climate change crisis.

"We are now so numerous, so powerful, so all pervasive, the mechanisms we have for destruction are so wholesale and so frightening that we can exterminate whole ecosystems without even noticing it," Attenborough said.
In the documentary series Blue Planet II, Attenborough gave viewers an unflinching look at the harmful impact of human activity on our oceans.
"We have now to be really aware of the dangers of what we are doing. And we already know the plastic problems in the seas is wreaking appalling damage upon marine life. The extent of which we don't yet fully know," said in his chat with the prince.
Also in the interview, the legendary television icon spoke about how the world has changed since he started broadcasting in the 1950s
"I went to West Africa for the first time and it was a wonderland," Attenborough said. "You'd just step off from the beaten track... and it seemed to me as a newcomer, unexplored and exciting and everywhere you turned you saw something new."
"The human population was only a third of the size of what it is today...you really did get the feeling of what it might have been like to be in the Garden of Eden," he continued.
Attenborough, who was honored at the World Economic Forum's Crystal Awards on Monday for his leadership in the fight against climate change, remains hopeful about the planet's future.
"There's a source of great optimism there, we have the knowledge, we have the power, to live in harmony with that natural world," he said, according to the BBC.
Watch the full interview here:
Prince William interviews David Attenborough – watch live www.youtube.com
From Your Site Articles
Related Articles Around the Web
waterlust.com / @tulasendlesssummer_sierra .
Each product featured here has been independently selected by the writer. If you make a purchase using the links included, we may earn commission.
The bright patterns and recognizable designs of Waterlust's activewear aren't just for show. In fact, they're meant to promote the conversation around sustainability and give back to the ocean science and conservation community.
Each design is paired with a research lab, nonprofit, or education organization that has high intellectual merit and the potential to move the needle in its respective field. For each product sold, Waterlust donates 10% of profits to these conservation partners.
Eye-Catching Designs Made from Recycled Plastic Bottles
waterlust.com / @abamabam
The company sells a range of eco-friendly items like leggings, rash guards, and board shorts that are made using recycled post-consumer plastic bottles. There are currently 16 causes represented by distinct marine-life patterns, from whale shark research and invasive lionfish removal to sockeye salmon monitoring and abalone restoration.

One such organization is Get Inspired, a nonprofit that specializes in ocean restoration and environmental education. Get Inspired founder, marine biologist Nancy Caruso, says supporting on-the-ground efforts is one thing that sets Waterlust apart, like their apparel line that supports Get Inspired abalone restoration programs.
"All of us [conservation partners] are doing something," Caruso said. "We're not putting up exhibits and talking about it — although that is important — we're in the field."
Waterlust not only helps its conservation partners financially so they can continue their important work. It also helps them get the word out about what they're doing, whether that's through social media spotlights, photo and video projects, or the informative note card that comes with each piece of apparel.
"They're doing their part for sure, pushing the information out across all of their channels, and I think that's what makes them so interesting," Caruso said.
And then there are the clothes, which speak for themselves.
Advocate Apparel to Start Conversations About Conservation
waterlust.com / @oceanraysphotography
Waterlust's concept of "advocate apparel" encourages people to see getting dressed every day as an opportunity to not only express their individuality and style, but also to advance the conversation around marine science. By infusing science into clothing, people can visually represent species and ecosystems in need of advocacy — something that, more often than not, leads to a teaching moment.

"When people wear Waterlust gear, it's just a matter of time before somebody asks them about the bright, funky designs," said Waterlust's CEO, Patrick Rynne. "That moment is incredibly special, because it creates an intimate opportunity for the wearer to share what they've learned with another."
The idea for the company came to Rynne when he was a Ph.D. student in marine science.
"I was surrounded by incredible people that were discovering fascinating things but noticed that often their work wasn't reaching the general public in creative and engaging ways," he said. "That seemed like a missed opportunity with big implications."
Waterlust initially focused on conventional media, like film and photography, to promote ocean science, but the team quickly realized engagement on social media didn't translate to action or even knowledge sharing offscreen.
Rynne also saw the "in one ear, out the other" issue in the classroom — if students didn't repeatedly engage with the topics they learned, they'd quickly forget them.
"We decided that if we truly wanted to achieve our goal of bringing science into people's lives and have it stick, it would need to be through a process that is frequently repeated, fun, and functional," Rynne said. "That's when we thought about clothing."
Support Marine Research and Sustainability in Style
To date, Waterlust has sold tens of thousands of pieces of apparel in over 100 countries, and the interactions its products have sparked have had clear implications for furthering science communication.
For Caruso alone, it's led to opportunities to share her abalone restoration methods with communities far and wide.
"It moves my small little world of what I'm doing here in Orange County, California, across the entire globe," she said. "That's one of the beautiful things about our partnership."
Check out all of the different eco-conscious apparel options available from Waterlust to help promote ocean conservation.
Melissa Smith is an avid writer, scuba diver, backpacker, and all-around outdoor enthusiast. She graduated from the University of Florida with degrees in journalism and sustainable studies. Before joining EcoWatch, Melissa worked as the managing editor of Scuba Diving magazine and the communications manager of The Ocean Agency, a non-profit that's featured in the Emmy award-winning documentary Chasing Coral.
By Joel Scata
Extreme weather, failure to adapt to climate impacts, and failure to combat climate change all top the World Economic Forum's list of Global Risks.
Yet, President Trump, who addressed the World Economic Forum meeting in Davos, Switzerland Friday, fails to recognize these risks and, in fact, has taken many actions that make the nation more vulnerable to them.
Global Risks Report 2018, World Economic Forum
Extreme Weather Equals Extreme Costs

The World Economic Forum's Global Risks Report 2018 ranked extreme weather, natural disasters, and our collective failure to mitigate and adapt to a climate change as some of the greatest and most likely risks facing humanity in the next 10 years. And their warnings are not meritless. Climate change is already helping to fuel more extreme storms.
Such extreme weather events can be economically and socially devastating for many regions of the world. These events, such as catastrophic hurricanes, major floods and prolonged high temperatures and droughts, are expected to occur more frequently and at greater magnitude in the coming decades. These events will further stress many countries beset by poverty and instability, and could potentially result in water crises and large-scale migrations of refugees, inflaming regional tensions. According to the report, "76% of the 31.1 million people displaced during 2016 were forced from their homes as a result of weather-related events."
For the U.S., extreme weather events cause billions of dollars in disaster-related damages. In the 2017, sixteen weather-related disasters, each exceeding $1 billion in damage, occurred in the U.S. Hurricane Harvey, alone, has likely cost $125 billion in damages.
As this graphic demonstrates, the number of these events and their associated costs has steadily increased.
NOAA National Centers for Environmental Information (NCEI) U.S. Billion-Dollar Weather and Climate Disasters (2018).
This trend will likely continue to increase as climate change continues to load the dice when it comes to extreme events.

"America First" in Exposure to Impacts of Climate Change
However, the Trump administration appears hell-bent on taking the U.S. in reverse. The administration has strived to cast doubt on the existence of climate change and its role in fueling these disasters. Many of the Trump administration's actions, like revoking the federal flood protection standard, are inapposite to findings of the report, and have undermined the nation's ability to mitigate and adapt.
The Trump administration has taken a hatchet to numerous laws, regulations, and policies that, if left in place, would have made America stronger and safer in the face of climate change impacts. Instead, Trump's anti-environment agenda has left the U.S. exposed, threatening human health and safety, and the nation's long-term economic prosperity. Here is a list of just some of Trump's dangerous actions:
An Extreme Future for America
Climate change is not a matter of "if;" it is occurring and will continue to occur with worsening severity, unless action is taken to mitigate and adapt to its impacts. The Trump administration would be wise to heed the warnings of the report because its current actions set the U.S. up to fail. One only need to look to the past year to see the implications of a future of more extreme weather. And America is on a path to be vastly unprepared.
Related Articles Around the Web
www.whitehouse.gov
By Andy Rowell
With a swagger and a wave, President Donald Trump has arrived at the World Economic Forum in Davos and is expected to push his "America First" agenda on Friday in a self-congratulatory speech.
"A lot of people are coming back to the United States. We are seeing tremendous investment," said Trump Thursday when he arrived, also proclaiming that America was "winning" under his leadership.
"The president's message is very much the same here as it will be [in Davos]," his press secretary Sarah Sanders said. "He welcomes the opportunity to go there and advance his America First agenda with world leaders."
According to the BBC, Trump's speech is likely to cover three main themes. First, he will set out his achievements, including tax reform and deregulation. Second, he will talk about trade and third, he will ask for increased international support for international problems such as Isis and North Korea.
But there are many who remain opposed to the president's "America First" deregulatory and anti-environmental agenda. "He is going for show and not for substance. In terms of global policy, he has nothing to say to the people of Davos," Nicholas Dungan, a senior fellow at the Atlantic Council who teaches at Sciences Po, a prestigious French research university, told CNN.
Indeed, before the president arrived, German Chancellor Angela Merkel and French President Emmanuel Macron took issue with Trump's policies of isolationism, protectionism and denial of climate change.
In what is being seen a poking fun at the president, his French counterpart, Macron said, "When you arrive here and see the snow, it could be hard to believe in global warming. Obviously you [didn't] invite anyone skeptical about global warming this year."
Meanwhile German Chancellor Angela Merkel and Italian Prime Minister Paolo Gentiloni have also rejected Trump's "America First" policies, including his recent hiking of tariffs on solar panels.
"We cannot end up in a world with a cosmopolitan digital elite and an army of discontented workers," said Gentiloni. "Our history and roots are not synonymous with protectionism."
As Trump relishes the spotlight in Davos, back home the work of speaking truth to power continues. On Friday at the Wilson Center in Washington, DC, the Society of Environmental Journalists will launch its annual report, "The Journalists' Guide to Energy and Environment," which previews the top stories of 2018, with comments from a roundtable of leading journalists.
As the event invitation says, "From pipeline politics to hurricane horrors, 2017 witnessed a flood of energy and environment news—and 2018 promises to set a new high-water mark." And Trump will remain central to many of the stories. But for how much longer can we stand "America First, but the Environment Last?"
'Muffled' Climate Scientists Relocate to France as Trump's Disregard Blatantly Continues https://t.co/WGoRvWdmbX… https://t.co/VMBYZDlaqQ

— EcoWatch (@EcoWatch)1514904127.0
Reposted with permission from our media associate Oil Change International.

World Economic Forum
France will shut down all of its coal-fired power plants by 2021, President Emmanuel Macron announced at the World Economic Forum in Davos, Switzerland.
The deadline is two years ahead of his predecessor Francois Hollande's goal of shutting down France's coal-powered plants by 2023.
France only produces around 1 percent of its energy from coal-fired stations, as the country is 99 percent dependent on hydrocarbon imports. However, the move from the world's fifth largest economy shows it is determined to be a leader on climate issues and sends a signal to other nations.
During his speech to politicians and business leaders on Wednesday, the French president said he wanted to "make France a model in the fight against climate change."
Macron's "Make Our Planet Great Again" program casts environmental protection as a pillar in reforming the country's economy.
"That is a huge advantage in terms of attractiveness and competitiveness," he said. "Talent will come where it is good to live. We can create a lot of jobs with such a strategy."
We have decided to make France a model in the fight against climate change. We have already attracted hundreds of p… https://t.co/n5bC6aBgiR

— Emmanuel Macron (@Emmanuel Macron)1516813663.0
Last month, the French parliament passed a law banning the exploration and production of all oil and natural gas by 2040 within mainland France and all overseas territories. France also plans to ban the sale of diesel and petrol engine cars by 2040.
At Davos, Macron stressed that warming needs to be kept within the 2 degrees Celsius
 limit set at the Paris climate agreement.
"On climate change, we're losing the battle," he said, adding that the world needs concrete action and results by 2020.
Macron's climate policies are in stark contrast to President Donald Trump's push for fossil fuels.
As USA TODAY reported, Macron's opening remarks included a joke about his American counterpart's infamous climate change denial.
"When you arrive here and see the snow, it could be hard to believe in global warming," Macron said. "Obviously you don't invite anyone skeptical about global warming this year."
Trump arrived in Switzerland Thursday to attend the World Economic Forum and to promote his "America First" agenda.
From Your Site Articles
Related Articles Around the Web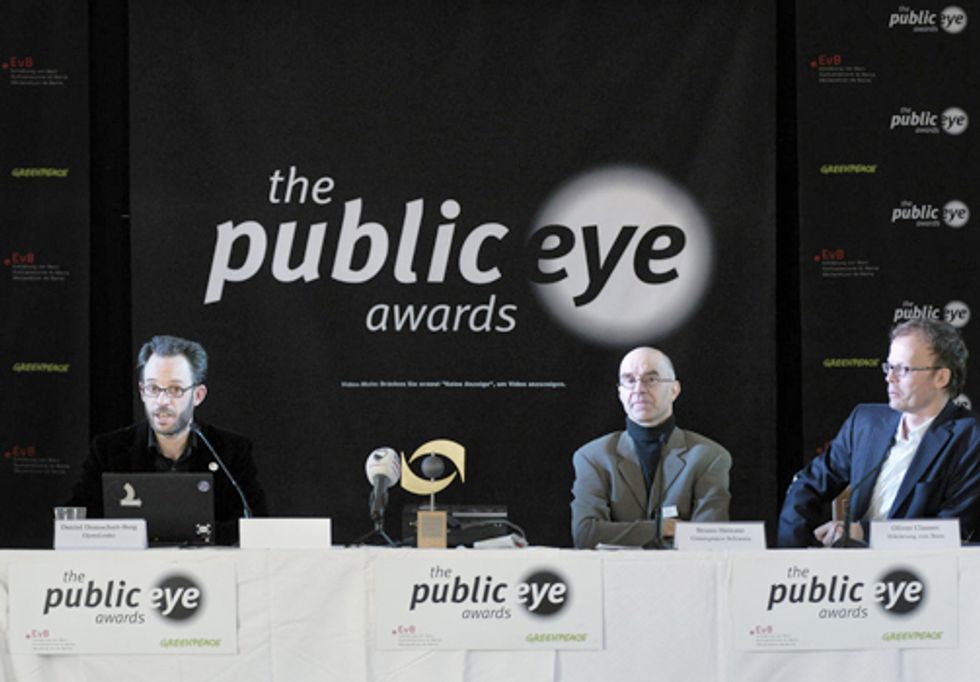 Each year since 1981, to counterbalance the seemingly never-ending awards ceremonies honoring the film industry, a different kind of award has cropped up—the Golden Raspberries, better known as the Razzies.
The day before the Academy Awards ceremony, the Razzies honor the worst performances in film. And to show the rest of the world that they don't take themselves too seriously, actors—for the most part—take the dubious Razzie nominations and awards in stride.
In fact, Sandra Bullock appeared at the Razzies to accept her "win" for worst actress of 2009 just the day before winning an Academy Award for best actress for her work in The Blind Side. Fortunately for her, no one remembered her other major release—All About Steve, which garnered her a Golden Raspberry.
Today, the corporate-world's version of the Razzie—The Public Eye Award—was awarded in Davos, Switzerland (in time with the World Economic Forum currently taking place there) to honor the corporation with the most "contempt for the environment and human rights" in the world.
But unlike the Razzies, where everything has the sparkle of humor in the cozy world of make-believe, the Public Eye Awards shed light on very real atrocities. And so this year's winner, Vale, a Brazilian multi-national mining corporation, won't have a spokesman on hand to accept the award.
By staging the Public Eye Award announcement at the world's largest gathering of leaders from politics, business, media and civil society, the impact is magnified "to remind corporations of their social and environmental responsibility."
The Public Eye Awards website has this to say about Vale:
Mines, steel plants, railroads, ports and hydroelectric dams at the expense of people and the environment—Vale is the second-largest corporation in Brazil, the second-largest mining corporation worldwide, operating in nearly 40 countries, and the largest global producer of iron ore. The corporation's 70-year history is tarnished by repeated human rights abuses, inhumane working conditions, pillaging of the public heritage and the ruthless exploitation of nature.  An international network linking communities and workers affected by Vale was created in 2010. It recently launched a dossiê describing several of the worst cases of Vale's disregard for people and the environment in eight countries. One such example is the company's recent purchase of a major stake in the consortium engaged in building the notorious Belo Monte Dam Complex in the Amazon. If the massive dam project continues, it will have disastrous social and environmental consequences, including the forced relocation of 40,000 people and devastation of a riverine ecosystem that is the basis of survival for indigenous communities, riverbank communities and fisherfolk—who have not had a voice in the matter, nor will they receive adequate compensation.
Vale received more than 25,000 votes to win the Public Eye Award of 2012. Other frontrunners included:
Barclay's
Tepco
Samsung
Syngento
Freeport
For more information about the awards and other finalists, click here.