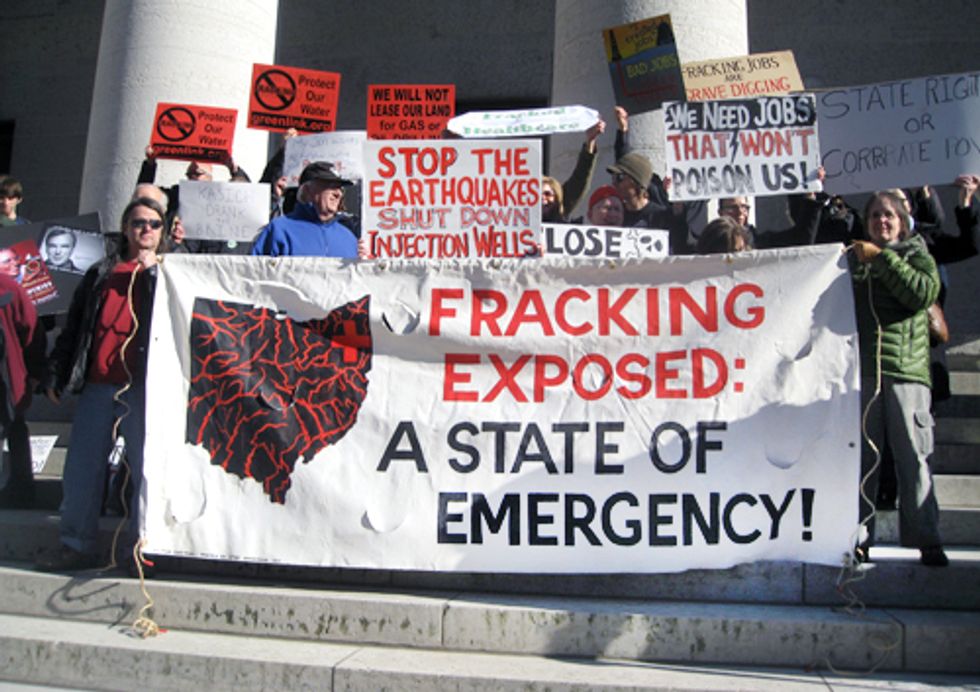 On Jan. 10, more than 250 Ohioans assembled on the west lawn of the Ohio Statehouse to voice their opposition to hydraulic fracturing—better known as fracking—and deep injection wastewater disposal wells.
Leading the charge was State Rep. Robert Hagan (D-Youngstown), who last week called on Gov. John Kasich (R-OH) in a letter to implement an indefinite moratorium on D&L Energy's deep injection wells in Youngstown, Ohio, which has been rocked 11 times in the past nine months by earthquakes. Seismic surveys have corroborated that the two most recent earthquakes—on Christmas Eve and a 4.0 magnitude quake on New Year's Eve—had epicenters near D&L's deep injection wells.
Rep. Hagan called on Gov. Kasich to institute a moratorium on all deep injection wells within a five mile radius of the Youngstown site until Ohioans can be guaranteed that no correlation exists between the disposal wells and danger to the natural environment or human health.
"The people of Ohio and the people of the Mahoning Valley need answers from our government officials," said Rep. Hagan. "We need to know why over half of the toxic frack water we are blasting into Ohio lands is coming from Pennsylvania. We need to know why there is such a rush to dump this waste in Ohio. And we need to know why it took ten earthquakes in ten months for anyone in the Kasich administration to wake up and respond to calls for a moratorium on these wells. We never had an earthquake in Youngstown until John Kasich was elected governor."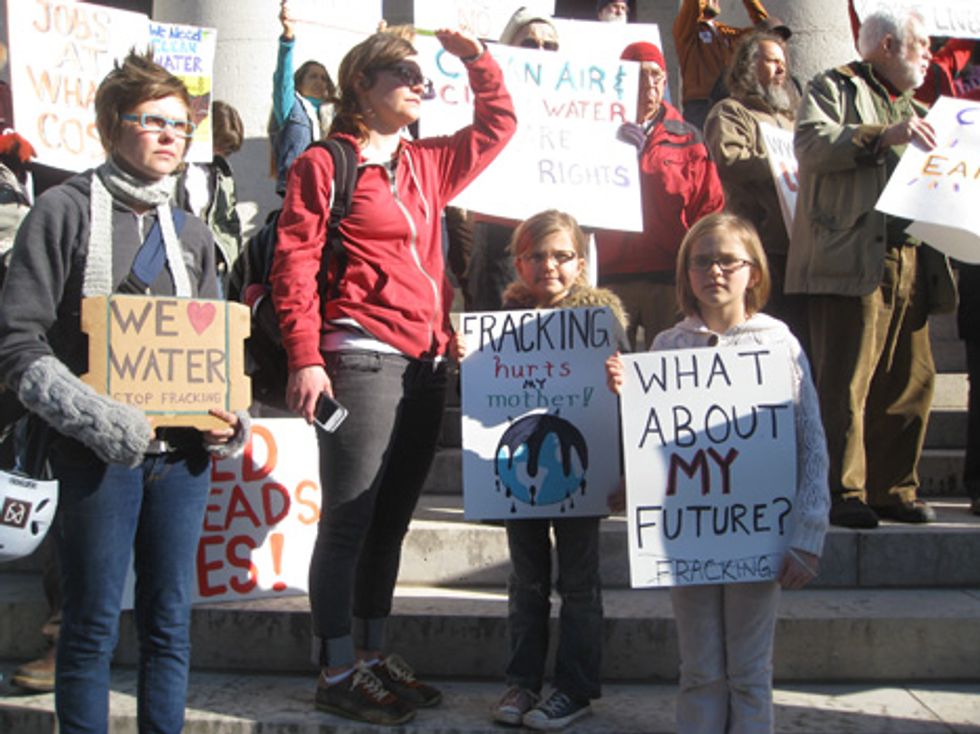 "What has occurred in the Mahoning Valley is deeply troubling," said State Rep. Tracy Heard (D-26). "It's evidently clear we must take a step back and examine fracking, not only the process but its potential impacts to our environment both long-term and short-term. I stand ready to work with my colleagues to find a solution that will protect the citizens of Ohio and our environment."
"Creating jobs at the expense of human health and the environment is not sustainable," said Stefanie Penn Spear, executive director of EcoWatch. "Ohio needs to bring back the incentives for renewable energy projects that support Ohio's energy bill SB 221. Investment in renewable energy will create green jobs, revitalize our strong manufacturing base and provide long-term solutions to our energy needs without contaminating our drinking water, polluting our air, displacing communities and making people sick."
Other speakers at today's event included:
State Rep. Nickie J. Antonio (D-Lakewood)
State Rep. Denise Driehaus (D-Cincinnati)
State Rep. Mike Foley (D-Cleveland)
State Rep. Teresa Fedor (D-47)
Ohio State Senator Mike Skindell (D-Lakewood)
Ohio State Senator Charleta Tavares (D-Columbus)
Today's speakers called on Gov. Kasich to protect the environment and public health by passing SB 213/HB 345, which would impose a moratorium on fracking permits and wastewater disposal injection wells. Currently, Ohio is home to 177 deep injection well sites.
The protest was organized by NO FRACK OHIO, a collaboration of more than 50 grassroots and conservation groups calling for further safeguards on horizontal hydraulic fracturing.
To view more photos of today's rally on Facebook, click here.
Visit our fracking page to keep up-to-date on fracking issues worldwide.
EcoWatch Daily Newsletter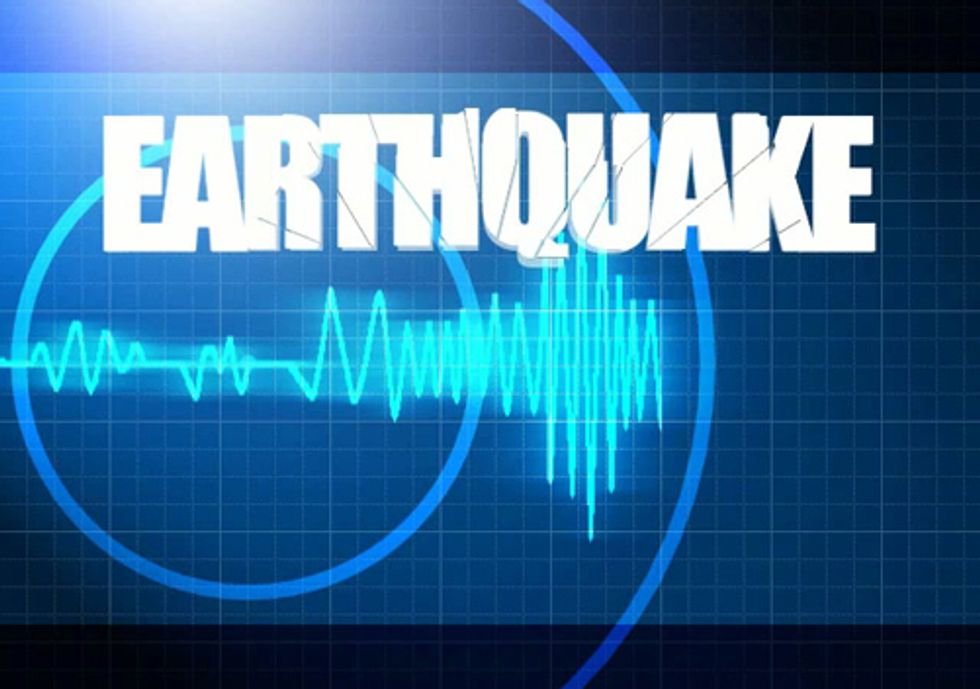 Until March 17, 2011—St. Patrick's Day—Youngstown, Ohio had never officially recorded an earthquake. New Year's Eve 2011 had Youngstown residents trembling for the 11th time in under nine months. Making matters worse, the Dec. 31 quake registered a magnitude 4.0 on the Richter scale—the most powerful quake yet, felt across hundreds of square miles, ranging from Canada to West Virginia.
At the epicenter of the sudden jolt in seismic activity is the Ohio Works Drive fluid injection well, operated by D&L Energy Group affiliate Northstar Disposal Services LLC. The site—just outside of downtown Youngstown—is a 9,200 foot-deep disposal for brine wastewater—a byproduct of hydraulic fracturing, more commonly known as fracking. Ohio is home to 176 other injection deep well sites.
On the heels of the New Year's Eve earthquake, Gov. John Kasich (R-OH), an outspoken drilling proponent, issued a moratorium on wastewater wells within a five-mile radius of the Youngstown site until the Ohio Department of Natural Resources (ODNR) can more clearly review the situation and its impacts on public health and safety.
Rep. Bob Hagan (D-Youngstown) called on Gov. Kasich in a letter on Jan. 5 to institute an indefinite moratorium on the injection wells until Ohioans can be guaranteed that there's no detrimental correlation between the natural environment and the wells.
To read Rep. Hagan's letter to Gov Kasich, click here.
Rep. Hagan's chief concern is the ability for ODNR and the Ohio Environmental Protection Agency to objectively assess the situation, as these organizations are, according to Hagan, "steeped in communications regarding the positive aspects of oil and gas exploration in the state, while ignoring some potentially very serious implications of components such as waste disposal."
Despite compelling evidence linking the recent Youngstown earthquakes to D&L's wastewater injection wells—in addition to a growing number of high-profile water contamination incidents in Dimock, Pa. and more recently in Pavillion, Wy.—regulations to keep citizens safe are lagging.
According to the Youngstown Vindicator, D&L has "a history of at least 120 violations at 32 injection and extraction wells in Ohio and Pennsylvania during the past decade."
To date, the company faces no fines for wrongdoing, although regulators have documented a "lack of correction action."
Tell Gov. Kasich and the ODNR you want stronger safeguards for fracking by clicking here.
For more information, click here.
A Don't Frack Ohio rally is being held on Jan. 10 at 1 p.m. at the Ohio Statehouse in Columbus. Speakers will include Rep. Bob Hagan (D-Youngstown), and representatives from communities impacted by oil and gas drilling and injection well sites. For more information on the fracking protest, click here.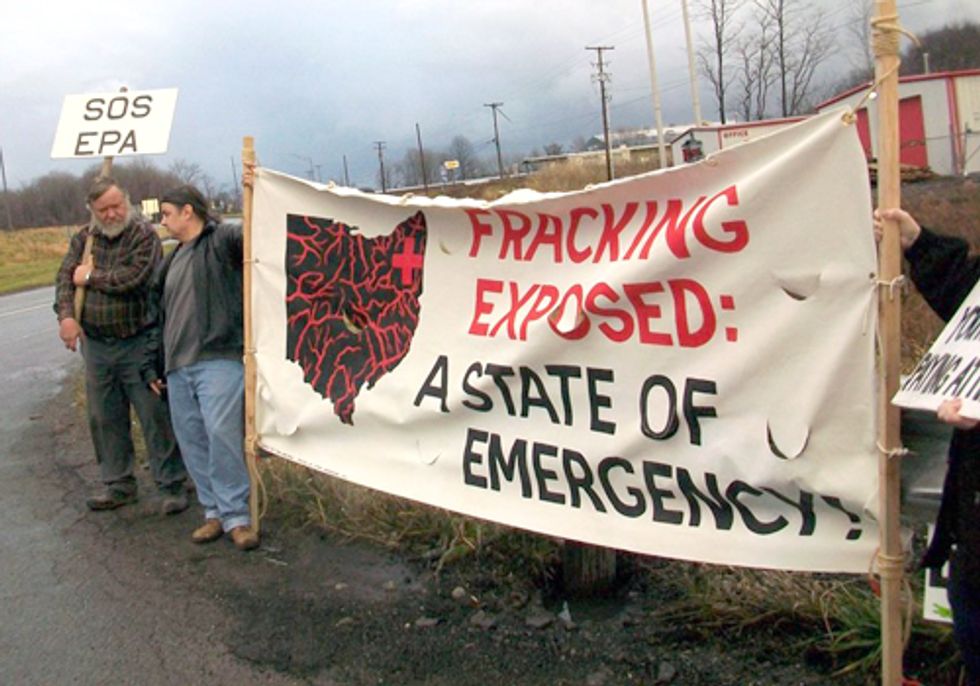 By Ben Shapiro and Jonathan Sidney
On the heels of an announcement by the Ohio Division of Natural Resources (ODNR), as reported in The Vindicator on Dec. 30, that ordered D&L Energy Inc to cease operations at a nearby brine-injection well—a storage site for toxic fracking wastewater—due to ten earthquakes since March 17 in close proximity to the well site in Youngstown, Ohio, another earthquake on Dec. 31 at 3:05 p.m., this one an unprecedented magnitude 4.0 recorded by the U.S. Geologic Society, was reported.
Susie Beiersdorfer, an instructor of geology at Youngstown State University, was downtown during today's quake. She said, "Everyone felt it. Shutting down an injection well is not like turning off a light switch, the pressure is still there. If more pressure needs to be equalized it's going to keep happening." Beiersdorfer went on to say "we are elated that the well has been shut down. None too soon. Because of the history of earthquakes and the history of epicenters around the injection well, it's only prudent to shut it down until it's ruled out as being a cause, nor should any injection wells be permitted or used."
The D&L well has been the subject of widespread community outrage. Youngstown area residents have attended township meetings, staged protests, sung anti-fracking carols outside the mayor's office and even blockaded entrances to the D&L injection site to put a stop to the toxic earthquakes in the absence of regulatory intervention. Beiersdorfer feels that the "hard work and constant pressure is paying off. It's in the news, it's raising people's awareness. That's what I'm looking forward to in 2012."
Though residents are excited by the temporary closure of the well, they remain concerned about the 170+ injection wells that remain active throughout Ohio. John Williams, a Youngstown resident, urges communities to remain vigilant, stating that while "we won this battle, the war is far from over. D&L has no regard for the long term safety of our communities or water. They'll just try to shift their dirty business from one well to another and think we won't notice." D&L is constructing yet another injection well in Hubbard, about two miles east of the recently closed site.
More than a dozen protesters attended an ODNR informational meeting. Steve Beck, a local farmer spoke at the meeting saying, "there's no way it's safe," while holding up a sign reading SOS EPA. "They make promises that give us a false sense of security. But common sense will tell you it's not 100 percent safe."
Residents lack confidence in the ability of local and state regulatory agencies. Beiersdorfer and other concerned citizens attended a November Coitsville Township meeting and were shocked to find out that public officials didn't even know about the D&L injection wells until the land was cleared. ODNR geologist Tom Tomastik admited to angry residents that spills have occurred. "One of the trucks overflowed one of the drilling-mud tanks," Tomastik explained to The Vindicator. "It spilled out on the ground and into a ditch."
While citizens are thankful for the temporary closure of the injection well site, it is clear, especially after today's earthquake and the other active well sites, that community members will need to continually ramp up pressure in order to put a  stop to the epidemic of new injection wells that threatens Ohio's drinking water and seismic stability. The statewide struggle against injection wells continued on Dec. 31 at #OccupyMansfield's In Memory of Mansfield, Casualty of Fracking.
We need to keep building momentum in the movement against fracking across Ohio, the Utica and Marcellus shale regions, and around the world.  Your involvement in the fight is crucial—consider seeking a local ban on fracking and signing the Anti-Fracking Pledge of Resistance. The tireless organizers in Youngstown have shown that working together makes us strong.
For more information, click here.