A team of explorers say they have found the deepest underwater cave on Earth.
Located in the Czech Republic, near the town of Hranice, the cave is believed to be at least 1,325 feet deep, beating the previous record holder—the 1,286-foot Pozzo del Merro in Italy—by 39 feet. But just how deep the Czech cave, named Hranická Propast or Hranice Abyss, goes is still something the team is trying to figure out.
First expedition with ROV GralMarine at Hranicka Propast (Hranice Abyss).Krzysztof Starnawski / Facebook
On Sept. 27, Polish cave diver and team leader, Krzysztof Starnawski, dived to 200 meters (656 feet) down the flooded limestone abyss and then used a remotely operated underwater robot (ROV) to go another 204 meters down, the total length of its cord, according to the Associated Press. However, that wasn't far enough since he said it appeared the robot did not hit the bottom of the abyss.

"It [the robot] was as deep as its rope could go, but the bottom was still nowhere in sight," the Czech Speleological Society said.

Starnawski first explored the cave in 1999 and has returned for more dives over the past two years.
In 2014, he reached the 200-meter mark and thought that was as far as it went, but then noticed an extremely narrow opening called a "squeeze passage" that led to another vertical tunnel that was pitch-black and circled by rough limestone, National Geographic reported.

Diving in the cave has been difficult due to its tight bottlenecks, jammed with tree trunks and rock debris. The water's mineral composition has damaged both the team's equipment and made their exposed skin itch, but Starnawski told AP it is a price worth paying for this discovery.
A newly updated depth chart of the Hranice Abyss based on the most recent record-breaking dive on Sept. 27.Krzysztof Starnawski /Facebook
"This cave is very unique because it's like a volcano, formed from hot mineral water bubbling from the bottom up, rather than rain coming from the top down like most caves," Starnawski told National Geographic last year. "There are probably only three caves like this in the world. There is nothing typical about this cave, and every dive we make new discoveries."

In 2015, Starnawski himself passed through the slot and went to 265 meters (868 feet) down without reaching the bottom. After diving that far down he had to spend more than six hours in a decompression chamber, and that's when he decided he needed a robot instead.

"As the expedition leader for the last several years, I've prepared the equipment and the route in and out for the ROV's dive, so the ROV could go beyond the limits of a human diver, and get through the restricted passage and between the fallen logs and trees," Starnawski told National Geographic.
By Sharon Khan
[Editor's note: Waterkeeper Alliance's International Director Sharon Khan is attending the mercury treaty negotiations in Geneva, Switzerland, and is providing live updates from the conference. For information regarding the mercury treaty negotiations, read Mercury Rising, Political Will Falling by Robert F. Kennedy, Jr. and Marc Yaggi, and the report Global Mercury Hotspots.]
BLOG POST IV
(Read Blog Post I, Blog Post II, Blog Post III)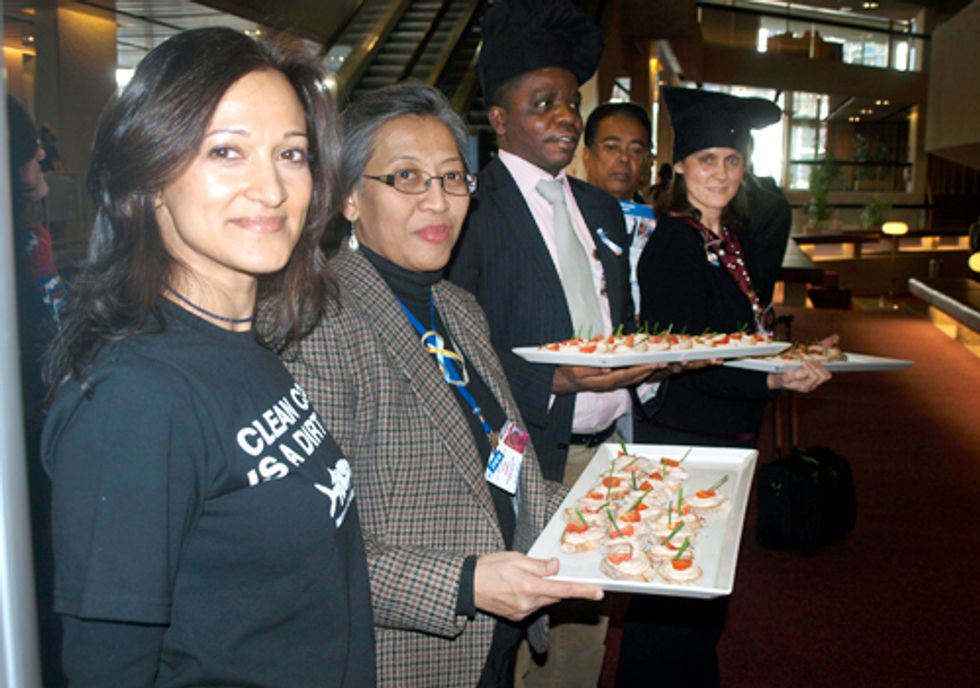 When delegates broke for lunch, pubic interest groups greeted them with tuna appetizers and information about the unsafe levels of mercury in fish sampled from hotspots around the world.
A breakthrough occurred on Wednesday at the mercury treaty negotiations taking place this week in Geneva, Switzerland when the Kenyan Ambassador took to the floor to question the naming of the treaty as the 'Minamata Convention.'  This proposed name is meant to honor the victims of the world's most horrendous mercury poisoning disasters that has occurred in Minamata, Japan. But the current treaty text does not does not resolve Minamata victims claims nor does it look like it will prevent more mercury poisoning disasters from occurring around in the world. As a setback on Wednesday, Brazil prevailed in striking language that offered any idea of phasing out the trade in mercury used for artisanal and small-scale gold mining.
Public interest groups are highly concerned that the treaty is still heading towards one that will not decrease global mercury emissions. The current treaty provisions offer only vague options for controlling mercury emissions from existing coal-fired power plants. Plus, provisions are not likely to reduce mercury emissions from individual plants on a scale sufficient to offset the new mercury emissions that are likely to result from the rapid growth of this sector. Moreover, some delegates including the U.S. are pushing hard to make mercury releases to water and land completely voluntary.
"We hope that many of the provisions in this treaty can still be improved, but as it stands now the treaty offers only vague or no options for controlling emissions from the world's worst sources of mercury pollution. Without a more deliberate effort to curb these sources, we can anticipate that global mercury pollution will likely continue to increase," said Dr. Joe DiGangi, International POPs Elimination Network (IPEN) senior science and technical advisor.
When delegates broke for lunch on Wednesday, pubic interest groups greeted them with tuna appetizers and information about the unsafe levels of mercury in fish sampled from hotspots around the world. These hotspots include areas where mercury comes from chlor-alkali plants, artisanal and small-scale gold mining, and coal-fired power plants. Waterkeeper Alliance was there with the message that "Clean Coal is a Dirty Lie." United Nations Environment Programme's Coal Partnership that is led by the International Energy Agency Clean Coal Center is promoting "clean coal" technologies at the mercury treaty negotiations.
At a lunch-time event attended by delegates, David Evers, executive director of Biodiversity Research Institute presented the new IPEN and Biodiversity Research Institute Global Mercury Hotspots report. This report found that mercury levels in fish and hair samples taken from around the world exceed U.S. Environmental Protection Agency guidelines for health and safety. NGOs and community members from countries around the world including Russia, the Czech Republic and Mexico, participated in the study offering their hair for testing and helping to get the local fish to the lab in Maine. "All thanks go to these community members," said IPEN co-chair Emmanuel Calonzo from an NGO in the Philippines. "We owe it to the grassroots to have a robust mercury treaty."
Delegates are now heading into closed-door meetings that public interest groups have to wait out. But it is already clear that after this week, grassroots activists will return home to continue their battles to protect their communities from mercury poisoning. I'm already back in New York with newfound opportunities to strengthen and support Waterkeepers around the world. Stay tuned to learn more about the outcome of the negotiations.
Visit EcoWatch's BIODIVERSITY page for more related news on this topic.
EcoWatch Daily Newsletter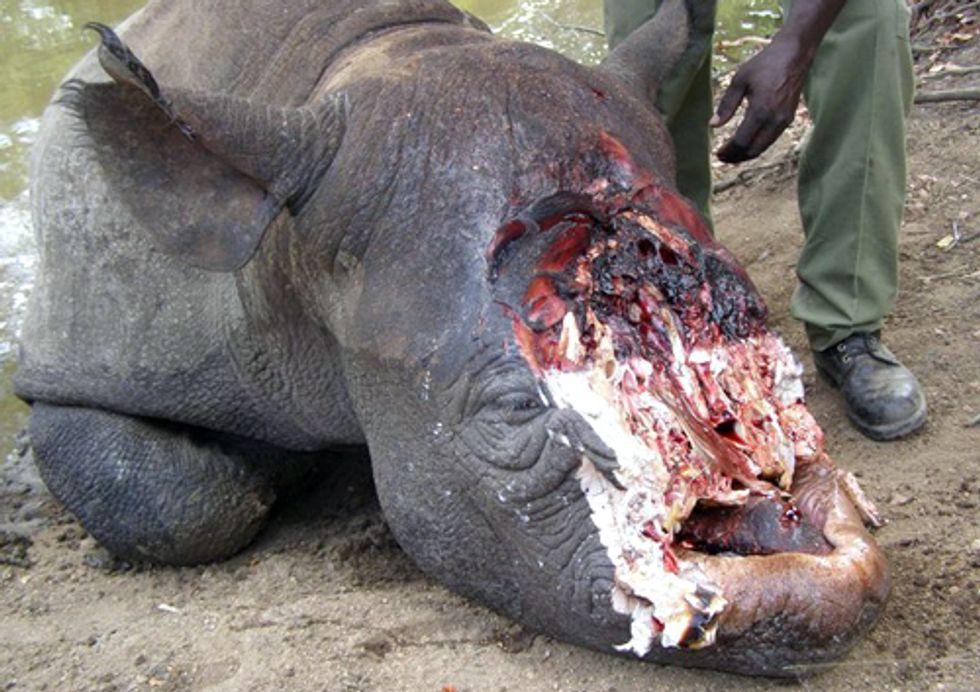 Photo courtesy of Anti-poaching Unit, Zimbabwe
Escalating levels of poaching and illegal trade in rhino horns are seriously undermining rhino conservation efforts, putting the survival of these species at risk—according to a report by International Union for Conservation of Nature (IUCN) and TRAFFIC.
 
The report examines the conservation status and trade in African and Asian rhino species.
 
"The findings of the report are alarming," says Tom Milliken, a rhino expert from TRAFFIC. "Today, rhino poaching and illegal horn trade are at their highest levels in over 20 years, threatening to reverse years of conservation effort, particularly in Africa. There is no doubt that rhino species are facing a serious crisis."
 
According to the report, by the beginning of 2011 there were 20,165 White Rhinoceros (Ceratotherium simum) and 4,880 Black Rhinoceros (Diceros bicornis) in Africa. However, at least 1,997 rhinos were poached between 2006 and September 2012 and over 4,000 rhino horns have been illegally exported from Africa since 2009, with an estimated 92 percent of these coming from rhinos specifically killed to obtain their horn.
 
South Africa, home to 83 percent of Africa's rhinos and 73 percent of all wild rhinos worldwide, is the principal source of rhino horns in illegal trade. A record 668 rhinos were poached there in 2012, according to official government figures released in January 2013.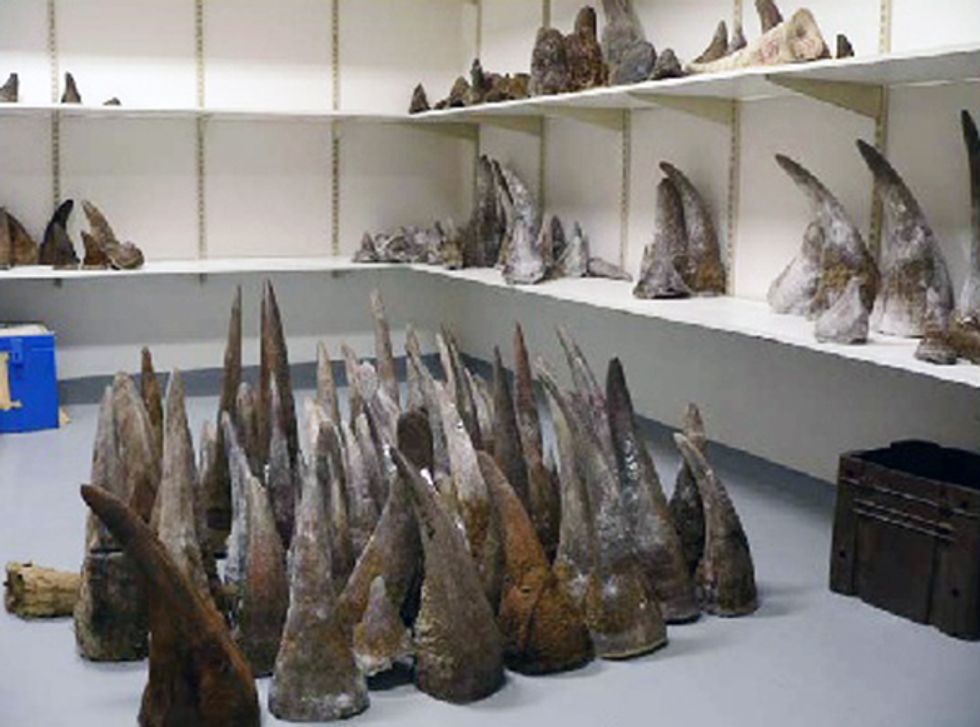 Photo Courtesy of Simon Milledge/TRAFFIC
Illegal trade in rhino horns involves highly organized, mobile and well-financed criminal groups, mainly composed of Asian nationals based in Africa. These networks have recruited pseudo-hunters including Vietnamese citizens, Thai prostitutes and proxy hunters from the Czech Republic and Poland to obtain rhino horns in South Africa on the pretense of trophy hunts for illegal commercial trade. Pseudo-hunting has significantly reduced as a result of a decision to prevent nationals of Vietnam from obtaining hunting licenses and changes to South African law in April 2012. However, there remains a continued need to ensure that only bona fide hunters are granted permits, according to the report.
 
"Rhinos are killed for their horns, which are seen as highly desirable status symbols in parts of Asia, notably Vietnam, but also increasingly in China," says Bibhab Kumar Talukdar, Chair of IUCN Species Survival Commission's (SSC) Asian Rhino Specialist Group. "Horns are also increasingly used for non-traditional purposes such as hangover cure and body detoxifier, especially in Viet Nam."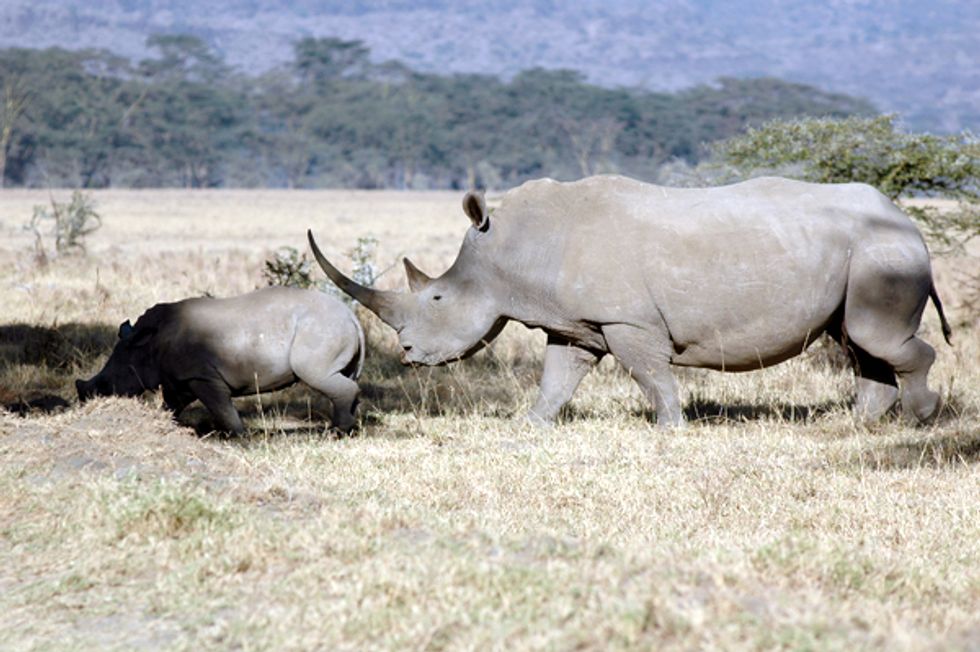 White Rhinoceros (Ceratotherium simum). Photo courtesy of Jean-Christophe Vié
In Asia, although conservation action in Nepal and India has resulted in increased numbers of the Greater One-horned Rhinoceros (Rhinoceros unicornis), the situation in Indonesia and Malaysia remains serious for the world's two rarest rhino species—the Sumatran Rhinoceros (Dicerorhinus sumatrensis) and the Javan Rhinoceros (Rhinoceros sondaicus). The Javan Rhinoceros, with only around 35 to 45 surviving individuals, is confined to a single park in Indonesia after the last animal of its Indochinese subspecies, Rhinoceros sondaicus annamiticus, was found dead, its horn removed, in Vietnam in 2010. The report calls for enhanced protection and biological management of the remaining Sumatran and Javan Rhinoceros to prevent their extinction.
 
Thefts of rhino horns from museums and zoos have increased worldwide, creating the need for improved law enforcement, monitoring and enhanced information management with regards to rhino numbers, sales and translocations, the report finds.
 
"Trade in rhino horns is a global problem that needs to be addressed by the international community by putting pressure on those countries that are driving illegal trade in rhino horn and those with inadequate wildlife legislation, such as Mozambique," says Richard Emslie, from IUCN SSC African Rhino Specialist Group. "At the same time, increased poaching is negatively affecting rhino conservation incentives and budgets, threatening future rhino population growth."
 
The report was compiled by the IUCN SSC African and Asian Rhino Specialist Groups and TRAFFIC, the wildlife trade monitoring network. It was mandated by Convention on International Trade in Endangered Species (CITES) and aims to inform the rhino horn debate at the 16th meeting of the Conference of the Parties to CITES, taking place in March 2013 in Bangkok, Thailand.
Visit EcoWatch's BIODIVERSITY page for more related news on this topic.