This website uses cookies to ensure you get the best experience while browsing it. By clicking 'Got It' you're accepting these terms.


The best of EcoWatch, right in your inbox. Sign up for our email newsletter!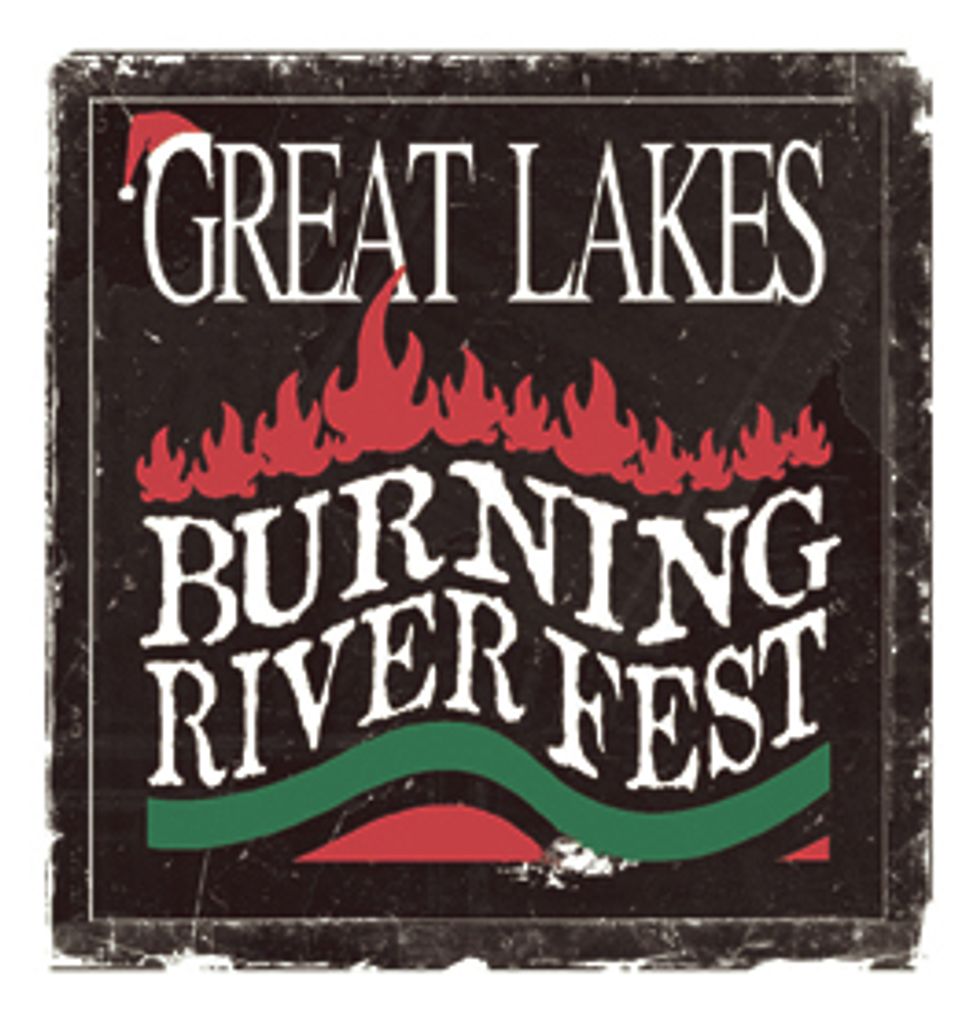 The annual music, arts and environmental festival, Burning River Fest (BRF), takes place on July 26 - 27 in Cleveland, OH. In its thirteenth year, the festival seeks to provide a fun atmosphere for attendees to learn about their relationship to the environment, as well as to raise funds for groups working in water conservation.
Located right on the banks of the Cuyahoga River, where the iconic fire of 1969 sparked a national environmental movement, attendees come together to celebrate how far we've come in cleaning up our waterways.
Since 2007, the BRF has distributed more than $320,000 to promote clean freshwater through the Burning River Foundation. Grant recipients who received funds in early 2013 will be displaying the work that they've done.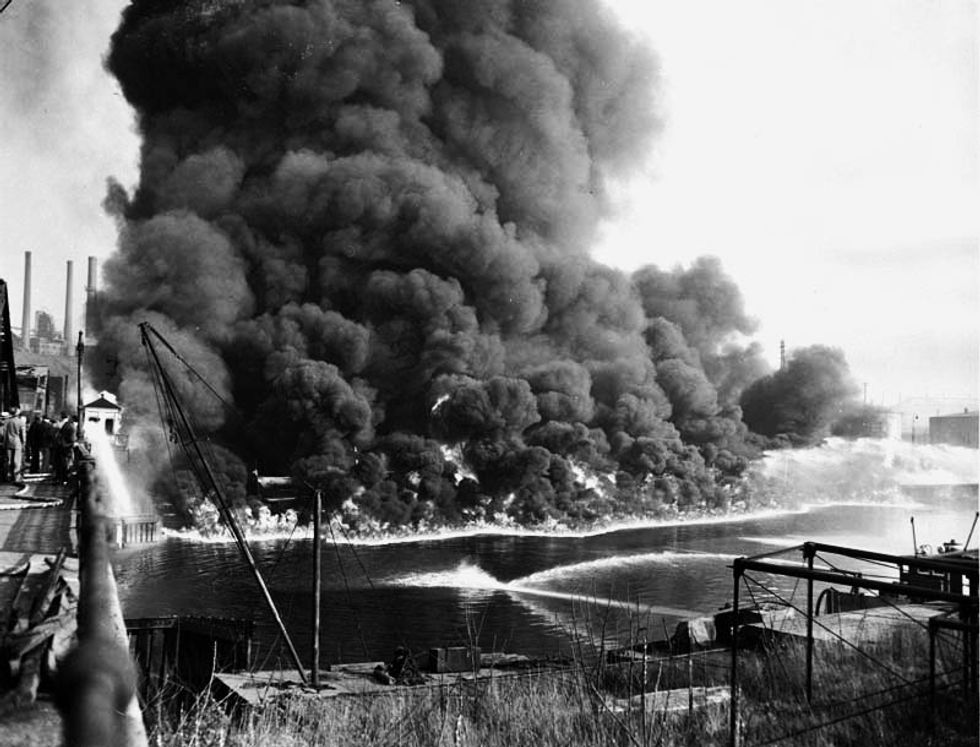 Clean Water Act
in 1972. Fires had already occurred on the Cuyahoga River in 1868, 1883, 1887, 1912, 1922, 1936, 1941, 1948 and in 1952.
Marcus Eriksen, executive director of 5 Gyres, a Los Angeles based non-profit and Dr. Sam Mason of SUNY Fredonia will be sharing the results of their second expedition to survey plastic pollution in the Great Lakes. Freelance journalist Karen Schaefer will be airing six segments she produced for public radio on quality and cleanup of local drinking water, green infrastructure solutions to flooding, and an update on algae blooms in Lake Erie and the effects of state budgets on research efforts. Cleveland based non-profit Drink Local, Drink Tap will feature their work to educate Cleveland schools about water, as well as screening their documentary Making Waves from Cleveland to Uganda about their effort to bring fresh drinking water to Mulajje Village.
Awards will be presented by the Alliance for Water Future to the winner of their recent PitcH2O water innovation competition and by the Burning River Foundation to a leader in freshwater advocacy in Northeast Ohio.
Six businesses have signed on for the second Corporate Boat Float, a race of boats built from each business's plastic waste. The boats, intended to raise awareness about plastic pollution in our waterways, set sail on Saturday evening.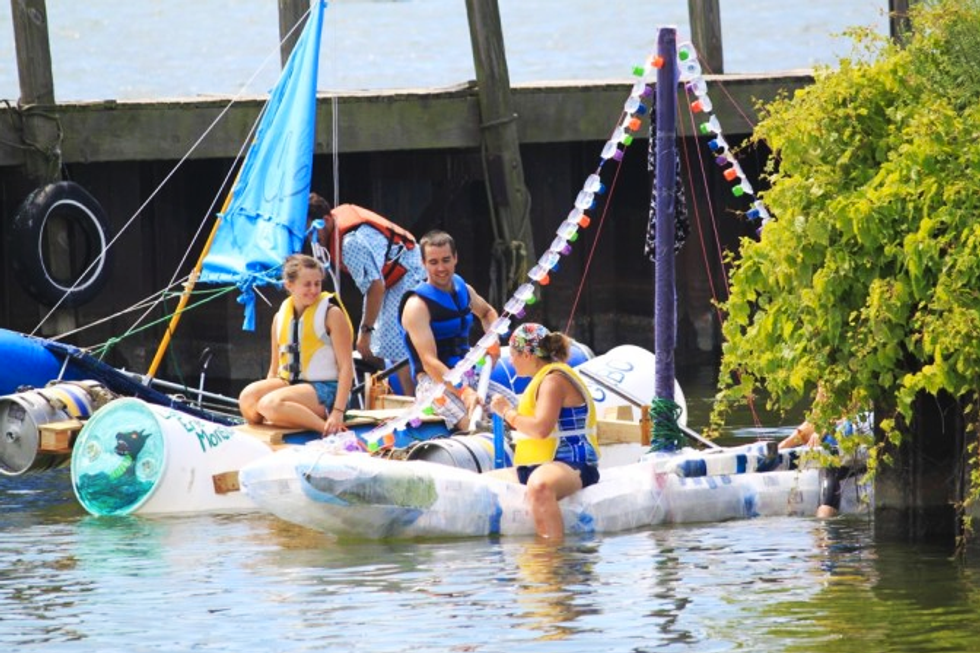 At dusk, attendees will experience fire on the water through commemorative floating pyres, fire performances and art installations made from waste materials generated on site. Waste will not be wasted, as a hundred student volunteers from Baldwin Wallace University will help coordinate an effort to achieve 90 percent waste diversion.
The cuisine served at the BRF is from local food vendors, including Spice Kitchen & Bar, Whole Foods and Ohio City Pasta. Those with a little sweet tooth can enjoy Mitchell Brothers and Jeni's Splendid ice creams. Chefs from Pier W, AMP150 and others will also be on hand to demonstrate fresh, local preparations. The beverage of choice, in addition to water from the tap, will be the Great Lakes Brewing Company's highly prized Christmas Ale, a batch brewed exclusively for the Burning River Fest.
Tickets are currently available at www.burningriverfoundation.org. In addition to standard admission passes, VIP tickets that help support the Burning River Foundation's goals of public education and conservation are available.
Visit EcoWatch's WATER page for more related news on this topic.
——–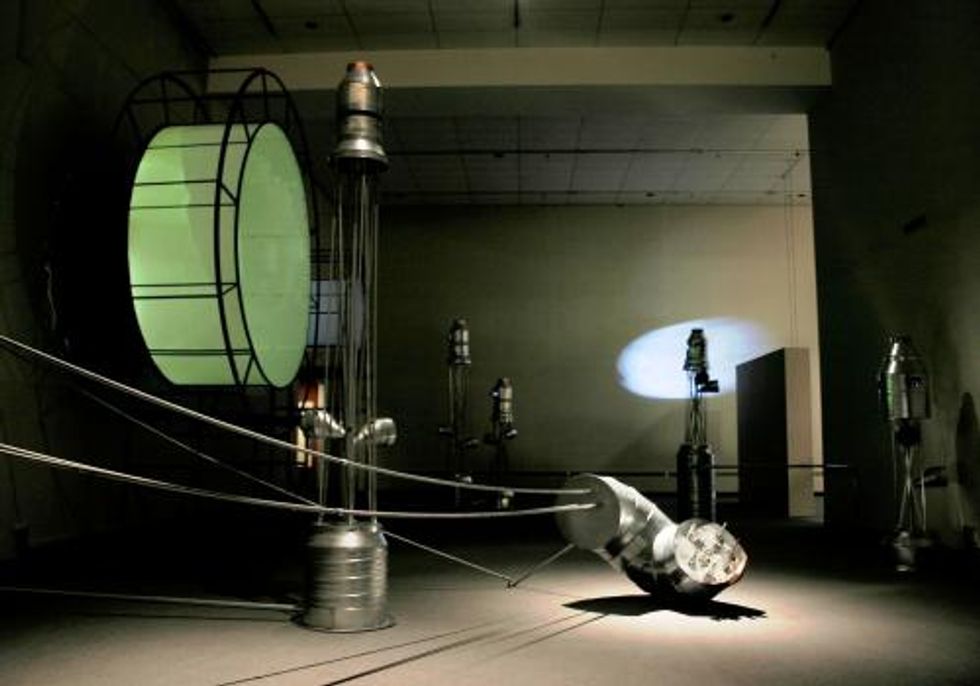 WHAT: Artist talk and opening reception and Cuyahoga River Fugues Revisited exhibition
WHEN: Talk on Feb.3 from 6 - 7 p.m., reception on Feb. 3 from 7 - 9 p.m., exhibition from Feb. 3 - March 30
WHERE: SPACES, 2220 Superior Viaduct, Cleveland, Ohio 44113
In celebration of its 10th anniversary, the SPACES World Artists Program (SWAP) is pleased to welcome back New York artist Margaret Cogswell. Nine years ago, as SWAP's third artist-in-residence, Cogswell created Cuyahoga River Fugues, a haunting mixed-media installation that wove together stories gathered from steel workers, environmentalists, fishermen, historians and city planners whose lives had indelibly intersected with the Cuyahoga. This January, Cogswell returns to SPACES for a second residency, to revisit the river and the work it inspired.
Overwhelming response to Cuyahoga Fugues led Cogswell to explore the vital and increasingly politicized role of waterways throughout the world for the last decade, for which she was awarded a John Simon Guggenheim Memorial Foundation Fellowship in 2009. Her site-specific series of River Fugues utilizes the musical structure of a fugue (with its recurring themes in varying parts of the structure) as a vehicle to weave together video, audio and sculptural components into installations that explore the interdependency of people, industry and rivers in post-industrial regions.
Cogswell's River Fugues have included Hudson Weather Fugues (on the Hudson River in New York, 2005), Buffalo River Fugues (Buffalo, NY 2006), projects in Brussels, Belgium, Monaco and at the Chicago Field Museum (2007-2009), Mississippi River Fugues (Art Museum, TN, 2008) and Hudson River Fugues (Tang Museum, NY, 2009-2010). She is currently working on a solo exhibition at the Art Museum of the University of Wyoming for September and the development of New River Fugues in Virginia and North Carolina.
For her three-week return to Cleveland in January, Cogswell will reconnect with individuals who participated in the development of Cuyahoga River Fugues in 2002 and look into what has changed in their relationships to the Cuyahoga over the last nine years. She will develop a series of drawings and a mixed-media installation based on video footage taken at the steel mills and along the Cuyahoga River. The resulting exhibition will include selected videos from nine years of River Fugues projects inspired by her time with the Cuyahoga River.
Join Margaret Cogswell and her Cuyahoga River Fugues collaborators for a public dialogue on the work, at 6 p.m. on Feb. 3 at SPACES, to kick off the exhibition opening.
Artist Biography
Margaret Cogswell is a mixed-media installation artist residing in New York. Cogswell has a M.F.A. in sculpture from Mason Gross School of Art at Rutgers University (1982) and is the recipient of numerous awards, including the John Simon Guggenheim Memorial Foundation Fellowship (2009), New York Foundation for the Arts grants (2007,1993) and Pollock-Krasner Foundation grants (1987,1991). Cogswell is a member of Mapping Spectral Traces and an associate member of PLaCE Research Center at the University of Western England Bristol. Cogswell's professional career has also included teaching studio art at the Purchase College School of Art and Design of the State University of New York; Rhode Island School of Design; Kansas City Art Institute; Parsons School of Design in New York and Kanazawa, Japan, and the School of the Museum of Fine Arts, Boston.
For more information, click here or here.
--------
SWAP is a residency initiative begun at SPACES in 2002 that provides artist-in-residence opportunities for international, national and local artists who explore and experiment. SWAP supports the creation, presentation and discussion of artwork while facilitating collaboration among Northeast Ohio audiences.
SPACES is located at 2220 Superior Viaduct, in Cleveland, Ohio. Gallery hours are Tues. – Sun., 12 – 5 p.m. and 12 - 8 p.m. on Thurs. Admission (and parking) during regular gallery hours is free and open to the public. For more information, visit www.SPACESgallery.org, call 216.621.2314 or email contact@SPACESgallery.org.
EcoWatch Daily Newsletter
by Kristy Meyer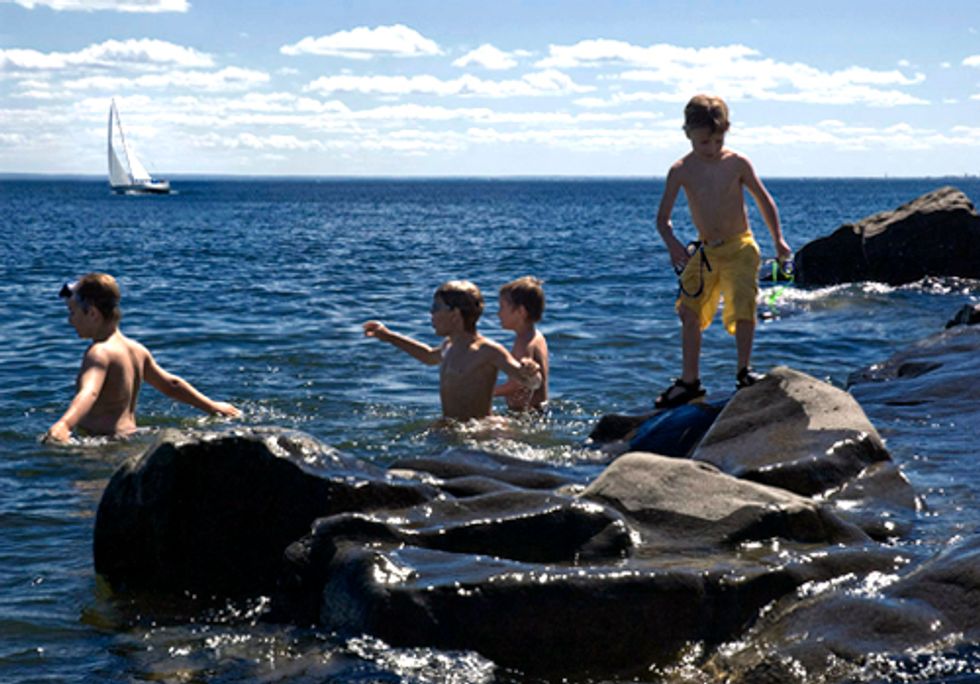 Some decision-makers apparently need a refresher course on clean water.
From the mid-1800's to the late 1960's, many rivers around the U.S. caught on fire, including Ohio's mighty Cuyahoga River. The cause? Uncontrolled dumping of pollution.
In the 1930's, algal blooms became a nuisance in the Great Lakes. A 1953 report by the Ohio Department of Natural Resources concluded that "long periods of pollution barriers to fish existed in the form of toxic material or deficient oxygen." In the 1960's and 1970's, scientists declared Lake Erie to be biologically "dead." As a result, Congress and the U.S. and Canada passed two historic pieces of legislation—the federal Clean Water Act and the Great Lakes Water Quality Agreement.
Our lakes and rivers rebounded. People flocked to Lake Erie and other waterways to fish, swim and boat. Small businesses dependent on the fishery and water-based recreation flourished. The number of coastal marine businesses along Lake Erie's coast has more than doubled from 207 in 1977 to 425 today. In 1975, there were 34 charter boat captains. Today, there are about 800 of these small business owners.
Take home message? Clean water is part of the equation that yields good jobs and recreation.
Today, many decision-makers in Congress want to gut the Clean Water Act. They want to stop any federal agency from protecting our waterways from increased pollution. These politicians claim they are acting in the name of jobs and the economy. They apparently think that clean water strangles jobs and recreation.
According to the U.S. Environmental Protection Agency, nearly 90 percent of Ohio's population receives its drinking water from small and/or seasonal streams. Yet Congress is threatening to strip these streams of protections that have existed for 40 years under the Clean Water Act. If Congress abandons these streams, it will leave them vulnerable to being filled and polluted.
Some of our nation's leaders actually think that Americans should chose between their family's health and the health of our economy. As a trained scientist, I know that life itself depends on clean air and water. As a co-breadwinner, I know that my husband and children depend on a thriving economy. And as a mother, I am not willing to sacrifice either the environment or the economy.
Since the passage of the Clean Water Act and the Clean Air Act, people are living healthier and longer lives, in part because of these very regulations. Congress, however, has placed our drinking water, our health, and our economy in their crosshairs with the passage of such bad pieces of legislation as the Dirty Water Bill (the Barrasso-Heller amendment, H.R. 2354), which the Senate is now considering.
At a time when Lake Erie and Grand Lake St. Marys is grappling with toxic algal blooms rivaling those of the 70's, Congress should not be rolling back protections for our waterways that provide drinking water, food, and jobs to millions of Ohioans. President Barack Obama should swiftly restore Clean Water Act protections to our streams, rivers and lakes. His administration has started the guidance and rule-making of what waterways are legally considered waters of the U.S. and afforded Clean Water Act protections. But big-money polluters and their friends in Congress are now trying to stand in the way.
Now is the time for concerned citizens to raise their voice. Don't wait until you can no longer fish or swim in your favorite fishing hole. Contact your Senators today and tell them to vote no on the Dirty Water bill, before it's too late.
For more information click here or email Kristy Meyer at Kristy@TheOEC.org.