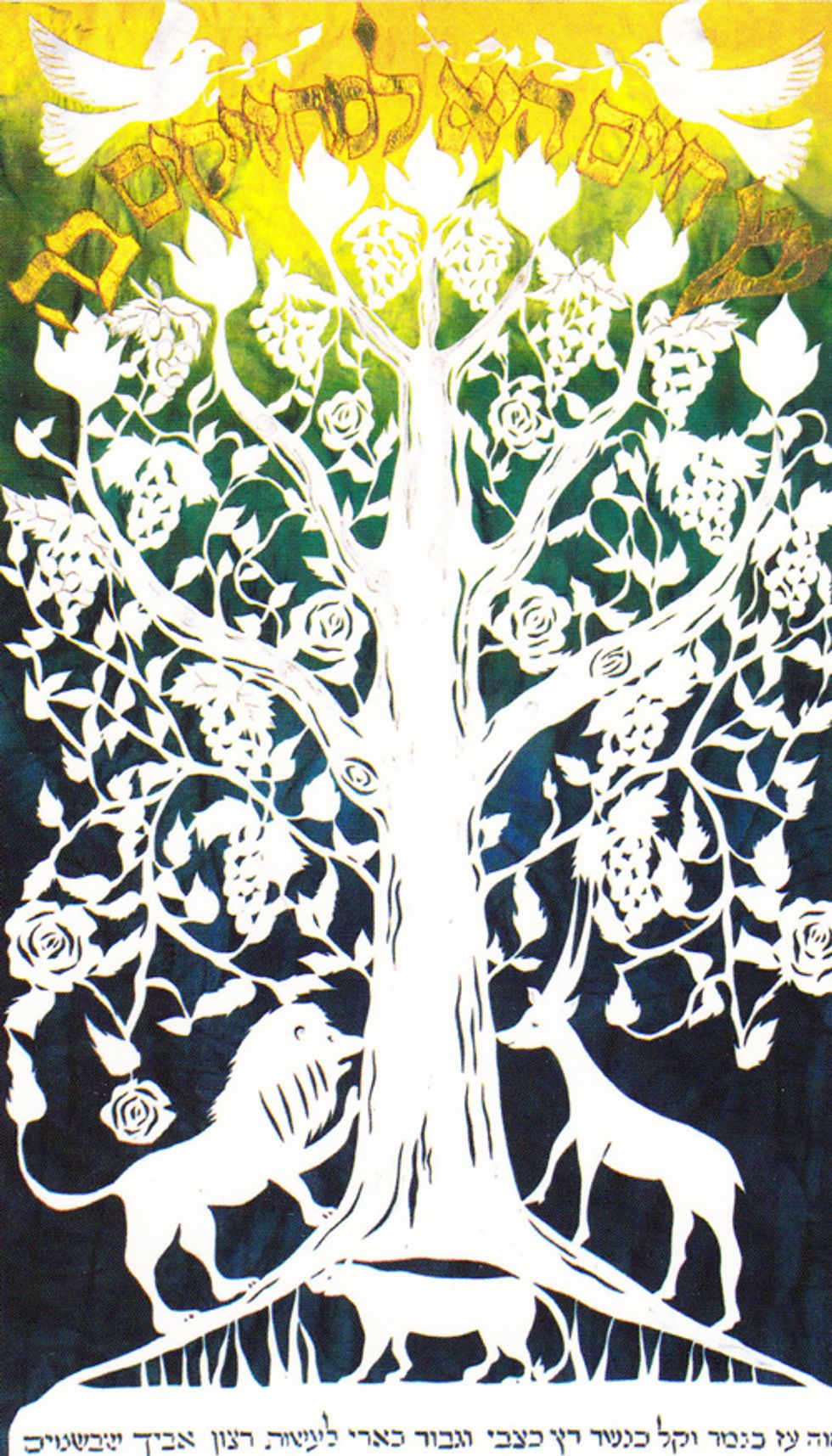 Beth El-The Heights Synagogue is presenting a Scholar in Residence weekend with Rabbis Arthur Waskow and Phyllis Berman, Friday, Nov. 30 through Sunday, Dec. 2. The weekend will feature discussions on environmental ethics and climate change, the cycles of the Jewish year and storytelling as a path for social change.
Rabbi Waskow is the co-founder and executive director of The Shalom Center in Philadelphia, an organization which works to infuse Jewish and multi-faith spirituality into action on broad social fronts such as peace and environmental protection.
Rabbi Berman is a Jewish and secular educator who has worked closely with immigrant populations and is renowned as a leading Jewish-renewal liturgist, prayer leader, story-writer and story-teller.
"Beth El -The Heights Synagogue is proud to bring in these two highly regarded scholars and speakers for a weekend of learning and dialogue on the interconnectedness of the environmental and the human spirit," said Sherry Ball, chair of the Adult Education Committee at Beth El-The Heights Synagogue. "We are excited to collaborate on this Scholar in Residence program with well-respected local organizations such as GreenCityBlueLake of the Cleveland Museum of Natural History, Mandel Jewish Community Center, HaMakom and Funny Times Peace Fund."
To kick off the weekend, Rabbis Waskow and Berman will join with local leaders in the environmental and faith communities in an interfaith panel discussion on environmental ethics at Cleveland Museum of Natural History. Other events include Friday night Shabbat dinner, lecture and songs at Beth El-The Heights Synagogue; Saturday morning Shabbat services followed by lunch and discussions; Saturday evening Havdalah concert and story-telling; and a booksigning at the Mandel JCC by Rabbi Waskow of the new edition of his classic Seasons of Our Joy: A Modern Guide to the Jewish Holidays.
For more information, visit the full schedule of events or contact Judie at 440-449-5855 or jbjbjbjb38@ameritech.net.
Visit EcoWatch's CLIMATE CHANGE page for more related news on this topic.
EcoWatch Daily Newsletter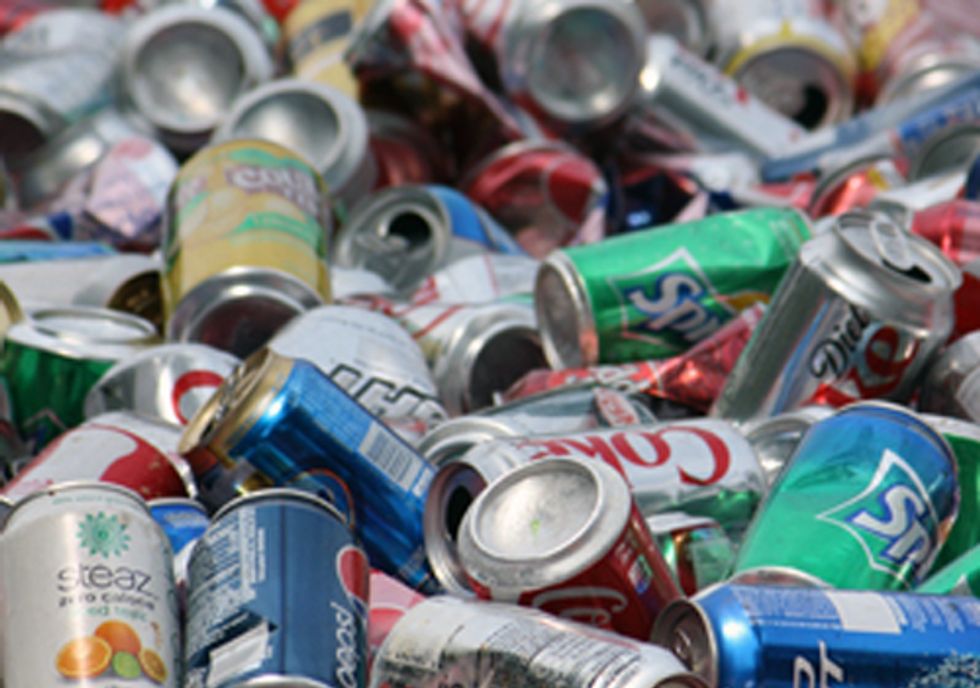 When can you turn a bag of aluminum cans or some old pots and pans into a free ticket to Cleveland Metroparks Zoo? During America Recycles Day.
That's right, on Saturday, Nov. 10, from 10 a.m. to 4 p.m. visitors can celebrate America Recycles Day by bringing in select recyclables in exchange for one free admission with the purchase of a regular admission.
Eligible materials include aluminum cans, cell phones and accessories, newspaper, catalogs, junk mail, magazines, ink jet and toner print cartridges, household plastics with the recycle symbol and the No. 1-7 on them, cooking and dining supplies and utensils, election signs and pairs of shoes (no single shoes, rubber flip flops, ice skates, roller skates, slippers, ski boots or completely ruined or broken footwear will be accepted).
There will also be free document shredding until 3 p.m. (limit three bags or boxes), an area of exhibitors who promote different aspects of "reduce, reuse, recycle" and a rain barrel workshop (separate registration required, call 216- 524-6580, Ext. 22).
Proceeds from the aluminum cans collected will benefit Bat Conservation International.
And don't forget that compact fluorescent light bulbs, cell phones and accessories, and ink jet and toner cartridges can be dropped off any day at the recycling station in the Zoo's Exhibit Hall. Newspapers, magazines, junk mail and shredded paper (bagged) can be deposited in the yellow and green Abitibi-Bowater Paper Retriever bins in the rear of the Hippo Parking Lot behind The RainForest.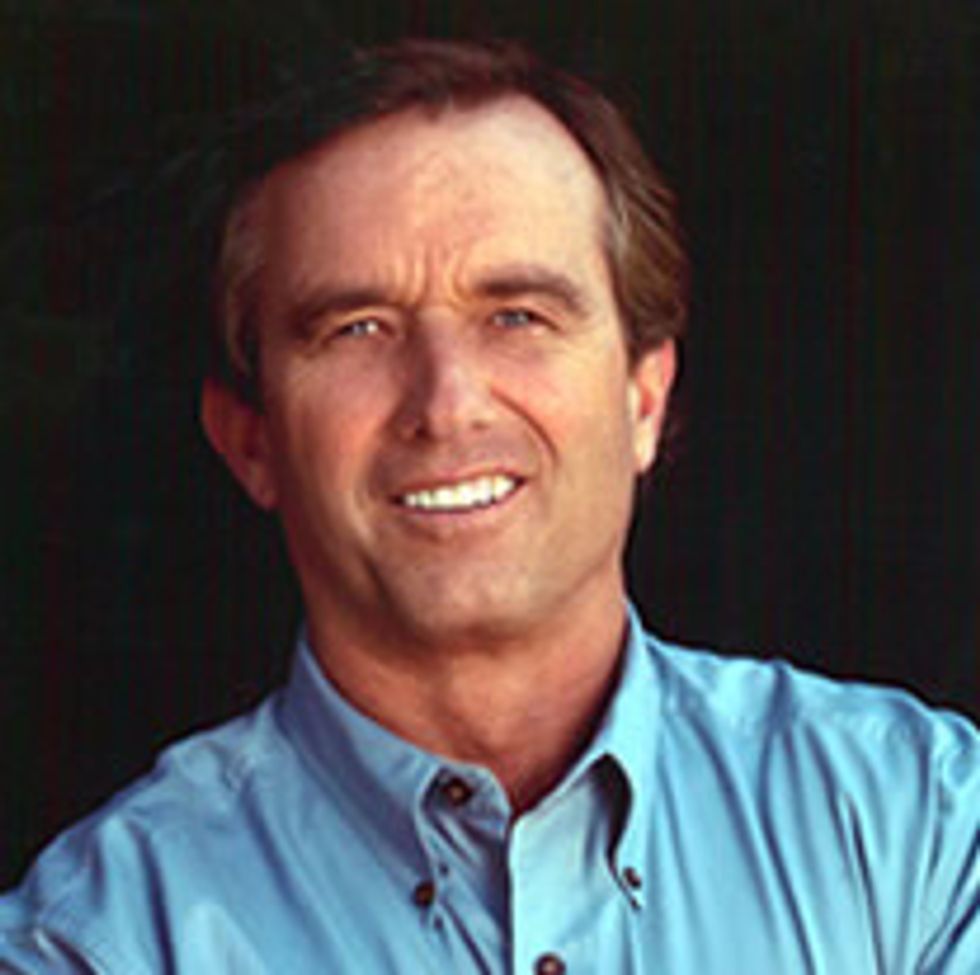 On Monday, Nov. 12, Robert F. Kennedy, Jr. will speak at the Ohio Theatre at Playhouse Square at 6 p.m. in downtown Cleveland. Kennedy's reputation as a resolute defender of the environment stems from a litany of successful legal actions. He was named one of Time magazine's "Heroes for the Planet" for leading the fight to restore the Hudson River and Rolling Stone magazine's "100 Agents of Change." He has authored several books, including New York Times' bestseller Crimes Against Nature (2004) that calls into question environmental policies of the U.S.
Kennedy is a business visionary and environmental champion who will discuss how a green economy solves a myriad of domestic and global challenges.  You'll learn how a well-crafted energy policy will help America compete more effectively while reducing our national debt.  He will inspire you to protest and preserve our planet for future generations.
Kennedy is chief prosecuting attorney for Hudson Riverkeepers, senior attorney for Natural Resources Defense Council and president-at-large for Waterkeeper Alliance. He is a professor of environmental law at Pace University School of Law and co-director of the school's Environmental Litigation Clinic. Kennedy is a partner in Silicon Valley's VantagePoint Ventures Partners' CleanTech investment team.
Kennedy was featured in the acclaimed environmental documentary The Last Mountain, the Sundance 2011 official selection. The film examines the struggle to save Coal River Mountain in Coal River Valley, West Virginia—the last mountain in the area untouched by the mining practice of mountaintop removal.
As a keynote speaker, Robert F. Kennedy Jr. delivers a passionate defense of the environment and of how its continued neglect affects the future of the planet and the health of future generations. He advocates a direct and aggressive approach against entities whose policies accelerate pollution and maintain the status quo. Kennedy calls upon all people to actively make a difference in their world.
For information or to purchase tickets, call Town Hall at 216-241-1919 or visit www.townhallofcleveland.org. The Ohio Theatre is at 1511 Euclid Ave., Cleveland, Ohio 44115.
--------
Town Hall of Cleveland's mission is to educate and to inform, through an annual series of public lectures, an audience of attentive and active citizenry in northern Ohio, promoting no particular social or political agenda other than to enrich the depth and quality of the public discourse essential to a free society.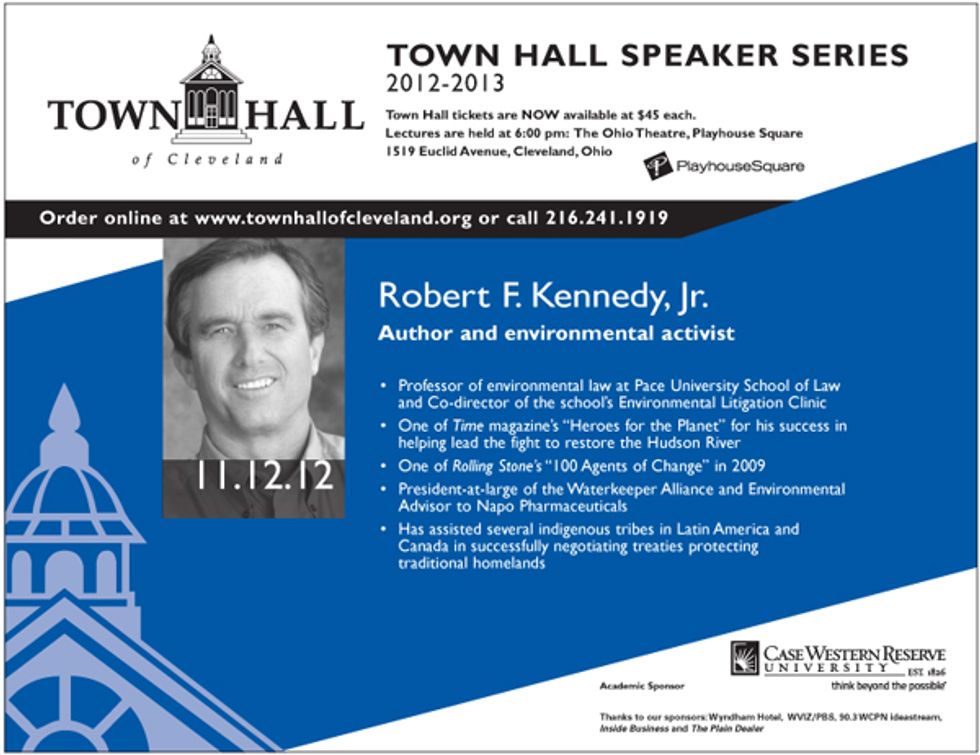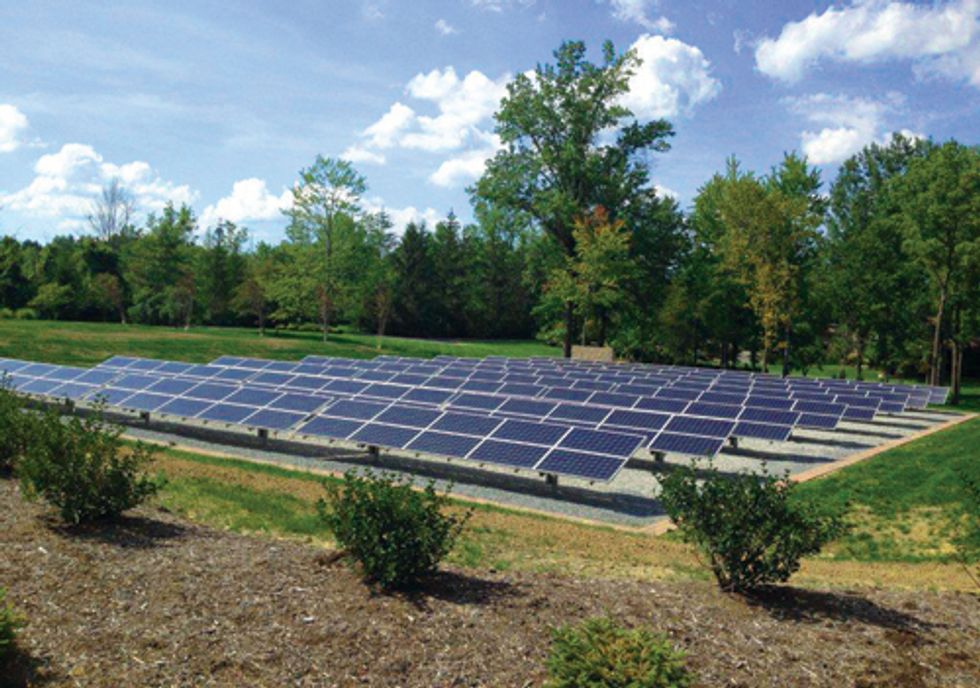 Green Energy Ohio (GEO) joins American Solar Energy Society (ASES) and hundreds of solar-savvy installers and grassroots organizations throughout America to showcase more than 5,000 solar-powered homes, schools and businesses for the 17th Annual National Solar Tour, the world's largest grassroots solar event.
GEO will showcase renewable energy and green design in events throughout Ohio from Monday, Oct. 1 to Sunday, Oct. 7. More than 170 open house sites in more than 100 communities in 49 counties across the state have registered. There will be more than 200 businesses, 50 installers, 69 manufacturers, 35 local firms and 45 businesses participating this year.
"The Green Energy Ohio Tour is a part of the nation's largest grassroots  renewable energy demonstration. Despite political opinions, we know that the renewable energy sector improves the environment and creates jobs," said Bill Spratley, GEO's executive director. "Come and see for yourself! Economic and environmental sustainability comes down to people adopting these technologies and making it happen. The tour is the public's opportunity to take that first step and learn what it takes to have a renewable energy or energy efficiency installation done to their home or business."
The tours are free to the public during designated times. Visitors can choose from local sites and create a tour that is convenient to their personal schedule. Many guided tours are also available.
For more information click here.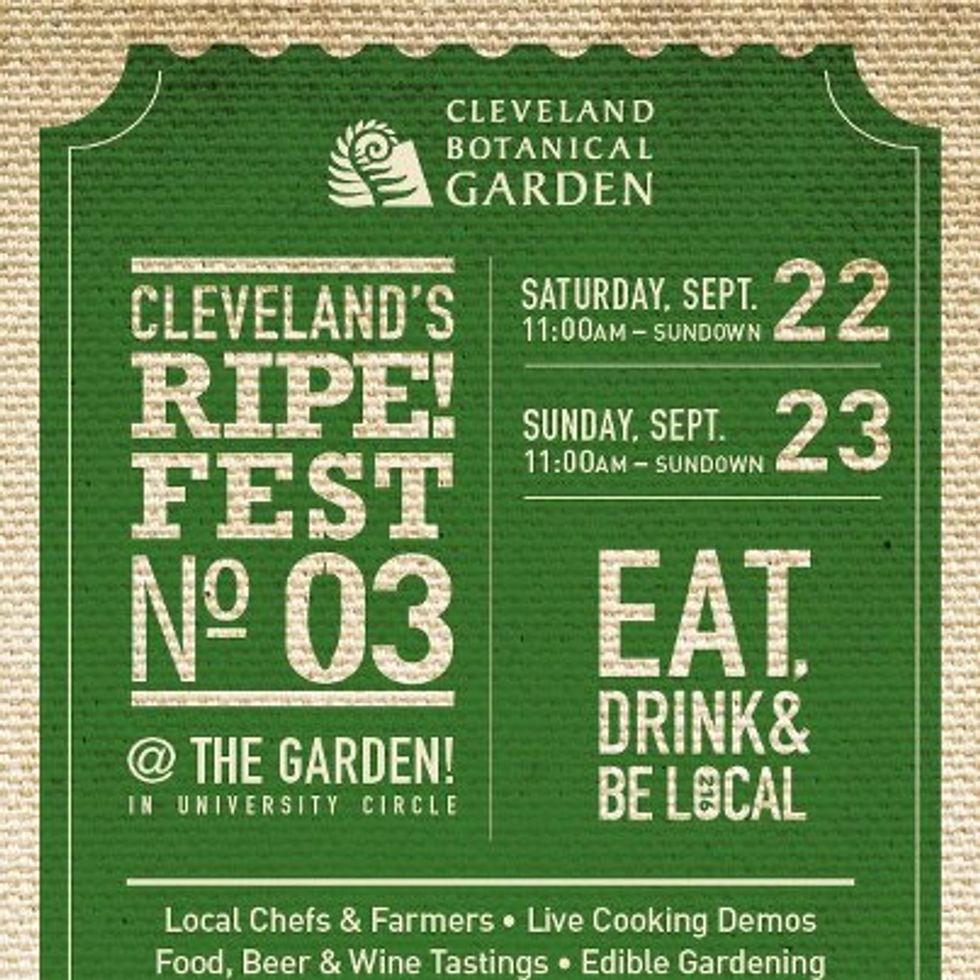 Cleveland's "RIPE! Fest No. 03" brings you a bounty of flavorful fare from local farms and restaurants, as well as homegrown bands, a marketplace of merchandise by Northeast Ohio artisans and lots of children's activites. RIPE! Fest runs 11 a.m. to sundown on Saturday, Sept. 22 and Sunday, Sept. 23 at Cleveland Botanical Garden at 11030 East Blvd., Cleveland, Ohio 44106.
This third annual celebration of all things local promises to delight your senses with a weekend full of live music, local cuisine, food trucks, freshly picked produce, gardening workshops, beer and wine tastings and creative culinary demonstrations by top Cleveland chefs.
Interactive children's activities at RIPE! Fest No. 03 include veggie-carving demonstrations, puppet shows, healthy snacks, harvest crafts, pedal-tractor rides and cider pressing.
An expansive marketplace featuring local and sustainability-minded merchants will offer everything from jewelry and candles to soap and artwork. Workshop topics include Front Yard Fruits, Eat Your Yard, Chickens and Eggs and Edible Gardening for Fall.
RIPE! Fest No. 3 offers something for people of all ages and promises to attract an eclectic mix of Northeast Ohioans, including farmers, families, musicians, chefs, gardeners and more.
Other activities surrounding this year's RIPE! Fest include:
• Autumn's Eve Dinner: A fabulous four-course meal featuring locally grown ingredients prepared by Cleveland-area chefs—all to benefit the local teens who take part in the Garden's Green Corps urban-farming program. 6 p.m. on Thursday, Sept. 20. Dine at community tables under the stars on Wade Oval. Chefs Tony Smoody of Bon Appétit, Douglas Katz of fire food & drink and Ben Bebenroth of Spice of Life Catering Co. are the culinary masters behind the Autumn's Eve Dinner. Live bluegrass and Americana by Ferguson 35. Individual tickets start at $150, and reservations are requested by calling 216.721.1600 ext. 100.
• Not Quite RIPE! Sound Check Party: An early taste of RIPE! Fest full of live music, great food and premium brews. 5 to 10 p.m. on Friday, Sept. 21. Featuring Cleveland's favorite polka player, DJ Kishka, and live bands pOUT and Chasing Kelly. Complimentary eats are provided by Chipotle Mexican Grill. Tickets are $6 for Garden members and $11 for non-members.
• RIPE! Fest Pancake Flip-Off: A friendly competition to see whose pancakes stack up best when some of Cleveland's top chefs put their batter to the test. 10 a.m. to Noon on Sunday, Sept. 23 on the Garden's Geis Terrace. Chefs include Karen Small of Flying Fig, Eric Williams of Momocho, Scott Kim of SASA, Douglas Katz of fire food & drink, Paul Minnillo of Flour and Ricardo Sandoval of Fat Cats, Felice and The Lava Lounge. Proceeds benefit Green Corps, the Garden's urban-farming program for teens. Admission is $10 per Garden member and $15 per non-member. Child admission is $6 per member and $8 per non-member. Tickets include admission to the Sunday portion of RIPE! Fest No. 03.
Tickets for RIPE! Fest are $8 per adult Garden member adult, $5 per member child, $13 per non-member adult and $7 per non-member child. Tickets purchased in advance are discounted to $6 per member adult, $4 per member child, $11 per non-member adult and $6 per non-member child. To get your tickets for RIPE! Fest, the Autumn's Eve Dinner, the Not Quite RIPE! Sound Check Party and the RIPE! Fest Pancake Flip-Off, visit cbgarden.org or call 216.721.1600 ext. 100.
Visit EcoWatch's SUSTAINABLE AGRICULTURE page for more related news on this topic.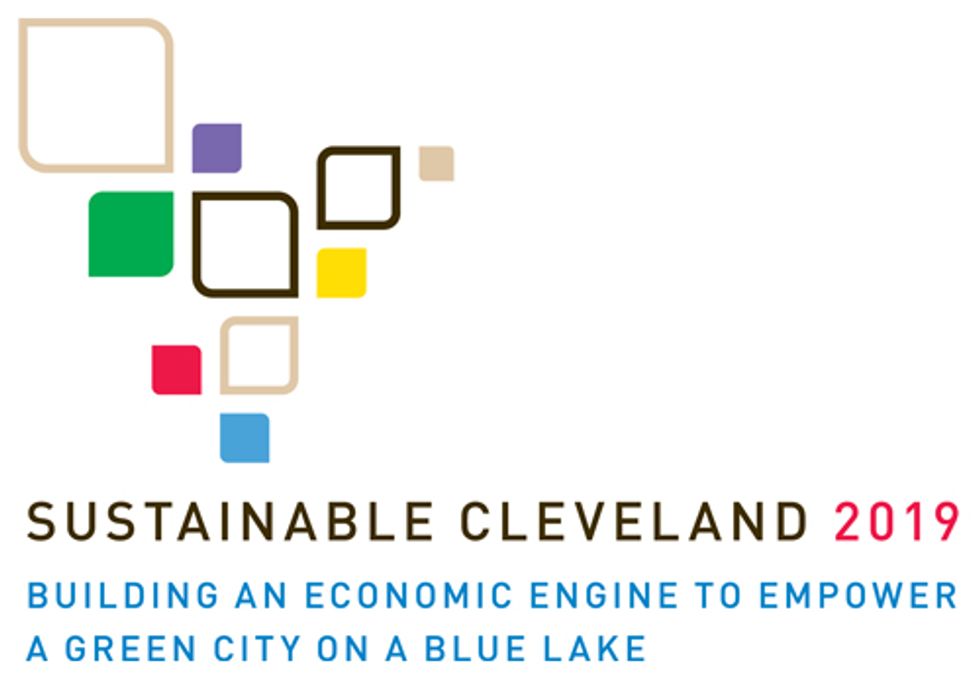 On Sept. 20-21, Sustainable Cleveland 2019 will host the 4th Annual Sustainability Summit at Cleveland Public Auditorium, 500 Lakeside Ave., Cleveland, OH 44114. Sustainable Cleveland 2019 was founded in 2009 by Mayor Frank G. Jackson to build an economic engine to empower a green city on a blue lake. The 10-year initiative creates a framework for Clevelanders from all walks of life to work together to build a thriving and resilient Cleveland region.
The annual sustainability summit reports the progress to the community, creates an agenda for the future and co-creates our sustainable future. Each year leading up to 2019, Cleveland will have a sustainability Celebration Year. For 2012 it's the Year of Local Foods and 2013 will be the Year of Advanced and Renewable Energy. This year's summit will have two tracks, one focused on the current celebration year—Local Foods—and the other on the upcoming celebration year—Advanced and Renewable Energy.
Two dynamic speakers will give keynote presentations during the summit on the topics of advanced and renewable energy and local food systems.
Jeremy Rifkin, president of the Foundation on Economic Trends, is the author of 17 bestselling books on the impact of scientific and technological changes on the economy, the workforce, society and the environment. Mr. Rifkin will join the summit via live video address from Europe for a keynote and question and answer session. His most recent books include The Hydrogen Economy, The European Dream, The End of Work, The Age of Access and The Biotech Century.
Jeremy Rifkin has been an advisor to the European Union (EU) for the past decade. Mr. Rifkin advised the government of Spain during its presidency of the European Union (Jan. 1–June 30, 2010). Mr. Rifkin also served as an adviser to President Nicolas Sarkozy of France, Chancellor Angela Merkel of Germany, Prime Minister Jose Socrates of Portugal and Prime Minister Janez Janša of Slovenia, during their respective European Council Presidencies, on issues related to the economy, climate change and energy security. He currently advises the European Commission, the European Parliament and several EU heads of state, including Chancellor Angela Merkel of Germany and Prime Minister Jose Luis Rodriguez.
Kathleen A. Merrigan is the deputy secretary of the U.S. Department of Agriculture (USDA). Working alongside Secretary Tom Vilsack, Merrigan oversees the day-to-day operation of USDA's many programs and spearheads the $149 billion USDA budget process. She serves on the President's Management Council, working with other cabinet deputies to improve accountability and performance across the federal government.
Merrigan brings a wealth of knowledge to the USDA from a decades-long career in policy, legislation and research related to the many missions of USDA.
Deputy Secretary Merrigan has managed the Know Your Farmer, Know Your Food effort to highlight the critical connection between farmers and consumers and support local and regional food systems that increase economic opportunity.
The summit will also feature local and regional experts panels focused on the 25 percent Shift: Scaling up Local Foods with Supply-Side Infrastructure, Advanced and Renewable Energy Works in Northeast Ohio, and Advanced and Renewable Energy Policy.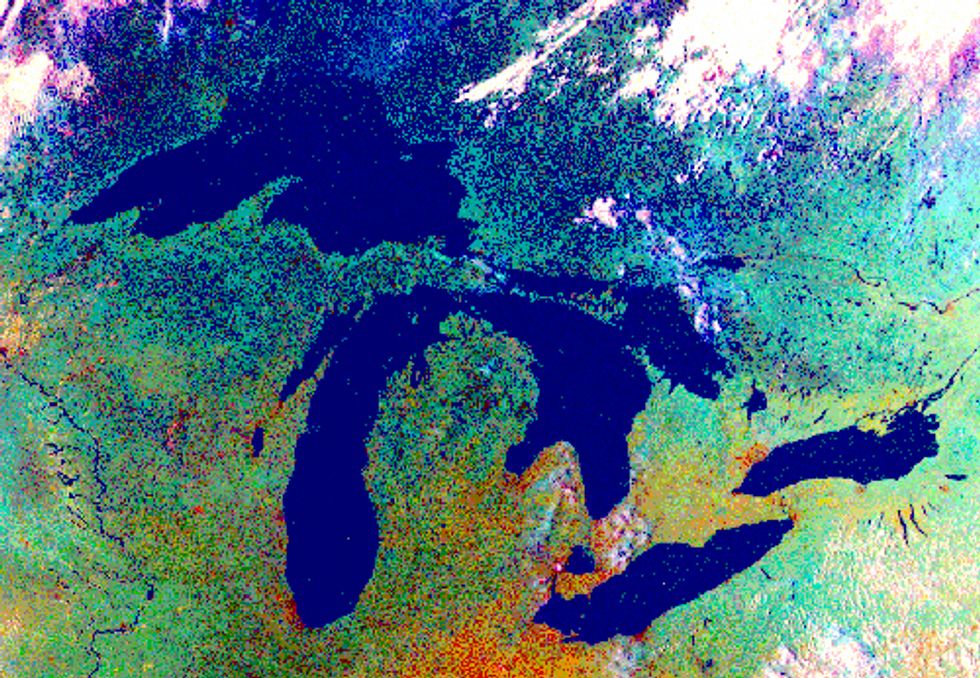 With the fate of federal Great Lakes restoration programs uncertain and the Asian carp crisis escalating, Great Lakes advocates are gathering in Cleveland to press Obama and Romney campaign officials to explain their Great Lakes platforms. The gathering is part of the 8th Annual Great Lakes Restoration Conference, which attracts more than 400 people from the states of Ohio, Michigan, Wisconsin, Minnesota, New York, Indiana, Illinois and Pennsylvania.
"The millions of people who depend on the Great Lakes for their drinking water, jobs and way of life deserve to know where President Obama and Governor Romney stand on restoring the largest source of fresh water in the world," said Jeff Skelding, campaign director for the Healing Our Waters-Great Lakes Coalition, which hosts the conference. "We need the next president to show leadership on this issue. Great Lakes restoration is not a Democratic or Republican issue—it is an issue of national significance and utmost urgency."
You can watch the conference live at www.healthylakes.org courtesy of coverage by Detroit Public Television and Cleveland Ideastream.
The conference, which runs Sept. 11 - 13, comes as the presidential election heats up. Representatives of the Obama and Romney election campaigns will address the gathering Thursday, Sept. 13 at 10:30 a.m.
Carol M. Browner, former White House energy and climate change director for President Obama and former U.S. Environmental Protection Agency administrator under President Bill Clinton, will be representing the Obama campaign. The Romney campaign is confirming its representative.
Great Lakes advocates are asking both candidates to maintain Great Lakes restoration funding and to commit to building a physical barrier to stop Asian carp from invading the Lakes. The actions are part of the coalition's Great Lakes Protection and Restoration Candidate Pledge.
Great Lakes issues have played prominently in the last two presidential elections—attracting support from both Republican and Democratic candidates. In 2004, then-president George Bush signed an executive order declaring the Great Lakes as a resource of national significance and establishing the Great Lakes Regional Collaboration, which led to the crafting of a $20 billion plan to restore and protect the Great Lakes.
In 2008, then-candidates Barack Obama and Mitt Romney all committed their support to the Great Lakes. After the election, President Obama launched the Great Lakes Restoration Initiative, a multi-year investment in the Great Lakes aimed at confronting urgent problems such as invasive species, habitat destruction, toxic pollution and run-off from farms and cities.
The next president and U.S. Congress face tough budget choices—expiring tax cuts, looming sequestration and ongoing budget negotiations—that could affect critical restoration efforts. The opening plenary on Tuesday explored the challenging political and economic landscape and what it means for federal Great Lakes restoration investments, which have eclipsed more than $1 billion over the last three years.
In communities around the region, restoration projects are protecting drinking water, improving public health and recreation and creating jobs.
In the Greater Cleveland area, wetlands are being restored on sites that housed piles of industrial waste. Fish habitat is being created by repurposing part of an old, abandoned marina. Streams and rivers are being given more natural hydrological forms to reduce flooding and sediment pollution. Neighbors are being enlisted to maintain rain barrels and rain gardens to reduce the impact of run-off on a nearby stream. These and other projects are chronicled in Cleveland Great Lakes Restoration Projects Producing Results for People, Communities—a new coalition collection of inspiring restoration success stories, showing how the work is helping people, the environment, wildlife and the economy.
"Restoration projects are producing results, but there is more work to do," said Skelding. "Both President Obama and Governor Romney need to remain resolute in their commitment to protect and restore the Great Lakes. Cutting funding and failing to address the Asian carp crisis will make projects more difficult and expensive the longer we wait."
Ohio voters know how important Lake Erie is to their economy and the environment, and want the federal government to spend money on protection and restoration. Seventy-two percent of Ohio voters from across the political spectrum—Republicans, Democrats and Independents—want federal funding to continue to support restoration work, according to a poll released in June by the Healing Our Waters-Great Lakes Coalition. The poll also found that far more voters favor, rather than oppose, building a physical barrier to stop the advance of the invasive Asian carp into the Great Lakes.
"We are making progress so the nation cannot let its guard down in the effort to protect the Great Lakes," said Skelding. "We're asking each presidential candidate to commit to restoring a piece of America that helps define who we are as a people and nation."
Visit EcoWatch's WATER page for more related news on this topic.
--------
The Healing Our Waters-Great Lakes Coalition consists of 120 environmental, conservation, outdoor recreation organizations, zoos, aquariums and museums representing millions of people, whose common goal is to restore and protect the Great Lakes.
[Editor's note: The following letter to New York's Gov. Andrew Cuomo was written by a coalition of Ohio organizations and residents who understand the impacts fracking in New York will have on Ohio. You can also express your concern to Gov. Cuomo regarding fracking in New York.]
Dear Governor Cuomo: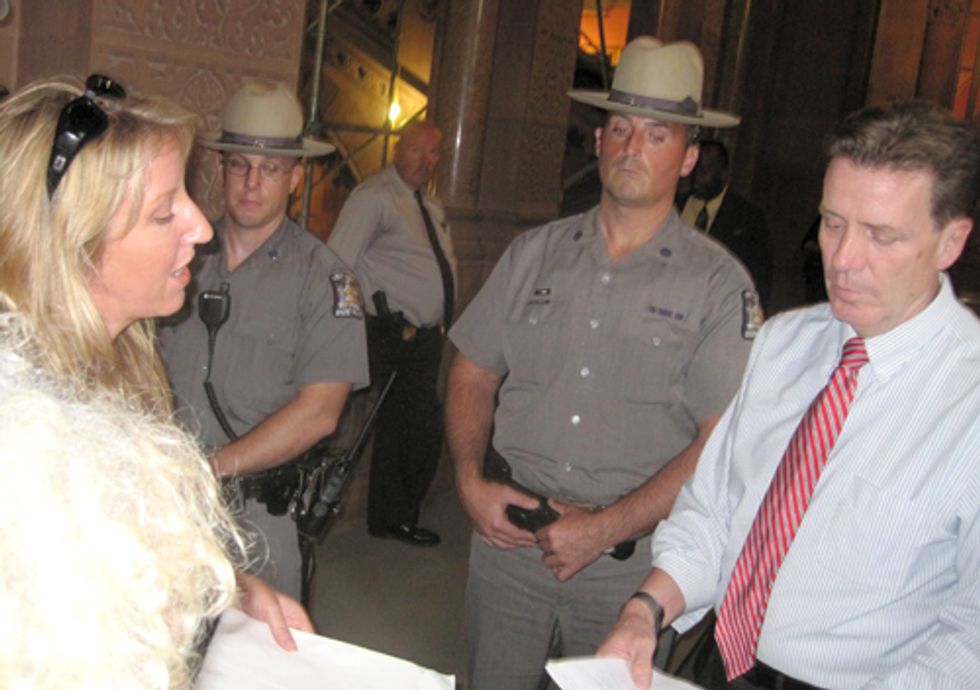 We, the undersigned Ohioans, are writing to request that you oppose shale gas extraction via fracking in all areas of New York, including the Southern tier. Such development would be irresponsible not only for the reasons outlined below, but also due to the lack of infrastructure for proper disposal of fracking waste products within your state.
Because neighboring New Jersey will not accept out of state fracking waste, Ohio becomes a likely target for the disposal of the fluid by-products of fracking. Ohio relies on class II injection wells for disposal of such fluids. In recent years we've experienced increasing numbers and magnitudes of earthquakes as a result of this process. A moratorium was issued by our state due to the severity of the issue. Thus, Ohio's current injection well space is at or over capacity. Should we be expected to receive New York waste, our citizens will be forced to endure many more injection wells in their communities.
We, the undersigned Ohioans join the many other Ohioans opposed to more injection wells in our state.  As recently as this month the city of Cincinnati voted unanimously to ban waste injection wells and the NRDC and others submitted comments detailing that the proposed regulations of Ohio injection wells do not meet minimum standards.
We also endorse the following:
1. Letter from eleven national environmental groups collectively representing millions of members nationwide.
2. Coalition letter with more than 22,000 signatories which requests that Governor Cuomo withdraw the Revised Draft SGEIS until 17 documented concerns have been fully resolved.
3. Coalition letter with more than 2,700 signatories that opposes any fracking "Demonstration Project" in the Southern Tier and requests strict enforcement of Executive Order No. 41
Fr.. Neil Pezzulo
Glenmary
Elisa Young
[Editor's note: The following letter to New York's Gov. Andrew Cuomo was written by an Ohio resident who understands the impacts fracking in New York will have on Ohio. You can also express your concern to Gov. Cuomo regarding fracking in New York.]
Dear Governor Cuomo:
I don't live in New York. But your decision to move forward with the extreme method of extraction known as fracking stands to have direct, irreversible impacts in my state and the community where I currently live—impacts from risks that you yourself have been unwilling to assume in New York, but apparently have no problem outsourcing to Ohio.
While New York leadership seems anxious to receive the short-term profits fracking might promise, you are rejecting the waste that would be generated and plan to send it to us—radioactively contaminated drill cuttings, chemically and radioactively contaminated water, even contaminated equipment and solid waste.
The plan I recently discovered in the works for Ohio, even before you officially lifted your ban, sent me reeling.
The plan is to ship this waste to my state (I still have a hard time categorizing previously drinkable water as "waste," especially in the drought we are experiencing), and haul it (diesel fuel, radiation, hazardous waste components and all) through my drinking water via barge because the trucks the drilling industry has relied upon to haul it up to this point can't deliver it fast enough to suit them. The plan is to barge it to Ohio and then run trucks at industry's convenience through our communities for permanent disposal in landfills and class II injection wells that don't even exist yet.
Two out-of-state companies from Texas and Pennsylvania are moving forward with these plans. One is already operating without even the formality of permits, regulation or enforcement.
If you hear the rumor that Ohio has the best regulations in the nation and are tempted to feel comforted that we will be kept safe from the risks you are unwilling to accept for your own people because of professed strength of our regulatory system, please know that the perspective being propagated is by the drilling industry, and not indicative of what citizens are experiencing on the receiving end.
Even though Ohio has nearly 200 active class II injection wells (how many has New York agreed to accept?), we are being inundated with waste from PA, WV and TX, to the extent that existing wells are leased to and I believe have exceeded capacity. We have received volumes of out-of-state waste sufficient to induce earthquakes in several areas of Ohio.
How many earthquakes have New Yorkers had to wake up to at the hands of this hit-and-run, out-of-state industry?
No homeowner's insurance in Ohio will cover man-made or induced earthquakes. How does that work in New York?
While you are in the process of approving the generation of even more toxic waste to dump on us, industry is in the process of rushing through 29 more class II injection well permits BEFORE the injection well rules can be passed and BEFORE citizen concerns can be incorporated into the proposed new injection well rules, which would take effect in a few short months.
Why the rush? Pressure to accommodate more fracking waste that all of the states surrounding us are generating and refusing to provide permanent storage for themselves, at the expense of our public health and safety.
I have always held to what I call the "backyard test." That is, if you generate or create something too toxic or abhorrent to allow in your own backyard, then you need to reconsider. You have no business putting it in someone else's.
To do otherwise is an injustice. It is a violation of our most basic human and civil rights.
If the strength of the testimony I have read that other citizens have sent to you to warn you of the conditions created in their own communities where fracking has already been committed; if the strength of this letter and others from Ohio based on our concerns about the massive amounts of waste you would outsource to us, are not sufficient to change your mind about allowing out-of-state drilling companies to frack New York, then as an Ohioan I am demanding that you find a way to deal with your own waste.  Don't haul it through my drinking water to further poison, sicken, and destabilize communities, farmland, friends, and families here in Ohio.
This is not commerce, it's a crime.
Sincerely,
Elisa Young
Visit EcoWatch's FRACKING page for more related news on this topic.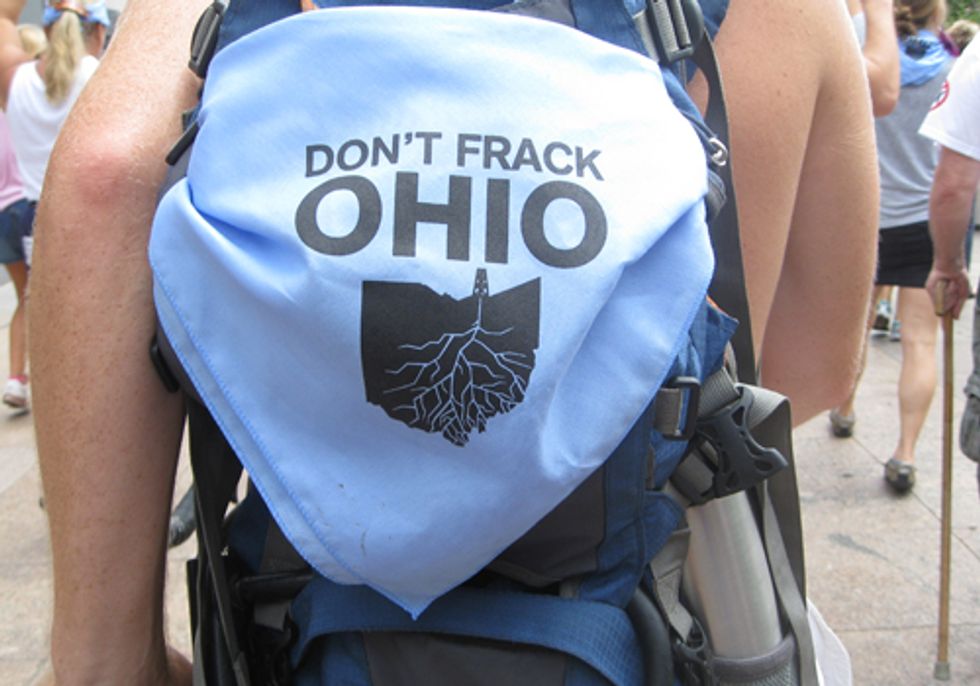 Communities across Ohio are launching an effort to work with their local officials to pass resolutions that affirms citizens' rights to clean water and air, acknowledges the dangers of hydraulic fracturing of shale gas and demand return of local community control.
The resolutions will be non-binding but the citizens' resolve to let local communities decide is steadfast. Increased awareness that the use of fracking technology is destructive to public health, the environment and economic stability has also led to the realization that this industry is destructive to representative government.
"Fracking the shale to extract oil and gas is a highly industrialized process that turns residential and farming communities into industrial zones. Our communities should have the right to decide what happens in their community and whether or not that is what they want," said Gwen Fischer, a member of Concerned Citizens Ohio.
As a result of legislation passed in Ohio in 2004, residents and local municipalities lost their ability to protect their communities from fracking gas wells, toxic injection wells, and other oil and gas operations. Sole authority over oil and gas operations in all Ohio communities was given to the Ohio Department of Natural Resources.
"The key to the solution lies in the people demanding that their local and state elected officials honor their oath of office to protect their health, safety and welfare," said Sandra Bilek, co-founder of Concerned Citizens of Medina County. "Local control needs to be returned and the elected leaders in Columbus need to start working for the people and return to Constitutional concepts that this country and state were founded on, not taking corporate dollars for corporate driven legislative decisions." 
"Citizens are waking up. Local elected officials are waking up. People are tired of being pushed around, led around and given the run-around by corporations," said Lou Giavasis, Plain Township board of trustee. "Corporations have not been given permission to tell us what to do or how we should run our cities, villages and townships. The lack of local control is an assault on 'we the people's' right to protect our own community politically, economically and environmentally,"
In an effort to ensure that their residents health, safety and property rights are protected municipalities are passing resolutions that highlight the importance of local control and community protection.
Over the next several months, community groups will be working to get these local resolutions passed. Concerned residents are taking action in every corner of the state and are striving to highlight the injustice of gas development and the need for self-determination.
Ohio Grassroots groups involved in this effort, include: Concerned Citizens of Lake Township, Concerned Citizens of Medina County, Concerned Citizens Ohio, Concerned Citizens of Summit County, Cuyahoga County Concerned Citizens, Defenders of the Earth Outreach Mission, Frackfree America National Coalition, Youngstown, Gas and Oil Drilling Awareness and Education, Licking County Citizens Concerned for the Environment and Public Health, Mothers Against Drilling In Our Neighborhoods, Stewards of the Land, SW Ohio No Frack Forum, and Williams County Alliance.
Visit EcoWatch's FRACKING page for more related news on this topic.
More than 50 youth vote activists with the Energy Action Coalition rallied outside of the Obama for America campaign headquarters in Chicago yesterday, calling on President Obama and Mitt Romney to take action to address climate change and support clean energy. The rally coincided with the release of Mitt Romney's energy plan, which made no mention of climate change, and launched the Power Vote campaign, which will mobilize hundreds of thousands of young voters to turn out in the elections and call for clean energy and climate action.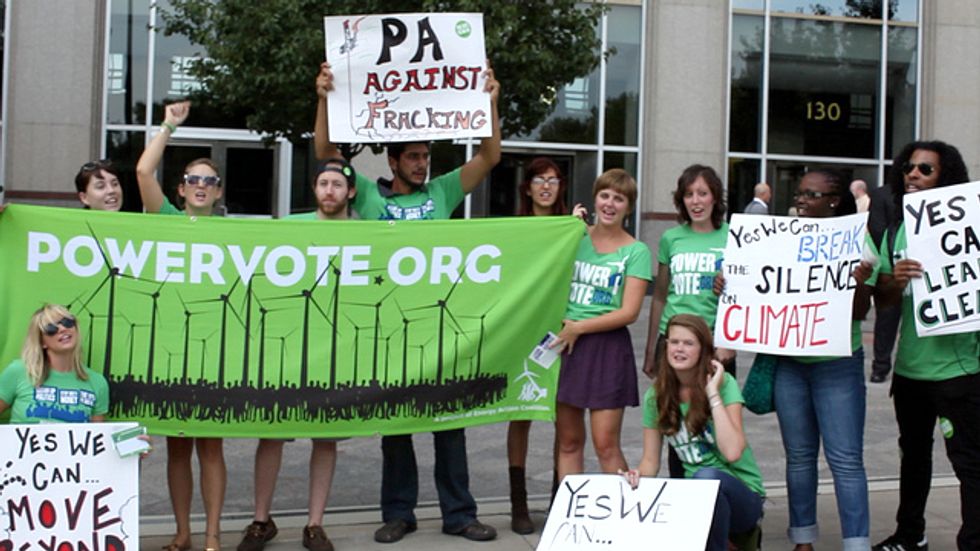 "We're breaking the silence on climate change, and building grassroots support for action so that President Obama, Mitt Romney and other candidates have to answer to young voters on climate change," said Maura Cowley, executive director of Energy Action Coalition. "Romney's energy plan, which is nothing more than ridiculous handouts to Big Oil and Big Coal, and makes absolutely no mention of climate change, adds fuel to the fire for young voters to get out there and demand leadership from the candidates."
Power Vote will support thousands of youth organizers to mobilize hundreds of thousands of young voters for clean energy and climate action, and call on candidates to stop stalling and start leading on climate change. President Obama and Mitt Romney have been silent on climate change. The Power Vote campaign is building grassroots support for climate action and demanding President Obama, Mitt Romney and other candidates break the silence and start taking action.
"In Ohio young people want to see President Obama and Mitt Romney stand up to the Oil & Gas industries and stop supporting handouts for dangerous fracking," said Kate Dye, a student and Power Vote leader at Columbus State Community College. "President Obama and Mitt Romney need to start addressing climate change with action for a clean energy economy, and stop dirty fracking from impacting the health of young people in Ohio."
The 50 youth vote leaders with Energy Action Coalition were gathered in Chicago this week for an intensive grassroots organizing training. The training and rally marked the beginning of the larger Power Vote campaign, which will kick-off on campuses as the fall semester starts, and will include a series of election related events, national days of action and the release of an online organizing tool that allows grassroots supporters to build their own campaigns.
Visit EcoWatch's CLIMATE CHANGE page for more related news on this topic.
--------
Energy Action Coalition is a coalition of 50 youth-led environmental and social justice groups working together to build the youth clean energy and climate movement. Working with hundreds of campus and youth groups, dozens of youth networks, and hundreds of thousands of young people, Energy Action Coalition and its partners have united a burgeoning movement behind winning local victories and coordinating on state, regional and national levels in the U.S. and Canada.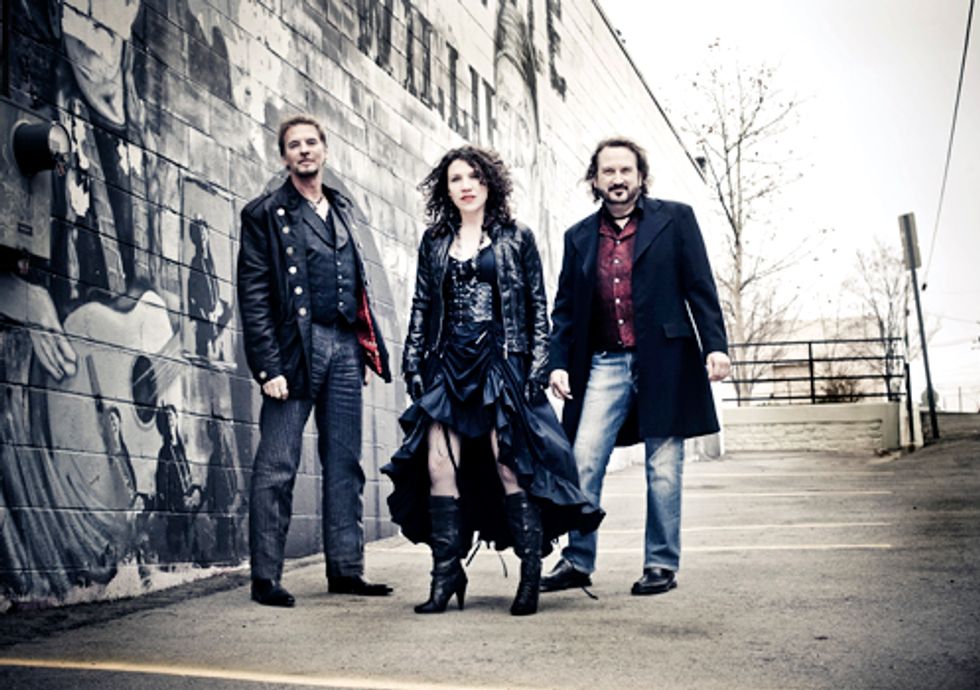 and Gary Burr.
I interviewed Kenny Loggins and Gary Burr of Blue Sky Riders about their thoughts on environmental issues prior to their upcoming performance at EcoWatch's fourth annual Green Gala on Friday, Sept. 14 at the Rock and Roll Hall of Fame + Museum.
This year's gala in downtown Cleveland along Lake Erie will hone in on the issues of clean water, in celebration of the upcoming 40th anniversary of the Clean Water Act, and renewable energy, in promotion of EcoWatch's petition telling Congress to expedite renewable energy.
While talking about the value of clean water, Loggins commented, "Years ago when Tom Hayden was a senator in California, he told me that water would be the primary issue that this country would face and I think we are right on the edge of that."
In regard to renewable energy, Burr said, "I know there's a giant infrastructure of people making bucketloads of money by extracting fossil fuel, but it's finite and we can either be farsighted and start switching over now or just wait and try to suck the last hunk of coal and the last bit of natural gas out of the ground."
"I think it's a shame that the government has not been willing to really launch the support for renewable energy," Loggins added, "because not only would we satisfy a large percentage of our energy needs as a country, but we'd put a lot of people to work doing it... We may be getting to the breaking point where the cost of extracting oil is higher than the cost of creating renewables, that may then tilt the balance toward renewable energy."
We moved on to the topic of old growth forests, something near and dear to my heart. While promoting the Green Gala, I was told by a friend that Loggins had helped his organization protect Opal Creek, an old growth forest in Oregon. Loggins remembered it well and reflected, "Talk about shortsighted. I mean to take the last of the old growth out of Oregon. They don't see any value in it but the dollar and cents they will make. There's so much that needs to change. If we would get back to using hemp for paper we could save millions of acres of forests ... I've always seen this issue as really a spiritual one more than a political one, though its been politicized. To me it's a matter of being aware of your connection to life and to the planet. One issue is feeling that man is somehow outside of everything or in some way here to use everything and it's become like a religious belief that we are somehow superior to all other living things."
Burr added, "I agree with the spiritualness of it and that we are just a part of this giant ecosystem and we do have to embrace the Native American philosophy that we have to be the stewards of the planet and pass it down in not worse shape than we found it."
Loggins shared a new project he's launching—The All Join In Festival—with Michael Martin, CEO and founder of Effect Partners who has helped revolutionize social change in the music industry, and Phil Sifferman, an expert at connecting corporate sponsors with extreme sports events, to teach new parents how to make their homes nontoxic.
"I've made three children's albums which are actually parent albums or family albums and we started to build around the idea of creating a green parenting festival where we bring together adult acts who ventured into the children's marketplace," Loggins explained. "We can center a festival around teaching young parents how to make their homes nontoxic ... People who are confused about what to do and where to begin will coalesce around the health and safety of their children ... And through that passage into protecting their children they protect their home, they protect their family and then they see their connectedness out from there ... And that we are all connected and that there is something we can do."
I asked Burr what environmental issue he's most passionate about and he said, "I'm all for environmental causes and I try to use whatever talent I've got to help whatever cause comes along, because I believe in them all. I've played with Carole King for years and we played a lot of benefits and talked about her environmental bill in Idaho she's been trying to get passed for 20 some odd years." (King is a longtime supporter of policies that protect wildlife habitat and old growth forests, and she works to strengthen environmental policies like the Wilderness Act of 1964 and the Northern Rockies Ecosystem Protection Act).
Circling back to the water issue, Loggins added that his son, who works in information technology, thinks the biggest emerging issue is going to be the millions of pounds of batteries that are now in our computers and cell phones that when disposed will leak into the groundwater.
"There are so many different things that need visionary leadership and I'm not sure we have it," Loggins said.
Loggins concluded: "What I'm feeling today as we talk is the level of overwhelming odds that have been stacked against us. It's almost like we're reaching a breaking point that if we have another summer like we've been having this year, water and food is going to continue to be in short supply. Can you imagine another summer like this? It's going to require dramatic changes in how we farm, how we protect our water and a dramatic change in our priorities. We are going to have to start seeing that all that really matters now is our survival. End of story."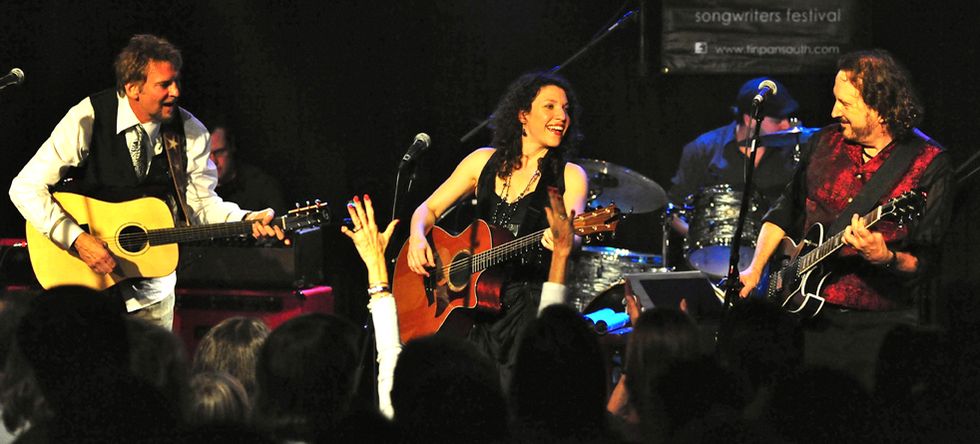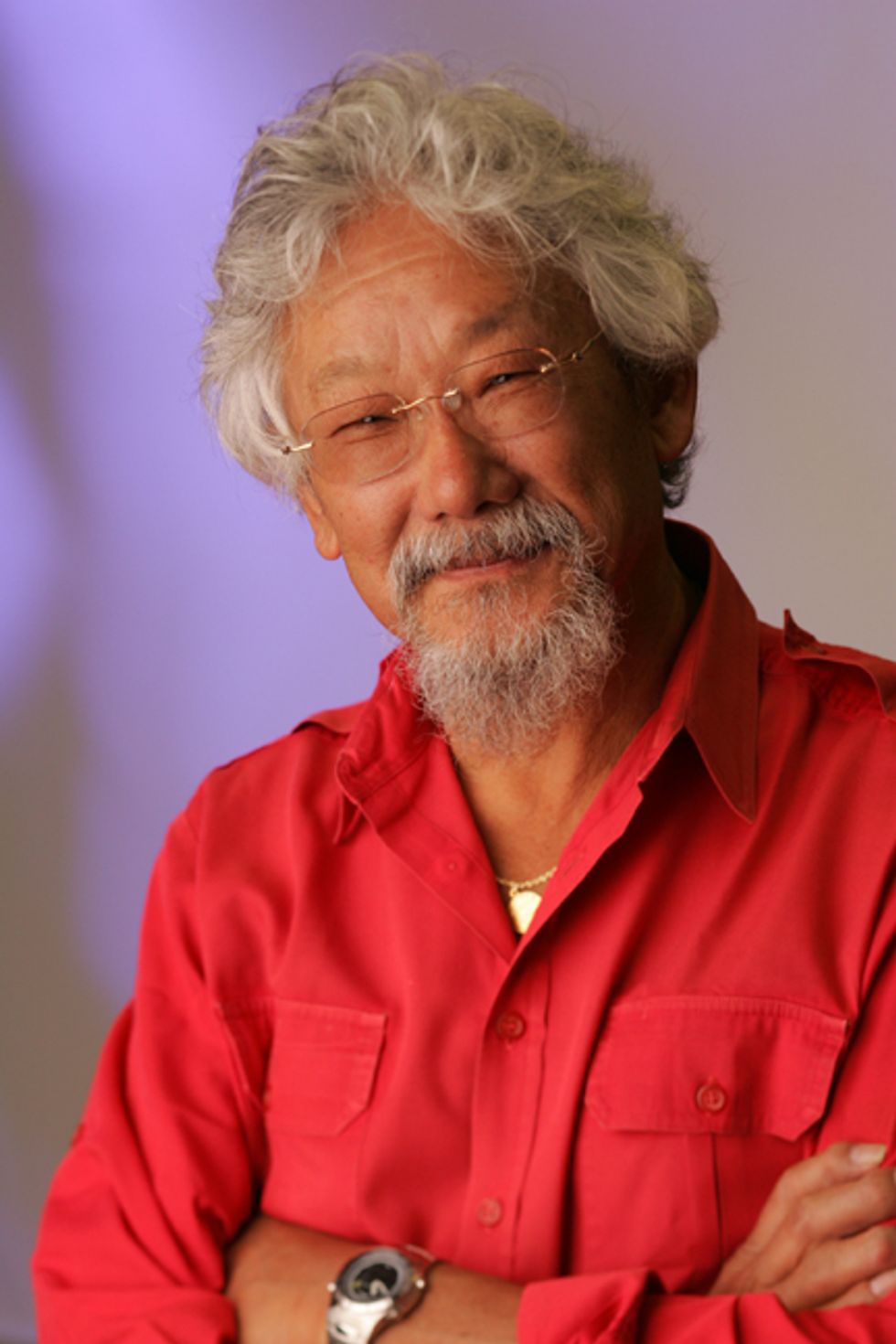 Canadian David Suzuki, an internationally renowned environmentalist and sustainability advocate, will accept Case Western Reserve University (CWRU)'s Inamori Ethics Prize at 6 p.m. Thursday, Sept. 6, at Severance Hall, 11001 Euclid Ave., in Cleveland, Ohio. 
"David Suzuki is an outstanding example of ethical leadership on the world stage," said Shannon French, director of the Inamori International Center for Ethics and Excellence. "He is very passionate and authentic. He has become a powerful voice for protecting biodiversity and preserving the planet for future generations through his work in radio, television and film, as well as his many publications and the efforts of the Suzuki Foundation."
As part of the ceremony, Suzuki will give the traditional Inamori Ethics Prize lecture discussing his perspective on how his work relates to the ideals of ethics and integrity.
Previous award recipients include Francis Collins, now director of the National Institutes of Health; Beatrice Mtetwa, human rights activist; Stan Brock, founder of the Remote Area Medical organization that provides free health care to those in need, and the first female President of Ireland, Mary Robinson.
Two campus events will precede the awards ceremony on Sept. 6:
Academic Symposium at noon in Severance Hall featuring panelists Paul Hawken, the national bestselling author of seven books on sustainability and founder of Natural Capital Institute; David Orr, the Paul Sears Distinguished Professor of Environmental Studies at Oberlin College; and Jeremy Bendik-Keymer, the Elmer G. Beamer-Hubert H. Schneider Professor in Ethics and environmental ethicist in the Case Western Reserve's Department of Philosophy, for a discussion on environmental issues. 
Eco-Showcase: Engage, Learn and Network follows the symposium at 1:30 p.m. on the Kelvin Smith Library oval (the rain site is the first floor of the library).
Suzuki's childhood experience taught him early lessons about perseverance when facing adversity. In 1942, the Canadian government interned Suzuki's family during World War II. Unable to speak Japanese like the other children in the camp, Suzuki found solace in the natural world. This experience inspired his determined quest to contribute to society in a meaningful way.  The central focus of his work is on protecting the environment and preserving the Earth for future generations.
A celebrated academic, Suzuki earned his doctorate in zoology from the University of Chicago. He worked for more than 40 years as a professor in genetics and at the University of British Columbia's Sustainable Research Development Institute, where he is now professor emeritus.
Suzuki is an acclaimed host, director and producer of more than two-dozen series and documentaries focused on sustainability. Since 1979, Suzuki continues to host The Nature of Things, a CBC television series that airs in nearly 50 countries. Suzuki's most recent film, Force of Nature, won the People's Choice Documentary Award at the 2010 Toronto International Film Festival.
In 1990, Suzuki co-founded the David Suzuki Foundation. The foundation's main missions are transforming the economy, protecting the climate, reconnecting with nature and building communities of individuals who live healthier, more fulfilled and just lives.
Suzuki has received the Order of Canada, the Order of British Columbia, the United Nations Educational, Scientific and Cultural Organization's Kalinga Prize for Science, the United Nations Environment Program Medal, and the United Nations Environmental Program's Global 500. In 2009 he won the Right Livelihood Award. He currently lives in Vancouver, Canada, with his wife, Tara Cullis. He is the father of five children.
All events are free and open to the public. Advance tickets are encouraged for the award ceremony and symposium. To reserve or print free tickets, click here or call the Severance Hall Box Office at 216.231.1111. The Eco-Showcase is a non-ticketed event.  For more information, visit the Inamori Center site.
Please note: Nominations are open for the 2013 Inamori Ethics Prize.
--------
Case Western Reserve University is one of the country's leading private research institutions. Located in Cleveland, we offer a unique combination of forward-thinking educational opportunities in an inspiring cultural setting. Our leading-edge faculty engage in teaching and research in a collaborative, hands-on environment. Our nationally recognized programs include arts and sciences, dental medicine, engineering, law, management, medicine, nursing and social work. About 4,200 undergraduate and 5,600 graduate students comprise our student body. Visit case.edu to see how Case Western Reserve thinks beyond the possible.