This website uses cookies to ensure you get the best experience while browsing it. By clicking 'Got It' you're accepting these terms.


The best of EcoWatch, right in your inbox. Sign up for our email newsletter!
Spectra Energy
By Kimberly Ong
New York State is poised to make a decision on the Atlantic Bridge Project, a natural gas pipeline that would expand the existing Algonquin Gas Transmission Pipeline system, a vast 1,100 miles-long pipeline system that traverses New York, Connecticut, Rhode Island and Massachusetts.
More than 400 people came to Albany, New York on April 5, 2016 to urge the Cuomo administration to reject shale gas projects in New York state. Photo credit: Erik McGregor
By Kimberly Ong
New York State blocked the Northern Access Project on April 7, a pipeline that would have carried fracked gas from Pennsylvania to Canada via New York. This is a huge victory not just for New Yorkers but for the entire planet.
EcoWatch Daily Newsletter
Nine Mile Point Nuclear Station in Oswego County, New York. Photo credit: Constellation Energy Nuclear Group
Just because we're living in the age of climate change denier-in-chief Donald Trump, it doesn't mean Democratic officials can take the environmental vote for granted.
By Wendy Sol
Environmentalists see a devil and an angel on Gov. Cuomo's shoulder and it appears both are getting their way when it comes to New York's energy future—although one will have to be more patient than the other.
At the behest of state energy regulators in July, the Long Island Power Authority (LIPA) delayed plans to approve a wind farm expected to be built 30 miles off the shore of Montauk at the far northern end of Long Island. With 15 turbines producing 90 megawatts (MW) of electricity, the project, built by Deepwater Wind LLC, would be the most sizable of its kind in the U.S., which has lagged significantly behind Europe in developing offshore wind resources.
"We're looking at this and seeing a tremendous offshore wind resource that will be developed and it's not the last," Thomas Falcone, the utility's chief executive officer told the Associated Press a week ahead of the scheduled vote. "[T]his is a very big step for New York, but also for the U.S."
From Virginia to Maine, the Eastern seaboard has the potential to harness 240,000 MW of offshore wind, nearly 40,000 MW of which blows off Long Island's coast, according to research by the New York Energy Policy Institute and Stony Brook University. Deepwater Wind's farm will only generate a fraction of what is possible but environmentalists see the plan as an important move toward weaning New York off of polluting energy sources like gas, coal and nuclear.
"It's going to help to open the door here to offshore wind power," said Kim Fraczek, of the New York-based Sane Energy Project. The group hopes the project will lead to more turbines, including some off of Long Island's southeastern shore, where Sane Energy won a hard-fought campaign last year to block a natural gas terminal and is now advocating for construction of a 750 MW wind farm in its place.
The state's Energy and Research Development Authority, chaired by Cuomo-appointed energy czar Richard Kaufman, intervened last month and requested that the LIPA delay approving the Montauk wind farm until the state releases an offshore wind master plan in August. It was the second time this summer the LIPA put off voting on the wind farm, which was originally expected to be greenlit in June.
The Deepwater Wind farm might be in need of CPR after the bureaucratic hold up, but Cuomo is breathing new life into geriatric nuclear reactors upstate, currently hemorrhaging money for their operators.
When the New York Public Service Commission approved new clean energy standards on Aug. 1, it included a provision that will force the state's power utilities to purchase $7.6 billion worth of electricity over the next 12 years from the R. E. Ginna and Nine Mile Point nuclear plants operated by Exelon Corp, as well as Entergy's James A. FitzPatrick nuclear facility.
Cuomo, who sought the bailout for the struggling plants and tied it to plans for New York to receive 50 percent of its energy from renewable sources by 2030, praised the commission's decision. Electrical providers, forced to buy nuclear power at above-market rates, are going to "pay for the intrinsic value of carbon-free emissions," Cuomo said in a statement.
Ratepayers will ultimately be the ones picking up the tab, however, as utilities pass on the cost of electricity from nuclear power to consumers.
Critics also observe that while carbon emissions from nuclear plants are minimal compared to those burning fossil fuels, the process of mining and enriching uranium required to power reactors is carbon-intensive. The plants emit radioactive chemicals into the environment as a matter of daily operation, produce large amounts of toxic waste and present a safety risk to the public, as evidenced by the 2011 Fukushima disaster, which only increases as they age.
"These plants are old and decaying," said Fraczek. "[The bailout] is a giant slap in the face to the public."
Her hope is that plans for the wind farm off the coast of Montauk will eventually move forward and pave the way for more ambitious projects, including the 750 MW wind farm Sane Energy wants built off the coast of the Rockaways in Queens.
"The only way our state is going to truly meet its renewable energy goals is with offshore wind," she said.
This article was reposted with permission from our media associate The Indypendent.

Hundreds of residents rallied against fracking and for renewable energy outside of Gov. Cuomo's speech in Ithaca, NY, today with just hours notice of the Governor's appearance. The concerned citizens urged the Governor not to put New York's clean water, air, environment and economy at risk by allowing fracking. Further, they urged the Governor to aggressively invest in renewable energy, which would bring sustainable, good jobs and economic development to New York State without jeopardizing people's health and existing jobs like fracking would.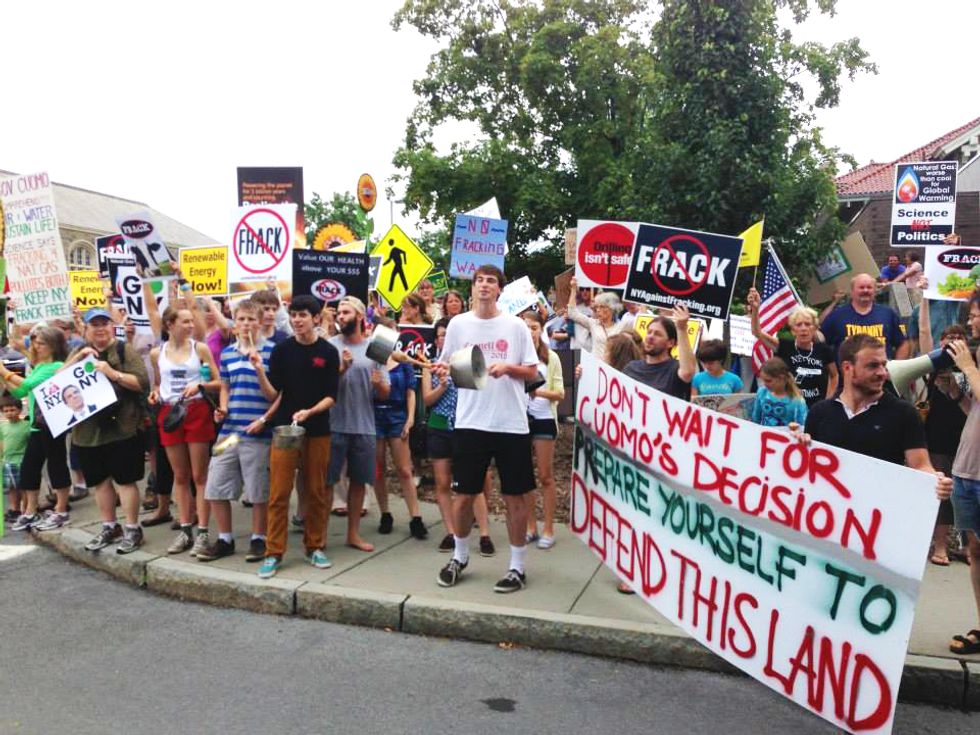 "Governor Cuomo must reject fracking because it would contaminate our clean water, poison our air and undermine our economy including agriculture, tourism and small businesses" said John Armstrong of Frack Action, an Ithaca resident."Science overwhelmingly shows that fracking cannot be done safely and that it would only lead to polluted water and ruined communities, just as it has in Pennsylvania and many other states. We urge Governor Cuomo to make New York State a national leader by moving us forward to a 21st century renewable energy economy that provides long-term, good jobs, not the dirty fossil fuels of the past that will only bring destruction and toxic jobs mostly for out-of-state workers."
"The facts, science, and an overwhelming citizen's movement of New Yorkers insist that Governor Cuomo bans fracking. Unprecedented numbers of business owners, farmers, health professionals, vintners and New Yorkers from all walks of life are speaking out against fracking because it threatens our water, air and way of life," said Sarah Kelsen of New Yorkers Against Fracking, also an Ithaca resident.
"We are gathered here today to give Cuomo a foreshadowing of the resistance that fracking, if approved, will face. If he is wise, he will listen to the people and not allow fracking in New York," said Sam Law, an Ithaca Resident and organizer with Shaleshock and Finger Lakes Action Network.
Gov. Cuomo was in Ithaca for a 2:15 p.m. speech at Friends Hall, Cornell University. The rally began outside of the event at 1:30 p.m.
Independent observers have noted that the gas industry cannot be trusted when it describes fracking as safe. A recent investigation by the Times Tribune in Pennsylvania revealed many cases of water contamination from fracking.  And a recent study showed that fracking emits significant amounts of methane—a major contributor to climate change. A recent peer-reviewed study by Duke University in the renowned Proceedings of the National Academy of Sciences linked fracking with water contamination in Pennsylvania.
The latest Siena Poll showed that upstate New Yorkers oppose fracking 52-38 percent. On Monday, June 17, 3,000 New Yorkers rallied in Albany to demand that Gov. Cuomo reject fracking and instead aggressively pioneer a renewable energy economy.
A recent peer-reviewed study detailed a plan for New York State to get to 100 percent renewable energy by 2030.
Visit EcoWatch's FRACKING page for more related news on this topic.
———
SHARE YOUR THOUGHTS BELOW: If New York State can become 100 percent renewable by 2030, could the whole country?
———

Jill Wiener has dedicated a large part of the past five years of her life to keeping the use of hydraulic fracturing for natural gas extraction out of New York State. The Sullivan County, NY, resident believes that if fracking has yet to happen in a state, it should never be allowed to happen. And where fracking is happening, it should be stopped.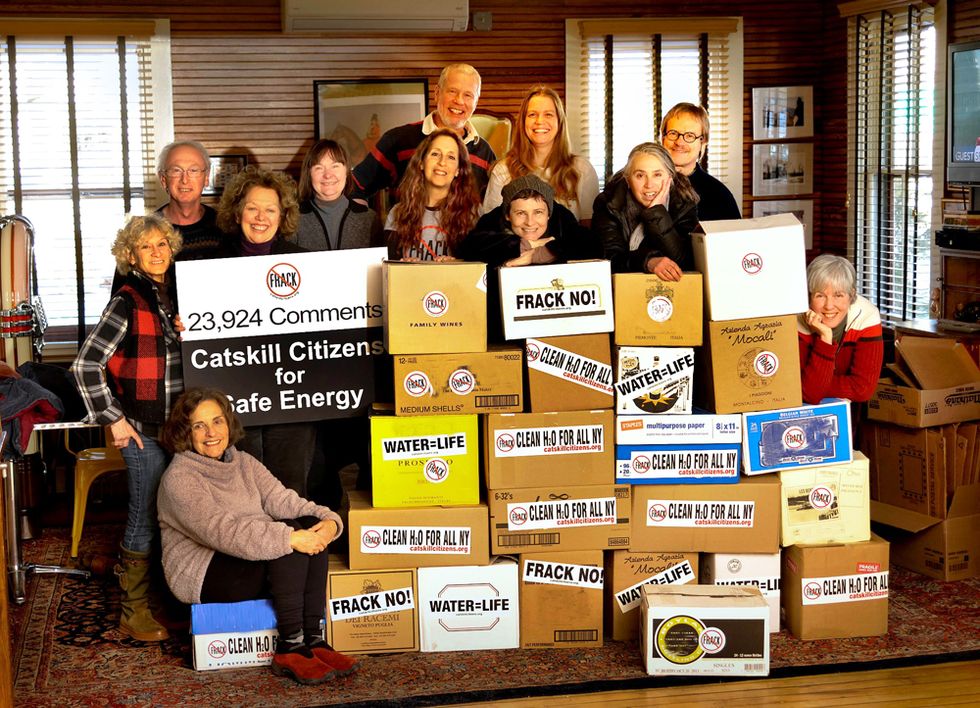 Many of Wiener's fellow grassroots activists in New York share this belief. They're opposed to the regulatory path followed in other states, including in Illinois where some big environmental groups worked with the natural gas industry to get fracking legislation passed and signed into law. So far, the New York activists' strategy for keeping shale gas drilling out of the state has worked: fracking in New York still appears to be a long way off, if it happens at all.
The strength of the resistance manifested itself again June 17 when more than 3,000 people of all ages and backgrounds from across New York gathered in Albany to urge Gov. Andrew Cuomo and the legislature to end the threat of fracking and promote a clean energy agenda. Robert Boyle, a long-time environmental activist and founder of Riverkeeper, remarked last year that he has never seen an environmental movement "spread with such wildfire" as the anti-fracking movement.
"It took me 13 or 14 years to get the first Riverkeeper going. Fracking isn't like that. It's like lighting a train of powder," he told journalist Ellen Cantarow.
Spreading Like Wildfire
The movement started to spread like wildfire in New York when concerned residents began educating their neighbors about the dangers of fracking. "The grassroots groups actually informed the Big Green groups," Wiener said in an interview with EcoWatch. "This was the grassroots telling the grass tops what was happening on the ground and doing the research and seeing that something was wrong. Back in 2008, the Big Greens thought that natural gas was a good bridge fuel, better for the climate."
Anti-fracking activists in New York were hearing news about what was happening in Pennsylvania, stories that put them on high alert. "We had a head-start because the industry marched through Pennsylvania first," Wiener said. When industry representatives began showing up in New York, they guaranteed millions of dollars to residents if they leased their land and minimal impact on the environment from the shale gas extraction process.
But many residents refused to buy into the industry's narrative. "There are a lot of native New Yorkers here," Wiener said. "We all grew up with the story, 'Well, I've got a bridge to sell you.' We're pretty skeptical."
Wiener became involved in the anti-fracking movement after she ran into a friend at a local supermarket who handed her literature describing what the natural gas industry had up its sleeve.
"I looked at it and said, 'Oh dear! They're never going to do this here. This is a hair-brained scheme,'" she recalled.
Wiener and other anti-fracking activists in the region were feeling good about their chances because they had just finished working with state lawmakers to defeat the construction of an electric transmission line called the New York Regional Interconnect (NYRI). The proposed 400-kilovolt, 1,200 megawatt, high-voltage line would have run about 190 miles from Utica, NY, to Orange County, NY.
"The whole project didn't make sense. It was not easily defeated, but we had our elected officials on our side," explained Wiener. The activists were expecting the same success in the fight against fracking. Getting public officials on board the anti-fracking bandwagon would be a "no-brainer," she thought. Activists soon discovered, though, that the fight against fracking would be much tougher and drawn-out than the campaign against the NYRI electric transmission line.
Wiener's concerns about fracking led her to Catskill Citizens for Safe Energy, a group formed in 2008 in reaction to "landmen knocking on doors." The group seeks to educate the public about fracking and to promote clean energy. At Catskill Citizens, no one takes a salary and there's no office. The organization is run by volunteers who make decisions by consensus.
The various anti-fracking groups in New York regularly communicate with each other. "If there is a plan or an action or a piece of legislation, we keep in very close touch. We have open discussions about where we need help," Wiener said.
Catskill Citizens has attracted "creative thinkers from all political stripes," many of whom have organizing experience, she said. "This is not a left-wing, tree-hugging issue. It's a public health issue and everybody deserves clean air, clean water and the right to their property and the quiet enjoyment of their property," she emphasized.
An Artist and an Activist
An artist by trade, Wiener moved into a late nineteenth century farm house in Callicoon, NY, from New York City in 1997, where she set up a pottery studio. Along with running a pottery business, Wiener grows flowers on her farm that she then cuts and arranges for parties, weddings and special events.
"I now spend much more time 'working' with Catskill Citizens than tending to my own businesses," she said. It's Wiener's strong convictions that allow her to work the long hours needed to help sustain a movement. "I don't have kids. It's not like I'm fighting for my own children. But there is right and there is wrong. And, boy, I really hate wrong," she said.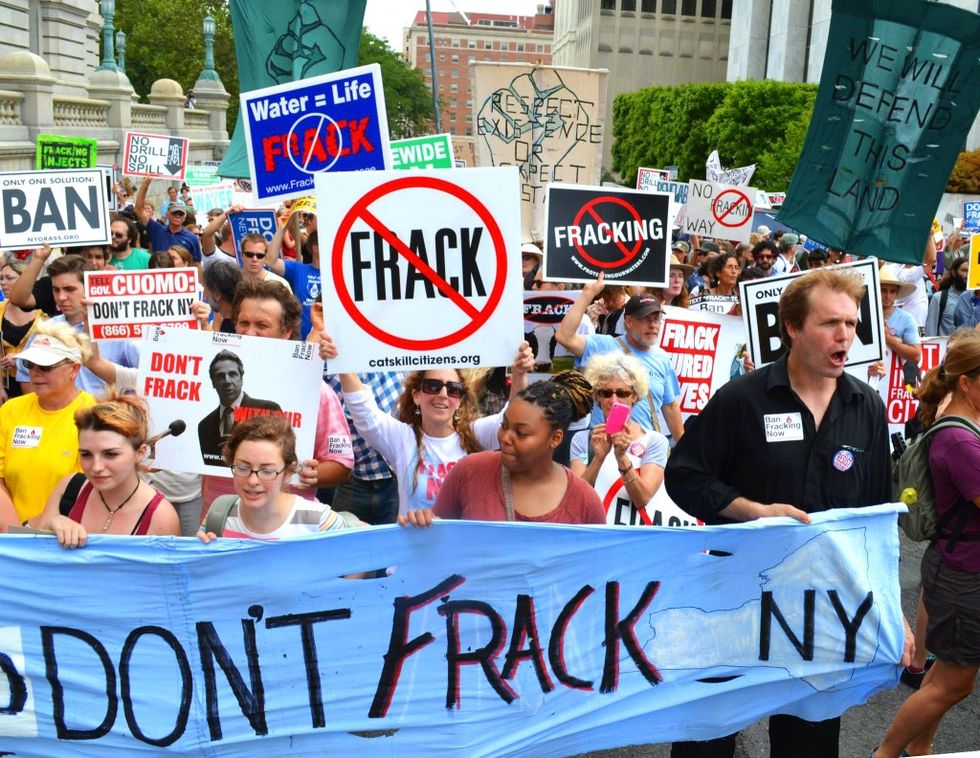 New Yorkers Against Fracking
In her work as an activist, Wiener serves as a member of the board of directors of Catskill Citizens and is on the advisory council of Stop the Frack Attack, a national coalition of anti-fracking groups.
Since moving out of New York City, Wiener also has served on the boards of the Sullivan County Visitors Association, Sullivan County Farmers' Markets, Jeffersonville Area Chamber of Commerce and the Sullivan County Alliance for Sustainable Development. She ran for the Callicoon Town Council in 2011 but did not win a seat. "I believe it is my duty to participate, to try to make our communities better where we can and protect them where we must," she said.
Before she became involved in the anti-fracking movement, Wiener said she had trouble standing up and speaking in front of just a handful of people. In recent years, though, she has become a spokesperson for the movement, speaking at events where she puts her gas industry expertise and her quick wit on display in front of large crowds. "One of my proudest moments was at the [Don't Frack New York rally in Albany in August 2012] when I spoke in front of over 2,000 people," she said.
On most days, Wiener said she is phoning fellow anti-fracking activists to talk strategy, attending meetings or performing ordinary organizational duties to help make the movement even bigger. "Our numbers keep increasing and I think our resolve keeps getting stronger and stronger because everyday something else that is an obvious wrong comes from this industry," she said.
"The industry had for years and years sold natural gas as this perfect solution to our energy problems and to climate change. They sold it as wonderful and clean and green and you put a straw into the ground and you just sort of suck the gas out and it's very simple," Wiener said. "But it really turns out that it wasn't. This is not your grandmother's gas well."
The rush to extract natural gas from the Marcellus Shale and other shale gas plays is creating industrial zones in rural areas across the U.S. The industrialization of wide swaths of forestland, meadows and mountains is threatening the health of humans who live near the drilling zones and disturbing animal and plant species who inhabit these regions.
Most people agree that the natural gas extraction process harms the environment. But they disagree on the extent of the harm. There's debate on whether the benefits of natural gas production outweigh the harm it causes. According to Wiener, the natural gas industry often takes "one kernel of one word of truth and they surround it in this pile of misinformation."
Five Minutes of Happy Dance
The odds appear to be stacked against anti-fracking activists, especially when they compare their meager budgets with the industry's huge war chests. "It's very hard to break through that with the truth when you're faced with insurmountable amounts of money. But somehow we manage to do it, person to person to person," she said.
Echoing a major theme in Gasland 2, the new documentary made by filmmaker Josh Fox, Wiener said the political elite's overwhelming support for fracking at the state and federal levels demonstrates that the nation has "a democracy problem" and that there is "undue influence by corporate money."
The influence of money also is seen in the nonprofit sector. Referring to the Environmental Defense Fund's (EDF) involvement in the Center for Sustainable Shale Development, Wiener said she takes exception to environmental groups that are "GINO," or green in name only. The Pittsburgh-based center, formed earlier this year, bills itself as a coalition of companies and groups working together to improve environmental performance of industry operations. In addition to EDF, the center's members include Chevron Corp., CONSOL Energy Inc. and Royal Dutch Shell plc, as well as Citizens for Pennsylvania's Future and the Pennsylvania Environment Council.
"If the Environmental Defense Fund actually wanted to do something good, they could take their incredible power and the money that they've gotten from Mayor Bloomberg, and put it to good use by educating the public on the dangers of shale gas extraction," she said. In August 2012, Bloomberg Philanthropies awarded the EDF with a three-year, $6 million grant for its work to "minimize the environmental impacts of natural gas operations through hydraulic fracturing."
According to Wiener, the EDF "could walk into Pennsylvania because they have relationships there and say, 'That's enough now, stop! You put a moratorium on this right now. Unless and until you get it right and you're not putting people's lives at risk and polluting their air and changing the character of your state in an irreversible way, you don't do it.'"
North of the border, in New York, pro-industry officials and environmental activists alike are beginning to believe the strength of the anti-fracking movement could spoil the natural gas industry's dream of a shale gas bonanza in the state. Wiener, who describes herself as "really stubborn," believes New York can remain free of shale gas drilling as long as she and fellow activists keep applying pressure.
But what if anti-fracking forces do succeed in New York? That was a question that a state lawmaker asked Wiener at a recent meeting. "My own state senator—not particularly on our side—said, 'Jill, what are you going to do if you ever manage to stop this? Are you going to sit back and do everything you did before?'"
"I said, 'No, if we can stop it in New York, you think I'm going to leave everybody else behind? No. Five minutes of happy dance and then we're right back to work.'"
Visit EcoWatch's FRACKING page for more related news on this topic.
——–

Sign the petition today, telling President Obama to enact an immediate fracking moratorium:

More than 3,000 New Yorkers took time off work yesterday to send a message to Albany that they want Gov. Cuomo and the state legislature to reject fracking and lead the nation in renewable energy. Organizers noted that the rally was larger than a similar rally at the State of the State address that kicked off the legislative session, indicative of the growth and momentum of the movement across the state. The second rally comes at the end of a legislative session that has included discussion of a two year fracking moratorium—which the Assembly passed overwhelmingly—and many, including Gov. Cuomo, have noted it would pass the Senate if allowed to come to the floor for a vote.
"Thousands of people here today are speaking for many more across the state with a simple call to Governor Cuomo: Ban fracking in New York," said Alex Beauchamp of Food & Water Watch. "They've seen the misery fracking has brought elsewhere—the accidents, the contamination and the devastating health effects—and they've learned the lessons. New Yorkers are fighting to keep their families safe and healthy, and they're sending a message that the oil and gas industry can and will be beaten back."
"The science is clear that fracking poses a serious threat to our health, the air we breathe and the water we drink," said Julia Walsh of Frack Action on behalf of New Yorkers Against Fracking. "An unparalleled citizen uprising demands that Gov. Cuomo rejects fracking, and lead the nation by constructing a renewable energy economy here and now in New York. If he does, we stand ready to roll up our sleeves and get to work."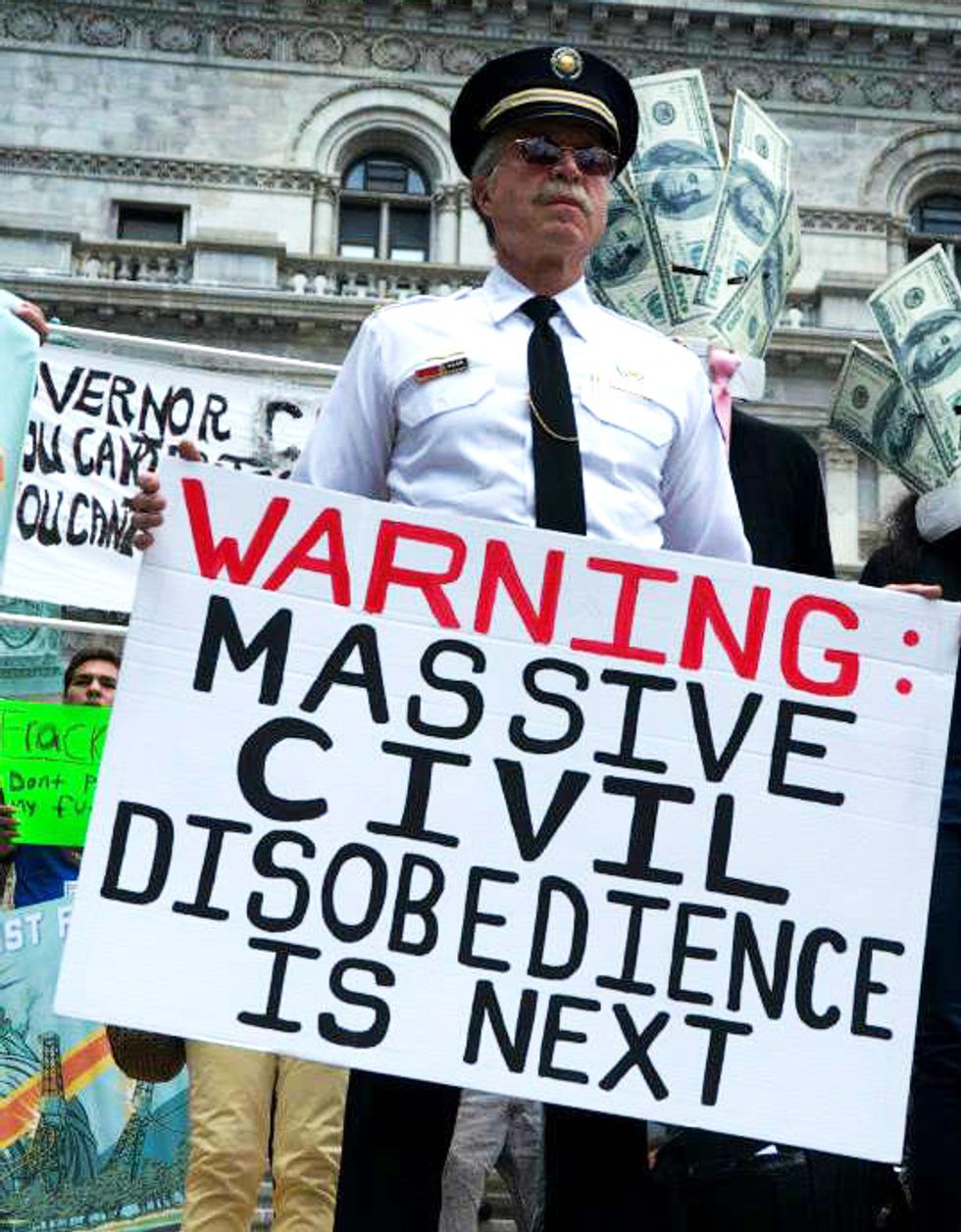 The New Yorkers Against Fracking rally and march, New York Crossroads, was co-sponsored by more than 130 New York and national organizations including Catskill Mountainkeeper, Citizens Campaign for the Environment, CREDO, Democracy for America, Environmental Advocates of New York, Environment NY, Food & Water Watch, Frack Action, New York State Breast Cancer Network, New York State Sustainable Business Council, Northeast Organic Farming Association, New York Public Interest Research Group, Riverkeeper, Save The Southern Tier, and the Sierra Club Atlantic Chapter. Speakers included former Congressman Maurice Hinchey, Lois Gibbs, Jim Dean of Democracy for America, Mark Jacobson, PhD, Arun Gandhi, Oren Lyons, Phil Aroneanu of 350.org and a musical performance by Natalie Merchant. 
While Gov. Cuomo has been weighing whether or not to allow fracking, the oil and gas industry and their supporters have poured millions of dollars into New York to lobby, influence elected officials and saturate the state with pro-fracking propaganda. Yet, fracking opponents outnumber and remain more determined than supporters, demonstrating that New Yorkers aren't buying the oil and gas industry's propaganda and how seriously they take this issue.
"Governor Cuomo, my toddler deserves to breathe clean air, drink clean water and inherit a healthy future," said Logan Adsit of Save The Southern Tier. "Say no to fracking and pioneer a renewable energy economy for New York that offers my child a chance at a better future in the state we love."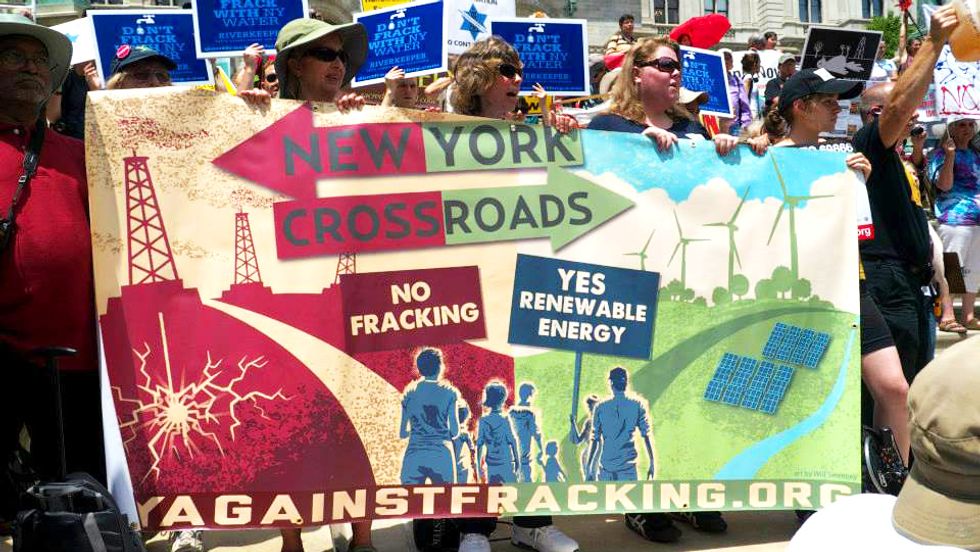 "My neighborhood—Love Canal—became synonymous with the hazards of toxic waste," said Lois Gibbs. "If Governor Cuomo goes forward with fracking, we could have hundreds or thousands of Love Canals. I'm here today to tell Governor Cuomo not to turn the state we love so dearly into a giant toxic disaster."
"We are here to show Governor Cuomo once and for all that fracking is not a viable energy option for New York," said Jim Dean of Democracy for America. "We must fully embrace renewable energy resources, and stop fracking now. Governor Cuomo has the opportunity to lead not only New York, but also the nation by setting an example for those who face the same difficult choice."
Independent observers have noted that the gas industry cannot be trusted when it describes fracking as safe. A recent investigation by the Times Tribune in Pennsylvania revealed many cases of water contamination from fracking. And a recent study showed that fracking emits significant amounts of methane—a major contributor to climate change. One of the key messages of the rally is that fracking is disastrous for the climate and for Governor Cuomo to allow it would be a stark contradiction to his vow to lead on climate change.
"Hurricane Sandy, fueled by Atlantic waters that were five degrees warmer than normal, caused $60 billion in damage downstate, to a city that I love and call home," said Phil Aroneanu, U.S. campaign director and co-founder of 350.org. "It's time for all of us to stand up and say 'We're not drowning, we're fighting.' Gov. Cuomo, do the right thing: Open up New York to solar and wind, to geothermal and tidal power—don't let us drown."
Stanford University Professor Mark Jacobson, lead author of a peer-reviewed study detailing a plan for New York State to get to 100 percent renewable energy by 2030 said, "Converting to wind, water and sunlight is feasible, will stabilize costs of energy and will produce jobs while reducing health impacts and climate damage."
"Our brewery is growing 20 percent annually, creating good-paying jobs in Cooperstown," said Larry Bennett of Ommegang Brewery. "But we depend on clean water to brew our beer. And if fracking comes to New York, we'll either have to shut down or move away."
"Fracking is not just a political issue," said Reverend Bill Levering of the New York State Council of Churches. "It's also a moral issue. It's about protecting the common good from greed. And that is why the New York State Council of Churches opposes fracking."
Visit EcoWatch's FRACKING page for more related news on this topic.
——–
Sign the petition today, telling President Obama to enact an immediate fracking moratorium: