This website uses cookies to ensure you get the best experience while browsing it. By clicking 'Got It' you're accepting these terms.


The best of EcoWatch, right in your inbox. Sign up for our email newsletter!
A verdant and productive urban garden in Havana. Susanne Bollinger / Wikimedia Commons
By Paul Brown
When countries run short of food, they need to find solutions fast, and one answer can be urban farming.
Students from Florida and Cocodrilo engage in environmental projects during an Ocean Doctor-led exchange.
Columbus' ships were leaking, their provisions spoiling. It was clear that they would have to turn back. Yet, anchored off Cuba's southwestern coast near a large, mountainous pine-covered island during his second voyage, Columbus had seen enough. He was convinced Cuba was part of Asia and that return to Spain by land would be possible from the main Cuban island. He ordered each member of the crew sign an affidavit testifying to this, and their signature bound them to have their tongue cut out should they ever contradict their signed statement.
The next day, June 13, 1494, they landed on the nearby island. Columbus named it Evangelista. Over the centuries since, it bore the names Isla de Cotorras (Isle of Parrots), Isla de Tesoros (Treasure Island), Isla de Pinos (Isle of Pines), and finally, Isla de la Juventud (Isle of Youth). While Cuba claimed its sovereignty from Spain in 1898, the fate of the Isle of Pines would not be settled until more than 25 years when it officially became part of Cuba, though by then most of it was controlled by U.S. interests.
Waves break along Isle of Youth's southern coast.David Guggenheim
The 80,000 residents of the island often feel invisible, forgotten and disconnected from the rest of Cuba, an "island within an island." Dwarfed by the massive main island of Cuba, the world is barely aware of its very existence, despite the fact that it is the seventh largest island in the Caribbean, larger than St. Lucia, Barbados, Grenada, Bonaire, St. Croix, St. Thomas, St. John, Aruba, St. Barts, Saba, Terre-de-Haut, Isla Mujeres and Key West combined. The island has struggled for decades, with limited economic opportunities for its residents, mostly in agriculture and fishing. It has long since been forgotten as an international tourist destination.
Location of the community of Cocodrilo on the southern tip of Cuba's Isle of Youth.
The Cuban government has repeatedly tried to infuse life into the island. In 1978, Fidel Castro changed the name to Isle of Youth as part of an effort to bring new opportunity and meaning to the island. An initiative was launched to build a world-class international network of schools on the island, attracting students from Africa, Asia and beyond. Thirty years later, in 2008, Hurricane Gustav, with sustained winds of 155 mph, decimated the island, laying to waste the international schools and that chapter of the island's struggle.
In 2015, Ocean Doctor led an expedition of Cuban and American scientists to visit the protected waters of the Isle of Youth; most of the southern half of the island is protected, part of Cuba's massive system of protected areas. Over our 16 years of working in Cuba, we have found the country as a beacon of hope, where many coral reef ecosystems thrive in sharp contrast to the dead and dying corals elsewhere in the Caribbean.
It is estimated that 50 percent of the coral cover in the Caribbean has vanished since 1970. As we dove among the coral reefs in the Punta Frances protected area, we indeed found some of Cuba's treasured coral reefs, gleaming and healthy. But we also found reefs in stress—some bleached white, some covered in slimy green algae, the telltale signs of a reef beginning to die.
Our Cuban colleagues were surprised. This was something new that they hadn't seen just two to three years earlier. We saw no sharks, no groupers and virtually no large, predatory fish, a sure sign of overfishing which contributes to a reef's decline. Although on paper the area is protected—it has the same level of protection as Cuba's better-known Gardens of the Queen—there is virtually no enforcement and the area is fished illegally.
EcoWatch Daily Newsletter
Our captain watched with some consternation as an unidentified vessel, gray with no markings, headed straight toward our vessel, anchored more than 50 miles off Cuba's southern coast. Others in the crew speculated nervously about the approaching boat, never previously seen in these parts. The boat pulled alongside and two imposing figures boarded, both in olive military uniforms. A mustachioed representative of the Ministry of Interior stood beside his taller colleague whose uniform, like the boat that carried him, bore no markings at all. A sidearm hung imposingly from his belt. He turned to the captain and requested to meet with Robert F. Kennedy, Jr.
Robert F. Kennedy, Jr. makes a journal entry aboard ship during The Explorers Club's expedition to document unexplored waters off southern Cuba in 2014.David E. Guggenheim
At that moment, Kennedy—a leading environmental activist, president of Waterkeeper Alliance and son of the late Senator Robert F. Kennedy—was 90 feet below the surface with the rest of our group, observing a dozen or so Caribbean reef sharks tracing mesmerizing circles about us. We were carrying the flag of The Explorers Club, visiting and documenting previously unexplored coral reef ecosystems in Cuba's southern waters.
After returning to the boat, the mission of our mysterious guests was revealed. We had been visited by a representative of former Cuban president Fidel Castro's personal guard who had a letter from the Comandante for Kennedy. Mission complete, they posed for a quick photo and departed on the 50-mile journey back to shore and the six-hour drive back to Havana. They had traveled an incredible distance to find us and hand-deliver a letter. We were obviously quite curious as to its contents.
Our captain, Arjel, and the two soldiers that delivered the letter from El Comandante to our vessel.David E. Guggenheim
A few days earlier, Kennedy, Jr. and his family had visited with Castro, who welcomed them warmly. Nearly 52 years prior, Robert Kennedy, serving as U.S. Attorney General, and his brother, President John F. Kennedy, were within a whisker of war with Cuba and the Soviet Union during the Cuban Missile Crisis. The quiet Castro-Kennedy, Jr. meeting was historical. Relations between Cuba and the U.S. were warming, though the dramatic announcement of normalization of diplomatic relations would not occur for another six months.
Kennedy, Jr. shared the letter with me, a polite set of Castro's reflections on the meeting and kind words for Kennedy and his family. What I found especially significant in the letter was his discussion about oceans:
"For many years I was a passionate spearfisherman without the proper awareness of the beauty and value of coral reefs. Through this I knew some of the experiences of Jacques-Yves Cousteau, who in such a way fell in love with the sea that ended up becoming one of the most famous defenders of the life and the value of the seas. Today it is known that the sea is one of the largest and varied sources of protein foods. These factors helped me understand the importance of the services you have rendered to the people of the United States and other nations of the world in their struggle to protect the environment."
The influence of Cousteau on Castro has been a recurring theme I have heard from Cuban colleagues during my many years working in Cuba. Castro read and was influenced by Cousteau's books and, in 1985 when Cousteau visited the island to make a documentary, the two finally met and shared a special friendship. Castro granted Cousteau with rare privilege during his visits. Cousteau and his team became the first non-Cubans to pass through the gate of the U.S. Navy's Guantanamo Bay installation since 1962. He is reported to have freed dozens of political prisoners at Cousteau's request. And Castro spent a great deal of time with Cousteau, dining with him aboard his vessel, Calypso.
Jacques-Yves Cousteau's Vessel, Calypso, in Havana Bay (1985)Cousteau Society
In the late nineties, aboard another research vessel visiting from the U.S., Castro reflected on his friendship with Cousteau and said, "You know, he loved exploring Cuban waters because of our protection." In the Cousteau documentary, Cuba: Waters of Destiny, Cousteau is clearly taken with what he observes in Cuba: "My first dive in the waters of Cuba serves as a moment of truth…around me, large fish among flourishing coral, a reef more rich than any I have seen in years," a stunning reminder that even 30 years ago, the unraveling of coral reef ecosystems in the Caribbean was well underway. Today it is estimated that the Caribbean has lost half of its coral cover. Spared in part by a history that has caused Cuba to develop profoundly differently than the rest of the Caribbean, coupled with world-class environmental laws, many of Cuba's coral reef ecosystems have been spared the demise observed throughout the Caribbean.
Before allowing the Calypso to depart Cuba's waters, Castro challenged Cousteau, asking him why he didn't have a Cuban scientist aboard. Consequently, Cousteau later welcomed Dr. Gaspar Gonzalez Sansón, former vice director of the University of Havana's Center for Marine Research, to serve as a visiting scientist aboard Calypso in New Zealand. Years later, Dr. Gonzalez would become our co-principal investigator for a decade of expeditions off Cuba's northwestern coast and regaled us with hilarious tales of a Cuban among Frenchmen aboard Calypso.
Captain Jacques-Yves Cousteau (left) and Dr. Gaspar Gonzalez Sansón (right) on the bow of the Calypso in New Zealand. At the request of Fidel Castro, Dr. Gonzalez served as a visiting scientist during Cousteau's "Rediscovery of the World" expedition.
The friendship of Cousteau and Castro continued and strengthened in environmental solidarity at the Rio Earth Summit in 1992 where Castro delivered a sharply-worded and uncharacteristically brief address, imploring the developed world to "stop transferring to the Third World lifestyles and consumer habits that ruin the environment. Make human life more rational." In early 1998, less than six months after Cousteau passed away, Castro fondly remembers a playful encounter with Cousteau at the Rio Earth Summit: "They have all the heads of state lined up for a 'photo op' in Rio, and I pulled him [Cousteau] up with me, and say, 'Captain, join this picture in the 'photo op' because most people here know nothing about the environment. And he came up and was in the 'photo op' with all of us."
President Fidel Castro and Captain Jacques-Yves Cousteau in a playful exchange at the Rio Earth Summit in 1992.
In July 1997, Cuba enacted Law 81, the Law of the Environment, a truly impressive set of laws and regulations meant to reverse the environmental damage from prior decades and chart a path of sustainability. Within a decade, Cuba banned the destructive fishing practice of bottom trawling from its waters. Today, Cuba has nearly met its goal of protecting 25 percent of its marine waters in marine protected areas, one of the largest percentages in the world. (In comparison, the world average is currently 2-3 percent). Many Cubans attribute Law 81 and Cuba's ongoing commitment to the environment to Castro's environmental ethic, which the Comandante, in part, attributes to Cousteau.
With the passing of Castro and a possible retreat on Cuba relations by an incoming Trump Administration, there is a growing uneasiness about Cuba's uncertain future. Facing profound economic need and unprecedented growth pressure, especially in response to plans more than triple tourism by 2030, Cuba will be put to the test in the months and years ahead. For now, Cuba remains a green, unspoiled jewel in the Caribbean. It is a place where policy is still informed by science and fact, and decisions governed by its laws.
By 2014, it had been some time since Castro had last donned a mask and personally explored Cuba's waters, but it was clear that his passion and curiosity for the sea was as strong as ever. In his letter, Castro made a simple but urgent request of Kennedy, Jr: "Today, I beg you, if you have a few minutes, tell me about the general impression of what you have seen on the bottom..." Several weeks later, Kennedy complied and assured the Comandante that for now, Cuba's marine ecosystems were still healthy and spectacular.
President Obama's recent announcement that he wants to begin normalizing relations with Cuba generated news around the world. But the Cuban province of Granma may soon be making headlines for another reason: its embrace of renewable energy.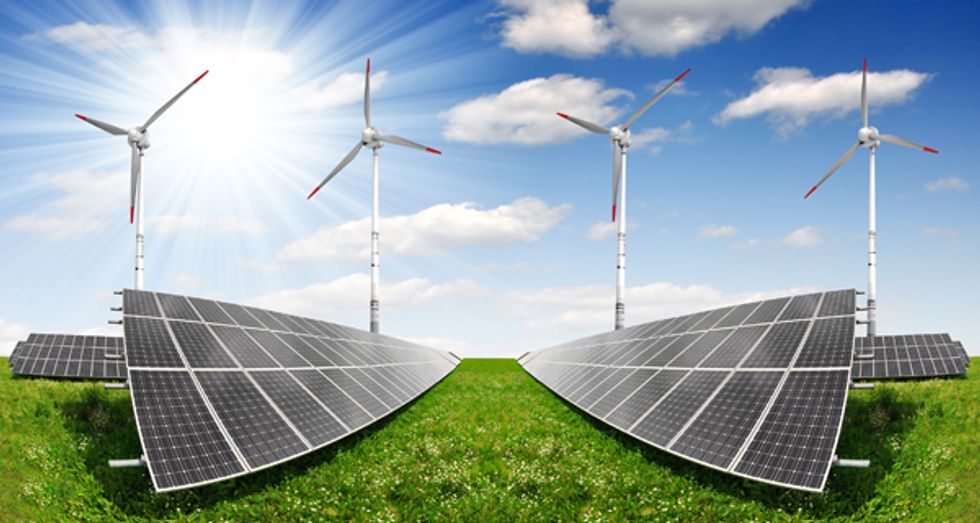 Photo credit: Shutterstock
While Cuba is an island full of sun, rivers and windy coasts, only four percent of the island's electricity is generated from renewable energy. The island hopes to soon change that, with a goal of generating 24 percent of its energy from renewables by 2030, and Granma is leading the way.
Granma province (pop. 836,000), located in the eastern part of the island, is home to the Sierra Maestra, and is named after the boat from which Fidel Castro and his rebel soldiers disembarked to begin the Cuban Revolution. The Cuban government wants to make Granma province 100-percent renewably powered, a project the Cubans call "The Solarization of Granma Province," as a model the rest of the island can follow. They are well on their way. In 2013, renewables supplied 37 percent of all the energy consumed in Granma province, and the province currently has 3,664 renewable energy systems in operation. These include everything from solar photovoltaic (PV) systems to biogas digesters to solar food dryers.
Energy From the Sun
Granma province, being in the most mountainous part of Cuba, has many isolated rural towns. At last count the province had 1,628 small off-grid PV systems powering medical clinics, hospitals, schools, social centers, museums and homes located in remote areas without access to grid power. The Cuban government funded most of these systems, supplied with PV panels fabricated in Cuba out of imported cells. Cubans take education so seriously that across the island all 2,364 schools in rural areas without grid power are powered with solar panels and wind turbines—including the 51 schools with only one student. Many of these fall in the mountainous regions of Granma province.
Taking advantage of the huge amount of sun that falls on the province, there are also 426 solar hot water heaters, three solar distillers to produce water for PV system batteries and a solar dryer that dries medicinal plants for the Natural Medicine Center.
Energy From Water and Wind
Granma province is also blessed with many small rivers. Thirty-six mini- and micro-hydropower plants produce over seven megawatts (MW) of electricity for homes, hospitals and schools not connected to the grid. Five of these, with a capacity of 1,740 kilowatts (kW), feed electricity into the grid. However, many even more remote homes in the area were left without electricity until a young campesino named Miguel Gonzalez figured out he could develop a cheap way to electrify the homes with running water. Using car alternators and bicycle dynamos he created a small nano-hydro generator with a capacity of less than one kW that is now used in 172 homes throughout Granma province, allowing people access to electric light, radio and television.
Although most of the wind potential on the island is found along the coast, there are 938 windmills that pump water in Granma. And wind-measuring stations have shown that there is a potential of more than 800 MW wind capacity in the province (and far more across the entire island), so they hope to put up more wind turbines, adding to the five wind farms across the island that currently account for 11 MW of installed capacity.
Energy From Waste
Sugar is one of Cuba's largest export crops. Granma province is home to 11 of the 56 sugar mills in the country, all of which employ generators that turn the bagasse—the waste material that remains after sugarcane is crushed to extract the juice—into electricity. The Granma sugar mills produce 29 MW of electricity that power the processing plants and that occasionally gets fed back into the grid. The province also has abundant biomass in the forms of sawdust, coffee husks, rice hulls and marabú, an invasive plant that seems to be everywhere and that you will hear Cubans across the island grumbling about over their coffee. Granma has 14 commercial dryers to dry coffee, rice and wood; 135 brick kilns; and 632 domestic kitchens that use these sources of biomass.
There are also 127 biodigestors throughout the province that use animal waste from cows and pigs to produce methane. The methane is used to run lights or for cooking. Animals are not only being utilized for their waste, but also for transport. The 4,000 animal drawn carts transporting passengers, solid waste and cargo throughout Granma save an estimated 5,900 metric tons of diesel per year.
Cuban environmental engineers are also experimenting with making biodiesel out of Jatropha curcas, a non-edible plant that grows in difficult terrain. There is currently a 20-acre Jatropha farm in Granma making biodiesel for the province's tractors.
Educating the Next Generation
Granma province is home to the Camilo Cienfuegos School Complex (CECC), the first educational project built by the Cuban Revolution in 1962. The school complex, covering more than 1,000 acres in the largest city of Granma province, was built for illiterate children of the Sierra Maestra, and currently has 5,000 students from preschool to high school, and even a pedagogical institution for those learning to be teachers. The campus showcases bioclimatic architecture, and one of the main focuses of the school is environmental education.
Schoolchildren throughout the island belong to school clubs, and many of the clubs at CECC are related to environmental issues and renewable energy. So many so that in 2003 the Center for Solar Studies was added to the school complex, which showcases solar photovoltaic panels, solar hot water systems, wind turbines, hydraulic ram pumps, biogas systems, and solar distillers, dryers and cookers.
"We aspire to convert Granma into a province that is a model in everything related to solar energy, as an example that the rest of the country can follow," according to the president of the provincial assembly of people's power in Granma province (equivalent to a city council). "We are required to create active environmentalists," he wrote in Cuba's renewable energy magazine, "citizens who are not only concerned but who also address environmental problems closely related to energy use and who contribute to their solution—from children in small, rural schools, to residents of a neighborhood affected by pollution, to workers demanding the elimination of violations of environmental regulations."
Granma province is well on its way to achieving its goal and becoming a 100-percent renewable province. For the entire island to reach its goal of 24 percent renewable by 2030, it plans to add 640 MW of wind, 700 MW of PV, and 750 MW of biomass to its mix. While some of these projects will be 100-percent Cuban owned, the island will be looking for more than $9 billion in foreign investment for more than 200 new renewable energy projects. Time will tell if President Obama's historic phone call with Raul Castro opened new doors to help make that renewable energy transition happen.
YOU MIGHT ALSO LIKE
Will New Relations With Cuba Impact Its Pristine Ocean Environment?
Caribbean Island Says Goodbye Fossil Fuels, Hello 100% Renewable Electricity
With the news yesterday from President Obama that his administration is moving to normalize relations with Cuba, many experts have argued that ending the embargo would be a boon for the island nation's economy. But whether it will be an entirely beneficial thing for Cuba's natural environment and surrounding oceans remains to be seen. In the environmental community, many organizations that have been working tirelessly on ocean conservation in the Caribbean hope that there can now be true cooperation between the U.S. and Cuba in the environmental realm.
Dr. David Guggenheim, founder of Ocean Doctor, a nonprofit dedicated to protecting and restoring our oceans through hands-on conservation, has legitimate concerns about the impacts of ending the embargo. In October, he joined Thom Hartmann on The Big Picture to talk about the potential environmental effects—good and bad—of ending the embargo.
Guggenheim readily admits the embargo was a "failed policy," but under the embargo, Cuba's environment—namely its pristine national parks and coral reefs—has thrived. He cites the fact that "Cuba has protected 25 percent of its marine waters compared to the worldwide average of one percent." So, the question going forward will be: Can Cuba maintain its pristine environment after it's opened up to the U.S. and the rest of the world?
In a five-part series on EcoWatch, Conor Kennedy explores the pristine coral reefs of the Gardens of the Queen after his visit to Cuba this summer with Ocean Doctor. In his piece, Cuba and the Embargo, Kennedy shares his hopes for normalized relations between Cuba and the U.S. that includes policies that will protect Cuba's pristine ocean ecosystem.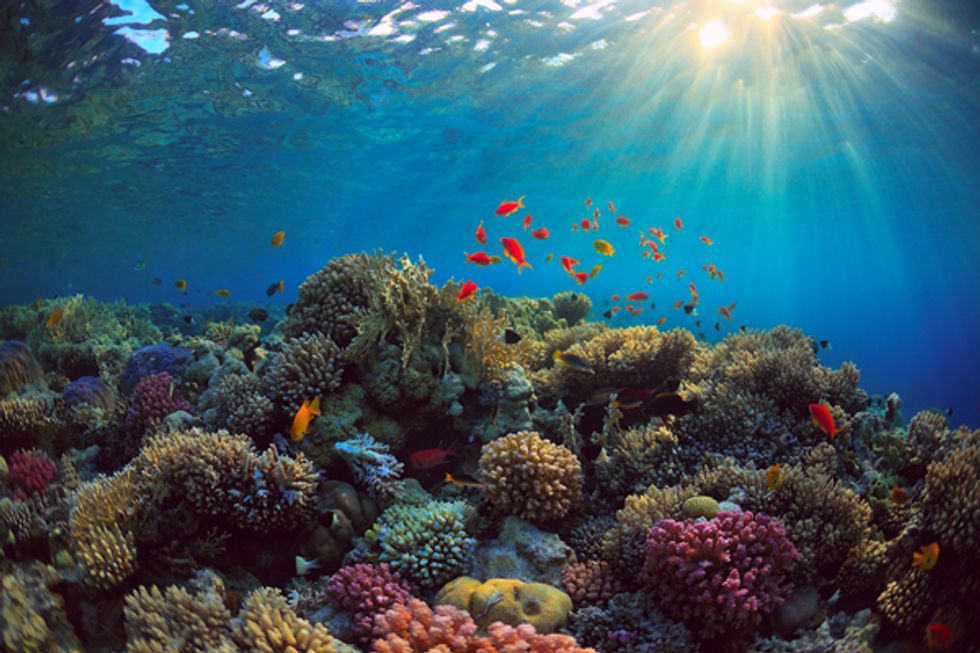 Cuba protects 25 percent of its marine waters compared to the worldwide average of 1 percent. Photo credit: Shutterstock
The Environmental Defense Fund (EDF) would also like to see an end to the embargo because it will allow them to expand their work to promote an exchange and a dialog around critical conservation issues.
"With normalized relations come great opportunity, but also great challenges," said Dan Whittle, director of EDF's Cuba Oceans Program and Senior Attorney.
"The doors are now open to U.S. travel and investment, and the rigor of Cuba's environmental rules will be tested. As money begins to flow into Cuba, it is critical that we continue our work helping Cuba build upon its impressive environmental protections and double down. EDF believes the environment will fuel economic growth, but we cannot allow the environment to be sacrificed in the process."
YOU MIGHT ALSO LIKE
What Becomes of Cuba After the Embargo Is Lifted?
Obama Permanently Protects Alaska's Bristol Bay From Oil and Gas Development
[Editor's note: Conor Kennedy traveled this summer to Cuba to dive the Gardens of the Queen, one of the most pristine marine environments in the Caribbean, to conduct ecological assessments of the coral reef ecosystem with Ocean Doctor. This is the last of a five-part series. Read Part I, Part II, Part III and Part IV.]
Cuba claims a larger landmass than all the other islands of the Greater Antilles together. The island occupies the intersection between the Atlantic, Caribbean and Gulf of Mexico. As such, it is a crossroads of high value ecosystems and a hot spot for endemism and biodiversity. The island and its waterways provide nursery, breeding and migratory staging habitat to fishes, birds and animals that populate and enrich waterways from Venezuela to Florida. We talked to Anmari Alvarez Aleman, a Cuban marine mammal expert. She explained that scientists have tracked Florida manatees to feeding habitats in Cuba!
In one sense Cuba's political and economic isolation has given it the opportunity to make good long-term decisions about its environment. Instead of responding to market pressures and the corrupting influence of corporate money and campaign contributions to sprout hotels and resorts on every spit of sand and open water, Cuba's beaches and reefs have been largely protected. When the embargo ends, tens of thousands of pleasure and charter boats from Miami will descend and likely destroy this last piece of paradise.
Aidan and RFK, Jr. targeting invasive reef destroying Lionfish. Photo credit: Noel Lopez
Fidel Castro's personal guards aboard Avalon II with its captain, Arjel (left). They delivered a letter from the former president to RFK, Jr. Photo credit: David E. Guggenheim
Dr. David E. Guggenheim takes photos to document the findings of the expedition. Photo credit: Noel Lopez

Policy choices made by Cuba's government today will determine whether these reefs will survive that onslaught or if they will instead bleach and die under economic and human pressure as they have across the Caribbean. "We need to lock these policies in place today," a foreign ministry official told us. He promised that "Cuba's government is determined to implement binding rules that will allow us to avoid the kind of reckless development that has impoverished the people and the environment on other Caribbean Islands."
I, myself, have seen, elsewhere in the Caribbean, how the sale of the best beaches and reef locations to for-profit multinational companies strands the poorest island inhabitants depriving them of access to their own coasts. The population becomes trapped in sweltering cities and towns inland between the forbidding skylines of giant foreign-owned hotels. That development model cuts people off from their beaches, reefs, fisheries and the patrimony of the commons. Hopefully, Cuba will try a different strategy.
Back in Havana, I went with my new friends from The Explorers Club to the Tropicana where we all participated in the highly competitive dance contest. My Dad took Aidan to night church which they reported was crowded with congregants worshipping and dancing to the rhythms of loud rock music and evangelical dancers. Everything in Cuba seems to be lively and colorful.
A final word about the embargo: Cuba is still a dictatorship. The Cuban government restricts basic freedoms like the freedom of speech and assembly. The government owns the media. During periodic crackdowns the Cuban government fills Cuban jails with political prisoners. Elections, as in most old-school communist countries, offer limited options. Still, I think most Americans of my generation ought to look deeper into the justification for our longstanding embargo against this tiny island.
There are real tyrants in the world, with whom America has made close allies and many governments with much worse human rights records than Cuba—Azerbaijan, for example, whose president Ilham Aliyev boils his opponents in oil, Saudi Arabia, Jordan, China, Bahrain, Tajikistan, Uzbekistan and many others where torture, enforced disappearances, religious intolerance, suppression of speech and assembly, medieval oppression of women, sham elections and non-judicial executions are all government practices.
Despite its poverty, Cuba has managed some impressive accomplishments. Cuba's government boasts the highest literacy rates for its population of any nation in the hemisphere. Cuba claims its citizens enjoy universal access to health care and more doctors per capita than any other nation in the Americas. Cuba's doctors, reportedly, have high quality medical training. Unlike other Caribbean islands where poverty means starvation, every Cuban, receives a monthly food ration book that provides their basic necessities. Even Cuban government officials admit that the economy is smothered by the inefficiencies of Marxism. However they also argue that the principal cause of the island's economic woes is the strangling impacts of the 60 year old trade embargo.
It is clear to everyone that the embargo first implemented during the Eisenhower Administration in October 1960, unfairly punishes regular Cubans. Mostly due to the embargo, Cubans suffer a cataclysmic lack of medicine and medical equipment, and long lines outside their pharmacies. We saw some Cuban hospitals that looked like dilapidated ghettos. The embargo impedes economic development by making virtually every commodity and every species of equipment both cataclysmically expensive and difficult to obtain.
Worst of all, instead of punishing the regime for their human rights restrictions, the embargo has fortified the dictatorship by justifying oppression. It provides every Cuban visible evidence of the boogeyman that every dictator requires—an outside enemy to justify an authoritarian national security state. The embargo has also given Cuban leaders a plausible bugaboo upon which to blame Cuba's poverty by loaning credence to the Cuban government's argument that the U.S., not Marxism, has caused the island's economic distress.
The embargo allows the regime to portray America as a bully and themselves as courageous leaders standing up to threats, intimidation and economic warfare by history's greatest military superpower. It perpetually reminds the proud Cuban people that our powerful nation, which has staged invasions of their island and plotted for decades to assassinate their leaders and sabotaged their industry, continues an aggressive campaign to ruin their economy.
Perhaps the best argument for lifting the embargo is that it doesn't work. Our 60-plus year embargo against Cuba is the longest in history and yet the Castro regime has remained in power during its entire duration. Instead of lifting the embargo, different U.S. administrations, including the Kennedy administration, have strengthened it without result. It seems silly to pursue a U.S. foreign policy by repeating a strategy that has proved a monumental failure for six decades.
The embargo clearly discredits U.S. foreign policy, not only across Latin America, but also with Europe and other regions. For more than 20 years, the UN General Assembly has called for lifting the embargo. Last year the vote was 188 in favor and two against (U.S. and Israel). The Inter American Commission on Human Rights (the main human rights bodies of the Americas) has also called for lifting the embargo. The African Union, the same.
One reason that it diminishes our global prestige and moral authority is that the entire embargo enterprise only emphasizes our distorted relationship with Cuba. That relationship is historically freighted with powerful ironies that make the U.S. look hypocritical to the rest of the world. Most recently, while we fault Cuba for jailing and mistreating political prisoners, we have simultaneously been subjecting prisoners, many of them innocent by the Pentagon's own admission, to torture—including waterboarding and illegal detention and imprisonment without trial, in Cuban prison cells in Guantanamo Bay. While we blame Cuba for not allowing their citizens to travel freely to the U.S., we restrict our own citizens from traveling freely to Cuba.
In that sense, the embargo seems particularly anti-American. Why does my passport say that I can't visit Cuba? Why can't I go where I want to go? The Cuba trip was a wonderful education for my brother and me since we got to see communism with all its warts and faults up close. Why doesn't our government trust Americans to see for themselves the ravages of dictatorship?
President Kennedy told Castro, through intermediaries, that the U.S. would end the embargo when Cuba stopped exporting violent revolutionists to Latin America's Alliance for Progress nations—a policy that mainly ended with Che Guevara's death in 1967 and when Castro stopped allowing the Soviets to use the island as a base for the expansion of Soviet power in the hemisphere. Well, the Soviets have been gone since 1991—more than 20 years, but the U.S.-led embargo continues to choke Cuba's economy. If the objective of our foreign policy in Cuba is to promote freedom for the subdued citizens, we should be opening ourselves up to them, not shutting them out.
We have so much to learn from Cuba—from its successes in some areas, and failures in others. As I walked through the streets of Havana, Model-T's chugged by and Che's soaring effigy hung in wrought iron above the street. I could feel the weight of sixty years of Cuban history, a history so deeply intertwined with that of my own country. Now, as Havana crumbles and the Gardens of the Queen thrive, I hope that in sixty years every American will have the chance to see the ocean as it is in Cuba, and as it should be back home.
YOU MIGHT ALSO LIKE
Gardens of the Queen: Caribbean's Last Pristine Coral Reefs
Crossing Cuba in a Chinese Bus
500 Years After Columbus, Cuba's Gardens of the Queen Still Pristine
[Editor's note: Conor Kennedy traveled this summer to Cuba to dive the Gardens of the Queen, one of the most pristine marine environments in the Caribbean, to conduct ecological assessments of the coral reef ecosystem with Ocean Doctor. This is Part II of a five-part series. Read Part I, Part III, Part IV and Part V.]
Castro told us that for many years he had fished and scuba dived Cuba's coastal waters without understanding either the biological importance or the fragility of the coral reefs. In fact, his machismo as a sportsman was notorious, and we later met fishermen on Cuba's south coast who remembered Castro as a deadly spear fisherman. Castro told us that his encounter with Jacques Cousteau—the undersea explorer, conservationist and inventor of the aqualung—had changed his perspective, transforming him into a fierce environmentalist.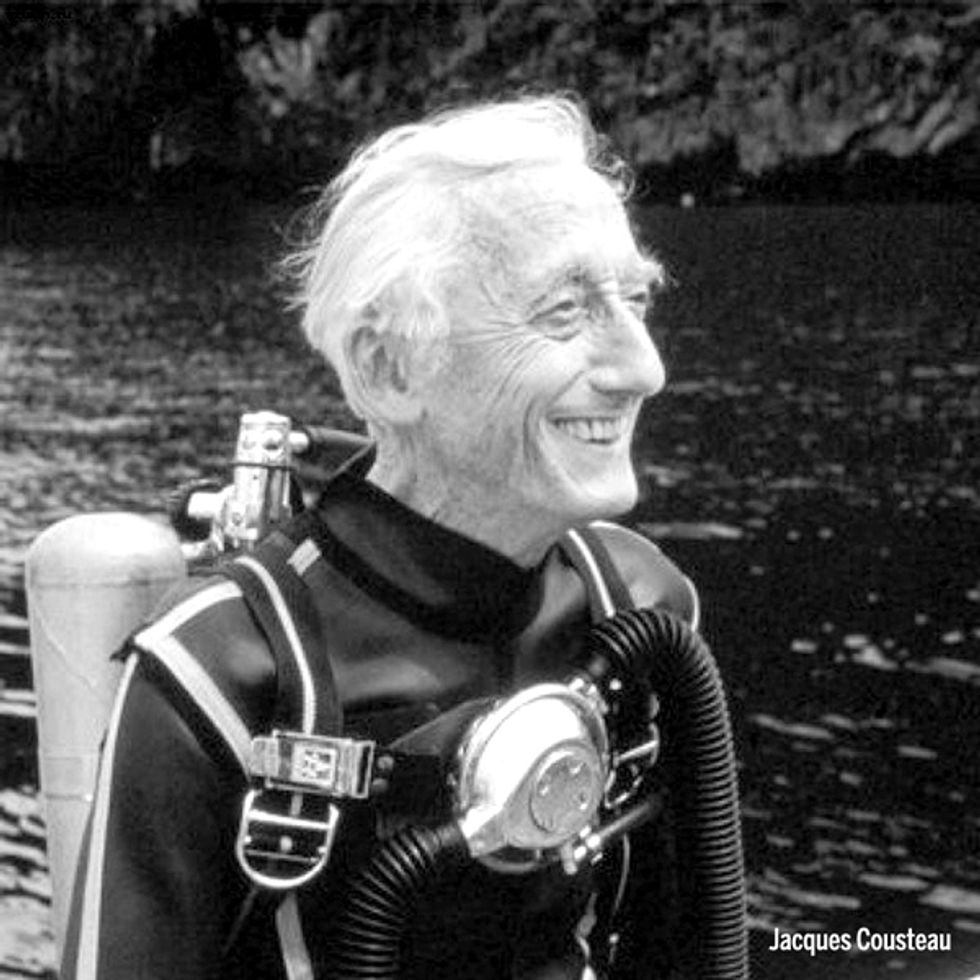 Inspired by Cousteau, Castro launched Cuba on one of the most aggressive reef and fishery preservation efforts of any nation in the world. Cuba's aim is to permanently protect 25 percent of its coastal waters as marine reserves. Compare that to less than two percent of the U.S. coastal zones and a worldwide average of only around one percent. But the jewel in Cuba's crown of marine conservation is the "Gardens of the Queen," the nearly perfectly preserved reef that we had come to the island to dive.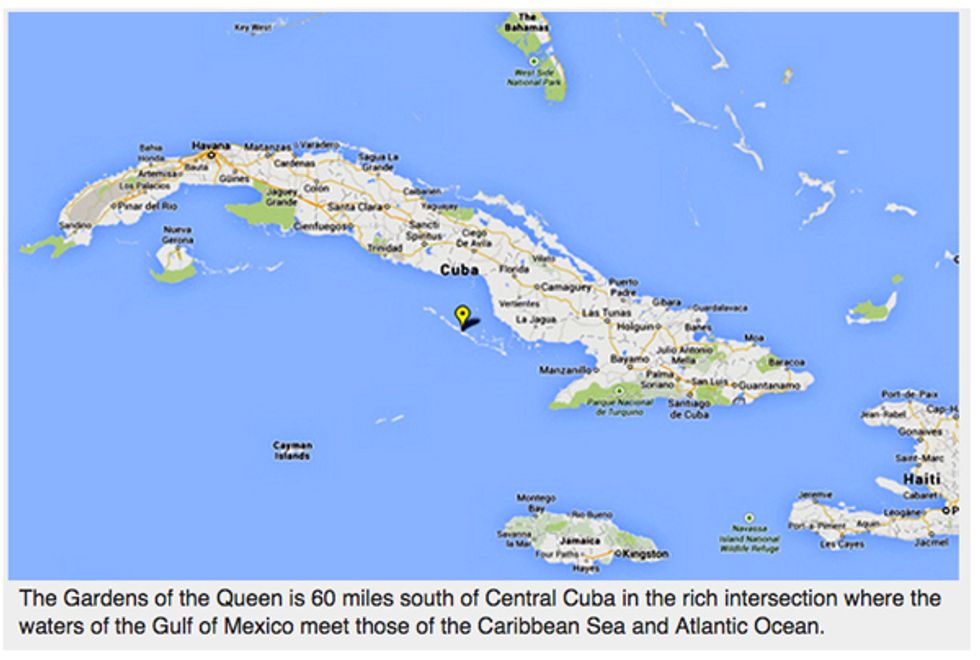 Castro spoke passionately about many other things—the ability of LED bulbs to save energy and the great potential for diesel dependent Caribbean islands to invest in wave, tidal and solar energy. He soliloquized about space junk, the constellations and the painful rigors of a Jesuit education. He told us that he spends hours each day reading information from the Internet. "You wouldn't believe," he said in astonishment, "how much information is on the Internet." He warned of the danger of nuclear weapons and the fact that a nuclear exchange during the 1962 missile crisis could have destroyed human life on our planet. He remarked that even today, an accidental exchange, given the power of nuclear weapons after World War II, could destroy humanity and our civilization, "which required 4 billion years to develop since the birth of the universe."
My 12-year-old brother, Aidan, asked Castro about Fulgencio Batista, the dictator whom he overthrew in 1959. Aidan asked which side Batista's ancestors had taken during Cuba's War of Independence from Spain in 1898. Castro had told us that his own father came to Cuba to fight on the side of the anti-colonial revolutionaries and stayed on as a contractor for the universally despised United Fruit Company. Castro answered that Batista's father had fought for independence on the side of Jose Marti and Cuba's patriots. Afterward Castro wrote a letter containing a more detailed description of the Batista family history for Aidan, which he sent us by courier. At the end of our meeting, Castro walked us to our car.
Although the residents of Havana are poor, Cuba boasts that it has the lowest crime rate in the Americas. Even Aidan felt safe walking the streets to visit Havana's markets and restaurants even late at night. Small entrepreneurs, many of them using money from American relatives to finance their enterprises, have opened new businesses—ice cream parlors, cigar stores, restaurants and barber shops—on nearly every street in Havana. Nearly all of Havana's famous taxis are perfectly preserved vintage 1940s and 1950s Chevys, Buicks and Cadillacs. We rode to the bazaar market—a former locomotive factory—and visited, Jose Marti Park, the Museum of the Revolution and other landmarks, including Ernest Hemingway's favorite restaurants and bars, in a 100-year-old Model T.
The centerpiece of the Museum of The Revolution is the Granma, the decrepit wooden yacht upon which Castro and 81 revolutionaries traveled from their exile in Veracruz, Mexico in 1956 to launch their revolution against Batista from the Sierra Maestra Mountains. Castro told us that by that time he already "had a Marxist background" but that many of his fellow fighters were simple idealists who despised corruption and tyranny and wanted to fight for democracy and justice.

In selecting 81 fighters for the journey from the much larger roster of revolutionaries who wanted a space on board, Castro told us that he looked for men of small size rather than ideological purity in order to cram aboard the tiny vessel as many guerrilla fighters as possible. We also saw the wreckage of the American U-2 piloted by U.S. Air Force Lt. Rudolph Anderson who died when Cuban and Russian soldiers launched a SAM surface missile against the American spy plane during the Cuban Missile Crisis in 1962. Anderson's downing precipitated the most perilous days in human history by bringing the world to the brink of nuclear war.
The Internet is largely inaccessible in Havana and too expensive for the average Cuban and U.S. cell phones don't work. Few Cubans can afford air conditioners. In the evening, people sit on stoops or on chairs on the sidewalk playing dominoes, or on couches or chairs in their salons watching black and white T.V., their doors and windows wide open to the street. Or they gather by the hundreds in couples or small groups on the sea wall along Havana's famous boulevard, the Malecon, and just talk. Aidan often said that he loves Havana more than any place he has ever been. He said he thought it was a good way to live—without computers, screens, iPhones and Xbox's, although I didn't hear him swear off any of his screens back home.
On every street corner we found Cubans anxious to talk with us. We chatted with cab drivers, waiters, musicians and young and old people we met in the street. We even visited a police station in a fifteenth century fort when a street vendor tried to overcharge us for a haircut. We made our case before the police captain, who quickly vindicated us. We considered the episode a good adventure with Cuban justice. Most people were happy to learn that we were from the U.S. They all wanted to know when our country would end the embargo.
We visited the Plaza of the Revolution, posed in front of the statue of Jose Marti and passed a special park built to accommodate anti-Bush protesters during the George W. Bush administration. Bush's policies in Iraq and Guantanamo were especially unpopular in Cuba. While most Cubans seem proud at having stood up to half a century of U.S. corporate and military power, they still admire America for our country's historic ideals. A bronze statue of Abraham Lincoln dominates Havana's principal park on the Avenida de los Presidentes and another Lincoln statue stands in front of Cuba's Capital, a perfect replica of the U.S. Capitol building, built at a time when Cuba-U.S. relations were strong.
We were equally surprised how often Cubans from every background expressed affection for Miami's Cubans—many of whom the Cuban government has traditionally considered to be enemies and traitors. "We all have a cousin in Miami," many Cubans told us. One Cuban explained that after the Soviet Bloc collapsed in 1991, Cuba's trade partners and generous Russian assistance programs all disappeared. The cataclysmic financial crash that subsequently hit Cuba sent throngs of economic refugees to Miami. These migrants lacked the anti-Castro animus that characterized the Cuban political refugees of yesteryear.
A tour guide later told us the money that Miami Cubans send home to family and relatives provide a critical boost to the Cuban economy. A Cuban official spoke affectionately of the Miami Cubans, "They are our brothers and sisters." Still many Cubans remain wary of knee-jerk anti-Cuban sentiment within the U.S. government. On our way to see Castro, one Cuban told us that the Netflix series, House of Cards, has become the obsession of many Cubans. "We say to ourselves, 'If even 10 percent of this is true, we are all screwed.'"
[Editor's note: Conor Kennedy traveled this summer to Cuba to dive the Gardens of the Queen, one of the most pristine marine environments in the Caribbean, to conduct ecological assessments of the coral reef ecosystem with Ocean Doctor. This is Part I of a five-part series. Read Part II, Part III, Part IV and Part V.]
I'm in Havana getting ready for an early morning trip to the Gardens of the Queen, the archipelago and reef complex 60 miles south of Central Cuba in the rich intersection where the waters of the Gulf of Mexico meet those of the Caribbean Sea and the Atlantic Ocean. The expedition sponsors are Ocean Doctor and The Explorers Club. Our mission is to gather data on the Caribbean's last pristine reef system.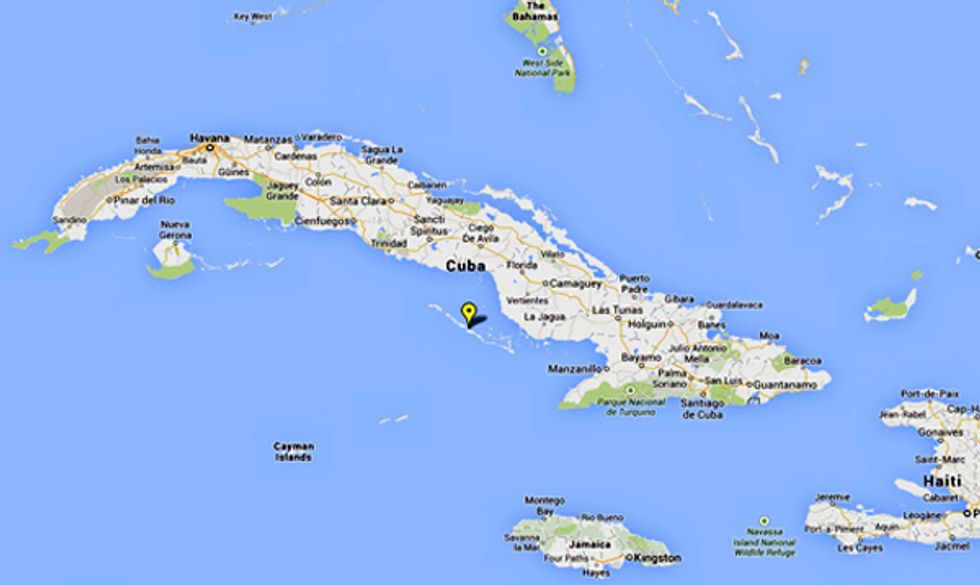 Today we met with former President Fidel Castro, who was an early and passionate advocate for protecting the reef. Castro told us that he had fished and dove the extraordinary reef over its entire 60 mile length. He began by telling us the history of a famous battle that took place on the reef in the War of Independence against Spain when an entire Spanish fleet was sunk by armored American war ships. His father came to Cuba as a Spanish soldier during that conflict.
He also told us about his personal evolution as an environmentalist. He began as an avid marlin and spear fisherman who slaughtered many marine species on the reef, assuming the oceans were infinite and could never be depleted. He next told us of an island rookery covered with Central American pigeons called torcaso palomas which he slaughtered with a shotgun and ate with great relish until he almost died after being poisoned by the toxic bark of the trees in which these pigeons roosted. Shortly after killing the doves he met with marine conservationist Jacques Cousteau. That meeting helped transform Castro into a committed environmentalist. He has committed to preserve 25 percent of Cuba's waters from extractive fishing as Marine Preserves, while the U.S. lags, preserving less than 2 percent of our coastal waters.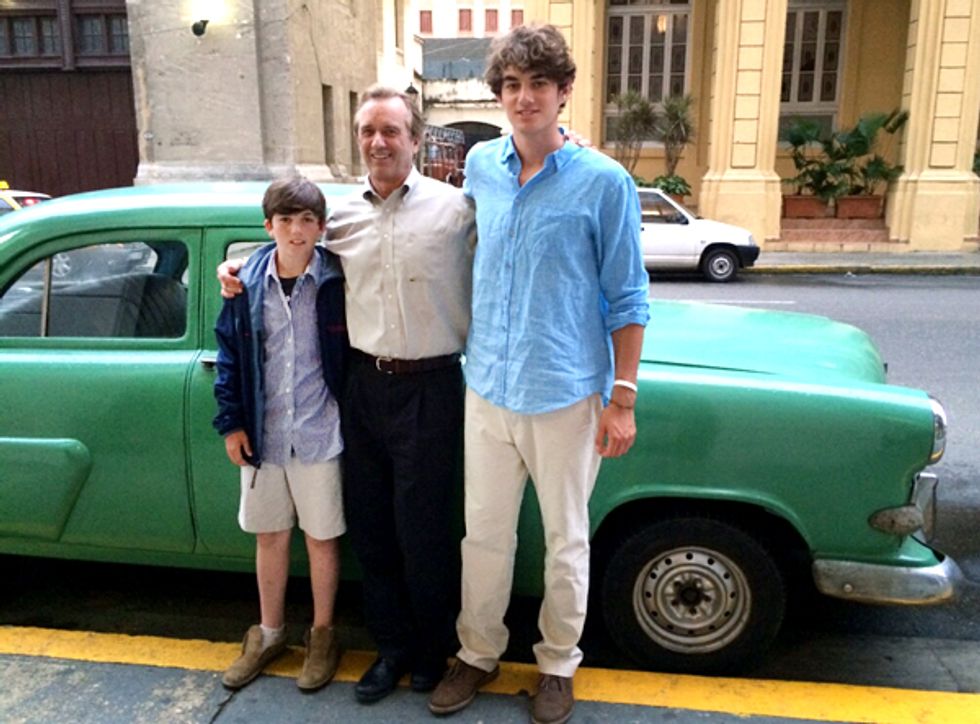 Tomorrow we leave for a week on the waters of the Gardens of the Queen with no internet. More to come when we return.
You Might Also Like
NOAA: Ocean Acidification Rises, Marine Economy Sinks
Sea Shepherd Founder to Bill Maher: 'If Oceans Die, We Die'
World Meteorological Organization: Ocean Acidification and Greenhouse Gas Emissions Hit Record Levels
By Noam Chomsky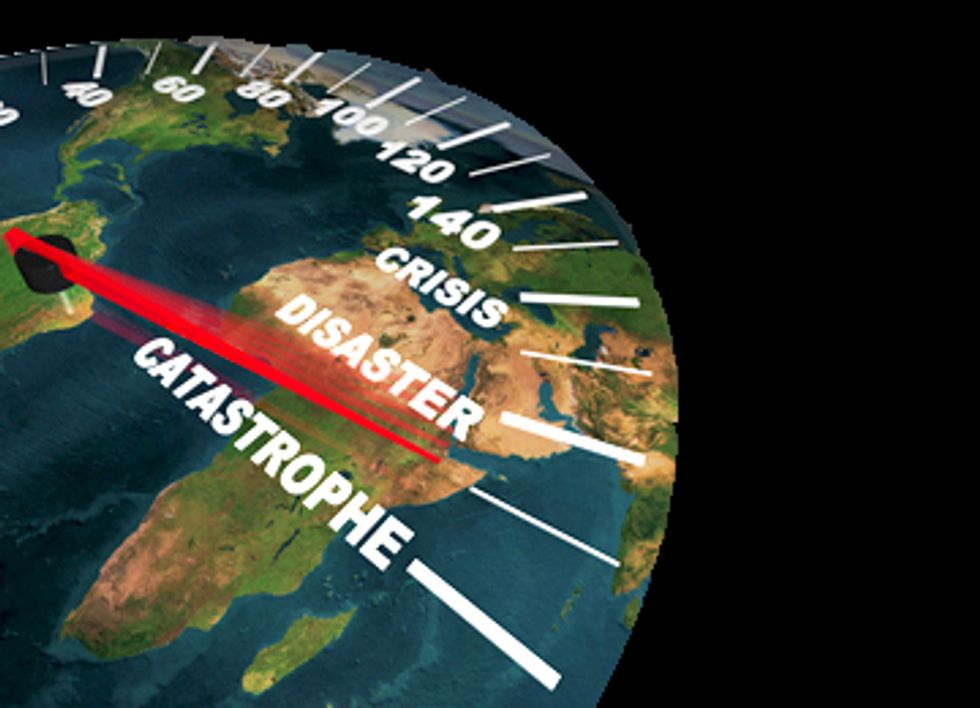 What is the future likely to bring? A reasonable stance might be to try to look at the human species from the outside. So, imagine that you're an extraterrestrial observer who is trying to figure out what's happening here or, for that matter, imagine you're an historian 100 years from now—assuming there are any historians 100 years from now, which is not obvious—and you're looking back at what's happening today. You'd see something quite remarkable.
For the first time in the history of the human species, we have clearly developed the capacity to destroy ourselves. That's been true since 1945. It's now being finally recognized that there are more long-term processes like environmental destruction leading in the same direction, maybe not to total destruction, but at least to the destruction of the capacity for a decent existence.
And there are other dangers like pandemics, which have to do with globalization and interaction. So there are processes underway and institutions right in place, like nuclear weapons systems, which could lead to a serious blow to, or maybe the termination of, an organized existence.
How to Destroy a Planet Without Really Trying
The question is: What are people doing about it? None of this is a secret. It's all perfectly open. In fact, you have to make an effort not to see it.
There have been a range of reactions. There are those who are trying hard to do something about these threats, and others who are acting to escalate them. If you look at who they are, this future historian or extraterrestrial observer would see something strange indeed. Trying to mitigate or overcome these threats are the least developed societies, the indigenous populations, or the remnants of them, tribal societies and first nations in Canada. They're not talking about nuclear war but environmental disaster, and they're really trying to do something about it.
In fact, all over the world—Australia, India, South America—there are battles going on, sometimes wars. In India, it's a major war over direct environmental destruction, with tribal societies trying to resist resource extraction operations that are extremely harmful locally, but also in their general consequences. In societies where indigenous populations have an influence, many are taking a strong stand. The strongest of any country with regard to global warming is in Bolivia, which has an indigenous majority and constitutional requirements that protect the "rights of nature." 
Ecuador, which also has a large indigenous population, is the only oil exporter I know of where the government is seeking aid to help keep that oil in the ground, instead of producing and exporting it—and the ground is where it ought to be.
Venezuelan President Hugo Chavez, who died recently and was the object of mockery, insult and hatred throughout the Western world, attended a session of the United Nations General Assembly a few years ago where he elicited all sorts of ridicule for calling President George W. Bush a devil. He also gave a speech there that was quite interesting. Of course, Venezuela is a major oil producer. Oil is practically their whole gross domestic product. In that speech, he warned of the dangers of the overuse of fossil fuels and urged producer and consumer countries to get together and try to work out ways to reduce fossil fuel use. That was pretty amazing on the part of an oil producer. You know, he was part Indian, of indigenous background. Unlike the funny things he did, this aspect of his actions at the UN was never even reported.
So, at one extreme you have indigenous, tribal societies trying to stem the race to disaster. At the other extreme, the richest, most powerful societies in world history, like the U.S. and Canada, are racing full-speed ahead to destroy the environment as quickly as possible. Unlike Ecuador, and indigenous societies throughout the world, they want to extract every drop of hydrocarbons from the ground with all possible speed. 
Both political parties, President Obama, the media and the international press seem to be looking forward with great enthusiasm to what they call "a century of energy independence" for the U.S. Energy independence is an almost meaningless concept, but put that aside. What they mean is: We'll have a century in which to maximize the use of fossil fuels and contribute to destroying the world.
And that's pretty much the case everywhere. Admittedly, when it comes to alternative energy development, Europe is doing something. Meanwhile, the U.S., the richest and most powerful country in world history, is the only nation among perhaps 100 relevant ones that doesn't have a national policy for restricting the use of fossil fuels, that doesn't even have renewable energy targets. It's not because the population doesn't want it. Americans are pretty close to the international norm in their concern about global warming. It's institutional structures that block change. Business interests don't want it and they're overwhelmingly powerful in determining policy, so you get a big gap between opinion and policy on lots of issues, including this one.
So that's what the future historian—if there is one—would see. He might also read today's scientific journals. Just about every one you open has a more dire prediction than the last.
"The Most Dangerous Moment in History"
The other issue is nuclear war. It's been known for a long time that if there were to be a first strike by a major power, even with no retaliation, it would probably destroy civilization just because of the nuclear-winter consequences that would follow. You can read about it in the Bulletin of Atomic Scientists. It's well understood. So the danger has always been a lot worse than we thought it was.
We've just passed the 50 year anniversary of the Cuban Missile Crisis, which was called "the most dangerous moment in history" by historian Arthur Schlesinger, President John F. Kennedy's advisor. Which it was. It was a very close call, and not the only time either. In some ways, however, the worst aspect of these grim events is that the lessons haven't been learned.
What happened in the missile crisis in October 1962 has been prettified to make it look as if acts of courage and thoughtfulness abounded. The truth is that the whole episode was almost insane. There was a point, as the missile crisis was reaching its peak, when Soviet Premier Nikita Khrushchev wrote to Kennedy offering to settle it by a public announcement of a withdrawal of Russian missiles from Cuba and U.S. missiles from Turkey. Actually, Kennedy hadn't even known that the U.S. had missiles in Turkey at the time. They were being withdrawn anyway, because they were being replaced by more lethal Polaris nuclear submarines, which were invulnerable.
So that was the offer. Kennedy and his advisors considered it—and rejected it. At the time, Kennedy himself was estimating the likelihood of nuclear war at a third to a half. So Kennedy was willing to accept a very high risk of massive destruction in order to establish the principle that we—and only we—have the right to offensive missiles beyond our borders, in fact anywhere we like, no matter what the risk to others—and to ourselves, if matters fall out of control. We have that right, but no one else does.
Kennedy did, however, accept a secret agreement to withdraw the missiles the U.S. was already withdrawing, as long as it was never made public. Khrushchev, in other words, had to openly withdraw the Russian missiles while the U.S. secretly withdrew its obsolete ones; that is, Khrushchev had to be humiliated and Kennedy had to maintain his macho image. He's greatly praised for this: Courage and coolness under threat, and so on. The horror of his decisions is not even mentioned—try to find it on the record.
And to add a little more, a couple of months before the crisis blew up, the U.S. had sent missiles with nuclear warheads to Okinawa, Japan. These were aimed at China during a period of great regional tension.
Well, who cares? We have the right to do anything we want anywhere in the world. That was one grim lesson from that era, but there were others to come.
Ten years after that, in 1973, Secretary of State Henry Kissinger called a high-level nuclear alert. It was his way of warning the Russians not to interfere in the ongoing Israel-Arab war and, in particular, not to interfere after he had informed the Israelis that they could violate a ceasefire the U.S. and Russia had just agreed upon. Fortunately, nothing happened.
Ten years later, President Ronald Reagan was in office. Soon after he entered the White House, he and his advisors had the Air Force start penetrating Russian air space to try to elicit information about Russian warning systems, Operation Able Archer. Essentially, these were mock attacks. The Russians were uncertain, some high-level officials fearing that this was a step towards a real first strike. Fortunately, they didn't react, though it was a close call. And it goes on like that.
What to Make of the Iranian and North Korean Nuclear Crises
At the moment, the nuclear issue is regularly on front pages in the cases of North Korea and Iran. There are ways to deal with these ongoing crises. Maybe they wouldn't work, but at least you could try. They are, however, not even being considered, not even reported.
Take the case of Iran, which is considered in the West—not in the Arab world, not in Asia—the gravest threat to world peace. It's a Western obsession, and it's interesting to look into the reasons for it, but I'll put that aside here. Is there a way to deal with the supposed gravest threat to world peace? Actually, there are quite a few. One way, a pretty sensible one, was proposed a couple of months ago at a meeting of the non-aligned countries in Tehran. In fact, they were just reiterating a proposal that's been around for decades, pressed particularly by Egypt, and has been approved by the UN General Assembly.
The proposal is to move toward establishing a nuclear-weapons-free zone in the region. That wouldn't be the answer to everything, but it would be a pretty significant step forward. And there were ways to proceed. Under UN auspices, there was to be an international conference in Finland last December to try to implement plans to move toward this. What happened? 
You won't read about it in the newspapers because it wasn't reported—only in specialist journals. In early November, Iran agreed to attend the meeting. A couple of days later President Obama cancelled the meeting, saying the time wasn't right. The European Parliament issued a statement calling for it to continue, as did the Arab states. Nothing resulted. So we'll move toward ever-harsher sanctions against the Iranian population—it doesn't hurt the regime—and maybe war. Who knows what will happen?
In Northeast Asia, it's the same sort of thing. North Korea may be the craziest country in the world. It's certainly a good competitor for that title. But it does make sense to try to figure out what's in the minds of people when they're acting in crazy ways. Why would they behave the way they do? Just imagine ourselves in their situation. Imagine what it meant in the Korean War years of the early 1950s for your country to be totally leveled, everything destroyed by a huge superpower, which furthermore was gloating about what it was doing. Imagine the imprint that would leave behind.
Bear in mind that the North Korean leadership is likely to have read the public military journals of this superpower at that time explaining that, since everything else in North Korea had been destroyed, the Air Force was sent to destroy North Korea's dams, huge dams that controlled the water supply—a war crime, by the way, for which people were hanged in Nuremberg. And these official journals were talking excitedly about how wonderful it was to see the water pouring down, digging out the valleys, and the Asians scurrying around trying to survive. The journals were exulting in what this meant to those "Asians," horrors beyond our imagination. It meant the destruction of their rice crop, which in turn meant starvation and death. How magnificent! It's not in our memory, but it's in their memory.
Let's turn to the present. There's an interesting recent history. In 1993, Israel and North Korea were moving towards an agreement in which North Korea would stop sending any missiles or military technology to the Middle East and Israel would recognize that country. President Clinton intervened and blocked it. Shortly after that, in retaliation, North Korea carried out a minor missile test. The U.S. and North Korea did then reach a framework agreement in 1994 that halted its nuclear work and was more or less honored by both sides. When George W. Bush came into office, North Korea had maybe one nuclear weapon and verifiably wasn't producing any more. 
Bush immediately launched his aggressive militarism, threatening North Korea—"axis of evil" and all that—so North Korea got back to work on its nuclear program. By the time Bush left office, they had eight to 10 nuclear weapons and a missile system, another great neocon achievement. In between, other things happened. In 2005, the U.S. and North Korea actually reached an agreement in which North Korea was to end all nuclear weapons and missile development. In return, the West, but mainly the U.S., was to provide a light-water reactor for its medical needs and end aggressive statements. They would then form a nonaggression pact and move toward accommodation.
It was pretty promising, but almost immediately Bush undermined it. He withdrew the offer of the light-water reactor and initiated programs to compel banks to stop handling any North Korean transactions, even perfectly legal ones. The North Koreans reacted by reviving their nuclear weapons program. And that's the way it's been going.
It's well known. You can read it in straight, mainstream American scholarship. What they say is: It's a pretty crazy regime, but it's also following a kind of tit-for-tat policy. You make a hostile gesture and we'll respond with some crazy gesture of our own. You make an accommodating gesture and we'll reciprocate in some way.
Lately, for instance, there have been South Korean-U.S. military exercises on the Korean peninsula which, from the North's point of view, have got to look threatening. We'd think they were threatening if they were going on in Canada and aimed at us. In the course of these, the most advanced bombers in history, Stealth B-2s and B-52s, are carrying out simulated nuclear bombing attacks right on North Korea's borders. 
This surely sets off alarm bells from the past. They remember that past, so they're reacting in a very aggressive, extreme way. Well, what comes to the West from all this is how crazy and how awful the North Korean leaders are. Yes, they are. But that's hardly the whole story, and this is the way the world is going.
It's not that there are no alternatives. The alternatives just aren't being taken. That's dangerous. So if you ask what the world is going to look like, it's not a pretty picture. Unless people do something about it. We always can.
Visit EcoWatch's ENERGY page for more related news on this topic.
——–
Click here to tell Congress to Expedite Renewable Energy.