This website uses cookies to ensure you get the best experience while browsing it. By clicking 'Got It' you're accepting these terms.
Greenpeace fracking protest in London's Parliament Square.
DAVID HOLT / Flickr / CC BY 2.0
A string of small earthquakes were reported the town of Blackpool just days after fracking operations restarted in England after a seven year hiatus, raising concerns that the controversial drilling process could eventually trigger bigger temblors.
The British Geological Survey (BGS) detected five quakes since Thursday near the contentious Preston New Road site operated by UK shale gas firm Cuadrilla Resources.
A worker at the New Preston Road fracking site in Northwest England, where fracking is likely to start Saturday. Danny Lawson / PA Images via Getty Images
An anti-fracking campaigner has lost a last-ditch legal effort to stop the first fracking in the UK in seven years, The Guardian reported Friday.
Lancashire resident Robert Dennett had won a temporary injunction last week to stop shale natural gas company Cuadrilla from fracking in a well near Blackpool in northwest England. At a hearing Thursday, his lawyers argued that Lancashire County Council had not adequately planned for an emergency at the site on Preston New Road. But on Friday, a high court judge ruled that the council's planning was adequate and that fracking could go ahead.
EcoWatch Daily Newsletter
Anti-fracking protesters Rich Loizou (L) Richard Roberts and Simon Roscoe-Blevins (R) stand outside Preston Crown Court where they are set to be sentenced for public nuisance on Sept. 25 in Preston, England. Christopher Furlong / Getty Images
Environmental activists were sentenced to prison Wednesday for their anti-fracking demonstrations in northwest England.
Roscoe Blevins, 26, and Richard Roberts, 36, were given 16 months in prison. Richard Loizou, 31, was given 15 months. The three were found guilty of public nuisance offense by a jury in August, The Guardian reported. A fourth protester, Julian Brock, 47, received a 12-month suspended custodial sentence. He pleaded guilty for the same offense at a separate hearing.
Drone photograph of the Cuadrilla site at Preston New Road, taken Feb. 25. Residents Action on Fylde Fracking
Cuadrilla Resources—a UK-based energy company set to horizontally frack Britain for the first time after two earthquakes halted its initial drilling attempt in 2011—is giving cash payments to residents living near its shale gas exploration site at Preston New Road in Lancashire.
Cuadrilla said that households within one kilometer of the site will each receive approximately £2,070 ($2,700) and those within one to 1.5 kilometers will receive approximately £150 ($197) as part of its £100,000 community benefit payment for the well it is drilling.
According to Greenpeace research almost two-thirds of England has been earmarked for potential fracking, and local opposition, particularly in Conservative constituencies, is expected to be fierce. Local hostility in Balcombe, West Sussex is already delaying the fracking process, with the Campaign to Protect Rural England warning of a massive backlash if large areas of countryside are "transformed into industrial sites."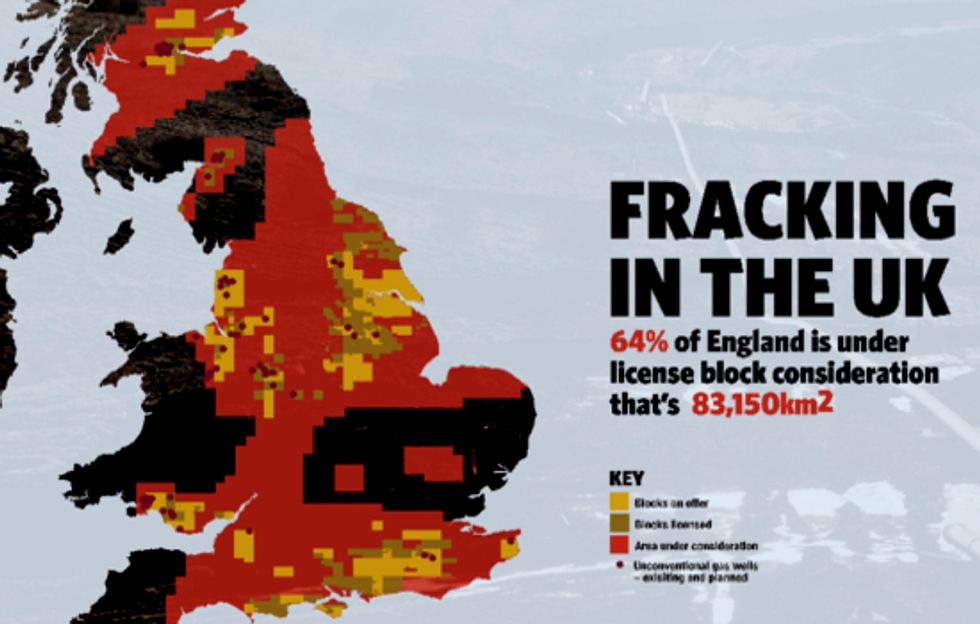 Commenting on today's announcement, Lawrence Carter, energy campaigner at Greenpeace, said:
The idea that shale gas is going to get the economy moving again is groundless. There's a huge difference between the amount of gas in the ground and how much fracking companies will be able to commercially extract. Even if they do manage to get some gas out, the fracking industry's own research reveals that production wouldn't reach meaningful levels until well into the next decade. If shale is the answer to Britain's economic malaise then the Chancellor is asking the wrong question.
Analysts from energy regulator Ofgem, Deutsche Bank and Energy UK are lining up to say that UK shale gas won't bring down bills for households or businesses. Even the company with the biggest stake in Lancashire shale gas, Cuadrilla, privately admits that it won't reduce energy prices. It's alarming that the Chancellor is staking his growth strategy on an industry that doesn't buy his hype.
Last month Greenpeace recorded a senior member of Cuadrilla, the company planning to drill in Lancashire, saying the impact of fracking on energy bills would be "basically insignificant." Speaking at a drop in session for concerned residents in Balcombe, West Sussex, the spokesman said the media had over-hyped some issues around fracking, but that others were very valid and that locals in Lancashire were right to be concerned about "well integrity" and increased traffic.
Polling in the Chancellor's Tatton constituency revealed a majority are opposed to fracking, with widespread concern about noise, disruption, falling house prices and earth tremors. Even more interestingly, 12 percent of those who voted Tory at the last election said they'd be less likely to do so again should fracking get the go ahead.
Responding to the government's proposed financial package to communities affected by fracking, Lawrence Carter said, "Whilst communities should receive benefits from local energy development, a cash package won't alleviate concerns about fracking's impact on water supply and house prices."
Visit EcoWatch's FRACKING page for more related news on this topic.
——–
Sign the petition today, telling President Obama to enact an immediate fracking moratorium: