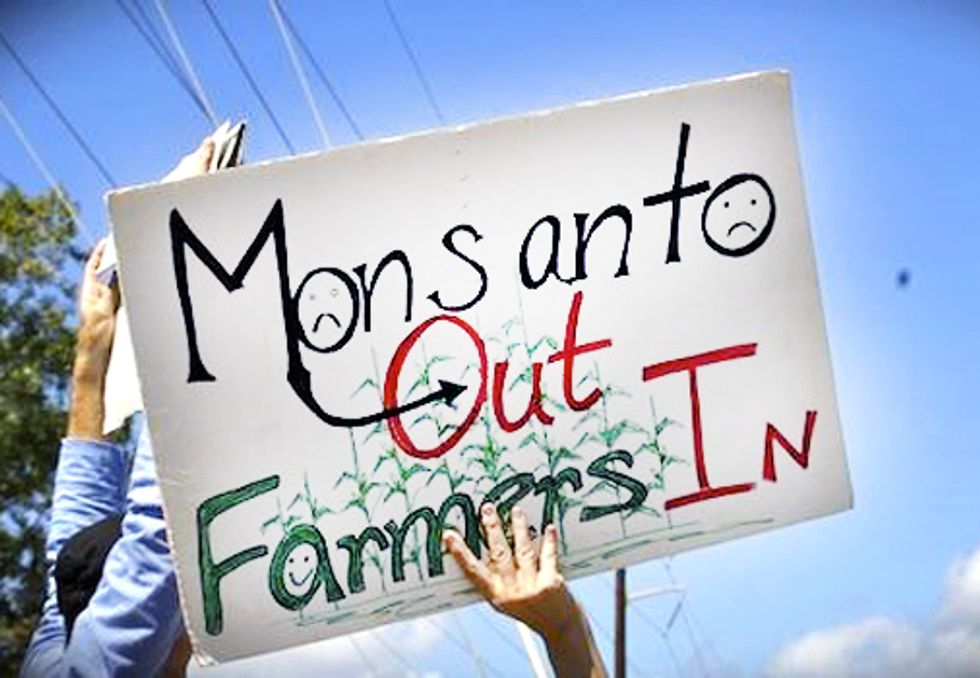 On Jan. 31 family farmers from across the country took part in the first phase of the Organic Seed Growers and Trade Association (OSGATA) et al. v. Monsanto court case. The case was filed to protect farmers from genetic trespass by Monsanto's genetically modified (GMO) seed, which can contaminate organic and non-GMO farmers' crops and open farmers up to abusive lawsuits.
About 200 supporters met at Foley Square in Manhattan the morning of Jan. 31. In total, more than 300,000 people are represented by 83 plaintiffs from 36 organizations in the case against Monsanto.
As a result of aggressive lawsuits against farmers with contaminated crops, Monsanto has created an atmosphere of fear in rural America and driven dozens of farmers into bankruptcy. Farmers now have the opportunity to fight back and have their voices heard in a court of law.
The Federal District Court judge has agreed to hear oral arguments in this landmark case to decide whether or not the case will move forward. The judge has until March 31st to make a decision.
Occupy Wall Street Food Justice, Occupy Big Food and Food Democracy Now! assembled at Foley Square in solidarity with farmers on the front lines of the struggle against corporate domination of the nation's food system.
To learn more about the details of the case, click here.
For more information, click here.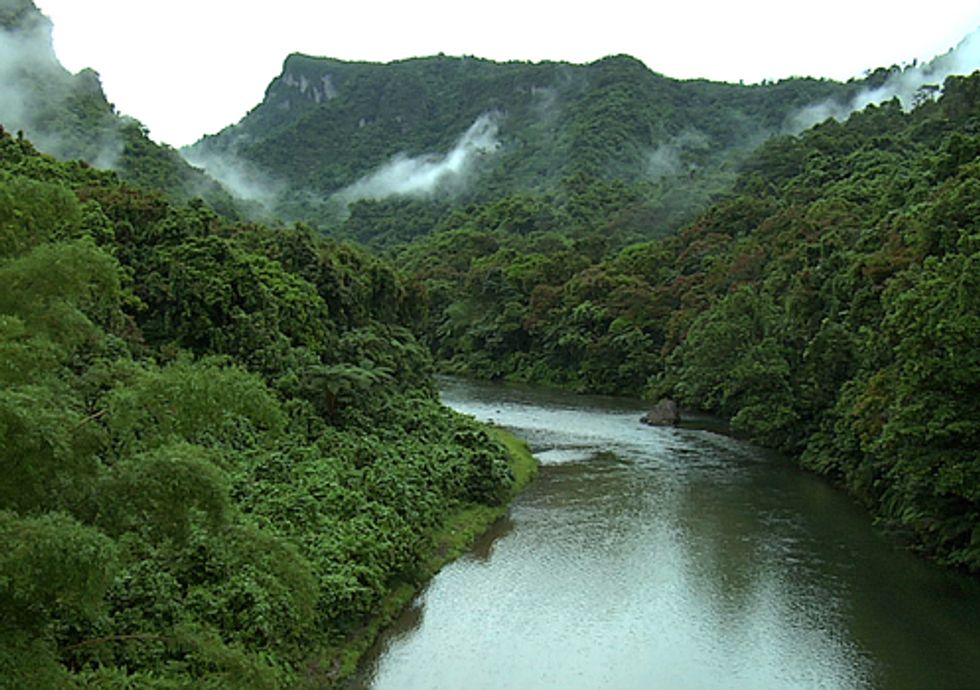 Protecting the land of highest priority for biodiversity conservation also delivers significant, life-sustaining services and income to the world's most impoverished people, according to a new study published this month in the journal, BioScience. Yet conservation efforts and poverty alleviation efforts are both at risk of failing, since this 'natural capital' is grossly undervalued in the global marketplace.
The ground-breaking study, Global Biodiversity Conservation and the Alleviation of Poverty, was led by a team from Conservation International, and co-authored by scientists at NatureServe, National Fish and Wildlife Foundation, and the University of Wisconsin-Madison.
The scientists analyzed the value of benefits the world's poorest people receive from priority areas for biodiversity conservation. They assessed a broad range of 'ecosystem services', the benefits people receive from natural habitats—from local benefits including crop pollination, foods, medicines, and clean, fresh water, to global benefits such as climate regulation.
 
Dr. Will Turner, lead author and vice president for Conservation International, emphasized the strong correlations his team discovered, showing the high value of effectively managing the stocks of natural capital to ease poverty—the world's top conservation priorities (less than a quarter of Earth's land surface) provide over half (56-57 percent) of the world's ecosystem service value, directly supporting the world's poorest people, who generally struggle to survive on less than one dollar a day.
"What the research clearly tells us is that conserving the world's remaining biodiversity isn't just a moral imperative, it is a necessary investment for lasting economic development. But in many places where the poor depend on these natural services, we are dangerously close to exhausting them, resulting in lasting poverty," said Turner.
The study also found that when all 17 ecosystem services they examined are totaled, the benefits of these areas are more than triple (326 percent) the costs of conserving them.
"We have always known that biodiversity is foundational to human well-being, but we now have a strong case that ecosystems specifically located in the world's biodiversity hotspots and high-biodiversity wilderness areas also provide a vital safety net for people living in poverty," said Dr. Russell Mittermeier, president of Conservation International and a co-author of the paper. "Protecting these places is essential not only to safeguard life on earth but also to support the impoverished, ensure continued broad access to nature's services, and meet the U.N. Millennium Development Goals."
The scientists analyzed four different scenarios for the links between biodiversity conservation and human poverty—(1) potential ecosystem services, the range of services that nature provides whether or not people use them; (2) realized ecosystem services, which are directly available to local, downstream or global populations; (3) essential services, representing the immediate and critical benefits available to poor individuals (wood for shelter, water for drinking, etc.); and (4) essential services with transfers, or those which compensate local stewards of natural resources with market or incentive mechanisms.
 
In the last scenario—transfers of benefits from ecosystem services—the researchers reported that markets and other financial mechanisms that provide compensation to local populations who take on the responsibility of protecting and sustainably managing nature at its source (such as Payments for Ecosystem Services or Reducing Emissions from Deforestation and forest Degradation) have the potential to provide a 50 percent increase in benefits to poor communities, delivering up to an additional half trillion USD per year to the people who need it most.
To put this in context, the scientists calculated that if the value generated by ecosystem services to local people were distributed effectively and equitably, it would exceed $1 per-person per-day for nearly one-third of the world's poorest people (331 million of an estimated 1.1 billion living in poverty).
"Developed and developing economies cannot continue to ask the world's poor to shoulder the burden of protecting these globally important ecosystem services for the rest of the world's benefit, without compensation in return," added Turner. "This is exactly what we mean when talk about valuing natural capital. Nature may not send us a bill, but its essential services and flows, both direct and indirect, have concrete economic value."
Co-author Dr. Claude Gascon, executive vice president of the National Fish and Wildlife Foundation said, "This paper clearly shows that the natural world provides huge benefits to humanity by contributing to the well being of local and global communities. Moreover, areas of high biodiversity importance are disproportionately critical in providing these benefits and should therefore be a high priority for protection."
 
"The study also demonstrates that the collection of biodiversity data yields great benefit," said Tom Brooks, chief scientist at NatureServe. "Not only in guiding conservation in its own right, but also—when analyzed alongside socio-economic datasets—in informing policy across the board."
 
Addressing gaps that still remain in the science, Turner added, "Is natural capital alone sufficient to alleviate poverty? The answer is no. Our existing information of the value of ecosystem services is grossly insufficient, and we have much work ahead of us to quantify these services. But the magnitude of synergies between priority biodiversity conservation areas and poverty alleviation goals is so large, that we really must work on them together."
Mittermeier concluded, "We have learned a lot in understanding how ecosystem services flow to people, but in many ways, the world's economic compass is broken—we are undervaluing and overspending our planet's natural capital. That is why it is so important for decision-makers to integrate conservation of nature as a critical component of economic and poverty-alleviation policies this decade. "
For more information, click here.
—————
For more information about the methodology or specific findings of this research, download the full text of the paper by clicking here.
 
Conservation International (CI)—Building upon a strong foundation of science, partnership and field demonstration, CI empowers societies to responsibly and sustainably care for nature, our global biodiversity, for the long term well-being of people. Founded in 1987 and marking its 25th anniversary in 2012, CI has headquarters in the Washington DC area, and 900 employees working in nearly 30 countries on four continents, plus 1,000+ partners around the world. For more information, click here, or on Facebook or Twitter.
 
NatureServe—NatureServe is a non-profit conservation organization whose mission is to provide the scientific basis for effective conservation action. NatureServe represents an international network of biological inventories-known as natural heritage programs or conservation data centers-operating in all 50 U.S. states, Canada, Latin America and the Caribbean. The objective scientific information about species and ecosystems developed by NatureServe is used by all sectors of society-conservation groups, government agencies, corporations, academia, and the public-to make informed decisions about managing our natural resources. For more information, click here.
 
National Fish and Wildlife Foundation (NFWF)—The National Fish and Wildlife Foundation is made up of 80 professional staff in four offices across the country: Washington, D.C.; St. Paul, MN; Portland, OR; and San Francisco, CA.Our Board of Directors is made up of 30 members, all confirmed by the White House. Learn more about the people at the National Fish and Wildlife Foundation by clicking here.
EcoWatch Daily Newsletter