This website uses cookies to ensure you get the best experience while browsing it. By clicking 'Got It' you're accepting these terms.


The best of EcoWatch, right in your inbox. Sign up for our email newsletter!
Sen. Bernie Sanders walks though the Playita community during a visit with the mayor of San Juan, Carmen Yulin Cruz in San Juan, Puerto Rico, October 27, 2017. RICARDO ARDUENGO / AFP / Getty Images
By Jake Johnson
As advocacy groups urgently warn that Wall Street firms are moving to capitalize on Puerto Rico's plight in the aftermath of Hurricane Maria by extracting debt payments and pushing for the privatization of public services, Sen. Bernie Sanders (I-Vt.) joined Sen. Elizabeth Warren (D-Mass.) and several other Democratic senators on Wednesday to introduce a bill that would "provide an avenue to comprehensive debt relief" for the island.
Collin Rees / Twitter
Pipeline Fighters from Nebraska and across the region marched through the streets of Lincoln, Nebraska Sunday—on the eve of a weeklong public hearing on the proposed Keystone XL pipeline before the Nebraska Public Service Commission, where Nebraska farmers and ranchers, the Ponca Tribe of Nebraska, Yankton Sioux Tribe, Bold Alliance and other environmental and citizen advocates will present evidence on why TransCanada's tar sands export pipeline is unnecessary and not in the public interest.
EcoWatch Daily Newsletter
More than 3,000 New Yorkers took time off work yesterday to send a message to Albany that they want Gov. Cuomo and the state legislature to reject fracking and lead the nation in renewable energy. Organizers noted that the rally was larger than a similar rally at the State of the State address that kicked off the legislative session, indicative of the growth and momentum of the movement across the state. The second rally comes at the end of a legislative session that has included discussion of a two year fracking moratorium—which the Assembly passed overwhelmingly—and many, including Gov. Cuomo, have noted it would pass the Senate if allowed to come to the floor for a vote.
"Thousands of people here today are speaking for many more across the state with a simple call to Governor Cuomo: Ban fracking in New York," said Alex Beauchamp of Food & Water Watch. "They've seen the misery fracking has brought elsewhere—the accidents, the contamination and the devastating health effects—and they've learned the lessons. New Yorkers are fighting to keep their families safe and healthy, and they're sending a message that the oil and gas industry can and will be beaten back."
"The science is clear that fracking poses a serious threat to our health, the air we breathe and the water we drink," said Julia Walsh of Frack Action on behalf of New Yorkers Against Fracking. "An unparalleled citizen uprising demands that Gov. Cuomo rejects fracking, and lead the nation by constructing a renewable energy economy here and now in New York. If he does, we stand ready to roll up our sleeves and get to work."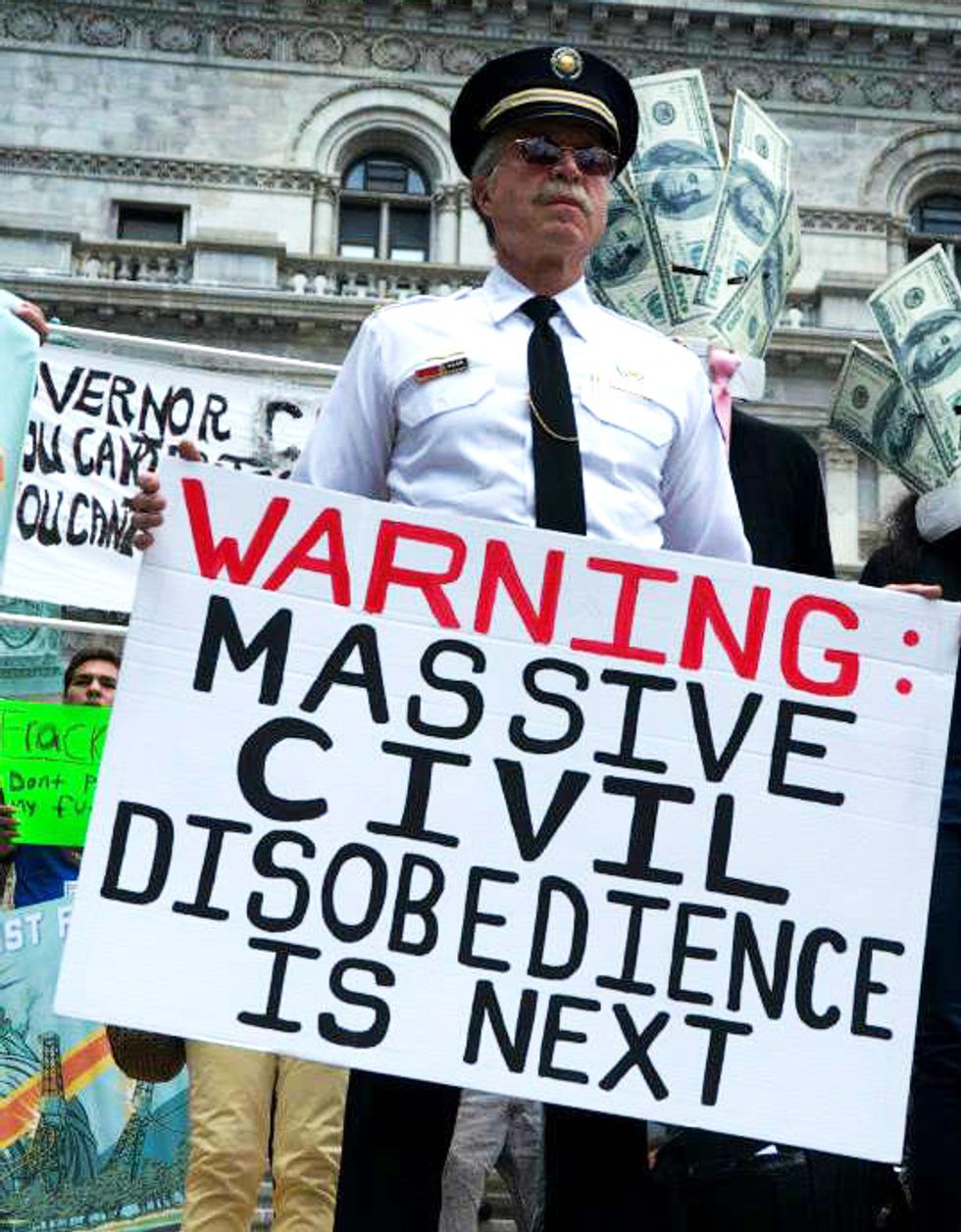 The New Yorkers Against Fracking rally and march, New York Crossroads, was co-sponsored by more than 130 New York and national organizations including Catskill Mountainkeeper, Citizens Campaign for the Environment, CREDO, Democracy for America, Environmental Advocates of New York, Environment NY, Food & Water Watch, Frack Action, New York State Breast Cancer Network, New York State Sustainable Business Council, Northeast Organic Farming Association, New York Public Interest Research Group, Riverkeeper, Save The Southern Tier, and the Sierra Club Atlantic Chapter. Speakers included former Congressman Maurice Hinchey, Lois Gibbs, Jim Dean of Democracy for America, Mark Jacobson, PhD, Arun Gandhi, Oren Lyons, Phil Aroneanu of 350.org and a musical performance by Natalie Merchant. 
While Gov. Cuomo has been weighing whether or not to allow fracking, the oil and gas industry and their supporters have poured millions of dollars into New York to lobby, influence elected officials and saturate the state with pro-fracking propaganda. Yet, fracking opponents outnumber and remain more determined than supporters, demonstrating that New Yorkers aren't buying the oil and gas industry's propaganda and how seriously they take this issue.
"Governor Cuomo, my toddler deserves to breathe clean air, drink clean water and inherit a healthy future," said Logan Adsit of Save The Southern Tier. "Say no to fracking and pioneer a renewable energy economy for New York that offers my child a chance at a better future in the state we love."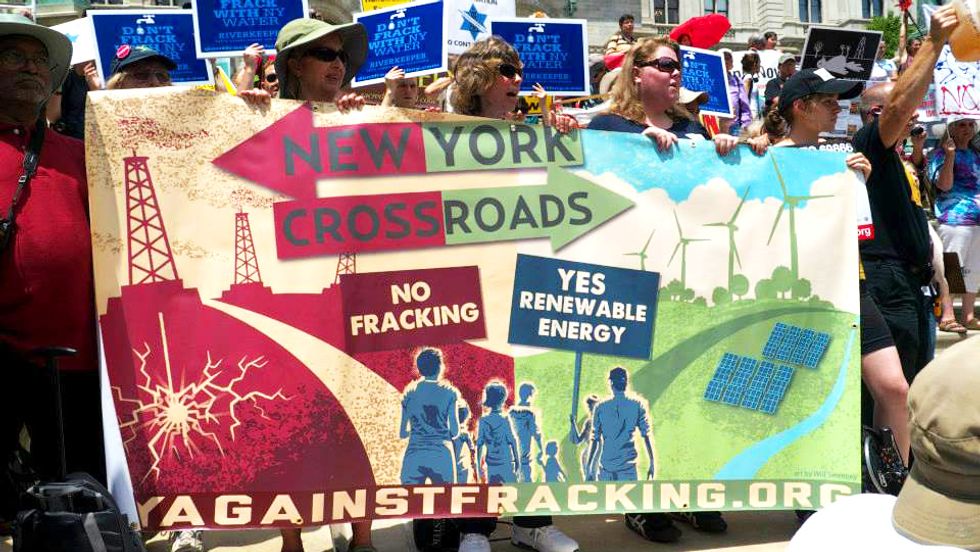 "My neighborhood—Love Canal—became synonymous with the hazards of toxic waste," said Lois Gibbs. "If Governor Cuomo goes forward with fracking, we could have hundreds or thousands of Love Canals. I'm here today to tell Governor Cuomo not to turn the state we love so dearly into a giant toxic disaster."
"We are here to show Governor Cuomo once and for all that fracking is not a viable energy option for New York," said Jim Dean of Democracy for America. "We must fully embrace renewable energy resources, and stop fracking now. Governor Cuomo has the opportunity to lead not only New York, but also the nation by setting an example for those who face the same difficult choice."
Independent observers have noted that the gas industry cannot be trusted when it describes fracking as safe. A recent investigation by the Times Tribune in Pennsylvania revealed many cases of water contamination from fracking. And a recent study showed that fracking emits significant amounts of methane—a major contributor to climate change. One of the key messages of the rally is that fracking is disastrous for the climate and for Governor Cuomo to allow it would be a stark contradiction to his vow to lead on climate change.
"Hurricane Sandy, fueled by Atlantic waters that were five degrees warmer than normal, caused $60 billion in damage downstate, to a city that I love and call home," said Phil Aroneanu, U.S. campaign director and co-founder of 350.org. "It's time for all of us to stand up and say 'We're not drowning, we're fighting.' Gov. Cuomo, do the right thing: Open up New York to solar and wind, to geothermal and tidal power—don't let us drown."
Stanford University Professor Mark Jacobson, lead author of a peer-reviewed study detailing a plan for New York State to get to 100 percent renewable energy by 2030 said, "Converting to wind, water and sunlight is feasible, will stabilize costs of energy and will produce jobs while reducing health impacts and climate damage."
"Our brewery is growing 20 percent annually, creating good-paying jobs in Cooperstown," said Larry Bennett of Ommegang Brewery. "But we depend on clean water to brew our beer. And if fracking comes to New York, we'll either have to shut down or move away."
"Fracking is not just a political issue," said Reverend Bill Levering of the New York State Council of Churches. "It's also a moral issue. It's about protecting the common good from greed. And that is why the New York State Council of Churches opposes fracking."
Visit EcoWatch's FRACKING page for more related news on this topic.
——–
Sign the petition today, telling President Obama to enact an immediate fracking moratorium: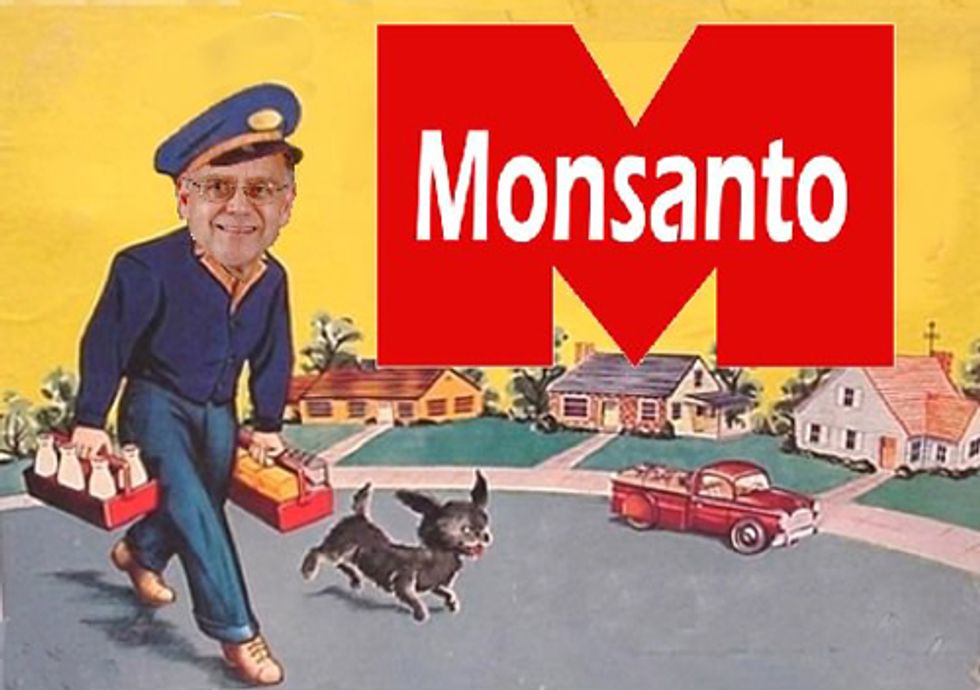 Why is a former Monsanto lobbyist currently serving as the U.S. Food and Drug Administration's (FDA) food safety czar waging war on small dairy farms that produce fresh milk?
While factory farm operators are getting away with serious food safety violations, raw milk dairy farmers and distributors across the country have been subjected to armed raids and hauled away in handcuffs.
The FDA is running sting operations followed by "guns-drawn raids usually reserved for terrorists and drug lords" as part of a crackdown on unpasteurized milk.1 Meanwhile, the FDA is letting the highly consolidated industrial meat and factory farm industry off the hook despite growing problems.
Not surprisingly, the person responsible for prioritizing armed raids on small dairies over holding agribusiness accountable is a former Monsanto attorney and chief super lobbyist. Monsanto's Michael Taylor is the second highest-ranking official at the FDA, and as food safety czar is responsible for implementing the day-to-day policies that govern the food safety laws for the U.S. 2
Tell President Obama to fire Monsanto's Michael Taylor from his job as food czar at the FDA.
Whether or not you think unpasteurized milk is a good idea, it's clear that the FDA under Michael Taylor has its priorities wrong. When industrial agribusiness sickens thousands of people, it's absurd for the FDA to target Amish farmers producing fresh milk, much less to engage in "guns drawn" enforcement raids.
CREDO is joining our allies at Food Democracy Now! in calling on the president to fire Monsanto's Michael Taylor from the FDA. Midwestern farmers will play an important symbolic role in President Obama's reelection campaign. We need to let the president know that we stand with small farmers and not Monsanto.
Michael Taylor seems focused on entirely the wrong aspects of food safety enforcement. Rather than making sure that food safety inspections are done properly at our nation's largest factory farms, where antibiotic resistance has run amuck, Taylor has been leading a departmental crusade against small raw milk dairy producers. So far several dairy farmers have been subject to a year-long undercover sting operation from the East Coast to California.
Incredibly, Michael Taylor and FDA inspectors have not arrested or fined the Iowa agribusinessman—Jack DeCoster—who was wholly responsible for the more than 500 million eggs that were recalled in 2010 salmonella-tainted egg recall.3 Though this industrial agribusinessman endangered the health of millions, Michael Taylor thinks Amish farmers producing fresh milk are more deserving targets of his FDA enforcement raids with guns drawn.
While CREDO recognizes the inherent risks that are involved in food production, it's time that the U.S. government start responsibly looking into the real origins of our nation's largest food safety recalls and stop harassing family farmers trying to survive in the excessively consolidated food and agricultural sectors.
Thanks for standing up for small farmers and taking our government back from Monsanto.
For more information, click here.
—————
1. Food Safety Chief Defends Raw Milk Raids, San Francisco Chronicle, June 7, 2011
2. Monsanto's Man Taylor Returns to FDA in Food-Czar Role, Grist, July 8, 2009.
3. DeCoster Gets Warning, Hillandale Sales OK'd, Food Safety News, October 19, 2010.