Update, Jan. 25, this post includes new reporting:
Since the Jan. 8 judgement, new reports have called Monsanto's "patent victory"—and the media's reporting of it—into doubt.
It appears that the Supreme Court reversed the case to a single judge of the Delhi Hight Court for trial, which will determine the validity of Monsanto's patent for its Bollgard-II Bt cotton seed technology. For now, LiveMint reported, Monsanto's patent is enforceable in India.
Defendant Nuziveedu Seeds Limited said the Supreme Court decision has been misreported and the case is actually far from over.
"The court has held that the validity of Monsanto's patent can only be judged after evidence is led by both parties, and at the final and not the interim stage," the company said, according to The Hindu Business Line.
"The Supreme Court felt that the issue of whether Monsanto's patent is valid or not under the Patents Act would need to be determined by the Single Judge," it added.
Environmental activist Vandana Shiva, the director at the Research Foundation for Science, Technology, & Ecology, an intervenor in the case, also told GMWatch it was "totally false reporting of the Supreme Court order and the issue of patents on seed."
"Now the Supreme Court has sent back the case to the Single Judge Bench for trial," she said. "So in no sense did the Supreme Court uphold a patent on seed. It merely made a procedural decision, not about patentability." For a deeper dive into the Supreme Court's decision, check out these articles on Down to Earth and The Indian Express.

Original post:

After a long-standing legal battle, India's top court ruled on Tuesday that Monsanto can own patents on genetically modified cotton seeds, overturning a Delhi High Court ruling that said plant varieties and seeds cannot be patented under the country's laws, according to media reports.
The Supreme Court decision is a rare win for the seed giant—now owned by Germany's Bayer—which is facing more than 9,300 U.S. lawsuits over the safety of its controversial Roundup weedkiller.
Monsanto introduced its GM-cotton seeds to India in 2002, and now more than 90 percent of the country's cotton crop is genetically modified. These crops have been inserted with a pest-resistant toxin called Bacillus thuringiensis, or Bt.
Today's decision could "encourage biotechnology firms to step up investment in the country," Reuters reported, adding that firms such as Dupont Pioneer and Syngenta had previously been concerned about losing patents on GM crops in India.
In April, the Delhi High Court ruled that Monsanto cannot claim patents for Bollgard and Bollgard II, its genetically modified cotton seeds, in the country. Citing India's Patents Act of 1970, the court said that plant varieties and seeds cannot be patented, thereby rejecting Monsanto's attempt to block its Indian licensee, Nuziveedu Seeds Ltd., from selling the seeds. The ruling waived Monsanto's claims against Nuziveedu for unpaid royalties, as its patents became invalid under Indian law.
However, today's judgment from the Supreme Court "essentially means that the patent is in force," said a spokesman for Bayer in India, according to Bloomberg.
The Supreme Court also said today that the Delhi High Court will examine Monsanto's allegations that Nuziveedu infringed its intellectual property on Bt cotton seeds, according to Reuters.
The case has highlighted major concerns from opponents about multinationals establishing a seed monopoly in the country, and underscored the larger question of whether seeds and life forms should be patented at all.
"One can't patent life," Greenpeace India tweeted after the ruling. "Seed ownership by farmers has traditionally been an important agricultural practice, but profit-driven giant Monsanto is making our farmers disempowered and dependent!"

One can't patent life 🌿🌿 Seed ownership by farmers has traditionally been an important agricultural practice, but p… https://t.co/osqyL71nhC

— Greenpeace India (@Greenpeace India)1546949349.0
From Your Site Articles
Related Articles Around the Web
EcoWatch Daily Newsletter
Wine makers in West Texas are reeling from herbicide drift injuries on their grapevines, an emerging threat to the state's $13 billion a year industry, NPR's Morning Edition reported Tuesday.
The damage likely originates from use of Monsanto's dicamba and Dow's 2,4-D formulations on nearby cotton fields. The companies sell cotton seeds that are genetically modified to withstand applications of the weedkillers. If farmers use the products improperly, the highly volatile chemicals can get picked up by the wind and land on off-target crops. When exposed to the herbicides, the leaves on non-target plants are often left cupped and distorted.
Drift damage has ranged from "light exposure" that does not harm the grapes to "total devastation" at some wineries, according to NPR.
Pierre Helwi is a viticulturist for the Texas A&M AgriLife Extension Service, who monitors dozens of the region's vineyards estimates that 90-95 percent of them have been damaged.
Texas, the fifth largest wine producer in the country, is home to more than 400 wineries, according to the Texas Wine and Grape Growers Association. West Texas, which has a dry climate ideal for growing cotton as well as wine grapes, has become the backbone of the state's wine industry and grows about 80 percent of its wine grapes.
Last year, West Texas vintners expressed this very concern that federal approval of Monsanto and Dow's formulations could jeopardize the sector.
This is the third year in a row where dicamba has affected the nation's crops. A report from the University of Missouri last month found that dicamba drift caused more than 1 million acres of crop injuries across the U.S.
The ongoing saga of pesticide drift highlights the growing issue of herbicide-resistant weeds, or superweeds, that have evolved to resist the herbicide glyphosate, or Roundup. In response to weeds such as pigweed that have infested farms across the U.S., agribusinesses such as Monsanto and Dow have developed stronger formulations to help farmers.
The companies have said their weedkillers can be safely used with proper training and if farmers adhere to label instructions, although some have complained that the instructions are too restrictive or difficult to follow.
Farmers and conservation groups have waged lawsuits against the U.S. Environmental Protection Agency (EPA) for approving Monsanto and Dow's mixtures.
Dicamba's federal approval is subject to expiration this fall, during which the EPA will decide whether to renew the registration or let it expire. 2,4-D is also currently undergoing registration review.
waterlust.com / @tulasendlesssummer_sierra .
Each product featured here has been independently selected by the writer. If you make a purchase using the links included, we may earn commission.
The bright patterns and recognizable designs of Waterlust's activewear aren't just for show. In fact, they're meant to promote the conversation around sustainability and give back to the ocean science and conservation community.
Each design is paired with a research lab, nonprofit, or education organization that has high intellectual merit and the potential to move the needle in its respective field. For each product sold, Waterlust donates 10% of profits to these conservation partners.
Eye-Catching Designs Made from Recycled Plastic Bottles
waterlust.com / @abamabam
The company sells a range of eco-friendly items like leggings, rash guards, and board shorts that are made using recycled post-consumer plastic bottles. There are currently 16 causes represented by distinct marine-life patterns, from whale shark research and invasive lionfish removal to sockeye salmon monitoring and abalone restoration.

One such organization is Get Inspired, a nonprofit that specializes in ocean restoration and environmental education. Get Inspired founder, marine biologist Nancy Caruso, says supporting on-the-ground efforts is one thing that sets Waterlust apart, like their apparel line that supports Get Inspired abalone restoration programs.
"All of us [conservation partners] are doing something," Caruso said. "We're not putting up exhibits and talking about it — although that is important — we're in the field."
Waterlust not only helps its conservation partners financially so they can continue their important work. It also helps them get the word out about what they're doing, whether that's through social media spotlights, photo and video projects, or the informative note card that comes with each piece of apparel.
"They're doing their part for sure, pushing the information out across all of their channels, and I think that's what makes them so interesting," Caruso said.
And then there are the clothes, which speak for themselves.
Advocate Apparel to Start Conversations About Conservation
waterlust.com / @oceanraysphotography
Waterlust's concept of "advocate apparel" encourages people to see getting dressed every day as an opportunity to not only express their individuality and style, but also to advance the conversation around marine science. By infusing science into clothing, people can visually represent species and ecosystems in need of advocacy — something that, more often than not, leads to a teaching moment.

"When people wear Waterlust gear, it's just a matter of time before somebody asks them about the bright, funky designs," said Waterlust's CEO, Patrick Rynne. "That moment is incredibly special, because it creates an intimate opportunity for the wearer to share what they've learned with another."
The idea for the company came to Rynne when he was a Ph.D. student in marine science.
"I was surrounded by incredible people that were discovering fascinating things but noticed that often their work wasn't reaching the general public in creative and engaging ways," he said. "That seemed like a missed opportunity with big implications."
Waterlust initially focused on conventional media, like film and photography, to promote ocean science, but the team quickly realized engagement on social media didn't translate to action or even knowledge sharing offscreen.
Rynne also saw the "in one ear, out the other" issue in the classroom — if students didn't repeatedly engage with the topics they learned, they'd quickly forget them.
"We decided that if we truly wanted to achieve our goal of bringing science into people's lives and have it stick, it would need to be through a process that is frequently repeated, fun, and functional," Rynne said. "That's when we thought about clothing."
Support Marine Research and Sustainability in Style
To date, Waterlust has sold tens of thousands of pieces of apparel in over 100 countries, and the interactions its products have sparked have had clear implications for furthering science communication.
For Caruso alone, it's led to opportunities to share her abalone restoration methods with communities far and wide.
"It moves my small little world of what I'm doing here in Orange County, California, across the entire globe," she said. "That's one of the beautiful things about our partnership."
Check out all of the different eco-conscious apparel options available from Waterlust to help promote ocean conservation.
Melissa Smith is an avid writer, scuba diver, backpacker, and all-around outdoor enthusiast. She graduated from the University of Florida with degrees in journalism and sustainable studies. Before joining EcoWatch, Melissa worked as the managing editor of Scuba Diving magazine and the communications manager of The Ocean Agency, a non-profit that's featured in the Emmy award-winning documentary Chasing Coral.
Adidas has shoes made of ocean plastic. Nike has ones made of recycled leather. Now, Reebok has its first plant-based athletic shoe.
The "NPC U.K. Cotton + Corn" sneaker, which debuted Tuesday, has a top made from 100 percent organic cotton, a sole made from a corn-based rubber substitute and an insole made from castor bean oil. No dyes were used for the chalk-colored kicks and they'll also come in 100 percent recycled packaging.
To make the sole, Reebok used an ingredient called Susterra propanediol, developed by DuPont Tate & Lyle Bio Products, that's described as "a pure, petroleum-free, non-toxic, 100 percent USDA certified bio-based product, derived from field corn."
The bio-based shoe is just the first phase of Reebok's "Cotton + Corn" sustainable product line that was first announced last year.
NPC U.K. Cotton + Corn sneakerReebok
Reebok's Future Team, which created the shoe, is now developing footwear that's actually biodegradable. The goal is to create shoes that can decompose in six months, Reebok said in a blog post Tuesday. The company noted that "most stories about sustainable shoes are recycling stories"—meaning they're either made from recycled materials or up-cycled from old shoes.

"Our issue with recycling is you recycle plastic, it's still plastic ... You're not getting rid of the problem," Bill McInnis, vice president of Reebok's Future Team, recently told CBS News. "The idea is how do you get rubber and plastic out of the process and replace it with natural things that grow like corn."
Just think, instead of throwing your shoes away for good—adding to the roughly 300 million pairs that end up in U.S. landfills annually—you can compost them or simply bury them in your backyard.
"Typical shoes are made from oil-based plastics that can sit around in landfills for hundreds of years when you're done with the," McInnis said on a company web post. "We're focusing on creating shoes made from things that grow, made from things that bio-compost, made from things that can be replenished."
The cotton and corn shoes are available online and cost $95.
Reebok launches sustainable sneaker made from cotton and corn https://t.co/aLPJPjALmn https://t.co/ASZcH61KUs

— CBS News (@CBS News)1534305783.0
From Your Site Articles
Related Articles Around the Web
Elise Lockwood
If you wear bras, chances are you haven't thought too much about their environmental impact. But bras can be made from a variety of unsustainable materials, from water-intensive cotton, to spandex, to petroleum-based polyurethane foam for padding. So once they're tossed, these synthetic fabrics will sit in landfills and take forever to disappear.
It's no wonder Australian lingerie designer Stephanie Devine launched The Very Good Bra, the world's first zero-waste bra.
The biodegradable bra, Devine claims, is so Earth-friendly that "you could bury it in your garden at the end of its lifespan and it would leave no toxic waste."
The bra comes with no wire and is made of Aussie-made tencel, a sustainable textile made from the wood pulp of eucalyptus trees, which requires a fraction of the water used by cotton. Tencel, as it happens, is also ideal for lingerie due to its soft, absorbent and durable qualities.
Devine's bra features elastic made from sustainably farmed rubber trees, organic cotton for sewing thread and is dyed to meet the Global Organic Trading Standard. She even thought of organic inks for labeling and completely compostable packaging to make sure it's as clean as possible.
The designer crunched the numbers and determined that if the two billion women currently on the planet own, on average, nine bras each, that means 18 billion bras are headed for landfill. In her native country, Australia, 6,000 kilos of clothing and textile waste ends up in the landfill every 10 minutes.
A Kickstarter for the product was launched May 19 and fulfilled its AUD $20,000 (US $15,300) fundraising goal within 48 hours.
The Very Good Bra is available on the crowdfunding site for roughly US $65 and comes in 24 cup sizes. Early bird delivery expected for this August with another run in October.
Additional funds raised during the Kickstarter campaign will go towards completing Cradle to Cradle certification, which would make The Very Good Bra the world's first lingerie label and the first Australian fashion product to do so.
Devine hopes to continue to design more zero-waste products following her current campaign.
"For me this isn't about one bra, I want to develop a brand to cover a broader, inclusive range of zero-waste, low waste and recycled basics for both men and women," she said.
"Together we can start cleaning up the fashion industry and help protect our fragile planet for future generations."
Fast Fashion Is the Second Dirtiest Industry in the World, Next to Big Oil http://t.co/yO2nMHrUYr @greenpeaceusa @HuffPostGreen

— EcoWatch (@EcoWatch)1439863264.0
Bt cotton. Abhishek Srivastava / Flickr / CC BY 2.0
In an another legal blow to Monsanto, India's Supreme Court on Monday refused to stay the Delhi High Court's ruling that the seed giant cannot claim patents for Bollgard and Bollgard II, its genetically modified cotton seeds, in the country.
Monsanto's chief technology officer Robert Fraley, who just announced that he and other top executives are stepping down from the company after Bayer AG's multi-billion dollar takeover closes, lamented the news.
Fraley tweeted, "Having personally helped to launch Bollgard cotton in India & knowing how it has benefited farmers ... it's sad to see the country go down an anti-science/anti-IP/anti-innovation path..."
Having personally helped to launch Bollgard cotton in India & knowing how it has benefited farmers...it's sad to se… https://t.co/ouM498b8gu

— Robb Fraley (@Robb Fraley)1525707504.0
Monsanto first introduced its GM-technology in India in 1995. Today, more than 90 percent of the country's cotton crop is genetically modified. These crops have been inserted with a pest-resistant toxin called Bacillus thuringiensis, or Bt.
Citing India's Patents Act of 1970, the Delhi High Court ruled last month that plant varieties and seeds cannot be patented, thereby rejecting Monsanto's attempt to block its Indian licensee, Nuziveedu Seeds Ltd., from selling the seeds.
Because of the ruling, Monsanto's claims against Nuziveedu for unpaid royalties have been waived, as its patents are now invalid under Indian law. Royalties will now be decided by the government.
Indian environmentalist Vandana Shiva, who is known for her fierce activism against corporate patents on seeds, called the top court's move a "major victory" that opens the door "to make Monsanto pay for trapping farmers in debt by extracting illegal royalties on BT cotton."
She also said in a video Monday in front of the Supreme Court, "Our sovereignty is protected, our laws are protected. Our ability to write laws in the public interest [and] for the rights of farmers through the constitution are protected."
"The Earth will win. Seed will win. Monsanto will lose," Shiva added.
A Monsanto India spokesman told Reuters the case will be submitted for an expedited preliminary hearing on July 18.
"We remain confident on the merits of the case. India has been issuing patents on man-made biotech products for more than 15 years, as is done widely across the globe," the spokesman said.
Report: Monsanto May Leave India After Losing GMO Cotton Patent https://t.co/3hFyCv2n9X #Monsanto @GMWatch… https://t.co/QiuhspBXVQ

— EcoWatch (@EcoWatch)1523640362.0
Cotton crop in Barnala, India. Ashwani Verma / Flickr
Could Monsanto's six-decade presence in India be coming to a halt?
On Wednesday, the Delhi High Court ruled that the biotech giant cannot claim patents for Bollgard and Bollgard II, its genetically modified cotton seeds, in the country.
Citing India's Patents Act of 1970, the court said that plant varieties and seeds cannot be patented, thereby rejecting Monsanto's attempt to block its Indian licensee, Nuziveedu Seeds Ltd., from selling the seeds.
"What it means is effectively Monsanto has no patent on seeds in India and they have never had it. They have tried to hoodwink the seed companies and farmers for years claiming they have a patent and making huge amounts of money from that," Diya Kapur, a lawyer for Nuziveedu Seeds, told Bloomberg.
As Dilsher Dhillon wrote in Business Insider India, Wednesday's verdict could prompt Monsanto to pull out of the country:
With the latest ruling, Monsanto's claims against Nuziveedu for unpaid royalties have been waived because its patents are invalid. It will now have to settle for the rates decided by the government.
This is a significant blow for Monsanto, the world's largest seed producer, as it currently licenses its seeds to nearly 50 domestic companies through its local joint venture with Mahyco Seeds Ltd. It could, in all probability, lead to the company's complete exit from India.
Monsanto had already threatened to stop business in India after the government imposed price controls on cotton seeds in 2016.
Monsanto first introduced its GM-technology in India in 1995. Today, more than 90 percent of the country's cotton crop is genetically modified. These crops have been inserted with a pest-resistant toxin called Bacillus thuringiensis, or Bt.
Business Insider's Dhillon noted that the ruling has significant implications for Monsanto and farmers alike:
While yields have increased significantly, Monsanto has long been accused of overcharging farmers for its seeds, especially given the fact that their ability to resist pests diminishes with time. The high cost of seeds and royalties left thousands of farmers in a vicious cycle of debt, which inevitably led to many suicides when crops failed. As a result, the government was forced to start regulating Bt cotton prices in 2006.
Hence, the Delhi High Court's ruling can be seen as a moral reckoning on Monsanto. But it also has wider implications. Yes, it will reduce prices for farmers, given that seed licensing companies pass on the royalty costs to them, but it could prove to be the death knell for innovation in the agriculture sector—something that will hurt farmers in the long run.
However, the company's presence in India may ultimately be decided by its pending mega-merger with Bayer AG.
"Bayer is generally seen as a company with a more collaborative approach towards governments. If Bayer sits down at the negotiating table with the Indian government and works out a solution, then it's possible that the next generation of Bt cotton technology may still see the light of day in India at some point in the future, although it may take years," Abhijit R. Akella, vice president at IIFL Institutional Equities, told Mint.
A Monsanto India spokesman said the company was "very disappointed" with the court's ruling.
"Today's order will have wide-ranging, negative implications for biotech-based innovation across many sectors within India, and is inconsistent with other international markets where agricultural innovation has flourished," the spokesman said.
Monsanto said it might challenge the decision in India's Supreme Court.
'Merger From Hell' Reportedly Approved by DOJ, Pushing Agrichemical Chokehold on Food System… https://t.co/elDQ3UOV1b

— EcoWatch (@EcoWatch)1523394609.0
From Your Site Articles
Related Articles Around the Web
By Valerie Vande Panne
Do you know where your clothes came from?
No, not the store, the label or the brand. Or China, India or Vietnam.
I mean, do you know who made your clothing? Do you know what your clothes are made from? Or where the fiber in your clothing came from? The cotton, the polyester or the acrylic?
Chances are, you don't. And that's a problem. It's difficult for people to have respect for an item or the people who created it when they don't know where the item came from or how it was created in the first place.
For instance, did you know your athletic gear is probably made from plastic? And that 94 percent of U.S. drinking water has plastic lint from our clothing in it? You're literally washing the plastic from your yoga pants into our water systems. Polyester, acrylic, nylon, spandex—it's all plastic. Ninety-eight million tons of oil was used in the textile industry in 2015. By 2050, that number is expected to be 300 million.
And cotton is no easy solution, using 16 percent of the world's insecticides. Pesticides can then become concentrated in the cotton—like tampons, or returned to the food supply via cottonseed.
When Bena Burda, founder of organic apparel company Maggie's Organics, learned about the harms of cotton, she was horrified. She was working in the organic food industry and thought, "This is ridiculous. How can we not know this?"
Enter regenerative fiber, a movement to return the entire system of clothing—from agriculture to product and back again—to within 250 miles of where you live. It is a solution to the large-scale, global exploitative textile system: It has components rooted in the local, community-based economy, with local farmers cultivating organic fibers—wool, cotton, alpaca, hemp—and developing the processing required to bring it from field to fabric, fabric to product.
You see, fashion—as you know it and as you're probably wearing it, right now—is exploitative and unsustainable, said Anna Canning, communications coordinator at Fair World Project, an organization that advocates for policy solutions like a living the wage.

"You have a lot of exploitation in factories around the globe," she said, pointing to low pay, long hours and forced labor, often of women. In addition, fashion contributes to climate change. She said the industry "is on track to consume a quarter of the global carbon supply by 2050." Fashion itself is also resource intensive and disposable.
Worse, our nation has seemingly lost the ability to produce its own ethical fiber. "There's only one non-GMO [cotton] gin in the country," said Rebecca Burgess, executive director of Fibershed, an organization focused on educating the public on the environmental, economic and social benefits of bringing the textile supply chain home. "We can't even wash our fibers in California." The U.S., she said, has "an inability to process fiber in an ethical way."
The 150-Mile Wardrobe: A Solution for One of the World's Most Polluting Industries https://t.co/JtFdWNeLd3… https://t.co/8EZnxP4y4x

— EcoWatch (@EcoWatch)1514198106.0
In the last century, due to neo-liberal policy and the frictionless moving of capital, our entire nation's ability to foster local fiber systems and cultivate local textiles has been exported to the point where even the memory of how to make textiles has been extinguished, said Burgess.

When the U.S. lost the textile industry, it lost the memory of how to build these systems, and even the ability to innovate within them. "The textile industry is a relic from the late 19th and early 20th century, so when we go back to re-envision bringing it home, we're working on American equipment built in the 1920s."
Much of Burgess's work is around building sensitivity and awareness about what it will take to return local textile industries to the United States. "We need to repair cultural and political divides," she said. "If we can … bring these fiber systems back into the communities, and re-envision what that looks like," that can lead to an enormous shift for rural and urban communities alike, especially when the goal is developing these systems with family farms and worker-owned co-operatives.

Doing that holistically then fosters diversity from the farm to your yoga mat. "In an adept system," said Burgess, "you could combine inter-species yarn that would replace our reliance on fossil-carbon fiber."
Burgess sees inter-species fiber blends as a solution: combining plants and animal blends such as wool-hemp blends, or wool-alpaca-cotton, all in one yarn. Plastic athletic wear can be replaced with such yarns and fabrics, which can then reduce the amount of plastic that sheds into our oceans and fresh water. She points to "pre-Columbian, Roman-Greek recipe blending. There's a long history of it. We just forgot about it."
"We call it the soil to soil framework," she explained. It's a cycle: What's coming out of the soil and how you're treating the soil. Creating the structures to harvest, clean and move material off-farm and into cooperatively owned mills. Moving textiles to locally-owned cooperative manufacturers. Distributing to consumers. Consumers who are able to care for and mend the product. And then, at the end of its life, the clothing can be recycled or composted and returned to the soil—without further polluting or damaging the land.
There are few of these regional fiber systems in existence today in the U.S., but Burgess and similar groups are working to change that. "We have farms and brands and manufacturers that have pieces of it. It's a fledgling system. It needs a lot of support from the consumer."
People, she said, need to seek out local fibers and locally made clothing the way they have sought out and found local farmer's markets.
Many Americans today, however, can't afford to shop at farmer's markets, let alone locally made clothing. If they do shop at a farmer's market, they often take advantage of "SNAP match" programs some markets offer, where you get a dollar to spend for every food stamp dollar you use at the market. These same folks might want to engage in local, regional fiber—but at $95 for a scarf, that might not seem feasible.
"If you don't have a lot of income, you can learn how to mend," said Burgess. It then becomes all about slowing down the fast fashion machine. Currently, 87 percent of the clothing we consume ends up in a landfill or incinerated.
"It's kind of like divesting from oil. Divest from fashion," said Burgess. "You've gotta hit it from a number of levels at once," said Burgess.
For Burda, she turned her shock into a new career in organic apparel. "My real job is to take the people who wear my clothes and connect them with the people who make my clothes. What better way than to take physical product that women are invested in and connect the dots to every single set of hands?"
Canning approaches the issue from a fair trade perspective. "The reality is, these movements are all working for a just economy for all people. It is an investment to purchase something that takes into account the full cost of production." Especially American-made production.
"Americans have a long way to go on their behavior to understand what it takes to make a garment and what those things will cost," said Burgess.

And once that's understood, perhaps we can bring the textile and garment industries home.
Ways you can divest from fast fashion:
1. Stop wearing plastic.
2. Wear your clothes a lot more. If you see a hole or lose a button, fix it, or find someone in your community who can fix it. Barter or trade to get the job done.
3. Instead of buying new clothing, have a clothing swap. Host a clothing swap potluck.
4. If you're gonna buy new, look for organic cotton. If it's not certified organic, it's GMO.
5. Purchase items that are 100 percent wool, flax, linen or hemp/cotton blends.
6. Start paying attention. Read the tag. What does it say?
7. Know who made your clothing. Know who sewed it.
8. Learn to make your own clothing. There are so many people who remember how to do this, and we would be wise to learn from them while they're still with us.
Reposted with permission from our media associate AlterNet.
From Your Site Articles
Related Articles Around the Web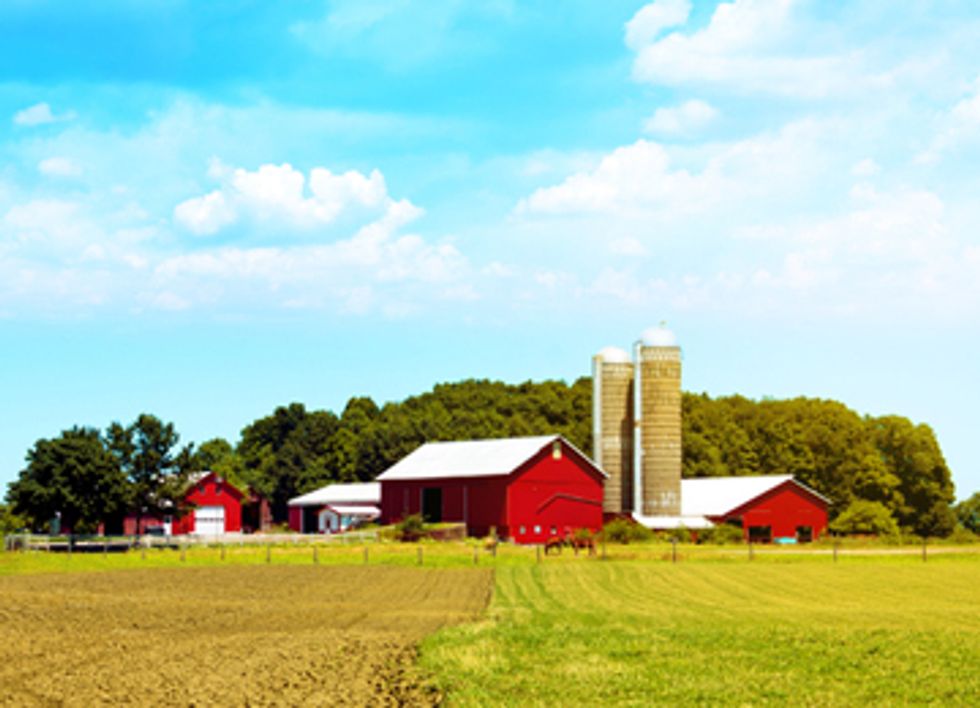 Photo courtesy of Shutterstock
The budget-busting farm bill headed to the House floor next week is bad news for taxpayers. Here's why this bill, officially H.R. 1947, shouldn't pass. 
This bill would:
Send crop insurance subsidies soaring to nearly $100 billion over the next decade. Right now, the U.S. Department of Agriculture (USDA) covers, on average, two-thirds of a farmer's premium. The bill proposes to increase revenue guarantees to 90 percent of a farm's income, provide 80 percent of a cotton farmer's premium subsidy and create a new peanut insurance program tied to the price of peanuts in Rotterdam.
Fail to limit insurance subsidies so the largest farm businesses would continue to collect the lion's share. Under current law, some farmers reap more than $1 million in premium support, and roughly 10,000 farmers receive more than $100,000 in premium support. While the top one percent of farmers annually receives, on average, more than $200,000, the bottom 80 percent collects just $5,000.
Increases price guarantees so close to market prices that even a small decline in crop prices would trigger billions of dollars in government spending, erasing any savings from eliminating long-discredited "direct payments" for corn, soybeans, wheat and rice. This so-called "price loss" program would boost already sky-high price guarantees for cotton and peanuts by 30 and 80 percent, respectively. The bill would even create a new price guarantee for sushi rice.
Extend direct payments for cotton farmers for two more years at a cost of nearly $1 billion. Direct payments would continue to be paid to cotton farmers regardless of need—or even whether a farmer harvested a crop. Other farmers would have to limp by unlimited insurance subsidies and eye-popping price guarantees.
Conceal names of subsidy recipients, among them, members of Congress. Recipients of direct payments, conservation payments and other farm programs are made public but the House Agriculture Committee has refused to divulge the identities of those who receive crop insurance subsidies that now comprise two-thirds of the farm safety net.
Weaken the conservation compact. Since 1985, farmers have agreed to adopt basic environmental protections in exchange for nearly $300 billion in farm subsidies. But, unlike the Senate farm bill, H.R. 1947 would not require that farmers receiving generous insurance premium subsidies protect wetlands or reduce soil erosion.
Reasonable reforms would provide farmers a robust safety net but at far less cost to the taxpayer than H.R. 1947. A bipartisan group of House members hopes to improve the bill via amendments to limit crop insurance subsidies to $50,000 per farmer, subject crop insurance subsidies to means testing, end windfall profits and require USDA to disclose the names of subsidy recipients. When combined with other reforms, these amendments could save the taxpayers more than enough to spare conservation and nutrition programs from proposed cuts and meet deficit reduction targets.
Visit EcoWatch's FOOD and FARM BILL pages for more related news on this topic.