A study released in Science Advances Wednesday finds strong evidence for severe, long-term droughts afflicting the American Southwest, driven by climate change. A megadrought lasting decades is 99 percent certain to hit the region this century, said scientists from Cornell University, the Lamont-Doherty Earth Observatory of Columbia University and the NASA Goddard Institute for Space Studies.
Historically, the Colorado emptied into the Gulf of California. Today, what little remains of the Colorado River when it reaches Mexico has been diverted to irrigate the farms of Mexicali Valley. The rest of the river exists mostly as a dry memory.ProPublica
"Historically, megadroughts were extremely rare phenomena occurring only once or twice per millennium," the report states. "According to our analysis of modeled responses to increased GHGs, these events could become commonplace if climate change goes unabated."
Rising temperatures will combine with decreased rainfall in the Southwest to create droughts that will be worse than the historic "Dust Bowl" of the 20th century and last far longer. The Dust Bowl lasted no longer than eight years, and affected 100 million acres around the Texas and Oklahoma panhandles and adjacent lands in Kansas, Colorado and New Mexico. Dust storms swept through large swaths of former farmland, depositing dust as far east as Chicago, New York and Washington. It is estimated that more than half a million people were made homeless, and some 3.5 million Dust Bowl refugees migrated west, in hopes of finding work.
Maps show risk of megadrought under different levels of global temperature rise.Science Advances
The megadrought study looked at conditions under a 2-degree Celsius level of global warming, 4 degrees and 6 degrees. With 4 degrees of warming, which is the rate the planet is currently heading for, megadroughts are almost a certainty. If the rise in global temperatures is kept to 2 degrees, which is the upper-limit goal of the Paris climate agreement, the risk of megadroughts is between 30 and 60 percent.
Currently, 62 percent of California—home to 39 million people—is under severe or worse drought conditions. The state is entering its sixth consecutive year of drought, with record-low levels of precipitation and snowpack. Moderate or worse drought covers 45 percent of Arizona and 37 percent of Nevada. The water level in many of California's lakes and reservoirs remains below historic averages.
California drought enters its 6th year https://t.co/hBssQk9D9r via @ClimateNexus @EcoWatch #climate #globalwarming… https://t.co/EKnKJzwfrz

— climatehawk1 (@climatehawk1)1475524861.0
Much of the Southwest relies on the Colorado River and its tributaries for some or all of its water. Beginning as a trickle seeping out of the ground above 10,000 feet, just west of the Continental Divide, the Colorado feeds critical farmland, public water supplies and helps generate hydroelectric power. Thirty to 40 million people rely on Colorado River water.
Historically, the Colorado emptied into the Gulf of California. Today, what little remains of the Colorado River when it reaches Mexico has been diverted to irrigate the farms of Mexicali Valley. The rest of the river exists mostly as a dry memory.
"The Colorado River is one of the most dammed and diverted rivers on the planet," said Gary Wockner, executive director of Save The Colorado, in an interview with EcoWatch. "In fact, every drop of its water, over 5 trillion gallons of water per year, is diverted out and the river no longer meets the Gulf of California."
California and the Southwest rely on the Colorado River for much of their water supply.Colorado River Water Users Association
Under the 4-degree scenario plotted by the study, all but the extreme southeast corner of California is at a 90 to 100 percent risk of megadrought. The Colorado River supplies 55 to 65 percent of water for Southern California. ProPublica reported last year that more people are entitled to Colorado River water than the river can supply—or has supplied, on average, for the past 110 years.
"Much of the water is lost, overused or wasted, stressing both the Colorado system, and trickling down to California, which depends on the Colorado for a big chunk of its own supply," ProPublica reported.
Colorado's Lake Powell: Going, Going, Gone? - EcoWatch https://t.co/30e6rVgAyz

— Norman Buffong (@Norman Buffong)1473343720.0
In California's San Joaquin Valley, over-pumping of groundwater for irrigation has caused the land to sink—in some places, as much as two to three feet. A NASA study, conducted last year, showed the extent of the problem.
One spot near the California Aqueduct sank eight inches in just four months. Toxic algal blooms have affected more than 40 lakes and waterways this year, the greatest number on record. A shift in electric power generation in the state away from dwindling hydropower sources to natural gas has cost Californians $2 billion and increased carbon dioxide emissions from power plants by 10 percent.
Toxic algae blooms set historic records from coast to coast>>https://t.co/yjlKVN7uWt via @EcoWatch https://t.co/FkZFYuUb4W

— Earthjustice (@Earthjustice)1475424002.0
"A megadrought occurring again in the Southwest in the coming decades would impose unprecedented stresses on water resources of the region, and recent studies have shown that they are far more likely to occur this century because of climate change compared to past centuries," stated the authors of the megadrought study. They call for a mix of adaptation policies, including reducing demand, greater water efficiency, and shifts to groundwater supplies, as well as further reductions in greenhouse gas emissions.
"The implications are that the river is already severely depleted and the reservoirs are at near historic lows and all the predictions are that it is going to get worse," said Wockner. "And so people who manage water supplies need to be managing for less water."
EcoWatch Daily Newsletter
Because natural gas has less carbon than dirty coal, gas producers and even the United Nations Intergovernmental Panel on Climate Change have applauded it as a cleaner alternative. Hopefully, a joint study from researchers at two universities will change that.
Purdue and Cornell universities on Monday released a study in the Proceedings of the National Academy of Sciences of the United States of America with data on higher-than-expected methane levels found above shale gas wells.
The researchers used a "top-down" approach, flying over seven well pads of the Marcellus shale formation in southwestern Pennsylvania. They accounted for less than 1 percent of the wells in Southwestern Pennsylvania and were only in the drilling stage, which usually isn't when the emissions take place.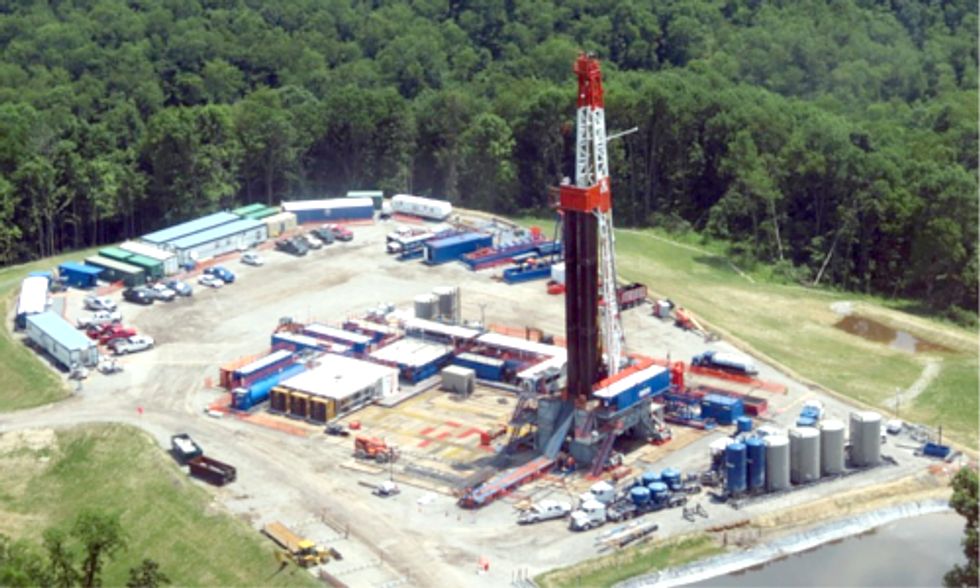 "This small fraction of the total number of wells was contributing a much larger large portion of the total emissions in the area, and the emissions for this stage were not represented in the current inventories," Paul Shepson, a professor of chemistry and earth atmospheric and planetary sciences at Purdue, said in a statement.
By flying in the specially equipped Purdue Airborne Laboratory for Atmospheric Research, the researchers were able to identify methane plumes from both single and group pads. The plumes give off signals about the production state of the gas.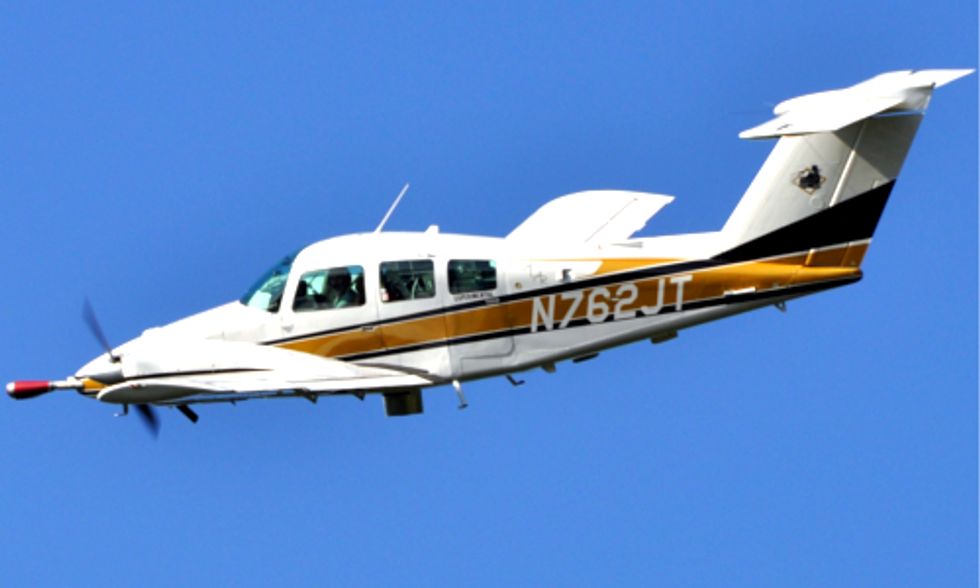 "It is particularly noteworthy that large emissions were measured for wells in the drilling phase, in some cases 100 to 1,000 times greater than the inventory estimates," Shepson said. "This indicates that there are processes occurring—e.g. emissions from coal seams during the drilling process—that are not captured in the inventory development process. This is another example pointing to the idea that a large fraction of the total emissions is coming from a small fraction of shale gas production components that are in an anomalous condition."
According to the White House, methane has about 20 times the global warming effect of carbon dioxide. That's why President Barack Obama announced a new layer to his Climate Action Plan in March to reduce methane emissions, though many environmental groups thought it was not aggressive enough. Before that, the Environmental Defense Fund EDF and ICF International jointly concluded that the onshore oil and gas industry could collectively reduce methane emissions by at least 40 percent below 2018 projections. Methane emissions have dropped by 11 percent since 1990.
The researchers blame the bottom-up approach for inaccuracy of previous methane emissions in the area they explored. Cornell University's David R. Atkinson Center for a Sustainable Future funded the fly-over project.
"We need to develop a way to objectively measure emissions from shale gas development that includes the full range of operator types, equipment states and engineering approaches," Shepson said. "A whole-systems approach to measurement is needed to understand exactly what is occurring."
——–
YOU ALSO MIGHT LIKE
Study Shows Oil and Gas Industry Can Reduce Methane Emissions By 40 Percent
Exxon's Contradictory Reports Applaud Natural Gas and Fighting Climate Change
Obama's Methane Emissions Plan Puts Oil, Coal and Gas Industries on Notice
——–
Hundreds of residents rallied against fracking and for renewable energy outside of Gov. Cuomo's speech in Ithaca, NY, today with just hours notice of the Governor's appearance. The concerned citizens urged the Governor not to put New York's clean water, air, environment and economy at risk by allowing fracking. Further, they urged the Governor to aggressively invest in renewable energy, which would bring sustainable, good jobs and economic development to New York State without jeopardizing people's health and existing jobs like fracking would.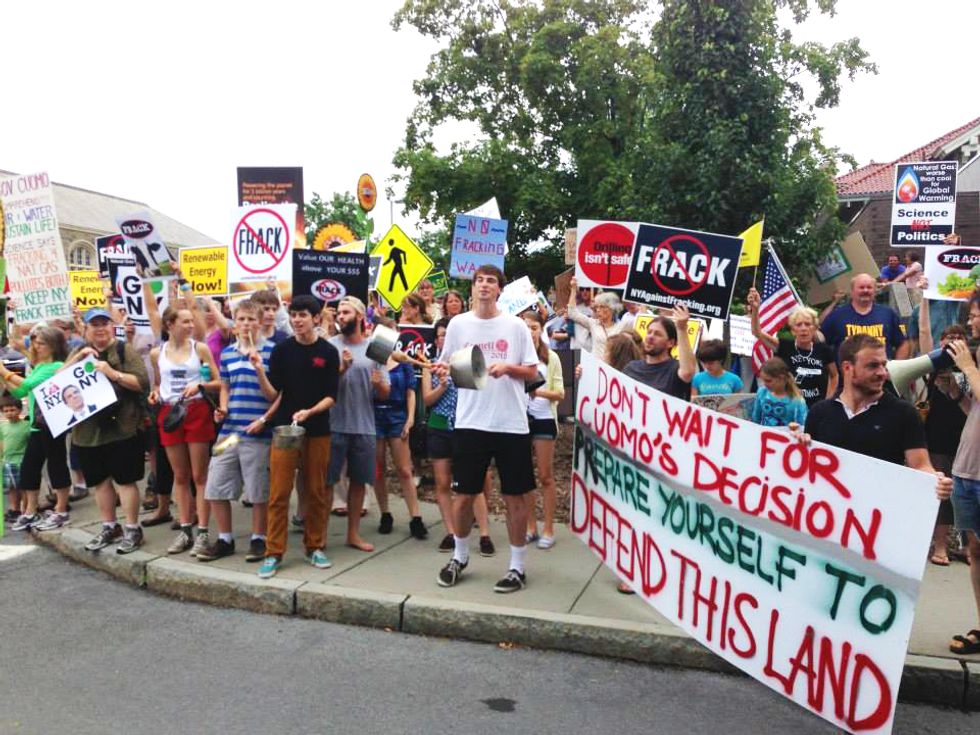 "Governor Cuomo must reject fracking because it would contaminate our clean water, poison our air and undermine our economy including agriculture, tourism and small businesses" said John Armstrong of Frack Action, an Ithaca resident."Science overwhelmingly shows that fracking cannot be done safely and that it would only lead to polluted water and ruined communities, just as it has in Pennsylvania and many other states. We urge Governor Cuomo to make New York State a national leader by moving us forward to a 21st century renewable energy economy that provides long-term, good jobs, not the dirty fossil fuels of the past that will only bring destruction and toxic jobs mostly for out-of-state workers."
"The facts, science, and an overwhelming citizen's movement of New Yorkers insist that Governor Cuomo bans fracking. Unprecedented numbers of business owners, farmers, health professionals, vintners and New Yorkers from all walks of life are speaking out against fracking because it threatens our water, air and way of life," said Sarah Kelsen of New Yorkers Against Fracking, also an Ithaca resident.
"We are gathered here today to give Cuomo a foreshadowing of the resistance that fracking, if approved, will face. If he is wise, he will listen to the people and not allow fracking in New York," said Sam Law, an Ithaca Resident and organizer with Shaleshock and Finger Lakes Action Network.
Gov. Cuomo was in Ithaca for a 2:15 p.m. speech at Friends Hall, Cornell University. The rally began outside of the event at 1:30 p.m.
Independent observers have noted that the gas industry cannot be trusted when it describes fracking as safe. A recent investigation by the Times Tribune in Pennsylvania revealed many cases of water contamination from fracking.  And a recent study showed that fracking emits significant amounts of methane—a major contributor to climate change. A recent peer-reviewed study by Duke University in the renowned Proceedings of the National Academy of Sciences linked fracking with water contamination in Pennsylvania.
The latest Siena Poll showed that upstate New Yorkers oppose fracking 52-38 percent. On Monday, June 17, 3,000 New Yorkers rallied in Albany to demand that Gov. Cuomo reject fracking and instead aggressively pioneer a renewable energy economy.
A recent peer-reviewed study detailed a plan for New York State to get to 100 percent renewable energy by 2030.
Visit EcoWatch's FRACKING page for more related news on this topic.
———
SHARE YOUR THOUGHTS BELOW: If New York State can become 100 percent renewable by 2030, could the whole country?
———

Dear President Obama, Vice President Biden, Secretary Moniz, Heather Zichal and Valerie Jarrett,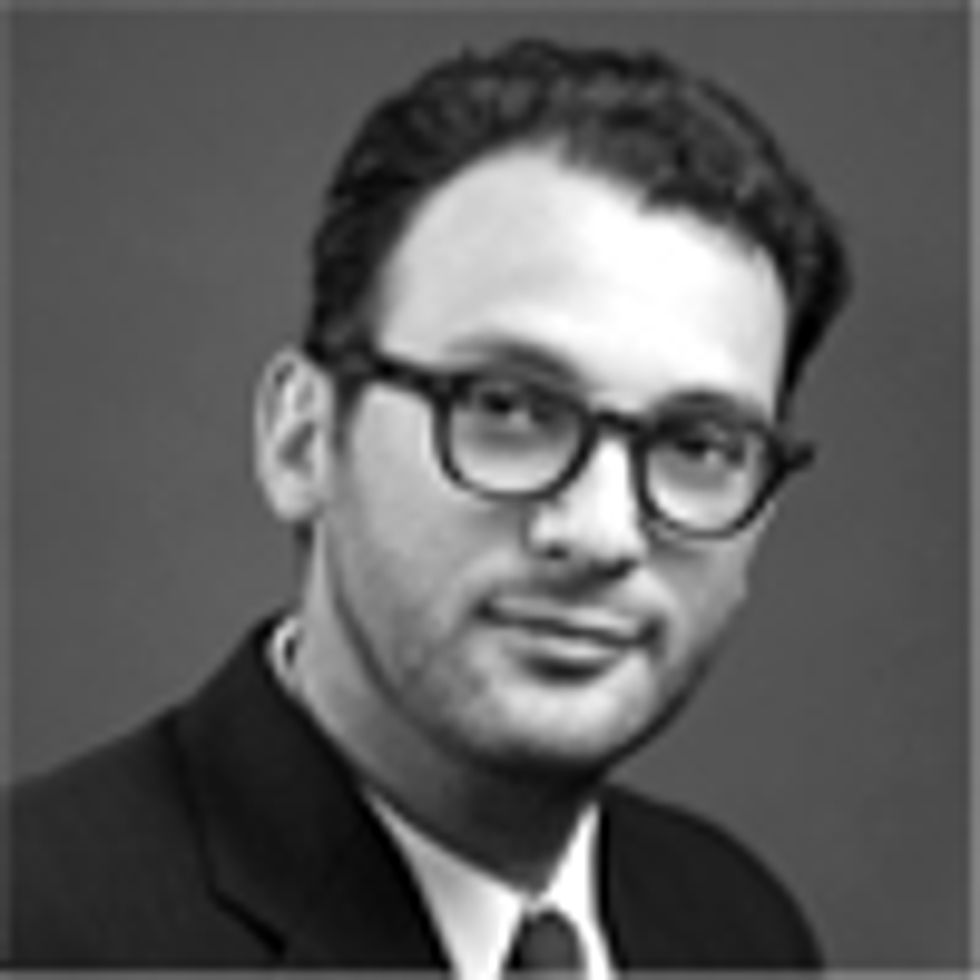 I write to request a meeting with you and families directly impacted by oil and gas drilling and fracking—as documented in Gasland Part II—together with a small group of scientists and engineers who are also featured in the film. We would like to discuss health and economic impacts felt by communities located near the oil and gas fields, share our first-hand stories, and provide you with evidence on rates of well leakage, water contamination, air pollution and methane emissions.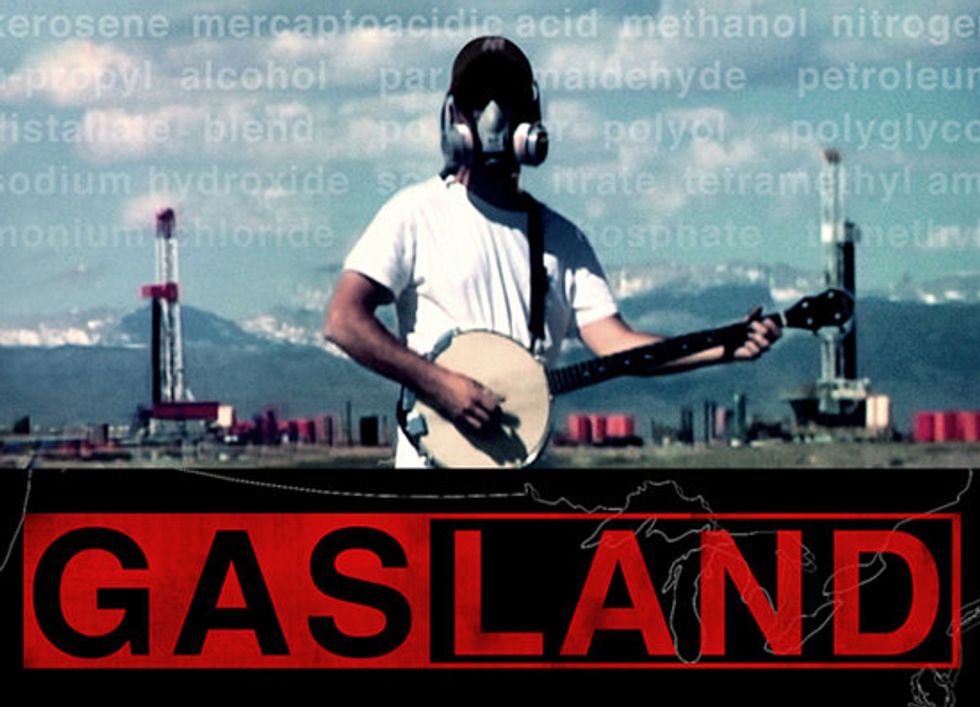 We are aware that your administration has met with the natural gas industry and their representatives and lobbyists many times. We now ask you to meet with us: representatives of those suffering from unconventional drilling and fracking, and members of the scientific community who wish to inform you of the perils of this unprecedented push to drill.
We believe that the natural gas industry has not been forthcoming with your administration about the real effects of drilling and fracking on our water, air, land, climate, public health and safety—and on democracy itself. As such, we seek to discuss with you the dark side of fracking, a perspective that has not yet been presented to you with adequate weight or emphasis.
In 2008, when I was offered a gas lease on my land in the upper Delaware River watershed in Pennsylvania, I decided to investigate the effects of drilling and fracking around the nation. That investigation became the documentary Gasland. While filming, I discovered widespread water contamination, air pollution, methane leakage, land scarring and massive industrialization of previously rural, suburban or urban areas. Most disturbingly of all, I discovered in the gasfields of America people who had lost control of their lives, their communities and their human and civil rights.
Although I had never before made a documentary, Gasland was accepted at the Sundance Film Festival, picked up by HBO, nominated for the 2011 Academy Award for Best Documentary and received four Emmy nominations—winning one for my direction. The film has been aired on television in over 30 countries to an estimated audience of 50 million people.
I have now made a second film, Gasland Part II, which covers a new form of contamination—the capture of our regulatory agencies by the oil and gas industry. I document industry's undue influence on your administration as well as on state and local regulators whose job is to protect the public health and safety. A striking pattern emerges: Time and again, regulators investigating citizens' concerns determine the gas development operation nearby is a clear cause of water contamination, only to walk away after protest from industry reaches an uncomfortable pitch. The film's portrayal of the exclusion of "we the people" from the dialogue about the future of energy in the United States should concern you. Gasland Part II premieres July 8, on HBO.
We thus respectfully request a meeting with you. More specifically, I wish to introduce you to members of seven families from disparate regions across the nation who have all had their lives ruined by drilling and fracking operations. These families are emblematic. They represent thousands of people who have had their basic rights trampled by drilling on nearby properties and by the attendant gas refining and delivery infrastructure. These citizens include—
The Lipsky family in Texas, whose water was contaminated and made flammable by Range Resources;
The Gee family in Pennsylvania, who, after four generations, were forced off their land by a six-well horizontal drill pad built by Shell on a neighboring property;
The Fenton family in Wyoming, who have been battling Canadian drilling giant Encana and who are now suffering health problems from the air and water contamination around their house;
The Tillman family of Dish, Texas, who were forced by polluted air to move from the town that Mr. Tillman was serving as mayor;
The Switzer and Ely familes of Dimock, Pennsylvania, whose water was shown to be contaminated by both the federal Environmental Protection Agency and the Pennsylvania Department of Environmental Protection—only to receive a roller coaster ride of broken promises by both agencies; and
The Bevins family from West Virginia, whose son CJ was killed on a drilling pad in New York as a result of an unsafe drilling site, and whose campaign has helped alert the country that workers in the oil and gas industry are seven times more likely to die on the job than workers in other industries.
In addition, I would like you to meet with the scientists in the film: Dr. Tony Ingraffea, Dr. Robert Howarth and Professor Mark Z. Jacobson.
Dr. Ingraffea from Cornell University, a former oil and gas industry researcher, will explain how the industry is incapable of ensuring the integrity of wells being drilled and how the industry's own science shows that wells are leaking at high rates, contaminating our country's precious groundwater. Dr. Howarth, also of Cornell, will describe how the release of methane, one of our most potent greenhouse gases, into the air from fracking and natural gas production render the use of fracked gas even more deleterious to the climate than burning coal. Professor Mark Z. Jacobson, director of Stanford University's Atmosphere and Energy Program, will explain that there is a way forward for America that is free of fossil fuels. As he and his colleagues have documented in a groundbreaking study, wind, water and solar resources available to us right now make it possible for our nation to claim true energy independence and protect the health and safety of the generations to come.
America has been forever changed by the sense of grassroots collective drive that your election in 2008 instilled in us as a nation. The grassroots movement that has sprung up across the country and across the world against fracking has all the enthusiasm, positivity, sense of history, endurance and resolve as the one that elected you our President. When speaking to your grassroots campaign staff in 2012, you reminded them that the only way to fight the enormous influence of corporate cash and power in the election was the strength of "neighbor talking to neighbor," of communities coming together to fight for what is right. That is exactly what the grassroots movement against fracking is made of: people fighting for their communities locally, with an eye on the bigger global challenges ahead. Above all, we are a movement of people, not corporations; we are a movement of neighbors who care deeply about the places we live and about this country as a whole. We believe that it is your desire to put the people's interests at the forefront of your political message and it is in this spirit that we ask you to meet with us.
President Obama, we support you. We support your earnest desire to fight climate change, but the science shows that your embrace of natural gas will undermine everything you are trying to accomplish in your plan. And the violation of health and property rights that inexorably accompany drilling and fracking operations undermines any claim of energy independence.
We urge you to meet with us as you have met with the gas industry. We are on your side. We do not wish to see your legacy inscribed by fracking chemicals in the ground, high levels of emissions and pollution in the air, ruined families, broken shards of the American dream and the terror felt by millions as the drilling industry descends on lands in 34 states. Do not let your legacy be a switch from coal to gas, a Pyrrhic victory, an exchange of one form of climate-killing pollution for another that, over its entire lifecycle, is just as calamitous. Instead, ground your energy policy in careful science and let your legacy include hearing the people out.
In the name of fairness and democracy, we implore that you meet with us, as you have met with the oil and gas industry.
We look forward to your reply. Thank you for considering this request.
Visit EcoWatch's FRACKING page for more related news on this topic.
--------
SHARE YOUR THOUGHTS BELOW: What would you like to share with President Obama about fracking?
--------

On the edge of the western mountain range in Morganton, NC, protesters with Croatan Earth First! are currently occupying an industrial manufacturing facility owned by Momentive and located at 114 Industrial Drive. North Carolinians, who have been fighting to prevent hydraulic fracturing from coming to central North Carolina are joined in this action by people from around the country who also oppose shale gas extraction nationwide.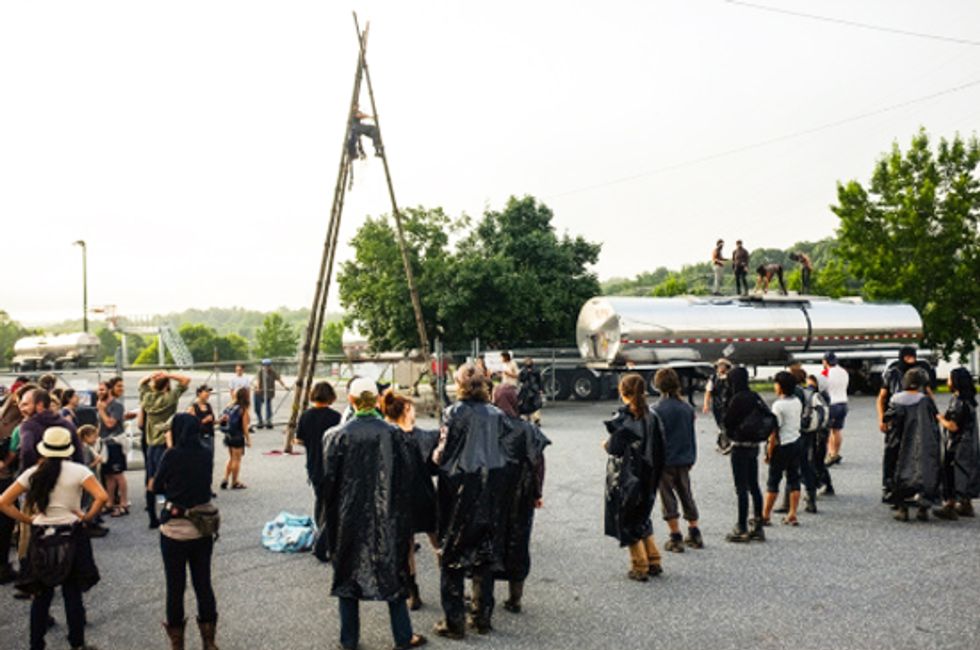 Momentive is one of the largest worldwide distributors of "resin coated proppants," a necessary component for high-volume slickwater hydraulic fracturing, also known as fracking. These chemicals are mixed with millions of gallons of freshwater during the fracking process and are designed to keep the fractures in rock or shale formations open, during or following a "fracturing treatment." Each fracturing stage requires approximately 136 tons of proppants.  
"We are here to send a message to the oil and gas industries: we will not stand idly by as you destroy this land, or any other, for your personal profit. Respect existence, or expect resistance," said an Earth First! activist.
The North Carolina Legislature plans to begin permitting frack sites as early as March 2015 in the Cumnock Shale Basin located underneath Lee, Moore, Chatham and surrounding counties. Fracking has been tied to water aquifer contamination in Pavilion, WY, according to a U.S. Environmental Protection Agency study and linked to high levels of methane in Pennsylvania water wells according to a study by Duke University. Researchers with Cornell University found that fracking operations nationwide released massive amounts of methane (a greenhouse gas) straight into the atmosphere, and concluded that, if not curbed, would speed climate change faster than carbon emissions. 
The North Carolina Legislature is negotiating on the possibility of legalizing toxic wastewater injection in state or transporting it elsewhere. The process uses 1-8 million gallons of clean water each time a well is fracked.
"We are under drought conditions already, yet the oil and gas industry is allowed to pump millions of gallons of water out of our streams. This is devastating life in our rivers and streams. To make matters worse they send this water back into the riverways poisoned with radioactive materials," said organizer Lydia Nickles. "Preserving our waters is preserving our lives and all life. We want an end to shale gas extraction everywhere."  
Activists with the Earth First! movement are calling on people nationwide to resist fracking where they live and organize solidarity actions. 
"Even if you don't have a rig in your area to shut down, you can affect the industry. Momentive and other companies that create proppants for the gas industry have facilities nationwide as well as internationally. It's time to disrupt the chain of supply ... " 
Momentive's worldwide headquarters are located in Columbus, OH, and other locations can be found on their website.
"We are acting in solidarity with and take inspiration from the courageous many who have been standing together to take action in the North Carolina capital during 'Moral Mondays,' and we encourage everyone to continue to show our collective power, acting up against the repressive corporate and legislative powers for the liberation of all and the integrity of land, water and air," stated Croatan Earth First!
Visit EcoWatch's FRACKING page for more related news on this topic.
——–

Far from being a "solution" to climate change, natural gas extracted from shale is a huge contributor of greenhouse gases when both methane and carbon dioxide are considered, according to a major new study by three Cornell University researchers.
The natural gas industry already accounts for almost a fifth (17 percent) of the total U.S. greenhouse gas emissions inventory, when analyzed using recently available new evidence. This percentage is predicted to grow to almost one quarter (23 percent) as shale gas continues to replace conventional natural gas.
Methane, which is a far more powerful greenhouse gas than carbon dioxide, is the culprit, according to the report.
The study Venting and Leaking of Methane from Shale Gas Development, is the work of professor Robert Howarth and Renee Santoro, researchers in the Department of Ecology & Evolutionary Biology, Cornell University, and Anthony Ingraffea, a professor in the School of Civil and Environmental Engineering at Cornell.
The study follows up on the author's groundbreaking April 2011 paper, which provided the first comprehensive analysis of greenhouse gas emissions from shale gas obtained by hydraulic fracturing, with a focus on methane emissions. Rather than understating the impact by looking only at shale gas used for electricity generation (just 30 percent of U.S. usage), the studies also look at heat generation (the largest use) over both a 20- and 100-year time frame. The new paper emphasizes this 20-year time frame, and analyzes the U.S. national greenhouse gas inventory in that context.
The 20-year time frame is particularly important, the authors explain, because it may well be the timing for a "tipping point" for climate change if emissions are not brought under immediate control. The new paper builds on major new findings from the United Nations and from researchers at NASA published over the past six months, highlighting the urgent need to immediately reduce methane pollution globally.
Robert W. Howarth, David R. Atkinson professor, Department of Ecology & Evolutionary Biology, Cornell University, said: "We believe the preponderance of evidence indicates shale gas has a larger greenhouse gas footprint than conventional gas, considered over any time scale. The greenhouse gas footprint of shale gas also exceeds that of oil or coal when considered at decadal time scales, no matter how the gas is used. We stand by the conclusion of our 2011 research: 'The large [greenhouse gas] footprint of shale gas undercuts the logic of its use as a bridging fuel over coming decades, if the goal is to reduce global warming.'"
Anthony Ingraffea, Dwight C. Baum professor, School of Civil and Environmental Engineering, Cornell University, said: "Can shale-gas methane emissions be reduced? Clearly yes, and proposed EPA regulations to require capture of gas at the time of well completions are an important step. Regulations are necessary to accomplish emission reductions, as economic considerations alone have not driven such reductions. And it may be extremely expensive to reduce leakage associated with aging infrastructure, particularly distribution pipelines in cities but also long-distance transmission pipelines, which are on average more than 50 years old in the U.S. Should society invest massive capital in such improvements for a bridge fuel that is to be used for only 20 to 30 years, or would the capital be better spent on constructing a smart electric grid and other technologies that move towards a truly green energy future?"
According to the report:
• The natural gas industry dominates methane emissions for the U.S., contributing 39 percent of the nation's total methane emissions.
• On an overall basis, methane makes up 44 percent of all greenhouse gas emissions when considered on the 20-year time frame after emission, including all gases and all human activities.
• The methane emissions from natural gas systems make up 17 percent of the entire man-made greenhouse gas emission inventory of the U.S., when viewed through the lens of the 20-year time frame.
• When viewed on the time scale of 100 years following emission, the importance of methane is substantially reduced, but the shorter time frame is critical, given possible tipping points in the global climate system over the coming few decades.
For more information, click here. To listen to the streaming audio of the Jan. 19 telenews event, click here.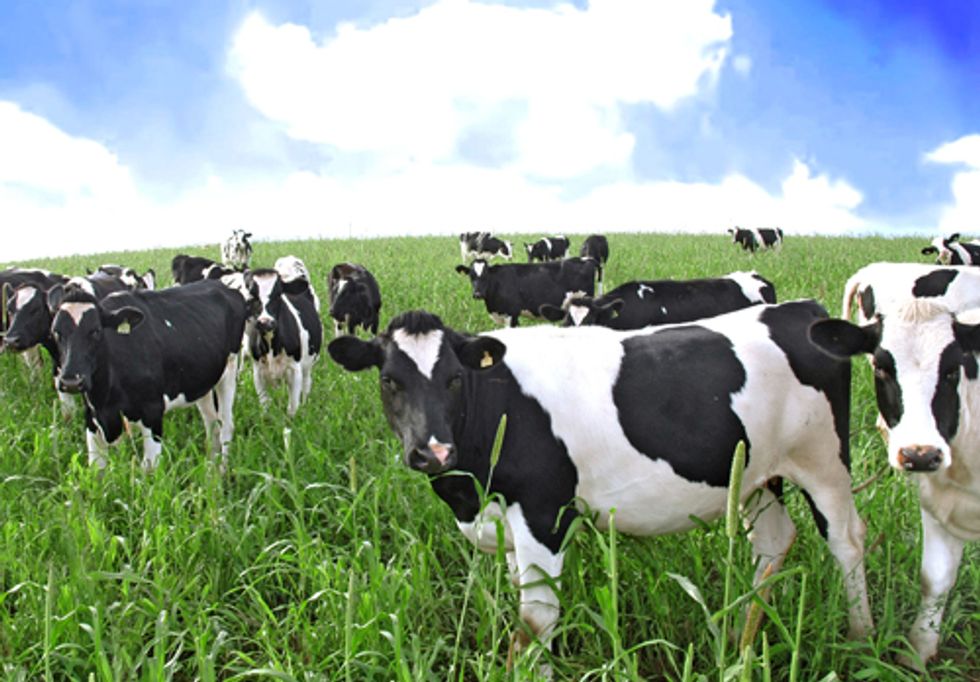 It has been a rough week for the shale industry. Earthquakes have been tied to a deep wastewater injection well and resulted in, among other things, demonstrations on the lawn of the Ohio Statehouse. And residents in rural central New York are organizing door-to-door petition drives to halt hydraulic fracturing —if not in their state, at least in Madison and Oneida Counties.
A recently completed study by two Cornell University researchers indicates the process of hydraulic fracturing deep shale to release natural gas may be linked to shortened lifespan and reduced or mutated reproduction in cattle—and maybe humans.
Fracking (the colloquial name for hydraulic fracturing), involves drilling a well about 8,000 feet down, and then up to about 13,000 feet horizontally. Three to five million gallons of fresh water, specially formulated sand and up to 250,000 gallons of chemicals, some of them highly toxic, are poured into the well at great pressure, breaking the deep shale and releasing the coveted gas.
Without knowing exactly what chemicals are being used, and in what quantities, it is difficult to perform laboratory-style experiments on, say lab rats. But farm animals are captive, surrounded by electric and barbed wire fences.
And when fracking wastewater is spilled across their pasture and into their drinking water, and they start dying and birthing dead calves, one can become suspicious that there is a connection.
Which is what the Cornell researchers found during a year-long study of farm animals, based primarily on interviews with animal owners and veterinarians in six states: Colorado, Louisiana, New York, Ohio, Pennsylvania and Texas.
"Animals can nevertheless serve as sentinels for human health impacts," the report, titled Impacts of Gas Drilling on Human and Animal Health, notes. "Animals, particularly livestock, remain in a confined area and, in some cases, are continually exposed to an environmental threat."
The report has been produced by Robert E. Oswald, a biochemist and Professor of Molecular Medicine at Cornell University, and Michelle Bamberger, a veterinarian with a master's degree in pharmacology.
In one case, an accidental release of fracking fluids into a pasture adjacent to a drilling operation resulted in 17 cows dead within an hour. Exposure to fracking fluids running onto pastures or into streams or wells also reportedly led to pregnant cows producing stillborn calves, goats exhibiting reproductive problems and other farm animals displaying similar problems. Farmers reported effects within one to three days of animals consuming errant fracking wastewater.
"Of the seven cattle farms studied in the most detail, 50 percent of the herd, on average, was affected by death and failure of survivors to breed," the researchers noted.
Other examples seem to confirm animal health problems after exposure to fracking wastewater. Animals exposed to it have the problems; animals separated from it —most of them, anyway, do not.
The report points out a major difference between company and non-company observers. Area residents and conservation groups look at the existing evidence and try to err on the side of "let's be careful, here."
Gas exploration companies – some of them, anyway, like Cabot Oil & Gas Corp. in its recently won bout with residents of Dimmock, Pennsylvania—head for court and demand that they be released from responsibility because there is no "proof" their process is problematic. Others, such as Encana, simply demand the U.S. Environmental Protection Agency (EPA) avoid "moving too quickly" to make connections between toxic emissions and people becoming ill.
When mothers in the Denver, Colorado area complained that fracking near their homes was making their children ill, Encana said it has been fracking in the area since 2006 with no problems. "Health claims based on anecdotal data and not sound science can't be substantiated," Encana reportedly told the parents.
Fracking—the kind that, for instance, breaks up shallow rock formations to increase water flow into a well—has been around a long time. The problem is, fracking a mile and-a-half down to release natural gas and other compounds is relatively new technology. It likely will be years before someone leaks internal memos showing the companies knew, or suspected, what they are doing was hazardous to human health.
Near where I live are several EPA superfund sites. Waste chemicals from a local industry were illegally dumped there in the early 1980s.
To this day, water is pumped from below the dump sites and sprayed into the air in an effort to "strip" it of the offending chemicals. It is an effort which likely will not be completely successful in the lifetime of anyone currently living in the county.
Instead of cutting funding for state and federal environmental protection agencies, and fighting over whether drilling creates jobs (it does) and reduces our nation's dependency on foreign oil (probably ditto), I submit we increase funding, and do the scientific work necessary to determine which methods will protect living creatures in the vicinity.
Some fixes are being voluntarily accomplished. Some companies are capturing and reusing their wastewater, sealing off leaking wells and gas compressors, and taking other measures to contain toxic pollutants. We need to ensure the solutions that work are required and uniformly implemented.
We would create more jobs and protect our health—what politicians like to call a "win-win."
This article was reposted with the permission of Rock the Capital.