This website uses cookies to ensure you get the best experience while browsing it. By clicking 'Got It' you're accepting these terms.


The best of EcoWatch, right in your inbox. Sign up for our email newsletter!
A reef off the coast of Cancún will become the first in the world with its own insurance policy, testing a new strategy meant to encourage local investment in the wellbeing of the reef.
Under the policy, created by insurance company Swiss Re and the Nature Conservancy, local hotels and other organizations dependent on tourism will pay into the policy, receiving reimbursements to repair the reef and local beaches after natural disasters.
Pixabay
By Marlene Cimons
The Smithsonian Institution calls coralline algae "the unsung architects of coral reefs." These pink-colored seaweed, with a skeletal structure that resembles honeycomb, live in harmony with coral.
They strengthen the corals' foundation by growing over and between gaps in coral reefs, essentially gluing sections of coral together. They provide a surface for baby corals to settle, and serve as food for marine life, including sea urchins, parrot fish and mollusks.
EcoWatch Daily Newsletter
Over a decade ago, Bird's Head Seascape was just another example of the damage overfishing and destructive fishing practices can cause on coral reefs. But, the community stepped in, and the region is now thriving.
Diver with Schooling Scads at Arborek Jetty.Photo credit: Jeff Yonover, Bird's Head Seascape
Valen's Reef, a virtual reality movie shot in 360-degrees, explores the Raja Ampat Islands in the Coral Triangle and the progress Bird's Head Seascape has made. Local-fisherman-turned-reef-scientist Ronald Mambrasar narrates the movie, recounting the history of the region and the Bird's Head Seascape initiative to his son, Valen:
"When the illegal fishermen came, we welcomed them at first. They brought us gifts. After they dropped bombs and poison, we would scoop up the fish for them. The fish and coral started to be lost. We knew it was not right."
Mambrasar was one of the locals who joined Conservation International and a group of international non-governmental organizations, local and national governments, universities, local organizations and coastal communities when the initiative started in 2004. The goal of the initiative was to balance the needs of the human population while protecting natural resources in the region. So far, the project has developed 12 multiple-use marine protected areas in the Bird's Head Seascape.
The red box marks the Bird's Head Seascape and the islands it incorporates.Photo credit: Bird's Head Seascape
Thanks to these efforts, the reef had rebounded: fish populations have recovered; sharks, whales and rays have returned; poaching has decreased by 90 percent; and coral is regrowing.
Mambrasar tells his son: "I want to be able to give you all of the nature that is here now."
The Bird's Head Seascape is home to the highest coral reef biodiversity in the world. Covering 22.5 million hectares, it is home to 1,711 species of fish, more than 600 species of coral, and 17 species of whales and dolphins. It also claims to have the most extensive mangrove forest and sea grass beds, and the world's largest pacific leatherback sea turtle nesting beaches.
Mobula feeding frenzy of the coast of southern Raja Ampat. The mobula, species of eagle ray, are swarming baitfish.Photo credit: Jeff Lemelin, Bird's Head Seascape
Almost 4 million hectares are protected by the 12 marine protected areas. The seascape also contains the coral triangle's first shark and ray sanctuary.
Take a tour of the seascape and listen to Mambrasar's story in the video below. Use the arrows in upper left corner to explore the views in 360-degrees:
Without deep cuts in carbon dioxide emissions, the planet's coral reefs could be in serious trouble. In a world in which humans continue to burn fossil fuels unchecked, ocean conditions will become ultimately inhospitable, according to U.S. scientists.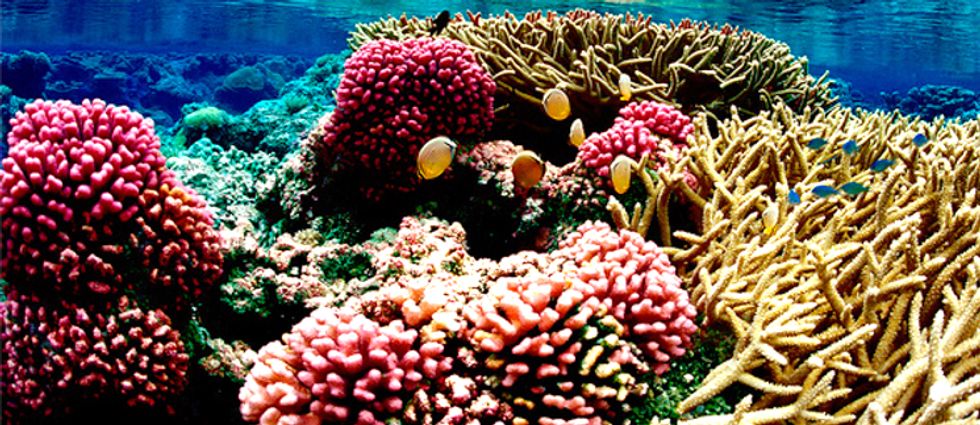 Katharine Ricke and Ken Caldeira of the Carnegie Institution in Washington and colleagues make their sombre prediction in Environmental Research Letters. Their argument on the face of it seems inconsistent with other recent research on reef response to climate change, which in one case suggests that some corals could vanish, and in another that some corals might adapt, very slowly.
But the debate in all three cases is about the rate of warming, the levels of carbon dioxide in the atmosphere and the ultimate impact of changes in the pH levels of the seas.
Ricke and Caldeira looked not so much at the warming of the seas–tropical corals are very sensitive to temperature–nor at the levels of acidification as such (because rain dissolves carbon dioxide to form a weak carbonic acid and inevitably affects the ocean's pH levels), but at the chemical circumstances in which crystals of aragonite can form.
All fossil reefs and shell and bone sediments are ultimately calcium carbonate in the form of limestone or chalk. However, calcium carbonate, or CaCO3, exists in two crystal structures, calcite and aragonite, and these fossilized sediments must once have been mostly aragonite.
That is because marine life, in the form of corals, fish and mollusc shells, mainly begins with aragonite. The biochemical availability of aragonite depends on the pH values of the water.
An End to Dumping
Ricke and Caldeira used computer models to calculate ocean chemical conditions under a range of carbon dioxide scenarios, looking for the necessary conditions to support aragonite formation and shell and bone growth, and set a potential aragonite saturation threshold.
In pre-industrial times, 99.9 percent of the oceans that washed over coral reefs were comfortably above this threshold. Under the notorious business-as-usual threshold, in which fossil fuel use continues to grow, ultimately the water surrounding the 6,000 coral reefs they used as a database for their research would be significantly below the threshold.
There would be a point at which the resilience and capacity to adapt that must be inherent in corals would be overwhelmed. The conclusion is a bleak one.
"Our results show that if we continue on our current emissions path, by the end of the century there will be no water left in the ocean with the chemical properties that have supported coral reef growth in the past. We can't say with 100 percent certainty that all shallow water coral reefs will die, but it is a pretty good bet," said Ricke.
"To save coral reefs, we need to transform our energy system into one that does not use the atmosphere and ocean as waste dumps for carbon dioxide pollution," Caldeira added.
Visit EcoWatch's WATER and BIODIVERSITY pages for more related news on this topic.
———

Marine biologists' worst fears seem to be confirmed: coral colonies take a long time to recover from catastrophic climate events.
British and Brazilian biologists report in the Public Library of Science One (PLoS One) that the richest habitats of the sea could also be among the most vulnerable to climate change.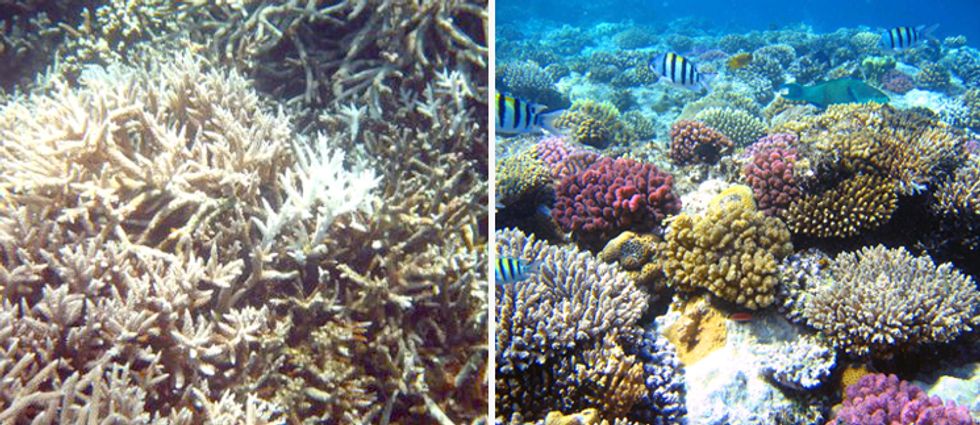 For more than 17 years, conservationists from Plymouth University in the UK worked with researchers from the Federal University of Bahia in Brazil to analyze the diversity and density of coral reefs and colonies off the coast of South America. Quite early in that 17 year span, there was an El Niño event.
El Niño is a periodic eruption of unprecedented ocean temperatures: it is a natural phenomenon and seems to have happened periodically through recorded human history, distinguished by droughts and wildfires in those places that normally expect high rainfall and floods on otherwise normally arid coasts.
Rising Temperatures
The 1997-98 event lasted for 18 months and was considered one of the most devastating of all, with sea temperatures reaching a global record. Tropical coral reefs were affected almost everywhere; there were also devastating storms and floods in California and forest fires in Borneo.
Corals are peculiarly sensitive to sea temperatures—they tend to bleach if seas get hotter—and many corals live and flourish near the limits of their tolerance. Coral reefs are also home to an estimated 25 percent of all marine species, so the loss of a reef has a serious effect on marine biodiversity, as well as on the incomes of local fishermen—and local tourist operators.
The British and Brazilian scientists monitored eight species of Scleractinian, or stony corals, and worked with the Brazilian Meteorological Office to build up a complete picture of the environmental conditions and the way in which they affected species behavior.
Slow Recovery
During 1998, all the monitored corals showed increased mortality and one species disappeared completely from the reefs for at least seven years. Then, as temperatures dropped, the corals started to grow again.
Recent measurements show that the coral colonies have fully recovered, and are now back to the levels recorded before 1998. That's the good news. The bad news is that recovery took so long.
"El Niño events give us an indication of how changing climate affects ecosystems as major changes within the Pacific impact the whole world," said one of the authors, Martin Attrill of Plymouth's Marine Institute.
"If the reefs can recover quickly, it is probable they can adapt and survive the likely changes in water temperatures ahead of us. However, we found it took 13 years for the coral reef system of Brazil to recover, suggesting they may be very vulnerable to climate-related impacts," concluded Attrill.
Visit EcoWatch's WATER and BIODIVERSITY pages for more related news on this topic.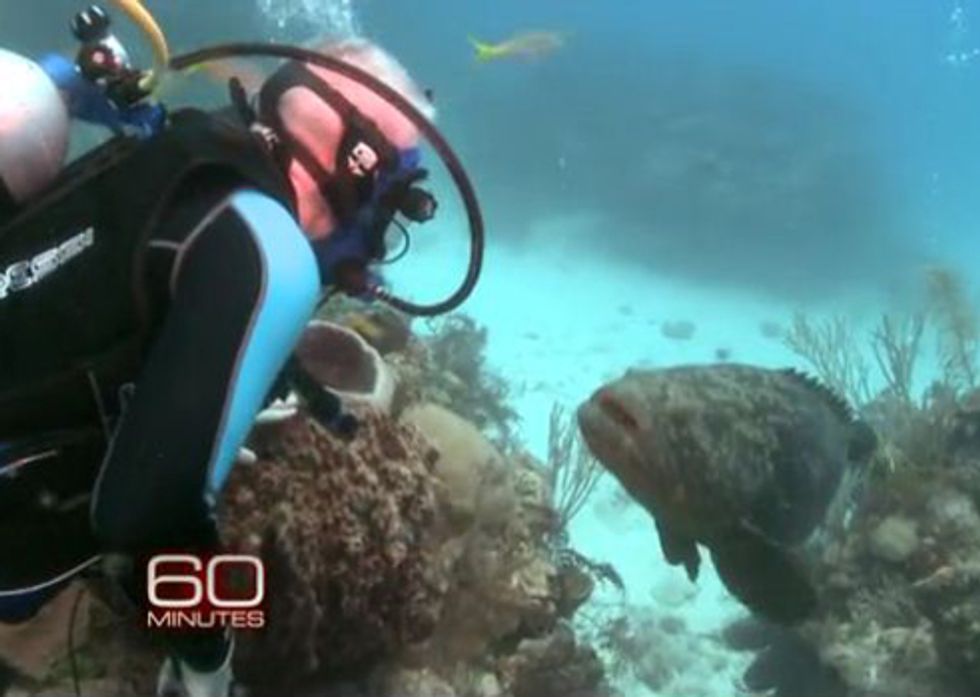 By Jay Ferrari
If you saw 60 Minutes last night, you were likely amazed yet alarmed by Anderson Cooper's piece on marine reserves. You can find it here, in case you missed it.
The footage from his dive of a massive coral reef off the Cuban coast was stunning. In stark contrast was Cooper's description of the environmental assault on our planet's reefs—a perfect storm of unsustainable fishing, global warming, pollution and other factors. As explained in the story:
"Scientists say coral is succumbing to a complex combination of environmental factors including pollution, agricultural run-off, coastal development, over-fishing, and rising ocean temperatures, which researchers believe is causing a phenomenon called 'bleaching,' that causes the coral to turn white and sometimes die."
But you can help turn the tide.
We're working to designate 40 percent of the world's oceans as marine reserves—protecting the reefs and the incomprehensibly rich variety of aquatic life they sustain.
Sign the Hands Off! ocean-protection petition today.
For more information, click here.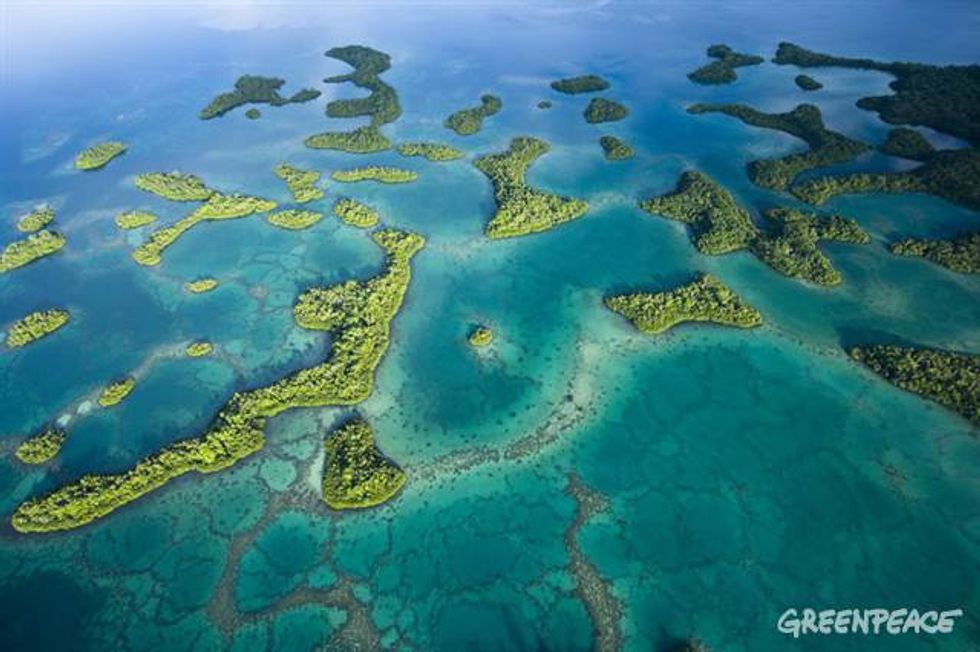 By Nathaniel Pelle
Right now, the Australian government is deciding the fate of Australia's Coral Sea. The countdown is on to protect nearly one million square kilometres of unique coral reefs, atolls and underwater canyons flanking the world-heritage listed Great Barrier Reef.
Just a few weeks back I sailed out of Port Moresby aboard the Greenpeace ship Esperanza, through the Coral Sea and then north into the western and central Pacific Ocean. These are the very same waters my grandfather patrolled as a youth in the Australian Navy during the historic Battle of the Coral Sea in the latter half of World War II.
I remember fondly his striking stories that described swimming alongside warships among remarkable abundances of marine life. His memories recalled sailors at play with swarms of dolphins, turtles, swordfish and large schools of gentle hammerhead sharks. I remember his tales of catching tuna at will with simple handlines dropped lazily from the poopdeck.
Sadly, such abundance is a rare thing to see these days. So it is with a tremendous sense of hope that I have observed the considerable efforts of regional players to preserve these waters and maybe even return them to their past richness.
The latest of these opportunities is the proposal by the Australian government to create the world's largest marine park in the Coral Sea under a once-in-a-generation bioregional planning process.
But it's not all good news—the government's draft plan leaves the majority of species-rich coral reefs, important breeding sites for tuna and marlin, and critical migration routes for turtles and whales, open to fishing. More than 20 important reefs—identified as key biodiversity hotspots—remain outside the no-take zone and are open to potentially damaging activity. Leaving these areas unprotected is a shortsighted move to appease a handful of vocal commercial and recreational fishers. Left unprotected are the crucial spawning grounds for bigeye and yellowfin tuna. This year both species were listed as vulnerable and near-threatened on the International Union for Conservation of Nature's Red List of species at risk of extinction.
For this proposal to achieve its potential, you can add your voice to the call for a genuinely historic sanctuary here.
Australia has stood by regional efforts to protect these species. With Australia's support, Pacific Island nations have banded together to close 4.5 million square kilometres of the high seas to purse seine fishing in order to safeguard their recovery.
Earlier this year, Palau—a nation that thrives on its stunning and incomparable marine ecosystem—declared its entire territorial waters a shark sanctuary and has created a network of marine national parks. The Esperanza is now in Palau assisting with enforcement of their territory. Swimming in these waters, so dense with life, I feel like I've had a taste of what the Pacific was like when my grandfather sailed it. That's what I want for the Coral Sea.
The Marshall Islands followed Palau's lead and look set to be joined by Fiji and the Cook Islands. With every one of these moves, the benefit is multiplied across the region.
It's fantastic that the Coral Sea proposal blocks oil exploration and mining for good and reduces some destructive fishing. But if Australia is to cement itself as a genuine champion of marine protection, and create a sanctuary that provides long-lasting regional benefit, it needs to greatly expand the area of the Coral Sea afforded full protection.
For more information, click here.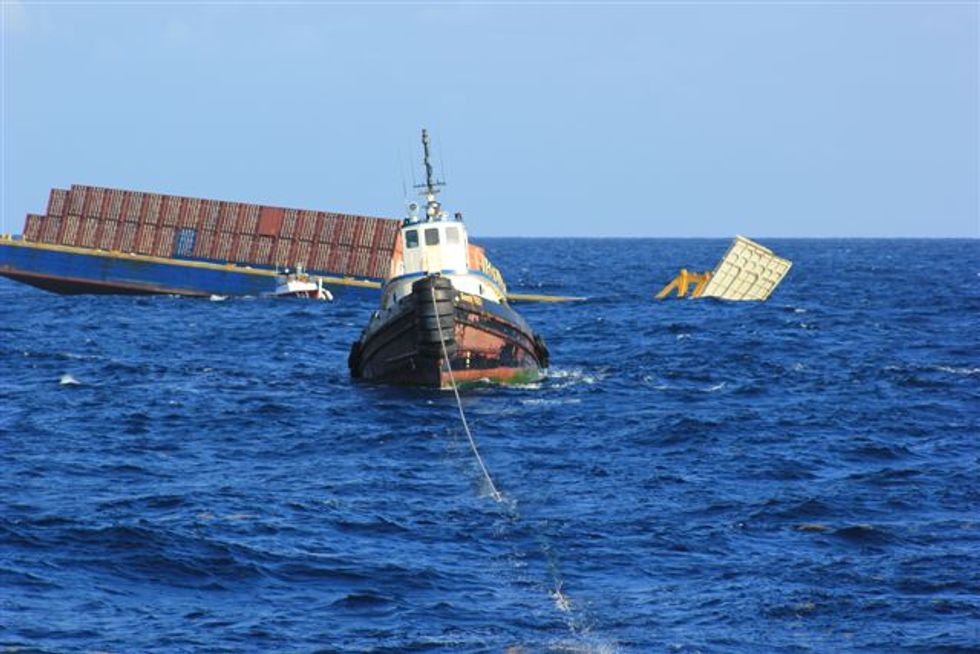 Oceana, the largest international advocacy group working solely to protect the world's oceans, expressed deep concern Nov. 10 about a sinking barge as long as a city block, Sante Pax, offshore of Miami, Fla. While Oceana is thankful that the entire crew is now safely on land, it is questioning what can be done to minimize the impacts it will have on a recently protected deep sea coral reef.
"It is horrifying to think about this giant barge and the dozens of shipping containers it was carrying crushing these century-old corals," said Margot Stiles, a marine scientist at Oceana who has been working for several years to protect these sensitive corals. "The U.S. government must do everything it can to limit the damage and require the responsible parties to pay for the clean-up."
In June of 2010, the South Atlantic Fishery Management Council, which is responsible for ocean management throughout the Southeast, approved a measure to protect more than 23,000 square miles of known deep sea corals ranging from North Carolina to Florida, including hundreds of pinnacles up to 500 feet tall. The protection closed this area to bottom trawls and other destructive fishing gear, which threatened the reef. Although current regulations prevent any anchor, net or dredge from touching the coral, the Sante Pax is likely to land directly on top of the largest known continuous deep sea coral reef in the country.
"We urge the involved parties to salvage all materials possible," said Stiles. "Now that the crew is rescued, we must begin to worry about the long-term impacts this event will have."
Containers weighing at least 5,000 lbs. each have been falling off the ship since it lost power and began drifting through the area more than a week ago.
This reef is built by several species of coral that have been documented by scientists since the 1970s using submarines and undersea robots. Fishermen catch plentiful golden crabs and royal red shrimp in the area, animals that use the reef as a nursery and feeding ground. Recent reports suggest the ship is currently sinking near two of the most important sites within the protected area, where commercially valuable wreckfish gather in large numbers to spawn.
For more information, click here.