Micromobility is the future of transportation in cities, but cities and investors need to plan ahead to avoid challenges. Jonny Kennaugh /
Unsplash
By Carlo Ratti, Ida Auken
On the window of a bike shop in Copenhagen, a sign reads: Your next car is a bike.
More than 62 percent of Copenhageners cycle to work in one of the most bike-friendly cities in the world, and the municipality is actively investing in new bike lanes and green light waves to allow seamless commutes in the morning traffic. In recent years, new types of bikes, such as cargo and electric bikes, have also reduced the need for family cars.
But these trends aren't unique to Copenhagen. Around the world, cities are witnessing the emergence, and sometimes the demise, of smarter, healthier and cheaper transportation tools and systems, and they are attempting to integrate them into existing mobility patterns.
Paris pioneered one of the first city bike schemes, the Vélib', and projected it onto the global stage. The system took advantage of innovations in smart cards in the early 2000s to deploy a fleet of around 15,000 bikes, accessible by the hour, to residents and tourists. It soon became a refreshing new mode of discovering the city's leafy boulevards, away from traffic jams and crowds. The system was very successful and inspired similar schemes across the globe: Milan in 2008, London in 2010 and even NYC in 2013, which, to the surprise of many, has raced ahead on the path to becoming a bike-friendly city.
The next wave of innovation came from the East. Chinese startups Mobike and Ofo and Singapore-based oBike took advantage of GPS tracking. If you know where a bike is at all times, why do you need docking stations? And dockless systems were born, with clear advantages in terms of usage for customers and deployment for cities. Before spreading to many other cities in 2017, these companies raised billions of dollars in funding and became known as Chinese bike "unicorns," Silicon Valley jargon for companies with a valuation of $1 billion or more.
Then, the issues started.
First, quality. Many bikes required constant maintenance and were often out of service.
Then, vandalism, as bikes freed from docking stations were much more vulnerable to improper usage. They were drowned in Amsterdam's canals, and they eventually ended up in urban bike cemeteries around the world, giving rise to pollution concerns and prompting cities to get more stringent in granting licenses.
Finally, the business model came under pressure. At the beginning, new deposits by customers financed the deployment of new bikes, but market saturation soon threatened this strategy. As of now, several dockless bike startups have gone bankrupt, and Mobike — the remaining largest player — is considering selling most of the stakes of its European arm.
Yet, micromobility addresses important urban issues, and as such, it will certainly have a role in tomorrow's cities. Of all trips in the United States, 80 percent are under 12 miles, and in New York City, most don't exceed 2 miles. This is precisely where the car is not particularly competitive — and where micromobility is handy. Micromobility is more energy and space efficient, and safer if accompanied by dedicated urban areas.
Besides, why use a five-seat, 2,000-pound SUV to move what is often less than 200 pounds? If you can access one the vehicle that best suits you at the touch of an app, it would be better to go for a two-seater, when moving with a partner, or when alone, a single-pod car, bike, or even dockless electric scooter, which are now deployed by companies like Bird, Lime, Bolt and others. These scooter companies have attracted investment from big ride-hailing operators such as Uber and Lyft, and they're probably just the first sign of a richer biodiversity (or bike-diversity?) in mobility.
If micromobility can play a big role in the coming years, cities and investors should plan ahead to avoid recent shortcomings. To avoid polluting bike cemeteries, cities should start providing designated spaces for dockless parking. This would fit well with the trend of managing the curb as a city-wide resource that could provide income to public administrations. To manage this multipurpose physical space, there could be a corresponding unique digital platform — granting us the freedom to choose between cycling, scootering, walking, taking an on-demand vehicle, using the subway or train and hitching a ride with friends. We could call it the "moving web" — an integration platform similar to what happened with the airline industry a few decades ago.
Cities should also manage citizens' expectations. Urban tech means using the city as a lab. The next few years are an important time for experimentation, but city governments should communicate with citizens to educate them about tolerating failure. This means allowing ideas and innovations to be tested by people and using feedback loops to take users' responses into account.
If we are able to address the above issues, the future of micromobility will be bright — and will help make our cities healthier and more sustainable. And then, your next car could, indeed, be a bike.
Reposted with permission from World Economic Forum.
From Your Site Articles
Related Articles Around the Web
EcoWatch Daily Newsletter
Wind turbines off the coast of Copenhagen. Holger Leue / Lonely Planet Images / Getty Images
Copenhagen has set itself the ambitious goal of going carbon neutral — generating more renewable energy than it consumes from fossil fuels — by 2025. If it succeeds, it will be the first capital in the world to do so, according to the city's website.
"We will achieve these goals through a transition of our energy supply, building retrofits, waste management, public infrastructure and mobility, as well as other key initiatives to support the transition on both a short-term and long-term basis," the website declares.
Its efforts could serve as a blueprint for other cities looking to take climate action, The New York Times wrote in an in-depth profile Monday. But it also faces obstacles, including a rural-urban divide on the problem of reducing car use.
"It's a political challenge. It's not a technological challenge," Copenhagen Mayor Frank Jensen told The New York Times.
Specifically, the Denmark's center-right national government has refused to restrict diesel vehicles in the city. Copenhagen has already reduced emissions by 42 percent compared to 2005 levels, but this has mostly been by phasing out the use of fossil fuels for heat and electricity. Emissions from transportation, on the other hand, account for a third of the city's footprint.
CleanTechnica illustrated the conundrum faced by the Danish capital:
Mayor Frank Jensen tells the New York Times that cities "can change the way we behave, the way we are living, and go more green." He says mayors, more than national politicians, feel the pressure to take action. "We are directly responsible for our cities and our citizens, and they expect us to act."

In a jarring example of theory versus reality, the two halves of that quote on the NY Times website are interrupted by an ad for the GMC Next Generation Sierra Denali. In Denmark, rural drivers are still wedded to their diesel-powered cars. The Danish government recently slashed registration taxes on new cars, a move that has had the effect of making electric cars more expensive.
However, there are many actions that Copenhagen has been able to take on its own, according to The New York Times.
1. It is scheduled to open a new Metro line this year that will place every resident within a little less than half a mile of a station.
2. It has made three-lane-wide bicycle lanes on busy city roads.
3 .It has invested in wind turbines and plans to sell renewable energy units for every fossil fuel unit it burns.
4. It uses a new trash incinerator to help heat buildings.
Despite these innovations, independent analysts say the city is unlikely to reach its 2025 goal. Some also argue that the city's strategy focuses too much on offseting carbon use rather than transforming its residents' lifestyles.

"We run around in fossil fuel burning cars, we eat a lot of meat, we buy a hell of a lot of clothes," Fanny Broholm, a spokeswoman for left-leaning green party Alternativet, told The New York Times. "The goal is not ambitious enough as it is, and we can't even reach this goal."
waterlust.com / @tulasendlesssummer_sierra .
Each product featured here has been independently selected by the writer. If you make a purchase using the links included, we may earn commission.
The bright patterns and recognizable designs of Waterlust's activewear aren't just for show. In fact, they're meant to promote the conversation around sustainability and give back to the ocean science and conservation community.
Each design is paired with a research lab, nonprofit, or education organization that has high intellectual merit and the potential to move the needle in its respective field. For each product sold, Waterlust donates 10% of profits to these conservation partners.
Eye-Catching Designs Made from Recycled Plastic Bottles
waterlust.com / @abamabam
The company sells a range of eco-friendly items like leggings, rash guards, and board shorts that are made using recycled post-consumer plastic bottles. There are currently 16 causes represented by distinct marine-life patterns, from whale shark research and invasive lionfish removal to sockeye salmon monitoring and abalone restoration.

One such organization is Get Inspired, a nonprofit that specializes in ocean restoration and environmental education. Get Inspired founder, marine biologist Nancy Caruso, says supporting on-the-ground efforts is one thing that sets Waterlust apart, like their apparel line that supports Get Inspired abalone restoration programs.
"All of us [conservation partners] are doing something," Caruso said. "We're not putting up exhibits and talking about it — although that is important — we're in the field."
Waterlust not only helps its conservation partners financially so they can continue their important work. It also helps them get the word out about what they're doing, whether that's through social media spotlights, photo and video projects, or the informative note card that comes with each piece of apparel.
"They're doing their part for sure, pushing the information out across all of their channels, and I think that's what makes them so interesting," Caruso said.
And then there are the clothes, which speak for themselves.
Advocate Apparel to Start Conversations About Conservation
waterlust.com / @oceanraysphotography
Waterlust's concept of "advocate apparel" encourages people to see getting dressed every day as an opportunity to not only express their individuality and style, but also to advance the conversation around marine science. By infusing science into clothing, people can visually represent species and ecosystems in need of advocacy — something that, more often than not, leads to a teaching moment.

"When people wear Waterlust gear, it's just a matter of time before somebody asks them about the bright, funky designs," said Waterlust's CEO, Patrick Rynne. "That moment is incredibly special, because it creates an intimate opportunity for the wearer to share what they've learned with another."
The idea for the company came to Rynne when he was a Ph.D. student in marine science.
"I was surrounded by incredible people that were discovering fascinating things but noticed that often their work wasn't reaching the general public in creative and engaging ways," he said. "That seemed like a missed opportunity with big implications."
Waterlust initially focused on conventional media, like film and photography, to promote ocean science, but the team quickly realized engagement on social media didn't translate to action or even knowledge sharing offscreen.
Rynne also saw the "in one ear, out the other" issue in the classroom — if students didn't repeatedly engage with the topics they learned, they'd quickly forget them.
"We decided that if we truly wanted to achieve our goal of bringing science into people's lives and have it stick, it would need to be through a process that is frequently repeated, fun, and functional," Rynne said. "That's when we thought about clothing."
Support Marine Research and Sustainability in Style
To date, Waterlust has sold tens of thousands of pieces of apparel in over 100 countries, and the interactions its products have sparked have had clear implications for furthering science communication.
For Caruso alone, it's led to opportunities to share her abalone restoration methods with communities far and wide.
"It moves my small little world of what I'm doing here in Orange County, California, across the entire globe," she said. "That's one of the beautiful things about our partnership."
Check out all of the different eco-conscious apparel options available from Waterlust to help promote ocean conservation.
Melissa Smith is an avid writer, scuba diver, backpacker, and all-around outdoor enthusiast. She graduated from the University of Florida with degrees in journalism and sustainable studies. Before joining EcoWatch, Melissa worked as the managing editor of Scuba Diving magazine and the communications manager of The Ocean Agency, a non-profit that's featured in the Emmy award-winning documentary Chasing Coral.
Ssuaphoto
Copenhagen's mayor proposed a ban on new diesel cars entering the city's environmental zone, a low-emission area that basically covers the whole of the capital, as early as 2019.
"It's not a human right to pollute the air for others," Lord Mayor of Copenhagen Frank Jensen told Danish newspaper Politiken (via The Local DK's translation). "That's why diesel cars must be phased out."
The mayor noted that the potential ban is "controversial" but felt it was necessary to improve the city's air quality.
About 80 people, primarily older or frail, die prematurely in the Danish capital each year due to local air pollution, including nitrous oxides from traffic, according to the newspaper.
"I know it will mean something for the many, many Copenhageners that are affected by respiratory illnesses," Jensen explained.
The mayor's plan applies to all diesel cars registered after Jan. 1 2019. Those who already own diesel cars would still be permitted to drive in the city.
Jensen's remarks comes as an increasing number of countries announced proposals to ban the traditional internal combustion engine, including China, the UK, Norway, Germany, India and France.
Car ownership is declining in the famously bike-friendly city. Last November, bicycles actually outnumbered cars for the first time, when 265,700 bicycles entered the city center in a 24-hour period compared to 252,600 cars.
Copenhagen is successfully moving along its ambitious goal of becoming carbon neutral by 2025, CBS This Morning reported on Monday. That means the capital wants to produce as much clean energy as it consumes.
Last December, the mayor announced plans to shed coal, oil and gas from the city's 6.9bn kroner ($1.1 billion) investment fund.
Copenhagen International School's new building in the Nordhavn district features the largest solar facade in the world. The 12,000 solar glass panels can generate 300 megawatt hours of electricity per year, more than half of the school's annual energy needs. After much anticipation, the pre-K to 12th grade campus opened last month.
The unique sea-green hue of the panels was created by the research institute Ecole Polytechnique Federale in Lausanne (EPFL) after more than a decade of development. By using the process of light interference, the researchers achieved the tiles' distinctive color without using any pigments and without reducing energy efficiency.
Students are excited about the school's environmentally friendly features such as the individually angled solar panels, the numerous windows that let in plenty of natural lighting, as well as the green roof.
"It means so much to me that the school is moving to a new campus that is committed to sustainability," said Copenhagen International School director Jennifer Weyburn. "The kids can learn things about sustainable solutions for the future."

The vegetables and fruits growing in the greenhouses can be eaten and can "teach kids where food actually comes from," said 12th grade student Aoife Sweeney.
The color of the panels are a technological feature in their own right.
The solar facade has a total area of 6,048 square meters, making it "one of the largest building-integrated solar power plants in Denmark," according to the designers at CF Møller Architects.
Here are some of the building's other impressive sustainable features:

High performance thermal insulation
Daylight photovoltaic cells / solar heating
Ventilation
Passive solar design
Energy efficient design
High insulation values
Low energy windows
Green roof
LCA sustainable planning
Rainwater harvesting
Prefabricated components
Flexibility
LED
Healthy building
Noise minimization
Natural ventilation
Low-energy standard (2020)
As stated in Phys.org:

"The researchers' aim was to be able to define the color of their solar panels—such as brick red, royal blue, golden yellow or sea green—by ensuring that only certain wavelengths are reflected. This required a series of digital simulations and a special manufacturing process, and it took 12 years to get from the first sample to the first colored solar facade. The researchers developed special filters, which they applied to the glass panels in nanometric layers. The filter design determines which wavelengths of light will be reflected as visible color. The rest of the sunlight is absorbed by the solar panel and converted into energy."
Denmark's capital, Copenhagen, is one of the world's greenest cities. It aims to become the first carbon neutral capital by 2025. In December, the city announced plans to shed coal, oil and gas from the city's 6.9 billion kroner ($1.1 billion) investment fund.
By Mike Gaworecki
Eleven cities from around the world were celebrated recently in Mexico City at the C40 Cities Awards for their commitment to innovation in the fight against climate change.
The eleven-year-old C40 Cities Climate Leadership Group brings together officials from 85 of the world's great cities that collectively represent one quarter of the global economy. The group's focus is spurring urban initiatives that reduce greenhouse gas emissions while increasing the health, well-being and economic opportunity of the more 650 million people who call those 85 cities home.
Sponsored by Bloomberg Philanthropies and Chinese green-tech developer BYD, the C40 Cities Awards recognized the "best and boldest" work being done by mayors to fight climate change and protect their constituents from climate risks.

"The winning projects show that great progress is being made on every continent, and they serve as an inspiration to other cities," C40 President of the Board and U.N. Secretary General's Special Envoy for Cities and Climate Change Michael R. Bloomberg said in a statement. "They also show how cities can help the world meet the ambitious goals set a year ago in Paris."

A panel of former mayors and climate experts selected the ten cities that they felt had adopted the most ambitious and effective urban sustainability programs in the world—and C40 partnered with the Associated Press to capture images of each winning city's projects, allowing you a sneak peek whether you live near one of them or not.

"Today, we celebrate some of the projects that are key to delivering on the world's climate ambition and will help put us on a path to a carbon-safe future," Chuanfu Wang, chairman and president of BYD Co. Ltd, said at the awards ceremony. "We recognise the incredible human power and thoughtful consideration that goes into making these projects reality."
1. Addis Ababa, Ethiopa
The city of Addis Ababa is a winner of the C40 Awards 2016 in the Transportation Category. The Addis Ababa Light Rail Transit (LRT) Project has improved the city's public transport system and created more than 6,000 jobs. The cumulative emission reduction potential of the LRT system is forecasted at 1.8 million tCO2e by 2030.
A lady holding her baby wrapped in a white shawl is transported on an Addis Ababa LRT. Mulugeta Ayene / AP Images for C40
An Addis Ababa Light Rail Tram passes through Ethiopia's largest business district Merakto. Mulugeta Ayene / AP Images for C40
Pedestrians look out over commercial and residential buildings on the city skyline. Nearby an Addis Ababa light rail tram passes by.Mulugeta Ayene / AP Images for C40
By Kelly McCartney
Leave it to Germany to build a bicycle autobahn that connect 10 cities within its borders. The goal? To take some 50,000 vehicles off the actual highways and make commuting by bike a much easier—and safer—proposition.
RS1
The idea was sparked six years ago when a cultural project caused the one-day closure of the road between Duisburg and Dortmund and more than three million people flooded the road on bikes, skates and feet. Last December, Germany's first stretch of bike highway opened for business between Mülheim an der Ruhr and Essen. Eventualy, the Radschnellweg will link 10 cities and four universities with 62 miles of bike highway.

The bikeways—and parallel pedestrian paths—are completely separated from the vehicle lanes, with a 13-foot width, tunnels, lights and snow clearing because safety and accessibility issues are two of the biggest obstacles to biking. Coupled with Europe's blossoming affection for electric bikes and Germany's limited proximity between cities, the Radschnellweg stand to attract a new wave of pedal-powered commuters. Frankfurt, Hamburg, Berlin, Munich and Nuremberg are also undertaking bike-related feasibility studies in order to curb traffic and pollution in those urban areas.
Of course, the Germans are only the latest to enter the bike highway fray. The Netherlands started building their 20-strong network of bikeways 10 years ago and continue to expand it, while Denmark focused their efforts on Copenhagen. Norway will soon be getting in on the action too with bikeways connecting nine cities.
This article was reposted with permission from our media associate Shareable.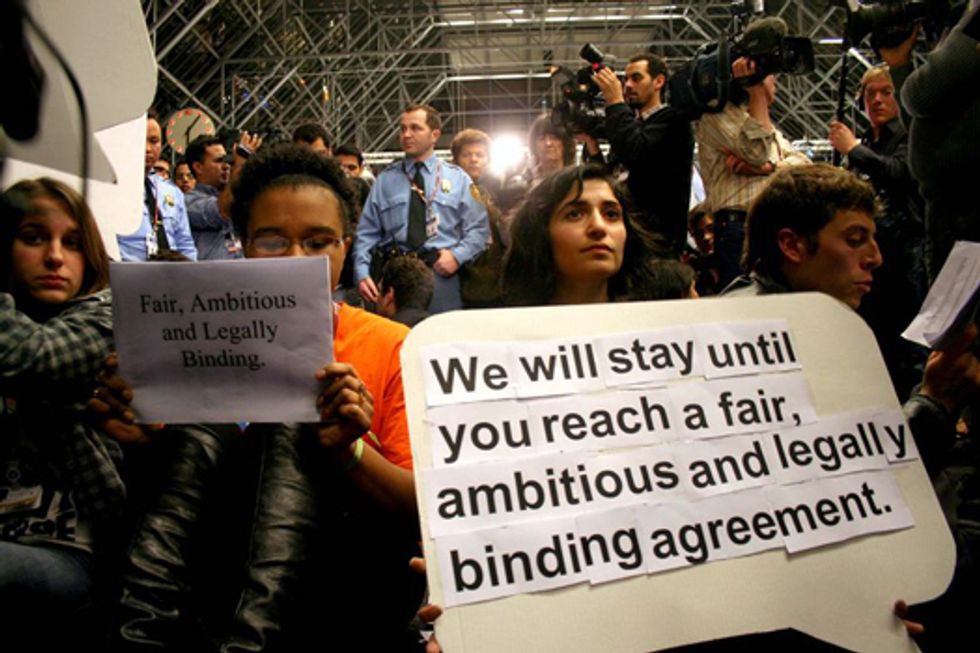 Annual United Nations (U.N.) climate treaty talks taking place between Nov. 28 and Dec. 9 in Durban, South Africa, represent "a crucial fork in the road" for negotiators, according to Alden Meyer, director of strategy and policy at the Union of Concerned Scientists (UCS), who has been attending these negotiations for more than 20 years.
"With the Kyoto Protocol's first emissions-reduction commitment period ending next year, countries face a stark choice," Meyer said. "They can preserve Kyoto's legally binding architecture and commit to build on it by negotiating a more comprehensive and ambitious treaty over the next few years that includes commitments for the U.S., China and other major emitting countries. Or they can fail to act, let countries make emissions cuts as they see fit, and just hope that those reductions will be enough to prevent the worst impacts of climate change."
A number of countries already have announced they will make specific emissions cuts under the Copenhagen Accord, which was established at the annual U.N. climate conference two years ago. Those promised reductions, however, would not be enough to prevent average world temperatures from rising more than 2 degrees Celsius above pre-industrial levels, an increase that many scientists say would ensure some of the worst consequences of climate change. Consequently, the 190 nations participating in the ongoing talks have made a commitment to avoid a 2-degree Celsius temperature increase.
"The world has the best chance of staying within that threshold by establishing a binding climate treaty," said Meyer. "There's always the chance that countries will make enough progress on some important issues—namely reducing deforestation and providing funds to help developing countries reduce their emissions and adapt to climate change—that it buys negotiators another year to continue talks. But even under that scenario, key sticking points likely would remain."
One of the primary hurdles is the United States' refusal to negotiate a new treaty unless major developing countries, such as China, India and Brazil, agree upfront that they will accept the same kind of legally binding commitments as the U.S.
"The U.S. position on developing countries and binding commitments is not realistic," said Meyer, "These countries may be willing to make binding commitments at the end of negotiations a few years from now, but only if their concerns about the level of industrialized country actions to cut emissions and ramp up financial and technology assistance to developing countries are meaningfully addressed.
The U.S. knows its preconditions for new negotiations are non-starters, and will serve only to block progress in Durban," he added. "We need more flexibility on this issue from the United States to get to 'yes' by the end of the talks."
Meanwhile, the European Union has agreed to abide by its Kyoto Protocol emission-reduction commitment beyond 2012 if other major carbon emitters, including the U.S., China, India and Brazil, agree to work toward a treaty. Japan, Russia and Canada have stated that they will not maintain commitments under Kyoto beyond next year under any circumstances, but there would be pressure on them to reconsider this stance if delegates reach an agreement on negotiating a broader treaty.
Climate Finance and the Green Climate Fund
The other big issue in Durban will be climate finance—how to ramp up financial assistance for a developing country to deploy clean technologies, reduce deforestation and adapt to the rapidly mounting impacts of climate change. Specifically, negotiators will try to make progress on establishing the Green Climate Fund that delegates supported at last year's climate talks in Cancun, Mexico, and will discuss options for meeting the commitment made by developed countries two years ago in Copenhagen to mobilize $100 billion a year by 2020 for developing country actions on climate.
The U.S. is an obstacle to progress on this front as well, joining Saudi Arabia in blocking consensus at a preparatory meeting in Cape Town, South Africa last month on recommendations for setting up the Green Climate Fund, and objecting to holding discussions on ways to meet the long-term climate finance goal.
"No one is expecting the United States to put specific pledges on the table in Durban," Meyer said. "But there needs to be progress on the finance issue, or developing countries will justifiably question whether the commitments made in Copenhagen and Cancun are real." He pointed out that other donor countries, such as the European Union, support starting a process in Durban to identify sources of long-term finance that can help meet the $100-billion goal.
Reducing Emissions from Deforestation
Treaty negotiators also will focus on producing a plan that would help developing countries reduce their emissions from tropical deforestation, which is responsible for about 15 percent of global warming pollution.
"Brazil has its own version of this plan and it's proven successful," said Doug Boucher, director of climate research and analysis at UCS. "With financial help from Norway, Brazil reduced tropical rainforest destruction by two-thirds between 2005 and 2010. This year's data, which will be released within the next few weeks, likely will show a slight increase but still at the same low levels.
"Thanks to the country's deforestation plan, since 2005, Brazil emitted about a billion tons less global warming pollution per year than what it emitted between 1996 and 2005," he added. "To put that into perspective, that's nearly the same amount of reductions that last year's U.S. Senate climate bill would have brought about between 2005 and 2020."
Negotiators in Durban will discuss the deforestation level each country should use to gauge its reductions. They also will consider ways to ensure indigenous communities and biodiversity are protected under a prospective deforestation plan.
"Also on the table is the question of who will provide funding to help developing countries reduce their deforestation rates and where the funding will come from," said Boucher. "It could come from governments, like Norway's multibillion-dollar funding that helped Brazil make such a huge dent in its deforestation rate, or from a carbon market, such as the one California is setting up."
Technology Sharing to Reduce Emissions and Enhance Adaptation
In Cancun, countries agreed to establish a "technology mechanism" to encourage countries to share technology and know-how to reduce emissions and help countries cope with the impacts of climate change.
"Negotiations at Durban should ensure that this technology mechanism becomes fully operational in 2012," said Rachel Cleetus, a senior climate economist at UCS. "A rapid global transition to clean, renewable energy sources is critical to addressing the challenge of climate change. Communities at risk from the impacts of climate change, some which are already happening, also need technologies that will help them build resilience and adapt.
"The big question is where the funding for the technology mechanism will come from, so we will be waiting to see what happens at Durban with the Green Climate Fund," she said. "That said, negotiators can make key decisions about the technology mechanism's governance, structure and work program independent of the fund, and they should push for the most ambitious outcome possible."
For more information, click here.
—————
The Union of Concerned Scientists is the leading U.S. science-based nonprofit organization working for a healthy environment and a safer world. Founded in 1969, UCS is headquartered in Cambridge, Massachusetts, and also has offices in Berkeley, Chicago and Washington, D.C.