This website uses cookies to ensure you get the best experience while browsing it. By clicking 'Got It' you're accepting these terms.
Micromobility is the future of transportation in cities, but cities and investors need to plan ahead to avoid challenges. Jonny Kennaugh /
Unsplash
By Carlo Ratti, Ida Auken
On the window of a bike shop in Copenhagen, a sign reads: Your next car is a bike.
Wind turbines off the coast of Copenhagen. Holger Leue / Lonely Planet Images / Getty Images
Copenhagen has set itself the ambitious goal of going carbon neutral — generating more renewable energy than it consumes from fossil fuels — by 2025. If it succeeds, it will be the first capital in the world to do so, according to the city's website.
EcoWatch Daily Newsletter
Ssuaphoto
Copenhagen's mayor proposed a ban on new diesel cars entering the city's environmental zone, a low-emission area that basically covers the whole of the capital, as early as 2019.
"It's not a human right to pollute the air for others," Lord Mayor of Copenhagen Frank Jensen told Danish newspaper Politiken (via The Local DK's translation). "That's why diesel cars must be phased out."
Copenhagen International School's new building in the Nordhavn district features the largest solar facade in the world. The 12,000 solar glass panels can generate 300 megawatt hours of electricity per year, more than half of the school's annual energy needs. After much anticipation, the pre-K to 12th grade campus opened last month.
The unique sea-green hue of the panels was created by the research institute Ecole Polytechnique Federale in Lausanne (EPFL) after more than a decade of development. By using the process of light interference, the researchers achieved the tiles' distinctive color without using any pigments and without reducing energy efficiency.
Students are excited about the school's environmentally friendly features such as the individually angled solar panels, the numerous windows that let in plenty of natural lighting, as well as the green roof.
"It means so much to me that the school is moving to a new campus that is committed to sustainability," said Copenhagen International School director Jennifer Weyburn. "The kids can learn things about sustainable solutions for the future."

The vegetables and fruits growing in the greenhouses can be eaten and can "teach kids where food actually comes from," said 12th grade student Aoife Sweeney.
The color of the panels are a technological feature in their own right.
The solar facade has a total area of 6,048 square meters, making it "one of the largest building-integrated solar power plants in Denmark," according to the designers at CF Møller Architects.
Here are some of the building's other impressive sustainable features:

High performance thermal insulation
Daylight photovoltaic cells / solar heating
Ventilation
Passive solar design
Energy efficient design
High insulation values
Low energy windows
Green roof
LCA sustainable planning
Rainwater harvesting
Prefabricated components
Flexibility
LED
Healthy building
Noise minimization
Natural ventilation
Low-energy standard (2020)
As stated in Phys.org:

"The researchers' aim was to be able to define the color of their solar panels—such as brick red, royal blue, golden yellow or sea green—by ensuring that only certain wavelengths are reflected. This required a series of digital simulations and a special manufacturing process, and it took 12 years to get from the first sample to the first colored solar facade. The researchers developed special filters, which they applied to the glass panels in nanometric layers. The filter design determines which wavelengths of light will be reflected as visible color. The rest of the sunlight is absorbed by the solar panel and converted into energy."
Denmark's capital, Copenhagen, is one of the world's greenest cities. It aims to become the first carbon neutral capital by 2025. In December, the city announced plans to shed coal, oil and gas from the city's 6.9 billion kroner ($1.1 billion) investment fund.
By Mike Gaworecki
Eleven cities from around the world were celebrated recently in Mexico City at the C40 Cities Awards for their commitment to innovation in the fight against climate change.
The eleven-year-old C40 Cities Climate Leadership Group brings together officials from 85 of the world's great cities that collectively represent one quarter of the global economy. The group's focus is spurring urban initiatives that reduce greenhouse gas emissions while increasing the health, well-being and economic opportunity of the more 650 million people who call those 85 cities home.
Sponsored by Bloomberg Philanthropies and Chinese green-tech developer BYD, the C40 Cities Awards recognized the "best and boldest" work being done by mayors to fight climate change and protect their constituents from climate risks.

"The winning projects show that great progress is being made on every continent, and they serve as an inspiration to other cities," C40 President of the Board and U.N. Secretary General's Special Envoy for Cities and Climate Change Michael R. Bloomberg said in a statement. "They also show how cities can help the world meet the ambitious goals set a year ago in Paris."

A panel of former mayors and climate experts selected the ten cities that they felt had adopted the most ambitious and effective urban sustainability programs in the world—and C40 partnered with the Associated Press to capture images of each winning city's projects, allowing you a sneak peek whether you live near one of them or not.

"Today, we celebrate some of the projects that are key to delivering on the world's climate ambition and will help put us on a path to a carbon-safe future," Chuanfu Wang, chairman and president of BYD Co. Ltd, said at the awards ceremony. "We recognise the incredible human power and thoughtful consideration that goes into making these projects reality."
1. Addis Ababa, Ethiopa
The city of Addis Ababa is a winner of the C40 Awards 2016 in the Transportation Category. The Addis Ababa Light Rail Transit (LRT) Project has improved the city's public transport system and created more than 6,000 jobs. The cumulative emission reduction potential of the LRT system is forecasted at 1.8 million tCO2e by 2030.
A lady holding her baby wrapped in a white shawl is transported on an Addis Ababa LRT. Mulugeta Ayene / AP Images for C40
An Addis Ababa Light Rail Tram passes through Ethiopia's largest business district Merakto. Mulugeta Ayene / AP Images for C40
Pedestrians look out over commercial and residential buildings on the city skyline. Nearby an Addis Ababa light rail tram passes by.Mulugeta Ayene / AP Images for C40
By Kelly McCartney
Leave it to Germany to build a bicycle autobahn that connect 10 cities within its borders. The goal? To take some 50,000 vehicles off the actual highways and make commuting by bike a much easier—and safer—proposition.
RS1
The idea was sparked six years ago when a cultural project caused the one-day closure of the road between Duisburg and Dortmund and more than three million people flooded the road on bikes, skates and feet. Last December, Germany's first stretch of bike highway opened for business between Mülheim an der Ruhr and Essen. Eventualy, the Radschnellweg will link 10 cities and four universities with 62 miles of bike highway.

The bikeways—and parallel pedestrian paths—are completely separated from the vehicle lanes, with a 13-foot width, tunnels, lights and snow clearing because safety and accessibility issues are two of the biggest obstacles to biking. Coupled with Europe's blossoming affection for electric bikes and Germany's limited proximity between cities, the Radschnellweg stand to attract a new wave of pedal-powered commuters. Frankfurt, Hamburg, Berlin, Munich and Nuremberg are also undertaking bike-related feasibility studies in order to curb traffic and pollution in those urban areas.
Of course, the Germans are only the latest to enter the bike highway fray. The Netherlands started building their 20-strong network of bikeways 10 years ago and continue to expand it, while Denmark focused their efforts on Copenhagen. Norway will soon be getting in on the action too with bikeways connecting nine cities.
This article was reposted with permission from our media associate Shareable.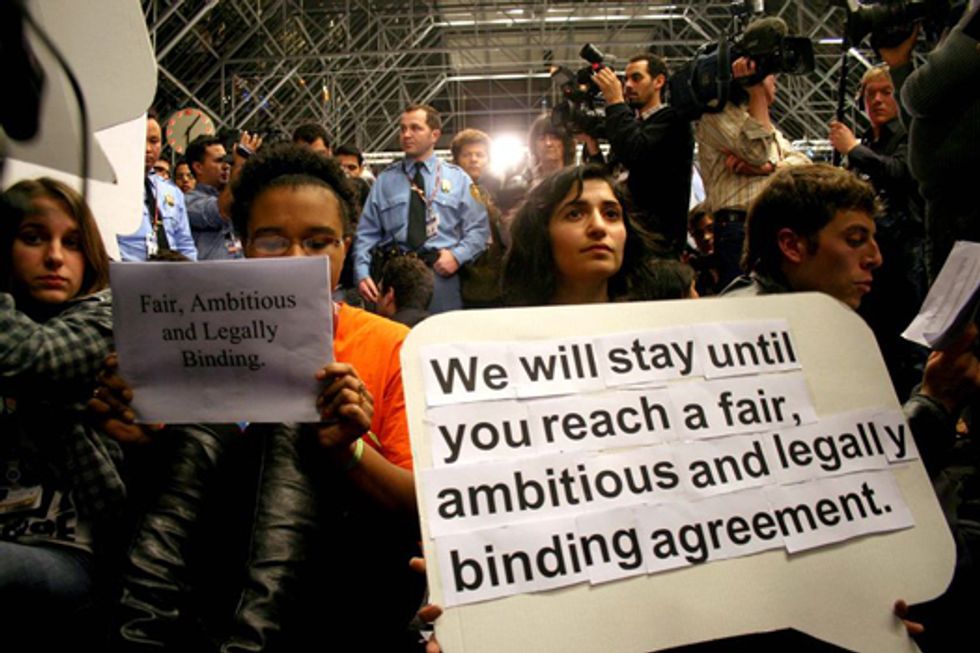 Annual United Nations (U.N.) climate treaty talks taking place between Nov. 28 and Dec. 9 in Durban, South Africa, represent "a crucial fork in the road" for negotiators, according to Alden Meyer, director of strategy and policy at the Union of Concerned Scientists (UCS), who has been attending these negotiations for more than 20 years.
"With the Kyoto Protocol's first emissions-reduction commitment period ending next year, countries face a stark choice," Meyer said. "They can preserve Kyoto's legally binding architecture and commit to build on it by negotiating a more comprehensive and ambitious treaty over the next few years that includes commitments for the U.S., China and other major emitting countries. Or they can fail to act, let countries make emissions cuts as they see fit, and just hope that those reductions will be enough to prevent the worst impacts of climate change."
A number of countries already have announced they will make specific emissions cuts under the Copenhagen Accord, which was established at the annual U.N. climate conference two years ago. Those promised reductions, however, would not be enough to prevent average world temperatures from rising more than 2 degrees Celsius above pre-industrial levels, an increase that many scientists say would ensure some of the worst consequences of climate change. Consequently, the 190 nations participating in the ongoing talks have made a commitment to avoid a 2-degree Celsius temperature increase.
"The world has the best chance of staying within that threshold by establishing a binding climate treaty," said Meyer. "There's always the chance that countries will make enough progress on some important issues—namely reducing deforestation and providing funds to help developing countries reduce their emissions and adapt to climate change—that it buys negotiators another year to continue talks. But even under that scenario, key sticking points likely would remain."
One of the primary hurdles is the United States' refusal to negotiate a new treaty unless major developing countries, such as China, India and Brazil, agree upfront that they will accept the same kind of legally binding commitments as the U.S.
"The U.S. position on developing countries and binding commitments is not realistic," said Meyer, "These countries may be willing to make binding commitments at the end of negotiations a few years from now, but only if their concerns about the level of industrialized country actions to cut emissions and ramp up financial and technology assistance to developing countries are meaningfully addressed.
The U.S. knows its preconditions for new negotiations are non-starters, and will serve only to block progress in Durban," he added. "We need more flexibility on this issue from the United States to get to 'yes' by the end of the talks."
Meanwhile, the European Union has agreed to abide by its Kyoto Protocol emission-reduction commitment beyond 2012 if other major carbon emitters, including the U.S., China, India and Brazil, agree to work toward a treaty. Japan, Russia and Canada have stated that they will not maintain commitments under Kyoto beyond next year under any circumstances, but there would be pressure on them to reconsider this stance if delegates reach an agreement on negotiating a broader treaty.
Climate Finance and the Green Climate Fund
The other big issue in Durban will be climate finance—how to ramp up financial assistance for a developing country to deploy clean technologies, reduce deforestation and adapt to the rapidly mounting impacts of climate change. Specifically, negotiators will try to make progress on establishing the Green Climate Fund that delegates supported at last year's climate talks in Cancun, Mexico, and will discuss options for meeting the commitment made by developed countries two years ago in Copenhagen to mobilize $100 billion a year by 2020 for developing country actions on climate.
The U.S. is an obstacle to progress on this front as well, joining Saudi Arabia in blocking consensus at a preparatory meeting in Cape Town, South Africa last month on recommendations for setting up the Green Climate Fund, and objecting to holding discussions on ways to meet the long-term climate finance goal.
"No one is expecting the United States to put specific pledges on the table in Durban," Meyer said. "But there needs to be progress on the finance issue, or developing countries will justifiably question whether the commitments made in Copenhagen and Cancun are real." He pointed out that other donor countries, such as the European Union, support starting a process in Durban to identify sources of long-term finance that can help meet the $100-billion goal.
Reducing Emissions from Deforestation
Treaty negotiators also will focus on producing a plan that would help developing countries reduce their emissions from tropical deforestation, which is responsible for about 15 percent of global warming pollution.
"Brazil has its own version of this plan and it's proven successful," said Doug Boucher, director of climate research and analysis at UCS. "With financial help from Norway, Brazil reduced tropical rainforest destruction by two-thirds between 2005 and 2010. This year's data, which will be released within the next few weeks, likely will show a slight increase but still at the same low levels.
"Thanks to the country's deforestation plan, since 2005, Brazil emitted about a billion tons less global warming pollution per year than what it emitted between 1996 and 2005," he added. "To put that into perspective, that's nearly the same amount of reductions that last year's U.S. Senate climate bill would have brought about between 2005 and 2020."
Negotiators in Durban will discuss the deforestation level each country should use to gauge its reductions. They also will consider ways to ensure indigenous communities and biodiversity are protected under a prospective deforestation plan.
"Also on the table is the question of who will provide funding to help developing countries reduce their deforestation rates and where the funding will come from," said Boucher. "It could come from governments, like Norway's multibillion-dollar funding that helped Brazil make such a huge dent in its deforestation rate, or from a carbon market, such as the one California is setting up."
Technology Sharing to Reduce Emissions and Enhance Adaptation
In Cancun, countries agreed to establish a "technology mechanism" to encourage countries to share technology and know-how to reduce emissions and help countries cope with the impacts of climate change.
"Negotiations at Durban should ensure that this technology mechanism becomes fully operational in 2012," said Rachel Cleetus, a senior climate economist at UCS. "A rapid global transition to clean, renewable energy sources is critical to addressing the challenge of climate change. Communities at risk from the impacts of climate change, some which are already happening, also need technologies that will help them build resilience and adapt.
"The big question is where the funding for the technology mechanism will come from, so we will be waiting to see what happens at Durban with the Green Climate Fund," she said. "That said, negotiators can make key decisions about the technology mechanism's governance, structure and work program independent of the fund, and they should push for the most ambitious outcome possible."
For more information, click here.
—————
The Union of Concerned Scientists is the leading U.S. science-based nonprofit organization working for a healthy environment and a safer world. Founded in 1969, UCS is headquartered in Cambridge, Massachusetts, and also has offices in Berkeley, Chicago and Washington, D.C.