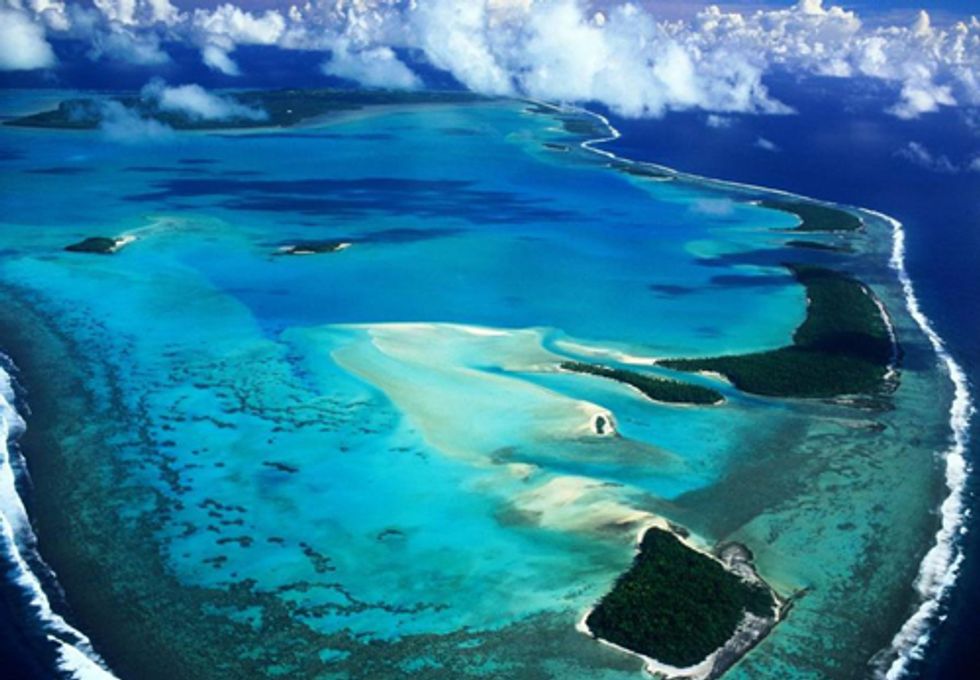 A recent commitment by the U.S.-based Geographic Information System (GIS) software company Esri marks a crucial demonstration of innovative leadership in marine conservation, said leaders from Conservation International, attending the Eye on Earth Summit in Abu Dhabi, United Arab Emirates earlier this month. At the summit, Esri committed to build a database for the new Cook Islands Marine Park to aid in the spatial planning of the one million square kilometer park, which was officially declared earlier this year by Cook Islands Prime Minister Henry Puna.
The commitment followed Prime Minister Puna's challenge to the international community at the summit, to provide support to developing countries who have expressed a commitment to protecting the oceans.
"Working with Esri in the development of initiatives that will lead to better management of our ocean and a more secure future for all Cook Islanders is a very exciting development that underlines the global significance of our marine park declaration," Prime Minister Puna said.
The Cook Islands Marine Park is a large addition to the Pacific Oceanscape, an innovative commitment by 16 Pacific Island governments to integrated marine conservation and sustainable management across approximately 40 million square kilometers of ocean. Prime Minister Puna and the Cook Islands delegation was joined at the summit by Teuea Toatu, executive director of the Phoenix Islands Protected Area (PIPA) in Kiribati, and a delegation from Conservation International (CI) which has committed technical and scientific assistance to implement the Pacific oceanscape since its inception.
"The Pacific Islands are leading the world in marine conservation, and the commitment by the Cook Islands of one million square kilometers of its Exclusive Economic Zone to a marine park is the latest example of this. The support announced by Esri and the University of California Santa Barbara will make a crucial difference to achieving a globally-significant conservation area, and will set the standard for future innovation in the Pacific Islands," said Michael Donoghue, executive director of Conservation International's Pacific Islands Program.
Esri, in partnership with University of California, Santa Barbara and the United Nations Environment Programme World Conservation Monitoring Centre, agreed to assign two senior scientists to bring together all the available information on the marine park into a single digital platform, and to train Cook Islands people to operate it. The project will begin in early 2012 with a stakeholder meeting in Rarotonga.
"We came here to see cutting-edge initiatives for the collection of environmental data and investigate how we can improve access to information in the Pacific Islands," Prime Minister Puna said. "There is much work to be done to fulfill the promise of our marine park, but we now have some innovative partners in our endeavour, and the Cook Islands is now clearly positioned as a global leader in marine conservation and a champion of island states."
"The mission of the Eye on Earth summit is to develop recommendations for how data sharing can be used to make a clear path toward sustainability," said Jack Dangermond, Esri founder and president. "Esri is proud to provide the technical support through our most recent innovation, ArcGIS Online, which will help to make the Cook Islands Marine Park initiative and the Cook Island government's vision a reality."
Prime Minister Puna was the keynote speaker at the third day of the summit, which is focused on information gathering and sharing to provide for a sustainable future. The 4-day summit attracted more than a thousand delegates from around the world and had a line-up of prestigious guest speakers including Dr. Jane Goodall, Dr. Sylvia Earle and former U.S. President Bill Clinton.
"The range of expertise and technological innovation that was on display at the summit was remarkable, and I was very encouraged at the support that was offered from so many quarters," said Kevin Iro, a member of the Cook Islands Marine Park Steering Committee. "It has become even clearer to me that the Cook Islands is on the right track in developing our marine park, not only for the benefit of our own future generations, but also as a significant contribution to the future of the global oceans." 
Esri is a global leader in GIS technology and software, with more than 350,000 organisations using its products globally.
The Cook Islands Marine Park, the world's largest marine park, is scheduled to be officially established at the  next meeting of the Pacific Islands Leaders Forum, to be held in the Cook Islands in August 2012 and will be a major focus of this forum.
For more information, click here.
EcoWatch Daily Newsletter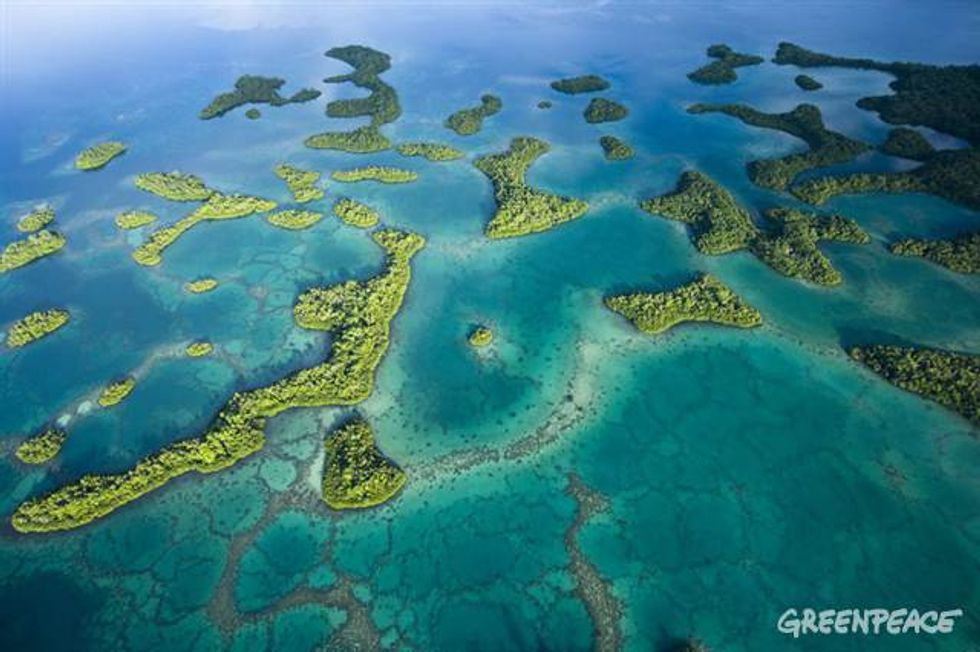 By Nathaniel Pelle
Right now, the Australian government is deciding the fate of Australia's Coral Sea. The countdown is on to protect nearly one million square kilometres of unique coral reefs, atolls and underwater canyons flanking the world-heritage listed Great Barrier Reef.
Just a few weeks back I sailed out of Port Moresby aboard the Greenpeace ship Esperanza, through the Coral Sea and then north into the western and central Pacific Ocean. These are the very same waters my grandfather patrolled as a youth in the Australian Navy during the historic Battle of the Coral Sea in the latter half of World War II.
I remember fondly his striking stories that described swimming alongside warships among remarkable abundances of marine life. His memories recalled sailors at play with swarms of dolphins, turtles, swordfish and large schools of gentle hammerhead sharks. I remember his tales of catching tuna at will with simple handlines dropped lazily from the poopdeck.
Sadly, such abundance is a rare thing to see these days. So it is with a tremendous sense of hope that I have observed the considerable efforts of regional players to preserve these waters and maybe even return them to their past richness.
The latest of these opportunities is the proposal by the Australian government to create the world's largest marine park in the Coral Sea under a once-in-a-generation bioregional planning process.
But it's not all good news—the government's draft plan leaves the majority of species-rich coral reefs, important breeding sites for tuna and marlin, and critical migration routes for turtles and whales, open to fishing. More than 20 important reefs—identified as key biodiversity hotspots—remain outside the no-take zone and are open to potentially damaging activity. Leaving these areas unprotected is a shortsighted move to appease a handful of vocal commercial and recreational fishers. Left unprotected are the crucial spawning grounds for bigeye and yellowfin tuna. This year both species were listed as vulnerable and near-threatened on the International Union for Conservation of Nature's Red List of species at risk of extinction.
For this proposal to achieve its potential, you can add your voice to the call for a genuinely historic sanctuary here.
Australia has stood by regional efforts to protect these species. With Australia's support, Pacific Island nations have banded together to close 4.5 million square kilometres of the high seas to purse seine fishing in order to safeguard their recovery.
Earlier this year, Palau—a nation that thrives on its stunning and incomparable marine ecosystem—declared its entire territorial waters a shark sanctuary and has created a network of marine national parks. The Esperanza is now in Palau assisting with enforcement of their territory. Swimming in these waters, so dense with life, I feel like I've had a taste of what the Pacific was like when my grandfather sailed it. That's what I want for the Coral Sea.
The Marshall Islands followed Palau's lead and look set to be joined by Fiji and the Cook Islands. With every one of these moves, the benefit is multiplied across the region.
It's fantastic that the Coral Sea proposal blocks oil exploration and mining for good and reduces some destructive fishing. But if Australia is to cement itself as a genuine champion of marine protection, and create a sanctuary that provides long-lasting regional benefit, it needs to greatly expand the area of the Coral Sea afforded full protection.
For more information, click here.
Xsandra / Getty Images
Looking for ways to cut down on single-use plastic while grocery shopping? You may already have eco-friendly shopping bags, but bringing your own reusable produce bags is another easy swap.

According to the UN Environment Program, up to 5 trillion single-use plastic bags are used globally each year, and because of the material they're made from, most municipal recycling centers don't accept them (more on this below).
The most sustainable option is to skip the bag altogether. You can also make your own reusable produce bags out of old T-shirts. But if you'd rather purchase them new, here are our recommendations for the best reusable produce bags on the market today.
<p><em>Each product featured here has been independently selected by the writer. If you make a purchase using the links included, we may earn commission.</em></p>