When it rains in cities or suburban areas with lots of roads and rooftops, rainwater is unable to soak into the ground. Instead, it flows along the surface where it picks up pollutants like sediment, chemicals, oil, grease or heavy metals. The runoff then flows into storm drains where it ultimately ends up in nearby rivers, lakes and streams.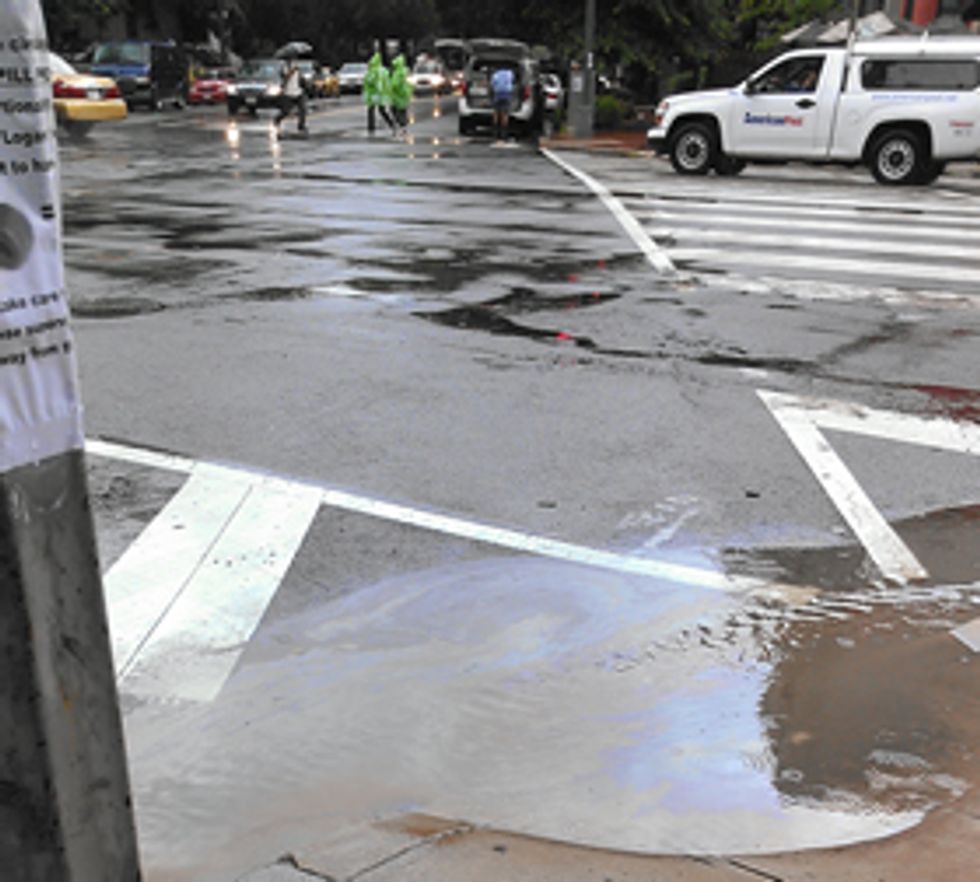 From basement backups to beach closures to sewage overflows, polluted runoff can have big costs for communities. The Federal Emergency Management Agency estimates that polluted urban runoff contributes to 25 percent of economic losses from flooding, totaling nearly $1 billion every year. The Environmental Protection Agency (EPA) has found that between 1.8 million and 3.5 million people are estimated to become sick from recreational contact with raw sewage discharges into waters every year.
In particular, large paved areas of commercial and industrial facilities built decades ago are significant contributors of polluted runoff yet are seldom required to control or treat it in ways that really protect our local waters. Taxpayer dollars already support public infrastructure to manage runoff and these existing sites are not doing their fair share.
Studies have consistently demonstrated that these sites accumulate large quantities of pollutants such as copper, lead, zinc, phosphorus and nitrogen. Although little management is required, runoff from these areas carries harmful contaminants into local waters that degrade drinking water supplies, cause beach closures and threaten fish habitat. Large volumes of runoff also contribute to local flooding, shutting down roads and exacerbating basement backups at additional costs to communities and local businesses.
Given that more than half of the hardened surfaces in our urban areas consist of buildings and parking lots (53.9 percent according to the U.S. Geological Survey), it will be practically impossible to attain clean water goals without controlling the runoff that leaves these sites.
Today, American Rivers, Anacostia Riverkeeper, Anacostia Watershed Society, Blue Water Baltimore/ Baltimore Harbor Waterkeeper, California Coastkeeper Alliance, Conservation Law Foundation, Natural Resources Defense Council, PennFuture, Potomac Riverkeeper and the Shenandoah Riverkeeper submitted petitions to the Environmental Protection Agency (EPA) that call on the Agency to use its existing authority to better manage runoff from existing commercial, industrial and institutional areas. 
These petitions are based on facts we all know—that rainwater running off the pavement and rooftops in these areas pollutes our waters.  They call on EPA to carry out the responsibility assigned to it by Congress in 1987, known as residual designation authority, to take steps that will create cleaner waters by reducing polluted runoff and keeping it out of storm sewers and local waterways.
These contributors should be held accountable for their contributions to pollution through runoff and help share the cost of managing their stormwater rather than placing the burden solely on the taxpayer. These sites can share in the cost of solutions to solve the problems they are helping create.
Visit EcoWatch's WATER page for more related news on this topic.
——–

EcoWatch Daily Newsletter
Pavillion-area citizens, landowners and environmental groups today condemned Gov. Mead's (R-WY) announcement that the state is assuming control from the U.S. Environmental Protection Agency (EPA) of the investigation into groundwater contamination by fracking-enabled oil and gas development near Pavillion, WY.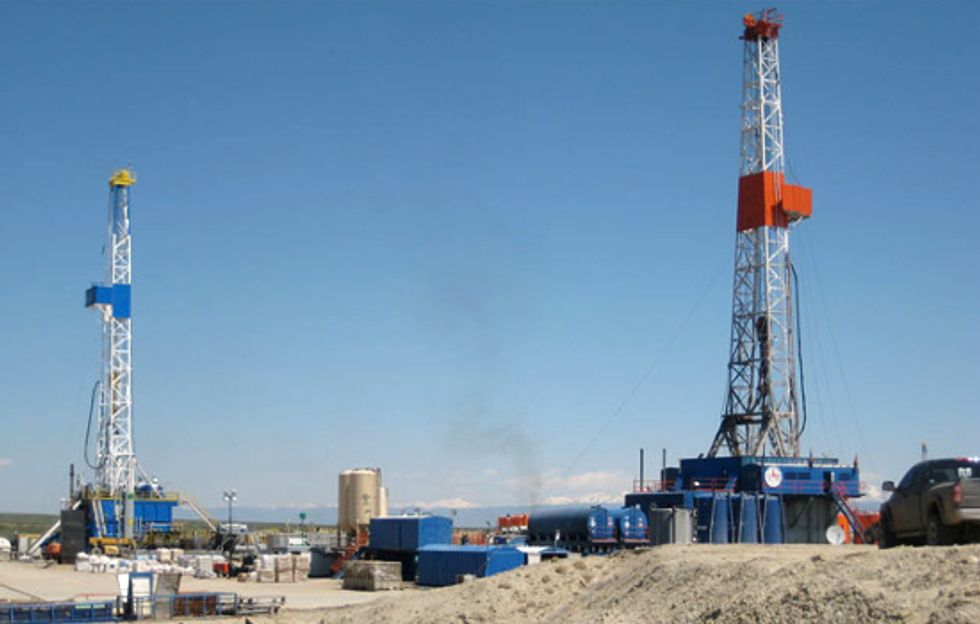 In the announcement, the Governor congratulated EPA and Encana—the company operating in the Pavillion area—for working with him to "chart a positive course" for the investigation.
"We went to the EPA for help after the State of Wyoming and Encana refused to address the public health impacts of unbridled development in the Pavillion area," said Pavillion farmer John Fenton. "Now Encana has bought its way back in and is working with the state on a strategy to cover up the mess they've created."
"Our government's priority is clearly to protect industry rather than Wyoming citizens, our health and our property values. Gov. Mead, the Obama administration and Encana have decided what is best for our community without consulting us," Fenton continued. "We were presented with Mead's vague plan at the same time it was released to the public. Unlike the other stakeholders, we bear the brunt of living in the toxic mess that has become our community, but our input has been thrown out with EPA's investigation. This is a sad day for our country."
This decision continues a nationwide pattern of Obama Administration walkbacks of the EPA investigations whose preliminary results indicate fracking-enabled oil and gas development presents real risks to public health and water. Similar actions have occurred in Parker County, TX, and Dimock, PA.
"It seems clear that the White House's 'all of the above' energy policy means fracking's impacts on communities are being ignored," said Earthworks' energy program director Bruce Baizel. "All across the country, whether it's Wyoming, or Texas or Pennsylvania, it appears the EPA is being politically pressured to back off sound science that shows fracking-enabled oil and gas development is a risk to public health. With these decisions, the Obama administration is creating more opposition to fracking, not less."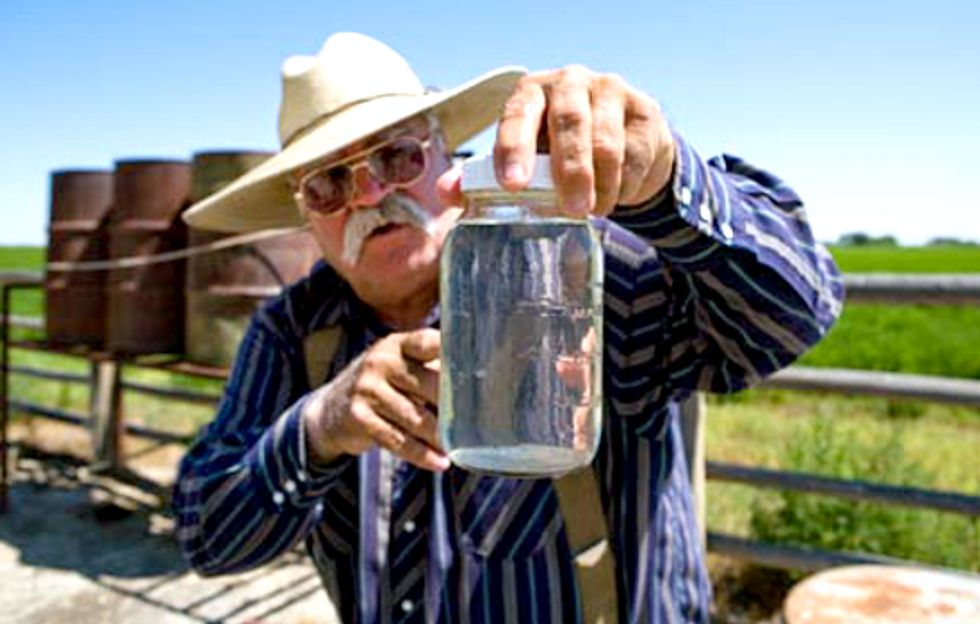 "Gov. Mead said earlier this week that change should be driven by elected officials and agencies, not the people," said Don Nelson, a farmer and rancher near Keene in western North Dakota, on behalf of the Western Organization of Resource Councils.
"This attitude is exactly why those of us who have to live with drilling and fracking have so little confidence in our regulatory agencies and elected officials. They only listen to the oil and gas industry, not to the local people. The same is true in North Dakota. And now EPA is backing down too and another investigation into groundwater contamination from oil and gas development is being swept under the rug. Why would anyone believe the oil and gas industry or the state regulatory agencies when they say drilling and fracking are safe?"
Governor Mead's announcement indicates that the state would cease peer review of EPA's investigation, essentially ignoring it.
"The state of Wyoming is already on record, through action and inaction, as denying that Pavillion's groundwater contamination is a cause for concern," said area ag-producer Jeff Locker. "They are throwing out a conscientious science based study by EPA that cost the taxpayers millions of dollars. The Governor's plan postpones any conclusions for at least another year. It's hard to believe that they're trying to get to the bottom of the problem, they're hoping this whole thing just goes away."
Visit EcoWatch's FRACKING page for more related news on this topic.
——–
Sign the petition today, telling President Obama to enact an immediate fracking moratorium: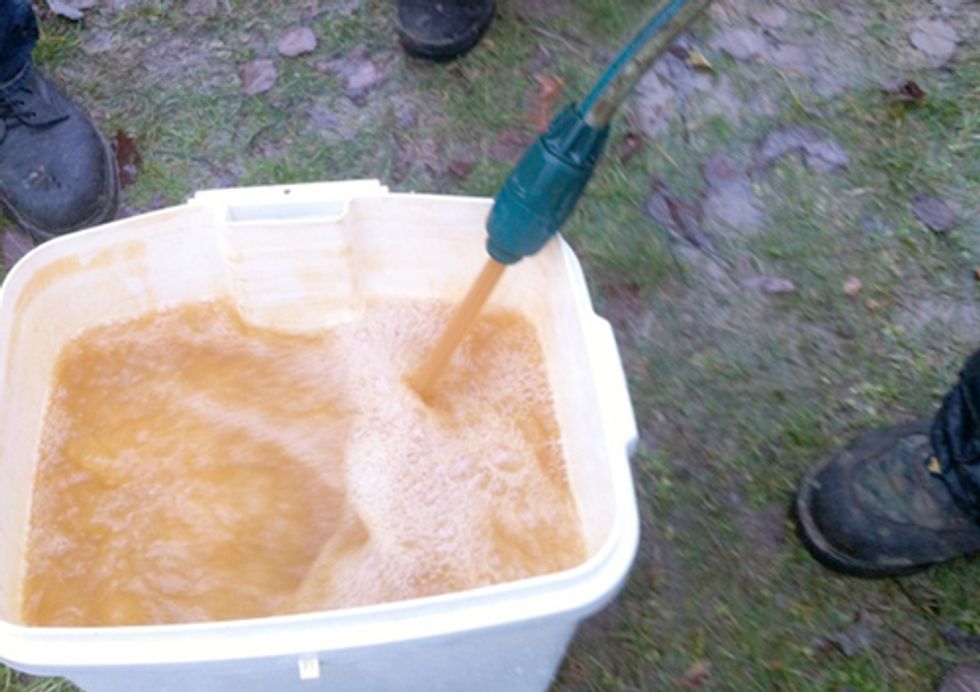 By Iris Marie Bloom
"I don't know what I'm going to do," John "Denny" Fair said yesterday as he watched a water company worker pour out hundreds of gallons of clean fresh water onto the cold ground and remove the water tank under orders from Rex Energy. "Everybody had good water a year ago," Fair said, referring to his own water and that of neighboring families who reported that their water changed color after Rex began drilling and fracking in Conoquenessing Township, Butler County, Pa.
Rex has admitted that two of their Conoquenessing gas wells had casing failures in late 2010, shortly before Conoquenessing families, in an area called the Woodlands, reported that their water changed abruptly in January 2011.
Marcellus Outreach Butler is collecting water for at least 11 families and will confront Rex Energy on March 1 at its office in the town of Butler at 4 p.m., demanding that Rex reinstate clean water supplies for all the families. That address is 407A West Jefferson Street, Butler, Pa. 16001. Participants will first gather at 3:30 p.m. at the Butler Farmer's Market in Butler, Pa. between Race St. and Shore St.
Denny Fair, unemployed, receives aid from neighbors for electricity and meals from a food bank, according to the Pittsburgh Times-Tribune's Timothy Puko. The water from Fair's well, pictured here, ran orange-brown. "Personally, I wouldn't drink it," commented Diane Sipe of Marcellus Outreach Butler, who was on the scene yesterday. Fair does odd jobs and is unable to afford either replacement water or a water filtration system, he said.
Most vulnerable families hit hardest
Several families fought hard to keep their water tanks, called "water buffaloes," but families without means have no alternative to using water which appears to be contaminated, making gas drilling impacts most severe for the most vulnerable families. Two people with disabilities live at the property where Rex Energy ordered the water company to remove its water buffalo one day early, according to Marcellus Outreach Butler organizer Diane Sipe. Sipe said that one Connoquenessing family which depended on a water buffalo provided by Rex Energy until this week is now staying with relatives, unable to care for their newborn with a limited water supply.
In addition to residents' complaints about contaminated well water, Rex Energy drilling, fracking, gas processing and waste handling operations have fouled the air and surface waters, according to multiple sources. Pennsylvania Fish and Boat Commission Officer Nestor said last week that the Commission is now investigating a dozen drilling mud spills, which impacted a dozen different creeks in the Connoquenessing watershed just since December, 2011. Workers have reported rashes and boils on their skin when working with drilling mud, according to Susquehanna County resident Rebecca Roter; the boils diminish or disappear only during weeks off.
Protecting Our Waters began raising funds last week to help provide clean replacement water for the families, but has only raised $910 so far towards the cost of supplying twelve families with water for drinking, showering, washing dishes and laundry.
For more information, click here.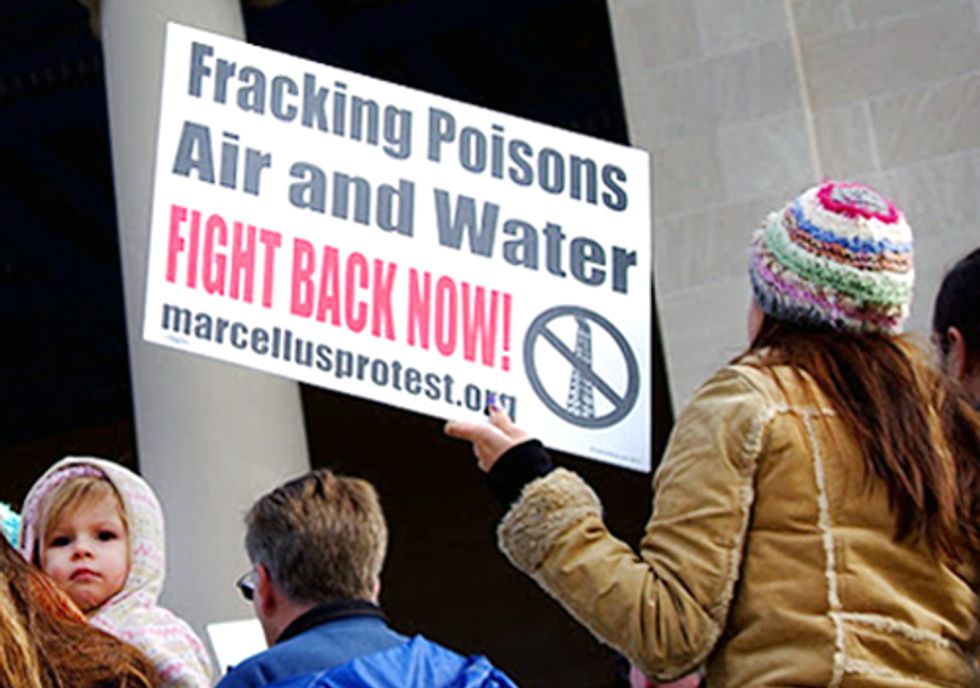 Yesterday, Pennsylvania legislators passed a hydraulic fracturing (fracking) bill that will further limit environmental protections, lower drilling fees, handcuff local governments' zoning power for gas development and undermine public health.
Today, SB 246—a bill to ban hydraulic fracturing in New Jersey—goes before the New Jersey Senate Environment and Energy Committee.
Estimates peg the value of natural gas reserves buried within the Marcellus Shale underneath Pennsylvania and some of the state's immediate neighbors as high as one trillion dollars. With that kind of money at stake, the mostly unregulated extraction process called fracking that's necessary to unleash the gas has become the nation's most polarizing environmental and energy issue.
Look no further than the neighboring states of Pennsylvania and New Jersey.
Fracking was brought to national attention back in 2008 through a sequence of mishaps involving gas wells set up by Cabot Oil and Gas in the small town of Dimock, Pa. In the winter of 2008, metals and methane linked to Cabot's wells were found in many area homes' drinking water. In 2009, the Pennsylvania Department of Environmental Protection (DEP) released a document citing dozens of infractions, including well-construction problems, diesel spills and fracking fluid spills. In September 2009, an estimated 8,000 gallons of fracturing fluid—manufactured by Halliburton—discharged into Stevens Creek and nearby wetlands.
Three years later, residents of Dimock are still fighting for their right to clean water and still reliant upon organizations such as the EPA to deliver fresh drinking water—a responsibility Cabot Oil and Gas is now absolved from. By now, most people are familiar with the infamous images of flammable water pouring from their taps. To see a video, click here.
And that is only the beginning.
Even so, in a move that blatantly disregards the health and welfare of Pennsylvania citizens, Feb. 8 was a landmark day in Pennsylvania as the Pennsylvania Legislature—led by Republican Gov. Tom Corbett—passed a bill to institute an impact fee on Marcellus gas wells and limit the ability of municipalities to restrict gas drilling. In a mostly party-line split, the Republican-led House pushed the bill through on a vote of 101-90.
Next door, New Jersey citizens stand on the brink of banning fracking within state lines entirely as consideration of Senate Bill 246 goes before the New Jersey Senate Environment and Energy Committee on Feb. 9. New Jersey currently has placed a moratorium on fracking until January 2013.
Despite opposition from Republican Gov. Chris Christie and the American Petroleum Institute, SB 246 has garnered overwhelming public support with the help of Sens. Robert Gordon (D-38th District), Linda Greenstein (D-14th District)  and Christopher Bateman (R-16th District).
While citizens of New Jersey are poised to celebrate, residents of Pennsylvania are witnessing just how powerful the oil and gas industry's lobbying arm really is.
According to MarcellusMoney.org, the drilling industry has contributed more than $3 million in political contributions to Pennsylvania lawmakers since 2001 and spent an additional $5 million in the capitol of Harrisburg in the past three years. Unfortunately, the money spent was vindicated yesterday.
The fight isn't over in New Jersey. Click here for more information on how you can reach out to New Jersey lawmakers today.
To learn more about fracking, visit EcoWatch's Fracking page for all the latest information—nationally and internationally.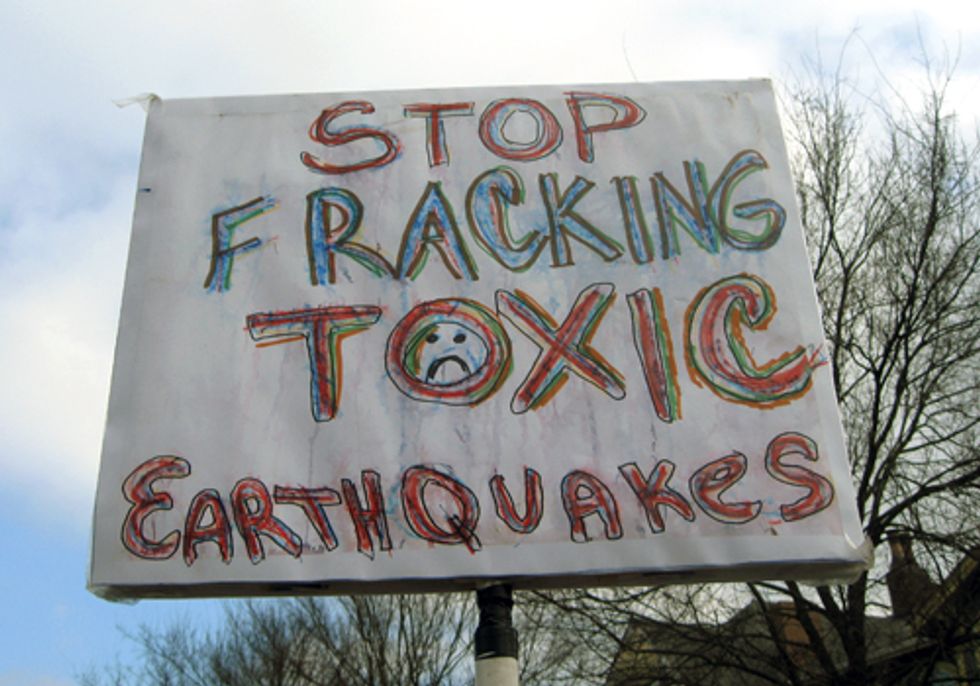 On Feb. 7, Gov. John Kasich (R-OH) delivered his State of the State address from the 1,100-seat Steubenville High School auditorium rather than keeping with tradition and delivering the speech from the Statehouse in the centrally located capital city of Columbus.
For many, it's not difficult to see why. His positions on issues such as education, energy, environment, voting rights and workers' rights have been out of touch with the will of the people.
Located on the West Virginia border—near Kasich's hometown of Mckees Rocks, Pa.—Steubenville is out of the way for most Ohioans. Many citizens see this break from 200 years of tradition as a ploy to evade what would surely be a swarm of protestors.
If the plan was to keep protestors away, it didn't work.
Steubenville is also located near the natural gas-rich shale-drilling fields of eastern Ohio. Fresh on the heels of 11 deep-injection well-related earthquakes in the nearby city of Youngstown, Ohio, in addition to an increasing number of high-profile fracking incidents across the country—most recently involving the contamination of drinking water in Pavilion, Wyo.—fracking is the hottest issue in the state, with Gov. Kasich leading the charge to fully tap into the state's vast resources with little to no safety regulations in place. Currently, Ohio is home to more than 180 injection wells and receives nearly 50 percent of its fracking wastewater from New York, Pennsylvania and other Northeastern states.
Despite overwhelming public support, current Ohio legislation—SB 213 and HB 345—that would impose a moratorium on fracking permits and waste-disposal injection wells until the U.S. Environmental Protection Agency concludes a study to determine whether there's a link between drill sites and contaminated drinking water has been stonewalled in committee.
Adding to environmental and health concerns is the recently reported news that Ohio's oil and gas companies pay taxes to the state based on an honor system, meaning "well owners are required to report the amount of natural gas they 'sever' from the earth and file severance-tax returns each quarter," according to the Youngstown Vindicator's website, Vindy.com.
"You've got to be kidding me," said State Rep. Robert Hagan (D-Youngstown). "This is a real failure of government. It is all too apparent now that the Department of Taxation and the Ohio Department of Natural Resources give the oil and gas industry a free pass to write a tax check to the state based on what they think is fair."
The report, carried out by a coalition of Northeast Ohio journalism programs, cited at least a $3 million discrepancy for 2010 in what was collected by the Ohio Department of Taxation and what was reported by the Ohio Department of Natural Resources and the Ohio Oil and Gas Association.
"As unbelievable as it may seem, the industry tells the state how much gas they've extracted and pays taxes based on that figure," said Josh Fox, director of the Oscar-nominated documentary Gasland. "There's no oversight or monitoring.  In fact, the state lacks the authority to check meters at the wellhead and compare those readings against the figures turned in by producers. The producers pay what they want to pay—no questions asked."
To read Josh Fox's statement from today's rally, click here.
Rally speakers included:
The rally also addressed the following:
Kasich isn't standing up for us and someone needs to be fighting for our future and our communities.
While our citizens continue to struggle, Kasich is giving away the state to his biggest campaign contributors.
Education. Environment. Voting Rights. Workers' Rights. Attack after attack—Kasich and his allies are working for their corporate special interests, continuing to ignore the will of the people.
After the beating Kasich took on Issue 2, he knows the people are against him. So instead of having the State of the State at the Statehouse in Columbus, Kasich is running away to a small venue in hopes that no one will make the effort to travel there.
Citizens from across Ohio are going to come together and protest Kasich's fire-sale of Ohio to his corporate friends. We will show him that the 99 percent won't sit back while he rewards his 1 percent campaign contributors.
The days of rewarding campaign contributors with Ohio's tax dollars are over.
The corporate takeover of Ohio stops here.
To see pictures of today's rally, visit EcoWatch's Facebook page.
To learn more about hydraulic fracturing issues nationally and internationally, visit EcoWatch's Fracking page.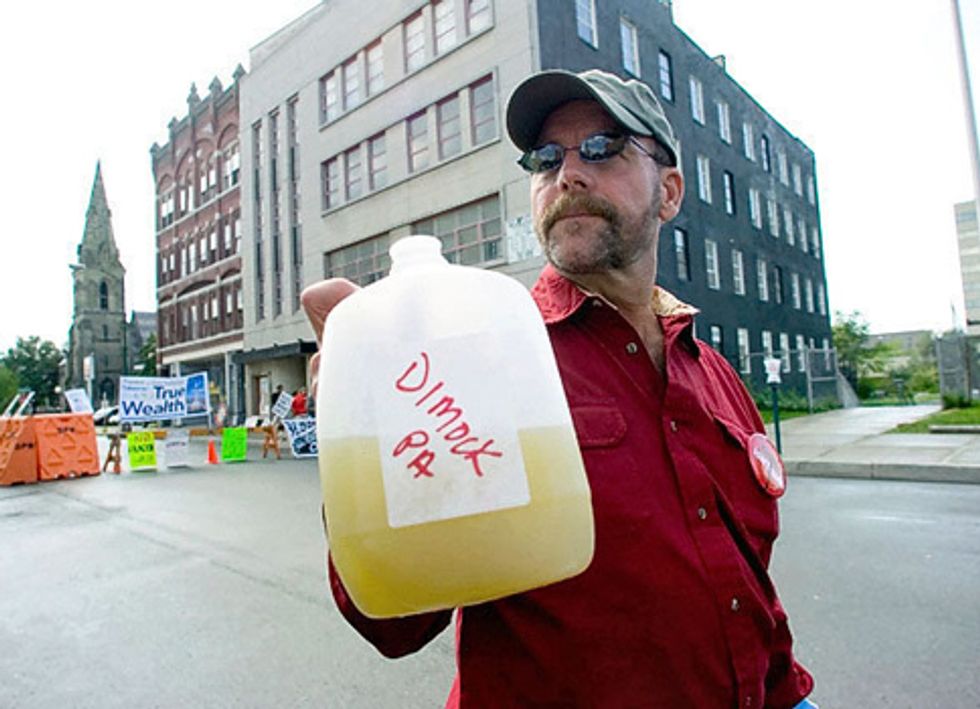 Eleven families in the tiny rural town of Dimock, Pa., 30 miles south of Binghamton, N.Y., have received the most basic of holiday gifts—clean drinking water.
Four pallet-loads of bottled water will provide some relief from the bleach-treated pond water the families have been using for drinking, cooking and bathing since natural gas leached into their wells and poisoned them—a result of hydrofracking.
The bottled water is from Keeper Springs Natural Spring Water, in partnership with Riverkeeper, the watchdog organization that protects the Hudson River and its tributaries.
"Dimock has become the template for the cataclysmic costs of hydrofracking to America's communities, our water supplies and our environment," said Robert F. Kennedy, Jr., founder of Riverkeeper and of Keeper Springs, which donates 100 percent of its profits to protecting America's waterways.
"Imagine turning on your faucet to find water so contaminated that you can light it on fire. This is the condition that the people of Dimock face every day," Kennedy said. "Their plight underscores the costs of hydraulic fracturing operations in communities across our country."
Paul Gallay, president and Hudson Riverkeeper, who appealed for help to Keeper Springs, said, "The balance between public good and private gain here is so out of whack as to be ludicrous. How can you deprive an entire community of what should be a basic right? We are grateful to the Keeper Springs people for their generosity, in making life a little better in Dimock, at least for the time being."
The water supply in Dimock was destroyed in 2008 when Cabot Oil & Gas began hydrofracking in search of natural gas. The water is now a toxic brew of methane gas, heavy metals, radioactive material and chemicals such as ethylene glycol, known as antifreeze.
Cabot, which the Pennsylvania Department of Environmental Protection had found at fault for the contamination, had been delivering clean water to the families but abruptly stopped on Nov. 30, with the department's approval.
For more information, click here.
—————

Riverkeeper is a member-supported, watchdog organization dedicated to defending the Hudson River and its tributaries and protecting the drinking water supply of nine million New York City and Hudson Valley residents. For more information, please visit www.riverkeeper.org.
Founded in 1999, Keeper Springs Natural Spring Water was launched by environmental lawyer and advocate, Robert F. Kennedy Jr., and two friends, John Hoving and Chris Bartle, with one mission: to help support, protect and restore our nation's waterways by donating 100 percent of profits to this cause. The brand Keeper Springs is named to honor the keepers of the Waterkeeper® Alliance, environmental heroes who fight to protect waterways all over the world from polluters and degradation. To date, Keeper Springs is proud to have raised more than $1 million to support America's waterways.
Keeper Springs uses only 100 percent natural and sustainable spring water, sourced and bottled locally, and keeps our carbon footprint to a minimum by using LEED-certified bottling plants and shipping our water no more than 500 miles from our springs. In addition, Keeper Springs uses bottles made from 50 percent recycled PET…and is working towards a 100 percent recycled PET bottle. Keeper Springs also supports the most comprehensive recycling legislation and has spent over a decade helping to fight for better regulation, tough penalties and solutions. Keeper Springs is available at beverage retailers in many of the Eastern states, and is expanding distribution on the West Coast. For more information, visit www.KeeperSprings.com.