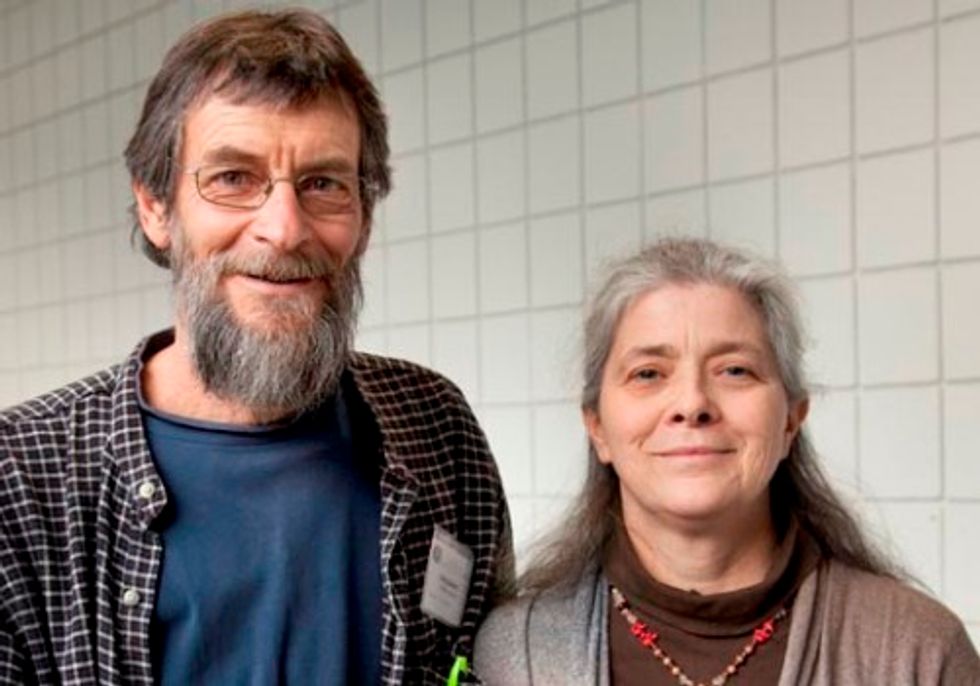 The Ohio Ecological Food and Farm Association (OEFFA) has bestowed its highest honor, the Stewardship Award, to Doug Seibert and Leslie Garcia of Greene County. The announcement was made on Feb. 18 as part of OEFFA's 33rd annual conference, Sowing the Seeds of Our Food Sovereignty. The award recognizes "outstanding contributions to the sustainable agriculture community."
Doug and Leslie have farmed organically at Peach Mountain Organics since 1992, growing certified organic mixed vegetables, microgreens, fresh-cut flowers, mushrooms, hay and greenhouse plants. They sell their products at the Yellow Springs Farmers' Market, local restaurants and grocery and health food stores.
The Greene County-based Peach Mountain Organics currently has two farm sites and one half acre greenhouse location in Spring Valley, Ohio. Altogether, the operation is 43 acres, more than 25 of which are certified organic.
"Leslie and Doug's energy and skill with commercial-scale, organic growing is an inspiration for many of us," said Steve Edwards, who serves on OEFFA's board of trustees and presented the award at the Saturday
evening ceremony. "Their willingness to share their experiences with other growers has helped provide healthy food for people beyond Peach Mountain's customers. They make it happen in the real world with an artful
balance of intelligence and hard work."
Doug and Leslie have helped organize group seed and potato orders for other farmers and grown organic bedding plants for other growers, hosted farm tours, presented OEFFA conference workshops and were involved in the creation of both OEFFA and the Federation of Ohio River Cooperatives (FORC).
"Both Doug and Leslie care deeply about creating a sustainable food system. We should all be sincerely grateful for what they have done to advance sustainable agriculture in our community," said OEFFA Executive Director Carol Goland.
For more information and to see a full list of past Stewardship Award winners, click here.
--------
The Ohio Ecological Food & Farm Association (OEFFA) is a non-profit organization founded in 1979 by farmers, gardeners and conscientious eaters who committed to work together to create and promote a sustainable and healthful food and farming system. For more information, visit www.oeffa.org.
EcoWatch Daily Newsletter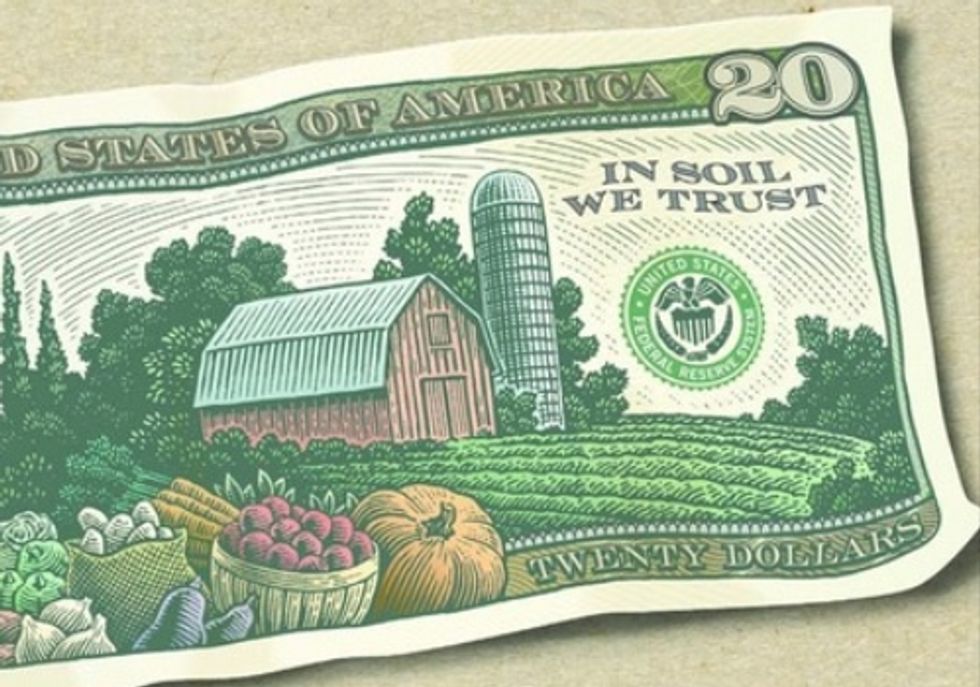 The Ohio Ecological Food and Farm Association's (OEFFA) 33rd annual conference, Sowing the Seeds of Our Food Sovereignty—from Feb. 18 - 19 in Granville, Ohio—will feature an all day pre-conference workshop on Feb. 17, and a keynote address and workshop on Feb. 18 on topics including, how people and institutions can help finance the local food system, how farmers and local food business can access capital and what local financing models are out there.
The events will feature Slow Money Alliance founder and chairman Woody Tasch who will provide a primer on Slow Money, a national effort to encourage sustainable financial investments that support local, community-based food and farm businesses.
"Slow Money is a movement and an investment strategy," said Renee Hunt, OEFFA's program director and the organizer of the event. "Slow Money is about finding meaningful places for people to put their money to work, right in their own communities."
A former venture capitalist and entrepreneur, Tasch inspired the Slow Money movement by writing Inquiries into the Nature of Slow Money: Investing as if Food, Farms, and Fertility Mattered. He is the former chairman of Investors' Circle, which has invested $133 million in 200 early stage sustainability businesses since 1992 and served as treasurer of the Jessie Smith Noyes Foundation.
"We've got to take some of our money out of all this stuff that we no longer understand or can manage effectively and put it to work near where we live, starting with food," Tasch said in a December interview with the Ohio News Service.
In a 2011 interview with Edible Columbus, Tasch went on to say, "If we are going to build a new food system and a new restorative economy, we are going to need billions upon billions of dollars. Where is this money going to come from? Wall Street? Washington? Foundations? Whatever they can do, it won't be enough, it won't be direct enough and there won't be enough of it. The only place it can come from is from all of us, who have a direct, vested interest in the places where we live."
To date, $4.5 million has been invested in 16 small food enterprises through Slow Money's national gatherings. In the last year, $5 million more has been invested through Slow Money chapters.
The full day pre-conference event, Slow Money for Ohio? Financing the Local Food System, is Feb. 17 from 10 a.m. - 4 p.m. and features panels of experts and practitioners who will discuss the challenges of capitalizing the local food economy and strategies to nurture long-term impact and prosperity. Additionally, the event will showcase Slow Money-type models in Ohio and elsewhere and provide attendees with an opportunity to network with individuals and representatives from businesses, organizations and government interested in investing in their local food system.
In addition to Woody Tasch, pre-conference presenters will include:
• John Mitterholzer, The Gund Foundation (invited)
• Mark Barbash, MB Economic Development Consulting
• Joe Cimperman, Cleveland City Council
• Todd Deiterrle, New Harvest Ventures
• Jessica Eickleberry, Local Roots Market and Café (recently featured in the Washington Post)
• Leslie Schaller, ACEnet
• Becky Rondy, Green Edge Gardens
• Representatives from The Economic and Community Development Institute of Columbus, Kemba Bank, Insight Bank, and Farm Credit Services of Mid-America
Tasch's conference keynote address, Slow Money: Investing as if Food, Farms and Fertility Matter, is on Feb. 18 from 4 - 5:15 p.m. Earlier in the day, Tasch will be leading a workshop, Slow Money 101: Where is it Coming From, Where is it Going? from 9:30 - 11:30 a.m.
OEFFA's annual conference is the state's largest sustainable food and farm conference, drawing more than 1,000 attendees from across Ohio and the Midwest. In addition to Tasch, this year's conference will feature keynote speaker Andrew Kimbrell, more than 70 informative and hands-on workshops, two featured pre-conference events, a trade show, a fun and educational kids' conference and child care area, locally-sourced and organic homemade meals, and Saturday evening entertainment.
All events are at Granville Middle and High Schools at 248 New Burg St. in Granville, Ohio. Pre-registration is required. Cost for the pre-conference is $45 for members and $55 for non-members, and includes lunch. Cost for the conference is $115 for members and $175 for non-members, and meals must be purchased separately. Prices vary for late registrations, students and one-day only registrations.
For more information or to register online, click here and receive $5 off the registration fee.
--------
The Ohio Ecological Food & Farm Association (OEFFA) is a state-wide, grassroots, non-profit organization founded in 1979 by farmers, gardeners, and conscientious eaters working together to create and promote a sustainable and healthful food and farming system. For more information, go to www.oeffa.org.
waterlust.com / @tulasendlesssummer_sierra .
Each product featured here has been independently selected by the writer. If you make a purchase using the links included, we may earn commission.
The bright patterns and recognizable designs of Waterlust's activewear aren't just for show. In fact, they're meant to promote the conversation around sustainability and give back to the ocean science and conservation community.
Each design is paired with a research lab, nonprofit, or education organization that has high intellectual merit and the potential to move the needle in its respective field. For each product sold, Waterlust donates 10% of profits to these conservation partners.
Eye-Catching Designs Made from Recycled Plastic Bottles
waterlust.com / @abamabam
The company sells a range of eco-friendly items like leggings, rash guards, and board shorts that are made using recycled post-consumer plastic bottles. There are currently 16 causes represented by distinct marine-life patterns, from whale shark research and invasive lionfish removal to sockeye salmon monitoring and abalone restoration.

One such organization is Get Inspired, a nonprofit that specializes in ocean restoration and environmental education. Get Inspired founder, marine biologist Nancy Caruso, says supporting on-the-ground efforts is one thing that sets Waterlust apart, like their apparel line that supports Get Inspired abalone restoration programs.
"All of us [conservation partners] are doing something," Caruso said. "We're not putting up exhibits and talking about it — although that is important — we're in the field."
Waterlust not only helps its conservation partners financially so they can continue their important work. It also helps them get the word out about what they're doing, whether that's through social media spotlights, photo and video projects, or the informative note card that comes with each piece of apparel.
"They're doing their part for sure, pushing the information out across all of their channels, and I think that's what makes them so interesting," Caruso said.
And then there are the clothes, which speak for themselves.
Advocate Apparel to Start Conversations About Conservation
waterlust.com / @oceanraysphotography
Waterlust's concept of "advocate apparel" encourages people to see getting dressed every day as an opportunity to not only express their individuality and style, but also to advance the conversation around marine science. By infusing science into clothing, people can visually represent species and ecosystems in need of advocacy — something that, more often than not, leads to a teaching moment.

"When people wear Waterlust gear, it's just a matter of time before somebody asks them about the bright, funky designs," said Waterlust's CEO, Patrick Rynne. "That moment is incredibly special, because it creates an intimate opportunity for the wearer to share what they've learned with another."
The idea for the company came to Rynne when he was a Ph.D. student in marine science.
"I was surrounded by incredible people that were discovering fascinating things but noticed that often their work wasn't reaching the general public in creative and engaging ways," he said. "That seemed like a missed opportunity with big implications."
Waterlust initially focused on conventional media, like film and photography, to promote ocean science, but the team quickly realized engagement on social media didn't translate to action or even knowledge sharing offscreen.
Rynne also saw the "in one ear, out the other" issue in the classroom — if students didn't repeatedly engage with the topics they learned, they'd quickly forget them.
"We decided that if we truly wanted to achieve our goal of bringing science into people's lives and have it stick, it would need to be through a process that is frequently repeated, fun, and functional," Rynne said. "That's when we thought about clothing."
Support Marine Research and Sustainability in Style
To date, Waterlust has sold tens of thousands of pieces of apparel in over 100 countries, and the interactions its products have sparked have had clear implications for furthering science communication.
For Caruso alone, it's led to opportunities to share her abalone restoration methods with communities far and wide.
"It moves my small little world of what I'm doing here in Orange County, California, across the entire globe," she said. "That's one of the beautiful things about our partnership."
Check out all of the different eco-conscious apparel options available from Waterlust to help promote ocean conservation.
Melissa Smith is an avid writer, scuba diver, backpacker, and all-around outdoor enthusiast. She graduated from the University of Florida with degrees in journalism and sustainable studies. Before joining EcoWatch, Melissa worked as the managing editor of Scuba Diving magazine and the communications manager of The Ocean Agency, a non-profit that's featured in the Emmy award-winning documentary Chasing Coral.