By Juan Lopez
350BayArea.org, joined by local groups and unions, last week announced plans for a massive protest Aug. 3 at California's Chevron Richmond oil refinery.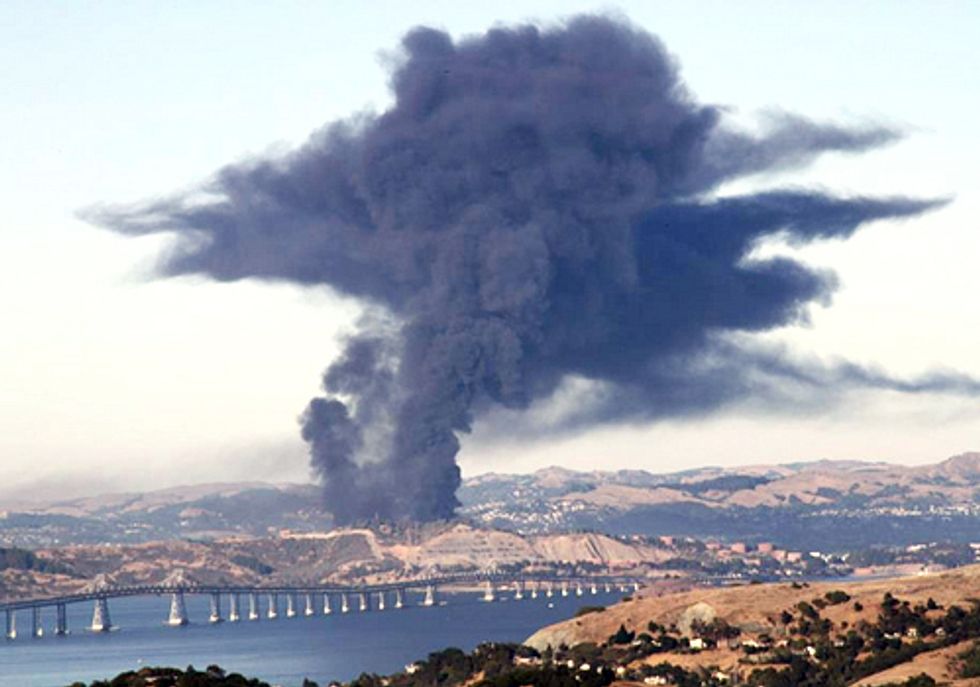 The largest greenhouse gas polluter in the state, Chevron, along with the other four Bay Area refineries, is already refining tar sands oil from Canada, brought into the area by rail.
Chevron is among industry giants pressing for presidential approval of the controversial Keystone XL pipeline project that would exponentially increase the flow of "dirty" tar sands oil into refineries, locally and throughout the nation.
The protest announcement came a day after President Obama's precedent-setting speech reframing the national debate on climate change, including measures he intends to take despite strong opposition from oil and coal industrial giants and their congressional "deniers" and apologists.
This summer's protest will take place three days ahead of the anniversary of the Richmond Chevron refinery explosion and fire last August that sent 15,000 workers and local residents to area hospitals.
In response to persistently lax company health and safety practices that led to last year's fire and Chevron's stubborn disregard for the environment, 350BayArea.org and the Bay Area climate movement brought together 5,000 people on Feb. 17, in the biggest climate protest in Northern California history—second only to the Washington, DC, rally that drew 40,000 people.
Meanwhile, thanks to the persistent work of the Richmond Progressive Alliance (RPA), labor, environmental groups, progressive Richmond Mayor Gayle McLaughlin, several progressive City Council members and others, Chevron has made modest concessions including upping its contributions to non-profits and West County Education and taking steps to make it possible for Richmond residents to get more of the relatively good paying jobs at the refinery.
Mayor McLaughlin and the grassroots campaign led by RPA won the election in 2010 despite Chevron and casinos contributing heavily to the opposition's coffers.
Mayor McLaughlin, RPA and other progressives have put together a comprehensive set of demands requiring Chevron to improve safety and health procedures as well as strengthening the unions' and community's say on Chevron conduct in the plant and towards the community.
The public plan would require Chevron to increase investment in emissions monitoring and control equipment, advanced refining processes and solar energy with a goal of bringing down total emissions by 40 percent by the end of the decade.
Meanwhile, earlier this year a coalition of labor, community and environmental groups came together in Richmond under the banner of the Collaborative on Refinery Safety and Community Health.
It includes United Steelworkers Local 5 representing about 1,500 Bay Area refinery workers, the national labor-environmental coalition BlueGreen Alliance, and the Labor Occupational Health Program at the University of California Berkeley. Also participating are one national and two Bay Area-based environmental groups: Natural Resources Defense Council, Communities for a Better Environment (CBE) and the Asian Pacific Environmental Network.
The collaborative has drawn the attention of the Chemical Safety Board, Cal/OSHA and Governor Jerry Brown, who put together a state-level refinery safety task force last year following the August fire. The task force met with collaborative representatives several times to discuss "regulatory and statutory changes" regarding government oversight of the refinery industry.
The August fire in Richmond "provided some opportunities for our immediate focus," Greg Karras, senior scientist at CBE, told Richmond Confidential earlier this year.
"But its scope is regional," Karras added. "We're talking about all of the Bay Area refineries directly—and indirectly, about all refineries in the country."
The union and local community initiatives could well serve as an example adaptable to the particular conditions and needs of local communities in other parts of the country.
This could enhance grassroots support for national environmental initiatives like those of the President and other government officials and entities, and for the labor-community-environmental alliances vital to meaningful advances.
Of energy industry-inspired claims that environmental concerns cost jobs, CBE organizer Andres Soto said, "That's not the case. Part of the point of this collaborative is to destroy that myth."
Charlotte Brody, national associate director of the BlueGreen Alliance, explained that stricter safety and maintenance regulations for European refineries are far more effective in terms of accidents and fires.
In some cases, the European refineries are owned by the same companies that operate unsafely in the U.S., Brody said. "And they're not taking huge losses for doing that."
"This is a known universe," Brody added. "We know how to make refineries safer."
Movements with a local focus like in Richmond—when added to others elsewhere in the country along with national and state level efforts—could potentially contribute to defeating Republican climate change deniers and energy company apologists in swing races in the 2014 and 2016 elections.
They could also potentially influence Democratic office holders beholden to energy companies in regions dominated by energy industry giants and, in some cases, possibly even lead to their replacement by more environmentally friendly and people-friendly Democrats.
Visit EcoWatch's TAR SANDS page for more related news on this topic.
——–

EcoWatch Daily Newsletter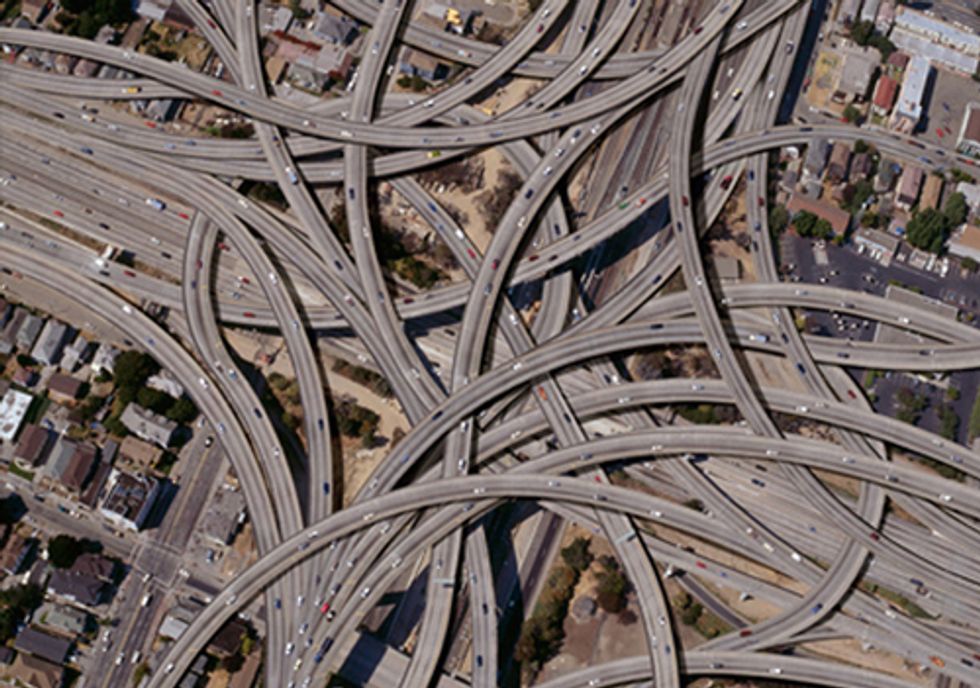 More than a million people in the Los Angeles region are exposed to undisclosed, unhealthy levels of air pollution every day, according to a lawsuit filed Jan. 3 by Physicians for Social Responsibility-Los Angeles, the Natural Resources Defense Council (NRDC), and Communities for a Better Environment.
Pollution produced by the region's millions of diesel and gasoline powered vehicles cause a heavy health burden for everyone living in Southern California, but evidence shows that it harms families and individuals living within approximately 300 yards of L.A.'s heavily-trafficked roadways even more. Although these families and other advocates have repeatedly asked for monitors to be placed along the roadways to determine exactly how much pollution comes from these roadways, the U.S. Environmental Protection Agency (EPA) has refused to do so.
"How will the EPA protect us against air pollution if they won't even measure how much is in the air?" asked Adrian Martinez, staff attorney with NRDC. "On many days, smog blankets our region as a result of the millions of tailpipes on our highways. People living near these freeways are at the greatest risk, yet lack adequate protection and the much needed air monitoring stations in these very obvious places with foul air. Regulators are actively avoiding this problem instead of addressing it, and that needs to stop."
The federal lawsuit contends EPA violated the law by allowing the South Coast Air Quality Management District to ignore high levels of air pollution breathed by those living near freeways. NRDC and local advocates have sought to ensure air monitors are placed along the region's highways to better inform the local air district about the hazardous levels of particulate air pollution, and to arm them with the information necessary to take action to protect the region's residents. 
"The science on this is clear," said  Martha Dina Arguello, executive director of Physicians for Social Responsibility-Los Angeles. "People who breathe this polluted air suffer the staggering health impacts of air pollution at every phase of life. We know that women who live near heavy traffic roadways have a greater risk of having a low birth weight child and the child is more likely to develop asthma. Over a lifetime, living with this pollution also increases the likelihood of adult onset asthma, heart attacks, cancer and premature death. The evidence strongly suggests that people—especially children and seniors—who live near these roadways are exposed to much higher levels of pollution and therefore much more vulnerable to the impacts of pollution. It's unconscionable that the  EPA refuses to collect the information necessary to protect people's health," Arguello added.
Without monitors, regulators can ignore whether air quality for the more than 1.2 million people who live near high-traffic roadways despite the Clean Air Act's mandate that all residents breathe healthy air. This litigation seeks to ensure that the EPA follows the letter.
"We've provided the EPA the studies that show that the air quality along freeways can be really bad—much worse than almost everywhere else. But they refuse to monitor our air. Why?" asked Mark Lopez of Communities for a Better Environment. "Monitors would allow all of us to know if there is a problem. If not—great!  But if there is, we can work together to address it. We just want our children and families to be safe. Why won't they collect the information needed to make sure that we're safe?" added Lopez.
For more information, click here.
—————
The Natural Resources Defense Council (NRDC) is an international nonprofit environmental organization with more than 1.3 million members and online activists. Since 1970, our lawyers, scientists, and other environmental specialists have worked to protect the world's natural resources, public health, and the environment. NRDC has offices in New York City, Washington, D.C., Los Angeles, San Francisco, Chicago, Livingston, Montana, and Beijing. Visit us at www.nrdc.org
Like many other plant-based foods and products, CBD oil is one dietary supplement where "organic" labels are very important to consumers. However, there are little to no regulations within the hemp industry when it comes to deeming a product as organic, which makes it increasingly difficult for shoppers to find the best CBD oil products available on the market.
<p>Here you can learn about the importance of organic hemp oil, why it's better for the environment, and which CBD companies actually make trustworthy products with sustainable farming processes. origins which weigh heavily on many consumers who want to buy a product that's produced in the best way possible for not only themselves to ingest, but for the environment as well through sustainable farming methods. </p><h2>What Is CBD Oil?</h2><p>First things first, CBD stands for cannabidiol, and it's a cannabinoid found within cannabis sativa plants. This plant compound is believed to have many potential benefits, and it is primarily derived from hemp plants via a CO2 extraction process. </p><p>Since CBD is extracted from industrial hemp, which contains only trace amounts of THC (the psychoactive component in cannabis plants), this means that CBD won't make you feel high like marijuana, which has much higher levels of THC that causes psychoactive effects. Instead, the effects of CBD are much more subtle and promote a general sense of calm and relaxation in most users.</p><h2>What Makes a CBD Oil Organic?</h2><p>In terms of organic labels, perhaps the most important (and prominent) certification comes from the United States Department of Agriculture (USDA). This government organization has been labeling foods as "organic" for many years, but what exactly does this certification entail? Essentially, a label indicating that a product is "USDA Organic" or "Certified Organic" means that at least 95% of the ingredients are obtained from organic sources.</p><p>For a crop to be considered organic by the USDA, it must be grown without the use of industrial solvents, irradiation, genetic engineering (GMOs), synthetic pesticides, or chemical fertilizer. Instead, farmers rely on natural substances and <a href="https://www.usda.gov/media/blog/2012/03/22/organic-101-what-usda-organic-label-means" rel="noopener noreferrer" target="_blank">mechanical, physical, or biologically based farming</a> techniques to cultivate healthy and organic crops.</p><p>Before the passage of the 2018 Farm Bill, no hemp-derived products could be dubbed as "certified organic" since the hemp plant and its extracts were still categorized as a Schedule I Controlled Substance. However, it's still difficult for CBD companies to obtain a USDA certified organic label for their products due to the legal grey area that still surrounds CBD extracts. </p><p>Because of these challenges, and due to the fact that industrial hemp has only recently become an agricultural crop, very few CBD oils are USDA certified organic. Rather, many CBD products contain hemp extracts from plants that were grown in organic conditions but may not be federally certified.</p><h2>What are the Best Organic CBD Oil Brands?</h2><p><em>Each product featured here has been independently selected by the writer. If you make a purchase using the links included, we may earn commission.</em></p><em><br></em>