By Andrea Germanos
The U.S Air Force said Tuesday that a Colorado base had released roughly 150,000 gallons of water containing elevated levels of perfluorinated compounds (PFCs) into the Colorado Springs Utilities sewer system and a nearby creek.
Officials at the Peterson Air Force Base, located in Colorado Springs, said an investigation was underway into the discharge from a retention tank, which was discovered Oct. 12. during a routine inspection. The spill happened at some point last week, they said.
The Peterson Air Force Base in Colorado, which discharged about 150,00 gallons of PFC-tainted into the local sewer system.Brian Bennett / Flickr
PFCs—found in firefighting foam used by the military—have been linked to adverse health effects including liver damage and development harm.

The Colorado Springs Utilities said the chemicals did not enter the drinking water system, but rather went directly to wastewater.
Utilities spokesperson Steve Berry said that no wastewater plant in the country is equipped to remove PFCs.
"We would not have been able to remove that chemical before it was discharged back into the environment from our effluent," the Denver Post quotes him as saying.
CBS News adds, "The tainted water passed through a wastewater treatment plant, but the plant isn't set up to remove PFCs, so they were still in the water when it was discharged into Fountain Creek, Berry said."
And that presents a potential problem for farmers like Jay Frost, whose land where organic crops are grown sits below the creek. His family uses the creek water for irrigation and he told local ABC affiliate KRDO that "If we were not able to sell any product from this farm, we would go broke."
"Someone will have to answer to this," he added.
The discharge of the chemical-laden water last week wouldn't be the first time Peterson Air Force Base is under scrutiny for water pollution in the state.
The Colorado Springs Gazette reports that "The base's use of the firefighting foam containing the chemical is a key suspect in the contamination of wells in Security, Widefield and Fountain that left thousands of residents scrambling for bottled water last summer after the chemical was found at levels that violated standards set by the Environmental Protection Agency."
Further, the Denver Post reports that the discharge "happened as the Air Force increasingly faces scrutiny as a source of groundwater contamination nationwide."
Reposted with permission from our media associate Common Dreams.

EcoWatch Daily Newsletter
By Katherine Cirullo
It's officially wildfire season in Colorado; last Tuesday, a fire ignited the Black Forest area of Colorado Springs. It burned 22 square miles, destroyed 422 homes and is still raging a week later. In just half the time, it has surpassed last year's Waldo Canyon wildfire as the worst in Colorado history. While wildfires in Colorado and throughout the west are nothing new, the magnitude of this year's Black Forest fire serves as a haunting reminder of the worsening crisis climate change poses. Throughout all this, we can't help but draw attention to the oil and gas industry's use of fracking and its impact on climate change, drought and natural disaster. Residents are watching their backyards burn while the oil and gas industry is using up Colorado's most precious resource—water.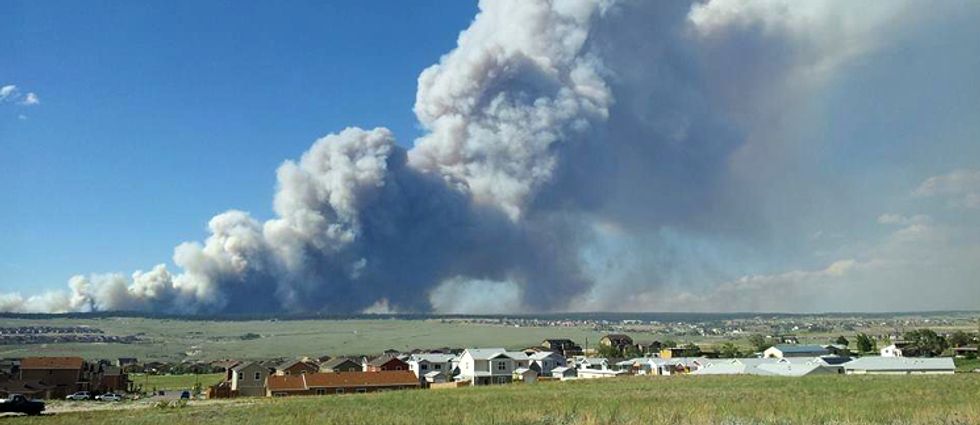 The fire affects not just Colorado residents, who face water restrictions that accompany drought; emergency relief teams also feel the squeeze. Colorado Springs fire chief Mike Myers spoke last week of the difficulties fighting the flames: "Once the fire's up in the trees and you've got a 200 foot wall of flames coming at you, there's not much you can do with a thousand gallons of water."
In the same state that has limited water to fight off these fires, fracking uses millions of gallons of water to frack a single well. Furthermore, the oil and gas industry neglects water restrictions and often out-competes farmers and municipalities for the resource.
Fracking also poses a threat to climate change as it emits harmful greenhouse gases. As climate change worsens, wildfires will continue to plague Colorado's drought-parched forests and spread into residential neighborhoods.
We must stand up for the people of Colorado. We can no longer allow fracking, which abuses water regulations in drought ridden areas, leaks harmful pollutants back into the water supply and contributes to the depletion of the ozone layer, to exacerbate Colorado's drought.
Visit EcoWatch's FRACKING page for more related news on this topic.
——–

Sign the petition today, telling President Obama to enact an immediate fracking moratorium:

Like many other plant-based foods and products, CBD oil is one dietary supplement where "organic" labels are very important to consumers. However, there are little to no regulations within the hemp industry when it comes to deeming a product as organic, which makes it increasingly difficult for shoppers to find the best CBD oil products available on the market.
<p>Here you can learn about the importance of organic hemp oil, why it's better for the environment, and which CBD companies actually make trustworthy products with sustainable farming processes. origins which weigh heavily on many consumers who want to buy a product that's produced in the best way possible for not only themselves to ingest, but for the environment as well through sustainable farming methods. </p><h2>What Is CBD Oil?</h2><p>First things first, CBD stands for cannabidiol, and it's a cannabinoid found within cannabis sativa plants. This plant compound is believed to have many potential benefits, and it is primarily derived from hemp plants via a CO2 extraction process. </p><p>Since CBD is extracted from industrial hemp, which contains only trace amounts of THC (the psychoactive component in cannabis plants), this means that CBD won't make you feel high like marijuana, which has much higher levels of THC that causes psychoactive effects. Instead, the effects of CBD are much more subtle and promote a general sense of calm and relaxation in most users.</p><h2>What Makes a CBD Oil Organic?</h2><p>In terms of organic labels, perhaps the most important (and prominent) certification comes from the United States Department of Agriculture (USDA). This government organization has been labeling foods as "organic" for many years, but what exactly does this certification entail? Essentially, a label indicating that a product is "USDA Organic" or "Certified Organic" means that at least 95% of the ingredients are obtained from organic sources.</p><p>For a crop to be considered organic by the USDA, it must be grown without the use of industrial solvents, irradiation, genetic engineering (GMOs), synthetic pesticides, or chemical fertilizer. Instead, farmers rely on natural substances and <a href="https://www.usda.gov/media/blog/2012/03/22/organic-101-what-usda-organic-label-means" rel="noopener noreferrer" target="_blank">mechanical, physical, or biologically based farming</a> techniques to cultivate healthy and organic crops.</p><p>Before the passage of the 2018 Farm Bill, no hemp-derived products could be dubbed as "certified organic" since the hemp plant and its extracts were still categorized as a Schedule I Controlled Substance. However, it's still difficult for CBD companies to obtain a USDA certified organic label for their products due to the legal grey area that still surrounds CBD extracts. </p><p>Because of these challenges, and due to the fact that industrial hemp has only recently become an agricultural crop, very few CBD oils are USDA certified organic. Rather, many CBD products contain hemp extracts from plants that were grown in organic conditions but may not be federally certified.</p><h2>What are the Best Organic CBD Oil Brands?</h2><p><em>Each product featured here has been independently selected. If you make a purchase using the links included, we may earn commission.</em></p>