Horseshoe Bend (seen above) is a horseshoe-shaped meander of the Colorado River in Page, Arizona.
didier.camus
/ Flickr /
public domain
Millions of people rely on the Colorado River, but the climate crisis is causing the river to dry up, putting many at risk of "severe water shortages," according to new research, as The Guardian reported.
Longer periods of drought and rising temperatures have decreased the river's annual flow by 20 percent compared to the last century. The researchers, who published their study in Science, say that global heating has caused mountain snowpacks that feed the river to disappear, which leads to increased evaporation, as The Washington Post reported.
"That's the thing I found most fascinating about this study," lead author Chris Milly of the U.S. Geological Survey said to KNAU. "As the snow cover dwindles due to warming, it's reflecting less sunlight back to the atmosphere. So the basin's absorbing more sunlight. That sunlight is powering evaporation out of the basin. Now when that evaporation—the water is taken out of the basin due to the evaporation, there's less water flowing down the river to the 40 million people that are waiting for it."
Snow and ice reflect sunlight back away from the Earth's surface, a phenomenon known as the albedo effect. The loss of snow and ice means the Earth absorbs more heat.
Milly and his research partner, Krista A. Dunne, found that for every degree Celsius of warming, the river's flow decreases 9.3 percent. Recent studies have confirmed that the river's steady decreased flow since 2000 is due to rising temperatures. The decline has amounted to 1.5 billion tons of missing water, equal to the annual water consumption of 10 million Americans, as The Washington Post reported.
About 40 million people live along the Colorado and it supports nearly $1 trillion in economic activity each year and provides 16 million jobs. Its waters cover a wide expanse, according to The Washington Post. Its waters are channeled as far away as California's Imperial Valley and central Arizona, where its used to irrigate crops, as well as across the Rockies to supply drinking water for Colorado's biggest cities. The Colorado feeds the two largest water reserves in the U.S., Lake Powell and Lake Mead. Lake Mead supplies Las Vegas with almost all of its water, as The Guardian reported. The huge reservoir formed by the Hoover Dam has dropped to levels not seen since the 1960s.
So far the world has heated up by about 1 degree Celsius over pre-industrial times, but it is on course to rise 3 degrees Celsius by the end of the century unless emissions are drastically cut, as The Guardian reported. For the Colorado River this means, an "increasing risk of severe water shortages," the study says. Increased rainfall will not offset the loss in reflective snow.
"This has important implications for water users and managers alike," Brad Udall, a senior scientist at Colorado State University and an expert on water supplies in the west who was not involved in the research said, as The Guardian reported. "More broadly, these results tell us that we need to reduce greenhouse gas emissions as soon as we possible can. We've wasted nearly 30 years bickering over the science. The science is crystal clear – we must reduce greenhouse gas emissions immediately."
Andrew Mueller, general manager for the Colorado River District, who was not involved in the study, wrote in an email to The Washington Post that the new findings provide "confirmation of significantly grim indicators about future flow in the Colorado River."
He added that the amount of water that would disappear with another 1 degree C temperature rise is nearly five times what Las Vegas uses each year. "A decline in flows of this magnitude will present a significant challenge to all inhabitants in the Colorado River Basin."
EcoWatch Daily Newsletter
By Tara Lohan
In the last few weeks of 2018, the Trump administration set the stage for a big battle over water in the new year. At stake is an important rule that defines which waters are protected under the Clean Water Act. The Trump administration seeks to roll back important protections for wetlands and waterways, which are important to drinking water and wildlife.
This is just one of the upcoming water battles that could serve to define 2019. It's also poised to be a year of reckoning on the Colorado River, which supplies water to 40 million people and 5.5 million acres of farmland. A long-anticipated multi-state agreement is close to completion after an ultimatum from the federal government. And it could also be a landmark year for water management in California, with several key issues coming to a head.
Big things may also happen on the water infrastructure front and in efforts to address clean-water concerns. Of course, underlying many of the water issues is the specter of climate change, which is bringing both severe droughts and floods and exacerbating water-supply problems.
Let's dive into some of the issues experts say we need to keep an eye on in the coming year.
Clean Water Rule Change
The biggest looming water issue this year has to do with a law passed nearly 50 years ago.
On Dec. 12 the Trump administration unveiled a proposal to redefine the Waters of the U.S. Rule, also known as the Clean Water Rule, which was adopted in 2015 by the Obama administration to set clear guidelines on how certain waterways and wetlands are regulated under the 1972 Clean Water Act. The action came after two Supreme Court rulings in the early 2000s created some uncertainty about what the Clean Water Act protects.
Obama's rule slightly widened what was protected under the Clean Water Act (much to the chagrin of many industry groups and developers). For example, the 2015 rule included automatic protections for wetlands and ponds that are "within 100 feet or within the 100-year floodplain of a protected waterway," Vox reporters Brad Plumer and Umair Irfan explained. And they wrote last month, "In the past, tributaries of navigable rivers were evaluated on a case-by-case basis. But under the new rule, they're automatically protected if they have a bed, a bank and a high-water mark." Overall the change amounted to clarifying protections for about 3 percent of waterways.
The newly proposed Trump administration rule, however, would swing widely in the other direction, limiting protections to only major waterways, tributaries and adjacent wetlands. As written now, the new rule would strip protections from 18 percent of streams and just over half of the country's wetlands, but there's concern the final rule could be even more restrictive.
Industry officials praised the Trump plan. Zippy Duvall, president of the American Farm Bureau Federation, called the Trump administration's proposal, "The Christmas present of a lifetime!"
Environmental groups had a very different opinion. The loss of protections, they said, threatens drinking water and wildlife, with the western U.S. poised to be affected most. In Nevada 85 percent of streams would lose protections, as would more than half in New Mexico and Arizona.
Ash Meadows National Wildlife Refuge, NevadaCyndi Souza / USFWS)
"The rollbacks to the Clean Water Act the Trump administration is proposing are the greatest threat to this nation's waterways in 50 years," said Dan Estrin, Waterkeeper Alliance general counsel and advocacy director. This industry-supported proposal would "incentivize polluters to move pollution upstream, where they won't have to worry about federal or citizen enforcement," he said.

A 60-day public comment period on the proposed regulation is underway. Meanwhile Republicans in the legislature are already attempting to push through their own version of what kind of wetlands and waterways should be protected by the Clean Water Act—in this case, it would only cover permanently "navigable" waters.
It's not clear what will happen on this front, but however things move forward it will be critically important. "The Waters of the United States law will be tested, implemented, suspended or revoked," said Peter Gleick, president emeritus of the global water think-tank the Pacific Institute. Expect the debate over the rule change to be contentious and the final product legally contested.
Colorado River Agreement
2019 will be a year of reckoning for the Colorado River. It has to be—both nature and the federal government have issued ultimatums.
First, nature's part: With the basin in a drought for nearly two decades, the river's flow has dropped almost 20 percent (human-caused warming is responsible for at about a third of this reduced flow). By 2020 Lake Mead, the largest reservoir in the watershed, could fall low enough to trigger shortages to Arizona, Nevada and eventually California. In 2020 the water users must also begin a massive renegotiation of how the Colorado River is managed and how we prepare for a future with less water—an epic task that needs to be completed by 2026, when the current agreement expires.
The three states have been busy working on a drought contingency plan to slow the decline of Lake Mead, a process that will need to be completed before the larger negotiations begin in 2020. One major snag has come from Arizona, which is trying to resolve in-state disputes.
Things are about to get even more interesting, though. At a recent meeting of Colorado River water users, U.S. Bureau of Reclamation Commissioner Brenda Burman set a deadline of Jan. 31 for the three states to settle their plan or else the federal government will step in, which would be a widely unwelcome scenario.
"This could be very messy," John Fleck, director of the University of New Mexico's Water Resources Program, wrote recently on his blog about Colorado River water issues. "It suggests that either voluntarily (through interstate agreement) or imposed by the feds, we'll have new shortage guidelines in place by 2020 to slow the decline of Lake Mead."
Even if a new shortage agreement is reached in the next month, Gleick said we're still likely to see political conflict among basin water users as water levels in Lake Mead continue to fall. It's not just California, Nevada and Arizona duking things out—the river is also shared with upstream states Wyoming, Colorado, Utah and New Mexico, as well as with Mexico downstream. What happens to the Colorado affects much of the West, including cities like Denver, Phoenix and Los Angeles.
And the drought contingency plan is also only a stopgap measure to give all the water users time to pause the crisis until the elephant in the room needs to be officially addressed: The Colorado River simply doesn't have enough water for all the claims made to it.
"Now, whether through ignorance or malfeasance, we now have communities that have come to expect that fictionally large supply, and few rules to determine who gets less, and how much," wrote Fleck.
This year's work will be a crucial one for setting the stage for these future talks and better understanding the new climate reality.
Climate Change
2018 ended with some momentum on climate action. International climate talks in December at COP24 in Poland limped to a close with an agreement in hand, but one that fails to meet the urgency and scale of the problem.
And while the U.S. was conspicuously absent from international dealings, more movement to address climate challenges are afoot on the home front, with increasing calls for political action and a Green New Deal.
Significant climate legislation will likely be out of reach with a Republican Senate and White House, but climate change impacts will continue to make a mark, regardless, and could help to motivate more public action and pressure on elected officials and corporations.
"Somewhere in the U.S. we'll see unprecedented flooding and somewhere else, unprecedented drought, as climate change continues to worsen extreme hydrologic events," said Gleick. "Temperatures will continue to rise." And all of this will compound water woes like declining flows in the Colorado River, harmful algal blooms across the country, the vulnerability of our croplands and declining groundwater levels.
Drought-impacted forests in California's Sierra NevadaPhoto by USGS
"I think that the overall story is that catastrophic times are here," said Kimery Wiltshire, CEO and director of Carpe Diem West, a nonprofit that tackles water and climate issues. We need to accelerate the pace and scale of restoration to meet our ecological challenges, she said. "Fortunately, there are a number of communities taking smart, positive steps for water resiliency in the face of climate change."

California's Grand Bargain
In California several long-term and contentious decisions over future water management will be headline-generating in the coming year, and we could see either compromise or conflict between the state and the Trump administration.
California's Water Resources Control Board has been working on a plan that would increase the amount of water left in key rivers that drain to the Sacramento-San Joaquin Delta, the linchpin in California's vast water infrastructure network, to try to protect water quality and wildlife. It's a move that has made municipal and agricultural water users concerned.
Snow geese take flight above a field on Twitchell Island in the California Delta. Kelly M. Grow/ California Department of Water Resources
But just before 2018 closed out a new "grand bargain" was beginning to emerge between state agencies, federal agencies, irrigation districts and urban water agencies.

If the deal comes to fruition, "it could be revolutionary" in terms of the region's water management, said Ellen Hanak, a senior fellow at the Public Policy Institute of California and director of the PPIC Water Policy Center. The parties have committed to hammering out the agreement in 2019. "Federal, state and local parties are on the threshold of something really different and potentially much more impactful than what the regulatory situation can do on its own," said Hanak.
The plan would provide a funding stream for habitat restoration projects for ailing fish populations and also trim water exports from the watershed by urban and agricultural water users. Environmental groups, which were not part of the negotiations, think those water cuts are not nearly enough to protect fish, some of which are endangered.
"It appears that California's salmon, thousands of fishing jobs and the health of the Bay Delta estuary are the sacrificial lambs in these series of agreements between the Trump and the Brown administrations," Doug Obegi, a lawyer for the Natural Resources Defense Council, told The Sacramento Bee.
As the possible settlement is further negotiated this year, the Trump administration could throw another wrench into the plan as it attempts to roll back environment regulations for the delta in an effort to appease the agriculture industry.
"What's the state water board going to do if they enact stricter regulations just as Trump is undoing a bunch of environmental protections?" asked Chris Austin, publisher of Maven's Notebook, which chronicles California's water issues.
There are also two other major infrastructure issues where California may butt heads with the Trump administration (and others) in the new year. The first is an effort to raise the height of Shasta dam. Another is a $17 billion project to construct new water conveyance tunnels. Both will also be big decisions for the future of imperiled species.
Infrastructure and Clean Water
There's one more key issue that should dominate water discussions and policy in the next year: Many Americans still don't have access to safe drinking water. The American Society of Civil Engineers has given our nation's water infrastructure a D grade, and billions are needed to upgrade aging pipes, pumps and plants.
Hanak thinks that more progress will be made in efforts to address water inequities in California, where hundreds of thousands of people, mostly in low-income and communities of color, have chronically contaminated drinking water.
Issues abound elsewhere, too.
"The ongoing saga of Flint, Michigan, will go on, and the discussion about the country's failing water infrastructure will continue, with new urban water quality challenges," said Gleick.
Will there be any progress this year? "There is a chance for some bipartisan action on water infrastructure as part of the broader push to pass infrastructure funding in the U.S. Congress," said Gleick. Like all of these issues, though, that could evaporate quickly as the Trump administration continues its attacks against environmental regulation and protection.
New EPA Rule Would Sabotage Clean Water Act https://t.co/HpPkePSyYy

— Enviro Voter Project (@Enviro Voter Project)1544465047.0
What water issues do you think will matter most in the coming year? Share your thoughts on Twitter using the hashtag #Water2019.

Tara Lohan is deputy editor of The Revelator.
Reposted with permission from our media associate The Revelator.
From Your Site Articles
Related Articles Around the Web
waterlust.com / @tulasendlesssummer_sierra .
Each product featured here has been independently selected by the writer. If you make a purchase using the links included, we may earn commission.
The bright patterns and recognizable designs of Waterlust's activewear aren't just for show. In fact, they're meant to promote the conversation around sustainability and give back to the ocean science and conservation community.
Each design is paired with a research lab, nonprofit, or education organization that has high intellectual merit and the potential to move the needle in its respective field. For each product sold, Waterlust donates 10% of profits to these conservation partners.
Eye-Catching Designs Made from Recycled Plastic Bottles
waterlust.com / @abamabam
The company sells a range of eco-friendly items like leggings, rash guards, and board shorts that are made using recycled post-consumer plastic bottles. There are currently 16 causes represented by distinct marine-life patterns, from whale shark research and invasive lionfish removal to sockeye salmon monitoring and abalone restoration.

One such organization is Get Inspired, a nonprofit that specializes in ocean restoration and environmental education. Get Inspired founder, marine biologist Nancy Caruso, says supporting on-the-ground efforts is one thing that sets Waterlust apart, like their apparel line that supports Get Inspired abalone restoration programs.
"All of us [conservation partners] are doing something," Caruso said. "We're not putting up exhibits and talking about it — although that is important — we're in the field."
Waterlust not only helps its conservation partners financially so they can continue their important work. It also helps them get the word out about what they're doing, whether that's through social media spotlights, photo and video projects, or the informative note card that comes with each piece of apparel.
"They're doing their part for sure, pushing the information out across all of their channels, and I think that's what makes them so interesting," Caruso said.
And then there are the clothes, which speak for themselves.
Advocate Apparel to Start Conversations About Conservation
waterlust.com / @oceanraysphotography
Waterlust's concept of "advocate apparel" encourages people to see getting dressed every day as an opportunity to not only express their individuality and style, but also to advance the conversation around marine science. By infusing science into clothing, people can visually represent species and ecosystems in need of advocacy — something that, more often than not, leads to a teaching moment.

"When people wear Waterlust gear, it's just a matter of time before somebody asks them about the bright, funky designs," said Waterlust's CEO, Patrick Rynne. "That moment is incredibly special, because it creates an intimate opportunity for the wearer to share what they've learned with another."
The idea for the company came to Rynne when he was a Ph.D. student in marine science.
"I was surrounded by incredible people that were discovering fascinating things but noticed that often their work wasn't reaching the general public in creative and engaging ways," he said. "That seemed like a missed opportunity with big implications."
Waterlust initially focused on conventional media, like film and photography, to promote ocean science, but the team quickly realized engagement on social media didn't translate to action or even knowledge sharing offscreen.
Rynne also saw the "in one ear, out the other" issue in the classroom — if students didn't repeatedly engage with the topics they learned, they'd quickly forget them.
"We decided that if we truly wanted to achieve our goal of bringing science into people's lives and have it stick, it would need to be through a process that is frequently repeated, fun, and functional," Rynne said. "That's when we thought about clothing."
Support Marine Research and Sustainability in Style
To date, Waterlust has sold tens of thousands of pieces of apparel in over 100 countries, and the interactions its products have sparked have had clear implications for furthering science communication.
For Caruso alone, it's led to opportunities to share her abalone restoration methods with communities far and wide.
"It moves my small little world of what I'm doing here in Orange County, California, across the entire globe," she said. "That's one of the beautiful things about our partnership."
Check out all of the different eco-conscious apparel options available from Waterlust to help promote ocean conservation.
Melissa Smith is an avid writer, scuba diver, backpacker, and all-around outdoor enthusiast. She graduated from the University of Florida with degrees in journalism and sustainable studies. Before joining EcoWatch, Melissa worked as the managing editor of Scuba Diving magazine and the communications manager of The Ocean Agency, a non-profit that's featured in the Emmy award-winning documentary Chasing Coral.
Lake Mead as seen from the Hoover Dam with a "bathtub ring" showing the water level.
Alex Proimos / Flickr / CC BY-NC 2.0
After years of unrelenting drought, federal forecasters reported there are better-than-even odds that the nation's largest reservoir will decline into shortage conditions by 2020, forcing Arizona, Nevada and Mexico to reduce their Colorado River water use.
Millions of U.S. residents and farmers are served by the Lake Mead reservoir that's supplied by the Colorado. However, water levels have dropped consistently after years of back-to-back drought. The reservoir is considered full at 1,220 feet above sea level, which has not been seen since 1983.
If the lake's surface elevation falls below 1,075 feet in January of any given year, it would trigger the first-ever federal shortage declaration. Worryingly, the latest projections from the the U.S. Bureau of Reclamation show there's a 52 percent chance that could happen in two years.
Once a shortage is declared, Arizona's annual water allocation from the Colorado River would be cut by 11 percent. Nevada would face a 4 percent reduction and Mexico will see a 3 percent cut.
As Arizona public radio station KNAU noted, "A shortage declaration is unprecedented."
Marlon Duke of the U.S. Bureau of Reclamation explained that 19 years of drought have depleted water supplies.
"This is the worst drought in at least the last 100 years of our recorded history, and as we look back further than that, we can see signs that this one of the worst droughts probably the last 1,200 years of the paleo-record," Duke told KNAU.
If the water level drops even further, it could prompt cuts for other states. Unfortunately, the chances of shortfall rise even higher in the following years, with 64 percent in 2021 and 68 percent in 2022, the bureau projected.
Last year, the U.S. and Mexico agreed on a new strategy that would help conserve water. However, that agreement will only go into effect if Arizona, California and Nevada finalize their drought contingency plan.
U.S. Bureau of Reclamation Commissioner Brenda Burman issued a strong call for action as another dry year in the Colorado River basin looms.
"We need action and we need it now. We can't afford to wait for a crisis before we implement drought contingency plans," said Burman in a statement. "We all—states, tribes, water districts, non-governmental organizations—have an obligation and responsibility to work together to meet the needs of over 40 million people who depend on reliable water and power from the Colorado River. I'm calling on the Colorado River basin states to put real—and effective—drought contingency plans in place before the end of this year."
The view from lease parcel COC77996 looking across the Colorado River and DeBeque State Wildlife Refuge toward parcel COC77999 and the Roan Plateau. Peter Hart / Wilderness Workshop
Conservation groups on Thursday sued Interior Secretary Ryan Zinke and the Bureau of Land Management for approving new leases to allow fracking on more than 45,000 acres in western Colorado, including within communities and within a half-mile of a K-12 public school, without analyzing or disclosing environmental and public health threats as required by federal law.
"Fracking is a filthy, dangerous business, and dodging environmental analysis puts people and public lands at risk," said Diana Dascalu-Joffe, a senior attorney at the Center for Biological Diversity. "The Trump administration is trying to ignore science, public health and climate change threats to enrich corporate polluters, but it can't shrug off the law."
The lawsuit, filed in U.S. District Court in Denver, challenges leases in and around the towns of De Beque, Molina and Mesa on the western slope of the Rocky Mountains. Fracking would be allowed near three state parks—James M. Robb-Colorado River, Vega and Highline, a migratory bird hot spot and the site of the "18 Hours of Fruita" mountain bike race. Leases also have been offered within a half-mile of a K-12 public school in De Beque and beneath Vega Reservoir, important for wildlife, recreation, irrigation and hydroelectric power.

"Not only did the Bureau of Land Management move forward with these lease sales without looking at the climate effects of fracking, the agency also failed to examine its likely public health risks," said Kyle Tisdel with the Western Environmental Law Center. "In addition, the agency failed to analyze or acknowledge the enormous water depletion drilling will impose on the Colorado River, already in low-flow conditions. BLM is simply drilling in the dark on these lease sales."
These areas would face toxic air pollution, industrialization and potential spills and groundwater contamination from fracking operations. The BLM is using a shortcut called a "determination of NEPA adequacy" to bypass analysis of fracking harms required under the National Environmental Policy Act. This cursory review, used with increasing frequency under the Trump administration, presumes that leasing complies with broad resource-management plans and delays site-specific review until drilling permits are requested, thereby ignoring NEPA's requirement to disclose impacts at the earliest possible time. The BLM routinely bypasses that promised review at the drilling stage and says that it can't block drilling once land has been leased to industry.
"BLM has reverted to a lease before you look policy that marginalizes the public, ignores environmental impacts, and violates the law—all for the benefit of oil and gas companies," said Wilderness Workshop's Peter Hart. "We asked BLM to consider the impacts of these decisions and our requests were denied. Now we're asking a federal court to order the agency to comply with its legal obligations."
"Once again, Ryan Zinke's efforts to please corporate polluters are leaving American communities to suffer the consequences," said Sierra Club associate attorney Marta Darby. "Zinke wants to limit public input and hide the environmental and public health threats of this huge expansion of fracking in Colorado, but he is not above the law. We will continue to fight to ensure our communities are protected from the dangers of fracking."
The areas to be fracked include habitat for rare wildlife like peregrine falcon, spotted leopard lizard and burrowing owl. It also includes critical habitat for threatened and endangered species, including the Colorado pikeminnow and two flowers, the Parachute beardtongue and DeBeque phacelia. Fracking, which can use more than 20 million gallons of water per well, would threaten the pikeminnow and the Colorado River with spills and water depletions at a time when climate-driven drought is already reducing river flows throughout the Colorado River Basin.
"The water of the Colorado River Basin is essential for the 40 million people relying it. The system is already strained from climate change and overuse," said Sarah Stock, program director with Living Rivers Colorado Riverkeeper. "The last thing we need right now is to add more water hungry, polluting industry without the proper regulatory framework or public process in place to protect this priceless resource."
The administration's oil and gas leasing shell game is consistent with Trump's new "energy dominance" edict and policies directing the BLM to avoid NEPA analysis by prioritizing the use of DNAs when issuing oil and gas leases. The policy also limits or removes public notice and gives the public only 10 days to raise concerns.
Dascalu-Joffe and Kyle Tisdel of the Western Environmental Law Center are representing the Center for Biological Diversity, Wilderness Workshop, Living Rivers Colorado Riverkeeper and Sierra Club in the lawsuit.
Conservation Groups: Fracking, Drilling Would Ruin Public Lands Near Colorado's Great Sand Dunes National Park… https://t.co/On2eNv8oCb

— EcoWatch (@EcoWatch)1523373742.0
From Your Site Articles
Related Articles Around the Web
The Colorado River through Grand Canyon National Park. David Bear
A lawsuit filed Monday is seeking to establish personhood rights for the Colorado River--a unique move that could have larger implications for environmental law.
The suit, brought by Denver lawyer Jason Flores-Williams against Colorado and Gov. John Hickenlooper, names the river itself as a plaintiff and environmental group Deep Green Resistance as an ally of the body of water to appear in court on its behalf.
Flores-Williams says the suit is intended to force humans to take better care of natural resources by creating a legal consequence for inaction. The river, which supplies water for 36 million people in seven states, has been egregiously overused, and studies have shown climate change is already causing the river to shrink.
AWESOME! These Two Rivers Were Just Given the Same Legal Rights as Humans https://t.co/HehlVApvY5 @Waterkeeper @Oceana @acousteau @NRDC

— EcoWatch (@EcoWatch)1490113769.0
As reported by the New York Times:
"If a corporation has rights, the authors argue, so, too, should an ancient waterway that has sustained human life for as long as it has existed in the Western United States. The lawsuit claims the state violated the river's right to flourish by polluting and draining it and threatening endangered species. The claim cites several nations whose courts or governments have recognized some rights for natural entities."
For a deeper dive:
For more climate change and clean energy news, you can follow Climate Nexus on Twitter and Facebook, and sign up for daily Hot News.
A draft letter backed by officials in Arizona and Utah is urging the Trump administration to review the uranium mining ban near the Grand Canyon. The letter, which is expected to be sent to Interior Sec. Ryan Zinke on Monday, asks the department to completely overturn the Obama-era environmental protections.
The 20-year ban was issued in 2012 by former Sec. of Interior Ken Salazar. It prohibits new claims for mining in the region, which includes more than 1 million acres of public land adjacent to the Grand Canyon. The ban, however, does not restrict existing mines, four of which continue within just a few miles of the rim of the Colorado River.
The U.S. Geological Survey (USGS) has completed many reports on the safety of the water in the region, which helped lead to the ban. In 2010, they found that 15 springs and five wells contained concentrations of uranium that exceeded drinking water limits. Also in 2010, the USGS found radioactive dust several hundred feet from the Kanab North Mine Site at more than 10 times the background concentration for uranium, according to Grand Canyon Trust.
But the draft letter to be sent by the Mohave County board and other regional leaders says that the ban is unlawful and stifles the economic growth of the mining industry. A second letter, planned to also be sent on Monday, will ask the federal government to rollback national monument protections for popular tourist destinations, including the Vermilion Cliffs area in northern Arizona and the Sonoran Desert near Phoenix.
Board chairman Gary Watson told The Guardian, "I think the Trump administration is very interested in looking at the situation. A number of companies are very anxious to get in there and start extracting uranium. There is no danger."
Moreover, the letter states that uranium has many military uses and calculates that $29 billion could be profited from uranium mining in the region. A rural area known as the Arizona Strip could "provide power generation to the state of California for 20 years."
These numbers might grab the attention of the president, but there are major concerns from area residents, including native tribes.
"We are faced with the potential dangers of uranium contamination into our sole water supply, (local) testing in other areas has already shown traces of uranium from mining in the Grand Canyon region, and I don't think we would be able to survive an environmental catastrophe here, I just don't know where we would go," said Carletta Tilousi of the Havasupai tribal council.

The Center for Biological Diversity, Earthjustice and the Sierra Club, have been huge proponents of the ban, pushing for it to be upheld as several mining companies have filed lawsuits to local governments for rights to the land in the past five years.
According to the Center for Biological Diversity, uranium mining leaves a toxic legacy on public lands and sacred American Indian sites. It affects habitat for more than 100 sensitive species and has the potential to seep pollutants into underground aquifers used for drinking water.
"There was a very good reason the ban was put in place: toxic uranium mining contaminates groundwater," said Randi Spivak, public lands program director with the Center for Biological Diversity. "A reversal of the ban would harm people and wildlife while lining the pockets of industry."
By Tim Radford
The Colorado River is dwindling, and climate change is officially to blame. In the first 14 years of this century, the flow declined to only four-fifths of the 20th century average, according to new research. The water lost would have been enough to supply two million people for a whole year.
Altogether, the river supplies water to seven U.S. states and two in Mexico, and 40 million people rely on it for their water. But the entire Colorado River basin has been experiencing sustained drought since 2000. And somewhere between one sixth and one half of this liquid loss can be put down to global warming, scientists said.
They publish their findings in the journal Water Resources Research. "This paper is the first to show the large role that warming temperatures are playing in reducing the flows of the Colorado River," said Jonathan Overpeck, professor of geosciences and of hydrology and atmospheric sciences at the University of Arizona.
"We're the first to make the case that warming alone could cause Colorado River flow declines of 30 percent by mid-century and over 50 percent by the end of the century if greenhouse gas emissions continue unabated."
His co-author Bradley Udall, a climate scientist at Colorado State University, said, "The future of the Colorado River is far less rosy than other recent assessments have portrayed. A clear message to water managers is that they need to plan for significantly lower river flows."
The two scientists began by looking at the drought years of 2000-2014. The river starts with precipitation in the upper regions of its drainage basin, in Wyoming, Utah, Colorado and New Mexico.
They found that in the first decade and a half of this century, average temperatures in the region were 0.9°C higher than the average for the past 105 years. This is, very roughly, the temperature by which the globe has warmed on average over the last century, under a global warming regime driven by greenhouse gases emitted from fossil fuel combustion.
Lake Powell: Going, Going, Gone? - EcoWatch https://t.co/qu3xLvqQc7 @ClimateDesk @CeresNews

— EcoWatch (@EcoWatch)1471384872.0
But there is another factor to consider. The U.S. Southwest has a climate history characterized by intermittent megadroughts—periods of much lower rainfall over spans of 20 to 60 years.
Researchers have proposed that the risk of megadroughts is likely to increase in any climate change scenario. What actually will happen is uncertain, but the scientists are betting that as greenhouse gas emissions rise, so will the difficulties of water supply.
"Even if the precipitation does increase, our work indicates that there are likely to be drought periods as long as several decades when precipitation will still fall below normal," said Overpeck.
According to Udall, "Current planning understates the challenge that climate change poses to the water supplies in the American Southwest. My goal is to help water managers incorporate this information into their long-term planning efforts."
Reposted with permission from our media associate Climate News Network.
A study released in Science Advances Wednesday finds strong evidence for severe, long-term droughts afflicting the American Southwest, driven by climate change. A megadrought lasting decades is 99 percent certain to hit the region this century, said scientists from Cornell University, the Lamont-Doherty Earth Observatory of Columbia University and the NASA Goddard Institute for Space Studies.
Historically, the Colorado emptied into the Gulf of California. Today, what little remains of the Colorado River when it reaches Mexico has been diverted to irrigate the farms of Mexicali Valley. The rest of the river exists mostly as a dry memory.ProPublica
"Historically, megadroughts were extremely rare phenomena occurring only once or twice per millennium," the report states. "According to our analysis of modeled responses to increased GHGs, these events could become commonplace if climate change goes unabated."
Rising temperatures will combine with decreased rainfall in the Southwest to create droughts that will be worse than the historic "Dust Bowl" of the 20th century and last far longer. The Dust Bowl lasted no longer than eight years, and affected 100 million acres around the Texas and Oklahoma panhandles and adjacent lands in Kansas, Colorado and New Mexico. Dust storms swept through large swaths of former farmland, depositing dust as far east as Chicago, New York and Washington. It is estimated that more than half a million people were made homeless, and some 3.5 million Dust Bowl refugees migrated west, in hopes of finding work.
Maps show risk of megadrought under different levels of global temperature rise.Science Advances
The megadrought study looked at conditions under a 2-degree Celsius level of global warming, 4 degrees and 6 degrees. With 4 degrees of warming, which is the rate the planet is currently heading for, megadroughts are almost a certainty. If the rise in global temperatures is kept to 2 degrees, which is the upper-limit goal of the Paris climate agreement, the risk of megadroughts is between 30 and 60 percent.
Currently, 62 percent of California—home to 39 million people—is under severe or worse drought conditions. The state is entering its sixth consecutive year of drought, with record-low levels of precipitation and snowpack. Moderate or worse drought covers 45 percent of Arizona and 37 percent of Nevada. The water level in many of California's lakes and reservoirs remains below historic averages.
California drought enters its 6th year https://t.co/hBssQk9D9r via @ClimateNexus @EcoWatch #climate #globalwarming… https://t.co/EKnKJzwfrz

— climatehawk1 (@climatehawk1)1475524861.0
Much of the Southwest relies on the Colorado River and its tributaries for some or all of its water. Beginning as a trickle seeping out of the ground above 10,000 feet, just west of the Continental Divide, the Colorado feeds critical farmland, public water supplies and helps generate hydroelectric power. Thirty to 40 million people rely on Colorado River water.
Historically, the Colorado emptied into the Gulf of California. Today, what little remains of the Colorado River when it reaches Mexico has been diverted to irrigate the farms of Mexicali Valley. The rest of the river exists mostly as a dry memory.
"The Colorado River is one of the most dammed and diverted rivers on the planet," said Gary Wockner, executive director of Save The Colorado, in an interview with EcoWatch. "In fact, every drop of its water, over 5 trillion gallons of water per year, is diverted out and the river no longer meets the Gulf of California."
California and the Southwest rely on the Colorado River for much of their water supply.Colorado River Water Users Association
Under the 4-degree scenario plotted by the study, all but the extreme southeast corner of California is at a 90 to 100 percent risk of megadrought. The Colorado River supplies 55 to 65 percent of water for Southern California. ProPublica reported last year that more people are entitled to Colorado River water than the river can supply—or has supplied, on average, for the past 110 years.
"Much of the water is lost, overused or wasted, stressing both the Colorado system, and trickling down to California, which depends on the Colorado for a big chunk of its own supply," ProPublica reported.
Colorado's Lake Powell: Going, Going, Gone? - EcoWatch https://t.co/30e6rVgAyz

— Norman Buffong (@Norman Buffong)1473343720.0
In California's San Joaquin Valley, over-pumping of groundwater for irrigation has caused the land to sink—in some places, as much as two to three feet. A NASA study, conducted last year, showed the extent of the problem.
One spot near the California Aqueduct sank eight inches in just four months. Toxic algal blooms have affected more than 40 lakes and waterways this year, the greatest number on record. A shift in electric power generation in the state away from dwindling hydropower sources to natural gas has cost Californians $2 billion and increased carbon dioxide emissions from power plants by 10 percent.
Toxic algae blooms set historic records from coast to coast>>https://t.co/yjlKVN7uWt via @EcoWatch https://t.co/FkZFYuUb4W

— Earthjustice (@Earthjustice)1475424002.0
"A megadrought occurring again in the Southwest in the coming decades would impose unprecedented stresses on water resources of the region, and recent studies have shown that they are far more likely to occur this century because of climate change compared to past centuries," stated the authors of the megadrought study. They call for a mix of adaptation policies, including reducing demand, greater water efficiency, and shifts to groundwater supplies, as well as further reductions in greenhouse gas emissions.
"The implications are that the river is already severely depleted and the reservoirs are at near historic lows and all the predictions are that it is going to get worse," said Wockner. "And so people who manage water supplies need to be managing for less water."
President Obama made a historic announcement Wednesday, saying that the federal government is considering investing in the geothermal power in the rock formations under the Salton Sea in Southern California. Considered to be "the most powerful geothermal reservoirs in the world," the Salton Sea announcement could play a critical role in the future management of the Colorado River.
Mud flies as carbon dioxide gas from deep underground fissures escapes through geothermal mudpots or mud volcanoes, over the southern San Andreas earthquake fault near the Salton Sea National Wildlife Refuge near Calipatria, California. David McNew
Fifty years ago, Glen Canyon Dam was built above the Grand Canyon, and the Colorado River was enslaved to generate electricity to feed the hunger of the booming southwestern cities and suburbs. The Colorado's pulsing flows had carved and nourished the Grand Canyon for millennium, but that came to a crashing halt when the gates were closed and the water was ponded in Lake Powell. The environmental damage and steady decline of one of our nation's crown jewels has led to many calls for restoration of the natural system through the removal of Glen Canyon Dam.
The dam's ability to provide power has shielded it from any serious attempt to bring it down. Times change though and, over the last 16 years, the historic drought in the Southwest U.S. has drained Lake Powell to historic lows, severely diminishing the potential to generate hydroelectricity from the massive turbines encased in Glen Canyon Dam. Water and electricity managers are scrambling to come up with a plan to prop up the lake above what's called "power pool" so they can continue to generate and sell power. Any such solution is, however, clearly a stop-gap measure to keep the dam operational and is doomed to fail when confronted by the realities of climate change.

Lake Powell: Going, Going, Gone? - EcoWatch https://t.co/qu3xLvqQc7 @ClimateDesk @CeresNews

— EcoWatch (@EcoWatch)1471384872.0
Fortunately, Obama's announcement offers a true path to the future.
The Salton Sea announcement could create an opportunity to replace the hydroelectric power generated at Glen Canyon Dam and a path forward to restoring the Grand Canyon. The geothermal reservoirs under the Salton Sea are an untapped resource that could add power to the grid as Lake Powell is slowly drained and Glen Canyon Dam is removed. Lake Powell's water could be put into Lake Mead, its downstream sister, thus keeping one fully functioning hydroelectric facility on the grid. Further, this "geo-hydro power trade" could keep the federal government solvent in its current financial contracts to provide electricity to the Southwest U.S.
The idea has already generated a bit of a buzz when Geothermal Resources retweeted this tweet:
Salton Sea Geothermal power could be used replace Glen Canyon hydropower as #climatechange drains Powell. #CORiver https://t.co/Mk9mtkDffQ

— SaveTheColoradoRiver (@SaveTheColoradoRiver)1472665768.0
Climate change scientists have painted a bullseye on the Southwest U.S. and the Colorado River, indicating the area will become warmer and dryer with even less flow in the Colorado River. Hydroelectricity is threatened at both Lakes Powell and Mead, as well as reservoirs in California. Salton Sea geothermal power could be a breakthrough in building a climate change-resistant Southwest while also preserving and restoring the lifeblood of the region—the Colorado River.

The 16-year drought on the Colorado River has drained Lake Mead and Lake Powell to their combined lowest level in history. But that's nothing compared to what could happen, according to a new study from the State of Colorado.
The study indicates that a drought like the one that happened in 2000 – 2006 "would empty Lake Powell," according to the Aspen Daily News. "Another potential conclusion from the risk study is that any new trans-mountain diversion would only make it more likely that Powell would go below target levels," the publication noted.
And, whether you want to believe it or not, water agencies in Colorado, Wyoming and Utah are proposing to do just that. In fact, Denver Water, Northern Water (in Colorado), and the states of Wyoming and Utah are all proposing even more dams and diversions of water out of the river and its tributaries that would accelerate the draining of Lake Powell and cause serious legal consequences for the entire Southwest U.S.
Further, climate change scientists have painted a bullseye on the Southwest U.S., indicating that it will get hotter and drier, with even less flow into the Colorado River. The lead investigator in the in-progress Colorado report has even said, "I haven't shown the climate change hydrology because it just scares everybody."
Save the Colorado has formally opposed all new proposed dams and diversions out of the river or its tributaries. We believe climate change is real and will have a serious impact on the Colorado River. The solution proposed by the State of Colorado is to buy massive amounts of water from farmers in Colorado, and then let that water run downstream to Lake Powell to keep the water level high enough to produce electricity at Glen Canyon Dam.
This plan is very unlikely to be successful. There's just not enough farmers who would want to sell massive amounts of water in order to keep the hydroelectric turbines spinning. Further, it could cost hundreds of millions of dollars every year to buy out those farmers even if they would sell.
What makes more sense is a responsible, planned effort by the government to drain Lake Powell, rather than letting drought and climate change do it in a haphazard way.
Lake Powell's days are numbered. The lake was a mistake, it's time to forsake.
Gary Wockner, PhD, is the executive director of the Save the Colorado river campaign. Contact Wockner at [email protected].
News reports over the weekend confirm what we Coloradans have been hearing for months, that our Governor, John Hickenlooper, is on the short list for vice president by presumptive Democratic nominee Hillary Clinton.
Wikimedia Commons
Having suffered through six long years of Gov. Hickenlooper here in Colorado, I offer these top five reasons why Clinton should not pick him as her vice president:

1. Climate Change
When Hickenlooper got in office, one of his first quips was about how he wasn't sure climate change was real. Throughout his tenure he's maintained an arm's length to the issue and when, in 2015, he finally released a "Climate Action Plan," it ensured that emissions would continue rising and the issue would not be taken seriously during his tenure.
2. Coal
As Governor, Hickenlooper gets to appoint the Public Utilities Commission in Colorado which oversees the electricity industry. Hickenlooper's appointments have been pro fossil fuel (the chair of the commission used to work for a fossil fuel company). In addition, he's repeatedly spoken in favor of the coal industry and even supports opening up roadless areas for more coal mining in Colorado.
3. Water and Rivers
To much ballyhoo, Hickenlooper launched the Colorado Water Plan which missed the mark and is an "all of the above" approach to water supply in Colorado. Further, no sooner did the ink dry, than he endorsed two controversial new dam and diversion projects that would further drain and destroy the already beleaguered Colorado River.
4. Fracking
If there's one thing Hickenlooper will be known for, it's his support of fracking and the oil and gas industry. He's drank Halliburton's fracking fluid, sued cities that voted to ban fracking and he's stood arm-and-arm with Tea Party Republicans in his support for the fracking industry. He didn't get—he earned—the nickname "Frackenlooper."
5. Population Growth
During Hickenlooper's tenure, population growth has boomed in Colorado at a faster clip than at any time in history. He has lured, subsidized and promoted population and business growth which has had a devastating impact on our state's air quality, water supplies and road congestion. From mountains to plains, our state's landscape is being devoured by population growth.
Many folks in the environmental community in Colorado think we should all stay silent—after all, if Clinton picks Hickenlooper, he will be gone from here and we'll have a new dawn to try and get a new governor who respects and protects the environment. But I see it differently.
Under Hickenlooper's regime, the environmental community and the progressive base of the Democratic Party in Colorado has been split, scorned, marginalized and eviscerated. I do not want to see that happen to the U.S. by a person who could be a heartbeat away from the presidency.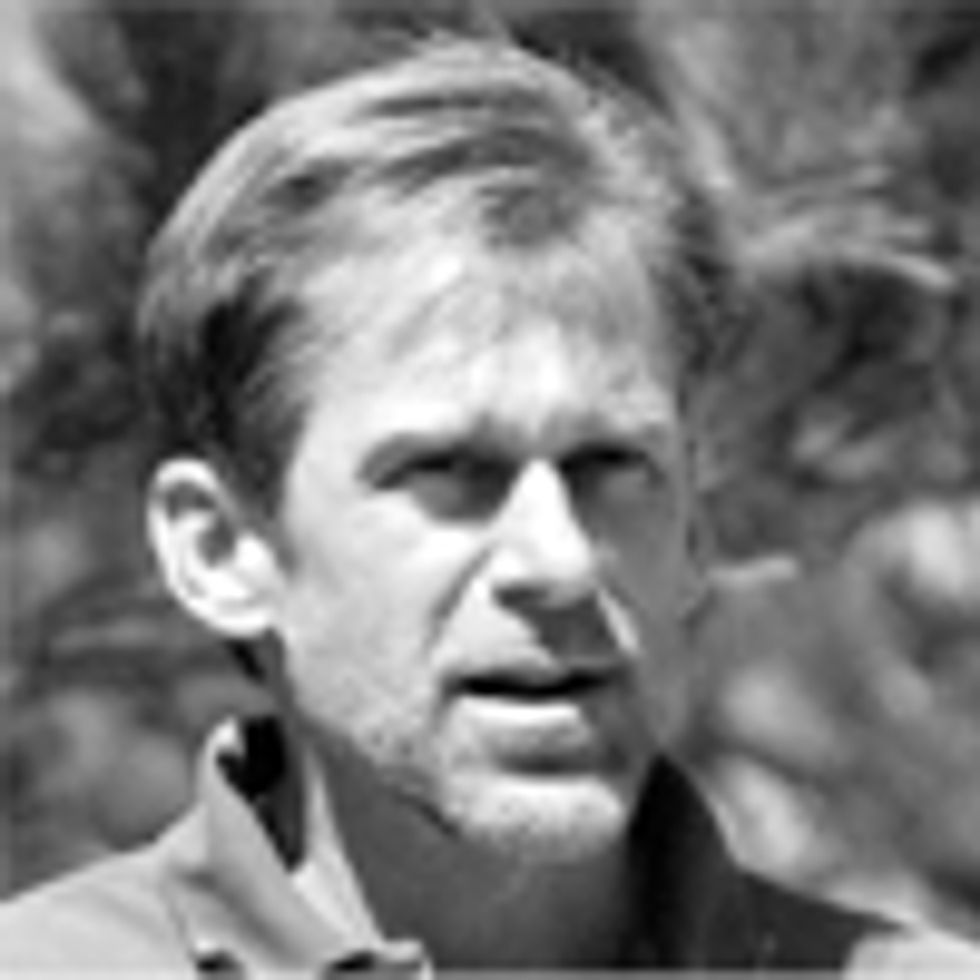 As the largest reservoir in the U.S. falls to its lowest water level in history, Nevada State Sen. Tick Segerblom introduced a bill title and issued a press release on July 8 calling for an "independent scientific and economic audit of the Bureau of Reclamation's strategies for Colorado River management."
Sen. Segerblom's position represents the growing political impatience with the current management system for the river. He takes hard aim at the Bureau of Reclamation as being responsible for these problems as he says, "Reclamation may have played a major role in erecting our Colorado River infrastructure, but it's clearly time for people across the basin to begin leading its future management."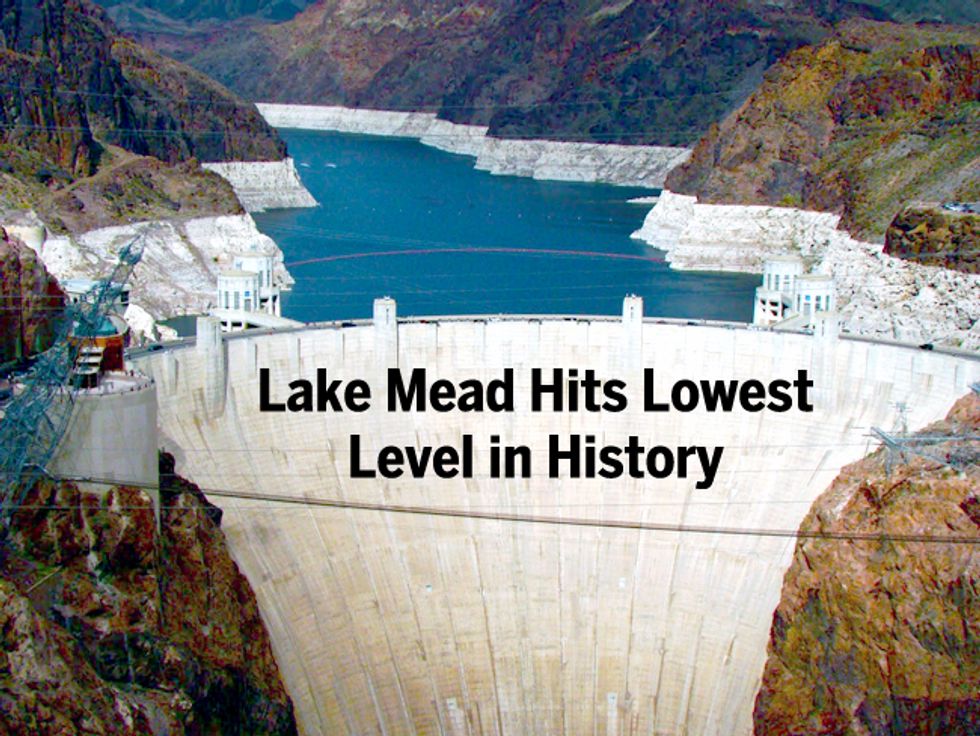 Further, the Senator calls for a more environmentally minded management focus on the health of the river as stated in his press release: "Healthy rivers signal healthy societies, yet Reclamation failed to mention ecological issues in its recent analysis. The Colorado River is a river of national parks, but the river running through them is struggling."
This week's history-making, bad-news event at Lake Mead has already triggered lots of news stories, but almost all of these stories focus on the water supply for Las Vegas, Phoenix and California. But what about the health of the river itself? Senator Segerblom's press release reminds us that this river is more than just water supply for cities and farms—it's a living entity full of species that depend on the river for survival, and as the lake level falls, the first entity to feel even more pain won't be Las Vegas or Phoenix but rather the river itself.
Let's take a look at the environmental problems with the Colorado River and how they are getting worse. Grab a cup of coffee because this is a buzzkill:
To address these problems as well as water supply threats, the Bureau of Reclamation spent years creating the Colorado River Basin Study and released it publicly in 2012 with much fanfare. Since that time, Reclamation has appointed several "Working Groups" to further study the problem and offer solutions—including a "Healthy Flows Working Group"—but over a year has passed without public communication about recommendations or solutions.
To be fair, it's not completely all bad news—there are a few glimmers of hope around the Colorado River basin too. The effort by the Bureau to restore the Colorado River Delta has been positive, environmental groups' work to stop and stall new water projects has made a difference, and a few cities' new pilot project, Colorado River System Conservation Program, offers a potential path forward.
But despite these glimmers of hope, there's one overwhelming fact in the Colorado River ecosystem and it's painted bright white with the increasing size of the bathtub ring across the walls of Lake Mead—we are draining more water out of the system than the river is putting in. 
Whether you agree or disagree with Sen. Segerblom's approach, something needs to change to address the water supply threats, and something must change as soon as possible to arrest the continual decline of the health of the Colorado River. The system, and the health of the river itself, cannot be sustained the way it's currently operated.
Gary Wockner, PhD, coordinates the Save The Colorado River Campaign whose mission is to protect and restore the Colorado River and its tributaries from the source to the sea. [email protected].