Pexels
By Jake Johnson
In another alarming signal that the international community is failing to take the kind of ambitious action necessary to avert global climate catastrophe, NOAA released new data Tuesday showing that atmospheric carbon dioxide levels — which environmentalist Bill McKibben described as the "single most important stat on the planet" — reached a "record high" in the month of May.
"The measurement is the highest seasonal peak recorded in 61 years of observations on top of Hawaii's largest volcano and the seventh consecutive year of steep global increases in concentrations of carbon dioxide (CO2)," NOAA said in a statement on Tuesday. "The 2019 peak value was 3.5 PPM higher than the 411.2 PPM peak in May 2018 and marks the second-highest annual jump on record."
According to NOAA's measurements — which were taken at the Mauna Loa Atmospheric Baseline Observatory in Hawaii — carbon dioxide levels peaked at an average of 414.7 PPM in May.
As The Guardian reported, "Scientists have warned for more than a decade that concentrations of more than 450 PPM risk triggering extreme weather events and temperature rises as high as 2°C, beyond which the effects of global heating are likely to become catastrophic and irreversible."
Reacting to NOAA's new measurements, McKibben tweeted, "This is legit scary."
Single most important stat on the planet: CO2 rose 3.5 parts per million last year, 2nd-highest annual rise on reco… https://t.co/mTVzjv93eL

— Bill McKibben (@Bill McKibben)1559740615.0
In a report last October, United Nations scientists warned that global carbon emissions must be cut in half by 2030 in order to avoid the worst consequences of the climate crisis.
As Common Dreams reported last month when levels at Maun Loa briefly hit 415 PPM, the occurrence was described as otherworldly for humanity and something not experienced by the planet in over three million years.
Climate scientist Peter Gleick noted that the "last time humans experienced levels this high was ... never. Human[s] didn't exist."
Atmospheric CO2 levels have now reached 415 ppm. The last time humans experienced levels this high was... never. Hu… https://t.co/2LQHJxhJBc

— Peter Gleick 🇺🇸 (@Peter Gleick 🇺🇸)1557761812.0
NOAA's new data for the month of May as a whole comes amid a global wave of youth-led marches and civil disobedience demanding immediate climate action from political leaders.
In her forward to 350.org campaigner Daniel Hunter's newly published Climate Resistance Handbook, Greta Thunberg—the 16-year-old Swedish activist who helped inspire the worldwide surge in youth climate mobilizations—argued that the success or failure of the global climate movement will be determined by one measure: "the emission curve."
"People always tell me and the other millions of school strikers that we should be proud of ourselves for what we have accomplished," Thunberg wrote. "But the only thing that we need to look at is the emission curve. And I'm sorry, but it's still rising. That curve is the only thing we should look at."
National Oceanic and Atmospheric Administration
"Every time we make a decision we should ask ourselves; how will this decision affect that curve?" Thunberg added. "We should no longer measure our wealth and success in the graph that shows economic growth, but in the curve that shows the emissions of greenhouse gases."
"We should no longer only ask: 'Have we got enough money to go through with this?' but also: 'Have we got enough of the carbon budget to spare to go through with this?'" Thunberg wrote. "That should and must become the center of our new currency."
Reposted with permission from our media associate Common Dreams.

Related Articles Around the Web
EcoWatch Daily Newsletter
Daily average CO2 values in April. NOAA
April was the first month in recorded history with an average concentration of atmospheric carbon dioxide topping 410 parts per million (ppm).
This dubious new milestone was recorded at the Mauna Loa Observatory in Hawaii by the Keeling Curve, a program of the Scripps Institution of Oceanography at the University of California San Diego.
ICYMI: April posts first-ever monthly average carbon dioxide level over 410. https://t.co/H4iyHXO2sG… https://t.co/vEPUB0WbF6

— Keeling_Curve (@Keeling_Curve)1525300018.0
To put this latest reading into perspective, at the beginning of the industrial revolution around 1880, the CO2 level stood at 280 ppm. It climbed to 315 ppm in 1958, the year Mauna Loa started record-keeping. It surpassed 400 ppm in 2013, before becoming a dangerous new norm for several years. Then around mid-April, the planet breached 410 ppm for the first time.
These CO2 levels, according to NOAA's climate department, haven't been seen on Earth in 3 million years, when temperatures were 3.6° to 5.4°F warmer, and sea level was 50 to 80 feet higher than today
Carbon dioxide is a heat-trapping greenhouse gas and the leading driver of man-made climate change.
"We keep burning fossil fuels. Carbon dioxide keeps building up in the air," said Scripps CO2 Program director Ralph Keeling, the son of the late Keeling Curve creator Charles David Keeling, in a statement.
"It's essentially as simple as that," he added.
Keeling told the Washington Post that Earth's breaching of 1.5 or 2°C—the two temperature limits included in the Paris climate agreement—is not committed yet, but could get closer with time.
"We don't have a lot of headroom," he said.
"It's not going to be a sudden breakthrough, either," Keeling added. "We're just moving further and further into dangerous territory."
Climate scientist Katharine Hayhoe tweeted, "As a scientist, what concerns me the most is what this continued rise actually means: that we are continuing full speed ahead with an unprecedented experiment with our planet, the only home we have."
Planet Breaches 410 ppm for First Time in Human History https://t.co/9igTOH9NEk @algore @billmckibben @MichaelEMann @climatehawk1 @IENearth

— EcoWatch (@EcoWatch)1493056184.0
From Your Site Articles
Related Articles Around the Web
waterlust.com / @tulasendlesssummer_sierra .
Each product featured here has been independently selected by the writer. If you make a purchase using the links included, we may earn commission.
The bright patterns and recognizable designs of Waterlust's activewear aren't just for show. In fact, they're meant to promote the conversation around sustainability and give back to the ocean science and conservation community.
Each design is paired with a research lab, nonprofit, or education organization that has high intellectual merit and the potential to move the needle in its respective field. For each product sold, Waterlust donates 10% of profits to these conservation partners.
Eye-Catching Designs Made from Recycled Plastic Bottles
waterlust.com / @abamabam
The company sells a range of eco-friendly items like leggings, rash guards, and board shorts that are made using recycled post-consumer plastic bottles. There are currently 16 causes represented by distinct marine-life patterns, from whale shark research and invasive lionfish removal to sockeye salmon monitoring and abalone restoration.

One such organization is Get Inspired, a nonprofit that specializes in ocean restoration and environmental education. Get Inspired founder, marine biologist Nancy Caruso, says supporting on-the-ground efforts is one thing that sets Waterlust apart, like their apparel line that supports Get Inspired abalone restoration programs.
"All of us [conservation partners] are doing something," Caruso said. "We're not putting up exhibits and talking about it — although that is important — we're in the field."
Waterlust not only helps its conservation partners financially so they can continue their important work. It also helps them get the word out about what they're doing, whether that's through social media spotlights, photo and video projects, or the informative note card that comes with each piece of apparel.
"They're doing their part for sure, pushing the information out across all of their channels, and I think that's what makes them so interesting," Caruso said.
And then there are the clothes, which speak for themselves.
Advocate Apparel to Start Conversations About Conservation
waterlust.com / @oceanraysphotography
Waterlust's concept of "advocate apparel" encourages people to see getting dressed every day as an opportunity to not only express their individuality and style, but also to advance the conversation around marine science. By infusing science into clothing, people can visually represent species and ecosystems in need of advocacy — something that, more often than not, leads to a teaching moment.

"When people wear Waterlust gear, it's just a matter of time before somebody asks them about the bright, funky designs," said Waterlust's CEO, Patrick Rynne. "That moment is incredibly special, because it creates an intimate opportunity for the wearer to share what they've learned with another."
The idea for the company came to Rynne when he was a Ph.D. student in marine science.
"I was surrounded by incredible people that were discovering fascinating things but noticed that often their work wasn't reaching the general public in creative and engaging ways," he said. "That seemed like a missed opportunity with big implications."
Waterlust initially focused on conventional media, like film and photography, to promote ocean science, but the team quickly realized engagement on social media didn't translate to action or even knowledge sharing offscreen.
Rynne also saw the "in one ear, out the other" issue in the classroom — if students didn't repeatedly engage with the topics they learned, they'd quickly forget them.
"We decided that if we truly wanted to achieve our goal of bringing science into people's lives and have it stick, it would need to be through a process that is frequently repeated, fun, and functional," Rynne said. "That's when we thought about clothing."
Support Marine Research and Sustainability in Style
To date, Waterlust has sold tens of thousands of pieces of apparel in over 100 countries, and the interactions its products have sparked have had clear implications for furthering science communication.
For Caruso alone, it's led to opportunities to share her abalone restoration methods with communities far and wide.
"It moves my small little world of what I'm doing here in Orange County, California, across the entire globe," she said. "That's one of the beautiful things about our partnership."
Check out all of the different eco-conscious apparel options available from Waterlust to help promote ocean conservation.
Melissa Smith is an avid writer, scuba diver, backpacker, and all-around outdoor enthusiast. She graduated from the University of Florida with degrees in journalism and sustainable studies. Before joining EcoWatch, Melissa worked as the managing editor of Scuba Diving magazine and the communications manager of The Ocean Agency, a non-profit that's featured in the Emmy award-winning documentary Chasing Coral.
Greenpeace
The United Nations (UN) Environment program has released its eighth annual Emissions Gap Report, which ominously found that greenhouse gas emissions are set to overshoot the Paris climate deal by about 30 percent.
The goal of the Paris agreement is to keep global temperature rise this century to well below two degrees Celsius above pre-industrial levels, with each nation making individual efforts to mitigate global warming. But according to the new review, released ahead of the UN Climate Change Conference in Bonn, national pledges made so far cover only a third of the cuts needed by 2030 to avoid worst impacts of climate change.
Annual emissions are likely to hit 53.0-55.5 billion tonnes of carbon dioxide equivalent, which greatly exceeds the 42 billion ton threshold for avoiding the two degree temperature rise.
Notably, even if the pledges are fully implemented, it is "very likely" global average temperature increase will be at least three degrees Celsius by 2100.
"Should the United States follow through with its stated intention to leave the Paris Agreement in 2020, the picture could become even bleaker," the UN report pointed out, referring to President Donald Trump's controversial withdrawal from the Paris agreement. The U.S. is one of the world's largest single emitters of greenhouse gases.
"One year after the Paris Agreement entered into force, we still find ourselves in a situation where we are not doing nearly enough to save hundreds of millions of people from a miserable future," said Erik Solheim, head of UN Environment, in a statement about the report.
"This is unacceptable. If we invest in the right technologies, ensuring that the private sector is involved, we can still meet the promise we made to our children to protect their future. But we have to get on the case now."
Meanwhile, the UN report says that China, the European Union, India and Japan are on track to meet their 2020 pledges.
The UN report was released a day after the World Meteorological Organization warned in a separate report that concentrations of atmospheric carbon dioxide and other greenhouse gases are at a record high. The last time Earth experienced a comparable concentration of CO2 was three to five million years ago.
"The Paris Agreement boosted climate action, but momentum is clearly faltering," Dr. Edgar E. Gutiérrez-Espeleta, Minister of Environment and Energy of Costa Rica, and President of the 2017 UN Environment Assembly, said in a statement. "We face a stark choice: up our ambition, or suffer the consequences."
The effects of climate change are not just perilous to Earth's environment—they also affect the health of millions of people around the globe, as the Guardian reported on Monday:
Heatwaves are affecting many more vulnerable people and global warming is boosting the transmission of deadly diseases such as dengue fever, the world's most rapidly spreading disease. Air pollution from fossil fuel burning is also causing millions of early deaths each year, while damage to crops from extreme weather threatens hunger for millions of children.
The findings, published in the Lancet journal, come from researchers at 26 institutions around the world, including many universities, the World Health Organization, World Bank and the UN's World Meteorological Organization (WMO).
However, the UN report does recommend practical ways to slash emissions through "rapidly expanding mitigation action based on existing options in the agriculture, buildings, energy, forestry, industry and transport sectors."
Renewable energy solutions such as solar and wind as well as efficient appliances and vehicles, planting more trees and preventing deforestation would also help cover the emissions gap, the BBC reported.
climate.nasa.gov

Concentrations of atmospheric carbon dioxide (CO2) increased at "record-breaking" speed last year, according to the World Meteorological Organization's (WMO) annual Greenhouse Gas Bulletin released Monday.
According to the report, concentrations of CO2 reached 403.3 parts per million in 2016, up from 400.00 parts per million the year prior. This acceleration was due to a strong El Niño event—which triggered droughts and reduced the capacity of forests, vegetation and the oceans to absorb CO2—as well as human activities, such as the burning of fossil fuels.
"The last time the Earth experienced a comparable concentration of CO2 was 3-5 million years ago, the temperature was 2-3°C warmer and sea level was 10-20 meters higher than now," a press release for the bulletin stated. "Concentrations of CO2 are now 145% of pre-industrial (before 1750) levels."
Methane and nitrous oxide—the two other main greenhouse gases—also hit record levels in 2016.
"Population growth, intensified agricultural practices, increases in land use and deforestation, industrialization and associated energy use from fossil fuel sources have all contributed to increases in concentrations of greenhouse gases in the atmosphere since the industrial era, beginning in 1750," the release continued.
This rapid surge in greenhouse gases could trigger unprecedented climate change and lead to "severe ecological and economic disruptions," the report said.
In light of the bulletin, WMO Secretary-General Petteri Taalas called on international governments to drastically reduce greenhouse gas emissions.
"Without rapid cuts in CO2 and other greenhouse gas emissions, we will be heading for dangerous temperature increases by the end of this century, well above the target set by the Paris climate change agreement. Future generations will inherit a much more inhospitable planet," said Taalas. "CO2 remains in the atmosphere for hundreds of years and in the oceans for even longer. The laws of physics mean that we face a much hotter, more extreme climate in the future. There is currently no magic wand to remove this CO2 from the atmosphere."
The WMO report comes before the United Nations Environment Program releases its separate Emissions Gap Report on Oct. 31, which tracks the policy commitments made by countries to reduce emissions and how these policies compare to the goals set by the United Nations Framework Convention on Climate Change (UNFCCC).
Last year's UN Environment report had already urged the world to "urgently and dramatically" cut a further 25 percent from predicted 2030 emissions to minimize dangerous climate change. That's not to mention that the world's efforts to curb climate emissions have been drastically impinged by President Donald Trump's controversial decision to withdraw the U.S.—one of the planet's largest single emitters of greenhouse gases—from the Paris agreement.
"The numbers don't lie. We are still emitting far too much and this needs to be reversed," Erik Solheim, the head of the United Nations' environment program, said. "The last few years have seen enormous uptake of renewable energy, but we must now redouble our efforts to ensure these new low-carbon technologies are able to thrive. We have many of the solutions already to address this challenge. What we need now is global political will and a new sense of urgency."
Here are the key findings of the Greenhouse Gas Bulletin:
Carbon dioxide: CO2 is by far the most important anthropogenic long-lived greenhouse gas. Globally averaged concentrations for CO2 reached 403.3 parts per million in 2016, up from 400.00 ppm in 2015. This record annual increase of 3.3 ppm was partly due to the strong 2015/2016 El Niño, which triggered droughts in tropical regions and reduced the capacity of "sinks" like forests, vegetation and the oceans to absorb CO2. Concentrations of CO2 are now 145 percent of pre-industrial (before 1750) levels.
The rate of increase of atmospheric CO2 over the past 70 years is nearly 100 times larger than that at the end of the last ice age. As far as direct and proxy observations can tell, such abrupt changes in the atmospheric levels of CO2 have never before been seen.
Over the last 800 000 years, pre-industrial atmospheric CO2 content remained below 280 ppm, but it has now risen to the 2016 global average of 403.3 ppm.
From the most-recent high-resolution reconstructions from ice cores, it is possible to observe that changes in CO2 have never been as fast as in the past 150 years. The natural ice-age changes in CO2 have always preceded corresponding temperature changes. Geological records show that the current levels of CO2 correspond to an "equilibrium" climate last observed in the mid-Pliocene (3–5 million years ago), a climate that was 2–3 °C warmer, where the Greenland and West Antarctic ice sheets melted and even some of the East Antarctic ice was lost, leading to sea levels that were 10–20 meters higher than those today.
Methane: Methane (CH4) is the second most important long-lived greenhouse gas and contributes about 17 percent of radiative forcing. Approximately 40 percent of methane is emitted into the atmosphere by natural sources (e.g., wetlands and termites), and about 60 percent comes from human activities like cattle breeding, rice agriculture, fossil fuel exploitation, landfills and biomass burning.
Atmospheric methane reached a new high of about 1,853 parts per billion (ppb) in 2016 and is now 257 percent of the pre-industrial level.
Nitrous Oxide: Nitrous oxide (N2O) is emitted into the atmosphere from both natural (about 60 percent) and anthropogenic sources (approximately 40 percent), including oceans, soil, biomass burning, fertilizer use, and various industrial processes.
Its atmospheric concentration in 2016 was 328.9 parts per billion. This is 122 percent of pre-industrial levels. It also plays an important role in the destruction of the stratospheric ozone layer which protects us from the harmful ultraviolet rays of the sun. It accounts for about six percent of radiative forcing by long-lived greenhouse gases.
Carbon captured in a new process from a coal-fired power plant in Chennai, India will be used by chemicals manufacturer Tuticorin Alkali Chemicals & Fertilizers (TACFL) to produce soda ash.
Tuticorin power plant in India will convert carbon emissions to soda ash.Roger Harrabin / The Guardian
The process was developed by London-based Carbon Clean Solutions Limited (CCSL). A pilot project, completed in May 2016, demonstrated the advantages of the process. Soda ash, also known as sodium carbonate (Na2CO3), is used in glass manufacturing, fiberglass insulation, sweeteners and household products. Baking soda, or sodium bicarbonate (NaHCO3), is one of those products.
"This project is a game-changer," said Aniruddha Sharma, chief executive officer at Carbon Clean Solutions. "This is a project that doesn't rely on government funding or subsidies—it just makes great business sense."

CCSL said that it can capture CO2 at $30 per metric ton, far lower than the $60 to $90 per ton typical in the global power sector. It said that the project will capture more than 60,000 metric tons (about 66,000 U.S. tons) of carbon each year.
Carbon Capture: 'Only Realistic and Affordable Way to Dramatically Reduce Emissions' https://t.co/pikzCUDHqR @UKGBC @cleantechgroup

— EcoWatch (@EcoWatch)1453590621.0
Carbon Clean Solutions is not the first company to attempt to commercialize a process to convert CO2 emissions into commercially marketable products.

In 2012, a U.S. startup named Skyonic raised $9 million from investors to build a plant to convert carbon emissions from a cement plant in San Antonio, Texas. The investors included ConocoPhilips, BP and PVS Chemicals. The facility opened in October 2014 at the Capitol Aggregates plant and became operational in January 2016. Outputs include baking soda, bleach and hydrochloric acid.

Skyonic has said that, at full capacity, the plant will be able to capture 75,000 tons annually of CO2. The company claims that its process uses 30 percent less energy than more common carbon capture technologies. The plant was financed with the aid of a $28 million award under the American Recovery and Reinvestment Act.
California-based Blue Planet produces concrete and other building materials from sequestered CO2. The company says its concrete can be carbon neutral or carbon negative. Climate activist and actor Leonardo DiCaprio is a member of the firms' government affairs advisory board.
Leonardo DiCaprio Joins Carbon Capture Technology Company to 'Bring About a More Sustainable Future for Our Planet' https://t.co/07V5n8b0BP

— EcoWatch (@EcoWatch)1455318126.0
In Germany, ThyssenKrup Steel Europe began a pilot project in December 2015 to produce ammonium bicarbonate (NH4HCO3) from carbon emissions. This compound is used in the manufacturing of ceramics and in the plastic and rubber industries among others. Initial results, the company said, have been promising.

In a twist on the idea of creating baking soda from carbon emissions, Lawrence Livermore National Laboratory in California has created microcapsules and an absorbent sponge that use baking soda itself to capture carbon. They believe this process could be about 40 percent cheaper than current carbon capture methods.
TACFL has been producing soda ash at the Tuticorin plant since 1981. The chemical is generally made from trona ore. Major deposits of the ore are found in California, Wyoming and Utah in the U.S. as well as Botswana, Egypt, Turkey, China and parts of Africa.
Carbon Clean Solutions' patented technology scrubs CO2 emissions and feeds them to a chemicals plant where they are used to manufacture common products such as baking soda.Source: Carbon Clean Solutions Limited
In the Chennai coal plant, flue gases are diverted to an absorber that removes CO2 using technology patented by CCSL. The CO2 is then fed to the TACFL chemical plant.
Ramachadran Gopalan, owner of the Tuticorin plant, told BBC Radio, "I am a businessman. I never thought about saving the planet. I needed a reliable stream of CO2, and this was the best way of getting it."

Gopalan said the plant now produces zero carbon emissions. He is looking to install a second coal boiler to produce additional CO2 that can be used to synthesize fertilizer.
By Alex Kirby
Humanity has now entered a new climate reality era, with carbon dioxide concentrations expected to remain above the level of 400 parts per million throughout 2016 and for many generations to come, the World Meteorological Organization (WMO) said.
The WMO—the United Nations system's leading agency on weather, climate and water—said the globally averaged concentration of carbon dioxide in the atmosphere reached "the symbolic and significant milestone of 400 parts per million" for the first time in 2015 and surged again to new records in 2016 on the back of the very powerful El Niño event.

CO2 levels reached the 400 ppm barrier for certain months during 2015 and in certain places, but they have never done so on a global average basis for the entire year. The WMO says in its annual Greenhouse Gas Bulletin that the growth spurt in CO2 was fueled by El Niño, which started in 2015 and had a strong impact well into this year.

This, it says, triggered droughts in tropical regions and reduced the capacity of "sinks" like forests, vegetation and the oceans to absorb CO2. These sinks currently absorb about half of CO2 emissions, but there is a risk that they could become saturated, increasing the proportion of carbon dioxide which stays in the atmosphere.
Between 1990 and 2015, the bulletin says, there was a 37 percent increase in radiative forcing—the warming effect on the climate—because of long-lived greenhouse gases such as carbon dioxide, methane and nitrous oxide from industrial, agricultural and domestic activities.
"The year 2015 ushered in a new era of optimism and climate action with the Paris climate change agreement. But it will also make history as marking a new era of climate change reality with record high greenhouse gas concentrations," said WMO Secretary-General Petteri Taalas. "The El Niño event has disappeared. Climate change has not."
"The real elephant in the room is carbon dioxide, which remains in the atmosphere for thousands of years and in the oceans for even longer. Without tackling CO2 emissions, we cannot tackle climate change and keep temperature increases to below 2 C above the pre-industrial era," added Taalas.
"It is therefore of the utmost importance that the Paris agreement does indeed enter into force well ahead of schedule on Nov. 4 and that we fast-track its implementation," said Taalas.
David Suzuki: Climate Deniers Are Wrong ... CO2 Emissions Are Wreaking Havoc on the Planet via @EcoWatch https://t.co/6wZC3y5CnL

— ODDemocracy AU (@ODDemocracy AU)1475358235.0
The Greenhouse Gas Bulletin provides a scientific base for decision-making and the WMO has released it ahead of the UN climate change negotiations to be held in the Moroccan city of Marrakech from Nov. 7-18. They will be seeking to translate the agreement into an effective way of coping with the new climate reality era the WMO has identified.

The bulletin says the pre-industrial level of about 278 ppm of CO2 represented a balance between the atmosphere, the oceans and the biosphere. Human activities, such as the burning of fossil fuels, have altered the natural balance and in 2015 globally averaged levels were 144 percent of pre-industrial levels. The increase of CO2 from 2014 to 2015 was larger than the previous year and the average over the previous 10 years.
The bulletin says the last El Niño, as well as reducing the capacity of vegetation to absorb CO2, led to an increase in CO2 emissions from forest fires. According to the Global Fire Emissions Database, CO2 emissions in equatorial Asia—where there were serious forest fires in Indonesia in August-September 2015—were more than twice as high as the 1997-2015 average.
Man-Made Global Warming Root Cause of Relentless Forest Fires https://t.co/bkEayO5C0m @carbonbrief @CarbonBrief

— EcoWatch (@EcoWatch)1476263715.0
Drought also has a big impact on CO2 absorption by vegetation and scientists saw similar effects during the 1997-98 El Niño.

Methane is the second most important long-lived greenhouse gas and contributes about 17 percent of radiative forcing. About 40 percent of methane is emitted into the atmosphere by natural sources like wetlands and termites, with the rest coming from human activities like cattle breeding, rice growing, fossil fuel exploitation, landfills and biomass burning.
Atmospheric methane reached a new high of about 1,845 parts per billion in 2015 and is now 256 percent of its pre-industrial level. Nitrous oxide's atmospheric concentration in 2015 was about 328 parts per billion, 121 percent of pre-industrial levels.
Reposted with permission from our media associate Climate News Network.

By Sophie Yeo
How do you reduce CO2 emissions? The Global CO2 Initiative is pushing a unique approach: turn them into useful products, then sell them.
Based in San Francisco, the company has the ambitious aim to capture 10 percent of global CO2 emissions through carbon capture and usage. While this method is still in its infancy, the initiative aims to commercialize new ideas quickly by granting up to $100 million a year for 10 years to researchers developing viable new products. Its global advisory board includes Steven Chu, the former U.S. Secretary of Energy, and Jeremy Oppenheim, program chair of the New Climate Economy project.
Carbon Brief spoke to Dr. Issam Dairanieh, the company's CEO, about his idea to tackle climate change through CO2 reuse. He explained what carbon capture and usage is, and how it could play a role in future efforts to reduce emissions:

"The idea here is go with what we call 'carbon negative technologies.' So think of trees on steroids. That's really what it is. So it is acceleration absorption of CO2 converted into products. Nature does it, does it very well, but does it slowly, and our solution says let's see what nature does, and do that extremely fast. So, instead of years, we want to do that in minutes. And the idea here is really all about developing and commercializing technologies that can absorb CO2 and convert it into useful products."
He spoke about the products that can be made using CO2 and their potential reduce emissions:
"The first product that we are going to invest in is making cement. So think about cement and concrete and how much is produced. It is probably the material that has the highest amount of any material that man makes, basically. Just this product contributes over 7 percent of the global emissions of CO2. We have identified a company that produces cement and concrete at a carbon footprint 70 percent less than what's currently done. So imagine what we can do with this. If you can replace everything we're doing right now with this new type of cement material, you will reduce global emissions by 5 percent, which is significant. What we have set out to do is, we said we want to reduce carbon emissions by 10 percent a year. That's really our objective. And we think that just by adopting one technology we will be able to reduce it by half of our target."
He talked about how best to capture CO2 emissions to be used in products:
"Where we're going to start is where it's very easy to do so. So, if you go to power plants, CO2 is mixed with other things. The concentration can be anywhere between 3 percent and 12 percent, maybe 13 percent, but that's about it. However, if you go to different places, in a refinery where hydrogen is generated using something called methane reforming, when you do that, you generate pure CO2 that's just emitted. We think there is 100, 200 million tons of that that we can go to. The second area is if you look at how biofuels are made, when you ferment basically biomass and you end up with ethanol that's used in biofuels. As a byproduct, you get a stream which is 100 percent CO2, so you don't have to concentrate, you don't have to purify—it's there."
Reposted with permission from our media associate Carbon Brief.

Many hail the Paris agreement—set to cross the threshold this week to come into effect—as a panacea for global climate change. Yet tragically, this perspective neglects to take into account the scientific reality of our climate system, which tells a much different story.
Our latest research, Young People's Burden: Requirement of Negative CO2 Emissions, appeared Monday as a "Discussion" paper in Earth System Dynamics Discussion, and outlines how—if national governments neglect to take aggressive climate action today—today's young people will inherit a climate system so altered it will require prohibitively expensive—and possibly infeasible—extraction of CO2 from the atmosphere.
Global temperatures are already at the level of the Eemian period (130,000 to 115,000 years ago), when sea level was 6-9 meters higher than today. Considering the additional warming "in the pipeline," due to delayed response of the climate system and the impossibility of instant replacement of fossil fuels, additional temperature rise is inevitable.

Continued high fossil fuel emissions place a burden on young people to undertake "negative CO2 emissions," which would require massive technological CO extraction with minimal estimated costs of $104-$570 trillion this century, with large risks and uncertain feasibility.

Continued high fossil fuel emissions unarguably sentences young people to either a massive, possibly implausible cleanup or growing deleterious climate impacts or both, scenarios that should provide incentive and obligation for governments to alter energy policies without further delay.

The paper provides the underlying scientific backing for the Our Children's Trust lawsuit against the U.S. government, which argues that climate change jeopardizes the next generation's inalienable rights under the U.S. Constitution to life, liberty and the pursuit of happiness.

The paper offers an opportunity to examine the current state of the planet with respect to climate change. Four key takeaways include:
1. The Paris Climate Accord is a precatory agreement, wishful thinking that mainly reaffirms, 23 years later, the 1992 Rio Framework Convention on Climate Change. The developing world need for abundant, affordable, reliable energy is largely ignored, even though it is a basic requirement to eliminate global poverty and war. Instead the developed world pretends to offer reparations, a vaporous $100B/year, while allowing climate impacts to grow.
2. As long as fossil fuels are allowed to be held up as the cheapest reliable energy, they will continue to be the world's largest energy source and the likelihood of disastrous consequences for young people will grow to near certainty.
3. Technically, it is still possible to solve the climate problem, but there are two essential requirements: (1) a simple across-the-board rising carbon fee collected from fossil fuel companies at the source, and (2) government support for RD&D (research, development and demonstration) of clean energy technologies, including advanced generation, safe nuclear power.
4. Courts are crucial to solution of the climate problem. The climate "problem" was and is an opportunity for transformation to a clean energy future. However, the heavy hand of the fossil fuel industry works mostly in legal ways such as the "I'm an Energy Voter" campaign in the U.S. Failure of executive and legislative branches to deal with climate change makes it essential for courts, less subject to pressure and bribery from special financial interests, to step in and protect young people, as they did minorities in the case of civil rights.
For a deeper dive, click here.
Life evolved to live within limits. It's a delicate balance. Humans need oxygen, but too much can kill us. Plants need nitrogen, but excess nitrogen harms them and pollutes rivers, lakes and oceans. Ecosystems are complex. Our health and survival depend on intricate interactions that ensure we get the right amounts of clean air, water, food from productive soils and energy from the sun.
Water flowing to the ocean from the Greenland ice sheet.macaroni2552 / Imgur
Climate change deniers either willfully ignore or fail to understand this complexity—as shown in their simplistic argument that carbon dioxide (CO2) is a beneficial gas that helps plants grow and is therefore good for humans.

Industry propagandist Tom Harris of the misnamed International Climate Science Coalition writes, "Grade school students know CO2 is not pollution; it is aerial fertilizer." He adds, "Increasing CO2 levels pose no direct hazard to human health."
The unscientific Heartland Institute-ICSC study he references claims, against all evidence, "Carbon dioxide has not caused weather to become more extreme, polar ice and sea ice to melt or sea level rise to accelerate."
It's a facile argument, designed to downplay the seriousness of global warming and its connection to CO2 emissions and to promote continued fossil fuel use. Deniers like Harris and Patrick Moore in Canada extoll the virtues of burning coal, oil and gas.
It's deliberate deception, rather than an outright lie, as most plants do require CO2 to grow. But overwhelming scientific evidence shows that, along with other greenhouse gases, CO2 causes ocean acidification and fuels climate change, putting humans and other life at risk.
NOAA: Carbon Dioxide Levels 'Exploded' in 2015, Highest Seen Since End of Ice Age https://t.co/KSL5LzHHos (via @EcoWatch)

— Sierra Club (@Sierra Club)1457717722.0
Even its benefit to plants is more complicated than deniers let on. As the website Skeptical Science states, "Such claims fail to take into account that increasing the availability of one substance that plants need requires other supply changes for benefits to accrue. It also fails to take into account that a warmer earth will see an increase in deserts and other arid lands, reducing the area available for crops."

A Stanford University study, published in the Proceedings of the National Academy of Sciences, illustrates the claim's lack of scientific validity. After observing plants grown in California over 16 years, under altered CO2, nitrogen, temperature and water levels, researchers concluded that only higher nitrogen levels increased plant growth, while higher temperatures hindered the plants.
A study in Nature Climate Change concluded that a 1 degree C temperature increase will cause wheat yields to decrease by about five percent, and a French study found higher temperatures negatively affected corn crops.
Another study, published in Science, examined the complexity of CO2 uptake by plants. It found only those associated with particular types of fungi in their roots can take advantage of increased CO2, because the fungi regulate nitrogen plants obtain from soils. Plants such as coniferous trees that associate with ectomycorrhizal fungi can derive benefits from higher carbon dioxide levels, but plants associated with arbuscular mycorrhizal fungi, such as grassland vegetation, can't.
The Imperial College London researchers cautioned that even plants that can take advantage of higher CO2 levels could be harmed by other climate change impacts, such as increased temperature and ozone concentration. Climate change–related droughts and flooding also hinder plant growth.
The link between #climate change and drought https://t.co/JGFfJVsTJa via @ecowatch #globalwarming #ActOnClimate #divest

— climatehawk1 (@climatehawk1)1466911867.0
Burning fossil fuels, creating emissions through industrial agriculture and destroying "carbon sinks" like wetlands and forests that sequester carbon are already affecting the planet in many ways detrimental to the health and survival of humans and other life.

No matter what inconsistent, contradictory and easily debunked nonsense deniers spread, there's no denying climate change is real, humans are contributing substantially to it and it will be catastrophic for all life if we do little or nothing to address it immediately.
Recently, 375 U.S. National Academy of Sciences members, including 30 Nobel laureates, published an open letter stating:
"We are certain beyond a reasonable doubt … that the problem of human-caused climate change is real, serious, and immediate, and that this problem poses significant risks: to our ability to thrive and build a better future, to national security, to human health and food production, and to the interconnected web of living systems."
The evidence is clear and overwhelming: Rapid increases in CO2 emissions are not beneficial. It's past time we started conserving energy and shifting to cleaner sources.
Carbon dioxide concentration in the atmosphere stayed above 400 parts per million (ppm) during September—a time when CO2 levels typically hit the yearly low—raising fears that the planet has reached a point of no return.
A sunset over the Arctic during a NOAA Climate Program expedition north of Russia.NOAA Photo Library/Flickr cc 2.0
"Concentrations will probably hover around 401 ppm over the next month as we sit near the annual low point. Brief excursions towards lower values are still possible but it already seems safe to conclude that we won't be seeing a monthly value below 400 ppm this year—or ever again for the indefinite future," Ralph Keeling, director of the CO2 program at Scripps Institution of Oceanography, wrote in a blog post.
The increase in CO2 levels runs parallel to a marked increase in global temperatures.
For a deeper dive:
Christian Science Monitor, Huffington Post, Fortune, Think Progress, Motherboard, Global News

For more climate change and clean energy news, you can follow Climate Nexus on Twitter and Facebook, and sign up for daily Hot News.
For years, this is known as a smoky, hazy time of year in Sumatra, Indonesia. And each year it's getting worse. It's the dry season, and hundreds of thousands of hectares of Indonesian peatland fires will burn for months. Those fires are a direct result of decades of forest and peatland destruction.
Peat is partially decayed, dead vegetation, which has accumulated over thousands of years. It is typically saturated with water and therefore virtually impossible to set alight. But when peatlands are cleared and drained to make way for plantations, like they are for palm oil and pulp and paper, carbon-rich peat becomes tinder dry—and vulnerable to fires.
If you haven't heard of peatlands or don't really know why we should all be joining forces to protect them, here are some facts that will help you see why:
[slideshow_deploy id='346906']
Last year, Greenpeace was one of the first NGOs to call out palm oil companies for their role in peatland fires. The Haze Wave sent pollution levels in Singapore skyrocketing, sparking frenzied buying of facemasks and a flurry of meetings between regional governments.
This year it could get worse. Weather patterns are colluding to make this year's drought particularly strong. More peat and forest have been cleared than ever before. It's giant tinderbox.
Now is the time for action.
In the last 12 months, Greenpeace supporters have pushed companies like Procter & Gamble, Colgate-Palmolive and forest-resource giants like Asia Pulp & Paper to end their role in forest destruction. There's momentum. Which is why this year we need to come together and demand that outgoing Indonesian President Susilo Bambang Yudhoyono firms up his green legacy.
--------
YOU MIGHT ALSO LIKE
7 Places With Unexpected Forest Restoration Potential
Palm Oil Company Ordered to Pay $30 Million for Illegal Rainforest Destruction
U.S. Banks Financing Rainforest Destruction for Palm Oil Plantations
--------
By Emily E. Adams
Increasing global emissions of carbon dioxide (CO2), a heat-trapping gas, are pushing the world into dangerous territory, closing the window of time to avert the worst consequences of higher temperatures, such as melting ice and rising seas.
Since the dawn of the Industrial Revolution, carbon emissions from burning fossil fuels have grown exponentially. Despite wide agreement by governments on the need to limit emissions, the rate of increase ratcheted up from less than one percent each year in the 1990s to almost three percent annually in the first decade of this century. After a short dip in 2009 due to the global financial crisis, emissions from fossil fuels rebounded in 2010 and have since grown 2.6 percent each year, hitting an all-time high of 9.7 billion tons of carbon in 2012.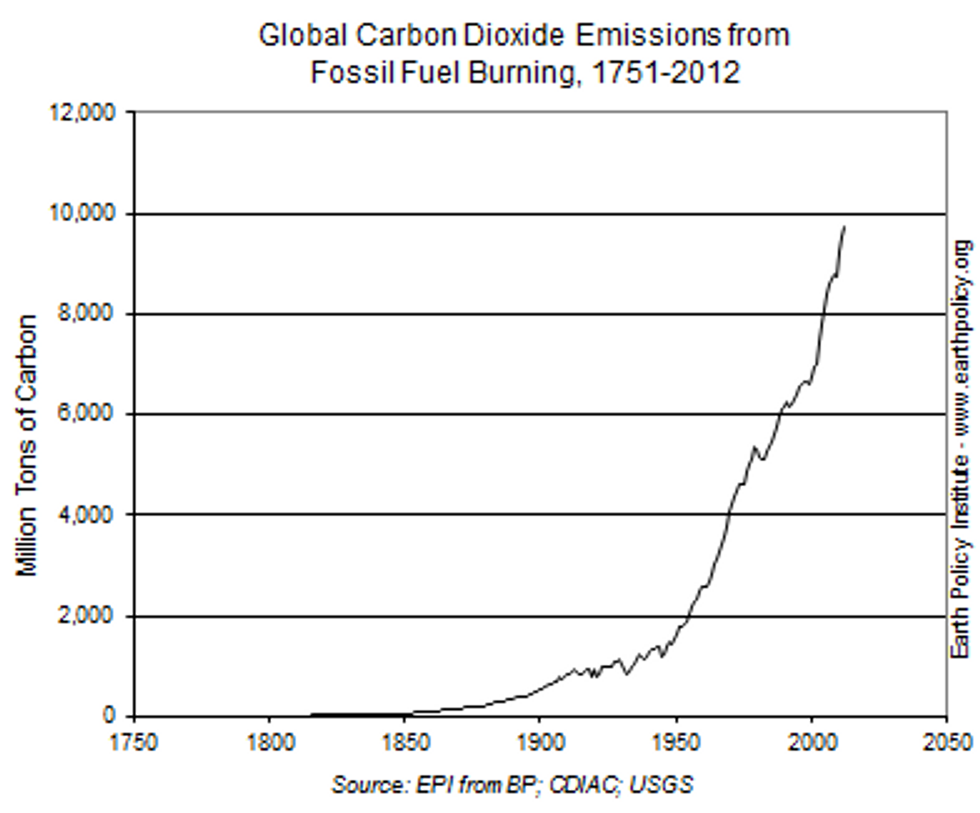 Carbon emissions would have risen even faster were it not for the seven percent drop among industrial countries since 2007—a group that includes the U.S., Canada, Europe, Russia, Australia, New Zealand and Japan. The U.S., long the world's largest emitter until it was eclipsed by China in 2006, cut carbon emissions by 11 percent over the past five years to 1.4 billion tons. The biggest drop was in emissions from coal—which is primarily used to generate electricity—as power plants switched to cheaper natural gas and as the use of carbon-free wind energy more than quadrupled. U.S. emissions from oil, mostly used for transportation, also dipped.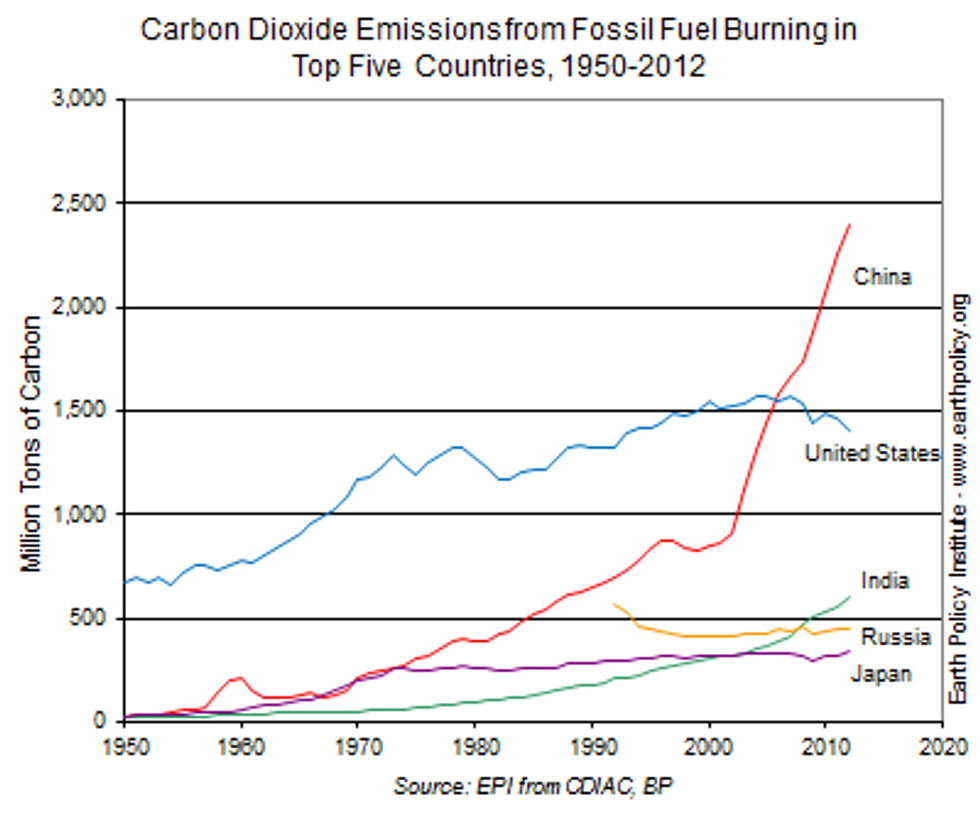 Carbon emissions from fossil fuel burning in Europe—as a whole the third largest emitter—fell nine percent from 2007 to 2012. Emissions in Italy and Spain shrank by 17 and 18 percent, respectively. The United Kingdom's emissions dropped by 11 percent to 126 million tons. Germany's emissions fell by four percent to 200 million tons. These countries have been leaders in either wind or solar energy or both.
Russia and Japan are two industrial countries that did not see an overall decline in carbon emissions over the past five years. Russia had an uptick in oil use, increasing its emissions by two percent to 449 million tons. And in Japan, the quick suspension of nuclear power generation after the Fukushima disaster led to more natural gas and oil use, pushing emissions up one percent to 336 million tons in 2012.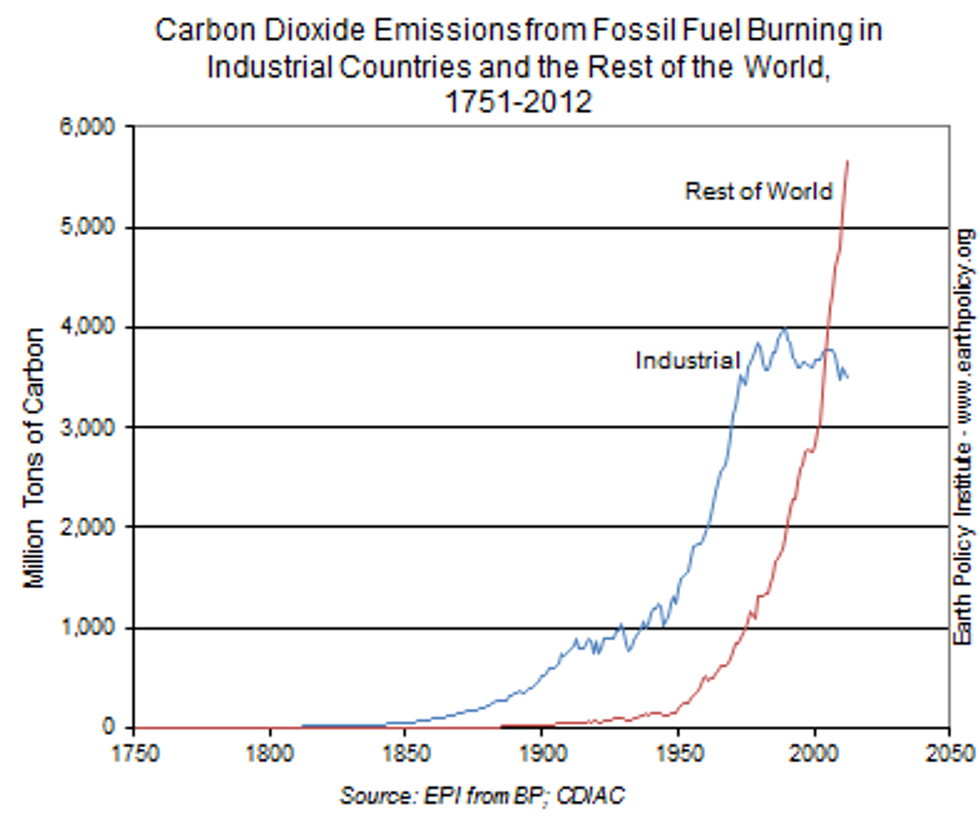 CO2 emissions in developing countries surpassed those from industrial countries in 2005 and have since continued to soar. China's carbon emissions grew by 44 percent since 2007 to 2.4 billion tons in 2012. Together the U.S. and China account for more than 40 percent of worldwide emissions. Emissions in India, home to more than a billion people, overtook those in Russia for the first time in 2008. From 2007 to 2012, India's emissions grew 43 percent to reach 596 million tons of carbon. Carbon emissions in Indonesia, another fast-growing economy, have exploded, growing 52 percent to hit 146 million tons in 2012. 
Although emissions from developing countries now dominate, the industrial countries set the world on its global warming path with over a century's worth of CO2 emissions that have accumulated in the atmosphere. Furthermore, emissions estimates discussed here include only those from fossil fuels burned within a country's borders, meaning that the tallies do not account for international trade.
For example, emissions generated from producing goods in China destined for use in the U.S. are added to China's books. When emissions are counted in terms of the final destination of the product, the industrial countries' carbon bill increases.
On a per person basis, the U.S. emits 4.4 tons of carbon pollution—twice as much as in China. The highest per capita carbon emissions are in several small oil and gas producing countries. In 2012, Qatar spewed out 11 tons of carbon per person. Trinidad and Tobago is next with nine tons of carbon per person, and Kuwait follows at 7.5 tons.
Fossil fuels are not the only source of CO2 emissions. Changing the landscape, for example by burning forests, releases roughly 1 billion tons of carbon globally each year. Brazil and Indonesia have high levels of deforestation and are responsible for much of the current carbon emissions from the land.
About half of the CO2 that is released through fossil fuel burning or land use changes stays in the atmosphere. The other half is taken up by the oceans or by plants. As more CO2 is absorbed by the world's oceans, the water becomes more acidic. This change in ocean chemistry can strip away the building blocks of coral reefs, weakening an important link in the oceanic food chain. Scientists warn that the oceans could eventually become saturated with CO2, compromising their capacity to absorb our carbon emissions, with serious consequences for the global thermostat.
For some 800,000 years, the amount of CO2 in the atmosphere did not go above 300 parts per million (ppm). But in the 250 years following the start of the Industrial Revolution, enough CO2 built up to bring the average concentration to nearly 394 ppm in 2012. Throughout each year, the concentration of the gas fluctuates, reaching its annual peak in the spring. In May 2013, the CO2 concentration briefly hit 400 ppm, a grim new milestone on the path of climate disruption. Never in human history has the atmosphere been so full of this odorless and colorless yet powerfully disruptive gas.
CO2 acts like the glass of a greenhouse, trapping heat. Since humans began burning fossil fuels on a large scale, the global average temperature has risen 1.4 degrees Fahrenheit (0.8 degrees Celsius), with most of the increase occurring since 1970. The effects of higher temperatures include rising sea levels, disappearing Arctic sea ice, more heat waves and declining yields of food crops.
More warming is in the pipeline as the climate system slowly responds to the higher CO2 concentrations. Reports from international institutions, such as the International Energy Agency, based on work by thousands of scientists emphasize that little time remains to cut emissions and avoid a climate catastrophe. The World Bank notes that absent any policy changes, the global average temperature could be 9 degrees Fahrenheit warmer by the end of this century, well above what human civilization has ever witnessed.
But a different future—one based on a clean energy economy—is within our reach. Germany, not a particularly sunny country, has harnessed enough of the sun's rays to power some 8 million homes, for example. The U.S. has enough wind turbines installed to power more than 15 million homes. Kenya generates roughly a quarter of its electricity from geothermal energy. This is but a glimpse of the enormous potential of renewable energy. The question is not whether we can build a carbon-free economy, but whether we can do it before climate change spirals out of control.
Visit EcoWatch's CLIMATE CHANGE page for more related news on this topic.
——–