iStock
By Dan Nosowitz
News that there may be a correlation between exposure to pesticides and infertility is not new; studies have previously tied higher rates of exposure to decreased male fertility.
But a new study, primarily from researchers at Harvard University's T.H. Chan School of Public Health, takes a look specifically at women who are already undergoing infertility treatment. And the results seem to have surprised even the researchers, according to a CNN report.
The study looked at 325 women undergoing infertility treatment at Mass General Hospital in Boston. The researchers looked for correlations in whether women successfully got pregnant and gave birth with their diets. The subjects self-reported what they ate, and the researchers took careful note of the amounts of fruits and vegetables associated with very high levels of pesticide residue, based on U.S. Deparement of Agriculture data. (That data shows up in lists like the EWG's Dirty Dozen).
Among those fruits and vegetables with the highest levels of pesticide residue are spinach, strawberries and peaches; those with low levels of pesticide residue include avocados and onions.
The results are pretty staggering: of those subjects who consumed more than 2.3 servings per day of high-residue fruits and vegetables, the study found an 18 percent lower probability of getting pregnant and a 23 percent lower probability of successfully giving birth. There seemed to be no correlation between those women who consumed lots of low-residue fruits and vegetables.
This study is not a perfect proof of causality; the women surveyed are demographically limited by geographic location (being that they're all seeking treatment from a single hospital), and they were all seeking fertility treatment in the first place, which might skew the findings. And, of course, the study relied on self-reporting, which can have flaws, too.
But this could be a serious call to action for those seeking to prove a link between infertility and pesticides in our food, even when that food is objectively healthful stuff like strawberries and spinach.
Reposted with permission from our media associate Modern Farmer.
Related Articles Around the Web
EcoWatch Daily Newsletter
www.youtube.com
By Reynard Loki
The friendship between the U.S. and France goes way back—all the way to 1775, when France secretly began sending supplies to the Americans during the Revolutionary War. In fact, France was the first ally of the new U.S. (Of course, it helped that France was pretty angry at Great Britain over the territory it lost during the French and Indian War).
Now, almost 250 years later, President Trump has ruffled some French feathers by pulling the U.S. out of the Paris agreement, signed by nearly 200 nations to limit the global average temperature increase to 1.5°C above pre-industrial levels. But newly minted French president Emmanuel Macron wasn't about to let Trump's pullout ruin a good friendship—something that was made abundantly clear when the two leaders met in Paris last week.
By many accounts, Macron is a true optimist. Perhaps his youth has something to do with his lack of negativity; at 39, he is France's youngest leader since Napoleon, and the first to be born after 1958. His predecessor and former boss Francois Hollande said Macron "radiated joy" when he worked for him, an odd statement considering Hollande's dour disposition. (The Telegraph's William Langley once called the ex-president "a politician with the personality of bread mold.")
"An almost preternaturally sunny demeanour, combined with his winning way with words, has been the new president's magic formula," wrote Hugh Schofield, the Paris correspondent for BBC News. He also noted that Macron's "resplendent" personality was going to be "tested like never before."
Well, Macron may have just aced the Trump test. And he did it by launching a charm offensive that allowed him not only to forcefully address their main point of contention—Trump's controversial withdrawal from the Paris climate agreement—but to get Trump to soften his climate stance, something no other politician, American or otherwise, has yet accomplished.
In a Sunday interview with the French newspaper Journal du Dimanche, Macron said he pressed Trump on the possibility of bringing America back into the agreement.
"Donald Trump listened to me," Macron said, according to AP. "He understood the reason for my position, notably the link between climate change and terrorism." The French president added, "He said he would try to find a solution in the coming months. We spoke in detail about what could allow him to return to the Paris deal."
During a joint news conference after the meeting, Trump said "something could happen with respect to the Paris accord ... We'll see what happens. But we'll talk about that in the coming period of time. If it happens, that will be wonderful. If it doesn't, that's okay, too."
Perhaps France—and for that matter, Europe—has found a "Trump whisperer" in Macron, who also said during his interview Sunday that he believes Trump left the country with a "better image of France than upon his arrival." (Angela Merkel, take note.)
"Our countries are friends, so we should be too," Macron said, adding his belief that after their meeting, the two leaders gained a "better, intimate knowledge of each other."
When they met, Trump and Macron shared a seemingly never-ending handshake. Hopefully, they'll soon be shaking hands to celebrate America's reentry to the Paris agreement. To Monsieur Macron, we say, Bonne chance!
Reposted with permission from our media associate AlterNet.
waterlust.com / @tulasendlesssummer_sierra .
Each product featured here has been independently selected by the writer. If you make a purchase using the links included, we may earn commission.
The bright patterns and recognizable designs of Waterlust's activewear aren't just for show. In fact, they're meant to promote the conversation around sustainability and give back to the ocean science and conservation community.
Each design is paired with a research lab, nonprofit, or education organization that has high intellectual merit and the potential to move the needle in its respective field. For each product sold, Waterlust donates 10% of profits to these conservation partners.
Eye-Catching Designs Made from Recycled Plastic Bottles
waterlust.com / @abamabam
The company sells a range of eco-friendly items like leggings, rash guards, and board shorts that are made using recycled post-consumer plastic bottles. There are currently 16 causes represented by distinct marine-life patterns, from whale shark research and invasive lionfish removal to sockeye salmon monitoring and abalone restoration.

One such organization is Get Inspired, a nonprofit that specializes in ocean restoration and environmental education. Get Inspired founder, marine biologist Nancy Caruso, says supporting on-the-ground efforts is one thing that sets Waterlust apart, like their apparel line that supports Get Inspired abalone restoration programs.
"All of us [conservation partners] are doing something," Caruso said. "We're not putting up exhibits and talking about it — although that is important — we're in the field."
Waterlust not only helps its conservation partners financially so they can continue their important work. It also helps them get the word out about what they're doing, whether that's through social media spotlights, photo and video projects, or the informative note card that comes with each piece of apparel.
"They're doing their part for sure, pushing the information out across all of their channels, and I think that's what makes them so interesting," Caruso said.
And then there are the clothes, which speak for themselves.
Advocate Apparel to Start Conversations About Conservation
waterlust.com / @oceanraysphotography
Waterlust's concept of "advocate apparel" encourages people to see getting dressed every day as an opportunity to not only express their individuality and style, but also to advance the conversation around marine science. By infusing science into clothing, people can visually represent species and ecosystems in need of advocacy — something that, more often than not, leads to a teaching moment.

"When people wear Waterlust gear, it's just a matter of time before somebody asks them about the bright, funky designs," said Waterlust's CEO, Patrick Rynne. "That moment is incredibly special, because it creates an intimate opportunity for the wearer to share what they've learned with another."
The idea for the company came to Rynne when he was a Ph.D. student in marine science.
"I was surrounded by incredible people that were discovering fascinating things but noticed that often their work wasn't reaching the general public in creative and engaging ways," he said. "That seemed like a missed opportunity with big implications."
Waterlust initially focused on conventional media, like film and photography, to promote ocean science, but the team quickly realized engagement on social media didn't translate to action or even knowledge sharing offscreen.
Rynne also saw the "in one ear, out the other" issue in the classroom — if students didn't repeatedly engage with the topics they learned, they'd quickly forget them.
"We decided that if we truly wanted to achieve our goal of bringing science into people's lives and have it stick, it would need to be through a process that is frequently repeated, fun, and functional," Rynne said. "That's when we thought about clothing."
Support Marine Research and Sustainability in Style
To date, Waterlust has sold tens of thousands of pieces of apparel in over 100 countries, and the interactions its products have sparked have had clear implications for furthering science communication.
For Caruso alone, it's led to opportunities to share her abalone restoration methods with communities far and wide.
"It moves my small little world of what I'm doing here in Orange County, California, across the entire globe," she said. "That's one of the beautiful things about our partnership."
Check out all of the different eco-conscious apparel options available from Waterlust to help promote ocean conservation.
Melissa Smith is an avid writer, scuba diver, backpacker, and all-around outdoor enthusiast. She graduated from the University of Florida with degrees in journalism and sustainable studies. Before joining EcoWatch, Melissa worked as the managing editor of Scuba Diving magazine and the communications manager of The Ocean Agency, a non-profit that's featured in the Emmy award-winning documentary Chasing Coral.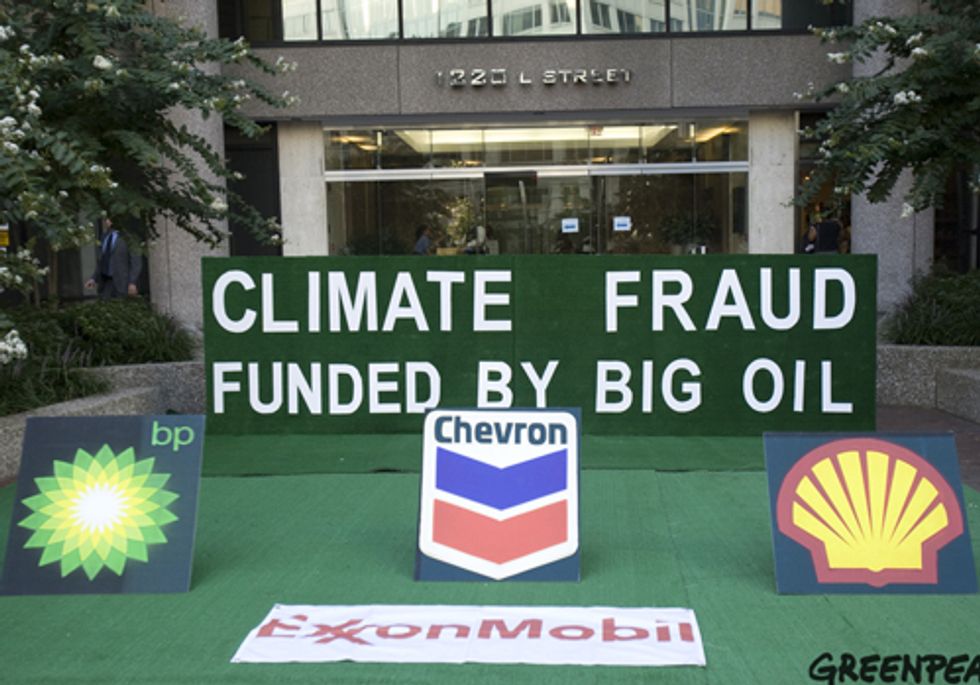 By Kert Davies
Recently, Greenpeace got a rare look behind the curtain at how Big Oil stages citizen support for huge oil companies, when activists got inside a television commercial shoot in Washington, D.C. The American Petroleum Institute (API), and their public relations firm Edelman, were filming a new series of television commercials that we learned API plans to air nationally on CNN starting in January. The ads, aimed at the 2012 elections, will aim to demonstrate authentic citizen support for the oil industry's agenda.
Greenpeace disrupted API's astroturf commercial plans by not following instructions and going off script, declaring support for a clean energy future and demanding an end to political interference by the oil industry's lobbyists and PR firms.
Inside API's Secretive Commercial Shoot
Details of the CNN January ad campaign as described by API and other clips are posted below.
Activists (or citizens) were led through the wardrobe and makeup process, approved for looks by representatives from API and Edelman Blue Advertising, before waiting their turns to go on set. Participants were required to be registered voters, explained an API representative, to protect API from opponents who may inquire if actors stating "I vote" are actually eligible to do so. Other recruited actors were being watched by the industry representatives during their takes, repeating lines like "That (energy independence) will come from our own energy resources—like oil and natural gas."
Late in the morning, the API Edelman team filmed three unexpectedly honest 'citizens' who made clear the script did not represent their real opinions on energy. Greenpeace researcher Connor Gibson of the PolluterWatch project repeated their scripted line, "I vote," then declared, "But I am a clean energy citizen. I will not believe the lies and influence peddling of the American Petroleum Institute, which would leave you to believe that I am a citizen that is okay with giving my tax payer dollars to billionaires and millionaires that run oil companies, the most profitable industry on the planet." Gibson stressed movement away from a "perpetual petroleum future" and finished his speech by telling Edelman Blue President Robert McKernan "we need clean sources of energy, like wind and solar." Listen to Gibson's full declaration and read the transcript, below.
In addition to Gibson, two other participants refused to recite API's script. Peter Roquemore of the Sierra Student Coalition and Gabe Elsner, deputy director of the Checks and Balances Project showed up to the shoot with the expectation that they would provide their own assessments of American energy. Both decided not to participate once they were fed oil industry talking points on camera.
API's New Vote 4 Energy Ad Campaign Exposed
In a taped conversation with the activists, an API communications advisor described the upcoming Vote 4 Energy advertising package in great detail. "This is scheduled to launch in January in a commercial on CNN, so it'll be a national spot. API—American Petroleum Institute—bought into an election package, so anytime CNN does anything like covering the presidential debates, cover a caucus, anything like that, those will be the kinds of programs where the commercial is seen," the advisor said. The commercial debuts Jan. 1. How much the deal with CNN cost remains an open question.
The API rep also said, "we are shooting a ton of people so, you know, you may make the cut, you may not, it all depends on the demographic." Earlier in the morning, API agents were overheard expressing a need for more people of color in the commercials, noting that black and Asian demographics tend to disagree with Big Oil's warped political positions. API has been caught in the past photo-shopping print ads to include racial minorities in purchased iStock Photo to make their already fabricated supporters appear more diverse.
API Busted—Staging Grassroots Support for Dirty Energy
More than two years ago, Greenpeace obtained a confidential memo from American Petroleum Institute CEO Jack Gerard, asking API member oil companies to support a campaign to fake a grassroots movement called "Energy Citizens." Under the guise of this astroturf group, Big Oil would pay for public events similar to Tea Party rallies in support of their absurd wishlist—killing global warming legislation, unrestricted offshore oil drilling, increased tar sands development through the Keystone XL pipeline, expanded hydraulic fracturing, and no form of accountability for their immense contributions to climate change.
Luckily, the leaked memo was revealed on the front page of the Financial Times and covered in the Washington Post, Guardian and on Huffington Post. The New York Times called it "Another Astroturf Campaign," revealing what a fluke Energy Citizens was before Chevron had the chance to bus its employees to API's first round of staged rallies, the majority of which were organized by oil lobbyists. Greenpeace called attention to API's tactic by installing astroturf on the front entrance of API's Washington, D.C. headquarters, featuring the logos of its largest members—ExxonMobil, Chevron, Shell and British Petroleum and the banner CLIMATE FRAUD: FUNDED BY BIG OIL.
Given the nature of API's newest commercial shoot, its Energy Citizens rallies where participants had to be instructed to clap (see Turf Wars), and its repeated use of iStock Photos to boost the perception of public support for Big Oil, it is reasonable to question the authenticity of similar PR moves like the "1'm One" or "One in a Million" advertising campaigns, also run by PR company Edelman, which purport to show real people who work for the oil industry.
The American Petroleum Institute, the top lobbying firm for the oil and gas industry, has spent at least $30 million peddling its dirty influence to our federal government in the last five years, and recently announced it would start funneling oil money to politicians. With its $200 million Big Oil budget, API has played a key role in the industry's climate denial movement by funding junk scientists like Willie Soon and coordinating a public relations strategy to create doubt over climate change.
Recordings from Inside the American Petroleum Institute Vote 4 Energy Commercial Shoot
API explains the commercial deal with CNN (click to listen)
API: "Just so you know, I don't know how much they told you, but this is scheduled to launch in January in a commercial on CNN, so it'll be a national spot...API--American Petroleum Institute, uh, bought into an election package so anytime CNN does anything like covering the presidential debates, cover a caucus, anything like that, those will be the kinds of programs where the commercial is seen."
API reveals commercial debut date (click to listen)
Greenpeace Activist: "So what date is this going to launch?"
API: "Um, January first."
API says chance of being in commercial "depends on the demographic" (click to listen)
API: "And so to your point though, we are shooting a ton of people so, you know, you may make the cut, you may not, it all depends on the demographic."
API explains concern over "opponents" (click to listen)
API: "And I'm sure they checked with you but you're a registered voter and all that stuff?" 
Gibson: "Yeah, they asked me. I don't know how you check that, but I am."
API: "We, um...the only reason is really a lot of the, you know, the script is saying "I vote," "I vote for energy," "I vote for..." so, we at least want to be genuine in the sense that you are a registered voter. As you can imagine, there are some opponents of the oil and natural gas industry and so we always have to be very careful of, you know, what our opponents could use against us. And that is, you know, if they found out that we were using people who aren't actually registered voters, or not even eighteen, or whatever, so..."
Production staffer explains how lines are fed to participants (click to listen)
"No they put them in costumes and then the makeup lady takes care of them and then they walk them out, and all they do is the director feeds them the lines and he talks them through it. It's…he'll [Gibson] be fine."
Transcript of Greenpeace activist going off API script (click to listen)
Director, prompting the first scripted line: "Smile, deep breath... 'I vote.'"
Gibson: "I vote. But I am a clean energy citizen. I do not believe in the lies and influence peddling of the American Petroleum Institute, which would lead you to believe that I am a citizen that is okay with giving my taxpayer dollars to the billionaires and millionaires that run oil companies, the most profitable industry on the planet. The American Petroleum Institute is peddling its influence to make you think people like me are fully in support of [a] perpetual petroleum future. 'Energy Citizens' is an astroturf front group created by the American Petroleum Institute to make it sound like there is citizen support for petroleum in our energy future, and we need clean energy – like wind and solar."
For more information, click here.