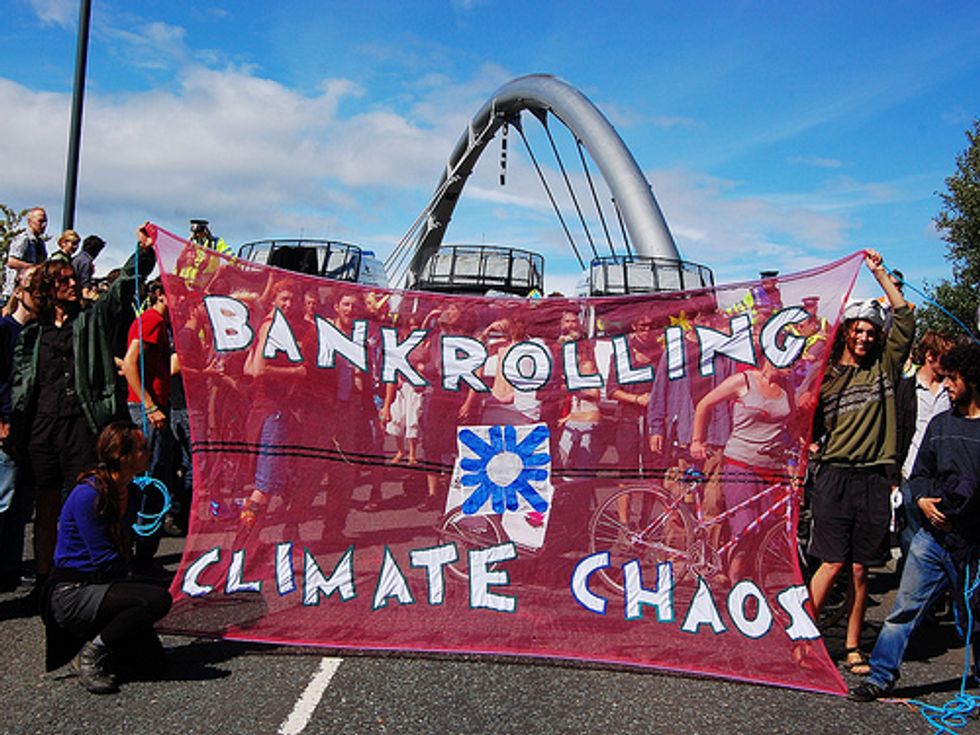 As world leaders gathered in Durban Nov. 30 to discuss solutions to global climate change, an international coalition of civil society and environmental organizations released a new study, Bankrolling Climate Change, highlighting the top 20 banks that finance the coal industry. The study examines commercial banks' lending for the coal industry and provides the first comprehensive climate ranking for financial institutions. The study finds JPMorgan Chase, Citi and Bank of America to be the top three banks in the world financing climate change.
A full copy of the study with a ranking of all the researched banks can be downloaded here.
The report comes from the German environmental organization urgewald, the South African social and environmental justice organizations groundWork and Earthlife Africa Johannesburg, and the international network BankTrack.
The organizations examined the portfolios of 93 of the world's leading banks and looked into their support for 31 major coal-mining companies (representing 44 percent of global coal production) and 40 producers of coal-fired electricity (which together own more than 50 percent of global coal-fired generation capacity). The total value of coal financing provided by these banks since 2005 (the year the Kyoto Protocol came into force) amounts to 232 billion Euro (US $309 billion).
"We chose to look into coal financing as coal-fired power plants are the biggest source of man-made CO2 emissions and the major culprit in the drama of climate change," explains Heffa Schuecking of urgewald. "In spite of the fact that climate change is already having severe impacts on the most vulnerable societies, there is an abundance of plans to build new coal-fired power plants. If banks provide money for these projects, they will wreck all attempts to limit global warming to 2° Celsius," says Schuecking.
The study identifies the top twenty "climate killers" in the banking world. Among the top twenty are banks from the U.S., the United Kingdom, Germany, France, Switzerland, China, Italy and Japan. The top three banks fuelling climate change worldwide are JP Morgan Chase (US $22 billion), Citi (US $18.27 billion) and Bank of America (US $16.79 billion). In the past two years, BoA invested $4.3 billion in the U.S. coal industry, making them the top financer of coal in America.
"Providing underwriting for coal companies is risky business from a regulatory, financial and reputational perspective. Coal is a dirty, dangerous and increasingly outdated energy source," said Amanda Starbuck, director of the Energy and Finance program at Rainforest Action Network (RAN). "As the lead financier of the coal industry, JPMorgan, Citi and Bank of America short-term, reckless financing strategies are jeopardizing the health of our environment and our climate." RAN contributed research to the report and works with the international BankTrack alliance.
Coal-fired power plants are not cheap to build. Typically, a 600 Megawatt plant will cost around US $2 billion. Power producers therefore rely heavily on banks to provide and mobilize the necessary capital for coal plants. "Our figures clearly show that coal financing is on the rise," notes Tristen Taylor of Earthlife Africa Johannesburg. "Between 2005 and 2010, coal financing almost doubled. If we don't take banks to task now, coal financing will continue to grow," he warns.
The study looks into the statements of the top climate killer banks and also examines their existing climate policies. "Interestingly, almost all of the top twenty climate killer banks in our ranking have made far-reaching statements regarding their commitment to combating climate change," explains Yann Louvel of BankTrack. "However, the numbers show that their money is not where their mouth is." He also notes that the policies many banks have adopted and the voluntary initiatives they have signed on to like the "Carbon Principles" or the "Climate Principles" have failed to make any difference in banks' portfolios.
"Our study names and shames the banks that are destabilizing our climate system," says Bobby Peek from groundWork. "Plans for new coal-fired power plants and coal mines are meeting with fierce resistance all over the world and we are going to begin turning that heat on the banks," explains Peek. The study calls on banks to become responsible climate actors and to quit coal. According to the NGOs, banks need to shift their portfolios to renewables and energy efficiency and set and implement ambitious CO2 reduction goals for their financed emissions.
For more information, click here.
—————
Rainforest Action Network runs hard-hitting campaigns to break North America's fossil fuels addiction, protect endangered forests and Indigenous rights, and stop destructive investments around the world through education, grassroots organizing, and non-violent direct action. For more information, please visit www.ran.org
EcoWatch Daily Newsletter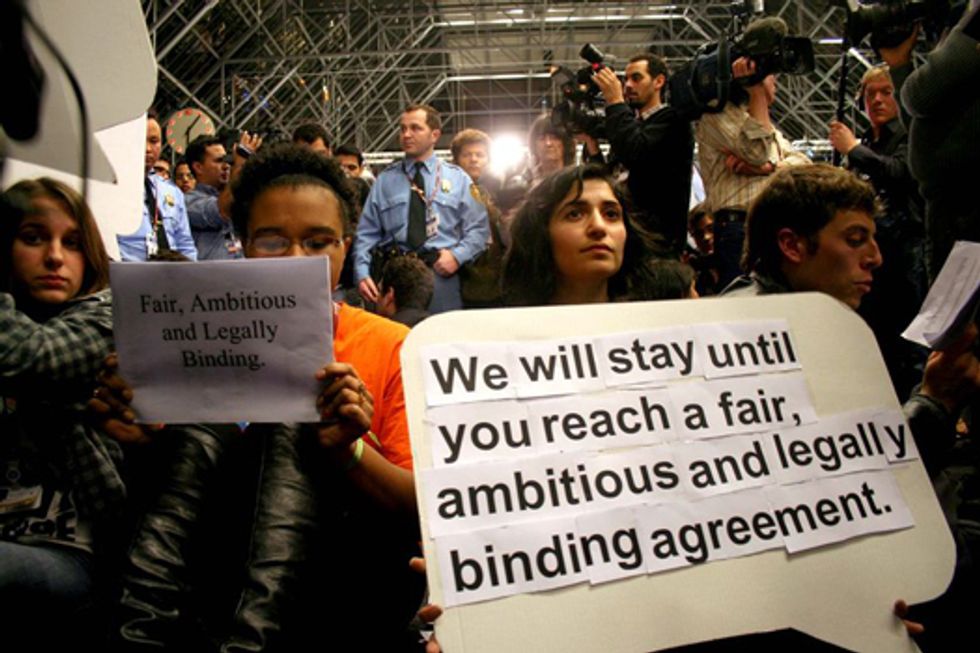 Annual United Nations (U.N.) climate treaty talks taking place between Nov. 28 and Dec. 9 in Durban, South Africa, represent "a crucial fork in the road" for negotiators, according to Alden Meyer, director of strategy and policy at the Union of Concerned Scientists (UCS), who has been attending these negotiations for more than 20 years.
"With the Kyoto Protocol's first emissions-reduction commitment period ending next year, countries face a stark choice," Meyer said. "They can preserve Kyoto's legally binding architecture and commit to build on it by negotiating a more comprehensive and ambitious treaty over the next few years that includes commitments for the U.S., China and other major emitting countries. Or they can fail to act, let countries make emissions cuts as they see fit, and just hope that those reductions will be enough to prevent the worst impacts of climate change."
A number of countries already have announced they will make specific emissions cuts under the Copenhagen Accord, which was established at the annual U.N. climate conference two years ago. Those promised reductions, however, would not be enough to prevent average world temperatures from rising more than 2 degrees Celsius above pre-industrial levels, an increase that many scientists say would ensure some of the worst consequences of climate change. Consequently, the 190 nations participating in the ongoing talks have made a commitment to avoid a 2-degree Celsius temperature increase.
"The world has the best chance of staying within that threshold by establishing a binding climate treaty," said Meyer. "There's always the chance that countries will make enough progress on some important issues—namely reducing deforestation and providing funds to help developing countries reduce their emissions and adapt to climate change—that it buys negotiators another year to continue talks. But even under that scenario, key sticking points likely would remain."
One of the primary hurdles is the United States' refusal to negotiate a new treaty unless major developing countries, such as China, India and Brazil, agree upfront that they will accept the same kind of legally binding commitments as the U.S.
"The U.S. position on developing countries and binding commitments is not realistic," said Meyer, "These countries may be willing to make binding commitments at the end of negotiations a few years from now, but only if their concerns about the level of industrialized country actions to cut emissions and ramp up financial and technology assistance to developing countries are meaningfully addressed.
The U.S. knows its preconditions for new negotiations are non-starters, and will serve only to block progress in Durban," he added. "We need more flexibility on this issue from the United States to get to 'yes' by the end of the talks."
Meanwhile, the European Union has agreed to abide by its Kyoto Protocol emission-reduction commitment beyond 2012 if other major carbon emitters, including the U.S., China, India and Brazil, agree to work toward a treaty. Japan, Russia and Canada have stated that they will not maintain commitments under Kyoto beyond next year under any circumstances, but there would be pressure on them to reconsider this stance if delegates reach an agreement on negotiating a broader treaty.
Climate Finance and the Green Climate Fund
The other big issue in Durban will be climate finance—how to ramp up financial assistance for a developing country to deploy clean technologies, reduce deforestation and adapt to the rapidly mounting impacts of climate change. Specifically, negotiators will try to make progress on establishing the Green Climate Fund that delegates supported at last year's climate talks in Cancun, Mexico, and will discuss options for meeting the commitment made by developed countries two years ago in Copenhagen to mobilize $100 billion a year by 2020 for developing country actions on climate.
The U.S. is an obstacle to progress on this front as well, joining Saudi Arabia in blocking consensus at a preparatory meeting in Cape Town, South Africa last month on recommendations for setting up the Green Climate Fund, and objecting to holding discussions on ways to meet the long-term climate finance goal.
"No one is expecting the United States to put specific pledges on the table in Durban," Meyer said. "But there needs to be progress on the finance issue, or developing countries will justifiably question whether the commitments made in Copenhagen and Cancun are real." He pointed out that other donor countries, such as the European Union, support starting a process in Durban to identify sources of long-term finance that can help meet the $100-billion goal.
Reducing Emissions from Deforestation
Treaty negotiators also will focus on producing a plan that would help developing countries reduce their emissions from tropical deforestation, which is responsible for about 15 percent of global warming pollution.
"Brazil has its own version of this plan and it's proven successful," said Doug Boucher, director of climate research and analysis at UCS. "With financial help from Norway, Brazil reduced tropical rainforest destruction by two-thirds between 2005 and 2010. This year's data, which will be released within the next few weeks, likely will show a slight increase but still at the same low levels.
"Thanks to the country's deforestation plan, since 2005, Brazil emitted about a billion tons less global warming pollution per year than what it emitted between 1996 and 2005," he added. "To put that into perspective, that's nearly the same amount of reductions that last year's U.S. Senate climate bill would have brought about between 2005 and 2020."
Negotiators in Durban will discuss the deforestation level each country should use to gauge its reductions. They also will consider ways to ensure indigenous communities and biodiversity are protected under a prospective deforestation plan.
"Also on the table is the question of who will provide funding to help developing countries reduce their deforestation rates and where the funding will come from," said Boucher. "It could come from governments, like Norway's multibillion-dollar funding that helped Brazil make such a huge dent in its deforestation rate, or from a carbon market, such as the one California is setting up."
Technology Sharing to Reduce Emissions and Enhance Adaptation
In Cancun, countries agreed to establish a "technology mechanism" to encourage countries to share technology and know-how to reduce emissions and help countries cope with the impacts of climate change.
"Negotiations at Durban should ensure that this technology mechanism becomes fully operational in 2012," said Rachel Cleetus, a senior climate economist at UCS. "A rapid global transition to clean, renewable energy sources is critical to addressing the challenge of climate change. Communities at risk from the impacts of climate change, some which are already happening, also need technologies that will help them build resilience and adapt.
"The big question is where the funding for the technology mechanism will come from, so we will be waiting to see what happens at Durban with the Green Climate Fund," she said. "That said, negotiators can make key decisions about the technology mechanism's governance, structure and work program independent of the fund, and they should push for the most ambitious outcome possible."
For more information, click here.
—————
The Union of Concerned Scientists is the leading U.S. science-based nonprofit organization working for a healthy environment and a safer world. Founded in 1969, UCS is headquartered in Cambridge, Massachusetts, and also has offices in Berkeley, Chicago and Washington, D.C.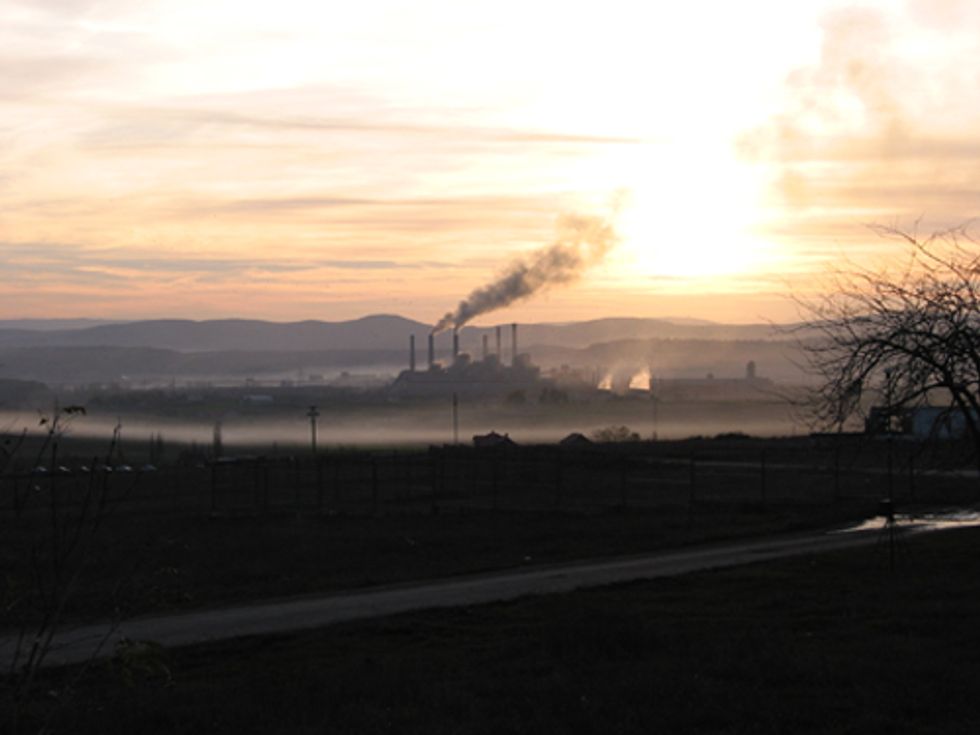 By Elizabeth Bast
Civil society organizations from around the world released a report Nov. 29 at the Durban, South Africa climate talks that highlights the contradictions inherent in the World Bank Group's (WBG) presence. While the WBG seeks a leading role in climate finance, it has been unable to finalize an energy strategy and continues to finance dirty energy projects.
Just a year after the WBG heavily criticized a US$3 billion loan for one of the world's largest coal plants in South Africa, the institution is considering supporting a new coal plant in Kosovo.
The report, Unclear on the Concept: How Can the World Bank Group Lead on Climate Finance without an Energy Strategy?, finds that "in spite of its climate-friendly rhetoric, the WBG continues to disproportionately fund dirty energy projects. In fact, nearly half of energy lending—more than US$15 billion—went to fossil fuels over the past four years."
The report includes data from the Shift the Subsidies database, which tracks multilateral development bank energy lending. It demonstrates how the WBG is experiencing clear difficulties in synching its core lending with climate goals. Given the difficulties and contradictions, the institution should focus on cleaning up its own act before making further forays into climate finance initiatives.
Civil society advocates claim this lending directly undermines the institutions credibility as a leading institution in climate finance. "The bank should put its money where its mouth is and stop financing dirty energy," said Karen Orenstein of Friends of the Earth.
Worse, the WBG is unable to finalize its own energy strategy—a document that will guide lending at the institution for the next decade. "How can the bank guide the world into a clean energy future when it can't guide itself over the next decade?" asks Justin Guay from the Sierra Club.
Without an energy strategy, the bank is risking its institutional credibility with its current consideration of a new coal project in Kosovo. The project will provide public financing for the most heavily polluting form of coal (lignite) and comes on the heels of the WBG decision last year to lend more than US$3 billion to help build the Medupi coal plant in South Africa. "The lignite project will be a huge burden for the people of Kosovo," says Nezir Sinani, a member of Kosovan civil society. "It will severely impact our health and we will pay higher energy prices."
The institution's actions– its core energy lending, its inability to pass a forward-looking energy strategy, and its mixed involvement in climate-related initiatives—demonstrate that the WBG does not take climate change impacts nearly seriously enough.
In order to change course and support developing countries in a transition to truly clean energy, the report calls upon the WBG to:
Stop funding dirty energy projects, either directly or indirectly, and
Pass an energy strategy that promotes truly clean energy and energy access.
For a copy of the report, click here.
For more information, click here.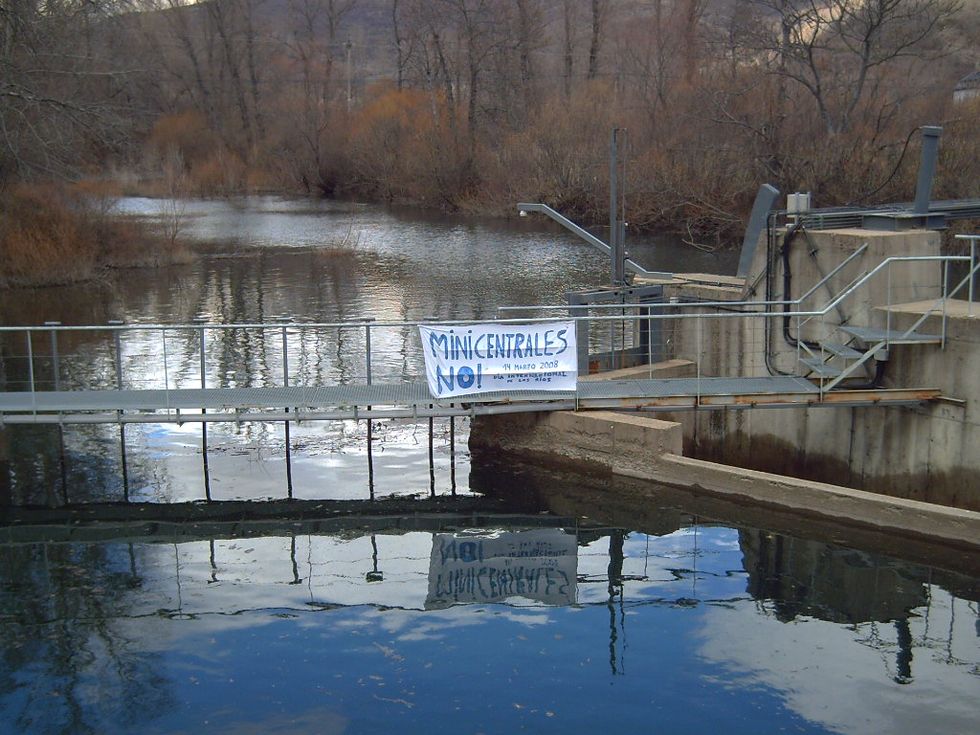 International Rivers and Friends of the Earth International have teamed up to create a state-of-the-art Google Earth 3-D tour and video narrated by Nigerian activist Nnimmo Bassey, winner of the prestigious Right Livelihood Award. The production was launched on the first day of the COP17 climate meeting in Durban, South Africa. The video and tour allow viewers to explore why dams are not the right answer to climate change by learning about topics such as reservoir emissions, dam safety and adaptation while visiting real case studies in Africa, the Himalayas and the Amazon.
The Durban climate meeting is themed "saving tomorrow today." Yet a global dam boom being promoted by dam proponents—including dozens of megadams proposed for Africa's major rivers—could make a mockery of this vision. "Healthy rivers are becoming an endangered species because of the impacts of large dams," said Jason Rainey, executive director of International Rivers. "There is no 'tomorrow' without rivers—we can't adapt to a changing climate without them."
"Many African nations are dangerously dependent on hydropower, yet new dams are being built without any analysis of how climate change could affect their economic viability or their safety," said Nnimmo Bassey, chair of Friends of the Earth International and narrator of the Google Earth video. "Africa cannot afford dried-up reservoirs or dam collapses on top of the already high costs of adapting to a changing climate. We must develop climate-safe energy systems that improve lives, share the development wealth and help us all weather the coming storm."
Watch the video below and take action to protect rivers from climate change and dams:
Download the Google Earth Tour by clicking here.
Using state of the art animation, the Google Earth production illustrates three key reasons that large dams are the wrong response to climate change:
River flows are increasingly unpredictable. Large dams have always been based on the assumption that future stream-flow patterns will mirror those of the past, but this is no longer true. Climate change has begun to significantly and unpredictably change precipitation patterns. More frequent droughts will make many hydropower projects uneconomic. More extreme rainfall will increase the risk of dam failures and catastrophic flood releases.
Healthy rivers are critical for supporting life on Earth. Big dams make it harder for people and ecosystems downstream of dams to adapt to climate change by reducing water quality and quantity, drying up forests and wetlands, flooding productive land and destroying fisheries.
Dam reservoirs emit greenhouse gases, especially in the tropics. Dam reservoirs are a globally significant source of one of the most potent gases, methane. Meanwhile, free-flowing rivers play a crucial role in helping trap carbon.
The tour illustrates how melting glaciers in the Himalayas—an effect of climate change—may lead to higher flood and safety risks for communities living downstream of dams. The tour plunges the viewer deep inside one of Brazil's dirtiest reservoirs, at the Tucuruí Dam, to visualize how rotting organic material creates methane gas, which bubbles up from dam reservoirs to emit greenhouse gases. The tour visualizes what smaller, decentralized projects would look like—an approach that could more efficiently meet energy and water needs in Africa, while also reducing the economic risks of drought-crippled dams and protecting life-giving rivers.
More information:
For more information, click here.