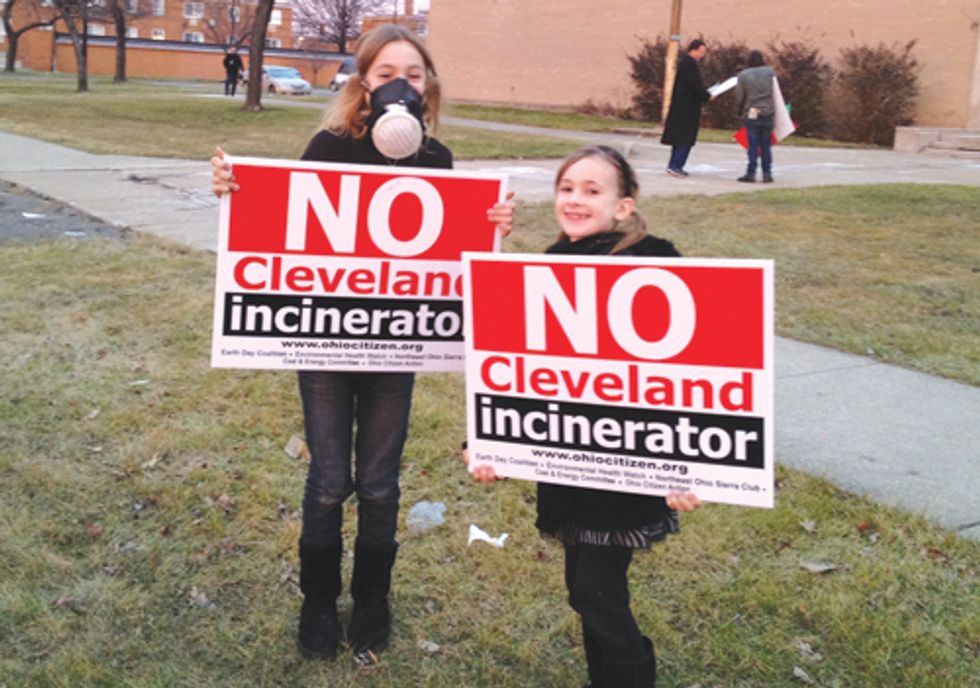 by Sandy Buchanan
Residents of Cleveland and neighboring suburbs are turning out in full force to protest the City of Cleveland's plans to build a garbage incineration facility designed to generate electricity at the Ridge Road Transfer Station on the city's near west side.
In late January, two public meetings held by the city drew standing room only crowds at the Estabrook Recreation Center on Fulton Road, with dozens of people speaking out in opposition of the proposed plant.
Dr. Anne Wise, a physician at Neighborhood Family Practice two blocks from the proposed site, testified at both hearings saying that her patients already suffer from breathing problems and heart disease, aggravated by Cleveland's poor air quality. She described how one of her patients didn't need her oxygen tank when she vacationed to southern Ohio, but had to use it again when she came home to Cleveland.
Andy Dzurick, a Cleveland resident that lives one mile from the Ridge Road transfer station, agreed with Dr. Wise, by saying, "It seems like we've got plenty of pollution sources already."
U. S. Rep. Dennis Kucinich (D-OH) testified that the incinerator is not an economically or environmentally sustainable way to make electricity or dispose of trash.
The city has linked the expansion of their curbside recycling program to the building of the garbage incinerator. Resident John Jenkins drew applause at the January meeting when he asked, "Why is the City of Cleveland holding the recycling program hostage to the building of this facility?" Cleveland City Councilman Brian Cummins probed the city administration on this issue and other council members are advocating that the city look at decoupling these proposals.
Red, black and white, "No Cleveland Incinerator" yard signs are sprouting up all over town, thanks to support from the Northeast Ohio Sierra Club. And at the public hearings, residents were holding up these signs with another message on the back: green signs that say "Yes Recycling/Composting." The Ohio Environmental Protection Agency (EPA) has issued a draft air pollution permit for the facility. The permit would make the facility one of the largest emitters of several dangerous pollutants in Cuyahoga County, including soot, mercury and lead. The public comment period, which had originally been set for January, has now been extended until Feb. 23 due to the public outcry and the intervention of several members of Cleveland City Council and Mayor Frank Jackson.
Chris Trepal, executive director of Earth Day Coalition, has repeatedly asked the city and the Ohio EPA to provide maps showing where the air pollution would travel when it leaves the facility, since so far they have provided only raw data that can only be opened with proprietary software, making it impossible for residents to access.
Cleveland Public Power's developer for the facility, Peter Tien, is the same individual who was involved in the failed attempt last year to sell a no-bid LED light bulb contract to Cleveland Public Power, from Chinese manufacturer Sunpo-Optu. For the incinerator deal, he is the U. S. representative for gasification technology developed by a Japanese company called Kinsei-Sangyo. Tien has a no-bid $1.5 million contract with the city, and has repeatedly fallen behind schedule.
Cleveland Public Power says the facility would generate 10 to 15 megawatts of power into its system, whose total peak power is 330 megawatts per year.
Stuart Greenberg, executive director of Environmental Health Watch, testified at the Jan. 9 hearing, saying "Gasification has been sold to the city as a clean technology, which it's not. There are cleaner ways to generate electricity and cleaner ways to manage waste."
Ann Knotek, a resident of the Old Brooklyn neighborhood, electrified the crowd at the hearing with a presentation demonstrating the contradictions in the city's proposal. There are no facilities of this type operating anywhere in the U. S., so none of the pollution estimates come from actual experience with burning the type of garbage generated in the U.S., or at the volume that Cleveland is proposing.
Cleveland Public Power has said that they don't know what this facility will cost or how they would finance it. Peter Tien originally provided an estimate of $180 million, but told Cleveland Scene in December that the cost would be $300 million.
Want to get involved? Letters can be written to Mayor Frank Jackson at 601 Lakeside Ave., Cleveland, Ohio 44114, City Council members at the same address and David Hearne at the Cleveland Division of Air Quality at 75 Erieview Plaza, Suite 200, Cleveland, Ohio, 44114. Letters sent to Hearne by Feb. 23 will be considered part of the official public comment for the Ohio EPA air pollution permit.
For more information, call Ohio Citizen Action at 216-861-5200, email or click here.
EcoWatch Daily Newsletter
People don't want more pollution. With the new century and the agonizing economic shift we're going through, things should get better, not worse in terms of environmental health.
Ohio ranks the worst in the country for toxic air pollution. The American Lung Association's State of the Air 2011 report gives Cuyahoga County a failing grade for ozone and particulate pollution levels. The eight-county Cleveland metropolitan area is ranked as having the nation's 12th highest level of year-round particulate pollution. Clevelanders, although maybe not aware of the statistics, know that our pollution stinks and it's a major cause of illness.
Despite our poor environmental rankings, the City of Cleveland held public meetings in January and will hold meetings in February to explain to residents the plans for a proposed gasification waste-to-energy facility. Cleveland Public Power has applied for an air permit from the Ohio Environmental Protection Agency for a 15 megawatt facility that would combust an estimated 560 tons of trash a day.
The proposed Ridge Road project is an unproven combination of technologies that does not exist anywhere in the world. The gasification plant would be the first of its type in the country and the first time the technology has been used in the U.S. for municipal solid waste.
The gasification technology has been described by industry experts as "emerging" with high risks. Risks include insufficient experience to establish reliability estimates, high operating expenses, high capital investment requirements, scale-up issues and lack of performance guarantees from equipment manufacturers due to the volatility of the fuel-syngas produced by gasifying municipal solid waste.
The Commissioner of Cleveland Public Power, Ivan Henderson, has claimed publicly that the project "doesn't have any harmful pollutants associated with it." However, an official representing the City's Division of Air Quality stated in an internal memo, "This will be a new, and a large, air pollution source. Highest pollutants are expected to be particulates, sulfur dioxide, nitrogen oxides, carbon dioxide, and carbon monoxide ... ".
The annual potential air pollution emissions from the proposed facility, as indicated in the draft air permit, include 500 pounds of lead, 260 pounds of mercury and tons of other hazardous air pollutants.
Cleveland Public Power claims that the project will enable it to implement city-wide curbside recycling. The proposed project has a target recycling rate of 25 percent with the national average recycling rate being 34 percent. In 2010, other Cuyahoga County municipalities achieved recycling rates of 30, 40 and even more than 60 percent. Cleveland's current rate for areas that have curbside recycling is 15 percent, but the city-wide rate for 2011 was 2.5 percent.
An uncommon aspect of the proposal is how the project started. Cleveland Public Power first identified gasification as the preferred technology it wanted to adopt. Cleveland Public Power's partner in developing the proposal to date is Princeton Environmental Group, led by Peter Tien, a manufacturer's representative to the Japanese company Kinsei Sangyo. Tien was awarded a $1.5 million contract in March 2010 to prepare preliminary designs and to seek an air permit.
The project's total costs have been estimated at $180 to $222 million. Financing, which has yet to be determined, could increase the total cost to an estimated $300 million. Ownership and operational details have also not yet been finalized.
Another unusual development was Cleveland Public Power issuing a request for information and qualifications (RFIQ) in September of 2011. Although the City's air permit application was submitted in March 2011 and the permit utilized Kinsei Sangyo specifications for equipment and emissions, the RFIQ seeks to identify other potential technologies and vendors.
Cleveland City Council anticipates another request for legislative authority from CPP in the amount of $250,000 to hire a consultant to review and assess the responses and plan for the next step. That will bring the planning costs to date to well over $2 million. Ultimately the project is likely to fail primarily due to financial constraints.
Opponents of the project have a long list of alternatives for the city to consider, including recycling, composting, renewable energy such as wind and solar, and energy efficiency, all of which can help create green jobs for city residents. In addition, the City will benefit from the estimated $4 million in savings if 25 percent of the waste from landfills is diverted and revenues generated from selling some 58,000 tons of recyclable material. When you consider the combinations of risks, difficulty in financing, questionable process and phasing, the clear and proven alternatives offered and the call of "no more pollution" from citizens, it's clear that the city needs to go back to the drawing board.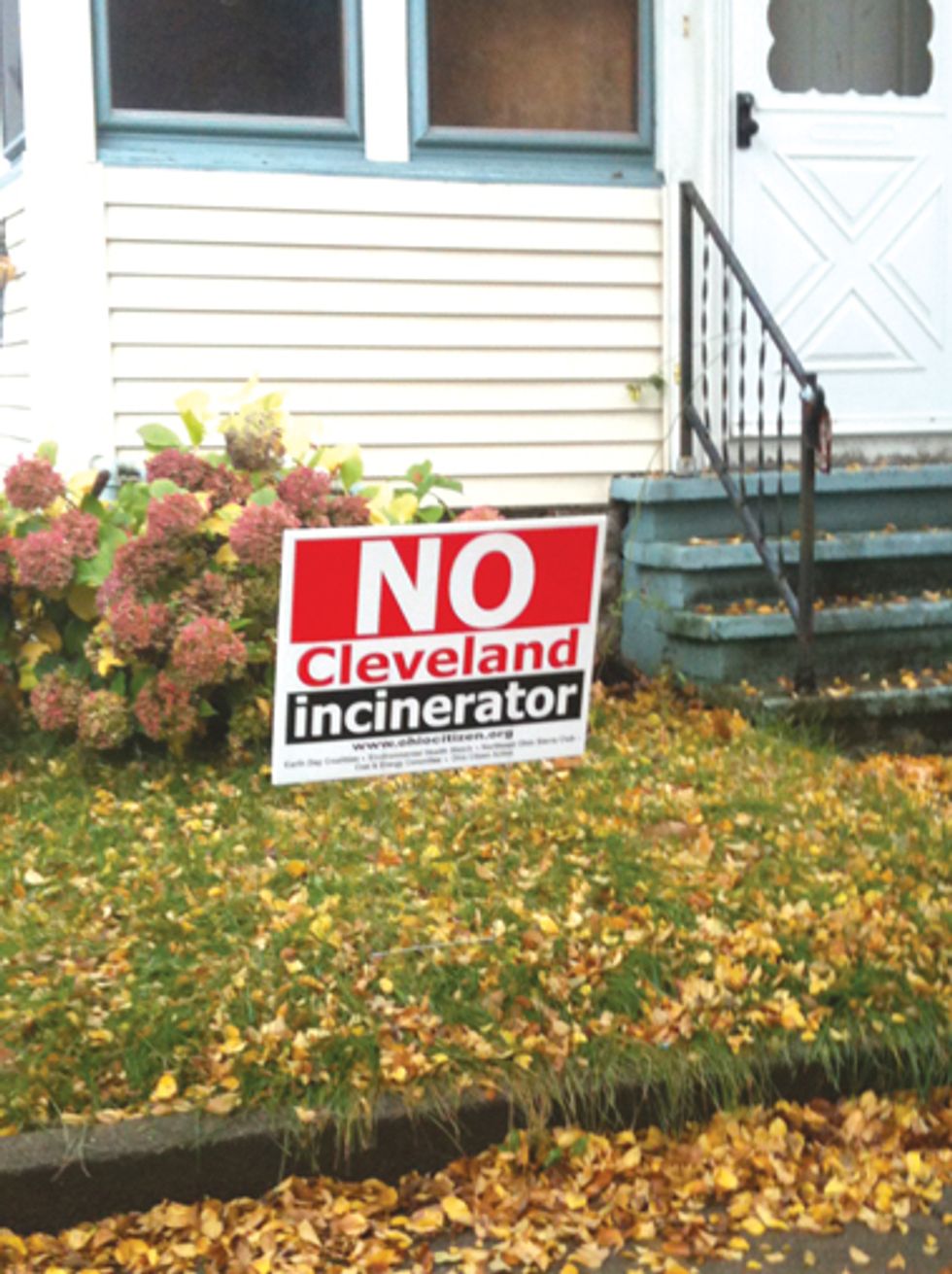 by Sandy Buchanan
The City of Cleveland's proposal to build a new garbage incinerator at its Ridge Road transfer station is drawing opposition from neighborhood residents, environmental groups and public health professionals. Cleveland's city-owned electric company, Cleveland Public Power, is proposing to bring in garbage from the city and Northeast Ohio region to be "gasified" by using a type of incineration technology new to the U.S.
Cleveland Public Power has applied to the Ohio Environmental Protection Agency (EPA) for an air pollution permit for the facility. According to the application, the incinerator would become one of the largest sources of air pollution in Cleveland, especially for soot and mercury. Dr. Anne Wise, a physician at Neighborhood Family Practice, a medical clinic just a few blocks away from the proposed incinerator site, said, "Children who live in highly polluted communities tend to have more asthma and respiratory problems than those who don't—even controlling for things like parental smoking habits. Why should our kids who already have high lead, high levels of asthma, our seniors who are already struggling with lung and cardiovascular diseases in proportions much greater than outside of Cleveland, why should they be subject to these risks even more? They count. They shouldn't be seen as collateral damage."
According to the city, the incinerator could increase truck traffic up to 550 trucks per day—which would mean a garbage truck coming in every one and a half minutes. Claudette Wlasuk, who lives near the proposed facility, said, "The traffic is my big concern because you can't argue about those fumes. The trucks worry me because I am so close to the incinerator, especially if they come from I-480 to Ridge Rd."
Residents have launched a yard sign campaign with red, black and white signs that say "No Cleveland Incinerator," and are preparing for meetings and public hearings. Earth Day Coalition, Environmental Health Watch, Northeast Ohio Sierra Club and Ohio Citizen Action have co-sponsored community meetings in Cleveland with recycling and waste reduction expert Neil Seldman, president of the Institute for Local Self Reliance, and Teresa Mills, who led the successful campaign to close the Columbus incinerator.
Neil Seldman, who has worked with cities and small businesses around the country, recommended that the city investigate alternatives to incineration, which would boost the city's recycling rates and create jobs. The developer of the proposed Ridge Road facility is Peter Tien, the same individual who was the key figure in Cleveland's failed attempt to set up an exclusive contract with the Chinese Sunpo-Optu light bulb manufacturer. Tien has received a contract for $1.5 million from Cleveland Public Power to apply for an air permit and design the facility. Cleveland Public Power said they are waiting for information from Tien on how much the facility will cost. The latest estimate was $180 million.
Citizens and environmental organizations have challenged the city's attempts to hide much of the information about the facility as a "trade secret." After eight months of keeping key data about the proposal out of the public version of the air pollution permit application, the city finally released an unredacted version on Nov. 15, after Natural Resources Defense Council attorney Shannon Fisk forced the issue with the Ohio EPA. Fisk's letter also challenged the city's attempts to avoid tougher air pollution restrictions by claiming they will operate the facility in such a way to come in just a fraction under several key emissions thresholds. This maneuver would mean that citizens would not be able to sue to enforce environmental laws, and that the incinerator could add to the overall air pollution of the area without forcing other air polluters to reduce their emissions. Because this facility is experimental, no prototypes exist for residents to examine. But the track record of garbage incinerators in the U.S. is dismal.
The permit for a facility known as Mahoning Renewable Energy in Alliance, which Cleveland Public Power said would have been comparable to the proposed Cleveland plant, was withdrawn in March 2011. The campaign against the facility was led by a local manufacturer of food packaging products who did not want toxic emissions from the facility contaminating his products.
Interested in getting involved? Here's how—Contact Cleveland Mayor Frank Jackson at 601 Lakeside Ave., Cleveland, Ohio 44114 or 216-664-3990, and Cleveland City Council at 601 Lakeside Ave., Room 220, Cleveland, Ohio 44114 or 216-664-2840, and let them know why you object to the proposed incinerator.
Join the citizens' campaign against the incinerator by putting up a yard sign, circulating a petition or participating in neighborhood meetings. Contact Dave Ralph at 216-970-7724 or dralph@ohiocitizen.org, and visit www.ohiocitizen.org and click on Cleveland incinerator.