This website uses cookies to ensure you get the best experience while browsing it. By clicking 'Got It' you're accepting these terms.


The best of EcoWatch, right in your inbox. Sign up for our email newsletter!
Part of the shoreline near the Straits of Mackinac that could be damaged by an oil spill. Mark Miller Photos / Photolibrary / Getty Images
The state of Michigan and Canadian pipeline company Enbridge announced a deal Wednesday to replace controversial aging pipelines that environmental groups worried put Lakes Michigan and Huron at risk for an oil spill, The Detroit Free Press reported.
Under the new plan, the existing 65-year-old pipelines, which are part of Enbridge's Line 5 carrying oil and liquefied natural gas between Wisconsin and Ontario, will be replaced with a new pipeline in a tunnel to be drilled into the bedrock beneath the Straits of Mackinac connecting Lakes Huron and Michigan, The Associated Press reported. The project will take seven to 10 years to complete and cost as much as $500 million. Enbridge will foot the bill.
The federal government is providing extensive support for fossil fuel production on public lands and waters offshore, through a combination of direct subsidies, enforcement loopholes, lax royalty collection, stagnant lease rates and other advantages to the industry, a report released Wednesday found.
EcoWatch Daily Newsletter
A coalition of environmental and public health advocates filed suit Wednesday to challenge a Trump administration rollback that could wipe out critical protections for cleaning up America's leading source of toxic water pollution: coal power plant waste.
Oil drilling site, with a pond for fracking water, Cotulla, Texas. Photo credit: Al Braden
The mayor of Brenham signed Monday the city council's unanimous resolution opposing the Bureau of Land Management's (BLM) plans to auction lands beneath and around Lake Somerville for oil and gas development. The resolution cited concerns that loss or contamination of the lake's water supply would be "catastrophic" for its residents. Lake Somerville is the city's sole drinking water source.
Heal the Bay's very own James Alamillo wearing a "bag monster" costume featuring 500 plastic bags—the number of bags thrown away by each Californian, each year, before efforts to ban plastic bags began.
By Matt Davis
California's environmental protections are not for sale. That's the message California voters sent to out-of-state plastic bag manufacturers when they upheld Proposition 67 by 53 to 47 percent in November. But how did the Golden State manage to win a state-wide bag ban against a national political backdrop that went the other way?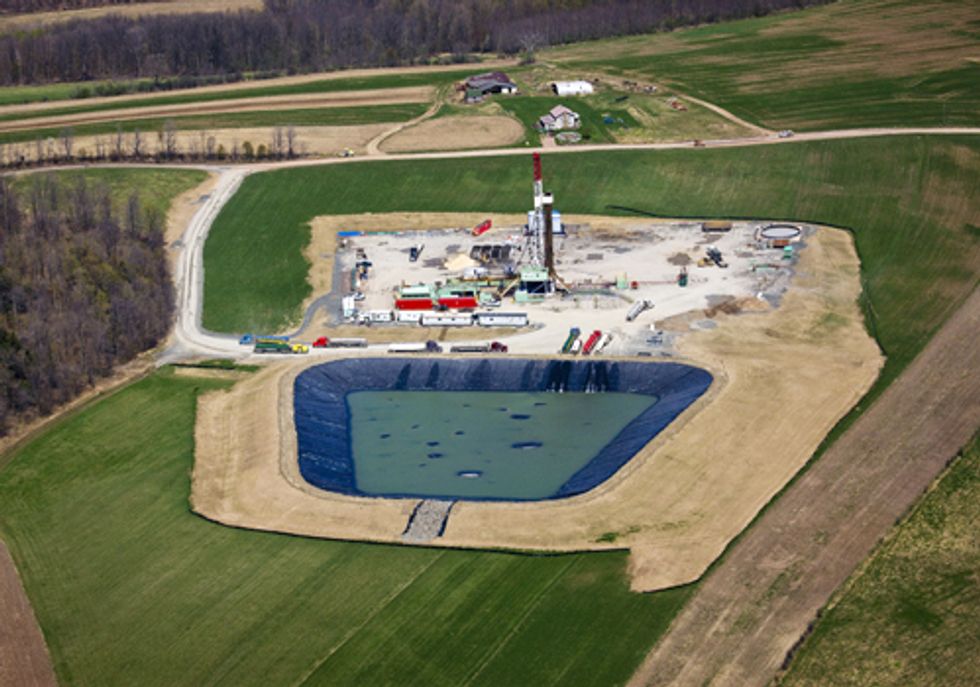 On Feb. 7 in the Senate and Feb. 8 in the House, the Pennsylvania legislature voted in favor of HB 1950, a compromise gas development bill that was hammered out behind closed doors under the heavy hand of Gov. Tom Corbett. Under the guise of providing "impact fees" to municipalities where gas operations occur, the legislature effectively supported a takeover of municipalities by the state and the gas industry by gutting established and effective local planning and zoning rights.
Through provisions contained in the bill, municipalities will no longer be able to play a central, critical role in protecting the health, safety, and welfare of residents and determining which uses of land are most beneficial.
The bill requires that all types of oil and gas operations (except for natural gas processing plants)—unlike any other commercial or industrial business—be allowed in all zoning districts, even in residential neighborhoods and near schools, parks, hospitals and sensitive natural and cultural resource protection areas. As a result, people could be forced to live only 300 feet away from a gas well, open frack waste pit, or pipeline, despite growing evidence that such development causes pollution, damages health, and lowers property values.
The bill also mandates a one-size-fits-all ordinance that supersedes all existing ordinances and prevents municipalities from adopting any zoning provisions that are stricter than the weak, mandated standards.
"The Pennsylvania legislature has let the gas industry take over, despite the terrible consequences that drilling is having in communities across the Commonwealth. This so-called impact fee bill brings no net fiscal gain to Pennsylvania residents; it robs us of the ability to protect what is most locally valuable—our health, safety and resources—and gives gas operators the right to run all over our communities. This is unjust and exposes the true allegiances of the bill's supporters—self-interested gas developers and their backers," said Maya van Rossum, the Delaware Riverkeeper.
 
"Today, many legislators and Gov. Corbett told Pennsylvania residents that protecting their health and rights matters far less to them than the gas industry's demands," said Nadia Steinzor, Marcellus regional organizer for Earthworks' Oil and Gas Accountability Project. "They and other supporters of this bill turned a blind eye on the widespread damage caused by drilling and a deaf ear to calls from citizens for change, while doing the bidding of companies that want to drill anywhere, anytime."
"If legislators were looking to pass a proposal that will allow more gas drilling near people's homes, and the parks, playgrounds and schools where our children play and spend their days, then 'Mission Accomplished,'" said Erika Staaf of PennEnvironment. "Sadly, this is just one more case of powerful interests dominating the political process, and the lack of leadership on both sides of the aisle to do anything about it."
"A poorly-regulated gas industry will be able to drill in residential neighborhoods, bringing thousands of gallons of toxic chemicals, thousands of tractor trailers, round the clock noisy, polluting drilling, all as little as a football field away from homes, day care centers, and playgrounds," said Jeff Schmidt, director of Sierra Club's Pennsylvania Chapter. "The legislators who voted in favor of HB 1950 have abandoned any pretense that they are acting in the public interest. We will make sure the public knows who sided with the drillers and who sided with citizens when they go to the polls for this year's elections."
"This bill represents a huge step backwards in protection for Pennsylvania towns and the environment," said Myron Arnowitt, Pennsylvania State director for Clean Water Action. "The state override of local zoning ordinances will greatly increase the threats to communities from all aspects of gas extraction. Never before has one industry been given full rights to do as they please, without recognizing the needs of other businesses, residents and our environment. 2012 is an election year, and we will be devoting our energy to ensuring that the voters of Pennsylvania are aware of which legislators voted to give away our control over an industry that has contaminated our air, land and water."
"The legislators who voted for HB 1950 made a short-sighted decision that puts the health and safety of Pennsylvania's communities at risk," said Josh McNeil, executive director of Conservation Voters of Pennsylvania. "They voted against the interests of their constituents and should expect those constituents to return the favor in the November election."
For more information, click here.
The Army Corps announced $16.86 million for Delaware River deepening project using a "slush" fund created to circumvent the ban on earmarks passed last year.  Environmental and community advocates cried foul—pointing out that the Army Corps chose this path to fund the deepening because it cannot honestly demonstrate the project meets minimum guidelines generally used to make taxpayer funding decisions.
"This is the ugliest example of political manipulation we have ever seen regarding this project—facts, law and good policy have been thrown out the window to serve the political whims of Sens. Casey and Toomey," said Maya van Rossum, the Delaware Riverkeeper. "This project is an economic loser, is unnecessary for the ports, and inflicts major environmental and community harm. The project is still hundreds of millions of dollars shy of what is needed to complete it. In short, the project is an embarrassment and waste of money, and we will continue to work to stop it now," van Rossum said.
"If this were a project worth $16.9 million, the private sector would find the $16.9 million to make it happen. In an era when the country is in major deficit, we should not be spending any taxpayer funds on projects that are known to be a loser, not a project that will choke the Delaware Estuary," said Brady Russell, Eastern Pa. director, Clean Water Action.
"This is blood money. They are taking money from the tax payers to try to destroy our river and estuary. The Delaware deepening will cause irreparable harm to the Delaware River, the aquifer, and the people of South Jersey. Instead of using this money to protect our drinking water and the environment it is being used to destroy it," said Jeff Tittel, director of the New Jersey Sierra Club. "This is an outrageous abuse of governmental process."
"The Delaware River deepening is a major threat to the Delaware River, including the fish, shellfish and wildlife that today are needed to provide healthy food and hundreds of millions of dollars a year supporting income and jobs. The Army Corps' own documents, when investigated by experts, demonstrate that the Delaware River deepening is not needed to support the ports of the region, will not result in increased goods coming to the region, does not meet basic criteria used to guide taxpayer funding decisions, and will likely lose money for every dollar invested in the project. It is stunning that in today's economic climate an unsubstantiated claim for port jobs is allowed to justify a $300 million dollar expenditure in a project that will harm family supporting river jobs in existence today," said Delaware Riverkeeper van Rossum. "It is disturbing that false and undocumented claims of jobs are allowed to rob families who depend upon a healthy river and bay for their livelihood, like fishermen and oystermen, simply because they don't have the same political sway as the industry groups, the army corps and the ports pushing this wasteful and environmentally harmful project forward."
For more information, click here.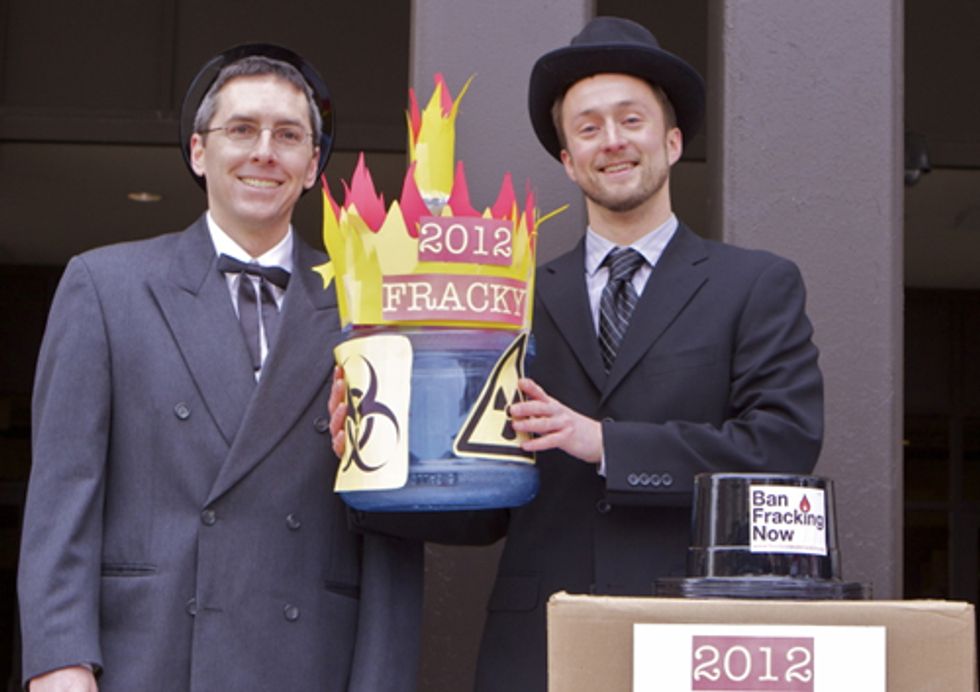 Activists protested one of several planned regional workshops by the American Petroleum Institute in Trenton, N.J., on Feb. 8 countering the oil and gas industry association's event discussing the development of hydraulic fracturing (fracking) with a recommendation of their own—ban fracking entirely. Protestors handed media and passersby "swag bags" filled with information on the risks associated with fracking and staged an award ceremony for the Frackies.
 
"It's awards season, and what better way to protest this elite gathering than with a riff off of another elite event—the Oscars," said Jim Walsh, eastern region director of Food & Water Watch. "If there were an award for destroying rural communities and endangering drinking water supplies, it would certainly go to the American Petroleum Institute, which uses its clout to spread disinformation about the dirty, polluting practice."
 
The event took place near the New Jersey Statehouse, where on Feb. 9 the Senate Environment Committee is expected to vote on a bill to permanently ban fracking in New Jersey before the temporary moratorium is lifted in January 2013.
"These petroleum industry representatives should know that New Jersey has prevented fracking because of grave concerns about the pollution to our drinking water and communities, so they may as well go home. We regret that we cannot give out awards for clean and sustainable energy today and that we must recognize the American Petroleum Institute for its disgraceful failure in making drillers publicly accountable and law-abiding. In Pennsylvania alone, the state reports that as fracking races ahead, drillers commit 12 violations per day of environmental permits, adding up to thousands of pollution incidents each year," said Tracy Carluccio, deputy director, Delaware Riverkeeper Network.
The nominees for the Fracky were New Jersey Gov. Chris Christie, El Paso Pipeline Company, Cabot Oil & Gas, Representative Andy Harris (R-MD), and the American Petroleum Institute. Each nominee was chosen because of some practice that protesters found seriously objectionable.
 
"We are here especially to announce the Fracky nomination for El Paso, the parent company of Tenneco Natural Gas and surviving part of Enron. Their proposed pipeline will be supporting and encouraging fracking that will threaten our water supply. They will be running a pipeline through the most environmentally sensitive area of New Jersey. The pipeline will go through the Delaware Water Gap, Wallkill, Newark and Pequannock water shed and drilling right through the Monksville Reservoir. Along the way it will be cutting an ugly scar through the Highlands and dozens of parks and open space areas. They are attacking our water supply through both fracking and this pipeline," said Jeff Tittel, director of the New Jersey Sierra Club.
The eventual winner of the Fracky was the American Petroleum Institute for what activists referred to as "spinning the benefits of fracking so hard that some people actually believe that gas is a bridge fuel to renewables." Gov. Christie was nominated for a Fracky for saving the fracking industry from the first statewide attempt to ban fracking when he issued a conditional veto last August.
Organizations participating in the 2012 Fracky Awards include Food & Water Watch, Delaware Riverkeeper Network, New Jersey Sierra Club, New Jersey Environmental Federation and 350.org.
For more information, click here.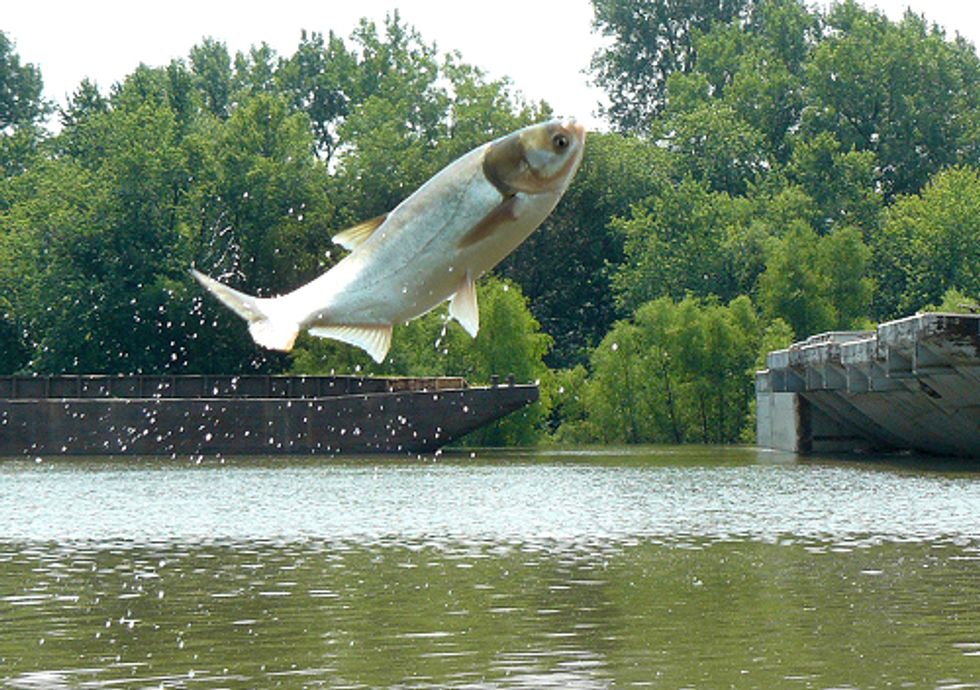 A much-anticipated study says separating the Great Lakes and Mississippi River basins to prevent the spread of Asian carp and other invasive species is not only possible, but a natural step toward much-needed action to improve Chicago's water infrastructure.
Great Lakes environmental groups reacting to the study, released Jan. 31 by the Great Lakes Commission and Great Lakes-St. Lawrence Cities Initiative, commended the authors' factual analysis concluding that separation is possible and that it must include essential upgrades to sewage, flood control and waterborne transportation while preventing the transfer of invasive species.
"The study is unprecedented in its scope and ambition, re-envisioning the Chicago Area Waterways System (CAWS) as a system that not only prevents invasive species from devastating the Great Lakes and Mississippi River and all their tributaries, but also makes sorely-needed improvements to core functions like moving people and goods, managing stormwater and maintaining water quality," the partner groups said in a statement.
The study refocuses the Great Lakes region on a long-term permanent solution and away from stopgap measures that, on their own, will ultimately fail to stop the Asian carp's march to Lake Michigan.
The authors note that restoring the natural divide between the Great Lakes and Mississippi River basins at Chicago can coordinate with efforts already under way by the city of Chicago, the state of Illinois and the Metropolitan Water Reclamation District to improve water quality and reduce flooding.
The marauding bighead and silver carp are the poster fish for the ecological and economic havoc in the offing when invading species travel between the Great Lakes and Mississippi. Research estimates that the annual cost to the Great Lakes region from invasive species introduced by shipping is upwards of $200 million per year.
"Tens of thousands of constituents have spoken to their members of Congress through a postcard campaign asking for immediate action to stop the Asian carp," said Cheryl Mendoza, associate director for Freshwater Future. "This study provides decision makers with the path to the permanent solution Great Lakes citizens have been asking for."
Since 2009, multiple hits of Asian carp DNA have been found lakeward of an electric barrier in the CAWS meant to keep the fish out of Lake Michigan and the Great Lakes. More recently, carp DNA has been reported in waters open to Lake Michigan.
Joel Brammeier, president and CEO of the Alliance for the Great Lakes, says the study is the most specific evaluation to date of what it would take to achieve hydrologic separation at the CAWS. "Chicago and Illinois have been under a spotlight as the carp close in on Lake Michigan," says Brammeier. "This report shines that light in a new direction—toward the transformation of the Chicago waterway into a resource of which everyone in the city, the state and the country can be proud."
Since 2008, environmentalists have called for separating the artificially conjoined Great Lakes and Mississippi River basins—the only permanent solution on the table and one that has come to be embraced by states, cities and members of Congress alike.
"Separation is a modern 21st century solution for a 21st century problem," says Jennifer Nalbone, director of Navigation and Invasive Species for Great Lakes United. "This study points the way to a solution that not only benefits the Great Lakes states, but also Canadian and Mississippi River stakeholders. Most of North America will ecologically and economically benefit from separating the two basins."
The GLC-GLSLCI study clearly demonstrates that separation is possible, providing detailed background on three separation options that allow elected officials and community leaders to move the discussion to the next level. As any separation is intrinsically tied to the multiple uses of the waterway system, it is imperative the Chicago region be an engaged partner.
"The study has the potential to be a game-changer in the effort to restore and protect the Great Lakes," says Jeff Skelding, director of the Healing Our Waters-Great Lakes Coalition. "It proves we have affordable solutions to the Asian carp crisis that benefit both our environment and economy. This report should put an end to excuse-making and foot-dragging and light a fire under the U.S. Army Corps of Engineers to do its job so the nation can move forward on a solution to protect the Great Lakes and the jobs that depend on them."
To that end, the partner groups stress that the study is a beginning, not an end, and should not be interpreted as a strict set of policy recommendations. Until separation is complete, they say strong interim protections must be implemented to protect against an Asian carp invasion, and note the study includes such measures within its long-term vision for separation. The groups also urge Congress to pass the Stop Asian Carp Act.
A plodding U.S. Army Corps of Engineers' study of the problem—the Great Lakes and Mississippi River Interbasin Study—could be expedited by incorporating findings from the GLC-GLSLCI study and starting separation planning now, the groups say.
"The study is a revelation. It puts solutions on the table that are both feasible and affordable," says Marc Smith, senior policy manager with the National Wildlife Federation. "The onus is clearly now on the U.S. Army Corps of Engineers to expedite its own study so the nation can stop talking about 'if' a solution is possible, and instead focus on 'when' people can be put to work to solve this problem once and for all."
Thom Cmar, attorney for the Natural Resources Defense Council, concurs. "We have a unique opportunity here because we know the invasion is under way and we know how to stop it.
"Not only can a barrier stop the spread of Asian carp and the rest of the harmful invasives moving on the waterway, it can also help revitalize the festering mess on the Chicago River—but only if we have the political will to act quickly, before it's too late," says Cmar, author of a 2010 study examining potential impacts of anti-invasive species barriers on Chicago's waterways.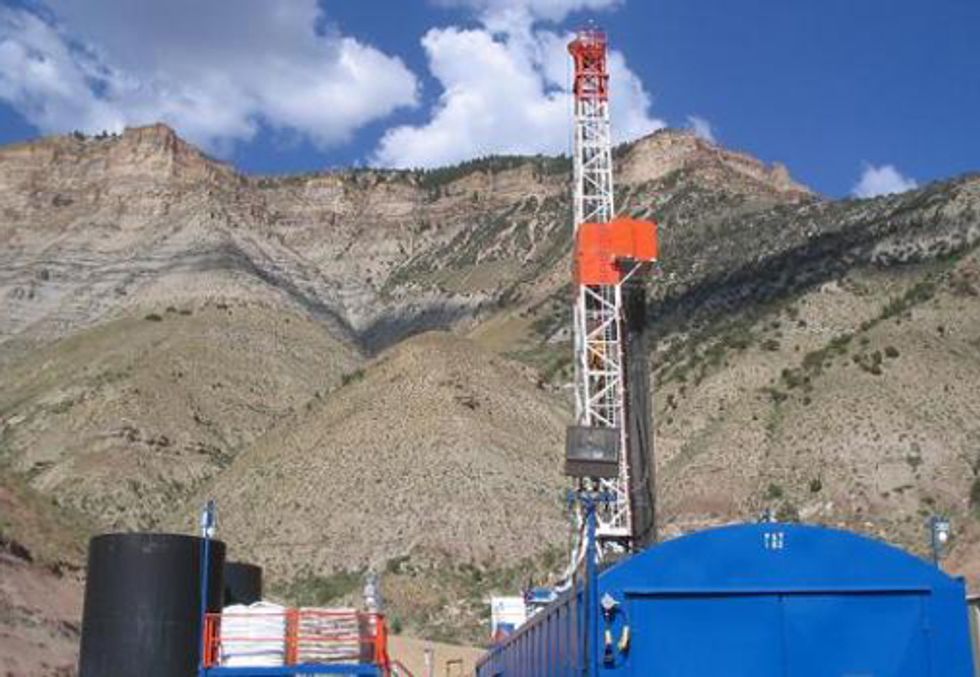 By Gary Wockner
First, the good—A few weeks ago, the state of Colorado passed the strongest rules in the U.S. for publicly disclosing what cancer-causing and other types of chemicals are used in oil and gas fracking. In a ground-breaking and intense set of negotiations between oil and gas companies and environmentalists, frackers are now forced to publicly disclose when they are fracking and what chemicals they use in fracking.
This disclosure gets at two very serious concerns posed by fracking. First, when fracking pollution occurs in groundwater, in streams, or on land, the public should be able to connect that pollution back to the fracking chemicals that caused it. Second, it will allow landowners to test their wells and groundwater prior to fracking, and then re-test after fracking to check for fracking pollution.
Importantly, the new rules substantively removed the "trade secret loophole" that was proposed in the original version of the rules that would have allowed frackers to not disclose the names of the chemicals in fracking fluids by saying those chemicals were "trade secrets." Led by attorneys from Earthjustice in Denver, the environmental community held its ground against this ridiculous exemption.
Thank you industry leaders, Gov. John Hickenlooper and environmentalists for passing these new rules.
Now for the bad—These new rules do nothing to stop or slow down fracking, do nothing to address the fracking pollution that's already occurred, and do nothing to directly protect water, land, wildlife or people from oil and gas pollution and fracking. These rules simply allow the cancer-causing chemicals to be named and tested for after the poisoning and pollution may have occurred.
Obviously, there's still a long way to go to protect Coloradans from fracking. What, at an absolute minimum, needs to happen next?
First, like the laws passed a few years ago to protect Coloradans from in situ leach uranium mining, oil and gas companies and frackers should be required to prove that they have not polluted or poisoned your property and should be required to pay for long-term groundwater monitoring. If a company is injecting cancer-causing chemicals into the ground on your property, why should you have to pay for the expensive groundwater and lab tests? Frackers should pay to prove that your land and water is clean and protected, not the other way around.
Second, the industry should be required to better manage fracking chemicals, drilling water and fracking wastes so that pollution and poisoning does not occur.
For example, in Weld County alone, which has more active oil and gas wells than any county in America (almost 18,000), public documents on the Colorado Oil and Gas Conservation Commission's (COGCC) website reveal that there have been more than 1,000 spill incident reports, more than 800 notice of alleged violations, and hundreds of public complaints associated with oil and gas drilling and fracking. Pollution and poisoning water and land are occurring—much of that due to mistakes that involve spilling frack fluids, improperly handling drilling wastes, and improperly lining waste ponds.
Third, far more mechanical integrity tests by state regulators should occur on drilling and fracking jobs in Colorado. Again, public COGCC documents reveal that of the nearly 18,000 wells in Weld County, there have only been 232 tests reported by state regulators to make sure the well casing is intact so that fracking chemicals cannot migrate back up the bore hole.
Fourth, the oil and gas industry needs to collect and publicly disclose the amount of water they use for drilling and fracking and the source of that water. All of Colorado has very serious water supply and river protection problems already—though likely in the billions of gallons per year, the amount of water used in fracking is still relatively unknown as is the source of that water as drilling and fracking continue to march across the landscape slurping up farm, city and river water.
Finally, the ugly—The director of COGCC has recently been quoted as saying that the "first line of defense" against the threat of drilling and fracking pollution is to maintain the "integrity of the wellbore" to make sure fracking chemicals do not migrate into groundwater.
I completely disagree.
The first line of defense against the threat of drilling and fracking pollution is to aggressively switch to a clean energy economy. Remember those words—"clean energy?" They were the two words most spoken by our previous pro-environment governor, Bill Ritter, but now are completely lost in the public debate. Windmills, solar panels, biofuels—remember all that?
Instead, the public debate has become insane. Billions of gallons of clean water are drained out of Colorado's endangered rivers every year in order to mix that water with cancer-causing fracking chemicals and then inject that toxic cocktail in the ground around our homes, schools and farms in order to extract non-renewable, global-warming-causing fossil fuels that are being burned at a faster and faster rate. But, insanely, the public debate at the state level is almost solely about making sure everyone knows the name of the cancer-causing fracking chemicals.
Colorado made a good start with its new fracking rules, but has a long way to go to stop our health, our economy and our state from really getting ugly.
For more information, click here.
—————

Gary Wockner, Ph.D., is director of Save the Poudre and Colorado program director for Clean Water Action in Fort Collins, Colorado.