This website uses cookies to ensure you get the best experience while browsing it. By clicking 'Got It' you're accepting these terms.


The best of EcoWatch, right in your inbox. Sign up for our email newsletter!
By Tara Lohan
It was 1985 and privatization, deregulation and free trade were in the air. Canadian Prime Minister Brian Mulroney and President Ronald Reagan were negotiating a free trade deal — a precursor to NAFTA. Among the goods it would cover: "Water, including … mineral waters … ice and snow."
Pexels

The Kansas government allowed hundreds of residents in two Wichita-area neighborhoods to drink water contaminated by a cleaning chemical called perchloroethylene, also known as PCE or tetrachloroethylene, The Wichita Eagle reported Sunday.
The state discovered the tainted groundwater at a Haysville dry cleaner in 2011 but the Kansas Department of Health and Environment (KDHE) did not act for more than six years. KDHE did not test nearby private wells or alert residents about the contamination.
EcoWatch Daily Newsletter
www.youtube.com
An 11-year-old girl was given a top award after inventing "Tethys," a sensor that detects lead levels in water.
Gitanjali Rao of Lone Tree, Colorado won the 2017 Discovery Education 3M Young Scientist Challenge and a $25,000 prize for the innovation, which she said was inspired by the water crisis in Flint, Michigan.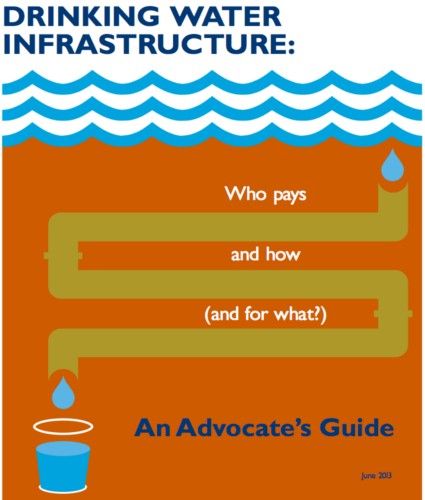 The costs of rebuilding our nation's water infrastructure are jaw dropping: estimates range from $300 billion to $1 trillion needed over the next 30 years. Add in the cost to develop new water supplies, treatment plants and transmission systems to accommodate growth—$20 billion for new reservoirs and pipelines in North Texas, $7 billion for a pipeline in Las Vegas—and the numbers really start to make the mind reel.
Investing in our nation's infrastructure and water security is a necessity. But what we invest in is a choice we should not take lightly—not when the costs are so high. While it's become a platitude that Americans pay too little for water to care how much they use, the reality is that the costs of water services are outpacing the cost gains of every other basic service—faster than electricity, faster than solid waste, faster even than cable television.
And while many of us can afford it, in some communities, the cost of clean drinking water strains the bounds of affordability. A study by the University of North Carolina found that low-income households are paying as much as 8 percent of annual income for water services.
Everyone in America should have access to clean, affordable drinking water and sanitation services. But in an era of fiscal constraint, this means we need to be smarter about the way we provide these services and realistic about the true cost of sticking with the legacy systems we have inherited.
More efficient use of water will have to part of the solution. In the U.S., around one-third of the clean drinking water we treat each day is used to water lawns. This proportion is as high as 70 perecent in some areas. Energy prices are rising, and with it, the cost of treating and moving that water. This is unsustainable, environmentally and financially.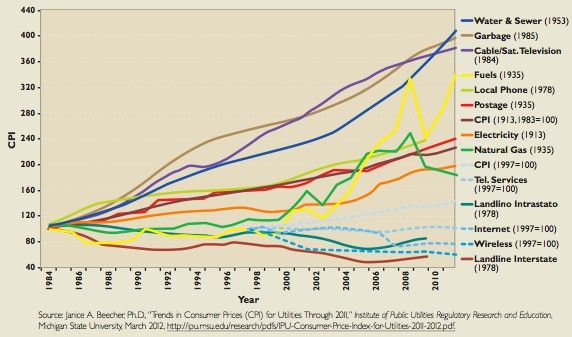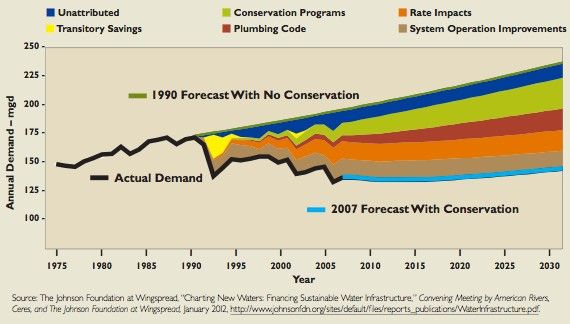 The good news is, we can choose to use water more efficiently, and to protect the affordability of clean drinking water for generations to come. But advocates have to make this solution a reality by educating themselves about the financial constraints water systems face in maintaining the infrastructure and the debt acquired by their predecessors, and by supporting their political leaders to lay the pathway toward equitable and sustainable water services.
A new report by American Rivers looks to shape a sustainable water future for communities across the U.S. It provides a shared foundation of knowledge for advocates of all stripes to cooperate in stewarding their communities' most critical infrastructure, so that Americans always enjoy the best water money can buy, without breaking the bank.
Visit EcoWatch's WATER page for more related news on this topic.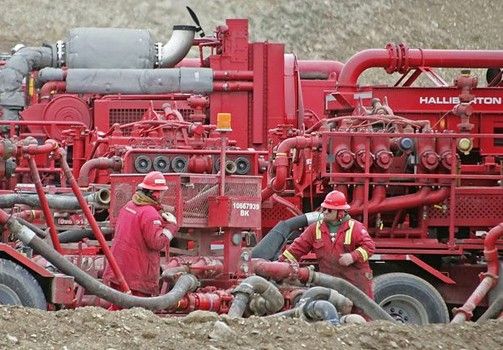 Today multiple environmental organizations called on President Obama's chief environmental advisor asking for a full environmental analysis of plans to export liquefied natural gas (LNG). The letter to the Council on Environmental Quality and the Environmental Protection Agency sounds the alarm that the agencies considering these export plans are not analyzing or disclosing the environmental impacts of the increased hydraulic fracturing or 'fracking' that would be necessary to support major LNG exports.
"Exporting liquefied natural gas means more dangerous fracking, a secretive and toxic part of the production process that the Sierra Club has no confidence in," said Michael Brune, executive director of the Sierra Club. "With the health of our communities and our environment at stake, it's up to our leaders at EPA and other agencies to keep their commitment to protecting Americans from the toxic threats to our air and water that come with liquefied natural gas."
"LNG facilities like the one proposed for Cove Point are intended to ship natural gas extracted in this country off to foreign lands, said Michael Helfrich of Lower Susquehanna Riverkeeper. "The result is that gas drillers can ship American gas overseas in order to make more money, but this increases the price of natural gas for us, and our communities and environment get ravaged by the shale gas "gold rush", including thousands of miles of new pipelines and new compressor stations through the Susquehanna Watershed. It may be a win for the gas drillers but it throws the idea of American energy independence out the window."
"Gas drilling is devastating the communities where it is happening; the claim of environmentally friendly fracking and shale gas drilling is just another expensive messaging campaign," said Maya van Rossum of the Delaware Riverkeeper. "People are losing their drinking water, their clean air, their health, and the beautiful landscapes they call home. The assertion of cheap gas and energy independence is just another marketing campaign—drillers are investing heavily in building and expanding LNG facilities in order to ship American extracted gas overseas. Americans are suffering all of the pollution and harm from gas drilling while foreign countries get to use the gas and drillers get to reap the profits. It's a lose lose for Americans."
On Feb. 7, 2012, The Sierra Club filed the first formal objection with the Department of Energy against the export of domestic gas produced from fracking. This objection called the export proposal an unwise plan which would make a dirty fuel even more dangerous and would cost families money by raising gas and electricity prices. The Sierra Club also intervened in proposals for LNG export facility permits in Sabine Pass, La. and Coos Bay, Ore.
The letter is signed by the Sierra Club, Columbia Riverkeeper, Delaware Riverkeeper, Earthjustice, Friends of Living Oregon Waters (FLOW), Klamath-Siskiyou Wildlands Center, Lower Susquehanna Riverkeeper and Rogue Riverkeeper. Full text of the letter as submitted is available upon request.
For more information, click here.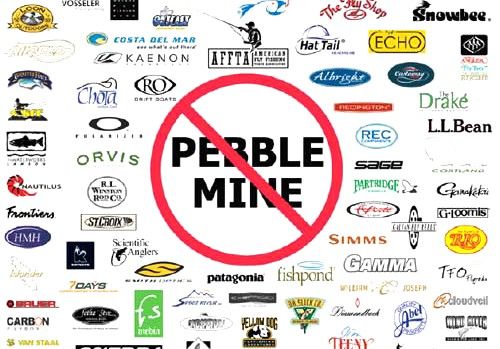 A new investor advisory released Feb. 22 raises significant questions about the serious risks associated with Anglo American plc's(LSE:AAL, JSE:ANGLO) Pebble mine project in southwest Alaska. The advisory details the growing list of regulatory, legal, engineering and political challenges facing the London-based mining giant as it struggles to secure permits for the controversial gold-copper mine planned for the headwaters of Bristol Bay, the world's biggest wild sockeye salmon fishery.
The Pebble mine project in southwest Alaska is a 50-50 joint venture between London-based Anglo American plc and Canada-based Northern Dynasty Minerals Ltd., known as the Pebble Limited Partnership. The report points to the dramatic drop in share price over the last year at Northern Dynasty Ltd.—whose only project is the Pebble Mine—as evidence of the lack of confidence in the Pebble project. The company's share price has dropped by more than half—from $20 a share in February 2011 to less than $10 a share in January 2012.
"Opposition to the Pebble mine project has translated into a barrage of legal, political and regulatory hurdles over the last year," said Jonas Kron, an analyst with Trillium Asset Management Corp. who reviewed the report. "After scrutinizing the project details, we believe there are significant risks that must be considered," he added.
The project's location in the headwaters of Bristol Bay, the world's largest producer of wild sockeye salmon, presents significant difficulties for Anglo American and Northern Dynasty. While the companies have yet to enter the permitting phase, they have already encountered substantial opposition from the communities and industries that rely on the salmon fishery, including recent key developments that could preclude development altogether.
U.S. Environmental Protection Agency (EPA) will release results from a scientific assessment of the suitability of large-scale development in the watershed in April 2012.
In October 2011, Lake and Peninsula Borough voters approved a citizen initiative popularly known as "Save Our Salmon." The initiative precludes permits for large resource extraction activities like the Pebble Mine that disturb more than 640 acres and that will have a "significant adverse impact" on any salmon stream.
In April 2011, a group of nearly 30 investors representing $170 billion in assets and holding 13 million shares in Anglo American, urged the EPA to conduct a 404c Clean Water Act review of the mine, given its considerable risks.
"If the Pebble mine is constructed and results in substantial damage to the people and ecosystems of Bristol Bay, it will cast a cloud over all mining projects—even safe and responsible ones—increasing costs and slowing appropriate development," said Stu Dalheim, vice president at Calvert Investments. "The consequences of Pebble mine could not only destabilize the global fishing industry but the mining sector as well."
The complexity and technological challenges that face the Pebble mine pose significant risks in the hydrologically complex and ecologically rich region of Bristol Bay," said Dr. David Chambers, Ph.D. president of the Center for Science and Public Participation.
A politically powerful coalition opposes the mine because it threatens Bristol Bay salmon. This group includes the commercial and sport fishing industries, which generate $450 million annually for Alaska's economy and support ten thousand jobs, and the Bristol Bay Native Corporation, a $1.9 billion corporation representing approximately 9,000 Bristol Bay Alaska Native shareholders. In addition, more than fifty leading U.S. and U.K. jewelers with sales of $5.5 billion have pledged not to buy gold from the Pebble mine.
Researcher Bonnie Gestring with Washington D.C.-based nonprofit organization Earthworks prepared the report, which was reviewed by investment analyst Jonas Kron of Trillium Asset Management Corp. Dr. David Chambers of the Center for Science and Public Participation also reviewed the report for technical accuracy.
For the full report, click here.
For more information on Bristol Bay, click here.

For more information, click here.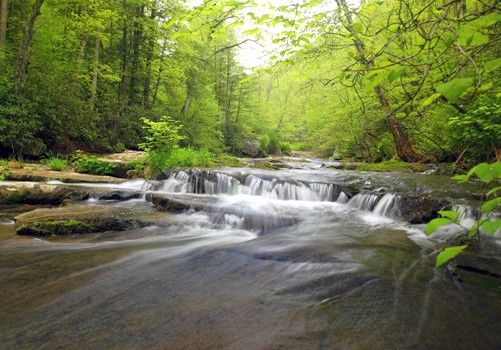 A coalition of organizations representing environmental, historical and community interests filed an appeal Feb. 21 in Berkeley County Circuit Court challenging a permit to allow quarrying on North Mountain, the visual backdrop of historic Gerrardstown and a crucial source of water for Mill Creek. After carefully reviewing the Surface Mine Board's final ruling on North Mountain Shale's quarry permit, Potomac Riverkeeper, along with Washington Heritage Trail, Inc. and Gerrardstown Presbyterian Church, filed the appeal because of two key flaws in the ruling.
First, the board approved a quarry permit that is not protective enough to adequately control sediment discharge. The approval was based on the quarry's last minute claim that it is going to add chemical flocculant to its discharges. Despite the fact that the quarry was required to disclose any plans to rely on chemical flocculant with its permit applications, it utterly failed to do so and kept the community in the dark regarding such plans.
"The Surface Mining Board should not have approved the permit without requiring North Mountain Shale to fully explain how it intends to protect the water quality of our community," stated Upper Potomac River Manager Brent Walls. "The quarry's own witnesses admitted that their proposed sediment ponds are far too small to protect Mill Creek, so they were forced to claim—for the first time at the hearing—that they intended to use chemical flocculant. However, the community has had zero opportunity to review or comment on the quarry's use of chemical flocculant and, even more troubling, the quarry's witness was unable to answer basic questions about what chemicals would be used or in what amounts. Together with the recent disappointing decision of the Environmental Quality Board, both final rulings do not protect a crucial water source for Mill Creek from sediment pollution."
Second, the board also prohibited arguments challenging the adequacy of West Virginia Department of Environmental Protection's (WVDEP's) review of the impact of the quarry operations on the historical resources in the area. The quarry intends to run its massive trucks through the heart of the Gerrardstown Historic District, which is recognized by the National Register of Historic Places as containing more than ninety historic buildings.
"The Washington Heritage Trail Trustees are disappointed that the Surface Mining Board bluntly refused to review the quarry's potential impacts on both the scenic and historic values of Gerrardstown," said Jeanne Mozier, president of the Washington Heritage Trail. "It is extremely troubling that the board and the state are ignoring this and trampling on our right to challenge the impact analysis. Several state rulings have made it very difficult for the Washington Heritage Trail to carry out its mission of preserving and protecting the various attributes which earned the trail its national designation. We are especially concerned that the Division of Culture and History did not object to the violation of this region from the very beginning."
During the public comment period, WVDEP received nearly 800 comments in opposition to the draft permit. Hundreds of local residents attended the public meetings in the spring of 2010, where 80 people spoke against the proposed quarry operation, with only one speaking in its favor. This appeal is being filed to give voice to the residents of Gerrardstown who were denied the opportunity to challenge use of chemical flocculants and the inadequate impact analysis. The appeal filed with the Berkeley County Circuit Court will be a review of the facts as presented in the evidentiary hearings.
For more information, click here.
—————
Potomac Riverkeeper, Inc. is a clean water 501(c)3 charitable nonprofit that, includes the Potomac Riverkeeper and the Shenandoah Riverkeeper. It stops pollution and restores clean water in the Potomac and Shenandoah Rivers and their tributaries through community engagement and enforcement of the Clean Water Act and other environmental laws. As a membership organization, it has offices in Virginia, Maryland, West Virginia, and Washington, D.C.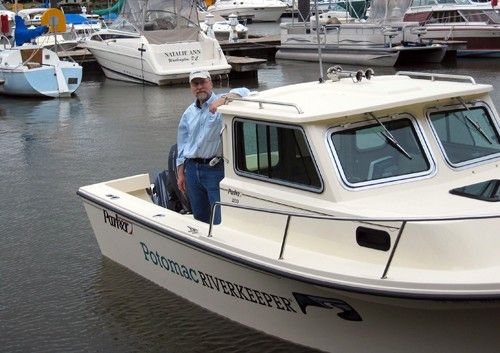 By Ed Merrifield
To kick off the 40th Anniversary of the Clean Water Act, Potomac Riverkeeper Ed Merrifield talks about the importance of and the recent threats to the historic act.
In the early 1970's, when it became clear that the individual states were not going to do anything about their rivers catching on fire, about fisheries disappearing, about green slime forming on rivers and streams, and about a president calling a river that runs past his window a national disgrace, Congress created a law to change all that. In 1972, Congress passed the "Federal Water Pollution Control Act," more commonly known as the "Clean Water Act."
The Clean Water Act's objective is to restore and maintain the chemical, physical and biological integrity of the nation's waters. Its goal was to have all the nation's waters fishable and swimmable by 1983 and have no discharge of pollutants into our waters by 1985. Despite not yet reaching these ambitious goals, the Clean Water Act has done more to restore the health of our rivers and streams than all other laws combined. So why are many or our rivers and streams in decline? Well, the problem has three parts.
First, polluters and friends of polluters have done everything they can to harm the Clean Water Act. In the courts, they have picked at every part of the act in their attempts to get more pollution into our waters. In the Congress, they have worked hard to elect those who would vote on ways of making the act irrelevant. And yes, even some people and organizations that you might think are for the environment have been willing to sacrifice some parts of the Clean Water Act for their version of 30 pieces of silver. Fortunately, the law has been able to survive these onslaughts against our right to clean water. However, as we approach the 40th anniversary of the Clean Water Act in October, polluters and friends of polluters are increasing the number and intensity of their attacks.
Second, although the first page of the act talks about control of both point source (coming out of a pipe or any similar source) and non-point source pollution, the document contains exemptions for agriculture, which for the most part is a non-point source polluter. To get the votes needed to pass the law in '72, Congress added this exemption which has turned out to be the major flaw in the act. This means that for the past 40 years it has been up to the states to stop pollution from agriculture—which hasn't happened.
Third, what good is a law if it is not enforced? Over the years, the U.S. Environmental Protection Agency's (EPA) enforcement of the Clean Water Act has waxed and waned with various administrations' interest in protecting our rights to clean water, and with resources Congress budgets for it. If it were not for a provision in the law that allows citizens to act as attorney general when the states and federal government are not doing their jobs, it's difficult to envision what our rivers would be like during the EPA's worst enforcement periods. Until the EPA can "stand tall" all the time, there will continue to be a struggle to enforce the law.
All of this can be summarized in a simple sentence—There is money in polluting. If it's cheaper for a polluter to pay a lawyer, legislator or someone else to allow him to pollute more, he'll do it. And, although rivers and bays without pollution would have enormous economic benefits to all of us (fisheries, recreation, public health, etc.), the cost to polluters would increase, and they will fight to make this not happen.
So what can you do? Let your legislators know that healthy rivers and streams, and the safe drinking water that comes from them are important to you. Tell them that any attempt to weaken laws protecting our nation's waters is wrong. We will do our best to inform you of legislative attacks on your right to clean water. Please help us in safeguarding one of America's great laws, the Clean Water Act.
For more information, click here.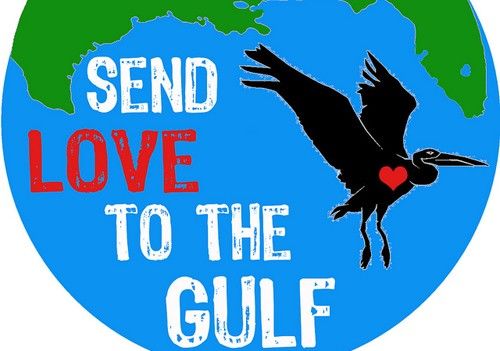 Want to help show your love for the Gulf this Valentine's Day? It's easy. Just click on one of the messages below to tell Senate Majority Leader Harry Reid (D-NV) and Minority Leader Mitch McConnell (R-KY) that you want money from the BP oil spill to go back to the Gulf.
Background on the RESTORE Act:
The BP oil disaster dumped nearly five million barrels of oil into the Gulf of Mexico, damaging the wildlife, ecosystems and economy of the Gulf Coast.
The RESTORE Act seeks to ensure that at least 80 percent of the penalties paid by BP are returned to the Gulf to be used for restoring the region's communities, economies and environments.
However unless Congress acts quickly, these penalties could go toward unrelated federal spending. We must act now if we want to ensure that this money goes back to where the damage was done.
Click on one of the messages below to tweet your love for the Gulf.
Be sure to check out our Facebook page as well and share our Valentine's Day image with your friends.
For more information, click here.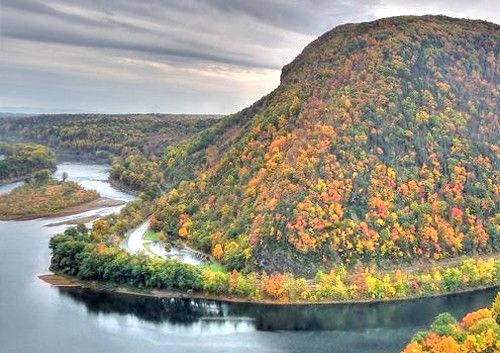 The Delaware Riverkeeper Network (DRN) announced the settlement of an appeal DRN filed with the Pennsylvania Environmental Hearing Board concerning one of the first shale gas wells drilled in the Delaware River Basin. The well is a vertical gas well and was not hydraulically fractured.
The appeal—filed in coordination with Damascus Citizens for Sustainability and local residents—involved the Newfield Appalachia Pa., LLC "Woodlands" well in Damascus Township, Wayne County, Pa. The well is located within the Hollister Creek watershed, a designated Special Protection High Quality (HQ) watershed. The project is also within the Upper Delaware River Basin and is approximately 0.43 miles from the Delaware River. This section of the Delaware River Watershed is located within the Upper Delaware Scenic and Recreational River, a National Wild and Scenic River.
During the course of the appeal, DRN conducted depositions of DEP personnel involved in approval of the well permit. As a result of these depositions, DRN was able to establish that for well projects with under five (5) acres of earth disturbance, the department has not considered the potential impacts of these projects on special protection watersheds. DRN was also able to establish that for the wells that have been drilled within the Delaware River Basin, the department has not considered the potential impacts of those wells on the Delaware River or the Delaware River Basin. Further, DRN established that department personnel who are responsible for reviewing permit applications have spent, on average, less than thirty-five (35) minutes per permit prior to granting final authorization.
As part of the settlement of this appeal, DRN and the other appellants were successful in obtaining important programmatic changes. These changes will improve how future well permits are processed throughout Pennsylvania and will provide greater protection to Pennsylvania's high quality and exceptional value watersheds.
"Pennsylvania's regulatory program is demonstrably deficient when it comes to protecting waterways and communities from gas drilling, this litigation and our depositions just highlighted a few of those pitfalls. Our settlement definitely secured important improvements to the review process, but we are under no misconception that this is in any way the cure for gas drilling in the Commonwealth," said Maya van Rossum, the Delaware Riverkeeper.
"The DEP needs to do a better job of reviewing permits, rather than just using its rubber stamp. This settlement will help make that happen," said Jordan Yeager, lead attorney on the case for the Delaware Riverkeeper Network and with the firm Curtin & Heefner.
Under the terms of the settlement, DEP has agreed that for future shale gas projects in special protection watersheds (designated or existing use of High Quality or Exceptional Value pursuant to 25 Pa. Code Chapter 93), applicants must demonstrate compliance with the Commonwealth's anti-degradation regulations prior to the commencement of any earth disturbance activities. Prior to this settlement, for projects under five (5) acres, the department was not requiring applicants to demonstrate this.
Further, under the settlement, DEP has agreed to revise its "Coordination of Resources" form and instructions by: 1) listing all Pennsylvania rivers designated under the Federal Wild and Scenic Rivers program, including the Delaware River; and 2) including a definition of what constitutes the river corridor under the federal designation, in accordance with the Federal Wild and Scenic Rivers Act, 16 U.S.C. §1271 et seq. This change will help ensure that in future permitting decisions, the DEP will consider the potential impacts of gas drilling projects on the Delaware River and on other rivers designated under the federal Wild & Scenic Rivers program.
The Upper and Middle Delaware River, designated by Congress as Wild and Scenic in 1978, is underlain by Marcellus and Utica shales which have been heavily leased for gas drilling. The current moratorium in the Delaware River Watershed, established by the Delaware River Basin Commission (DRBC) in May 2010, has prevented gas development from moving ahead in the basin. DRBC is considering the adoption of natural gas regulations, which would lift the moratorium. DRN and a large and diverse public have criticized the draft regulations as wholly inadequate and oppose their adoption, calling for a comprehensive environmental study and cumulative impact analysis.
For more information, click here.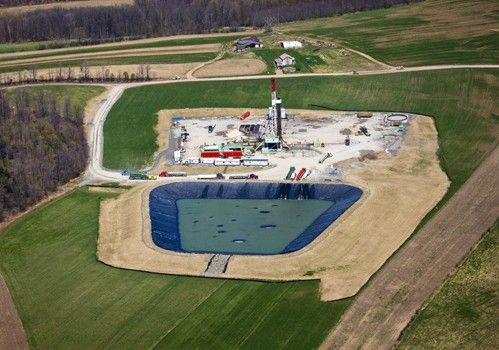 On Feb. 7 in the Senate and Feb. 8 in the House, the Pennsylvania legislature voted in favor of HB 1950, a compromise gas development bill that was hammered out behind closed doors under the heavy hand of Gov. Tom Corbett. Under the guise of providing "impact fees" to municipalities where gas operations occur, the legislature effectively supported a takeover of municipalities by the state and the gas industry by gutting established and effective local planning and zoning rights.
Through provisions contained in the bill, municipalities will no longer be able to play a central, critical role in protecting the health, safety, and welfare of residents and determining which uses of land are most beneficial.
The bill requires that all types of oil and gas operations (except for natural gas processing plants)—unlike any other commercial or industrial business—be allowed in all zoning districts, even in residential neighborhoods and near schools, parks, hospitals and sensitive natural and cultural resource protection areas. As a result, people could be forced to live only 300 feet away from a gas well, open frack waste pit, or pipeline, despite growing evidence that such development causes pollution, damages health, and lowers property values.
The bill also mandates a one-size-fits-all ordinance that supersedes all existing ordinances and prevents municipalities from adopting any zoning provisions that are stricter than the weak, mandated standards.
"The Pennsylvania legislature has let the gas industry take over, despite the terrible consequences that drilling is having in communities across the Commonwealth. This so-called impact fee bill brings no net fiscal gain to Pennsylvania residents; it robs us of the ability to protect what is most locally valuable—our health, safety and resources—and gives gas operators the right to run all over our communities. This is unjust and exposes the true allegiances of the bill's supporters—self-interested gas developers and their backers," said Maya van Rossum, the Delaware Riverkeeper.
 
"Today, many legislators and Gov. Corbett told Pennsylvania residents that protecting their health and rights matters far less to them than the gas industry's demands," said Nadia Steinzor, Marcellus regional organizer for Earthworks' Oil and Gas Accountability Project. "They and other supporters of this bill turned a blind eye on the widespread damage caused by drilling and a deaf ear to calls from citizens for change, while doing the bidding of companies that want to drill anywhere, anytime."
"If legislators were looking to pass a proposal that will allow more gas drilling near people's homes, and the parks, playgrounds and schools where our children play and spend their days, then 'Mission Accomplished,'" said Erika Staaf of PennEnvironment. "Sadly, this is just one more case of powerful interests dominating the political process, and the lack of leadership on both sides of the aisle to do anything about it."
"A poorly-regulated gas industry will be able to drill in residential neighborhoods, bringing thousands of gallons of toxic chemicals, thousands of tractor trailers, round the clock noisy, polluting drilling, all as little as a football field away from homes, day care centers, and playgrounds," said Jeff Schmidt, director of Sierra Club's Pennsylvania Chapter. "The legislators who voted in favor of HB 1950 have abandoned any pretense that they are acting in the public interest. We will make sure the public knows who sided with the drillers and who sided with citizens when they go to the polls for this year's elections."
"This bill represents a huge step backwards in protection for Pennsylvania towns and the environment," said Myron Arnowitt, Pennsylvania State director for Clean Water Action. "The state override of local zoning ordinances will greatly increase the threats to communities from all aspects of gas extraction. Never before has one industry been given full rights to do as they please, without recognizing the needs of other businesses, residents and our environment. 2012 is an election year, and we will be devoting our energy to ensuring that the voters of Pennsylvania are aware of which legislators voted to give away our control over an industry that has contaminated our air, land and water."
"The legislators who voted for HB 1950 made a short-sighted decision that puts the health and safety of Pennsylvania's communities at risk," said Josh McNeil, executive director of Conservation Voters of Pennsylvania. "They voted against the interests of their constituents and should expect those constituents to return the favor in the November election."
For more information, click here.