The Obama administration made another historic move today to decrease America's dependence on dirty fossil fuels, this time protecting the Arctic Ocean from offshore drilling.
In the newly released final five-year program for oil and gas development on the Outer Continental Shelf, the Bureau of Ocean Energy Management removed the Chukchi and Beaufort seas for leasing from 2017 to 2022. This announcement follows a similar decision in March where the Bureau of Ocean Energy Management removed the Atlantic Ocean from the five-year program following widespread opposition along the East Coast.
The removal of the Arctic Ocean lease sales comes in the wake of Shell's failed decade-long effort to explore for oil and gas reserves in the Chukchi and Beaufort seas. Despite spending billions of dollars, Shell and other oil companies have abandoned almost all of the leases they owned in the Arctic Ocean and there are no current proposals to explore for oil on the few leases that remain.
Oceana is now calling on the Obama administration to protect the Atlantic Ocean from seismic airgun blasting, an extremely loud and dangerous process used to search for oil and gas deposits deep below the ocean's surface.
Underwater Seismic Blasting Puts Arctic at Risk - EcoWatch https://t.co/K6Omggq4rR @EU_ARCTIC_FORUM @savethearctic

— EcoWatch (@EcoWatch)1471686011.0
"This is excellent news for our oceans, from the Arctic to the Atlantic," Jacqueline Savitz, Oceana's senior vice president for the U.S., said. "This plan means no expansion of offshore drilling in the Arctic or the Atlantic for the next five years. Oceana applauds President Obama and Secretary Jewell for their leadership in protecting our coasts from dirty and dangerous offshore drilling. Today's announcement demonstrates a commitment to prioritizing common sense, economics and science ahead of industry favoritism and politics as usual.

"We are hopeful that this announcement will help chart a new course forward in the Arctic Ocean. The decades-long push to drill in the Arctic has put this unique and diverse ecosystem at risk, cost tens of billions of dollars and created significant controversy without providing the promised benefits. Companies have been given every opportunity to find oil and have failed at every turn because of the extreme conditions and limited window for operations there. We now have the opportunity to put the old arguments behind us and work together toward a sustainable future for the Arctic region.
"This five-year program also recognizes that selling leases in the Atlantic Ocean poses unnecessary risks to the existing fishing and tourism economies in that region. While we celebrate this important victory, we must not forget that the Atlantic Ocean is still not safe from destructive activities like seismic airgun blasting. Seismic airguns in search of buried oil and gas create one of the loudest manmade sounds in the ocean by firing intense blasts of compressed air every 10 seconds, 24 hours a day, for weeks to months on end. Proposals to subject marine life to seismic airgun blasting in the Atlantic are still being considered by the Obama administration.
"Along the Atlantic coast, nearly 1.4 million jobs and more than $95 billion in gross domestic product rely on healthy ocean ecosystems, mainly through fishing, tourism and recreation. As of today, 120 East Coast municipalities, over 1,200 elected officials and representation for over 12,000 businesses and 500,000 fishing families have publicly opposed seismic airgun blasting and/or offshore drilling. We are grateful for President Obama's leadership in turning away from offshore drilling. The president now has an opportunity to take one more step to protect the whales, dolphins, fish, sea turtles and other marine life that are at risk from unnecessary seismic airgun blasting. The time to act is now."
EcoWatch Daily Newsletter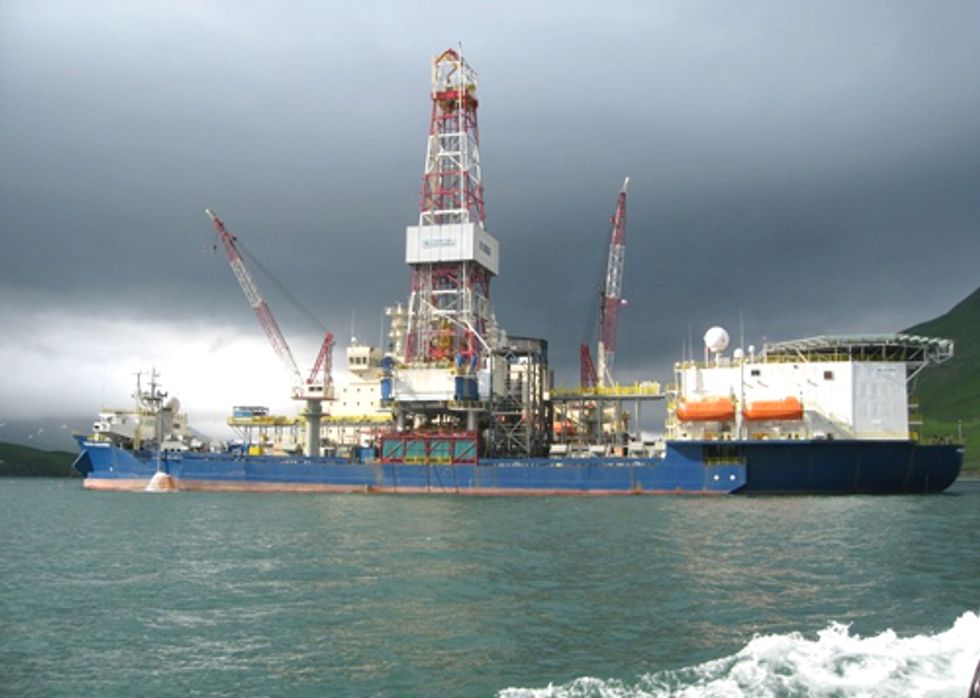 A coalition of groups has filed a lawsuit in the Ninth Circuit Court of Appeals challenging the U.S. Environmental Protection Agency's (EPA) issuance of air pollution discharge permits for Shell's Discoverer drillship and associated fleet for use in the Beaufort and Chukchi seas. The permits, provisionally approved last September, were issued Feb. 10, 2012. Shell intends to use the Discoverer to drill in the fragile, remote, stormy and icy waters of the America's Arctic Ocean starting this summer.
Alaska Wilderness League, Center for Biological Diversity, Natural Resources Defense Council, Northern Alaska Environment Center, Oceana, Pacific Environment, Resisting Environmental Destruction on Indigenous Lands (REDOIL), Sierra Club, and The Wilderness Society filed the challenge late last Friday, represented by Earthjustice. The organizations issued the following statement regarding the lawsuit:
"As early as this summer, the Discoverer drillship and other vessels in Shell's fleet could be in the Chukchi Sea or Beaufort Sea of the Arctic Ocean where they will pump tens of thousands of tons of pollution into pristine Arctic skies. Not only will they be drilling for oil in some of the harshest conditions on earth, each year these ships will emit large amounts of harmful air pollutants such as carbon monoxide, nitrogen dioxide and particulate matter. Further, greenhouse gases and black carbon from the Discoverer fleet are expected to accelerate the loss of snow and sea ice in the Arctic, to the detriment of both the fragile Arctic ecosystem and members of Alaska Native communities that rely upon a healthy ecosystem for subsistence and other traditional cultural activities.
"The EPA approved these permits without ensuring that all air quality standards are met, and as such our only option is to challenge them in court. Although the Clean Air Act requires modern pollution controls that could greatly reduce much of this pollution, the EPA did not require Shell to install all the controls it should have.
"In addition to the excess air pollution from the Discoverer and Shell's other ships, Shell's drilling poses other risks. Drilling for oil in the remote waters of the Arctic Ocean is risky and fraught with potential disaster. An oil spill in these waters would have significant impacts on endangered and threatened species such as bowhead whales and polar bears."
For more information, click here.
waterlust.com / @tulasendlesssummer_sierra .
Each product featured here has been independently selected by the writer. If you make a purchase using the links included, we may earn commission.
The bright patterns and recognizable designs of Waterlust's activewear aren't just for show. In fact, they're meant to promote the conversation around sustainability and give back to the ocean science and conservation community.
Each design is paired with a research lab, nonprofit, or education organization that has high intellectual merit and the potential to move the needle in its respective field. For each product sold, Waterlust donates 10% of profits to these conservation partners.
Eye-Catching Designs Made from Recycled Plastic Bottles
waterlust.com / @abamabam
The company sells a range of eco-friendly items like leggings, rash guards, and board shorts that are made using recycled post-consumer plastic bottles. There are currently 16 causes represented by distinct marine-life patterns, from whale shark research and invasive lionfish removal to sockeye salmon monitoring and abalone restoration.

One such organization is Get Inspired, a nonprofit that specializes in ocean restoration and environmental education. Get Inspired founder, marine biologist Nancy Caruso, says supporting on-the-ground efforts is one thing that sets Waterlust apart, like their apparel line that supports Get Inspired abalone restoration programs.
"All of us [conservation partners] are doing something," Caruso said. "We're not putting up exhibits and talking about it — although that is important — we're in the field."
Waterlust not only helps its conservation partners financially so they can continue their important work. It also helps them get the word out about what they're doing, whether that's through social media spotlights, photo and video projects, or the informative note card that comes with each piece of apparel.
"They're doing their part for sure, pushing the information out across all of their channels, and I think that's what makes them so interesting," Caruso said.
And then there are the clothes, which speak for themselves.
Advocate Apparel to Start Conversations About Conservation
waterlust.com / @oceanraysphotography
Waterlust's concept of "advocate apparel" encourages people to see getting dressed every day as an opportunity to not only express their individuality and style, but also to advance the conversation around marine science. By infusing science into clothing, people can visually represent species and ecosystems in need of advocacy — something that, more often than not, leads to a teaching moment.

"When people wear Waterlust gear, it's just a matter of time before somebody asks them about the bright, funky designs," said Waterlust's CEO, Patrick Rynne. "That moment is incredibly special, because it creates an intimate opportunity for the wearer to share what they've learned with another."
The idea for the company came to Rynne when he was a Ph.D. student in marine science.
"I was surrounded by incredible people that were discovering fascinating things but noticed that often their work wasn't reaching the general public in creative and engaging ways," he said. "That seemed like a missed opportunity with big implications."
Waterlust initially focused on conventional media, like film and photography, to promote ocean science, but the team quickly realized engagement on social media didn't translate to action or even knowledge sharing offscreen.
Rynne also saw the "in one ear, out the other" issue in the classroom — if students didn't repeatedly engage with the topics they learned, they'd quickly forget them.
"We decided that if we truly wanted to achieve our goal of bringing science into people's lives and have it stick, it would need to be through a process that is frequently repeated, fun, and functional," Rynne said. "That's when we thought about clothing."
Support Marine Research and Sustainability in Style
To date, Waterlust has sold tens of thousands of pieces of apparel in over 100 countries, and the interactions its products have sparked have had clear implications for furthering science communication.
For Caruso alone, it's led to opportunities to share her abalone restoration methods with communities far and wide.
"It moves my small little world of what I'm doing here in Orange County, California, across the entire globe," she said. "That's one of the beautiful things about our partnership."
Check out all of the different eco-conscious apparel options available from Waterlust to help promote ocean conservation.
Melissa Smith is an avid writer, scuba diver, backpacker, and all-around outdoor enthusiast. She graduated from the University of Florida with degrees in journalism and sustainable studies. Before joining EcoWatch, Melissa worked as the managing editor of Scuba Diving magazine and the communications manager of The Ocean Agency, a non-profit that's featured in the Emmy award-winning documentary Chasing Coral.