The Obama administration made another historic move today to decrease America's dependence on dirty fossil fuels, this time protecting the Arctic Ocean from offshore drilling.
In the newly released final five-year program for oil and gas development on the Outer Continental Shelf, the Bureau of Ocean Energy Management removed the Chukchi and Beaufort seas for leasing from 2017 to 2022. This announcement follows a similar decision in March where the Bureau of Ocean Energy Management removed the Atlantic Ocean from the five-year program following widespread opposition along the East Coast.
The removal of the Arctic Ocean lease sales comes in the wake of Shell's failed decade-long effort to explore for oil and gas reserves in the Chukchi and Beaufort seas. Despite spending billions of dollars, Shell and other oil companies have abandoned almost all of the leases they owned in the Arctic Ocean and there are no current proposals to explore for oil on the few leases that remain.
Oceana is now calling on the Obama administration to protect the Atlantic Ocean from seismic airgun blasting, an extremely loud and dangerous process used to search for oil and gas deposits deep below the ocean's surface.
Underwater Seismic Blasting Puts Arctic at Risk - EcoWatch https://t.co/K6Omggq4rR @EU_ARCTIC_FORUM @savethearctic

— EcoWatch (@EcoWatch)1471686011.0
"This is excellent news for our oceans, from the Arctic to the Atlantic," Jacqueline Savitz, Oceana's senior vice president for the U.S., said. "This plan means no expansion of offshore drilling in the Arctic or the Atlantic for the next five years. Oceana applauds President Obama and Secretary Jewell for their leadership in protecting our coasts from dirty and dangerous offshore drilling. Today's announcement demonstrates a commitment to prioritizing common sense, economics and science ahead of industry favoritism and politics as usual.

"We are hopeful that this announcement will help chart a new course forward in the Arctic Ocean. The decades-long push to drill in the Arctic has put this unique and diverse ecosystem at risk, cost tens of billions of dollars and created significant controversy without providing the promised benefits. Companies have been given every opportunity to find oil and have failed at every turn because of the extreme conditions and limited window for operations there. We now have the opportunity to put the old arguments behind us and work together toward a sustainable future for the Arctic region.
"This five-year program also recognizes that selling leases in the Atlantic Ocean poses unnecessary risks to the existing fishing and tourism economies in that region. While we celebrate this important victory, we must not forget that the Atlantic Ocean is still not safe from destructive activities like seismic airgun blasting. Seismic airguns in search of buried oil and gas create one of the loudest manmade sounds in the ocean by firing intense blasts of compressed air every 10 seconds, 24 hours a day, for weeks to months on end. Proposals to subject marine life to seismic airgun blasting in the Atlantic are still being considered by the Obama administration.
"Along the Atlantic coast, nearly 1.4 million jobs and more than $95 billion in gross domestic product rely on healthy ocean ecosystems, mainly through fishing, tourism and recreation. As of today, 120 East Coast municipalities, over 1,200 elected officials and representation for over 12,000 businesses and 500,000 fishing families have publicly opposed seismic airgun blasting and/or offshore drilling. We are grateful for President Obama's leadership in turning away from offshore drilling. The president now has an opportunity to take one more step to protect the whales, dolphins, fish, sea turtles and other marine life that are at risk from unnecessary seismic airgun blasting. The time to act is now."
EcoWatch Daily Newsletter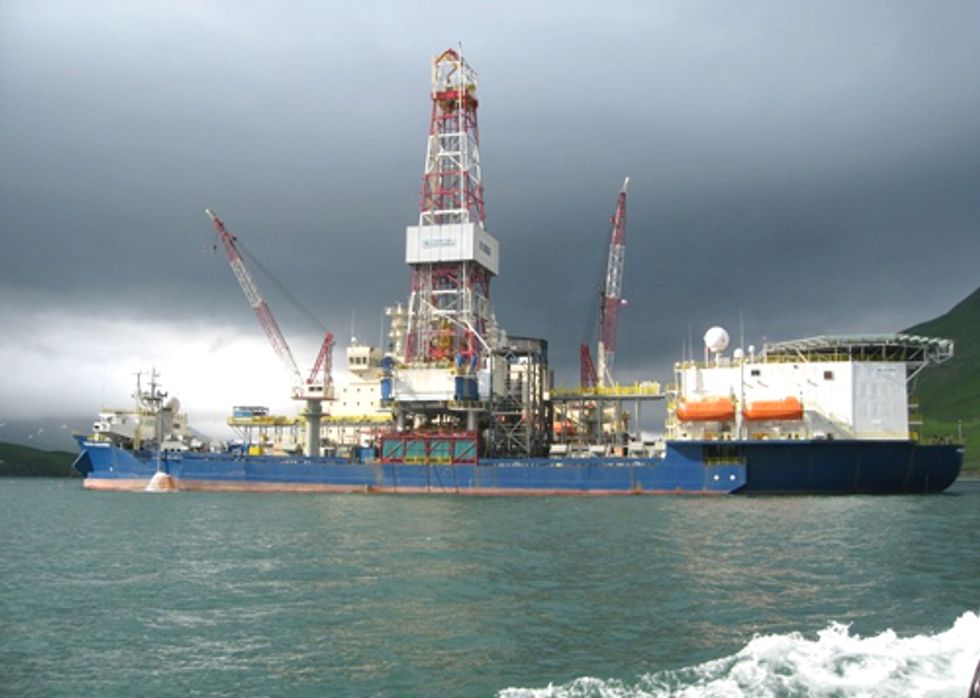 A coalition of groups has filed a lawsuit in the Ninth Circuit Court of Appeals challenging the U.S. Environmental Protection Agency's (EPA) issuance of air pollution discharge permits for Shell's Discoverer drillship and associated fleet for use in the Beaufort and Chukchi seas. The permits, provisionally approved last September, were issued Feb. 10, 2012. Shell intends to use the Discoverer to drill in the fragile, remote, stormy and icy waters of the America's Arctic Ocean starting this summer.
Alaska Wilderness League, Center for Biological Diversity, Natural Resources Defense Council, Northern Alaska Environment Center, Oceana, Pacific Environment, Resisting Environmental Destruction on Indigenous Lands (REDOIL), Sierra Club, and The Wilderness Society filed the challenge late last Friday, represented by Earthjustice. The organizations issued the following statement regarding the lawsuit:
"As early as this summer, the Discoverer drillship and other vessels in Shell's fleet could be in the Chukchi Sea or Beaufort Sea of the Arctic Ocean where they will pump tens of thousands of tons of pollution into pristine Arctic skies. Not only will they be drilling for oil in some of the harshest conditions on earth, each year these ships will emit large amounts of harmful air pollutants such as carbon monoxide, nitrogen dioxide and particulate matter. Further, greenhouse gases and black carbon from the Discoverer fleet are expected to accelerate the loss of snow and sea ice in the Arctic, to the detriment of both the fragile Arctic ecosystem and members of Alaska Native communities that rely upon a healthy ecosystem for subsistence and other traditional cultural activities.
"The EPA approved these permits without ensuring that all air quality standards are met, and as such our only option is to challenge them in court. Although the Clean Air Act requires modern pollution controls that could greatly reduce much of this pollution, the EPA did not require Shell to install all the controls it should have.
"In addition to the excess air pollution from the Discoverer and Shell's other ships, Shell's drilling poses other risks. Drilling for oil in the remote waters of the Arctic Ocean is risky and fraught with potential disaster. An oil spill in these waters would have significant impacts on endangered and threatened species such as bowhead whales and polar bears."
For more information, click here.
For decades, Burt's Bees has been one of the leading names in cosmetic and skincare products developed with sustainability in mind. Not only do they create high-quality products from natural ingredients, but they're attentive to the ways in which their production, packaging, and distribution methods impact the world around them. For those who value environmental stewardship and wise corporate citizenship, Burt's Bees is iconic.
Perhaps it was only a matter of time before the company expanded its all-natural skincare and cosmetic line to include products that harness the potent, holistic effects of CBD. In this post, we'll offer a quick guide to the products included in the new Burt's Bees CBD line, as well as some further comments about the company as a whole.
<h2>Why CBD?</h2><p>First, it may be worth asking why all of this matters. What's the big deal about CBD, anyway?</p><p>CBD is short for cannabidiol, one of the most prevalent, active ingredients in the cannabis plant (marijuana). CBD has been linked with a <a data-linked-post="2648638251" href="https://www.ecowatch.com/organic-cbd-oil-2648638251.html" target="_blank">number of positive, holistic health effects</a>; in fact, it's been FDA-approved as a treatment for <a href="https://www.ncbi.nlm.nih.gov/pmc/articles/PMC5767492/" target="_blank">epilepsy and seizures</a>, while much anecdotal evidence positions it as an <a href="https://www.ncbi.nlm.nih.gov/pmc/articles/PMC2828614/" target="_blank">anti-inflammatory agent</a>.</p><p>Crucially, legally-available CBD products have little or no <em>THC</em>, which is the psychoactive ingredient in the marijuana plant; in other words, you can enjoy the therapeutic benefits of CBD without any risk of getting high.</p><h2>The Burt's Bees Story</h2><p>With that said, let's get back to Burt's Bees.</p><p>The company was founded in the early 1980s by Burt Shavitz and Roxanne Quimby, veterans of the art community who sought refuge and contemplation in the prairies of Maine. Eventually, their interests led them to beekeeping, and into developing lip and skincare products developed from homegrown beeswax.</p><p>From the very beginning, their mission was to develop products that drew from the power of nature, while also taking seriously their responsibility to preserve, protect, and respect nature.</p><p><br/></p><p class="shortcode-media shortcode-media-rebelmouse-proxy-image"> <a href="https://upload.wikimedia.org/wikipedia/commons/0/0e/Burt%27s_Bees_Products%2C_Sep_2012.JPG" target="_blank"><img type="lazy-image" data-runner-src="https://assets.rebelmouse.io/eyJhbGciOiJIUzI1NiIsInR5cCI6IkpXVCJ9.eyJpbWFnZSI6Imh0dHBzOi8vbWVkaWEucmJsLm1zL2ltYWdlP3U9JTJGd2lraXBlZGlhJTJGY29tbW9ucyUyRjAlMkYwZSUyRkJ1cnQlMjUyN3NfQmVlc19Qcm9kdWN0cyUyQ19TZXBfMjAxMi5KUEcmaG89aHR0cHMlM0ElMkYlMkZ1cGxvYWQud2lraW1lZGlhLm9yZyZzPTYzNCZoPWM1ZTJmZTNjZWU3YTQzYmQwN2JiMzA5NTQzODJmZDE5ZTI4NTVmODFjZWExY2IwZjEwNTMyM2VmZmI3NzVhMTQmc2l6ZT05ODB4JmM9MjMzMjg4MjMwMCIsImV4cGlyZXNfYXQiOjE2MzQ2MDIzNTB9.-xDHPO21EBocR2q-qehbyHJl9kdn7xtuoQ4yGq9AWig/img.jpg" id="5f2e7" class="rm-shortcode" data-rm-shortcode-id="656954a7f6b3ca9326350734a85dea76" /></a> <small class="image-media media-caption" placeholder="Add Photo Caption...">File:Burt's Bees Products, Sep 2012.JPG - Wikipedia</small> </p><h3>Sustainability at Burt's Bees<br/></h3><p>There are a number of ways in which Burt's Bees continues to live out its commitment to sustainability to this day.</p><h3>All Ingredients Come from Nature</h3><p>The company strives for 100 percent natural ingredients in all of their products, and generally comes pretty close. (Their skincare products are all 95 percent natural, at a bare minimum.) Everything they make is absent <a data-linked-post="2628289611" href="https://www.ecowatch.com/chemicals-in-cosmetics-damage-childrens-health-2628289611.html" target="_blank">parabens</a> and other concerning, artificial chemicals.</p><h3>No Products are Tested on Animals</h3><p>Burt's Bees products are all "<a data-linked-post="1881939362" href="https://www.ecowatch.com/13-eco-labels-to-look-for-when-shopping-1881939362.html" target="_blank">Leaping Bunny Certified</a>." What this means is that they never test their products on animals, or ask any third parties to conduct animal testing on their behalf.</p><h3>Eco-Friendly Sourcing</h3><p>The company also demonstrates a responsible approach to sourcing, visiting all their ingredient harvesting sites to ensure a commitment to stewardship and sustainability.</p><h3>Environmentally Friendly Packaging</h3><p>All Burt's Bees products are completely recyclable. They avoid over-packaging, and their plastics are made up largely of recycled materials. </p><p>The bottom line: Burt's Bees is a company with serious eco-credentials… and that makes them a logical choice for expansion into the world of natural, sustainably sourced CBD.</p><h2>About Burt's Bees CBD Products</h2><p>Currently, Burt's Bees offers five products that are made with <a data-linked-post="2649092883" href="https://www.ecowatch.com/full-spectrum-cbd-oil-2649092883.html" target="_blank">full spectrum CBD</a>. What this means is that their CBD includes trace elements of all parts of the plant, including other <a data-linked-post="2649030477" href="https://www.ecowatch.com/cannabis-terpenes-2649030477.html" target="_blank">cannabinoids and terpenes</a>. According to many CBD experts, this provides a more potent and effective product overall. </p><p>All of the company's CBD ingredients are sourced from hemp that's grown and harvested in Colorado, using the most sustainable, organic agricultural practices. </p><p>Another important note about Burt's Bees CBD products: All of them are rigorously third-party tested. Independent lab results are key whenever you buy CBD, because it allows you to get a good sense of the purity, quality, and potency of what you're buying. You can get batch-specific test results for any Burt's Bees product simply by visiting their website.</p><h2>So, what about the specific products in the Burt's Bees CBD line?</h2>