The Chinese government has just announced its work plan to manage and clean up contaminated groundwater in North China Plains, a region where many are completely dependent on groundwater for drinking water.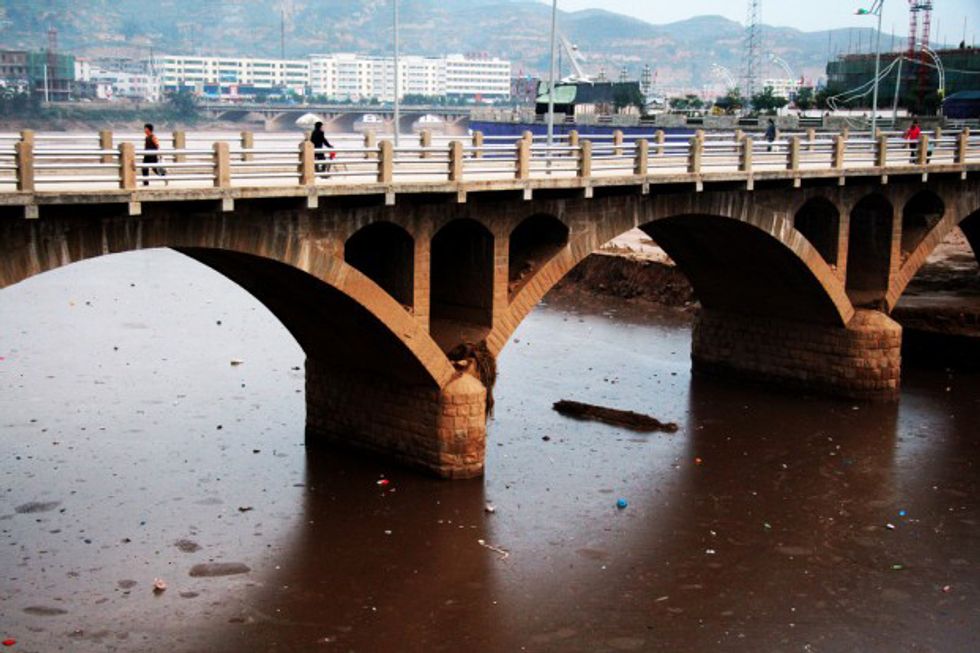 Eighteen percent of water use in China is groundwater. Unfortunately, the report indicates this groundwater is highly contaminated with pesticides, fertilizers and irrigation waste water from agricultural expansion, as well as petrochemical industry wastewater, and domestic and industrial waste. Considering 400 of the approximately 655 cities in China are completely reliant on groundwater for drinking, the plan could not come sooner.
Likely though, "It will be very expensive to clean up, if it is even possible," said Sun Ge, PhD, research hydrologist of the U.S. Department of Agriculture's Forest Service Southern Research Station. Many of the chemicals are extremely persistent, remaining in the environment years after they were released.
The plan marks progress made after a massive government investigation launched in 2006, which found that groundwater of the North China Plains, home to nearly 130 million people, was almost irreparably contaminated. After six years of investigation and a year of planning, the Chinese Ministry of Land and Resources has finally announced its work plan to manage and clean up contaminated waters.
While the results of the 2006 survey have not been made public, the government has acknowledged that water contamination levels are quite serious. Previous data released by the Land Ministry revealed that 41 percent of the groundwater monitoring sites across the country had poor water quality, including 4,929 monitoring sites spread out over 198 administrative regions. Iron, manganese, fluoride, nitrites, nitrates, ammonium and heavy metals were just some of the contaminants found, with some of them reaching levels above state safety levels.
The report builds on academic research conducted by Zhang Zhaoji, PhD, a hydrogeologist at the Chinese Academy of Geological Sciences' Institute of Hydrology and Environmental Geology in Hebei and project leader for the 2006 survey. Published in the Journal of Jilin University, the results indicated that 35.5 percent of shallow groundwater samples were contaminated by human activities.
The levels of water pollution are "not a surprise, as China is under rapid urbanization and industrialization that bring problems of water pollution for both surface and groundwater," said Dr. Ge to the journal Nature. Regardless, the effects are already being seen in China. This summer agricultural runoff caused the largest algal bloom ever recorded in China, which has grown twice the size from the previous record years' bloom. Additionally, fluoride exposure caused almost 38.8 million recorded cases of tooth-enamel damage and 2.84 million cases of bone disease. Humans are exposed to a wide range of fluoride-based compounds from agricultural sources, many of which leach into the groundwater or run off into local streams. While fluoride is often added to water sources to protect from tooth decay, it is also found in almost 150 fluoridated pesticide products. Three of the most widely used herbicides include triflualin, flumeturon, and benefin. Others include sodium fluoride, used as a rodenticide and insecticide; superphosphate fertilizer, used as a fertilizer and animal feed supplement, which contains up to five percent fluoride); and cryolite, used in fruit and vegetable crops against leaf eating pests but as an aluminofluoride ion.
Although it is difficult to directly link fluoride exposure from water contamination as the primary cause of fluoride-related ailments, undoubtedly, "These diseases are closely related to environ­mental and geological factors [and are] especially associated with contaminated groundwater," says Yang Linsheng, PhD, director of the Department of Environmental Geography and Health at the Institute of Geographic Sciences and Natural Resources Research.
The government work plan states that it intends to divide the North China Plain into 30 units for pollution prevention and control, while simultaneously ranking each by severity levels, from serious to good. The journal Nature reports that they will also commit almost 500 million renminbi (U.S. $81 million) between 2013 and 2020 to increase water pollution assessments, limit agricultural water pollution and point source pollution from industry and landfill, treat polluted waters and conduct further water clean-up research. As of now, details of the plan are unavailable to the public.
However, the plan is expected to be a boon for the environment, requiring a harsher approval process for new industry products and stricter regulations for industrial and agricultural wastes. Last week, Chinese authorities announced that courts were now able to hand down the death penalty in cases of serious pollution.
WHAT WILL IT TAKE FOR THE U.S. TO CLEAN UP ITS WATER SUPPLY? COMMENT BELOW:
Visit EcoWatch's WATER page for more related news on this topic.
——–

WHAT WILL IT TAKE FOR THE U.S. TO CLEAN UP OUR WATER SUPPLY? COMMENT BELOW:

EcoWatch Daily Newsletter
waterlust.com / @tulasendlesssummer_sierra .
Each product featured here has been independently selected by the writer. If you make a purchase using the links included, we may earn commission.
The bright patterns and recognizable designs of Waterlust's activewear aren't just for show. In fact, they're meant to promote the conversation around sustainability and give back to the ocean science and conservation community.
Each design is paired with a research lab, nonprofit, or education organization that has high intellectual merit and the potential to move the needle in its respective field. For each product sold, Waterlust donates 10% of profits to these conservation partners.
Eye-Catching Designs Made from Recycled Plastic Bottles
waterlust.com / @abamabam
The company sells a range of eco-friendly items like leggings, rash guards, and board shorts that are made using recycled post-consumer plastic bottles. There are currently 16 causes represented by distinct marine-life patterns, from whale shark research and invasive lionfish removal to sockeye salmon monitoring and abalone restoration.

One such organization is Get Inspired, a nonprofit that specializes in ocean restoration and environmental education. Get Inspired founder, marine biologist Nancy Caruso, says supporting on-the-ground efforts is one thing that sets Waterlust apart, like their apparel line that supports Get Inspired abalone restoration programs.
"All of us [conservation partners] are doing something," Caruso said. "We're not putting up exhibits and talking about it — although that is important — we're in the field."
Waterlust not only helps its conservation partners financially so they can continue their important work. It also helps them get the word out about what they're doing, whether that's through social media spotlights, photo and video projects, or the informative note card that comes with each piece of apparel.
"They're doing their part for sure, pushing the information out across all of their channels, and I think that's what makes them so interesting," Caruso said.
And then there are the clothes, which speak for themselves.
Advocate Apparel to Start Conversations About Conservation
waterlust.com / @oceanraysphotography
Waterlust's concept of "advocate apparel" encourages people to see getting dressed every day as an opportunity to not only express their individuality and style, but also to advance the conversation around marine science. By infusing science into clothing, people can visually represent species and ecosystems in need of advocacy — something that, more often than not, leads to a teaching moment.

"When people wear Waterlust gear, it's just a matter of time before somebody asks them about the bright, funky designs," said Waterlust's CEO, Patrick Rynne. "That moment is incredibly special, because it creates an intimate opportunity for the wearer to share what they've learned with another."
The idea for the company came to Rynne when he was a Ph.D. student in marine science.
"I was surrounded by incredible people that were discovering fascinating things but noticed that often their work wasn't reaching the general public in creative and engaging ways," he said. "That seemed like a missed opportunity with big implications."
Waterlust initially focused on conventional media, like film and photography, to promote ocean science, but the team quickly realized engagement on social media didn't translate to action or even knowledge sharing offscreen.
Rynne also saw the "in one ear, out the other" issue in the classroom — if students didn't repeatedly engage with the topics they learned, they'd quickly forget them.
"We decided that if we truly wanted to achieve our goal of bringing science into people's lives and have it stick, it would need to be through a process that is frequently repeated, fun, and functional," Rynne said. "That's when we thought about clothing."
Support Marine Research and Sustainability in Style
To date, Waterlust has sold tens of thousands of pieces of apparel in over 100 countries, and the interactions its products have sparked have had clear implications for furthering science communication.
For Caruso alone, it's led to opportunities to share her abalone restoration methods with communities far and wide.
"It moves my small little world of what I'm doing here in Orange County, California, across the entire globe," she said. "That's one of the beautiful things about our partnership."
Check out all of the different eco-conscious apparel options available from Waterlust to help promote ocean conservation.
Melissa Smith is an avid writer, scuba diver, backpacker, and all-around outdoor enthusiast. She graduated from the University of Florida with degrees in journalism and sustainable studies. Before joining EcoWatch, Melissa worked as the managing editor of Scuba Diving magazine and the communications manager of The Ocean Agency, a non-profit that's featured in the Emmy award-winning documentary Chasing Coral.