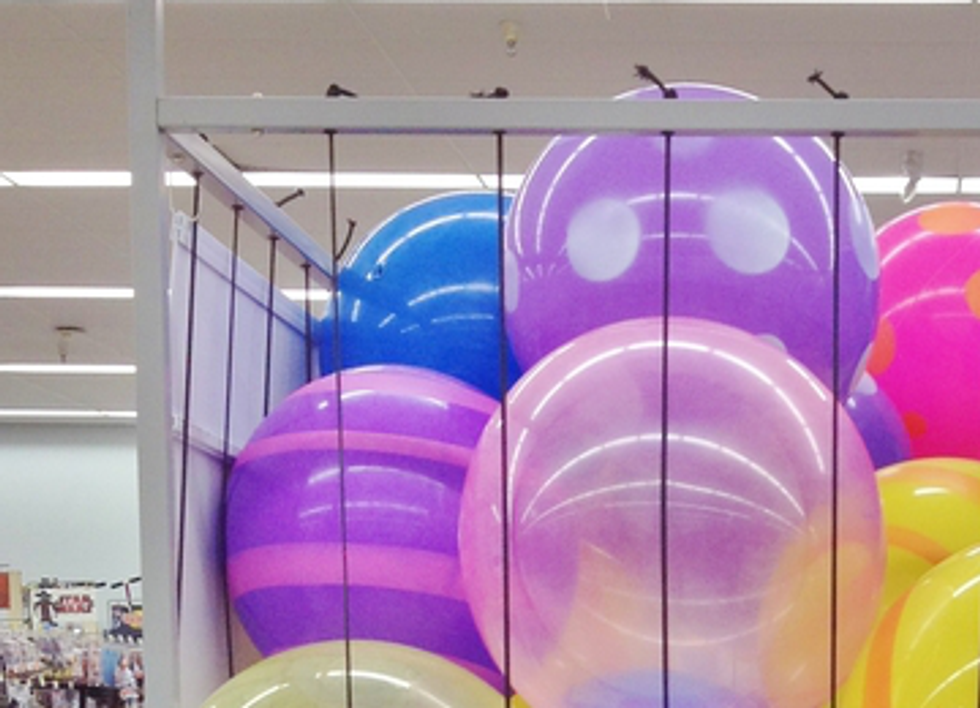 Lissandra Melo
/
Shutterstock.com
Reports that toxic chemicals are in thousands of kids' products might lead consumers to throw up their hands in frustration. How on Earth can you possibly recognize every single product—ranging from clothing and footwear to personal care products, baby products, toys, car seats, and arts and craft supplies—that might threaten your child's health?
The Washington Toxics Coalition (WTC) is here to help. In 2008, the non-profit won a campaign in the Washington state legislature for passage of the Children's Safe Products Act (CSPA). This act set up—for the first time in the U.S.—a requirement for companies to report when they sell children's products that contain toxic chemicals. Anyone can search the CSPA database of the information. But it's a big database with a lot of information. And the database doesn't cite the name of specific products or item numbers.
WTC  summarized some of the products in the report Chemicals Revealed. But here's some simple guidelines that WTC says you can follow when considering a purchase for children.
Look out for metal parts. Even with stricter controls on the kinds of metals children come in contact with, parents still need to watch out for metal jewelry and metal parts and ornamentation on shoes and clothing. The CSPA database contains reports of cadmium, mercury and even arsenic in these metals, and many more reports of less familiar toxic metals such as antimony, cobalt and molybdenum.
Shop for phthalate-free. Hormone-disrupting phthalates are still in common use even with recent information about them reaching the public. Your best bet for avoiding phthalates is to seek out safer personal care products, plastics and toys.
Be strategic to reduce exposures. Start with safer alternatives for products with the biggest potential for exposure such as items that can fit in your child's mouth, products that are applied to the skin (lotions, shampoos, creams, etc.), or items in contact with your child's skin for more than an hour at a time.
Clothing may commonly contain toxics. There are many, many reports of toxic chemicals in children's clothing and footwear. The presence of a chemical does not necessarily mean a product is harmful. But parents can minimize their children's exposure until more is known about the risks. See the WTC's  "Toxics in my T-Shirt" for clothing and footwear recommendations.

EcoWatch Daily Newsletter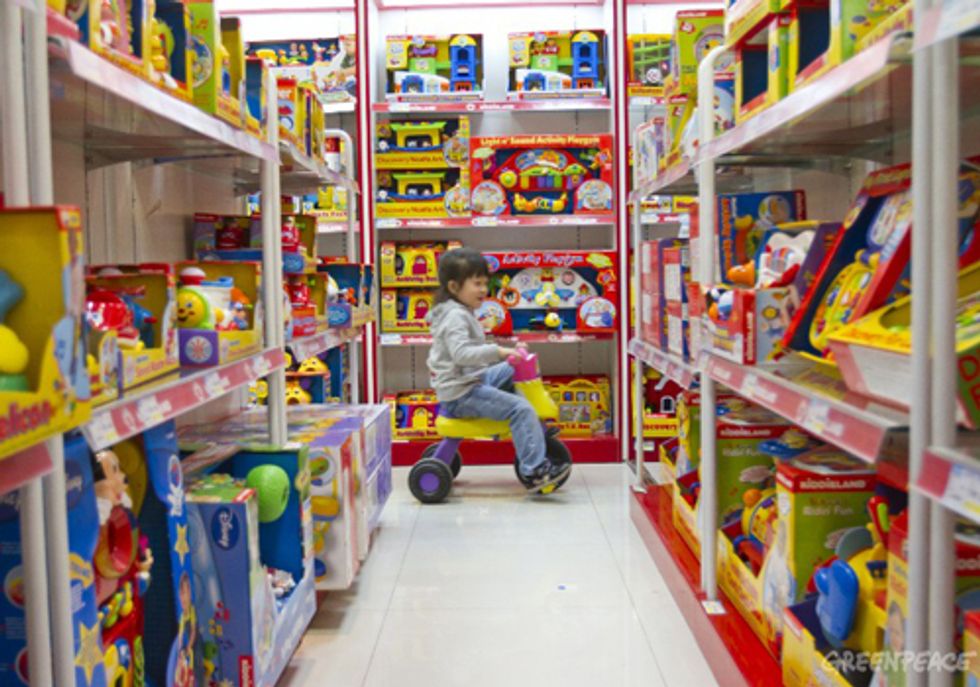 In December, Greenpeace and the International POPs (Persistent Organic Pollutants) Elimination Network (IPEN) jointly released an alarming report that found more than 30 percent of 500 samples of toys and other items contained at least one type of toxic heavy metal. About 10 percent of the samples contained lead above the Chinese regulation of 600 parts per million. The news first came out of Beijing and it was covered extensively by mainland reporters. Later, we took our show on the road and showed Christmas shoppers in Hong Kong the dangers they face in buying seemingly harmless Christmas gifts.
While in Hong Kong, our toxics campaigners, along with Joe DiGangi of IPEN, decided to get ambitious—They inspected an extra 82 items to add to our already extensive list of 500 toys, school supplies, clothing, cups and other products. Add in one pair of Winnie the Pooh slippers from Beijing and a Barbie pencil bag from Guangzhou, and that brings our list to 584.
The list gives detailed information on each of the products and the levels of six heavy metals hiding in different coatings. These heavy metals can be absorbed into the growing bodies of children and cause major issues with their development—especially mental development.
"Heavy metals in children's products pose a serious threat to kids—even the slightest bit of lead can harm a child's development," said Greenpeace toxics campaigner Wu Yixiu. "Children tend to put toys and products into their mouths, so they are more vulnerable."
For more information on the dangers of heavy metals, see this link.
In some cases, the results of our testing were absurdly high. With the Winnie the Pooh slippers, for example, the lead content reached 5,580 parts per million. Oh bother.
And the cute Barbie pencil bag? It had a lead content of 2,930 parts per million.
But perhaps the most shocking item was a cup that contained lead levels beyond 40,000 parts per million.
As scary as it sounds, you can avoid these dangerous items. We've given you the knowledge. Check our list for the things you should keep away from. Together we can get the industry to change if we don't buy their toxic products.
"The industry of children's products should take responsibility in preventing children from being exposed to heavy metals, particularly for big brands," Wu said. "They must take the lead to make change rather than harming their consumers to make a quick buck."
Greenpeace calls on the government to take immediate action to clean up these toxic products and strengthen quality supervision. The government should also adopt more stringent regulations over lead limits in children's products to keep the source of heavy metals away from children entirely.
For more information, click here.
Xsandra / Getty Images
Looking for ways to cut down on single-use plastic while grocery shopping? You may already have eco-friendly shopping bags, but bringing your own reusable produce bags is another easy swap.

According to the UN Environment Program, up to 5 trillion single-use plastic bags are used globally each year, and because of the material they're made from, most municipal recycling centers don't accept them (more on this below).
The most sustainable option is to skip the bag altogether. You can also make your own reusable produce bags out of old T-shirts. But if you'd rather purchase them new, here are our recommendations for the best reusable produce bags on the market today.
<p><em>Each product featured here has been independently selected by the writer. If you make a purchase using the links included, we may earn commission.</em></p>