Children's diets improve outside the schoolhouse when their schools adopt healthy nutrition policies and practices that emphasize whole grains, fruits and vegetables.
According to new research published in the current issue of Childhood Obesity, when schools made snacks available that were mostly or entirely healthful, students' overall diet improved.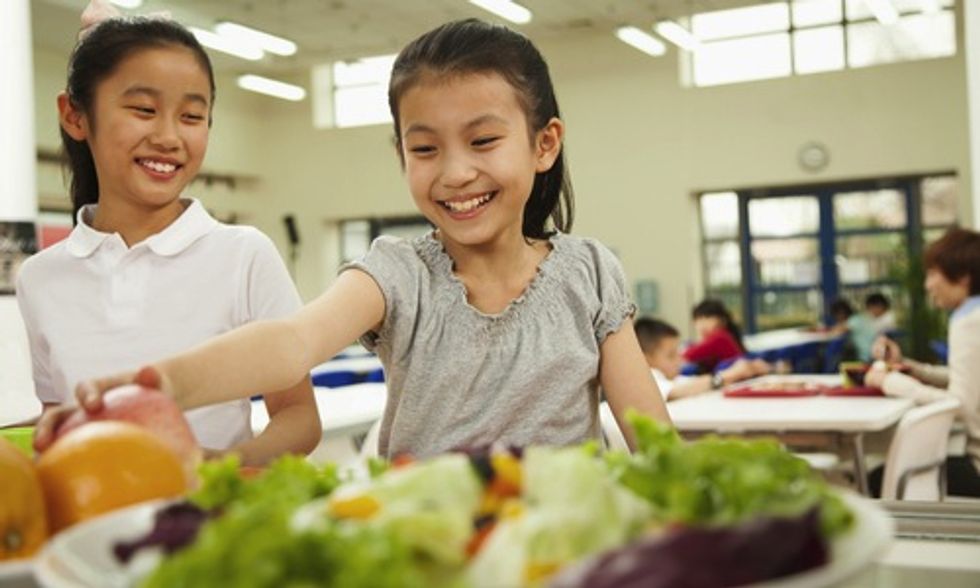 Photo courtesy of Shutterstock
The U.S. Department of Agriculture will ask schools to implement its Smart Snacks nutrition standards on July 1, 2014. Those recommendations will set limits on calories, salt, sugar and fat in foods and beverages, as well as promote snack foods with more whole grains, low-fat dairy, fruits and vegetables.
In the study, team of researchers at Michigan State University (MSU) tested standards similar to the USDA's new requirements and demonstrated the new standards have the potential to improve students' overall eating habits.
For example, schools that offered healthful snacks a la carte at lunchtime or in vending programs boosted their students' overall daily consumption of fruit by 26 percent, vegetables by 14 percent and whole grains by 30 percent. Students also increased their consumption of fiber, calcium, and vitamins A and C.
"When healthful food options are offered, students will select them, eat them and improve their diet," said lead researcher Katherine Alaimo, MSU associate professor of food, science and human nutrition. "Our study shows that schools can make the kinds of changes required by the forthcoming USDA guidelines and these changes can have a positive impact on children's nutrition."
The researchers also compared schools that adopted a variety of nutrition programs and policies. Some schools made limited changes, while others implemented more comprehensive programs to assess and improve the school's nutrition environment.
Changes schools made included raising nutrition standards for snacks and beverages, offering taste tests of healthful foods and beverages to students, marketing healthful foods in school and removing advertisements of unhealthful foods. Students' overall diets improved when schools implemented three or more new nutrition practices or policies.
"Creating school environments where the healthy choice is the easy choice allows students to practice lessons learned in the classroom and form good habits at an early age, laying a foundation for a healthy future," said Shannon Carney Oleksyk, contributing author and healthy living adviser for Blue Cross Blue Shield of Michigan.

EcoWatch Daily Newsletter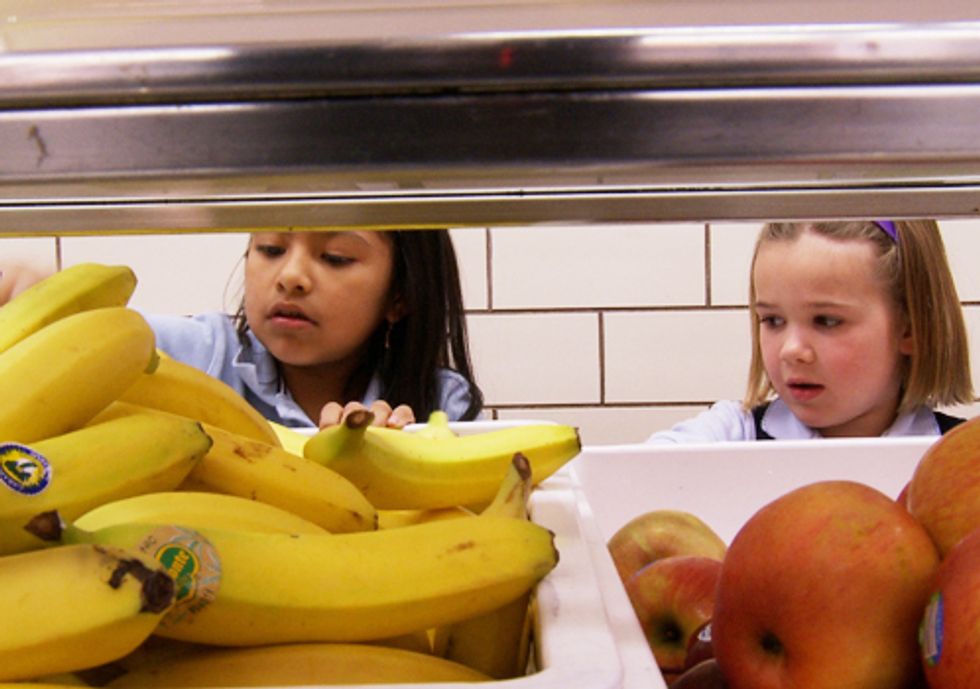 By Marion Nestle
Michelle Obama and Tom Vilsack announced new nutrition standards for school meals Jan. 25, to what seems to be near-universal applause (the potato growers are still miffed, according to the New York Times).
The new standards are best understood in comparison to current standards (see chart). They call for:
More fruits and vegetables
A greater range of vegetables
A requirement for whole grains
All milk to be 1 percent or less
Only non-fat milk to be permitted to be flavored
This may not sound like much. But given what it has taken the U.S. Department of Agriculture (USDA) to get to this point, the new standards must be seen as a major step forward.
See, for example, the comparison of an old and new weekly menu (this has not changed since USDA's original proposal in January last year).

The new one looks so much better. Now it's up to schools to make the new standards work, make the foods taste yummy, and get kids to be willing to try new foods.
To review the history—This all started when the USDA asked the Institute of Medicine (IOM) to design nutrition standards that would:
Increase the amount and variety of fruits, vegetables, and whole grains
Set a minimum and maximum level of calories
Focus more on reducing saturated fat and sodium
The new standards come pretty close to what the IOM recommended (see the earlier chart), with some now-famous exceptions. The IOM proposed limits on starchy vegetables. USDA then proposed to limit starchy vegetables to two servings a week. It also set a minimum for the amount of tomato sauce on pizza that could count toward vegetable servings.
Under pressure from potato growers and suppliers of school pizza, Congress weighed in and overruled the USDA on both counts.
The result—pizza now counts as a vegetable.
To give some idea of the extent of lobbying on all sides of this issue, USDA's January proposal elicited 132,000 public comments (these are someplace at www.regulations.gov and are addressed in the Federal Register notice).
I asked in a previous post whether this kind of congressional micromanagement made sense (absolutely not, in my view). I also wrote previously about the intense lobbying efforts to make sure these standards would never be released.
Despite congressional and industry opposition, the standards are out.
Applause is very much in order for Mrs. Obama's leadership on this issue.
Good work. Now let's get busy on the next challenges:
Set nutrition standards for competitive foods in schools—those sold outside of the lunch program as snacks and meal replacements.
Teach kids where food comes from.
Teach kids to cook.
For the record:
The initial press release—It is headlined "First Lady to Announce New Nutrition Standards for Meals Served in America's Schools: Public-Private Partnership Aims to Connect More Kids to Nutrition Programs." I'm not sure where the Public-Private Partnership comes into this.
USDA's actual press announcement provides links to the Nutrition Standards home page and other relevant documents.
Additions—Dana Woldrow sends this link to shed some light on the curious business of private-public partnerships. Here's one where Goya foods is giving out teaching materials in schools.
For more information, click here.
waterlust.com / @tulasendlesssummer_sierra .
Each product featured here has been independently selected by the writer. If you make a purchase using the links included, we may earn commission.
The bright patterns and recognizable designs of Waterlust's activewear aren't just for show. In fact, they're meant to promote the conversation around sustainability and give back to the ocean science and conservation community.
Each design is paired with a research lab, nonprofit, or education organization that has high intellectual merit and the potential to move the needle in its respective field. For each product sold, Waterlust donates 10% of profits to these conservation partners.
Eye-Catching Designs Made from Recycled Plastic Bottles
waterlust.com / @abamabam
The company sells a range of eco-friendly items like leggings, rash guards, and board shorts that are made using recycled post-consumer plastic bottles. There are currently 16 causes represented by distinct marine-life patterns, from whale shark research and invasive lionfish removal to sockeye salmon monitoring and abalone restoration.

One such organization is Get Inspired, a nonprofit that specializes in ocean restoration and environmental education. Get Inspired founder, marine biologist Nancy Caruso, says supporting on-the-ground efforts is one thing that sets Waterlust apart, like their apparel line that supports Get Inspired abalone restoration programs.
"All of us [conservation partners] are doing something," Caruso said. "We're not putting up exhibits and talking about it — although that is important — we're in the field."
Waterlust not only helps its conservation partners financially so they can continue their important work. It also helps them get the word out about what they're doing, whether that's through social media spotlights, photo and video projects, or the informative note card that comes with each piece of apparel.
"They're doing their part for sure, pushing the information out across all of their channels, and I think that's what makes them so interesting," Caruso said.
And then there are the clothes, which speak for themselves.
Advocate Apparel to Start Conversations About Conservation
waterlust.com / @oceanraysphotography
Waterlust's concept of "advocate apparel" encourages people to see getting dressed every day as an opportunity to not only express their individuality and style, but also to advance the conversation around marine science. By infusing science into clothing, people can visually represent species and ecosystems in need of advocacy — something that, more often than not, leads to a teaching moment.

"When people wear Waterlust gear, it's just a matter of time before somebody asks them about the bright, funky designs," said Waterlust's CEO, Patrick Rynne. "That moment is incredibly special, because it creates an intimate opportunity for the wearer to share what they've learned with another."
The idea for the company came to Rynne when he was a Ph.D. student in marine science.
"I was surrounded by incredible people that were discovering fascinating things but noticed that often their work wasn't reaching the general public in creative and engaging ways," he said. "That seemed like a missed opportunity with big implications."
Waterlust initially focused on conventional media, like film and photography, to promote ocean science, but the team quickly realized engagement on social media didn't translate to action or even knowledge sharing offscreen.
Rynne also saw the "in one ear, out the other" issue in the classroom — if students didn't repeatedly engage with the topics they learned, they'd quickly forget them.
"We decided that if we truly wanted to achieve our goal of bringing science into people's lives and have it stick, it would need to be through a process that is frequently repeated, fun, and functional," Rynne said. "That's when we thought about clothing."
Support Marine Research and Sustainability in Style
To date, Waterlust has sold tens of thousands of pieces of apparel in over 100 countries, and the interactions its products have sparked have had clear implications for furthering science communication.
For Caruso alone, it's led to opportunities to share her abalone restoration methods with communities far and wide.
"It moves my small little world of what I'm doing here in Orange County, California, across the entire globe," she said. "That's one of the beautiful things about our partnership."
Check out all of the different eco-conscious apparel options available from Waterlust to help promote ocean conservation.
Melissa Smith is an avid writer, scuba diver, backpacker, and all-around outdoor enthusiast. She graduated from the University of Florida with degrees in journalism and sustainable studies. Before joining EcoWatch, Melissa worked as the managing editor of Scuba Diving magazine and the communications manager of The Ocean Agency, a non-profit that's featured in the Emmy award-winning documentary Chasing Coral.