Scott Pruitt—Donald Trump's controversial pick to head the U.S. Environmental Protection Agency (EPA)—is under fire for his supposed ties to a nonprofit controlled by billionaire oil tycoons, Charles and David Koch.
Scott Pruitt, Donald Trump's nominee to head the EPA, has been known to parrot oil and gas industry talking points.Flickr
POLITICO has received a copy of a letter sent to Pruitt that was signed by six Democratic senators on the Environment and Public Works Committee. The letter raises questions about the Oklahoma attorney general's director status at a nonprofit called the Rule of Law Defense Fund that accepted $175,000 from Freedom Partners, the political arm of the Koch brothers' network.
Freedom Partners has been described as a "dark money umbrella group," likened to a secret bank that disburses contributions from wealthy conservatives.
The senators are requesting names of donors, meeting information, internal emails and other details related to Pruitt's leading role at the Defense Fund, according to POLITICO.
The letter was signed by Sens. Sheldon Whitehouse of Rhode Island, Jeff Merkley of Oregon, Cory Booker of New Jersey, Ed Markey of Massachusetts, Ben Cardin of Maryland and Bernie Sanders (I-Vt.), who caucuses with Democrats.
As POLITICO noted, the Defense Fund is allowed to keep donors secret since it is organized under a special section of the tax code. However, in 2014, it received $175,000 from Freedom Partners.

The letter calls that contribution into question and said that Pruitt's work with the Defense Fund is "troubling," since he may be too close to the very fossil fuel companies he is supposed to regulate as Trump's EPA chief.
Trump Picks Scott Pruitt, 'Puppet of the Fossil Fuel Industry,' to Head EPA https://t.co/BC8ZCp8qc8 @GreenpeaceAustP @Green_Europe

— EcoWatch (@EcoWatch)1481287229.0
The Defense Fund is an offshoot of the Republican Attorneys General Association, itself a group that has deep ties to the fossil fuel industry. A December 2014 New York Times exposé revealed an "unprecedented, secretive alliance" and coordination between Big Oil and the association.
Trump's appointment of Pruitt was met with unprecedented criticism by environmental and health organizations nationwide, being described as a "puppet" of the fossil fuel industry. In 2014, Pruitt was caught sending letters on state government letterheads to President Obama and federal agency heads asserting that the EPA was overestimating the air pollution from drilling for natural gas in Oklahoma. Turns out, the letter was written by lawyers for one of the state's largest oil and gas companies, Devon Energy.
According to POLITICO, the six senators are highlighting Pruitt's links to fossil fuel interests as part of a larger effort to turn moderate senators against his confirmation.

"The confirmation process, starting with your responses to committee questions before your hearing, is an opportunity for you to dispel the notion that the advocacy you have undertaken on environmental issues as Attorney General of Oklahoma has been directed by and for the benefit of the energy industry," the letter states.
As Oklahoma's top legal officer, Pruitt has waged numerous legal wars against the EPA and President Obama's environmental regulations, including the president's signature Clean Power Plan. Trump said Pruitt is "highly respected" and will counter the EPA's "anti-energy agenda that has destroyed millions of jobs."
EcoWatch Daily Newsletter
Last week, Republican Kelly Ayotte narrowly lost her U.S Senate seat in New Hampshire to Democratic challenger, Gov. Maggie Hassan. Although Hassan's victory is good news for the lone 48 Democratic Senators standing up to a Republican majority and President-elect Donald Trump, Ayotte's loss means that the GOP senators have one less member who believes that human activity causes climate change.
Sen. Kelly Ayotte lost her seat to Gov. Maggie Hassan in a closely-watched contest on Nov. 8.Flickr
Sen. Ayotte is no environmentalist, per se. The League of Conservation Voters (LCV) gives her a dismal lifetime score of 35 percent for her environmental scorecard. However, as a Republican Senator who actually believes in climate change and one who voted in favor of President Obama's historic Clean Power Plan, she's somewhat of a unicorn.
Even though the majority of Americans accept the scientific consensus that climate change is real, a majority of Republicans in office do not. A report from the Center for American Progress Action Fund found that 59 percent of the House Republican caucus and 70 percent of Senate Republicans refuse to accept this reality.
Why? Let's follow the money. Charles and David Koch of Koch Industries have played an outsized role in opposing climate change legislation. Their deep-pocketed network has dumped wild sums of money on conservative causes and campaigns, with more than $88 million in traceable funding to groups attacking climate change science, policy and regulation.
So did Ayotte's against-the-grain views cost her a set of billionaire oil barons? The Intercept's Alleen Brown argues that the former incumbent's stance cost her millions in campaign funding.
See this graph from the Center for Responsive Politics:
"The New Hampshire race is the only one among eight considered to be the most competitive that has not benefited from outside spending from the most important Koch-affiliated organizations," Brown wrote.
Brown's article points out that the Koch's nonprofit Americans for Prosperity previously poured in $1.2 million in August on attack ads against Gov. Hassan but after Ayotte voted for the Clean Power Plan in October, the funds dried up.
The Kochs did not respond to The Intercept's request for comment but other reports indicate that the Koch's disagreement with Ayotte's various policy stances led to a fallout.
Per POLITICO:
"She's bucked the party line by endorsing the president's Clean Power Plan, backing paid sick leave and giving same-sex couples full access to government benefits.
"While Ayotte has historically aligned with Americans for Prosperity, she has sharply broken with the Koch-backed outfit over the past six months over clean power regulations and reviving the Export-Import Bank. That's good for her brand as a Republican rooted in the party's center, but bad for her hopes of air cover from the conservative powerhouse."
Meanwhile, the senators and representatives who have voted in line with Koch-backed policies swam with donations and support for their campaigns.
Kochs Dump Trump to Fund Climate-Denying Senators in Ohio and Nevada https://t.co/LYmZ3EWGMW @KOCHexposed

— EcoWatch (@EcoWatch)1467241811.0
For instance, for incumbent Pennsylvania Sen. Pat Toomey's campaign, Koch-backed organizations spent more than $9 million for him to keep the seat. These organizations also allegedly used data to identify 600,000 unenthusiastic or undecided Republican-leaning voters and then deployed Americans for Prosperity volunteers to knock on those voters's doors.
Regardless, the Koch brothers are probably sitting happy following last week's surprise election results that clearly swung red.

Meanwhile, Ayotte's name is still in the hat. Rumor has it that Trump might tap her for Secretary of Defense. If she indeed secures the role, her views on climate change might be good news for our country's safety. Climate change, after all, is one of the gravest security threats we face.
President Obama: Climate Change Is an 'Immediate Risk to Our National Security' http://t.co/4eaaNrGyXz @climateinstitut @EUClimateAction

— EcoWatch (@EcoWatch)1432286713.0
Students at Florida State University are telling Charles Koch to stop compromising academic integrity with multimillion dollar grants that come with strings attached.
You may recall: Back in 2011, two FSU professors revealed that the Charles Koch Foundation was given inappropriate control over the professor hiring process in the economics department, where millions of dollars were granted from the Kansas billionaire. Three years later, the case still isn't closed on this corporate manipulation of university functions.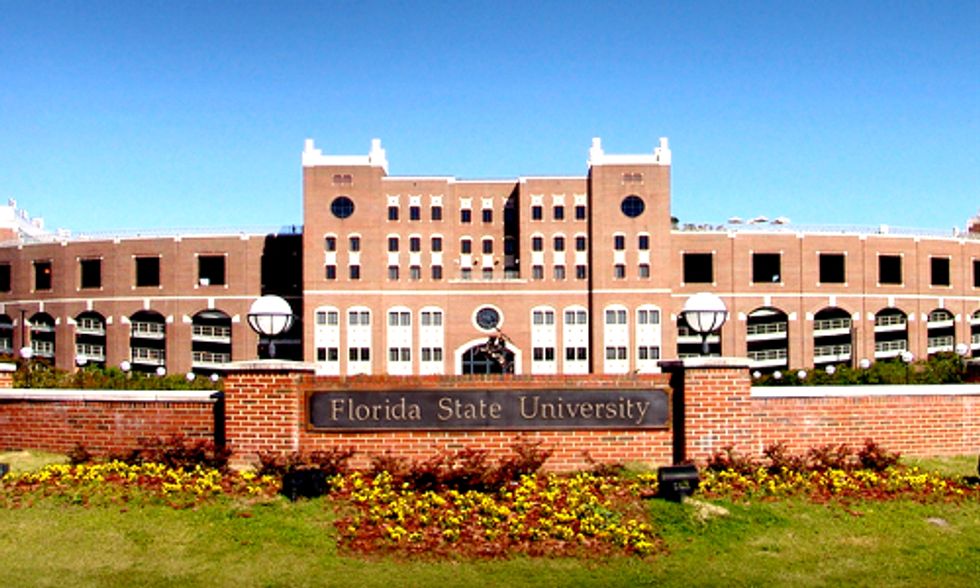 The FSU students write:
Our university's academic integrity has already been compromised from the influence of high-dollar donors like Koch, who managed to assume inappropriate control over our economics department's curriculum and hiring process per an agreement signed in 2008. Three years have passed since FSU professors exposed Koch's financial grip over our school and a committee of faculty senators formally rejected several stipulations of the agreement. Yet, it is clear that the administration refuses to act to appropriately limit outside influence on FSU's educational operations.

A new agreement with Koch, signed by both ex-President Barron and current Interim President Garnett Stokes, still contains many provisions from the original agreement that were explicitly rejected by the faculty senators who reviewed it. Barron himself stated that the initial agreement "did provide the opportunity for outside influence" from Koch. This leads us to question whether the new agreement leaves that influence intact.
The op-ed focuses on the departure of Eric Barron, who is transitioning into the president's office at Penn State University after serving as president of FSU.
Mr. Barron is being celebrated for his expertise in climate science as he cycles into his new position at Penn State (which also gets money from Charles Koch).
Why does this matter? What's the relevance of president Eric Barron's climate change credentials?
Let's start with FSU's economics department. FSU's economics department has received much of the $3,898,657 itemized to FSU in the Charles Koch Foundation's tax filings from 2009 to 2012.
Beyond the well-documented concerns highlighted by FSU students and professors alike, FSU's Koch-funded economics department appears to host professors who are misrepresenting climate science, a field well outside of their credentialed expertise.
Ph.D economist Yoram Bauman has twice reviewed and ranked economics textbooks for how accurately they portray climate change science. Citing top climate science institutions like the Intergovernmental Panel on Climate Change (IPCC) and the U.S. National Academy of Sciences, Dr. Bauman has repeatedly given a failing grade to a widely-used textbook authored by professors from several of the top Koch-funded schools across the country, including FSU. Three of these four authors have direct ties to FSU: One primary author is a current economics professor, one formerly taught in the FSU economics department, and one obtained his economics Ph.D at FSU.
These same four professors, who aren't climate scientists yet authored the worst economics textbooks in regard to climate science misinformation, are affiliated with numerous Koch-funded climate denial organizations. Such affiliations include the Tallahassee-based James Madison Institute, The Heartland Institute, the Property and Environment Research Center (PERC) and the Association for Private Enterprise Education (APEE). These professors are closely affiliated with groups created and directly overseen by the Koch brothers, like the Cato Institute in Washington, DC and the Mercatus Center at George Mason University.
All of these climate denial front groups are affiliated through a Koch-funded umbrella called the State Policy Network. Koch Industries' executives are well-known for dumping tens of millions of dollars into organizations that deny the science or the solutions to global climate change. Now it appears that Koch-funded professors may be an extension of the same political campaign.
FSU students and faculty alike have good reason to ask hard questions about Charles Koch's grants to FSU. Whether or not the Koch money caused or simply encourages such manipulated teaching doesn't matter–lying to students about science is wrong and its one of the key controversial things that KochWorld has a habit of funding.
It is directly contrary to the principles of academic freedom for Koch to walk in and fund departments that then impose a curriculum reflecting Charles Koch's business interests and political strategies. FSU explicitly honors the principles of academic freedom in Koch's crosshairs. FSU students Jerry Funt, Gladys Nobriga, Lissa Reed and Ralph Wilson conclude their opinion piece emphatically:
As students striving to live by the FSU seal of Vires, Artes, and Mores—strength, skill, and character—we'd rather not surrender our character just to serve Charles Koch. Our impartiality is more valuable than his money.
With FSU's outgoing president Eric Barron taking the helm at Penn State University, a good first step would be to ensure that Charles Koch's grants to Penn State aren't affecting the presentation of climate science or other critical topics to the student body.
As a climate scientist, Mr. Barron must know how much is at stake when conversations regarding climate change are polluted executives at companies like Koch Industries, which profit from oil and gas operations.
——–
YOU ALSO MIGHT LIKE
Groundbreaking UN Report Warns Climate Change a Threat to Global Security and Mankind
Supreme Court Chooses Dark Money Billionaires Over Environment in Historic McCutcheon v. FEC Ruling
Florida Congressman Says Climate All-Nighter Was 'Crass' and 'Strange'
Koch Brothers Continue State-by-State Attempts to Stifle Growth of Renewable Energy
——–