Cincinnati City Council members have sent a strongly-worded letter to Ohio Gov. John Kasich demanding the recall of 37 state troopers from the escalating Dakota Access Pipeline protests in North Dakota.
Majority of Cincinnati City Council calling on @JohnKasich to recall the Ohio Troopers sent to North Dakota. https://t.co/lrSj7U6qKy

— Chris Seelbach (@Chris Seelbach)1478023132.0
"The images of militarized police facing off against unarmed Native Americans protecting their water and their history recalls back to the worst time period of American history; a time when the Federal government committed genocide against native tribes in an attempt to gain control over their land and their resources," the letter states.
The letter was signed by a majority of city council members including Vice Mayor David Mann, President Pro-Tem Yvette Simpson as well as councilmembers Chris Seelbach, P.G. Sittenfeld and Wendell Young—was sent to Gov. Kasich on Tuesday.
"As you know, this pipeline was originally routed near Bismarck, ND, but changed after residents of Bismarck opposed the pipeline coming near their homes," the letter continues. "Instead, the pipeline was routed from mostly white Bismarck, to native lands bordering a reservation. This is a sensitive and delicate situation that Ohio voters have not taken a position on."
Yes, we were peppersprayed/maced/shot at here at #StandingRock. @EcoWatch shares latest, including my story. #NoDAPL https://t.co/ncG5Um5ADc

— Erin Schrode (@Erin Schrode)1478190069.0
The 37 Ohio State Highway Patrol troopers were sent to the Standing Rock protests on Saturday. The letter urges state troopers to come home so they can focus on Ohio issues, such as the heroin epidemic, increased traffic fatalities and other issues that "need greater attention within our state."
Ohio State Highway Patrol spokesman Lt. Robert Sellers said that Ohio simply answered a call for support from North Dakota law enforcement.

"We are going there to support the people of North Dakota," Sellers told Cincinnati.com. "More specifically, to provide safety and protect everyone's rights."
Besides Ohio, many other states have deployed reinforcements to North Dakota after Gov. Jack Dalrymple declared a state of emergency surrounding the ongoing protests. Wisconsin, Indiana, South Dakota, Minnesota, Wyoming and Nebraska have all sent personnel, according to an Oct. 23 release from the Morton County Sheriff's Department.
UNPRECEDENTED! Gov Uses Emergency Order to Bring Out-of-State Police to #DakotaAccessPipeline Protest https://t.co/MtQqeC0XdQ @MarkRuffalo

— EcoWatch (@EcoWatch)1477427351.0
The protests against the construction of the Dakota Access Pipeline near the Standing Rock Sioux Reservation started in April and has since entered the national conversation. More than 1.6 million Facebook users have "checked in" at the Standing Rock Indian Reservation page on Facebook to show solidarity with those on the front lines.
1 Million People 'Check In' on Facebook to Support Dakota Access Pipeline Protesters https://t.co/XQVRD5kYW8 @dhlovelife @Indigeneity

— EcoWatch (@EcoWatch)1478037313.0
Native American communities and their supporters have been battling the construction of the controversial $3.7 billion, 1,168-mile pipeline that will transfer up to 570,00 barrels of crude oil per day from the Bakken oilfield in North Dakota to a refinery near Chicago, crossing the Missouri River less than a mile away from the Standing Rock Reservation.
The people of Standing Rock, often called Sioux, warn that a potential spill into the river would threaten their drinking water, desecrate sacred sites and risk the health of their reservation.
What started off as a peaceful protest has, at times, turned violent. Many reports have emerged of police cracking down on the protestors, from the releasing of dogs to firing mace. Hundreds of arrests have been made.

Josh Fox, the founder and producing artistic director of the International WOW Company, recorded footage of the protests and wrote, "there were many eyewitnesses to these events, including myself and Erin Schrode, a 25-year old journalist who recently became the youngest person to run for Congress in California. Erin was shot yesterday by police at point-blank range with rubber bullets."
This morning, roughly 100 protesters will gather at the Ohio Statehouse in Columbus to deliver a petition to Gov. Kasich, demanding that he recall state troopers from the protest site.

The Change.org petition has collected more than 30,000 signatures and is one of the fastest-growing environmental campaigns on the site since it was first posted a week ago, a Change.org representative told EcoWatch.
"Ohio taxpayers do not want 37 of their highway patrol officers to participate in this unconstitutional and unethical violation of Native American people's rights."Change.org
"Ohio taxpayers do not want 37 of their highway patrol officers to participate in this unconstitutional and unethical violation of Native American people's rights. We demand that Gov. John Kasich bring these state troopers back home now," Grove City, Ohio resident Cathy Becker, who started the petition, said.

Becker and other organizers involved in Ohio's movement against the Dakota Access Pipeline will be speaking at today's gathering. You can watch the event on Facebook Live.
EcoWatch Daily Newsletter
A student-led campaign is calling for a shift of $4 billion from oil subsidies to make higher education more affordable for all.
#4billion4us launched a petition on change.org advocating the shift in funding. The petition, which launched today, currently has 73,166 supporters out of a goal of 75,000.
The petition reads:
Every year, billions of dollars in taxpayer money goes to subsidize one of the most profitable industries in human history: the oil industry. In 2014 alone, oil companies received more than $4 billion from US taxpayers, despite raking in hundreds of billions of dollars in profits. Meanwhile, we have a student debt crisis in our country. Millions of Americans face mountains of debt to get the education needed to make a good living.
It's time to shift our priorities. We should be making college more affordable, not lining the pockets of the oil industry.
Imagine if we spent that $4 billion funding higher education for students, ensuring they are not saddled with ridiculous amounts of debt just as they are starting to build a future.
The American Dream is built on helping the next generation do better than the last. We are failing on that promise when youth are saddled with more than a trillion dollars in student debt. Society benefits more from affordable higher education than from oil companies' profit margins. Join me in telling Congress to end the subsidies for the oil industry and instead invest in making higher education affordable.
It's time to move from big oil to big ideas! Let's make sure our Representatives hear our voices and invest in our future!
Major celebrities and activists are supporting the petition, including Leonardo DiCaprio, Keegan-Michael Key and Robert F. Kennedy, Jr.
Great @Change petition to shift $4 billion of oil subsidies to student debt relief. Sign now: https://t.co/11owByrkRq #4billion4us

— Leonardo DiCaprio (@Leonardo DiCaprio)1468185509.0
Let's help our future! https://t.co/0f4NplqhpC https://t.co/i5OKZtrjnm

— Keegan-Michael Key (@Keegan-Michael Key)1468338283.0
The National Wildlife Federation and Natural Resource Defense Council are also supporting the the petition.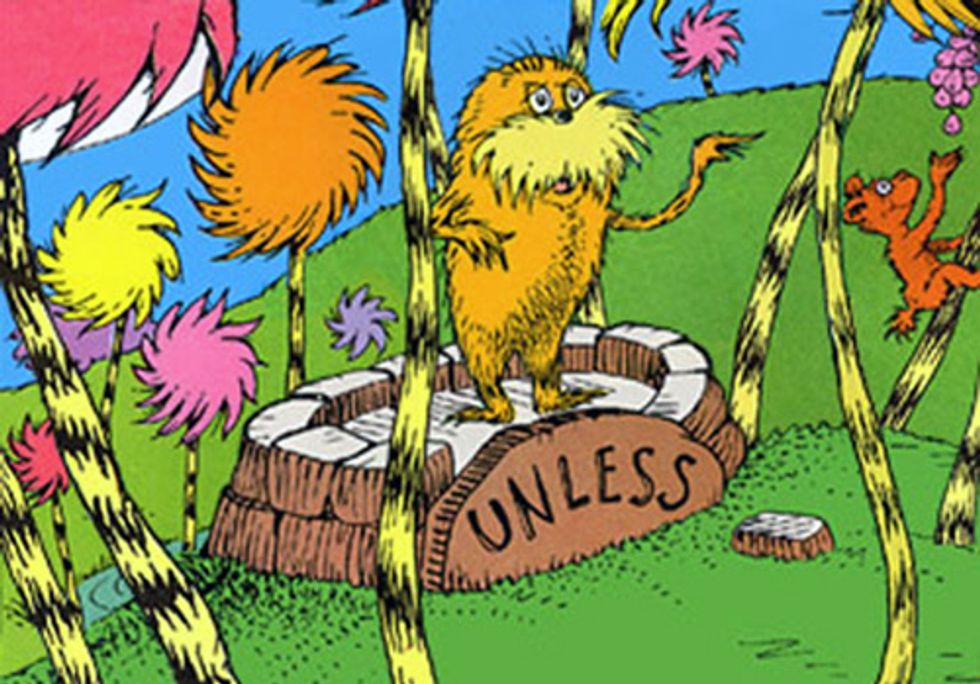 A class of fourth graders, worried that Universal Pictures is missing an educational opportunity with its upcoming Lorax movie, has launched the "Lorax Petition Project," a campaign on Change.org that has gained 50,000 signatures.
Their petition, entitled Universal Pictures: Let the Lorax Speak for the Trees, asks the studio to improve promotions for The Lorax to include the environmental message of Dr. Seuss' classic children's book. According to the students, the film's trailer, website, and other promotions hardly touch on the environmental theme.
"Each year my students are inspired to do more for the planet after reading the book," said Ted Wells, who teaches at The Park School in Brookline, Massachusetts. "They saw the Lorax trailer, and to them, the movie looked more like an adventure and romance, like it had totally lost its message about helping the planet."
In December, the students drafted the petition as a class project and proposed specific ways Universal Pictures could include environmental messages in Lorax's promotional materials, such as adding a Truffula Tree overflowing with "going green" tips along with a discussion forum to the movie website. In less than a month, tens of thousands of people have signed the campaign, and the class has received supportive messages from all over the world, including a music video offer.
"It's impressive to watch this classroom recognize a concern and mobilize to do something about it," said Corinne Ball, director of organizing at Change.org. "Momentum like this is sure to catch Universal's attention before the Lorax hits theaters in March."
Comments from Mr. Wells' fourth grade students:
"The website is more about making money than helping the planet, and that's exactly what the book says not to do."—Georgia
"There's zero about the environment in the trailer!"—Vikrum
"We want to help trees, so why don't you help us, too."—Lanie
"Unless someone like you cares a whole awful lot, nothings is going to get better. It's not."—Jeffery quoting the Once-ler
To sign the petition, click here.
—————
Change.org is the world's fastest-growing platform for social change—growing by more than 500,000 new members a month, and empowering millions of people to start, join, and win campaigns for social change in their community, city and country.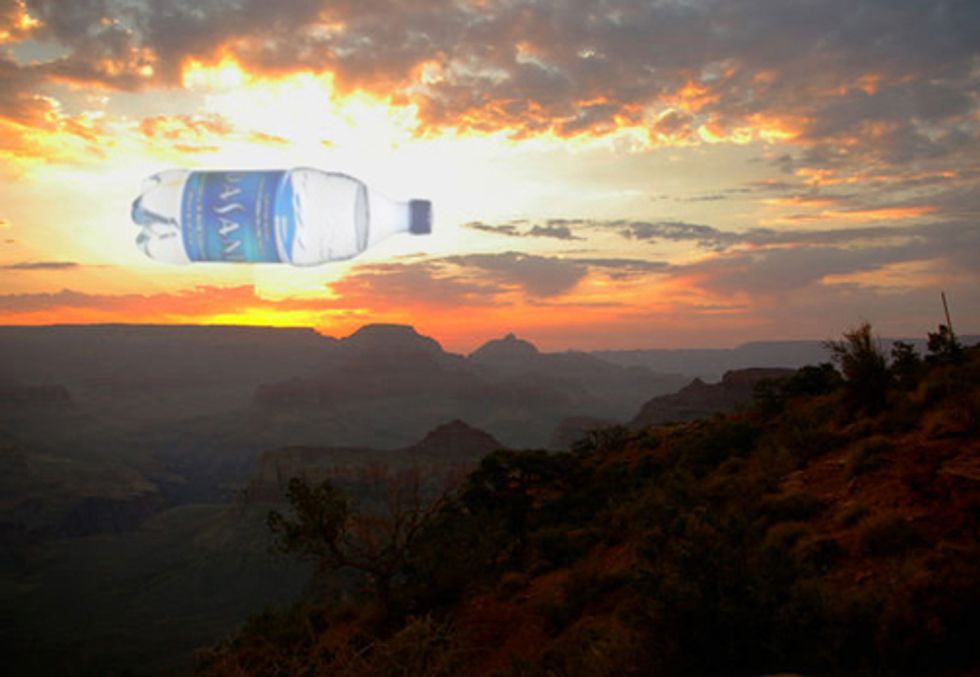 A new National Park Service (NPS) policy issued Dec. 14 may lead the way for plastic bottle bans in all national parks. This announcement comes after nearly 100,000 people across the country joined a popular campaign on Change.org calling on the NPS to ban plastic water bottles following the park's decision to abruptly cancel implementation of a ban amid charges of corporate influence from Coca Cola.
Stiv Wilson, who started the campaign on Change.org, signed by almost 100,000 people, said:
"While it is commendable that the National Park Service has decided not to completely cow to Coca-Cola on a plastic bottle ban, the new policy is still troubling.
"Unfortunately, the new directive, which allows park superintendents to implement bottle bans in their jurisdiction, may not result in changes best for our national parks. If the barriers to implementation of bottle bans are too cost-prohibitive or onerous for the superintendents to act, then we've only witnessed a bait and switch.
"The public outcry around the Park Service's seemingly backroom corporate deals has been overwhelming, and the public expects the NPS to go the whole way and save our national parks from plastic pollution."
Stiv Wilson launched the campaign on Change.org after learning of allegations that the NPS nixed its long-planned ban on plastic water bottles in the Grand Canyon due to a last-minute lobbying effort by Coca-Cola, a major national park donor actively opposed to bottled water bans. Wilson worked as a journalist before dedicating his life to reducing plastic pollution and joining the staff of 5 Gyres, a nonprofit focused on plastic pollution.
"Mobilizing 100,000 people to take action is no small feat," said Corinne Ball, organizing director at Change.org. "Stiv has demonstrated, through using Change.org's unique platform, that anyone, anywhere can act on issues that are important to them and create meaningful change."
Live signature totals from Stiv Wilson's campaign can be found by clicking here.
Related Links:
For Public Employees for Environmental Responsibility exposes the controversy, with documents from a whistleblower, click here.
For New York Times coverage that prompted Mr. Wilson to launch his campaign, click here.
For Stiv Wilson's blog post about the National Park Service directive on 5gyres.org, click here.
For more information, click here.
—————
5 Gyres is a research organization that seeks to communicate the global impact of plastic pollution in the world's oceans and employ strategies to eliminate the accumulation of plastic pollution in the 5 subtropical gyres. Almost 100,000 people have joined Stiv Wilson's campaign on Change.org
Change.org is the world's fastest-growing platform for social change—growing by more than 500,000 new members a month, and empowering millions of people to start, join, and win campaigns for social change in their community, city and country.